Perched on the mountains of Kazakhstan, this 3,700 sq ft restaurant, Auyl, is the brainchild of creatives from many sectors.
Here, gastronomy meets performance through every sensory you can think of. Artists, designers and more weaved together a journey through Central Asia in this space. The architects – Elvira Bakubayeva and Aisulu Uali, the founders of NAAW Firm, said: "We've created not just a space but emotions – the interior architecture and setting of Auyl spur sensations in visitors."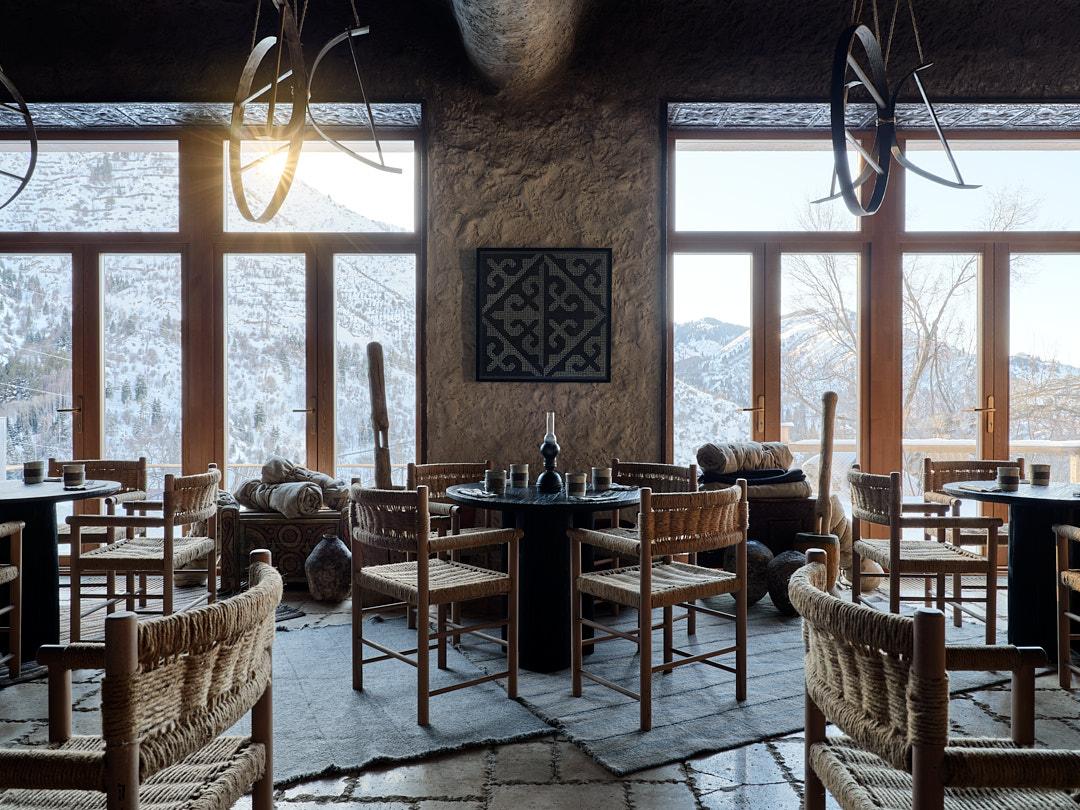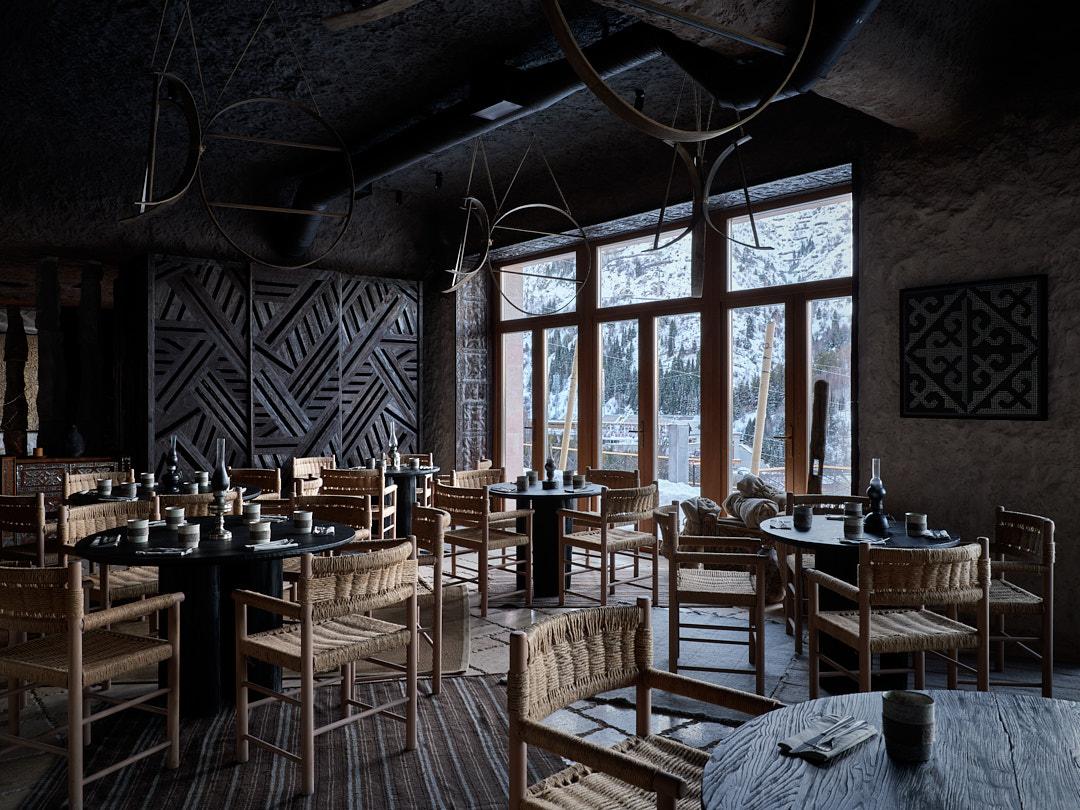 Auyl sits on a Medeu mountainside where it gets plenty of natural light, sunny from dawn till dusk. The structure is a historic Soviet modernist building decorated with traditional design motifs. Over the main entrance is a mosaic by Vladimir Anisimov, a Soviet-era mosaic dating back to the Soviet era.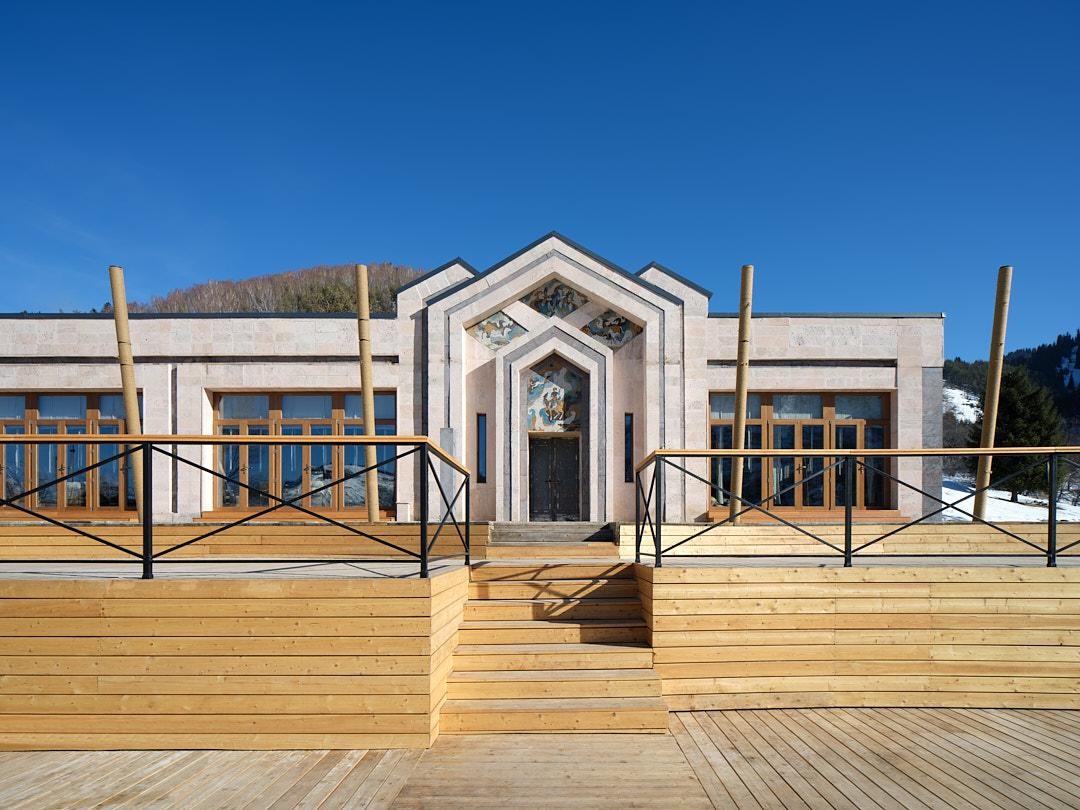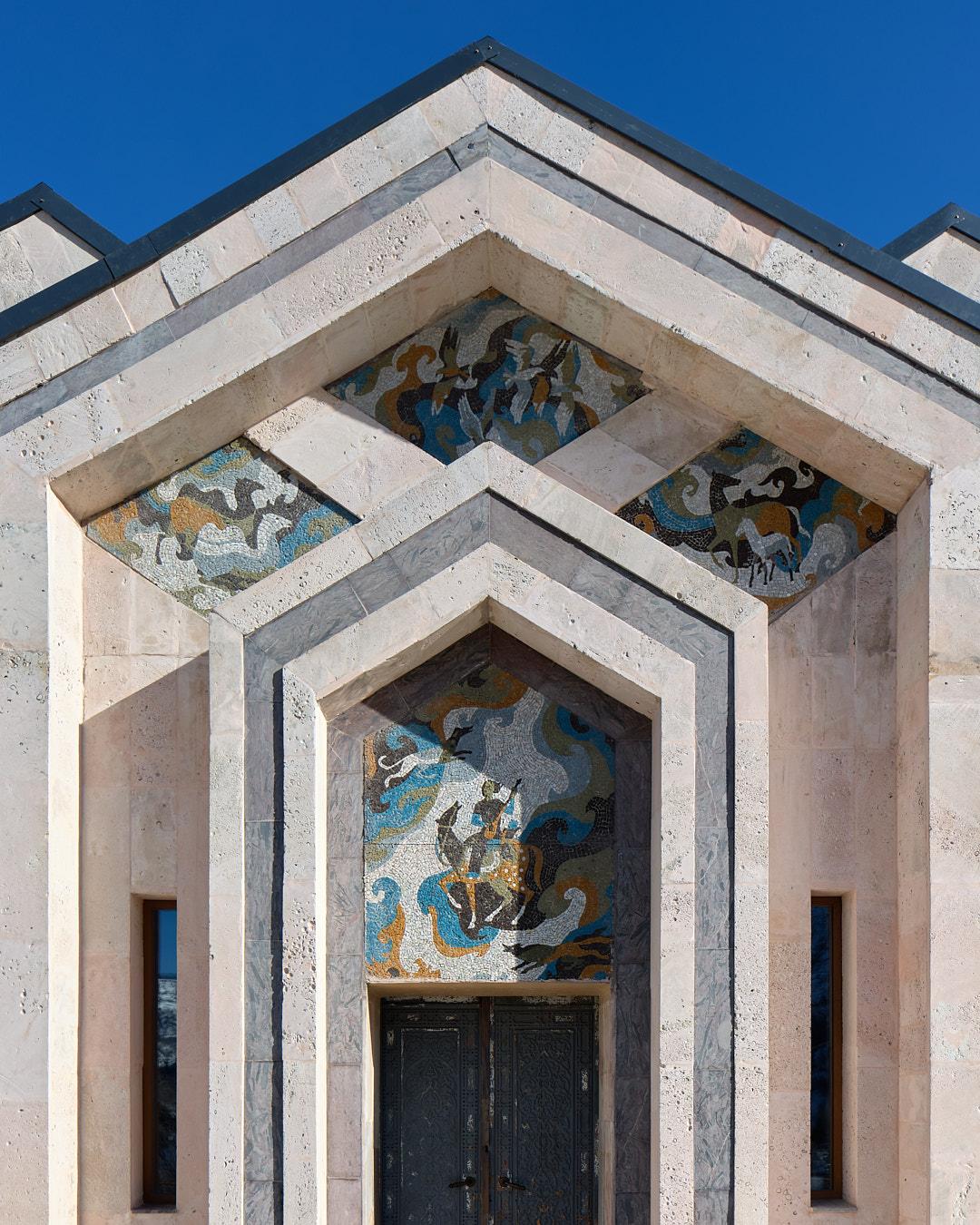 As you step inside, the restaurant is an open space interrupted only by structural columns. The room is devoid of straight lines and flat surfaces. Instead, textured walls transition into textured ceilings with rounded columns and beams.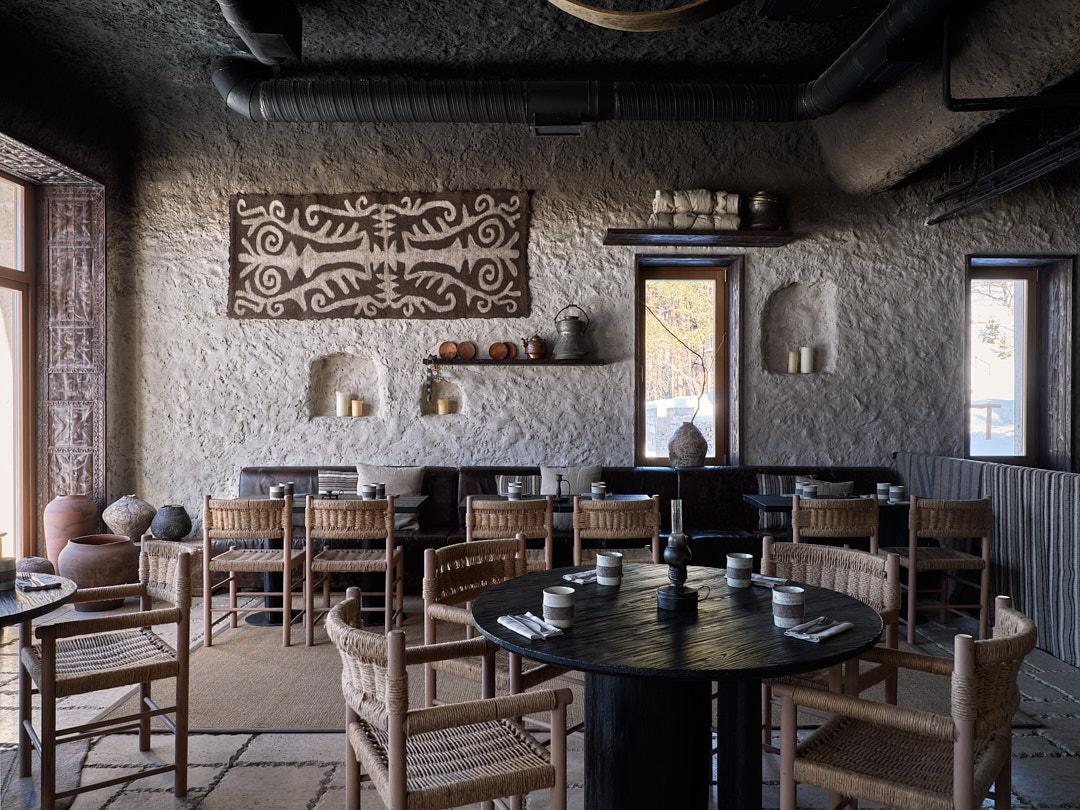 The walls are a gradient colour of pale clay to dark soot, creating an ombre effect reminiscent of a ceiling blackened by smoke. Stone tiles with rough-hewn edges make up the floor. Panoramic windows open up to breathtaking mountain views on one side, with an open kitchen on the other. Adding even more charm to the space, the works of renowned Kazakhstani artists Moldakul Narymbetov, Said Atabekov, and Kuanysh Bazargaliev adorn the walls.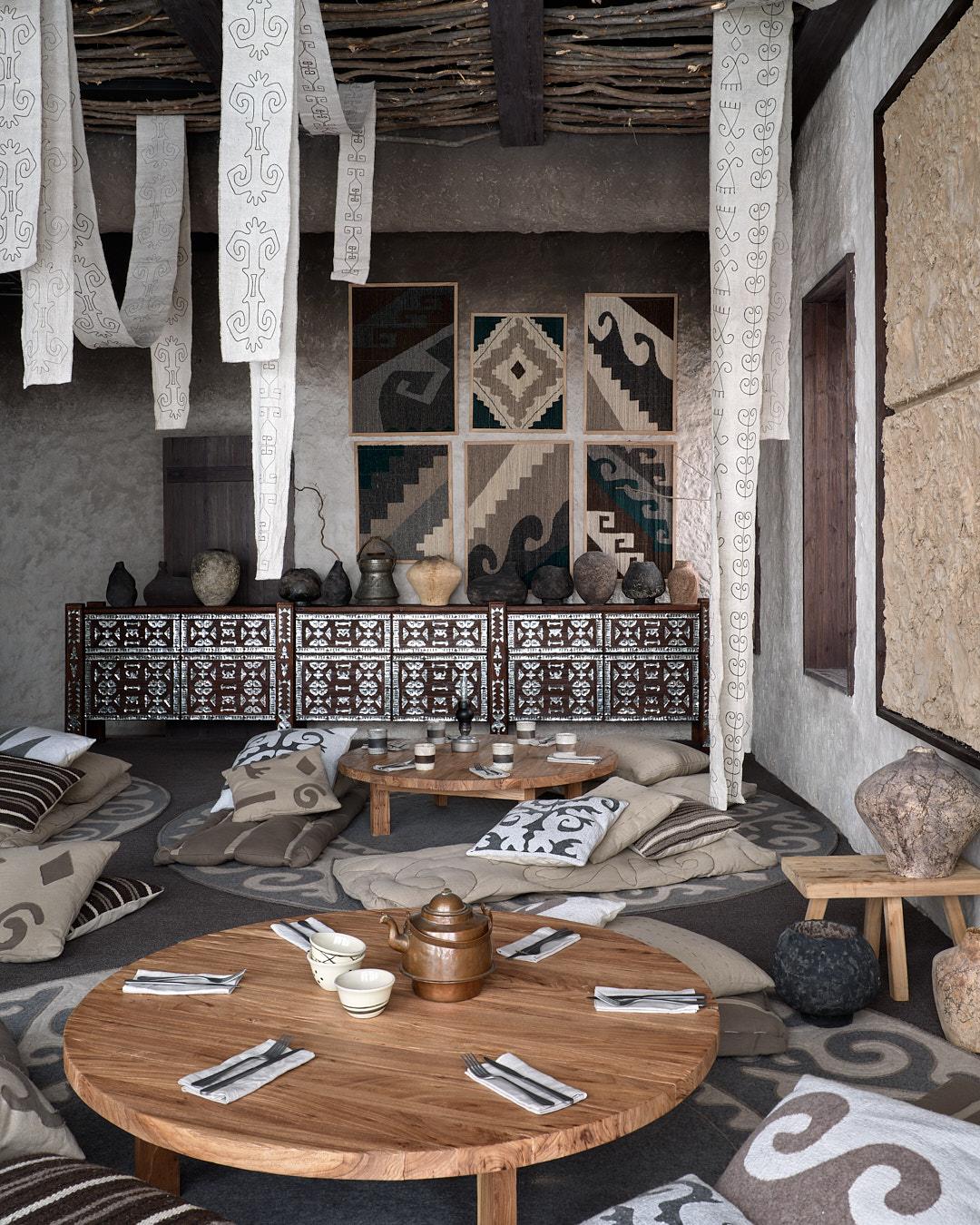 The designers played on the idea of a theatre, setting an open kitchen as the main stage. Diners can watch the whole cooking process from the floor seating, bar area or traditional table and chair seating. Peer in to see the hustle and bustle of chefs kneading dough, churning kumys, baking flatbread in a tandoor oven and grilling meat.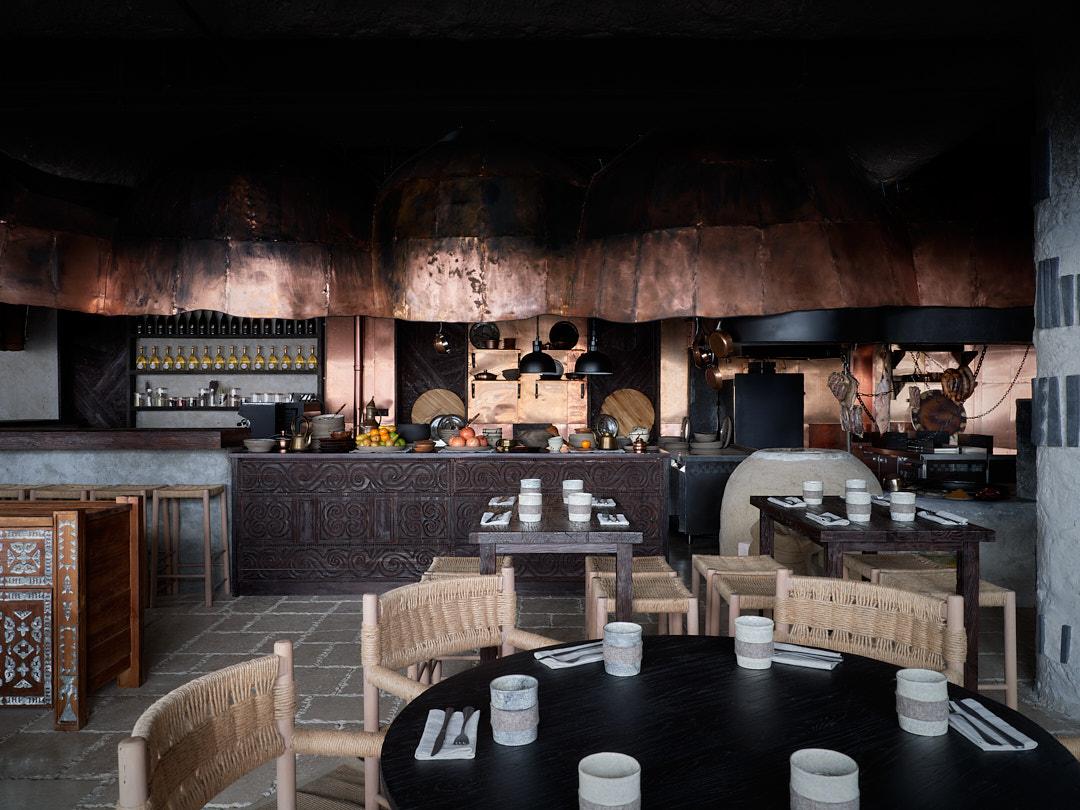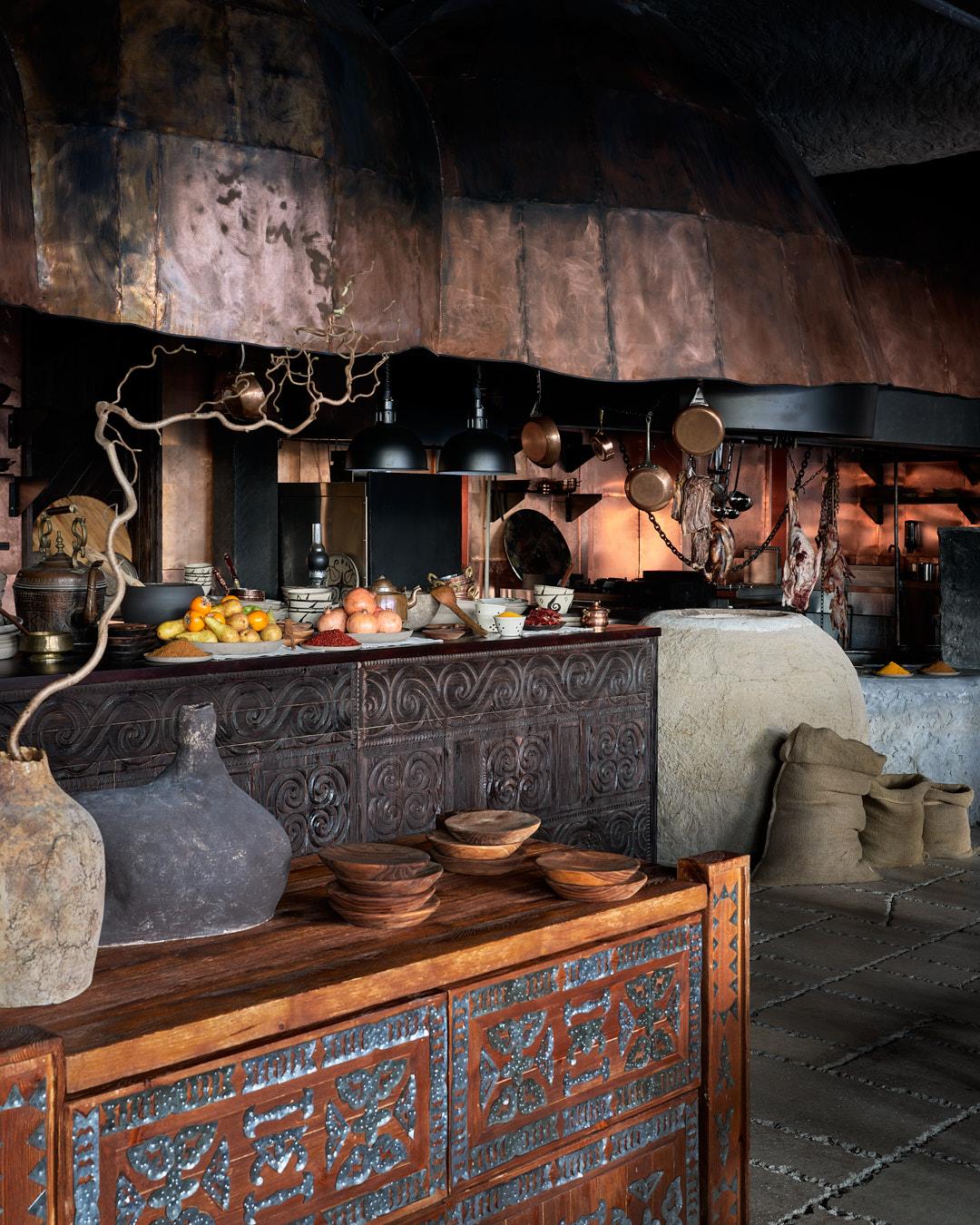 Coarse-textured materials dominate the space, including clay, undressed stone, oxidised copper, rough-hewn travertine, brushed wood and jute. Warm, cosy textiles are incorporated to balance the wild and primal atmosphere. The leather banquette features soft pillows. The floor seating mimics the traditional Central Asian outdoor furniture, tapchan. Inviting felt shyrdak floor coverings, körpe – a traditonal Kazakh mattress for sitting and pillows, surrounded by fabric drapery covers frame low, circular tables.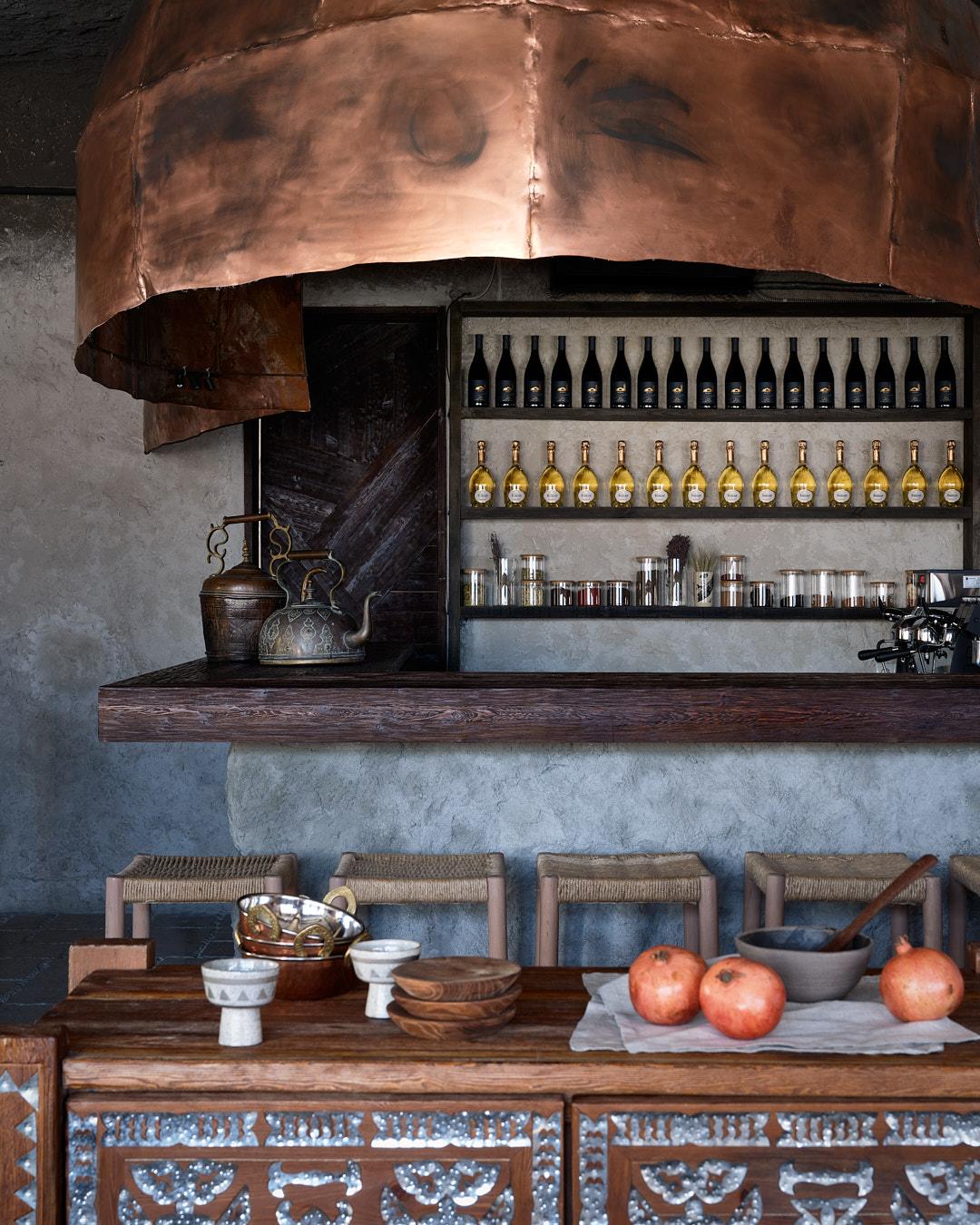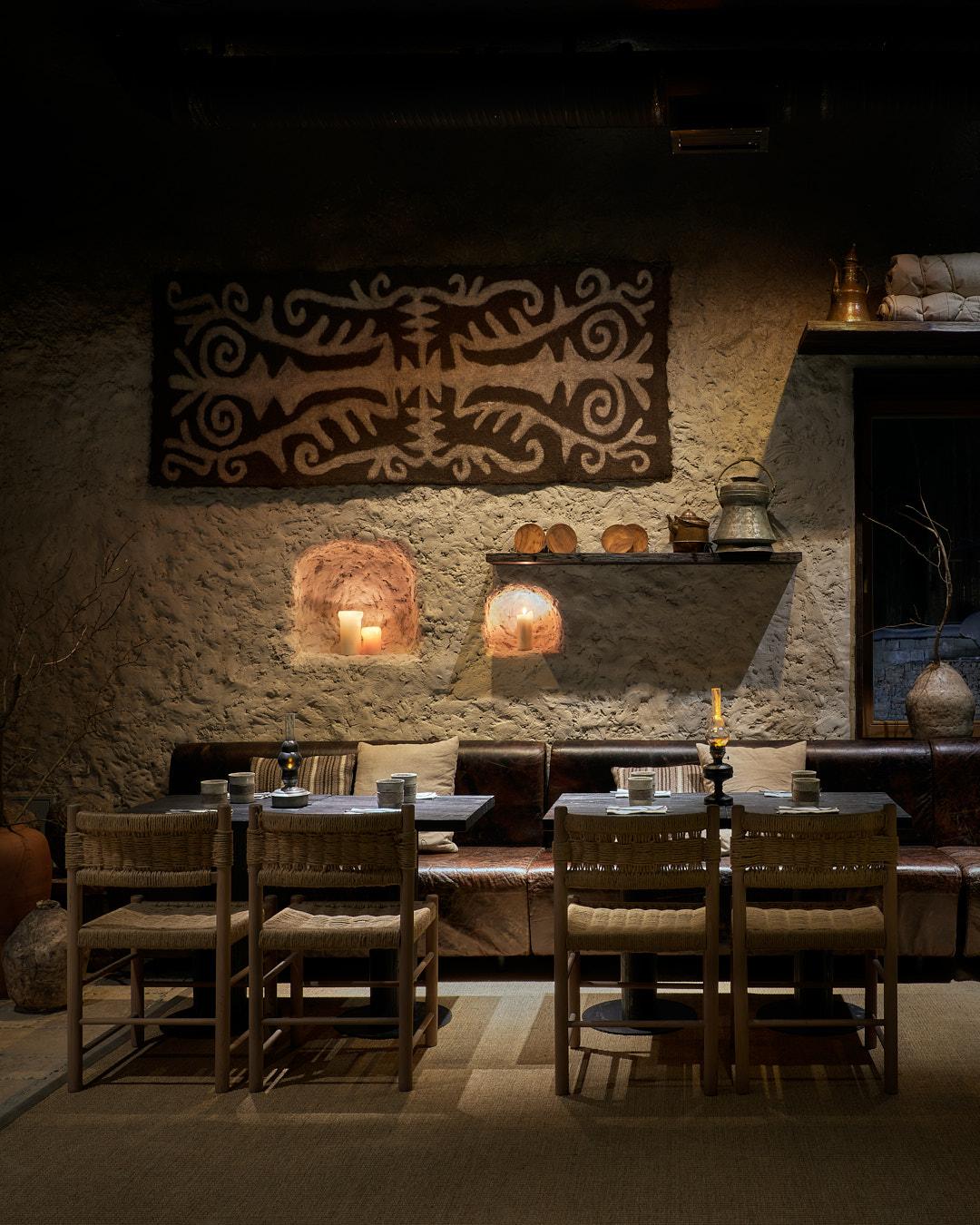 Elvira Bakubayeva and Aisulu Uali immersed themselves in traditional applied arts and worked with local artisans of Turkic nomadic people. "We took trips to Kyrgyzstan and Uzbekistan to discuss manufacturing the objects and look for materials and craftsmen of different specialisations."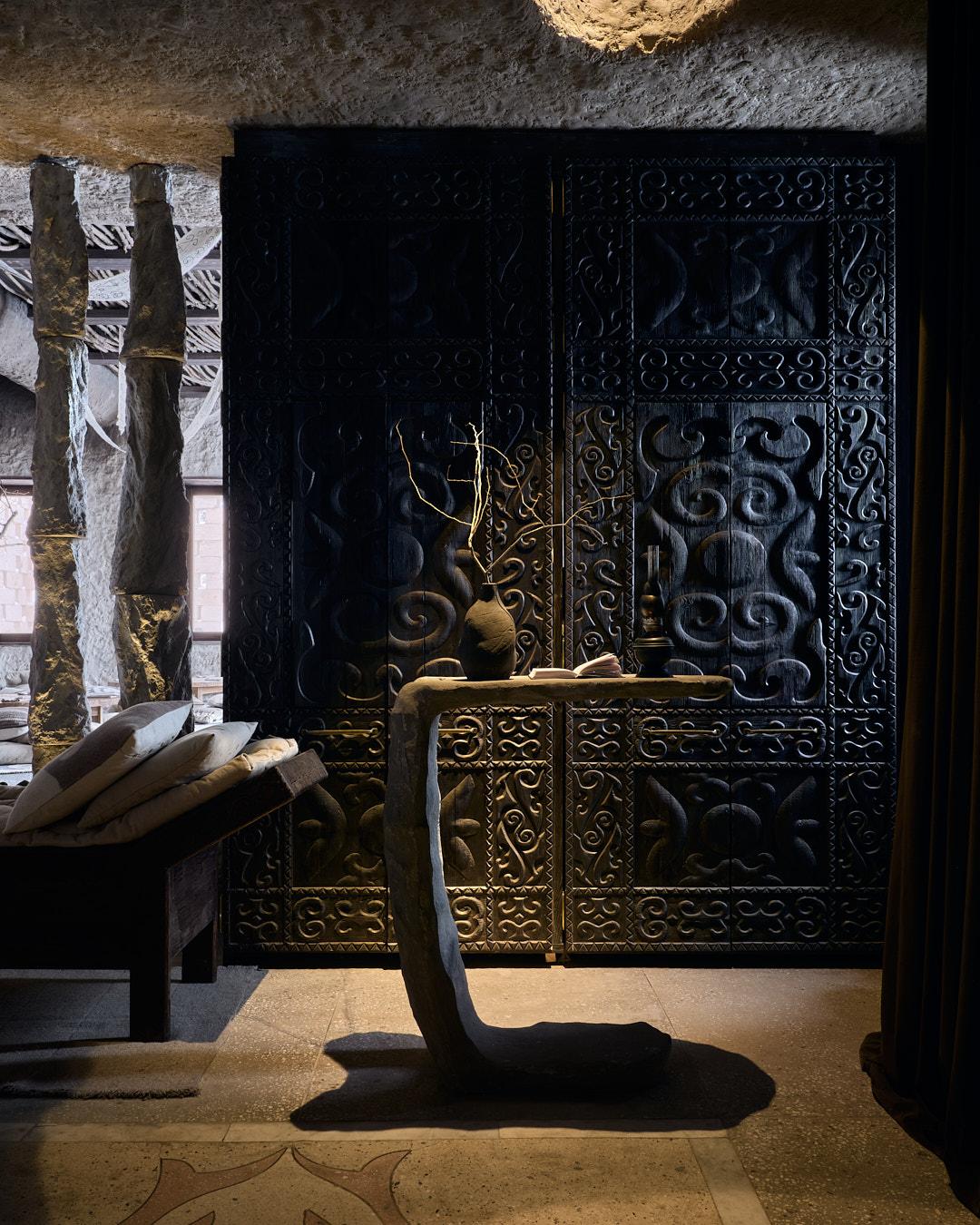 The designers tasked wood carvers wtih creating ornaments that reflect the Uzbek design traits on a grander scale. Guests can see large patterns on the cabinets to the left and to the right of the entrance, on the surfaces of the kitchen area and on window frames.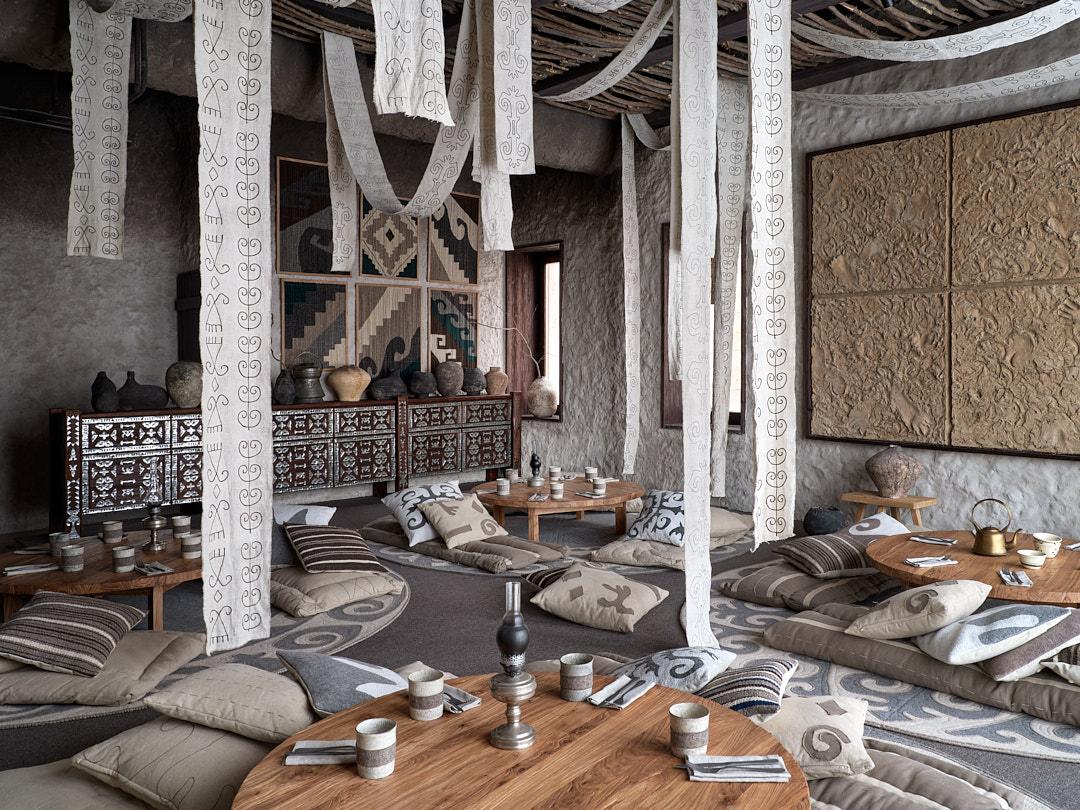 Kebezhe – wooden chests with metal inlays used traditionally for storing food – were used to decorate the space. Square and rectangular-shaped planks were used to create all the wooden items in Auyl, as they have been since ancient times.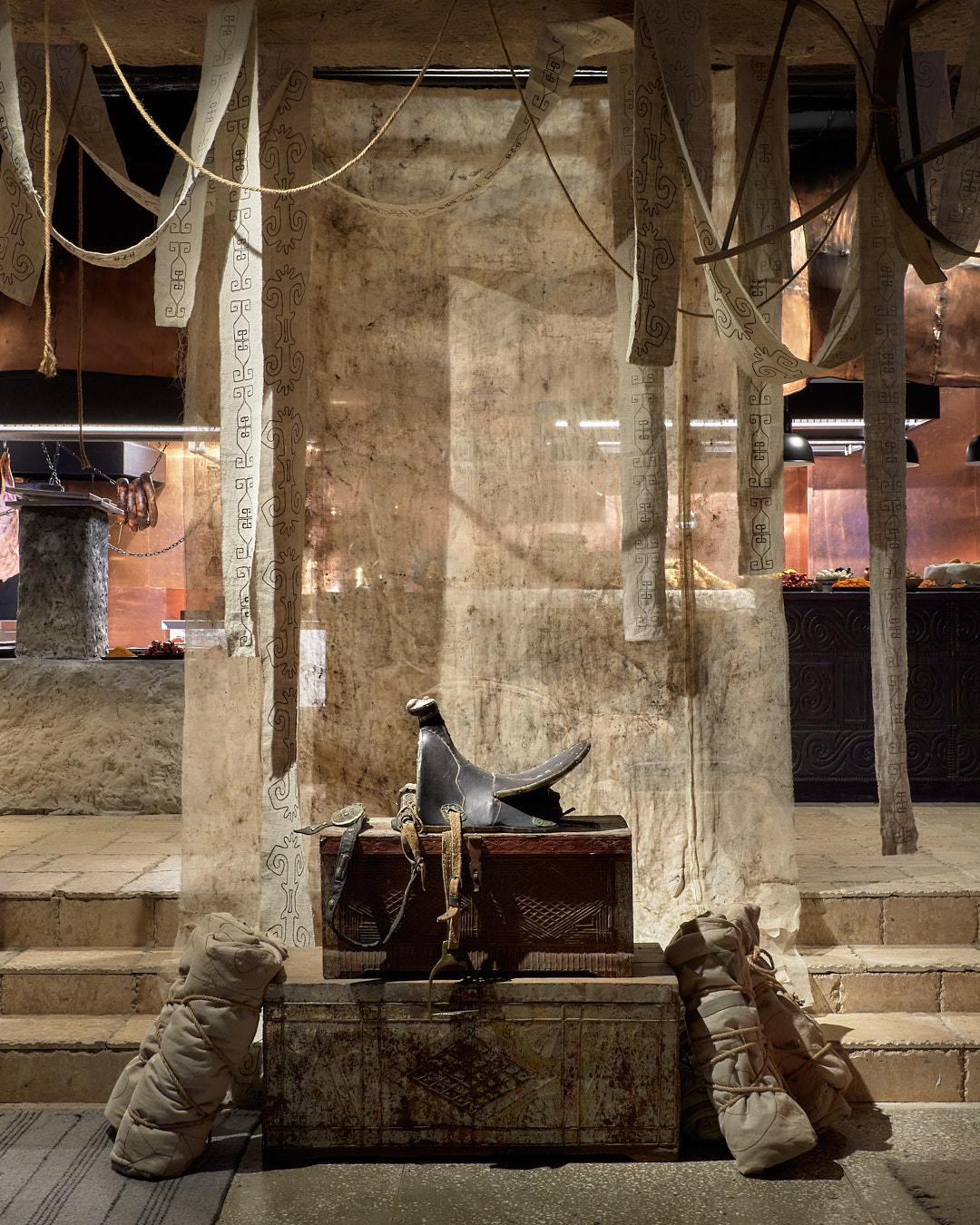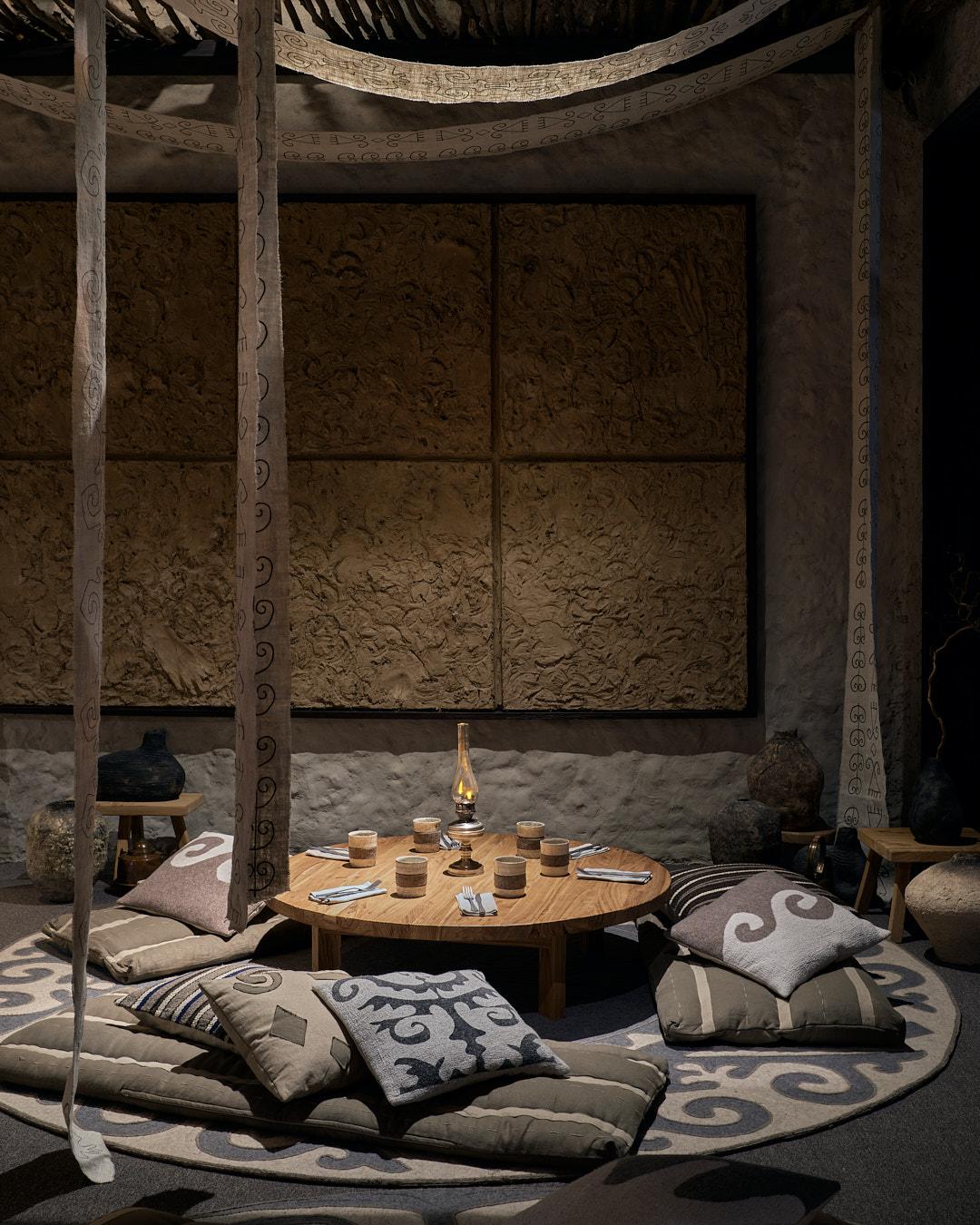 The designers worked with a Kyrgyz company called Tumar, where craftspeople combine traditional techniques with industrial manufacturing to create decorative textiles. Among those items are a few shyrdaq – large felted carpets decorated with traditional applique patterns, knitted pillows and woven termeh carpets. Their craftswomen even added tambour embroidery to the linen ribbons hanging from the ceiling.
Read More:
This Whimsical Office Design in China is Inspired by Alice in Wonderland
Tour a Breathtaking 1600 sq ft Garden Loft in Haikou, China
Step Inside an Award-Winning Chef's 1,574 sq ft Wan Chai Residence