Distinguished by rich colours, bold silhouettes and exuberant geometry, the art deco decorative style that first gained prominence in the 1920s is a treat to the eyes – yet it can be difficult to master for the home.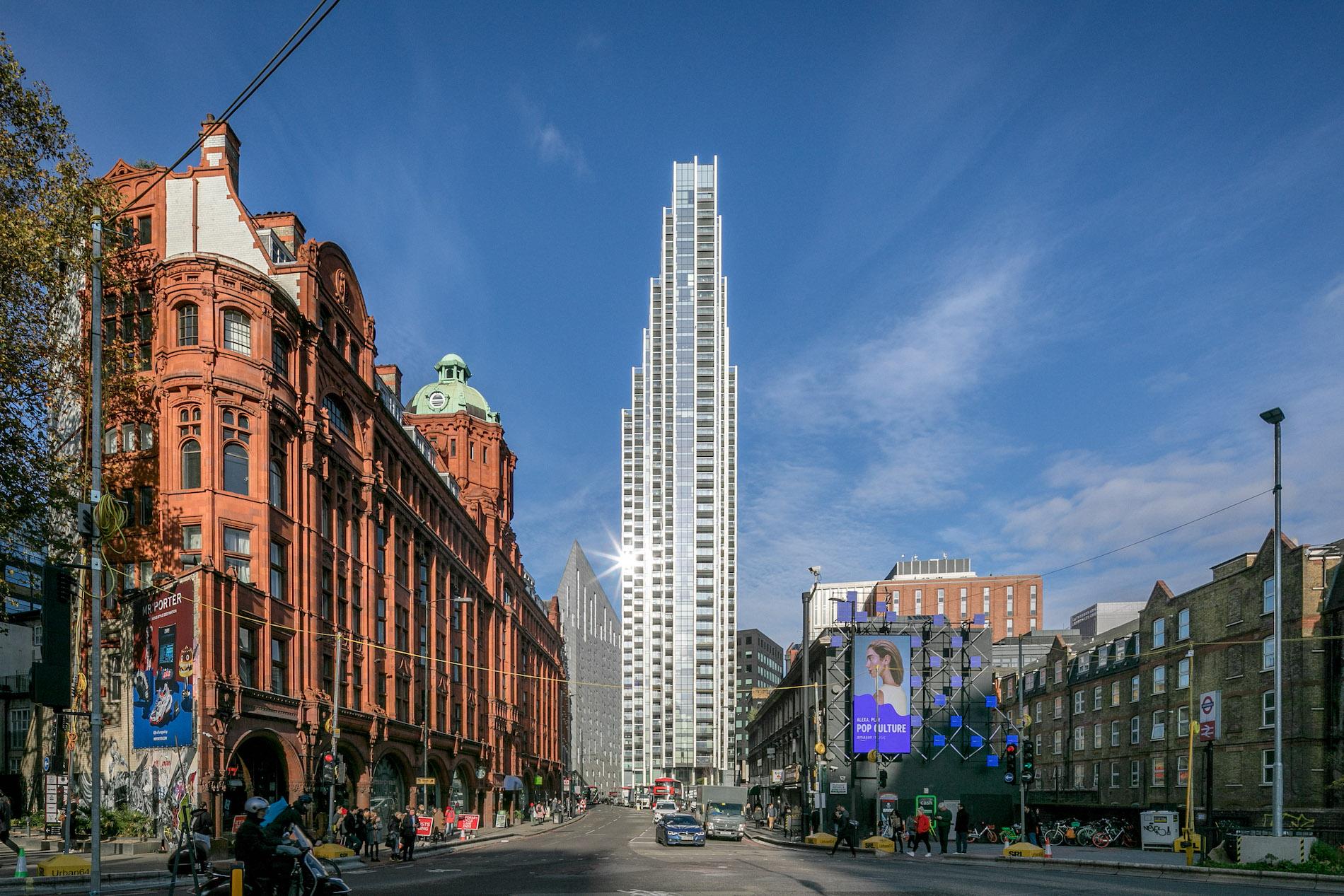 After all, a residence is supposed to be a calm refuge in which one finds tranquillity and relaxation, and it requires a designer's skilful finesse to create an environment that strikes the perfect balance between splendour and serenity. Spanning the entire 38th floor of The Atlas Building, London's tallest residential complex, is an exquisitely crafted penthouse in which a rising British interior design firm has achieved exactly that feat.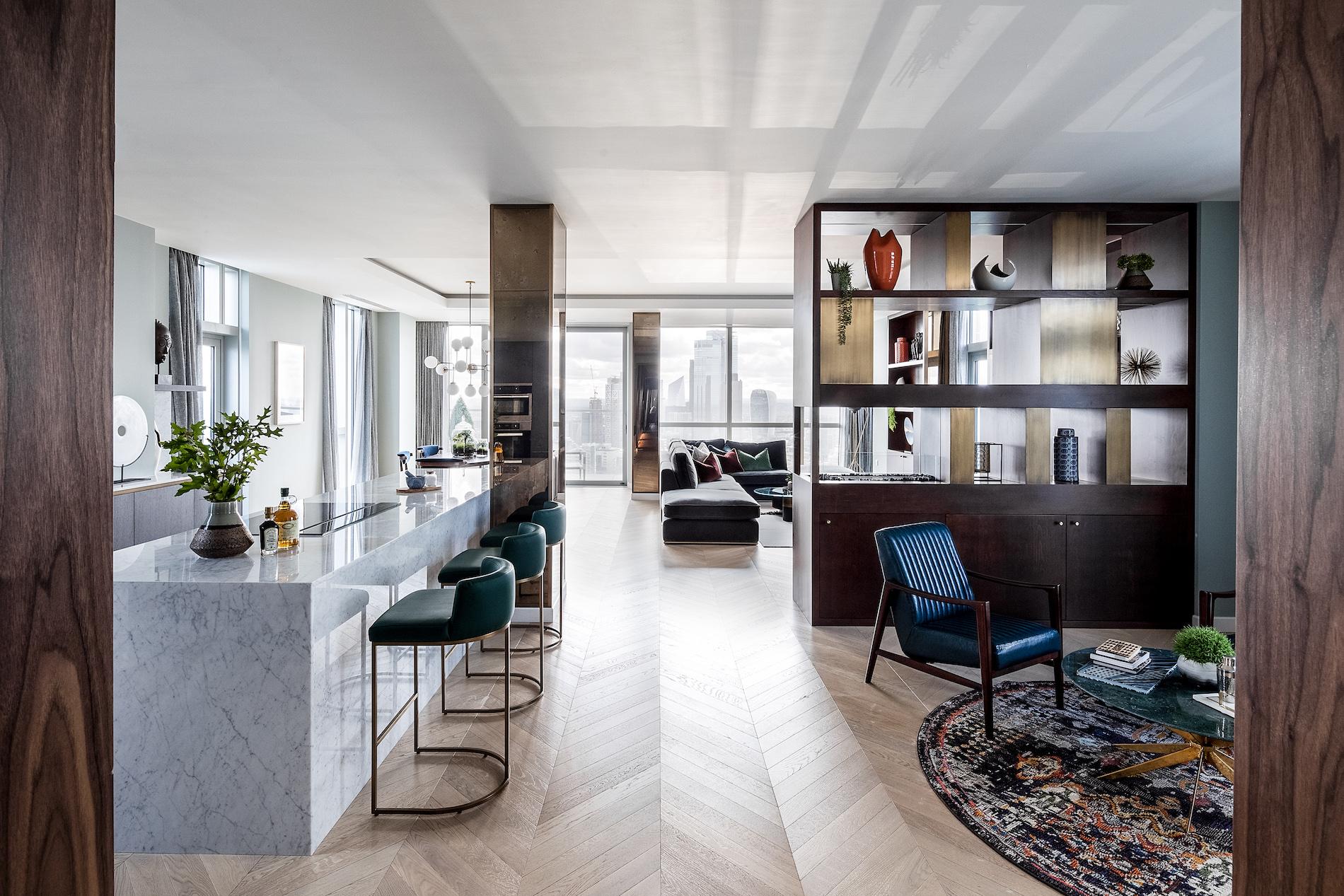 "We wanted to bring warmth and vibrance to the building," says Ed O'Donnell, co-founder of the studio Angel O'Donnell that he founded with Richard Angel only in 2018. When they were tapped by a private client to bring this exuberant 1920s style into the built-to-rent penthouse, they knew immediately the look to go for. "We felt the building had a New York-style character, so we took a lot of inspiration from the glamour and decadence of mid-20's Manhattan, opting for Great Gatsby inspired pieces and a deep, rich yet natural colour palette throughout," continues Ed.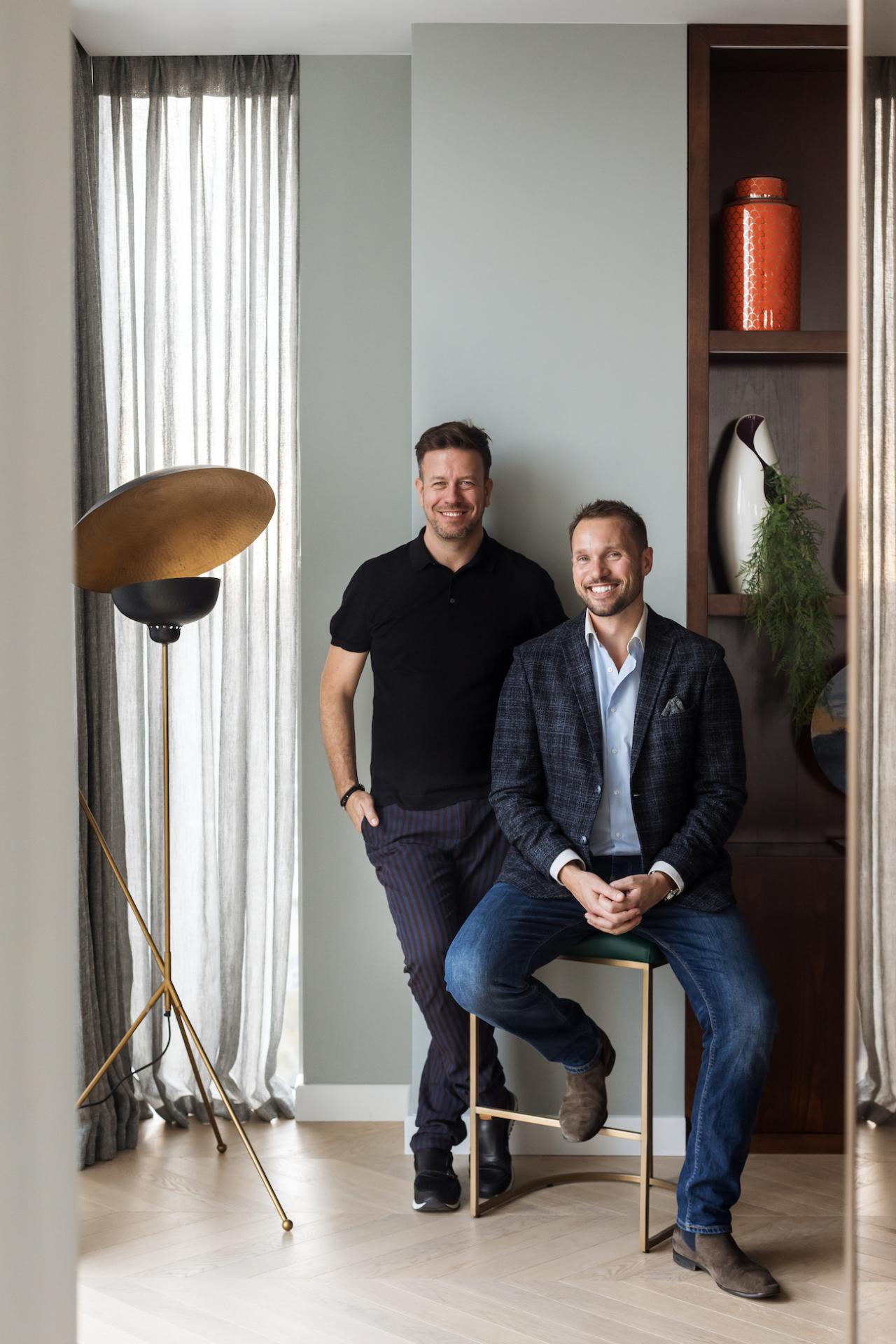 Framed by an austere glass and metal exterior by MAKE Architects, the interiors are instead a blend of warm hues and vibrant patterns. Two large armchairs in deep blue velvet at the entrance hall welcome one into the expansive living room and dining area accessorised with characterful pieces such as a bronze-based wooden table, lush velvet blue upholstery dining chairs, patterned cabinetry, highly sculptural light fixtures and an array of vividly upholstered cushions on the L-shaped sofa.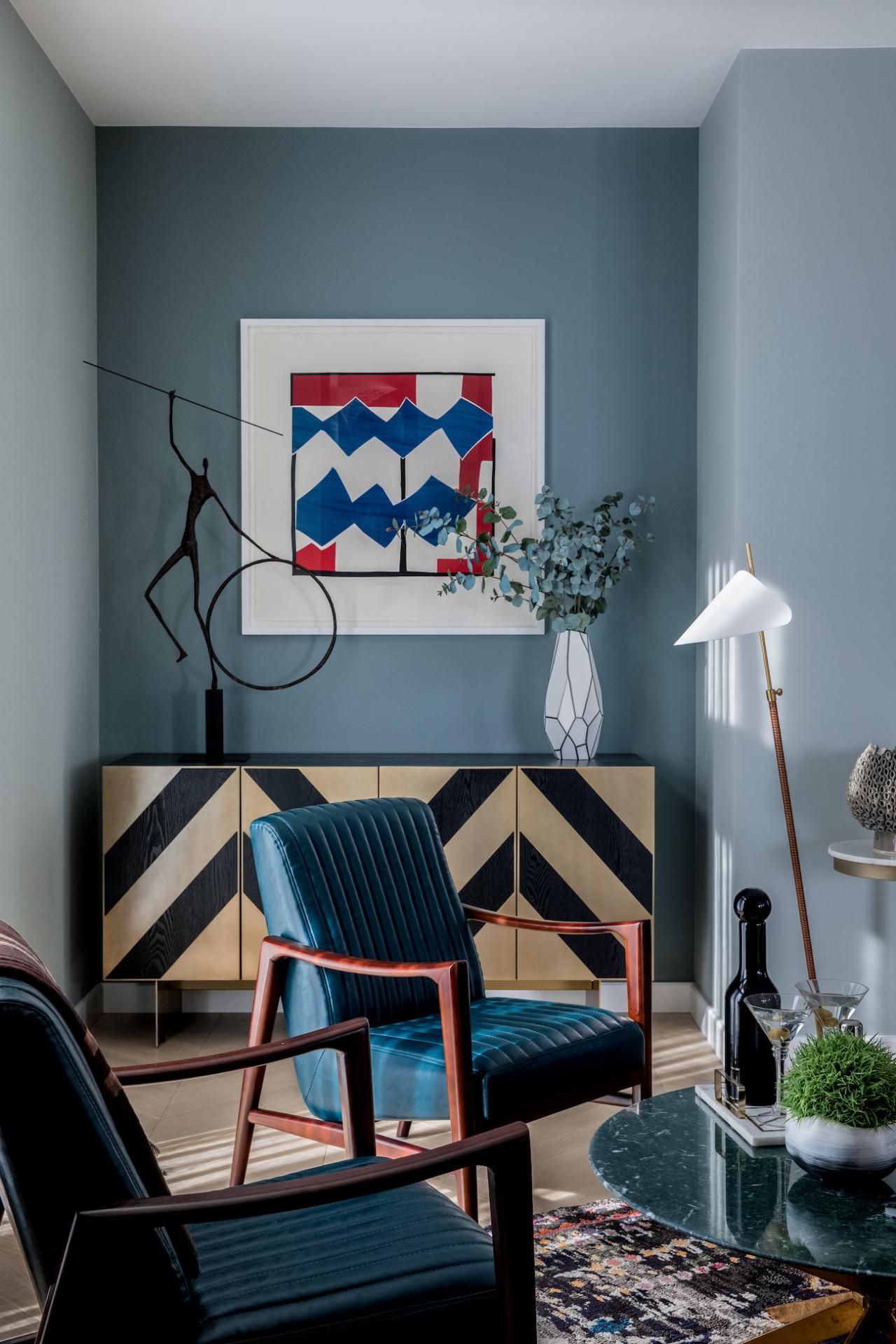 Yet under the design team's expert eye, all of these elements have been masterfully organised in a way that is not a hint too overwhelming. The penthouse apartment has been subtly sectioned into different zones for different uses; a large oak-panelled cabinet featuring a fireplace serves as the subtle petition between the relaxed living area and a luxurious dining area oozing age-old glamour. Swathed all over is a sleek crisp white on the ceilings and a soft muted blue hue on the walls, lending to the home's decidedly cosy, relaxing and inviting atmosphere.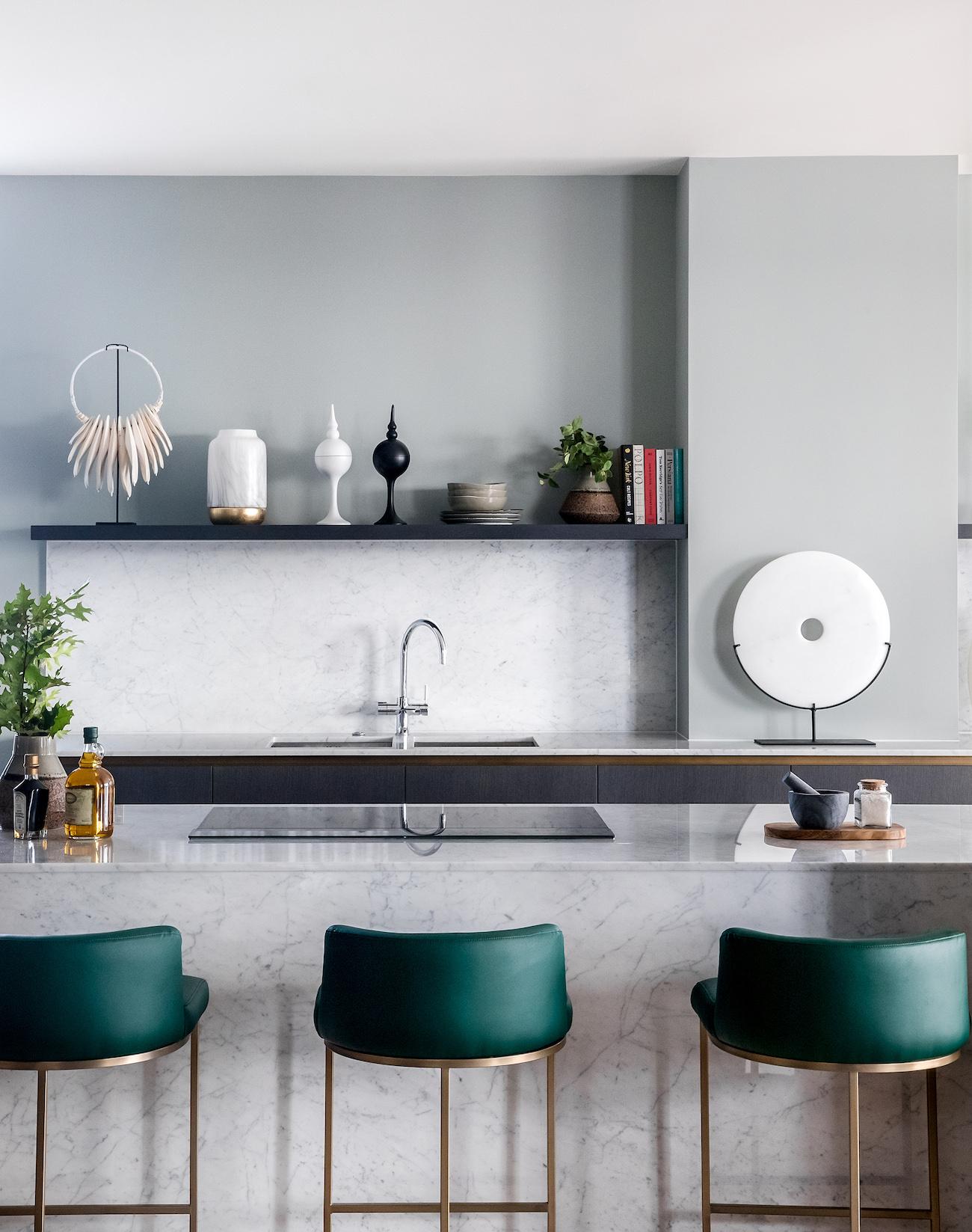 Decidedly tactile materials and raw surfaces have also been carefully woven into the space to further add a sense of visual depth. "We also felt it was important to add a contemporary twist to bring it up to date so we contrasted the art deco aesthetic with rougher, urban textures like steel and accessorising with pieces that are inspired by East London," says Ed.
Scroll through the gallery (photography by Taran Wilkhu) below to see more of the home: