Multidisciplinary New York architecture and design studio David Scott Interiors believes in a collaborative approach when designing a home, so it always works closely with clients to help convey their unique personalities and tastes.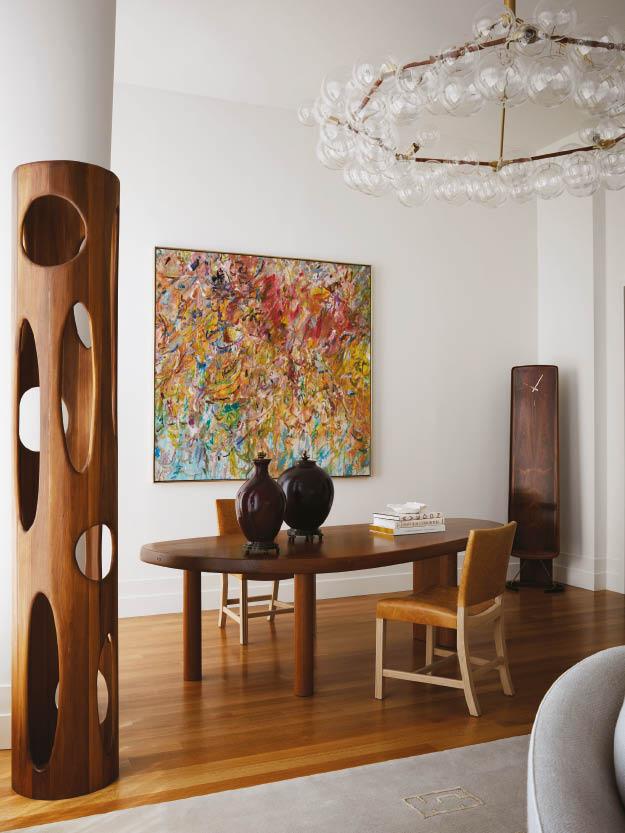 The firm's most recent project is the 64th-floor apartment home of Manhattan couple Kathleen Sullivan and Helen Stacy. Located in a residential building in Midtown East, and within walking distance of Central Park, Madison Avenue and Park Avenue, this 3,450-square-foot apartment epitomises the sophisticated cosmopolitan spirit of the Big Apple. Scroll through the gallery below (Photography: Stephen Johnson; Production: Nikey Cheng) to experience the impactful designs: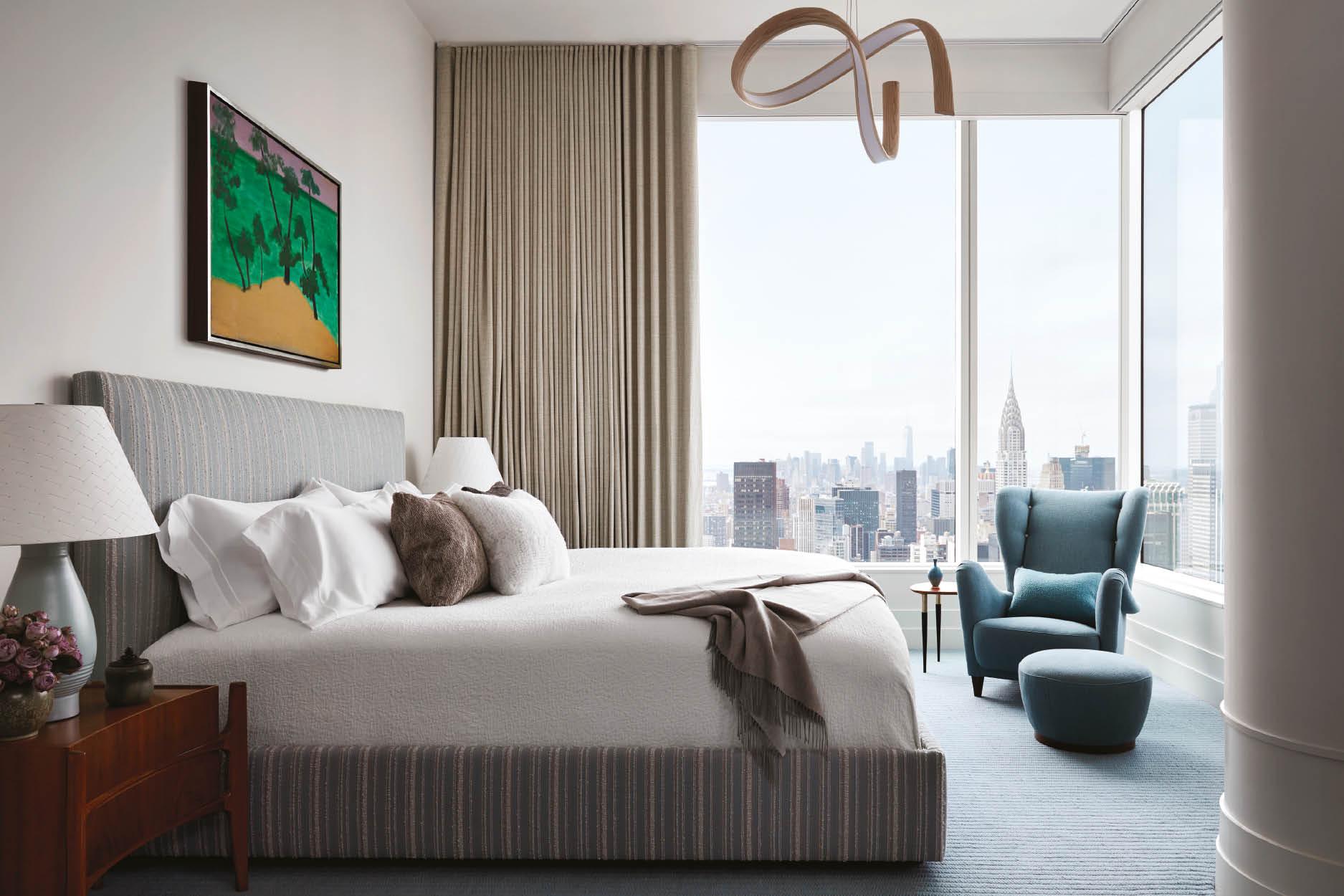 Within the space are a number of striking avant-garde artworks, including paintings by Larry Poons, Esteban Vicente, Susan Vecsey, Jennifer Hornyak and Amy Kirchner, a crinkled copper wall sculpture by Barcelona-based Mareo Rodriguez, a sideboard sculpture by Dutch ceramicist Babs Haenen and tapestry by Swedish weaver Lillian Holm.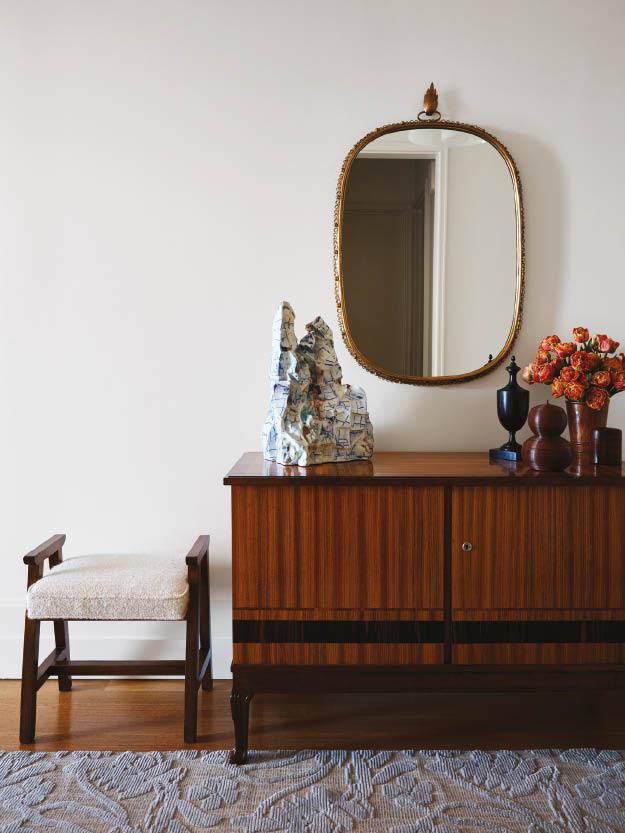 But what makes the interiors truly unique is the way the artistic flair comes through not just in the ornamental pieces, but also in the carefully chosen furnishings, which include an organically shaped "melting" brass coffee table by Chinese wax-cast foundry artisan Zhipeng Tan, chandeliers that resemble soap bubbles by lighting designer Nathan Orsman and custom items by the David Scott Interiors team.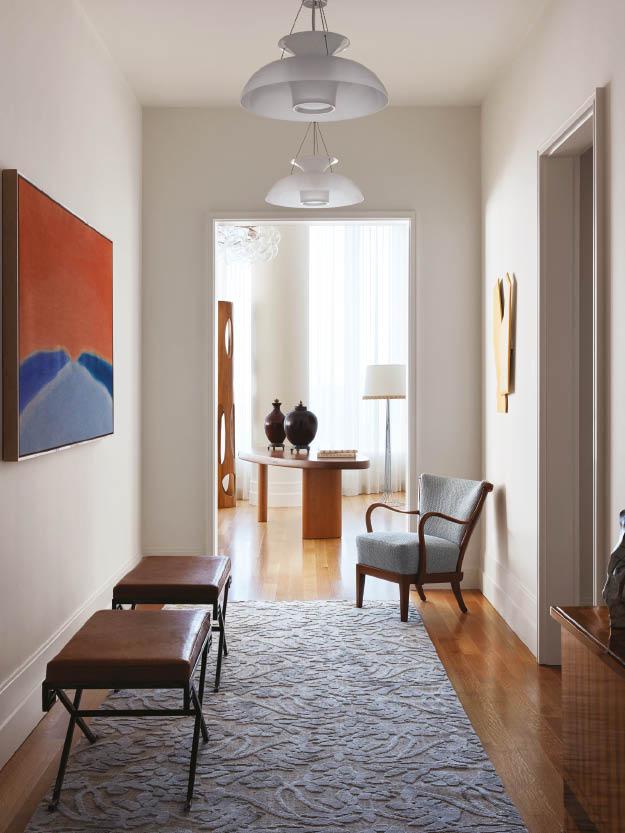 Most of the furniture, which includes vintage and bespoke pieces, is of Scandinavian origin. "The clients wanted to celebrate the Danish concept of hygge – simplistic comfort, snugness, serenity and contentment," explains the studio's founder, David Scott. "Their desire was to embrace a Scandinavian aesthetic with a contemporary edge."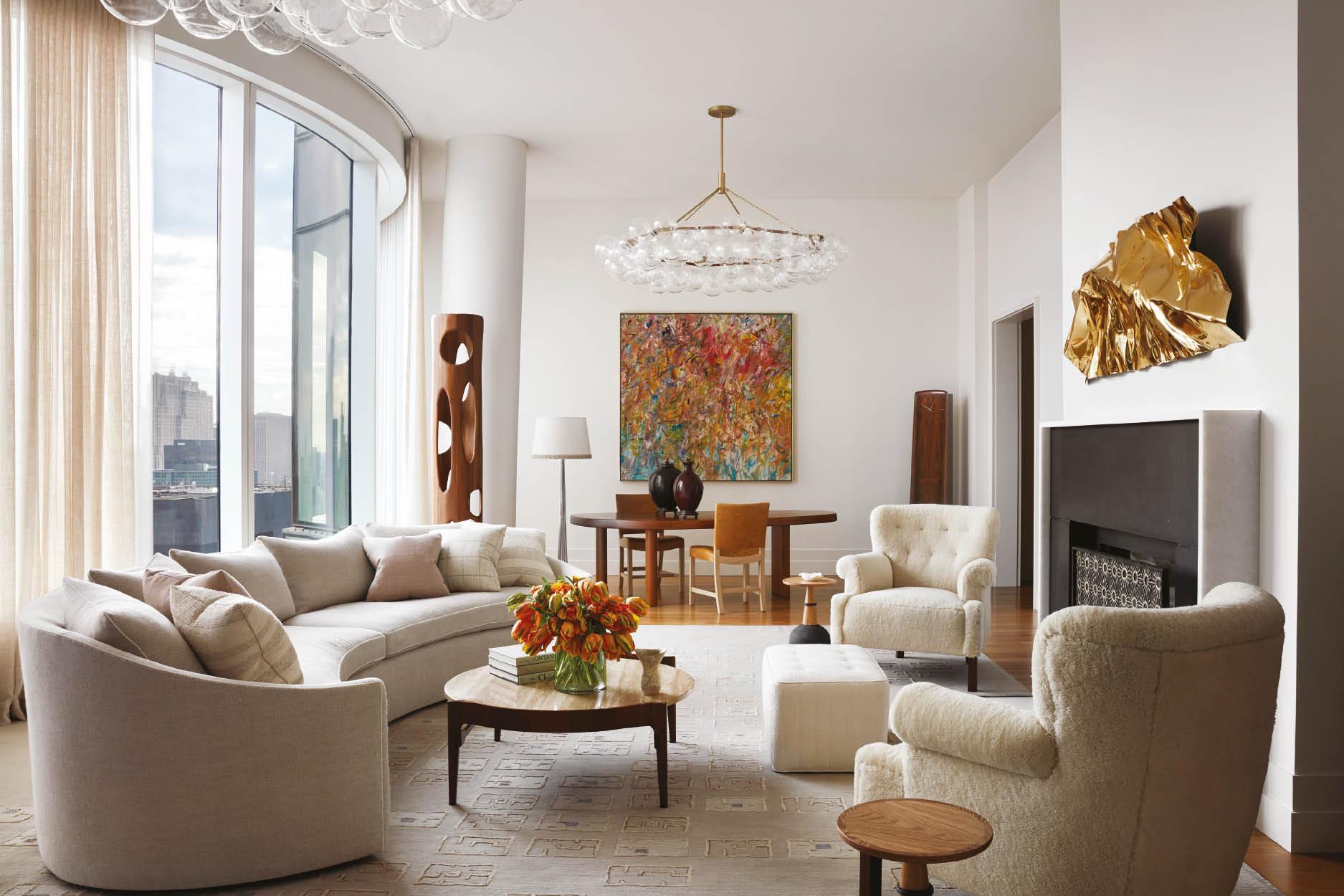 He responded to this request by assembling a collection of original period Scandinavian furnishings, mixing them with contemporary art, custom-designed tables by his studio, and muted-coloured but aggressively textured carpets and fabrics to create a timeless look.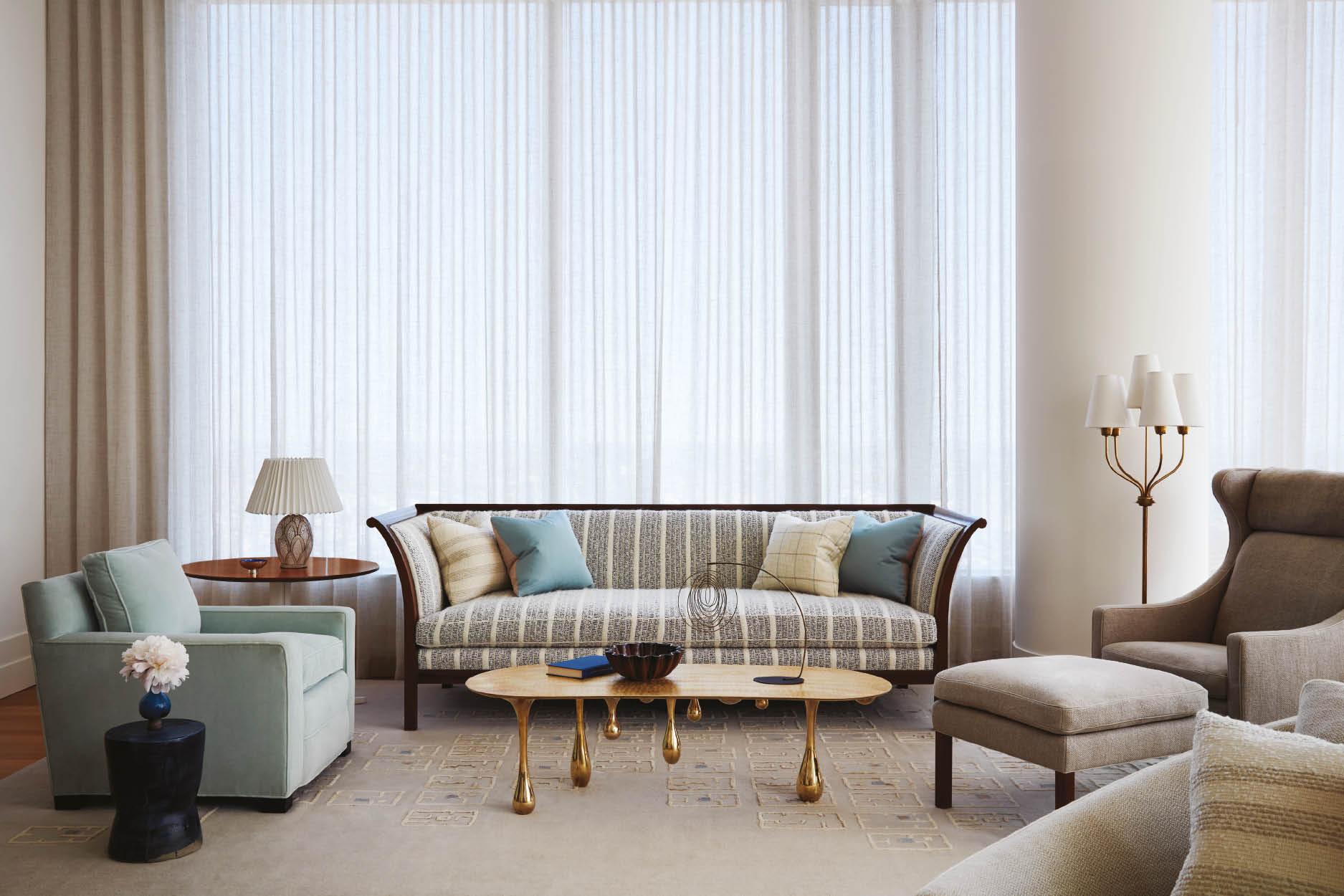 "The idea of 'craft' was in the forefront of all our decisions," says David. "The custom carpets throughout, created by the workroom of New York City antique and vintage rug dealer Doris Leslie Blau, are heavily textured. Many of the fabrics used were handwoven in a French mill."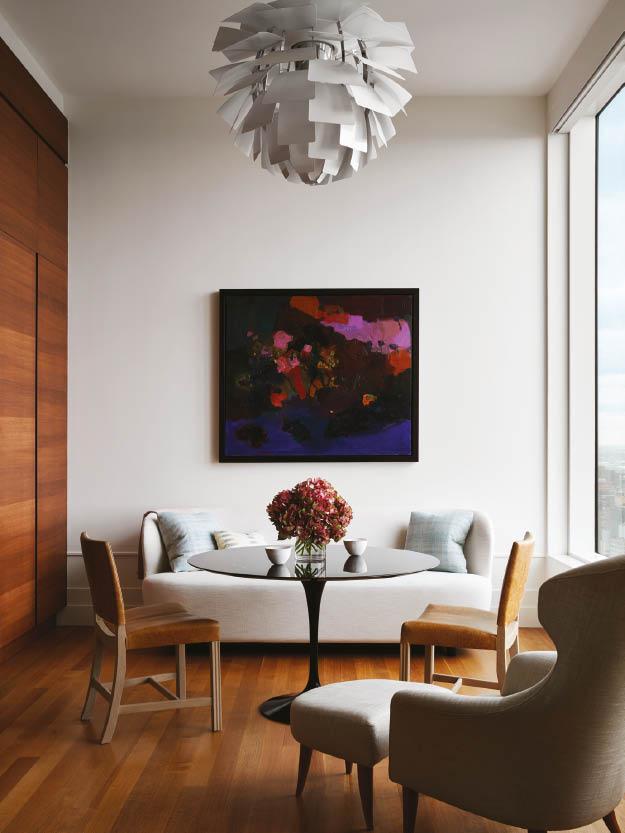 "We designed custom seats with heavily textured quilted fabrics. Everything, down to the natural linen used on the lampshades, was carefully considered in the context of craftsmanship."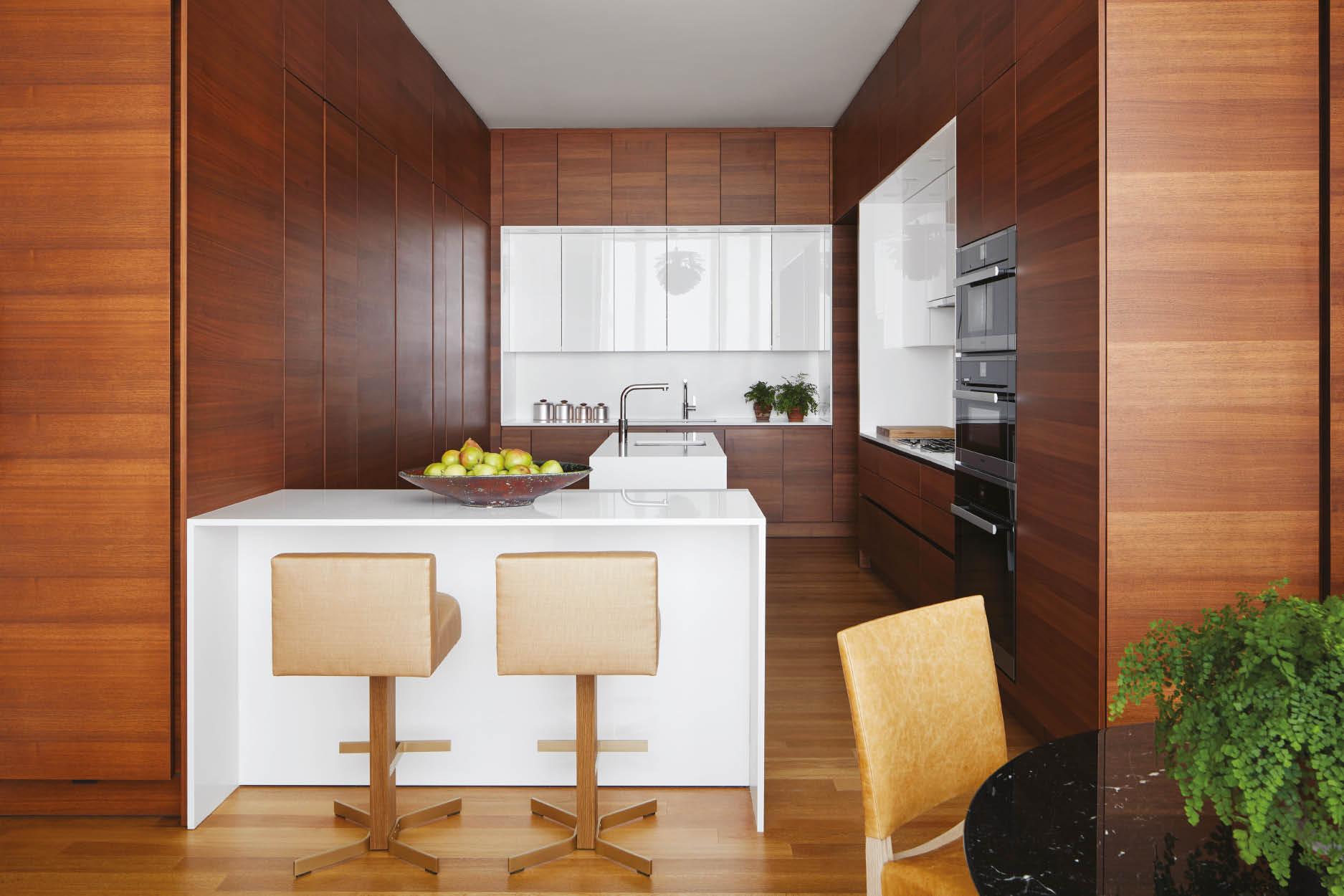 Certain areas were specially designed to showcase the owners' art collection as well. The entrance hall was designed as a mini gallery. When not in use, the dining table in the open-plan living-dining area serves as a space for displaying pottery and art books.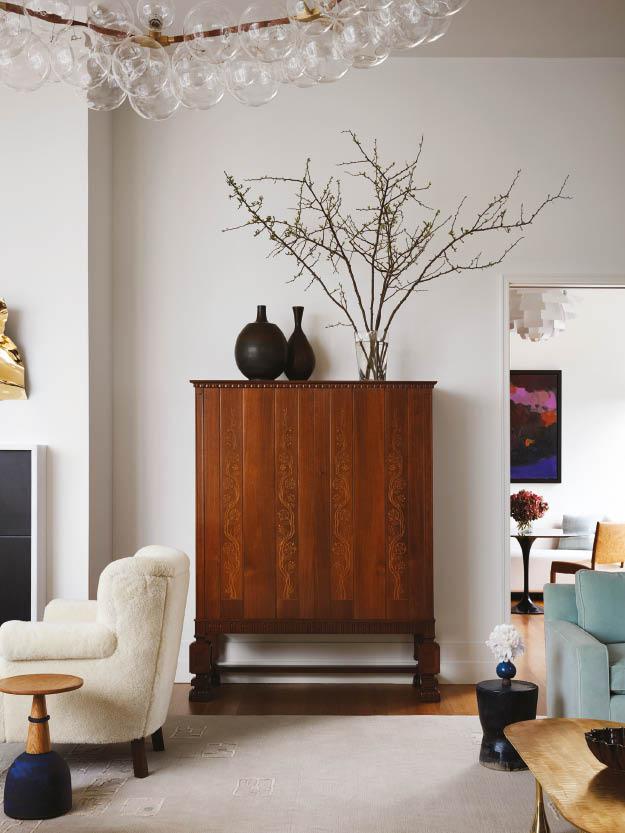 "We were particularly interested in establishing a visual balance with the art," says David. "Key works have visual strength to anchor a room, while other works are more lyrical and contemplative."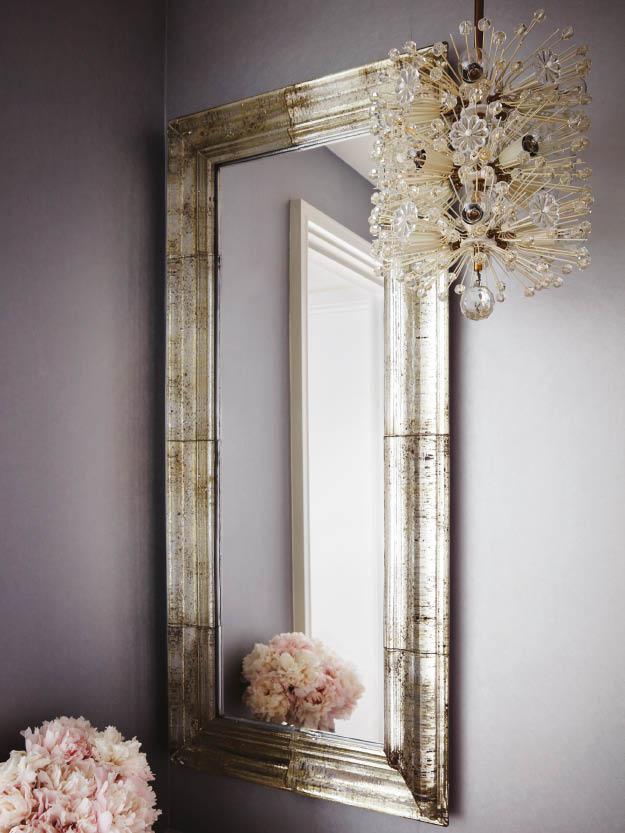 The guest bedroom is grounded with a vintage Swedish kilim rug from 1967. Soft blue tones were used for the master bedroom to accentuate the spectacular city views seen from the window. In the office, a vintage Wengé desk by Nanna and Jørgen Ditzel was placed at just the right angle to capture a magnificent perspective of Central Park.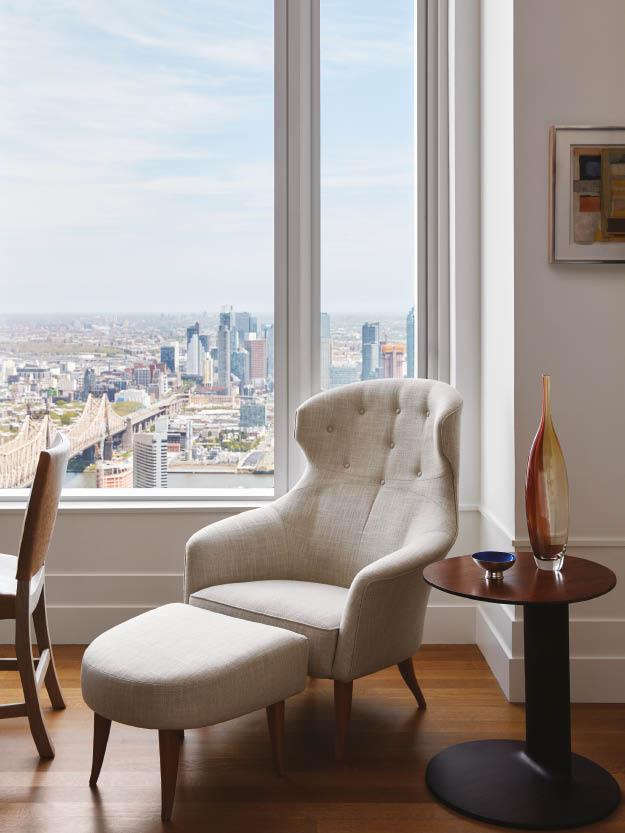 David concludes, "It was very important that the interiors felt effortless and casual – editing the concept down to only the essential elements was key."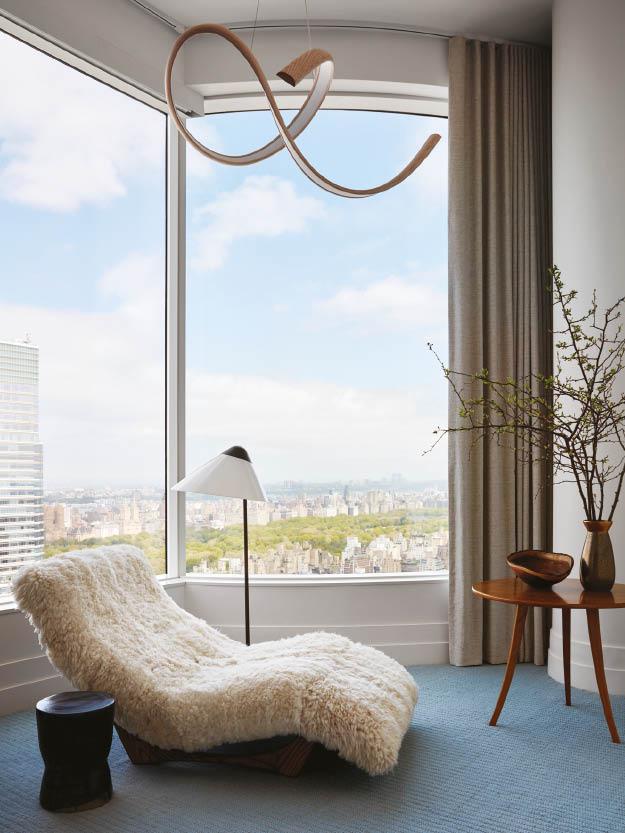 Looking out to New York City's majestic cityscape, the bedrooms retain a delicate balance of tranquillity and personality.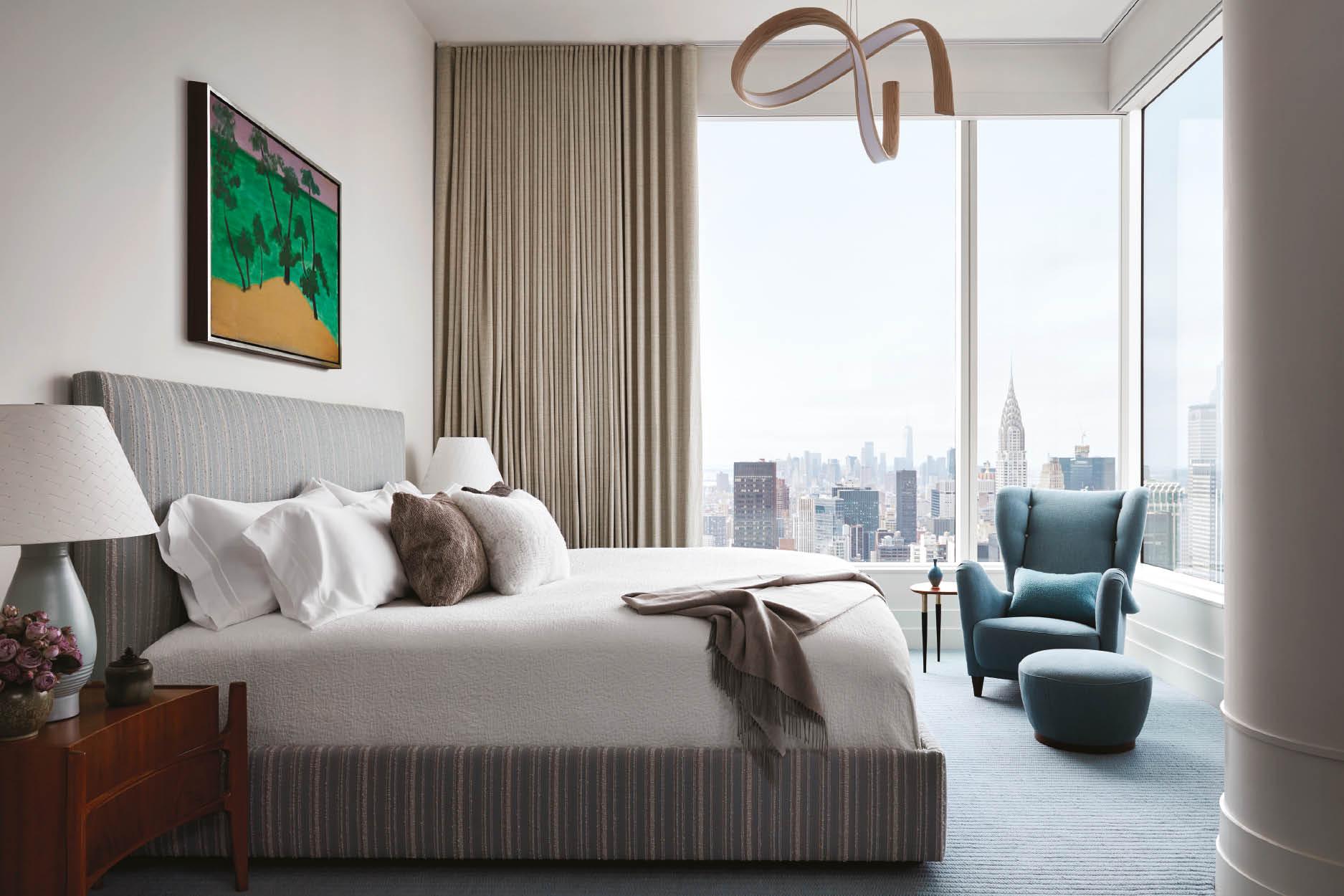 The tranquil bedroom is accentuated by organic forms and neutral shades.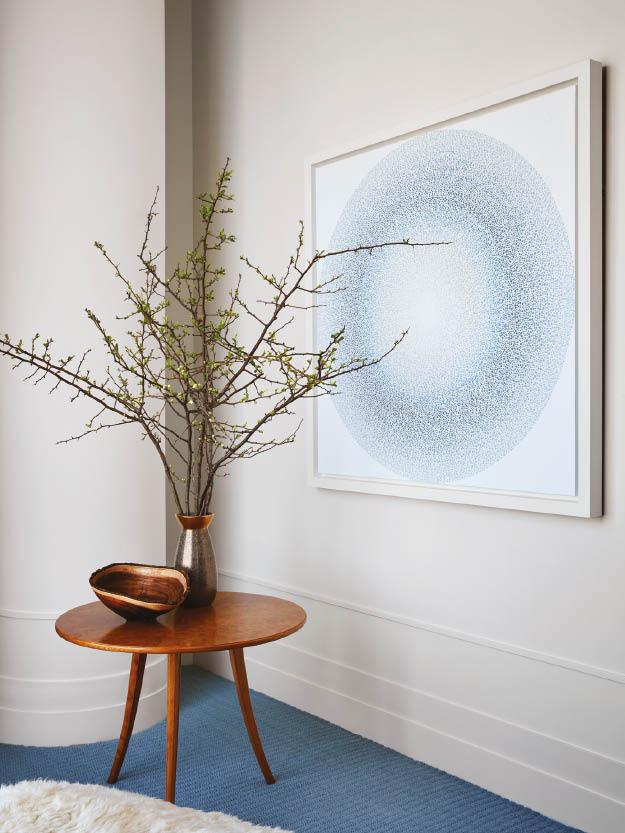 Greenery and art collections come hand in hand.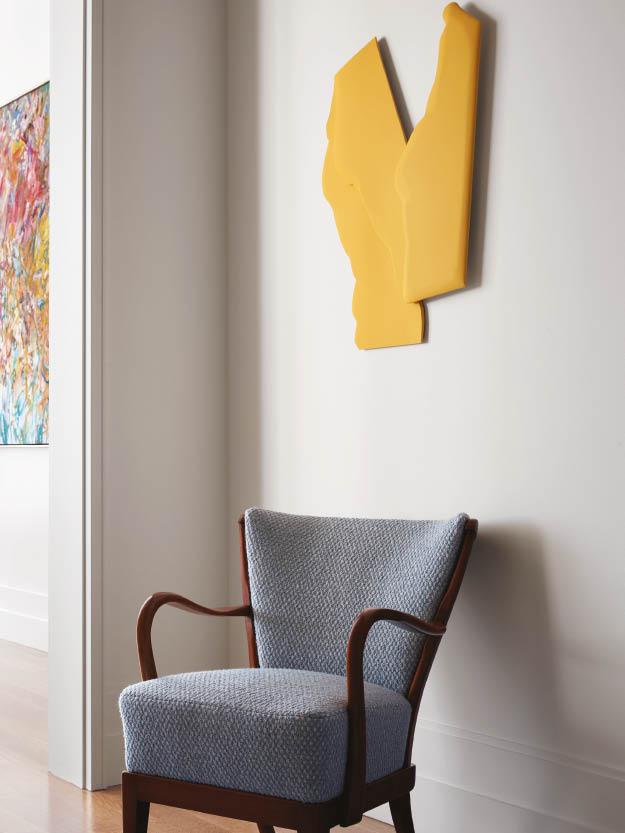 There is no shortage of artistic touches in every nook and corner.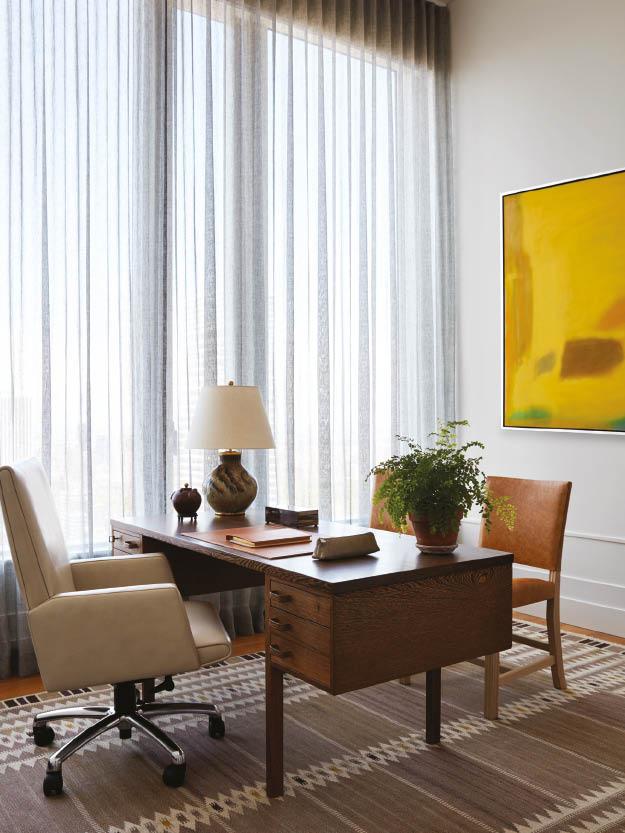 The sophistcated home office.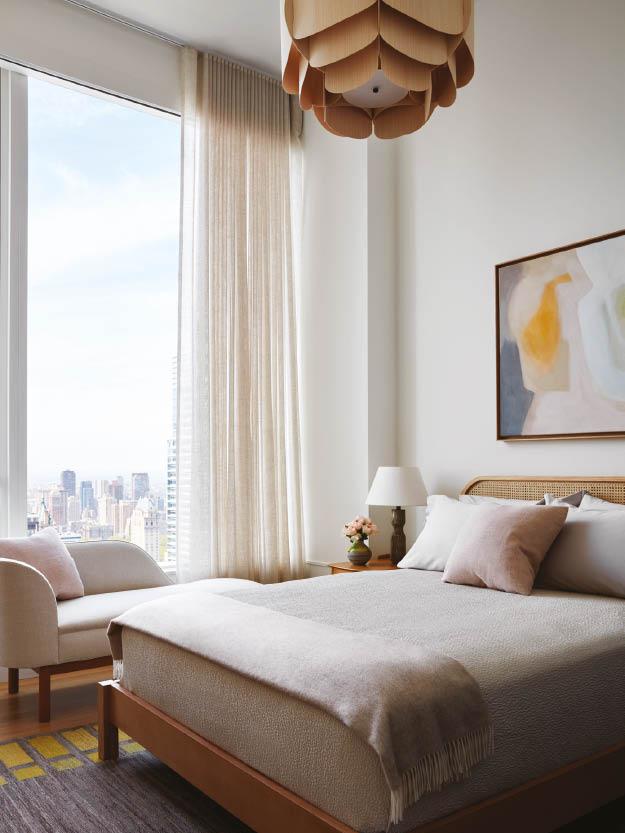 Recharge your soul in such soothing environment.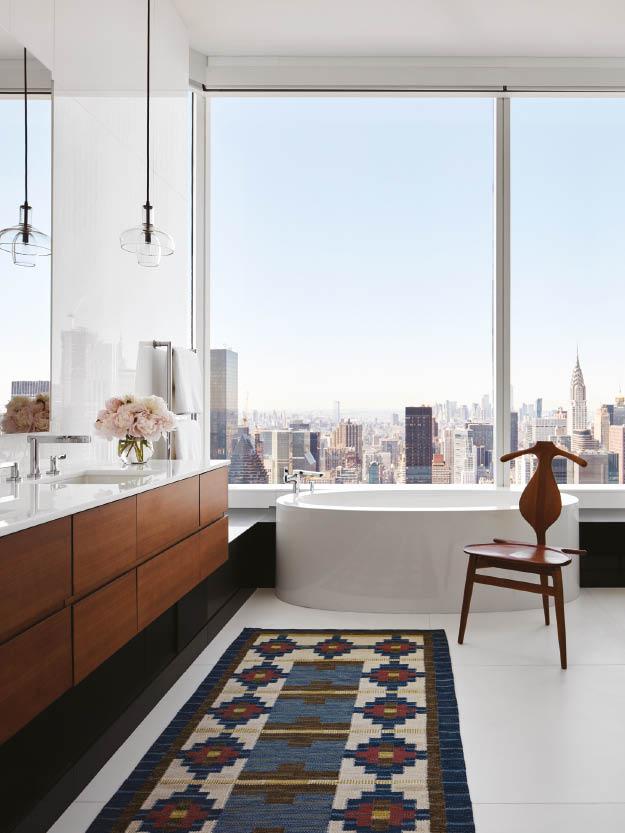 The stunning tub-equipped master bathroom offers the ideal environment to soak the day's stresses away.