Since 1996, Songwriters Hall of Fame inductee and 22-time GRAMMY award-winner, Shawn "Jay-Z" Carter has been a dominant force in popular culture.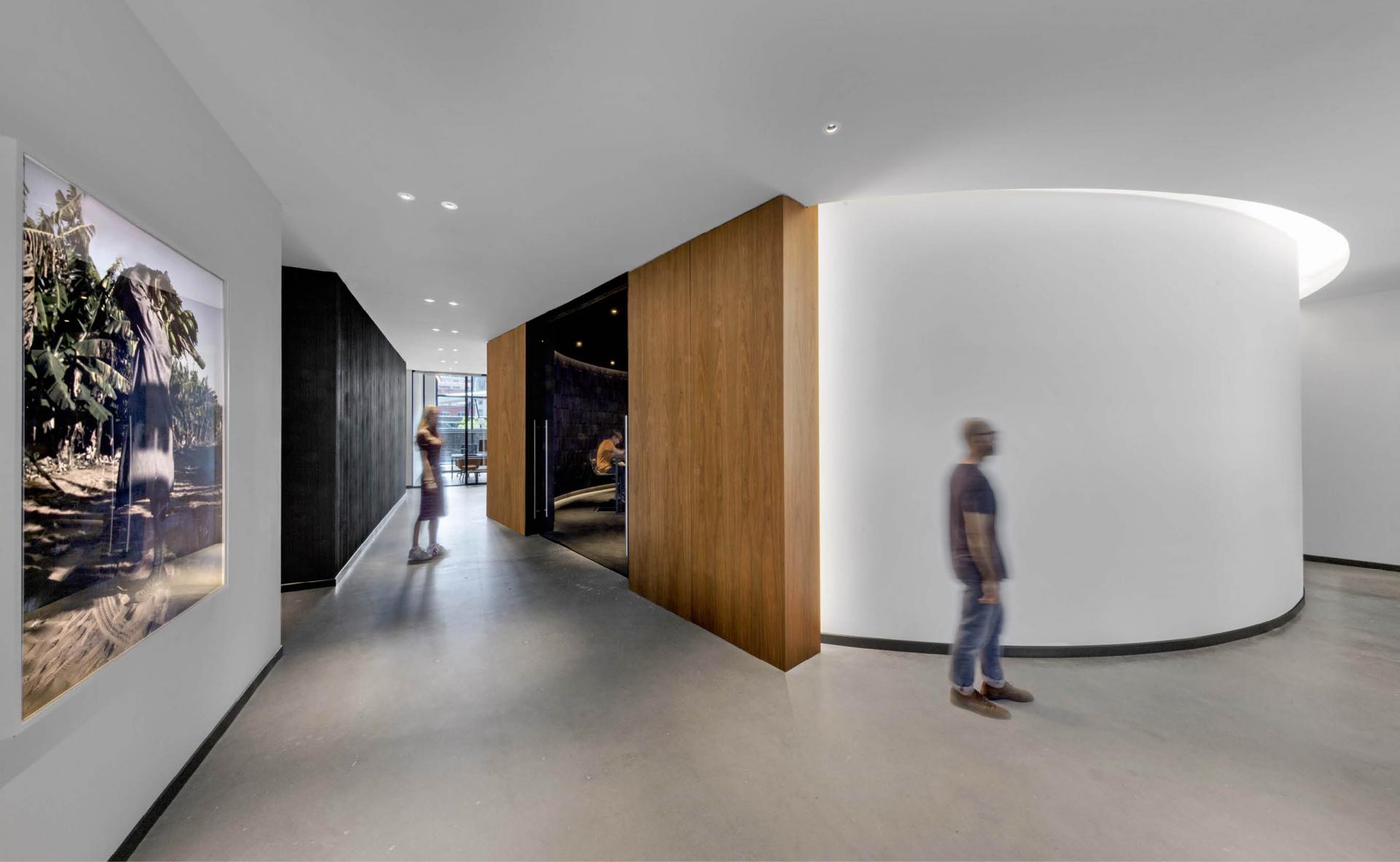 With multiple businesses and accolades across the recording industry and strong relationships with global investment leaders, Jay-Z personifies the American Dream. In 2008, he founded entertainment agency Roc Nation as a joint venture with Live Nation, which is a full-fledged entertainment company housing a record label, talent agency, philanthropy, school, apparel touring and concerts production company. Encompassing offices in New York, London, Nashville, and Los Angeles, the company unveiled its New York City headquarters last summer, and the result is a true feast for the senses. Scroll through the gallery below (Photography: Eric Laignel) to discover more: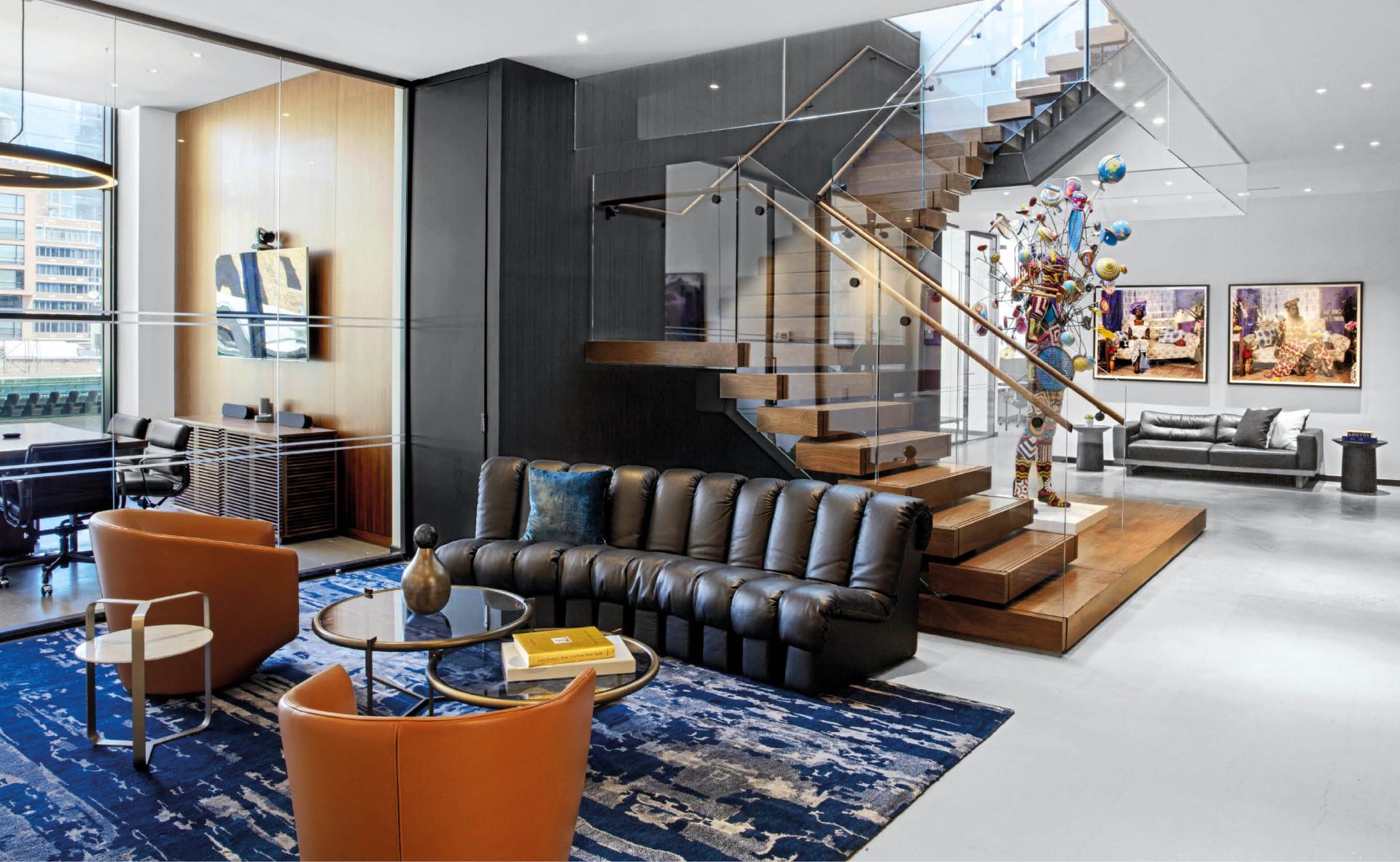 The ground floor reception sets the scene for the overall design, in grounded materials of concrete, black metal and walnut wood, to balance the spectacular artwork collection throughout.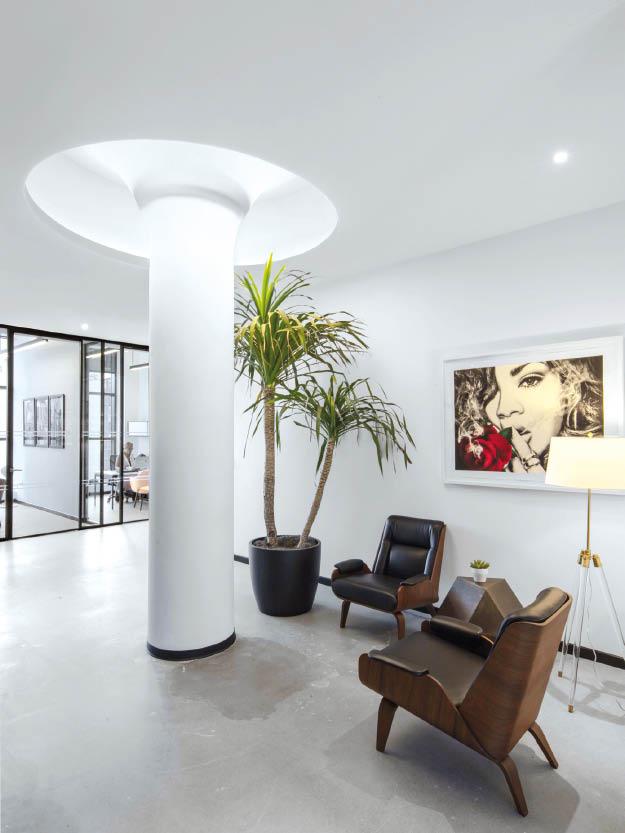 They turned to Jeffrey Beers International, who was tasked with the vision to "capture and express the hip, modern, industry leading culture of Roc Nation", according to the architect Jeffrey Beers. "The design had to be bold and fearless, and to connect with the creative client ethos." Says Desiree Perez, CEO of Roc Nation on why they selected Jeffrey Beers for this landmark project, "we have blind faith in his abilities and style."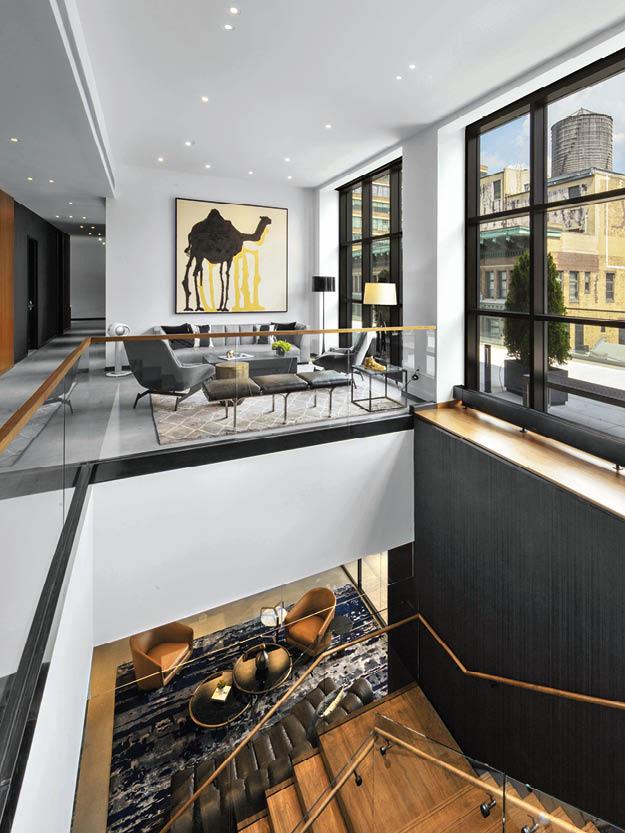 A clean yet warm palette is the end result to display the world class art collection from Jay Z's personal collection, as well as vibrant album covers, an incredible array of artists photographs, athlete jerseys and paraphernalia, as well as Paper Airplane's apparel. Sophisticated materials such as buffed concrete, crisp Italian blackened metal glazing systems and expanses of glass were complimented with accents of warm walnut wood and textured wallcovering to fill the office with light and refined accents.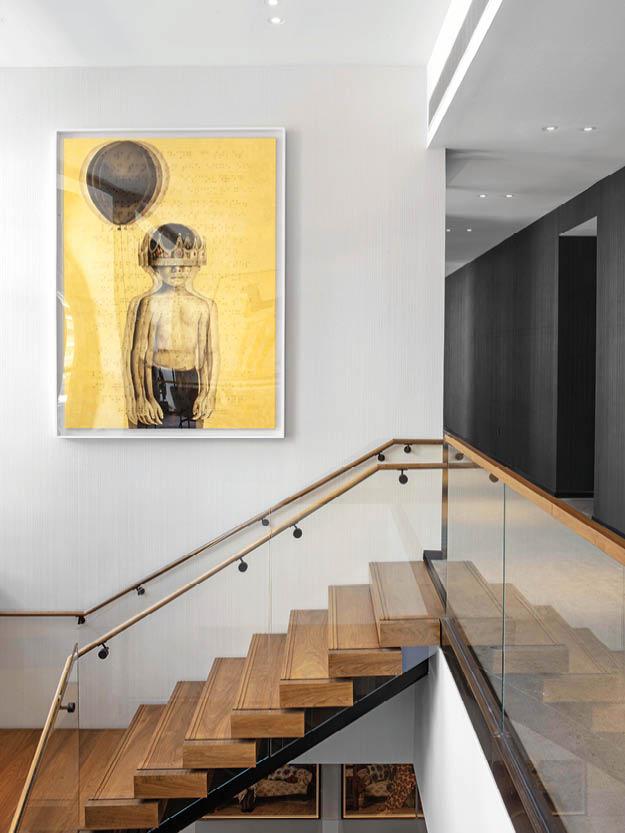 Thoughtfully considered architecture enables the spatial elements of the offices to encompass many functions.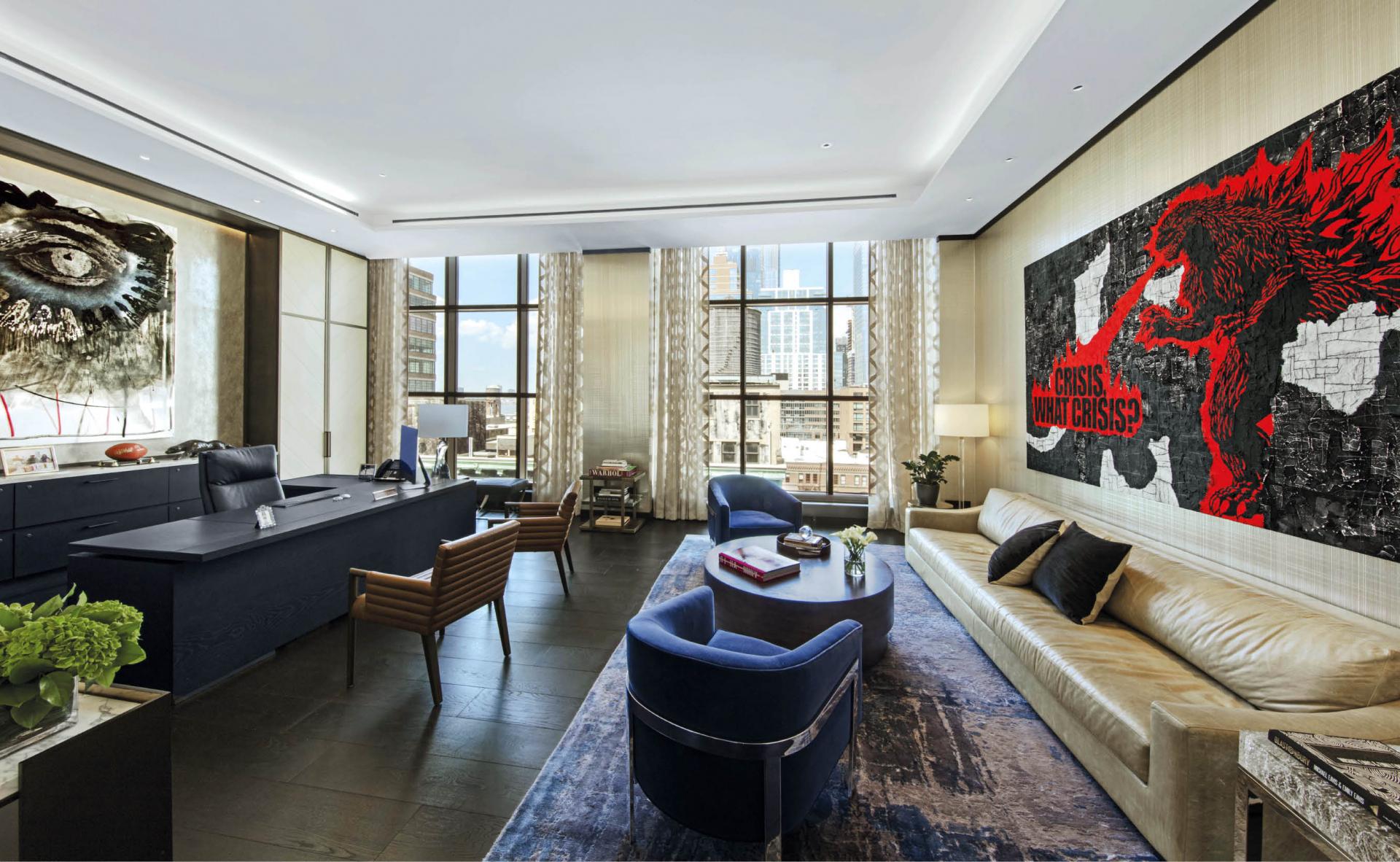 Beers shares that the design team took a hospitality approach to the layout and planning of the interiors from the get-go. Entering the lobby entrance and the sixth floor reception, the atmosphere achieved is bold yet inviting. Both spaces display striking and imposing artwork, such as a floor to ceiling black and white portrait by photographer Zanele Muholi and artist Nick Cave's Sound Suit sculpture, demonstrating a symphony of colour and shapes. Continues Beers, "throughout the floors, we designed lounge spaces to encourage gatherings and person to person connectivity among staff and visitors. The circular social media theatre is one of my favourites. We layered the space with elevated and luxe finishes to impress and inspire their many visiting clients and guests."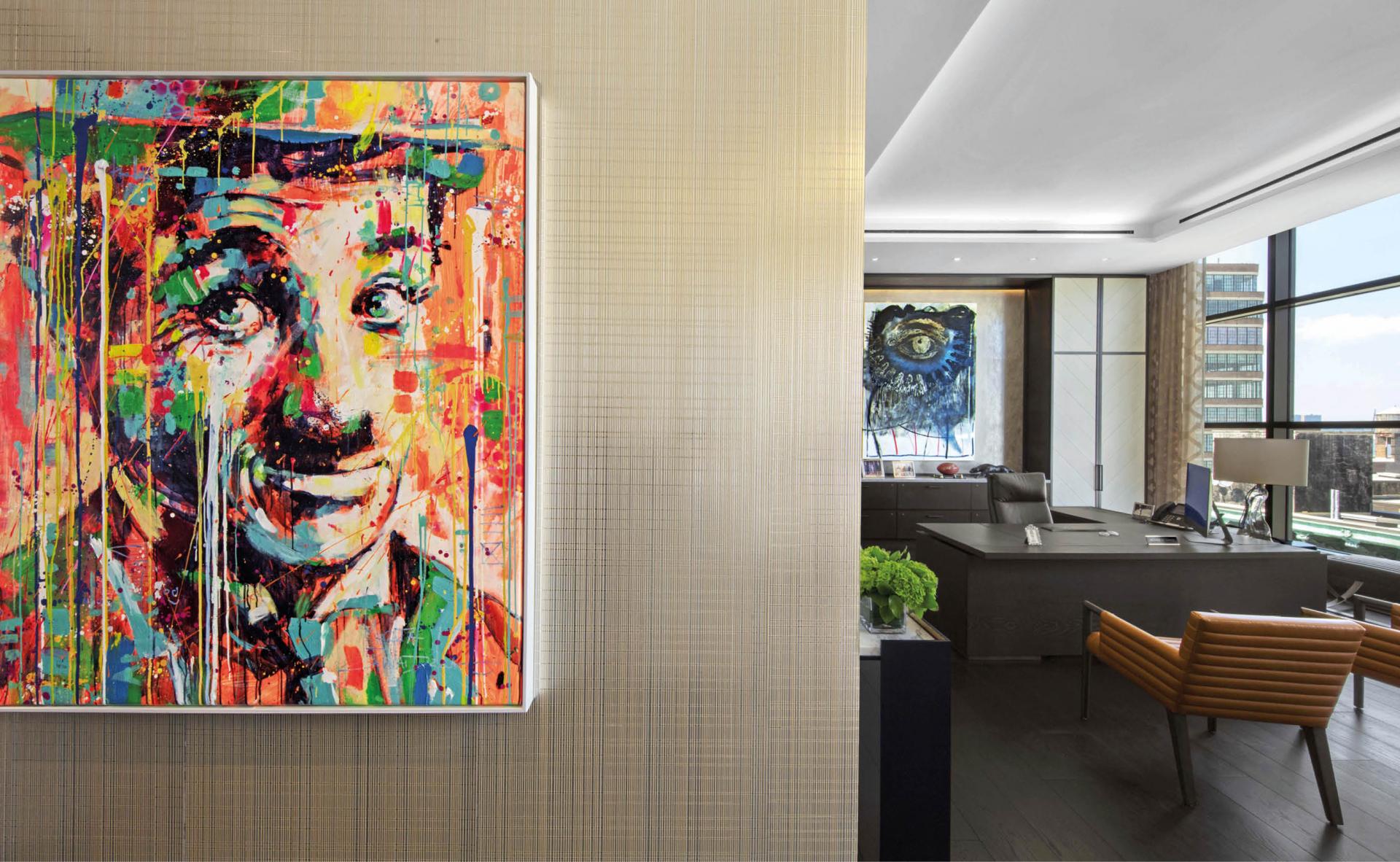 Individuality and creativity are encouraged at Roc Nation and staff can decorate their own workspace. Beers explains how the individual offices are divided by an Italian storefront system of black anodized steel with glazing flush, and sidelights between offices ensure the corridors are light filled and feel wide. "As a result, the offices and corridors look and feel like a gallery space. You want to stop, look, and observe," he reveals.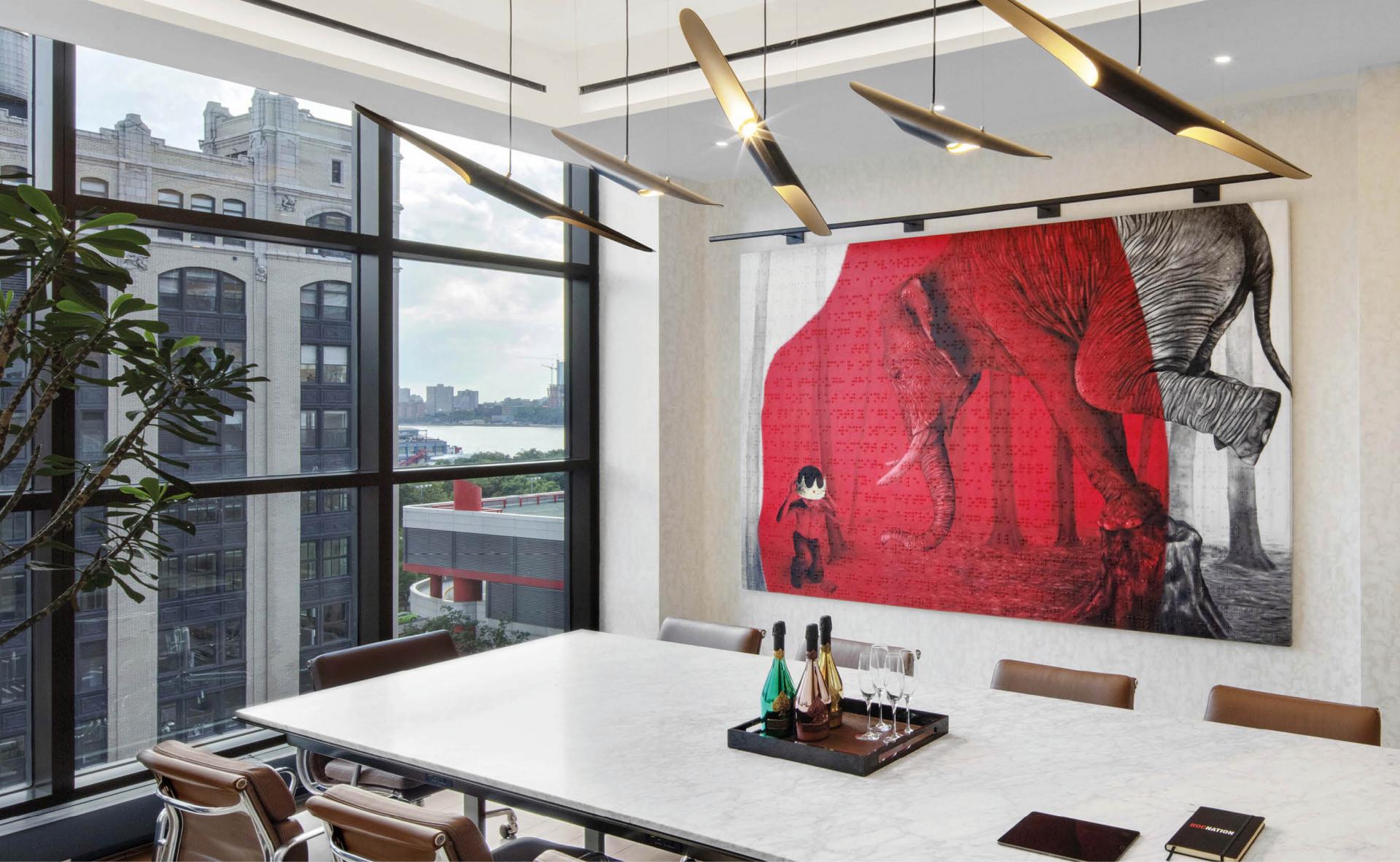 "Meanwhile, the four executive's offices were custom designed to complement each executives' own unique personality, taste, and role in the company. We used rich warm woods, luxurious stones, custom designed millwork, and curated residential feeling furnishings so that these offices were designed to feel like mini residences and power centers anchoring each end of the floors. They eschew the classic corporate look and feel (neither sparse or standardized), and their design is personal and comfortable. Each office features its own reception, meeting room, and bathroom." For her own domain, Perez reveals, "I'm simple, in terms of my personal style, and so I wanted that to come across in the décor. I wanted Jeffrey to create something strong, non-gender-specific while still being a little edgy. I think we achieved that."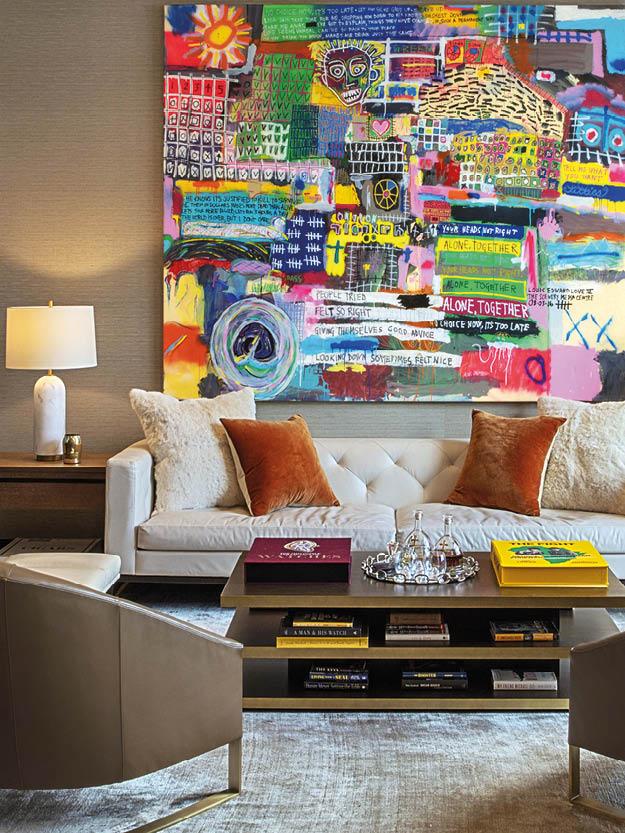 A large part of the design process took place during the height of the Covid-pandemic when many companies had to recalibrate or reset their work flow and procedures, and it was no exception when it came to discovering new solutions for this project.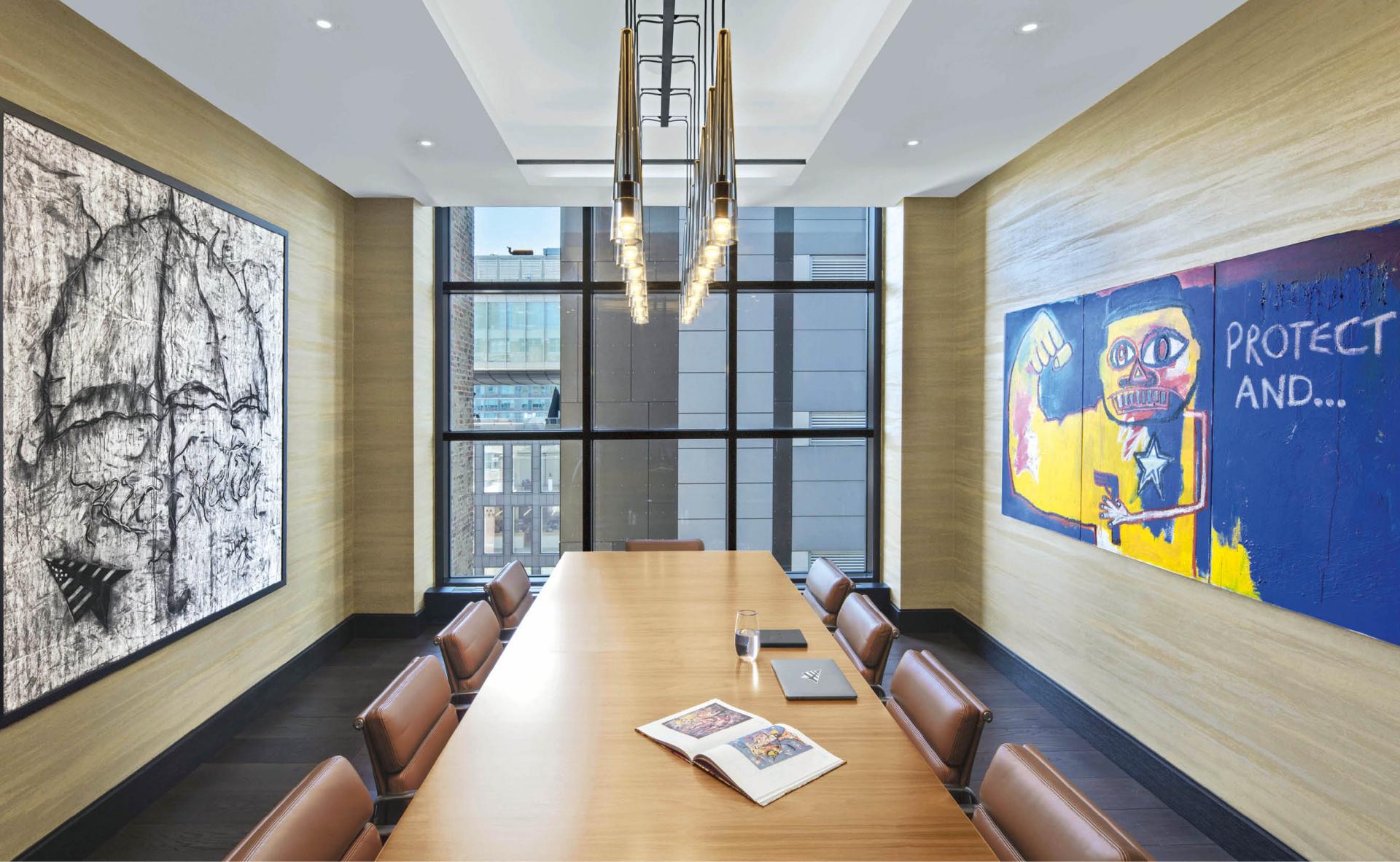 Says Beers, "at the time we were designing the office, open planning was all the rage. We were a little taken a back, therefore, when we were asked to design separate offices. Yet through the process my team discovered the elegant and tailored glass storefront systems by Alea. I became such a fan that I have even incorporated it into our new office space in World Trade Seven." He continues, "the coincidence, or the twist of fate (if you can say that) is that when Covid regulations began to ease in New York. By June many of RocNation's employees were able to return safely back to work because of the glass partitions as well as the airy proportions of each office." Adds Perez, "it has been a difficult time for us not being able to be close and work together but when we got back, we realised how spacious and open this space really is. We have the large balconies and rooftop as well, so this helps with the distancing."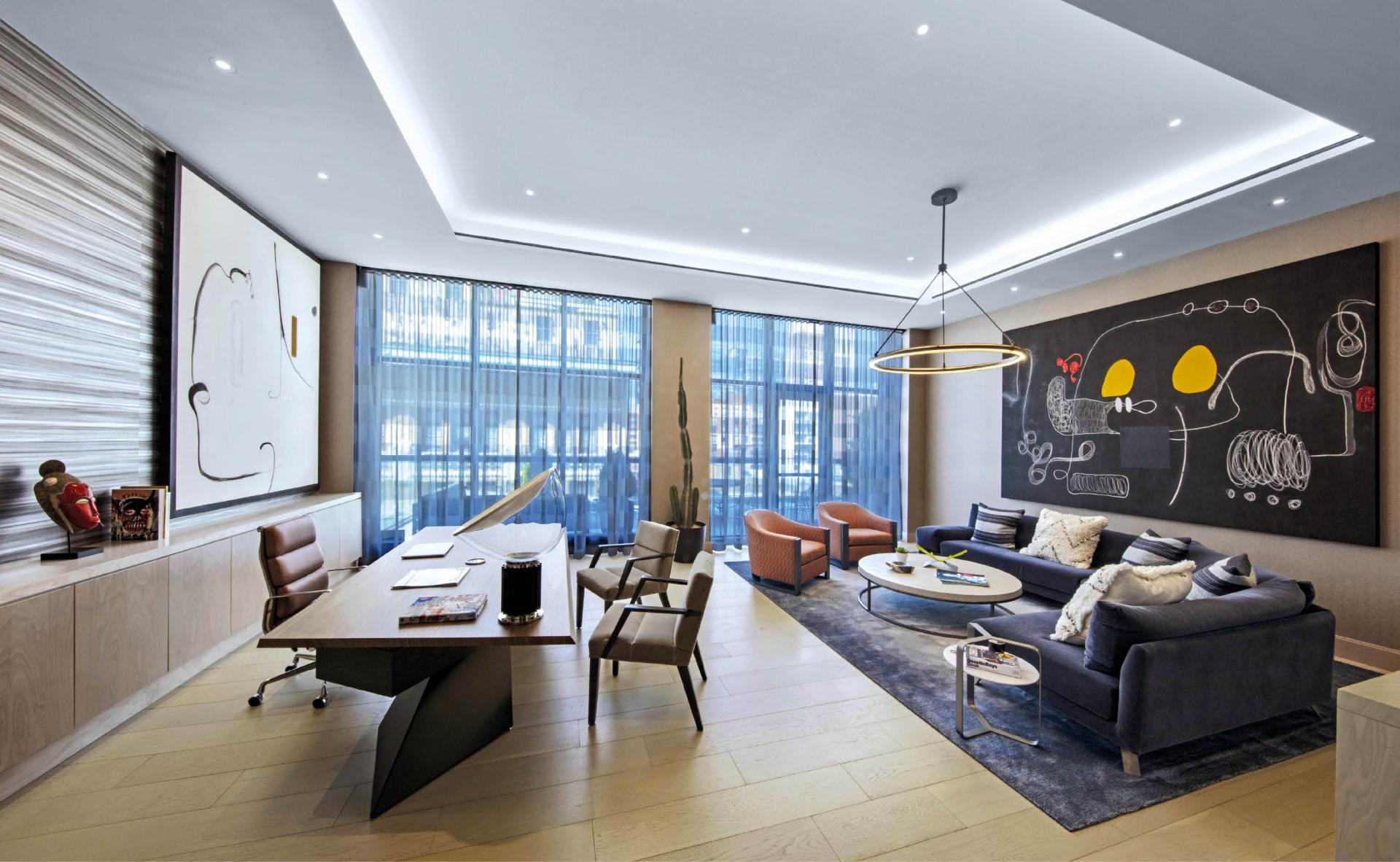 Being in a business that transcends culture for a living, the talented CEO further explains what a typical work day for the executives at Roc Nation is like. She enthuses, "every day is full of action like the floor on Wall Street. It's high energy and busy and the space absolutely gives us a feeling of energy – it breaks ceilings, it feels powerful and it's like waking up and looking at the ocean."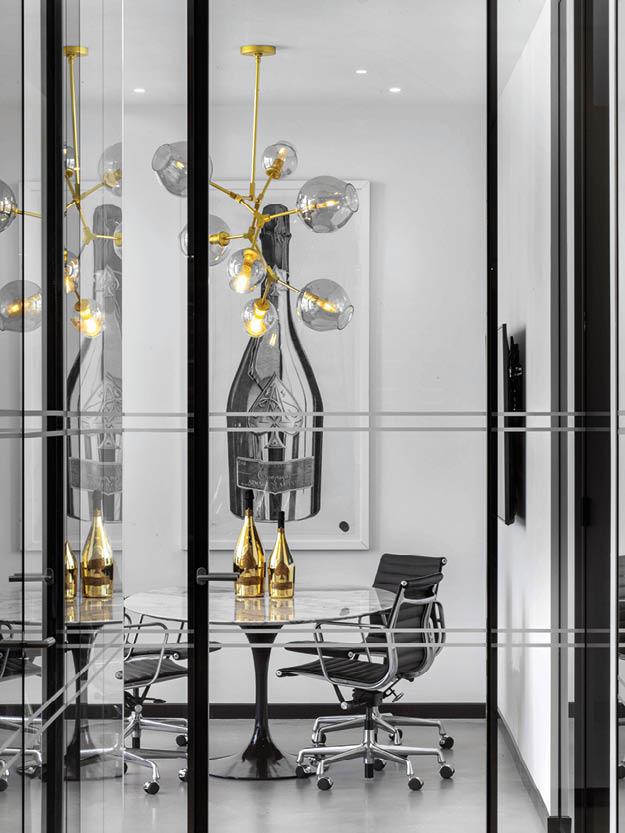 The office for an executive of Armand de Brignac Champagne.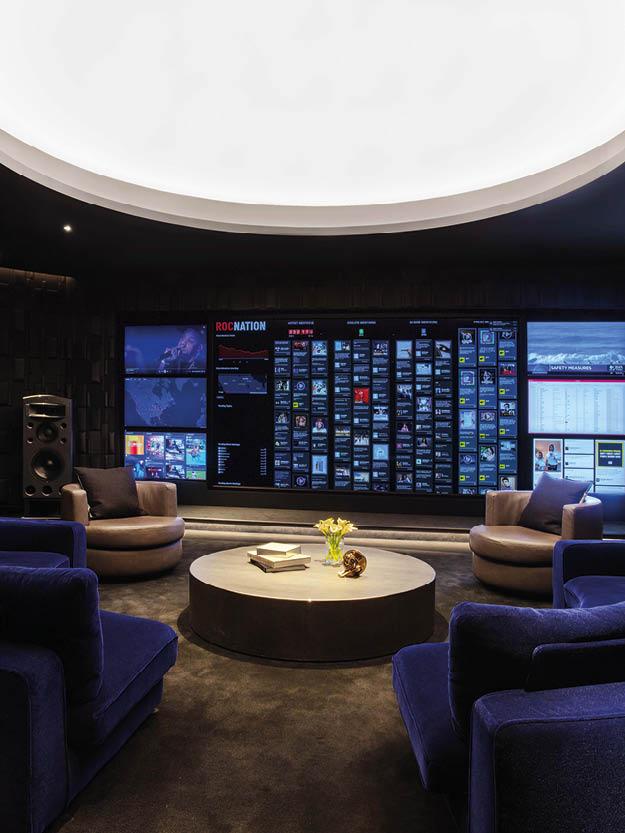 The sphere shaped modern social media lounge transports one to another world.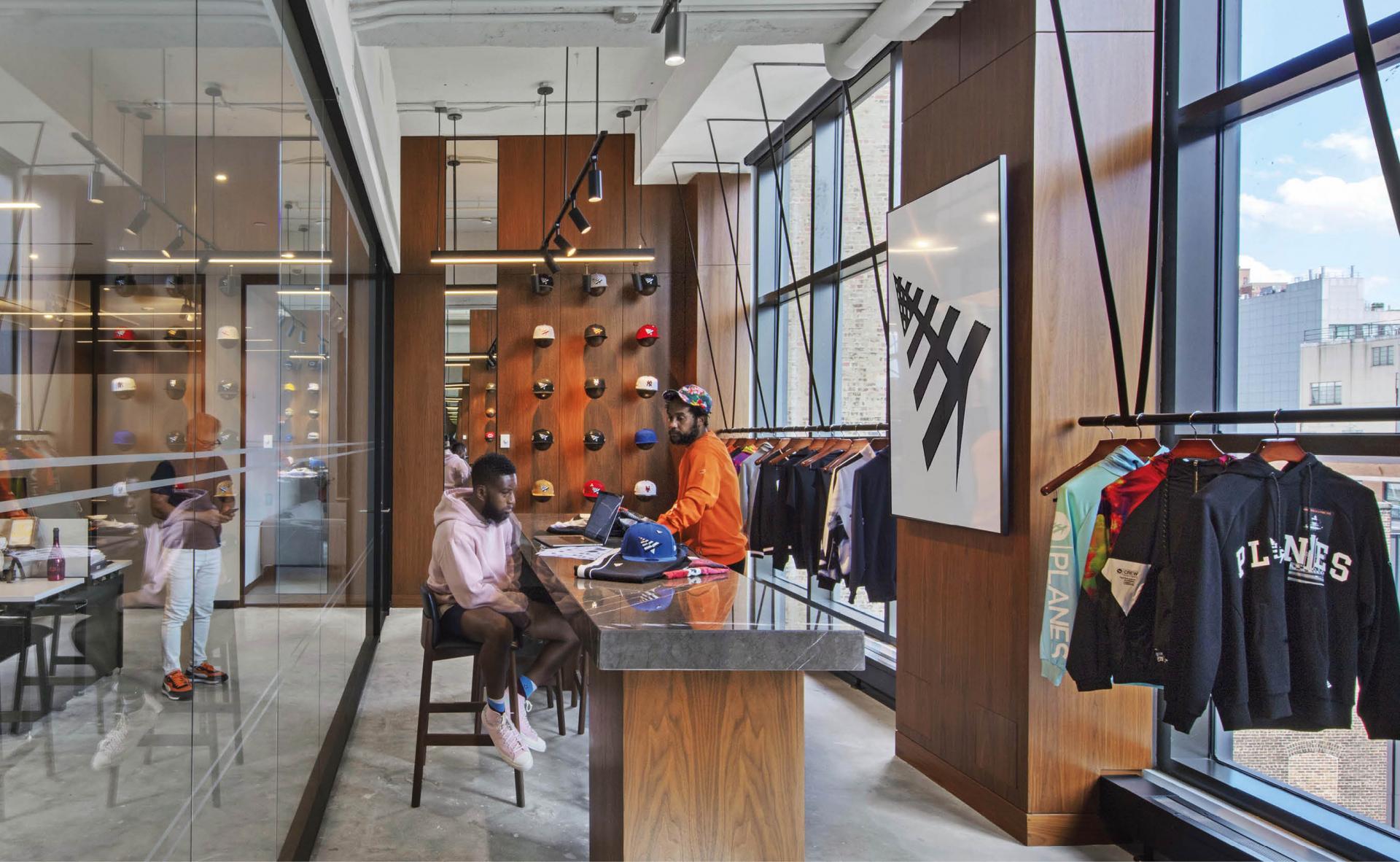 The retail showroom highlights the latest designs by Paper Planes.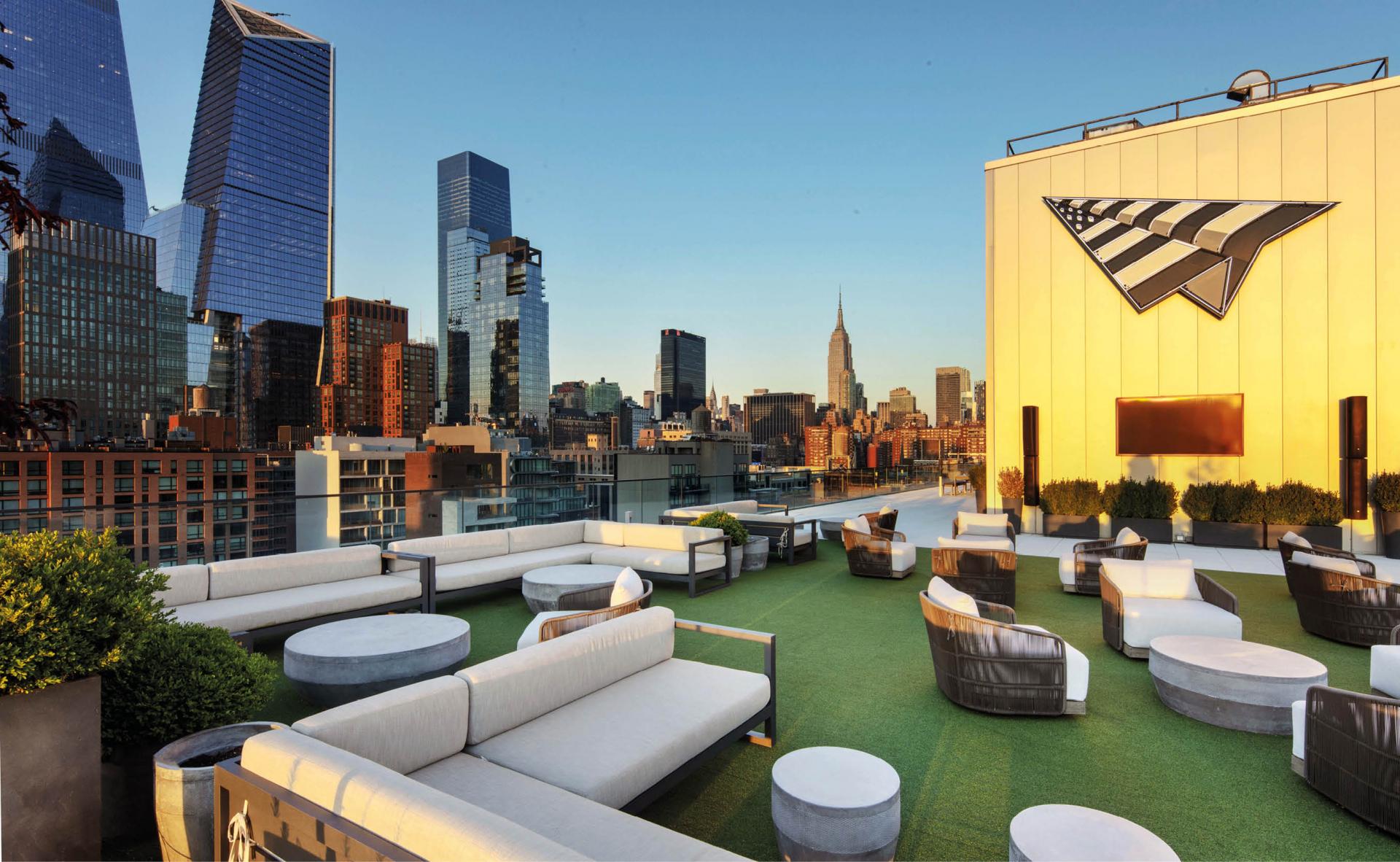 The expansive rooftop with striking views of Manhattan symbolizes Roc Nation's urban, communal office culture.