"To sit in the shade on a fine day and look upon verdure is the most perfect refreshment," wrote the famous English writer Jane Austen in Mansfield Park. This aptly depicts Hong Kong-based Amanda and Stephen Clark's summer holidays at Seend Manor, their sprawling 28-acre estate in Wiltshire, South West England. "There is a part of the English soul that seems to be captivated by country life. Gardening is an obsession that crosses all ages and social classes," says Amanda.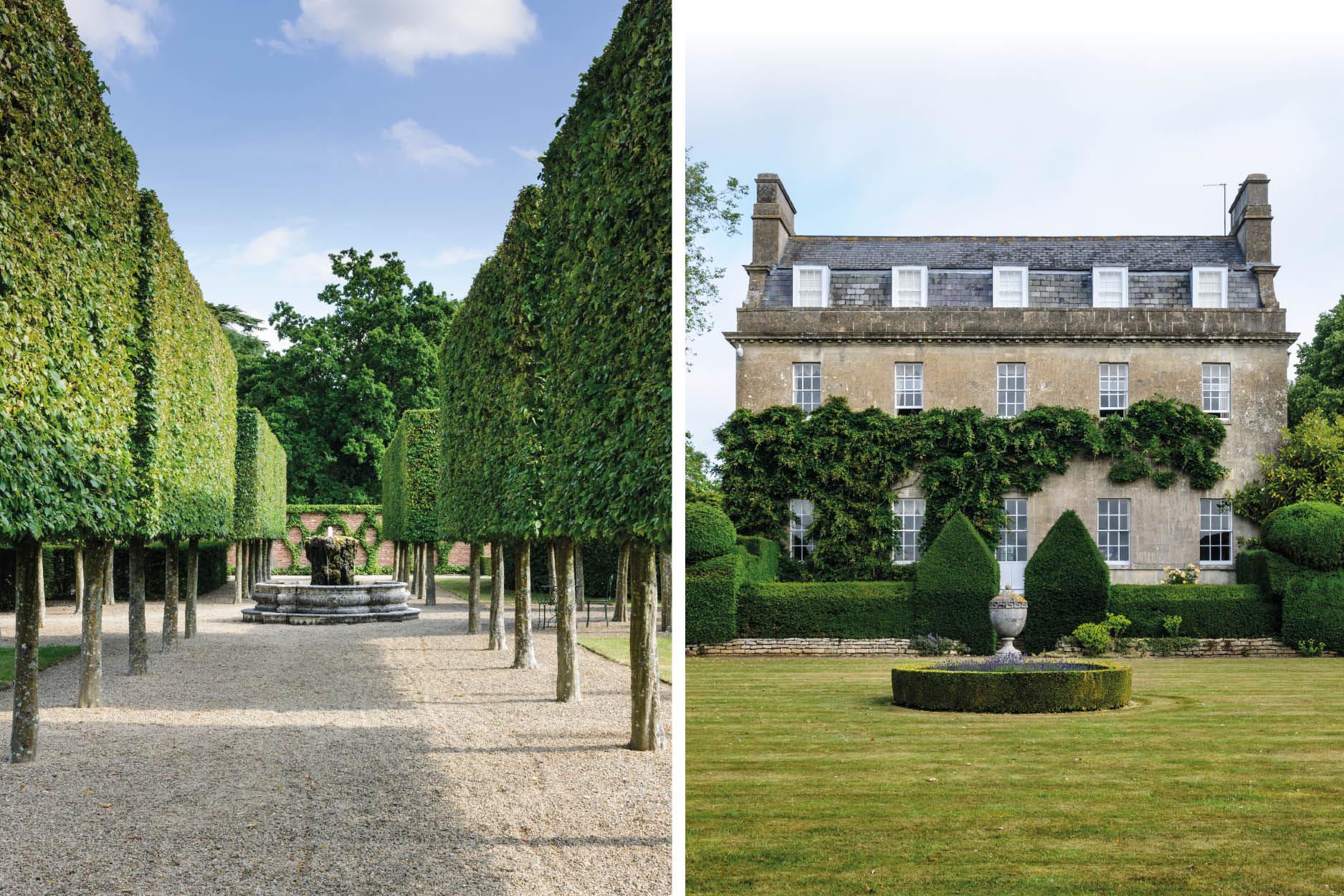 When The Clarks purchased the Grade II listed Georgian house and surrounding gardens in 1998 in the quaint village of Seend, extensive restoration work was required on the historic property and grounds. Built in 1767 of Bath Stone, the couple fell in love with the property almost immediately. "The three storey house was originally built as a hunting lodge, with a huge classic stable to one side. Built for pleasure and entertaining, it has the beautiful proportions of a classic Georgian home," notes Amanda.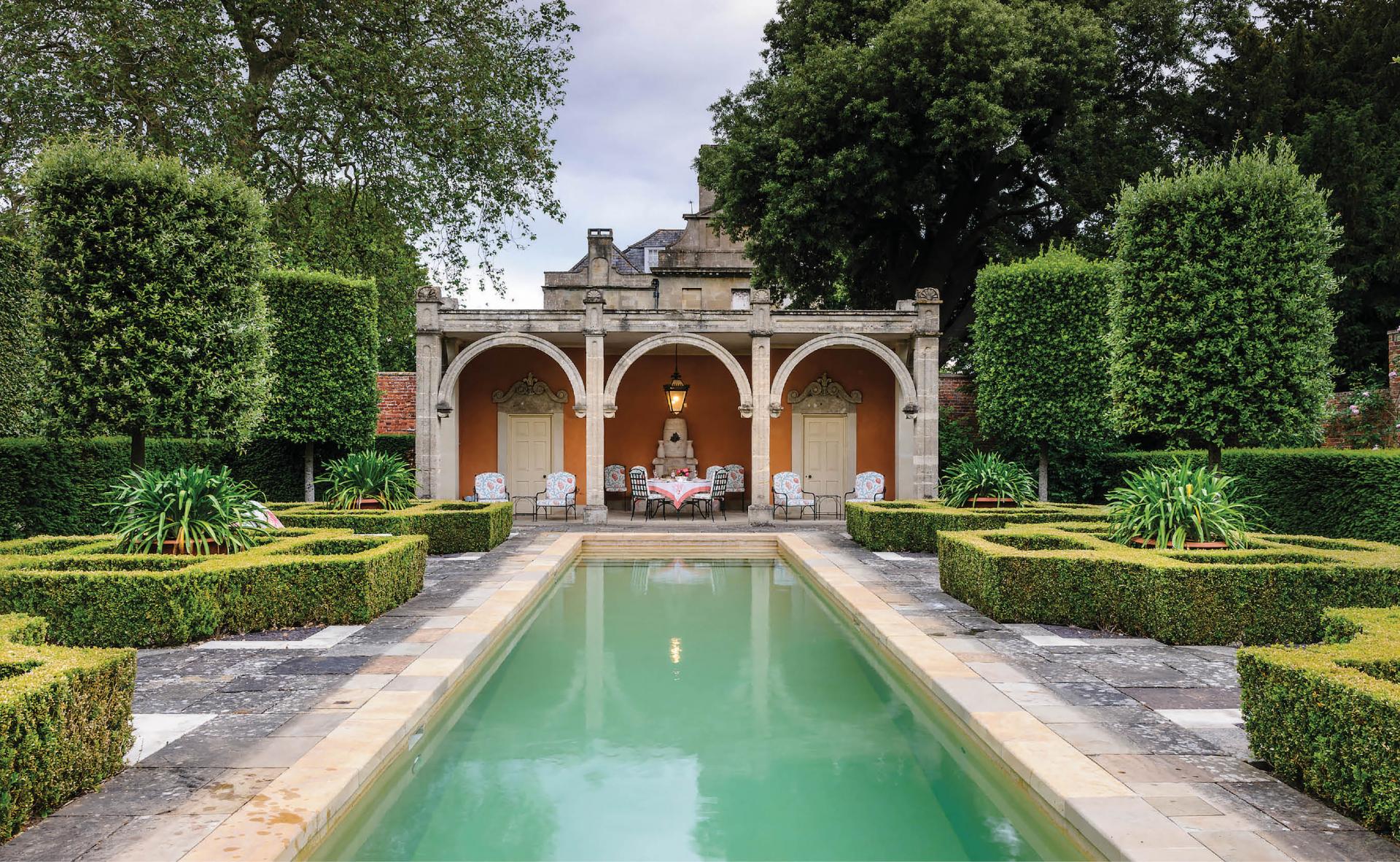 The garden restoration took five years to come into fruition, whereby they collaborated with leading British garden designers Julian and Isabel Bannerman. Well-known for their magical and wondrous garden designs, The Bannermans have designed for the likes of Prince of Wales and Lord Rothschild.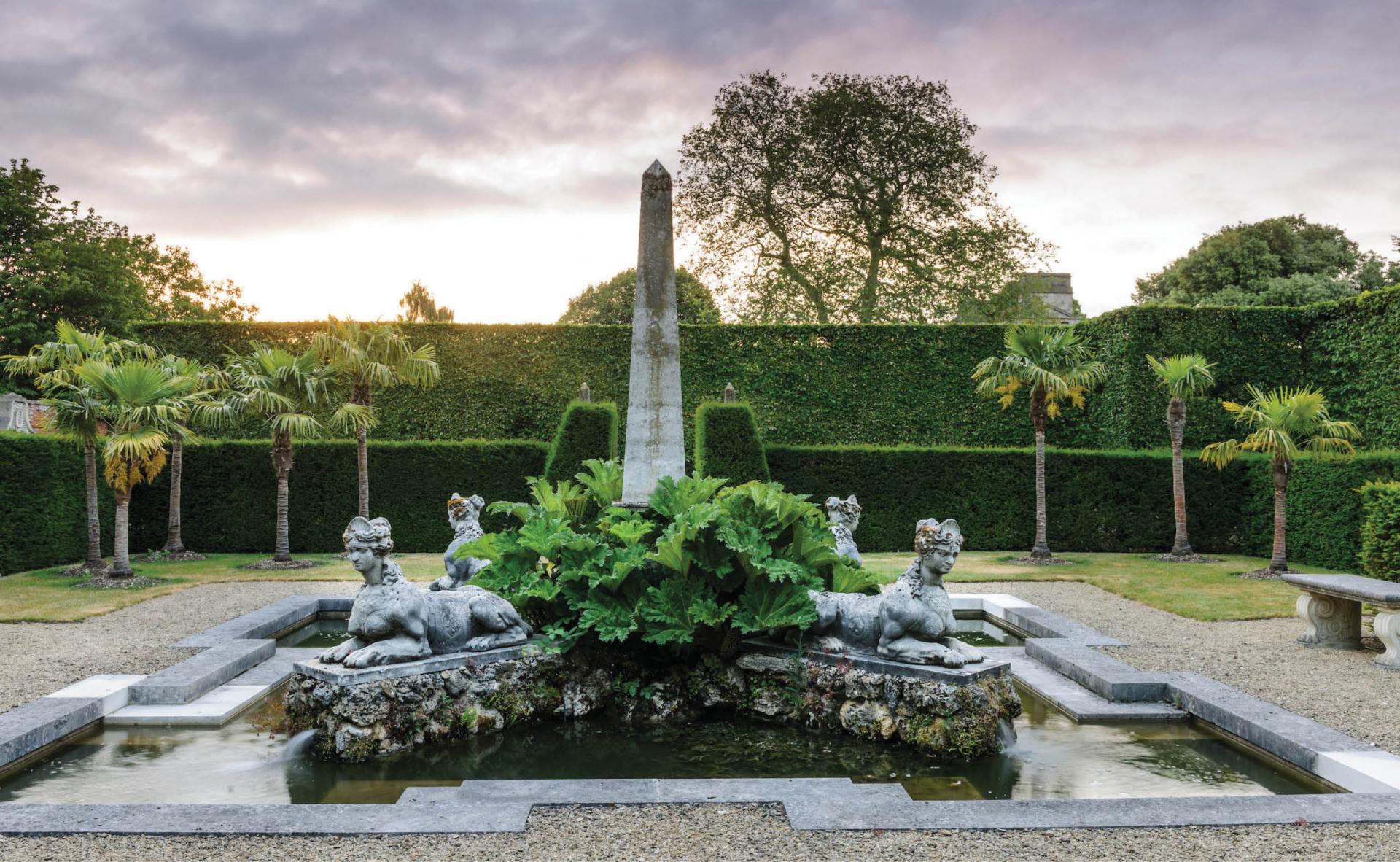 The extensive grounds are divided into four separate quadrants that correspond to specific geographical locations. "England, Italy, Africa, and China… these are all places we have lived in, love, and enjoy travelling to. In each area, we have created structures and plantings that evoke the style, atmosphere, and feeling of those places," says Amanda.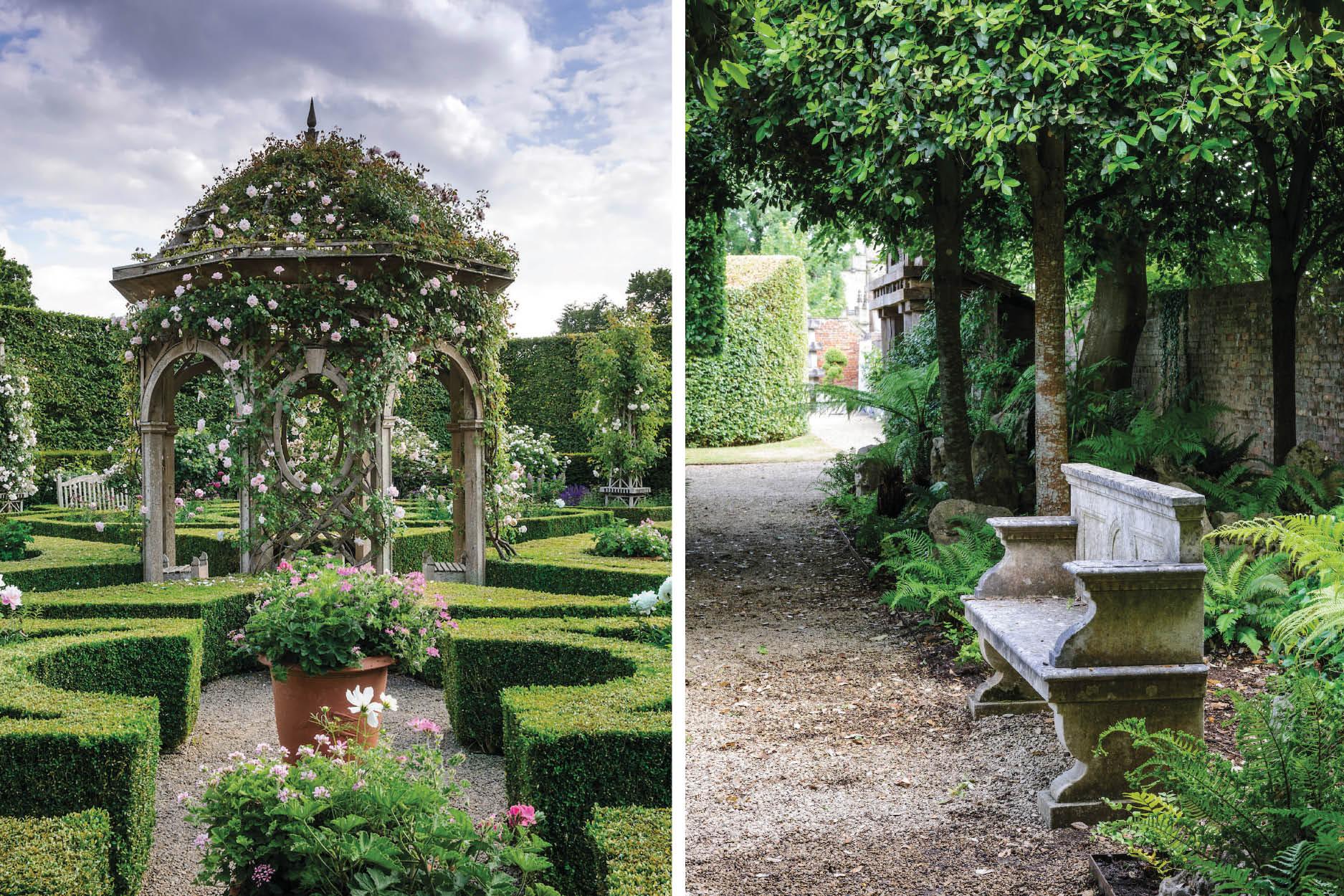 The romantic England area is a bountiful and exuberant space that exemplifies the quintessential English cottage garden. The spectacular boxwood parterre takes centre stage, which surrounds an elegant teak wood gazebo. The array of colourful and fragrant flowers includes classic roses, peonies, lilies, delphiniums, lupins, and more. A small thatched cottage orné in the corner offers a cosy retreat for relaxing, as well as enjoying an afternoon tea with a view. "It is much loved by visiting children, who named it the Hobbit House after The Lord of the Rings!" explains Amanda.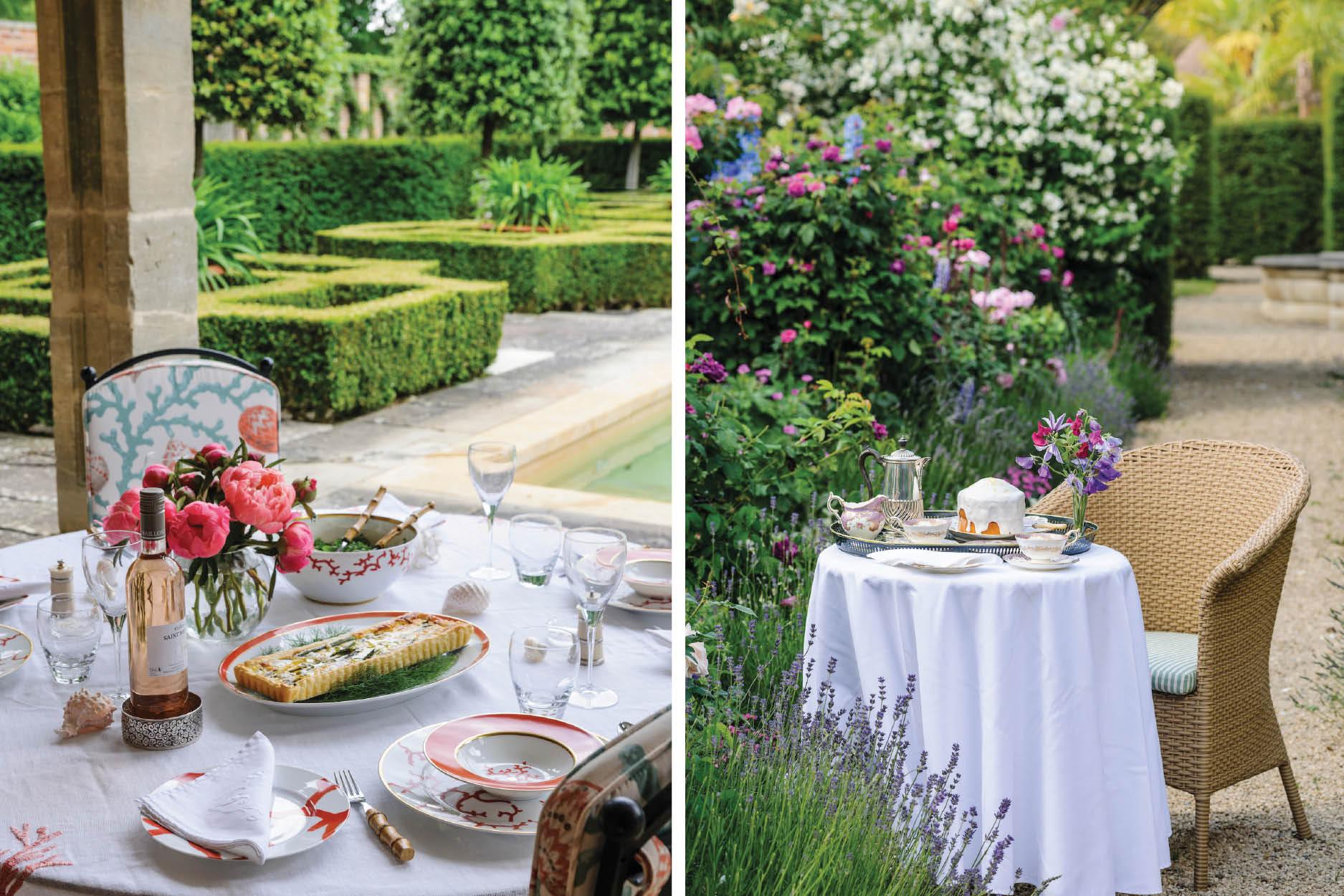 The Italian garden exudes Tuscan charm, and is where The Clarks spend most of their summer days. An antique three-arch stone loggia was the starting point for this garden. "We built around the arches to create a shaded space for meals, and laid out a long slim pool with an Italianate planting of boxwood along the sides. At the opposite end is a wooden pergola covered
with grapevines."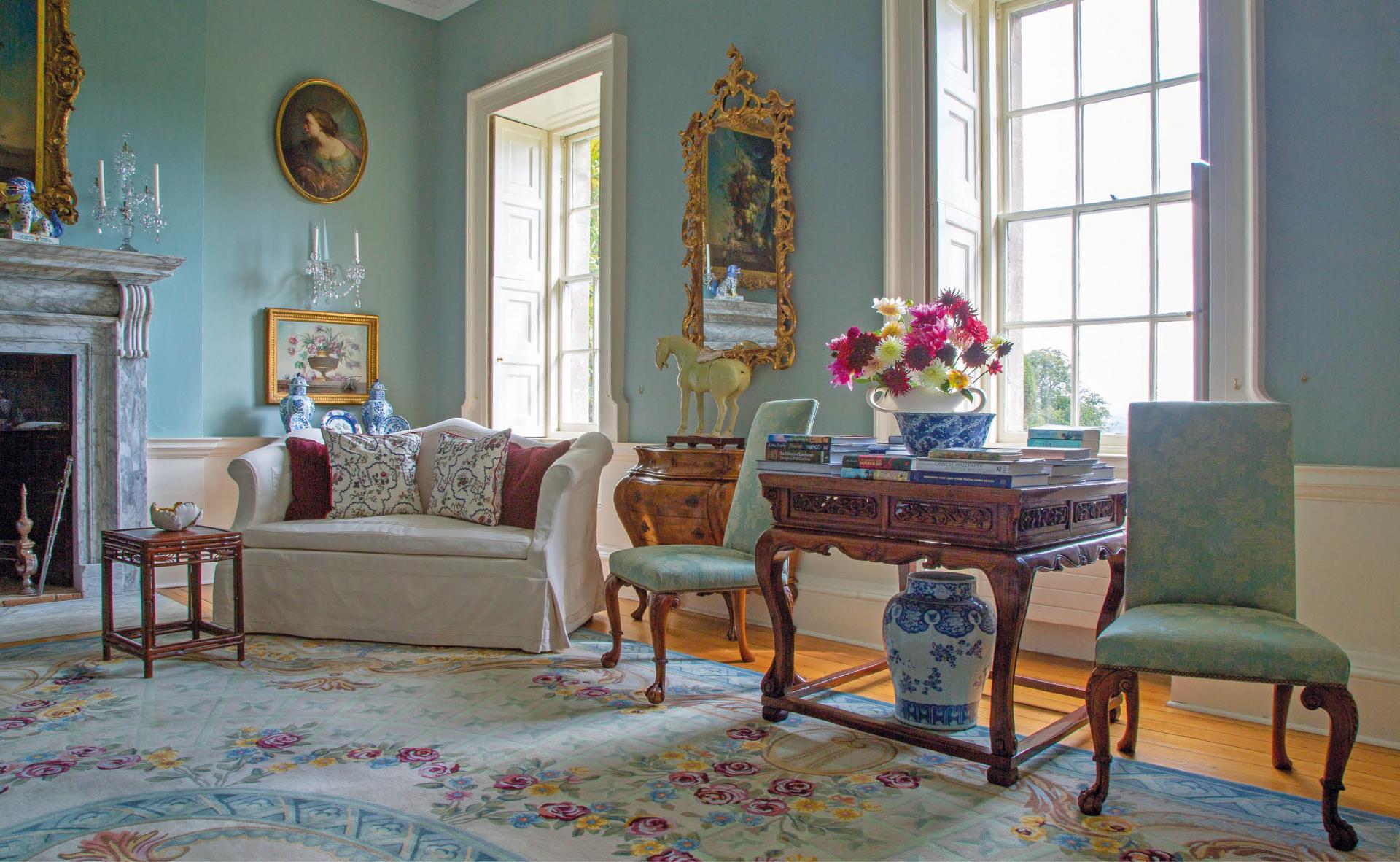 Stephen was born in, and spent time working in, Africa. This structural verdant garden celebrates the source of The Nile, and offers a handsome contrast to the other spaces. Featuring a fountain pond with a central obelisk flanked by four stone sphinxes, this poetic and reflective space is planted with herbaceous Gunnera, palm trees, as well as evergreen oak.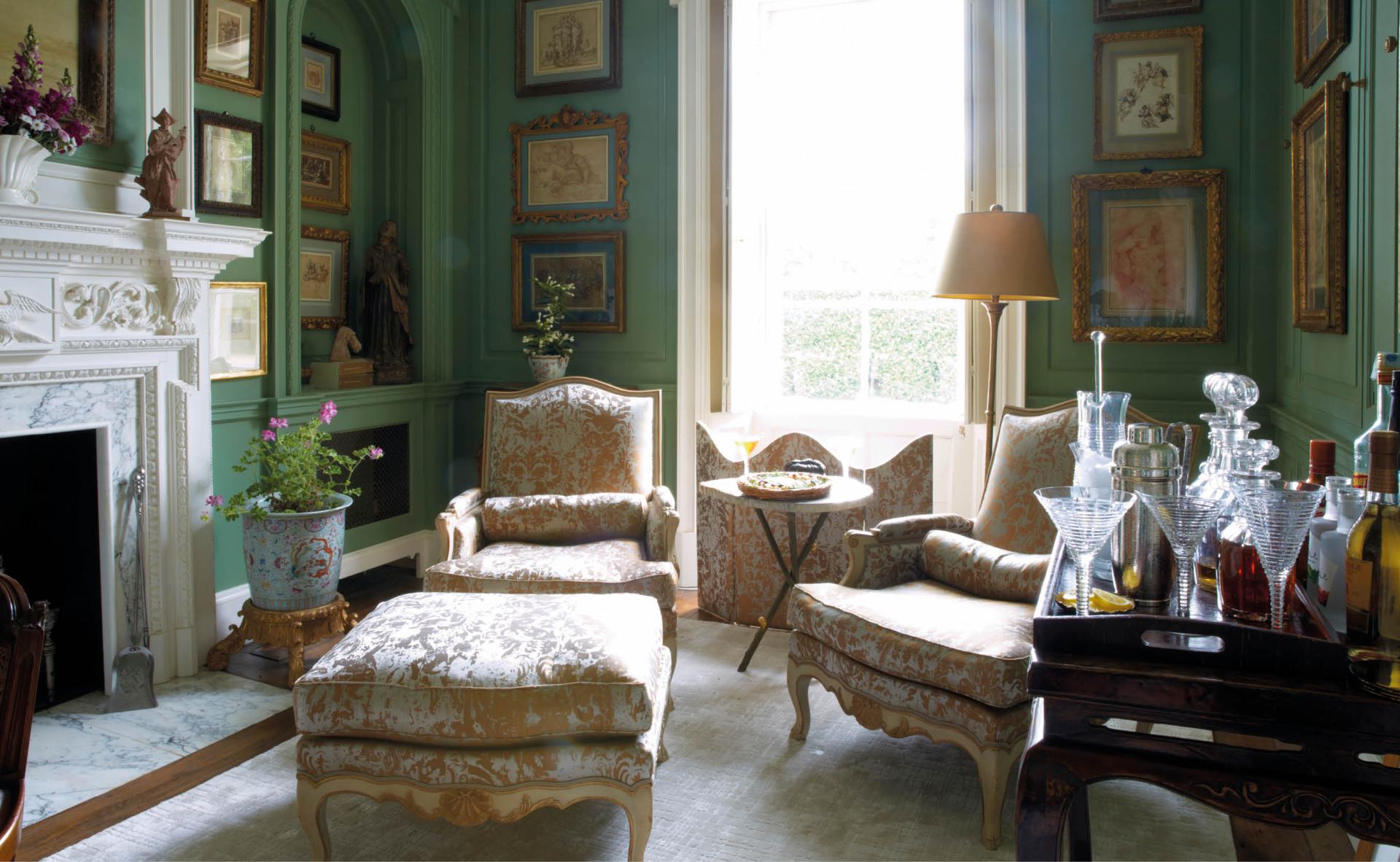 Amanda and Stephen share a fondness for Chinese garden cities, and were inspired to create a genuine Chinese garden at Seend Manor. "We commissioned a Hangzhou master craftsman to create a two storey ting, based on a sketch we drew of our ideal pavilion. It sits within an oval beech hedge cut in the form of a wavy dragon's back. With tree peonies, bamboos, and Chinese roses, it is a magical Chinese garden space." The bespoke structure was constructed in Zhuhai, dismantled into hundreds of component parts, shipped to England, and took 18 months to re-erect. "It is called the Pavilion of Past Joy and Present Happiness. In the summer, the whole family gathers here for hearty Chinese feasts!"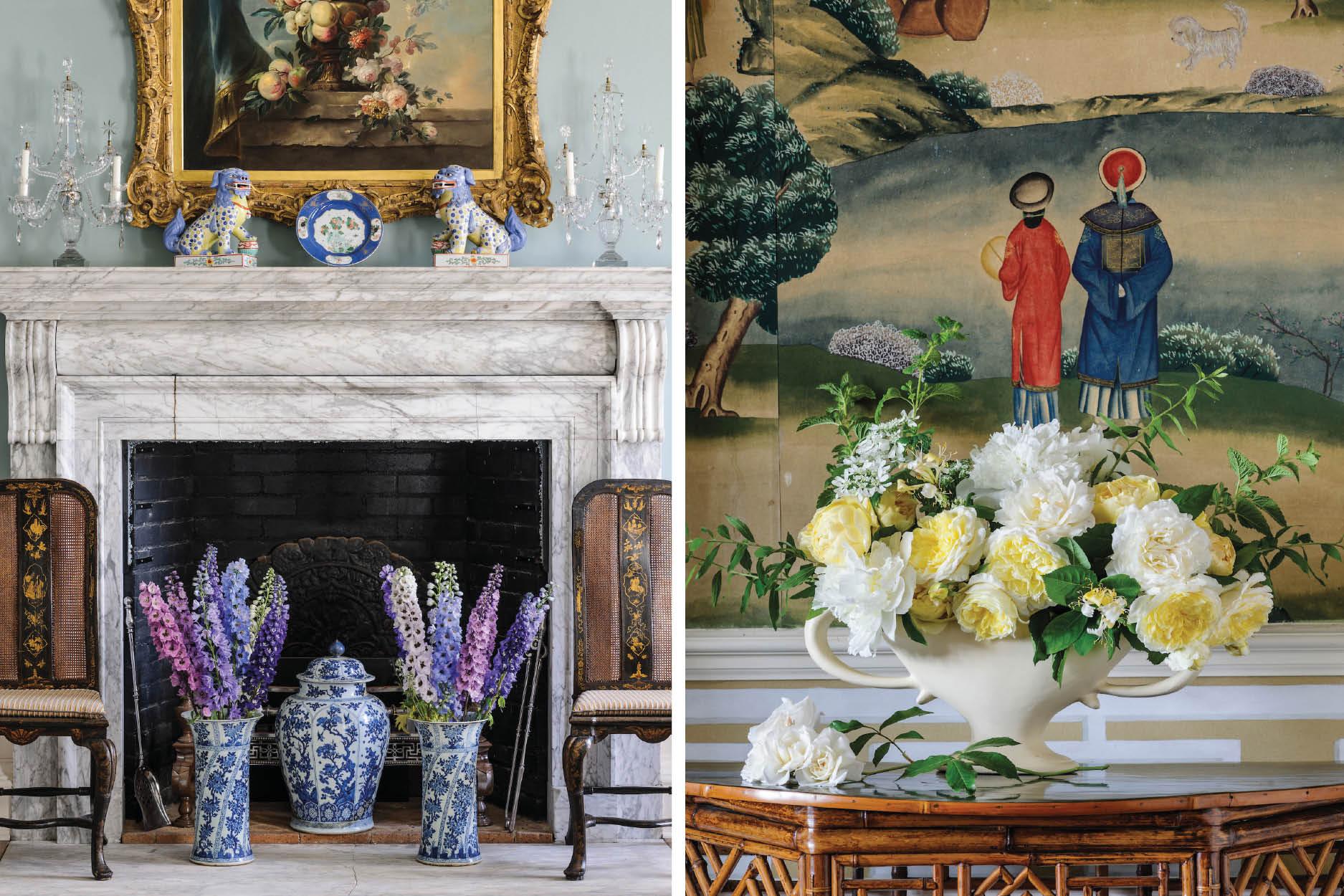 In the house, the dining room offers magnificent views from across the garden and parkland to the Salisbury Plain. The room's large square layout and dramatic 14 foot ceiling gave The Clarks ample architectural and spatial freedom to do something creative.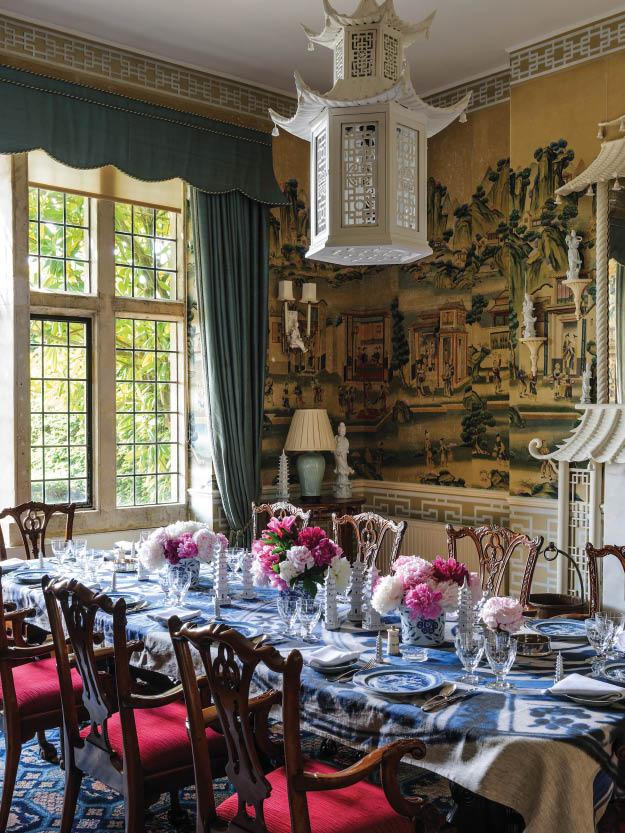 Interestingly, the starting point for the room's décor was the presence of several existing doors. "It has two doors that lead into rooms, and a further two doors that lead into storage cupboards…With so many doors, I decided to make a feature of them. Inspired by my love of Chinoiserie, I embarked on an adventure to create a fully Chinoiserie room," recalls Amanda joyfully.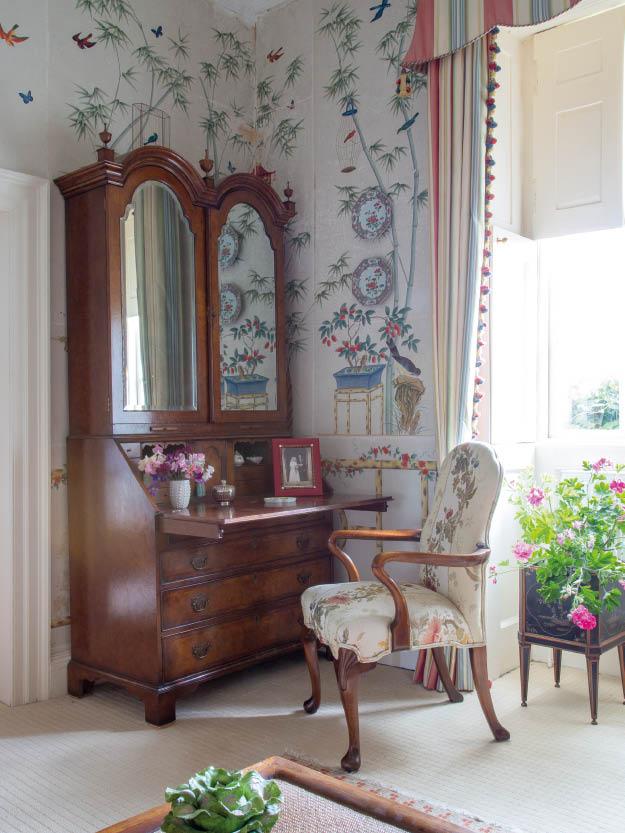 For over three decades, Amanda has been working with a team of skilled Chinese artists and craftsmen, through her work at the Altfield Gallery. Naturally, she commissioned her studio of artisans to create various decorative features. "Firstly, we created a continuous series of hand-painted watercolour panels, based on classic 18th century Chinese export wallpapers."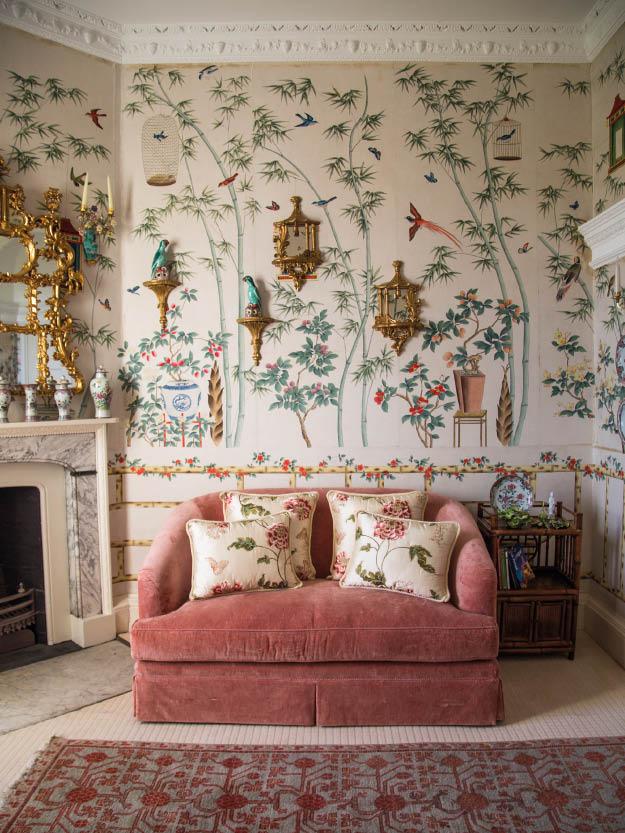 Secondly, Amanda commissioned a set of solid wood pagoda roof door headers, inspired by The Royal Pavilion in Brighton, England. "I sketched a fabulous chimneypiece and mirror, along with a hanging lantern in the same style. The curtains have shaped pelmets, and I found some wonderful wall lights on a visit to America, as well as a pair of table lamps with white porcelain Chinoiserie people, which polished off the original scheme."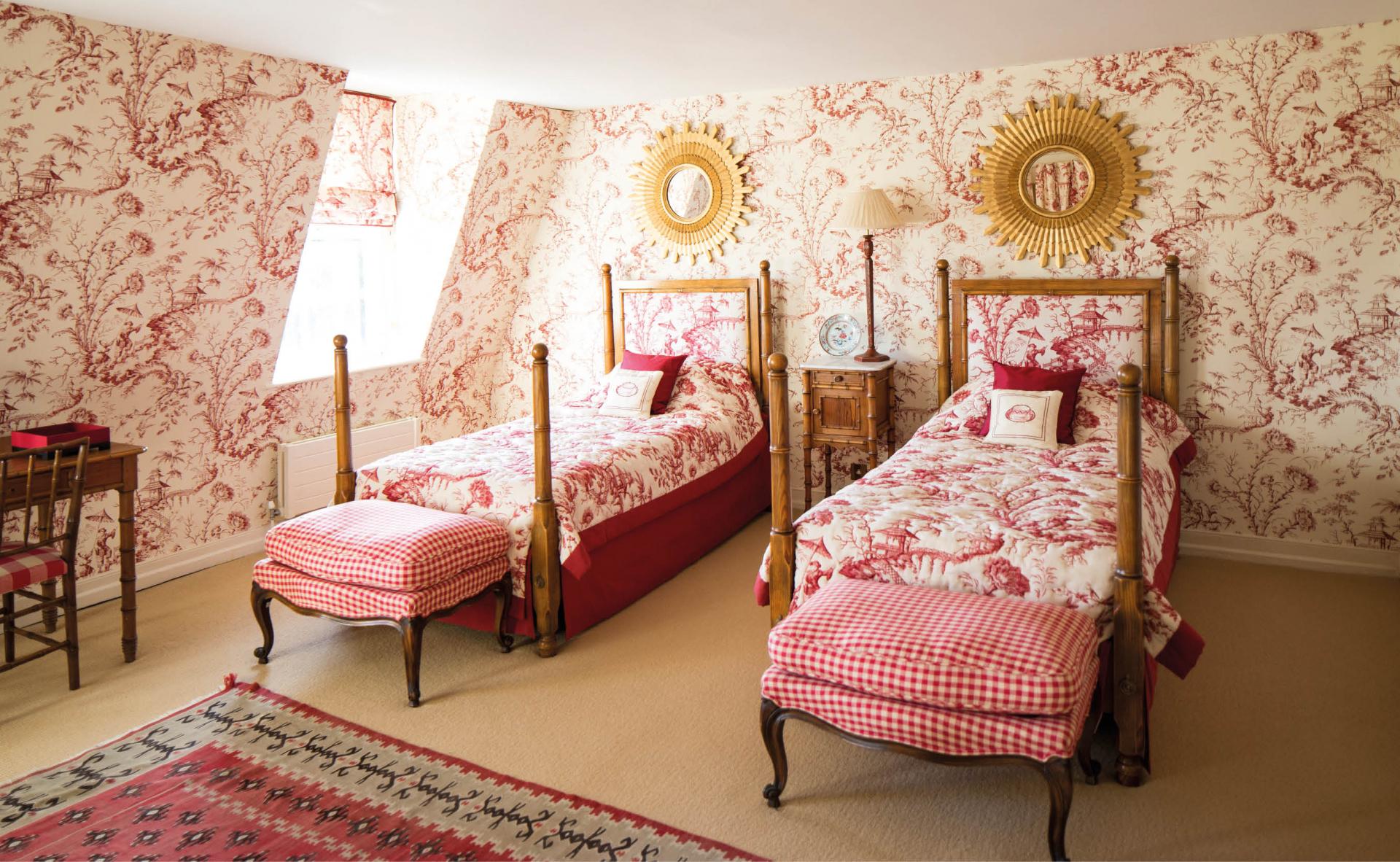 The sensory and visual wonderland of Seend Manor is a reflection of The Clarks's lives and loves. The couple's sense of global and stylistic adventure, creative vision, and aesthetic sensibility has allowed them to enjoy the fruits of their labour for many years to come, in a place they truly call home.
(Photography: Jason Ingram, Britt Willoughby Dyer, Emma Boden)