"Kitchens are no longer just for cooking food. When done right, they are some of the best gathering spaces," begins Casey Keasler, the founder and interior designer of Oregon-based studio Casework, who was tapped to create this delicate, sinuous kitchen. Upon entry, it immediately convinces you to grab a hot cup of coffee and stay a long while.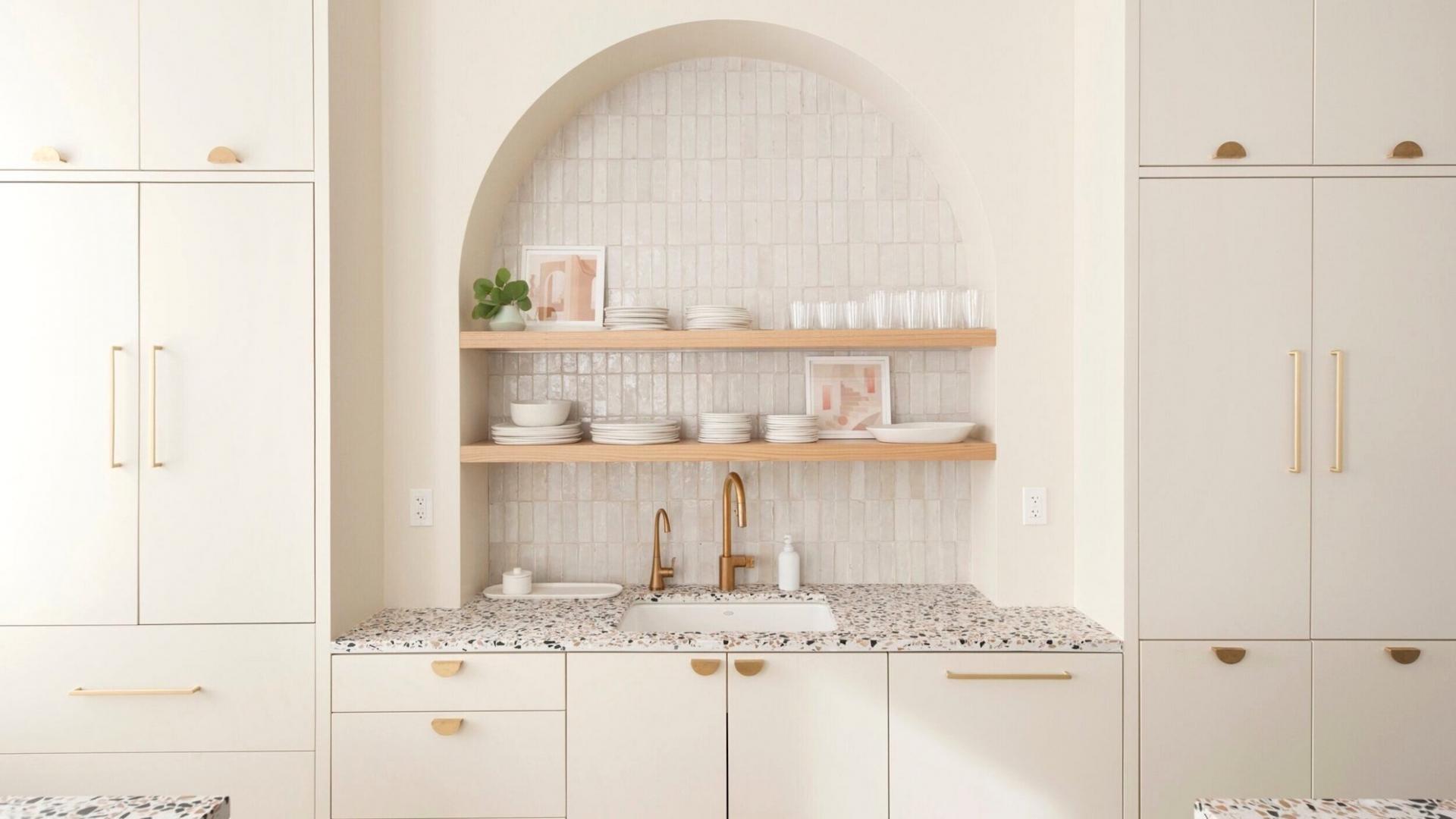 Located within the Chicago showroom of Hightower, a sustainability-minded marketplace selling artisanal designs ranging from lighting to seating and home accessories, the kitchen's aesthetic had been clear from the onset thanks to its CEO founder Natalie Hartkopf. She had been searching for the perfect showroom space for ten years before she found this location. "We work with our clients at the start to set the tone," says Casey. "Hightower came back to us with three words: varmt välkommen (Swedish for 'warm welcome'), linger, and unexpected. Hightower wanted guests to feel welcomed and at home."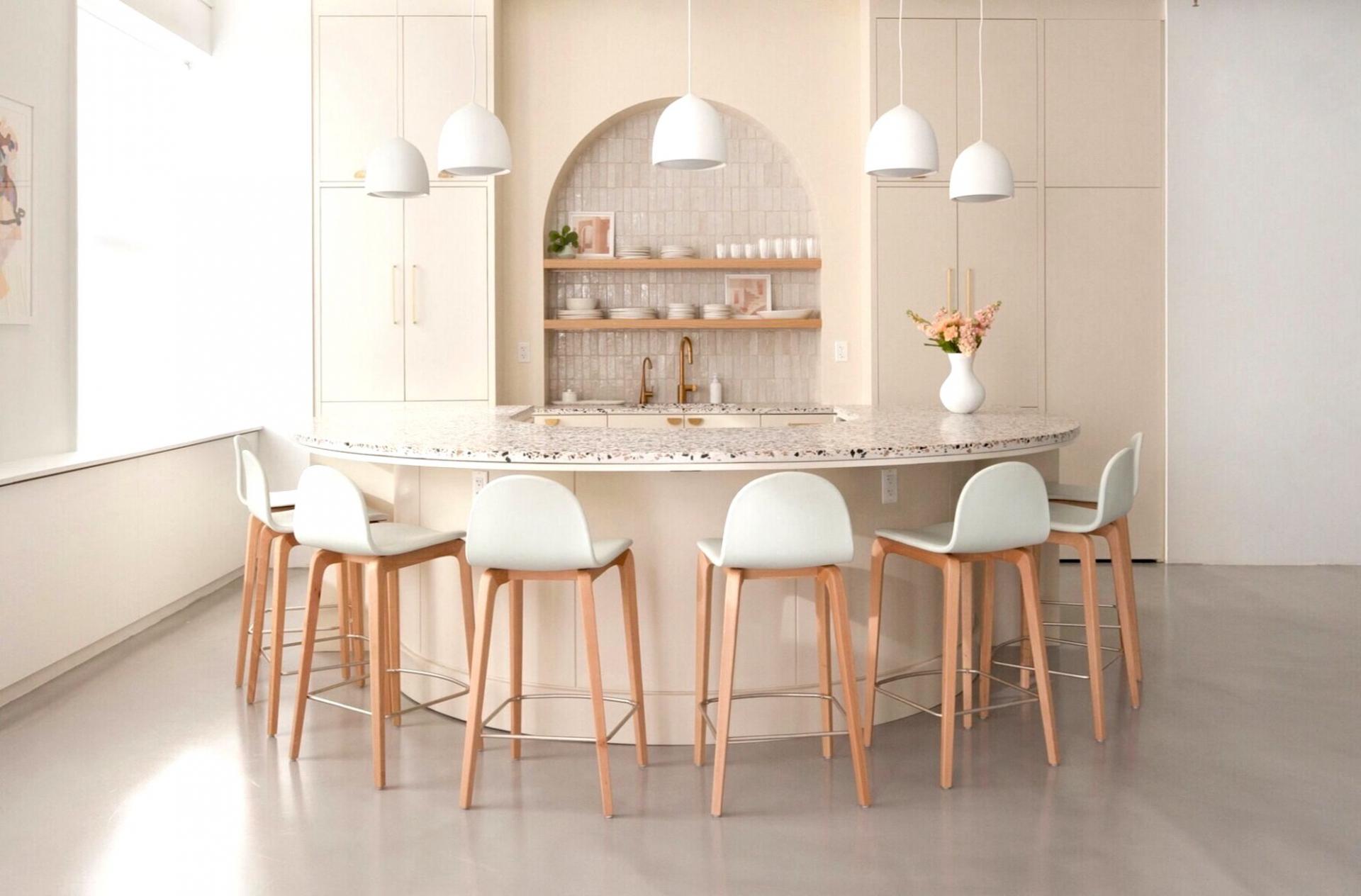 Over four months, every inch of the interiors was crafted to bring forth a sense of warm conviviality just like what you would find in a home, featuring palettes of pink hues and almost a complete lack of harsh edges. Casey points to the moon-shaped bar, sitting in the heart of the showroom, built with a characterful terrazzo tiled bar table accentuated with minimalist bar stools and white lighting fixtures, where brass details blend into a warm neutral palette. "We set to create a variety of moments to sit and rest tired feet," says Casey. "The bar, designed to feel more like a kitchen where friends would sit and drink late into the evening, did just that."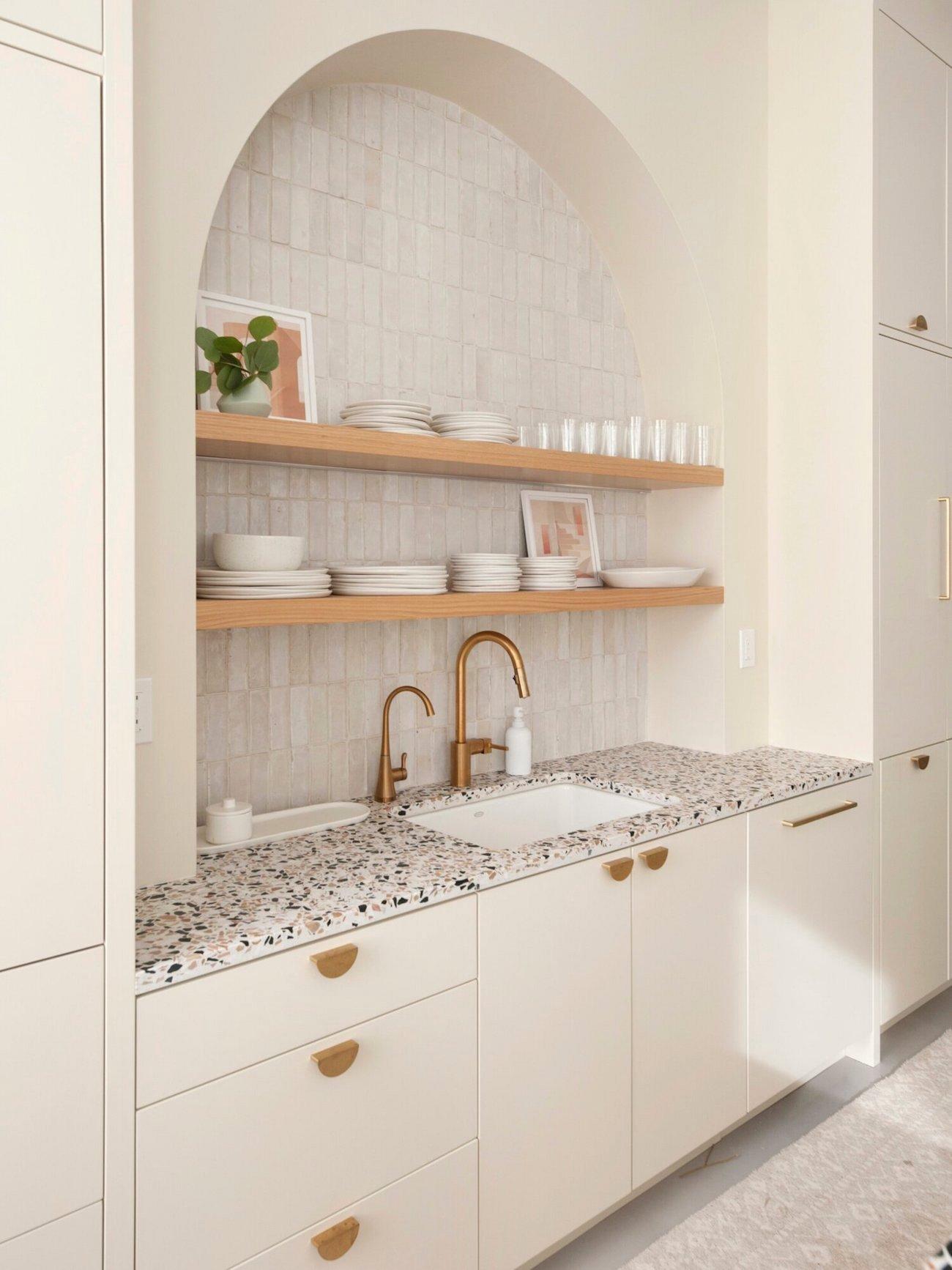 That same fluid quality extends to the rest of the interiors, which has been built with high arches at every turn that evoke colonial European residences – they have, however, been given a modern twist. "Traditional arches were paired with upside-down arches to create vignettes into other rooms," says Casey. "The arches are transitions separating rooms but they also add a unique moment when walking from one space to another. They create vignettes from room to room adding a unique perspective wherever you might be in the showroom."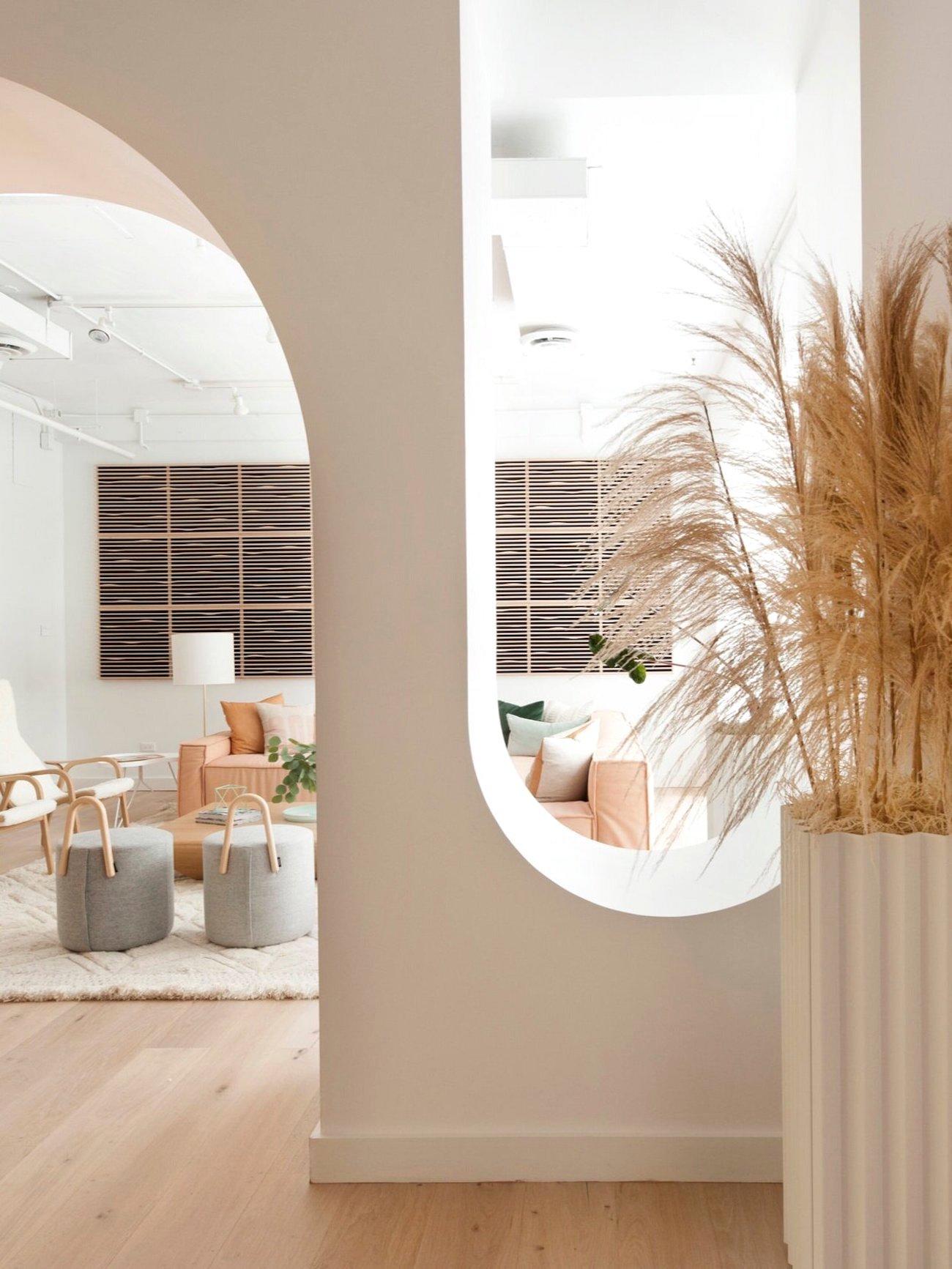 These vignettes offer up glimpses into pockets of spaces that are private yet inviting. Interestingly, Casey and her team started to furnish the interiors even before the architecture was planned. "Most often, it's the other way around," admits Casey. She points to the fact that furniture is what one rests on at the end of a long day, and the elements of a home that one interacts with the most. "It's where you sit to have a meal with your family. We began with the human experience and built our environment around how space would be used. Then, and only then is the architecture built to complement that."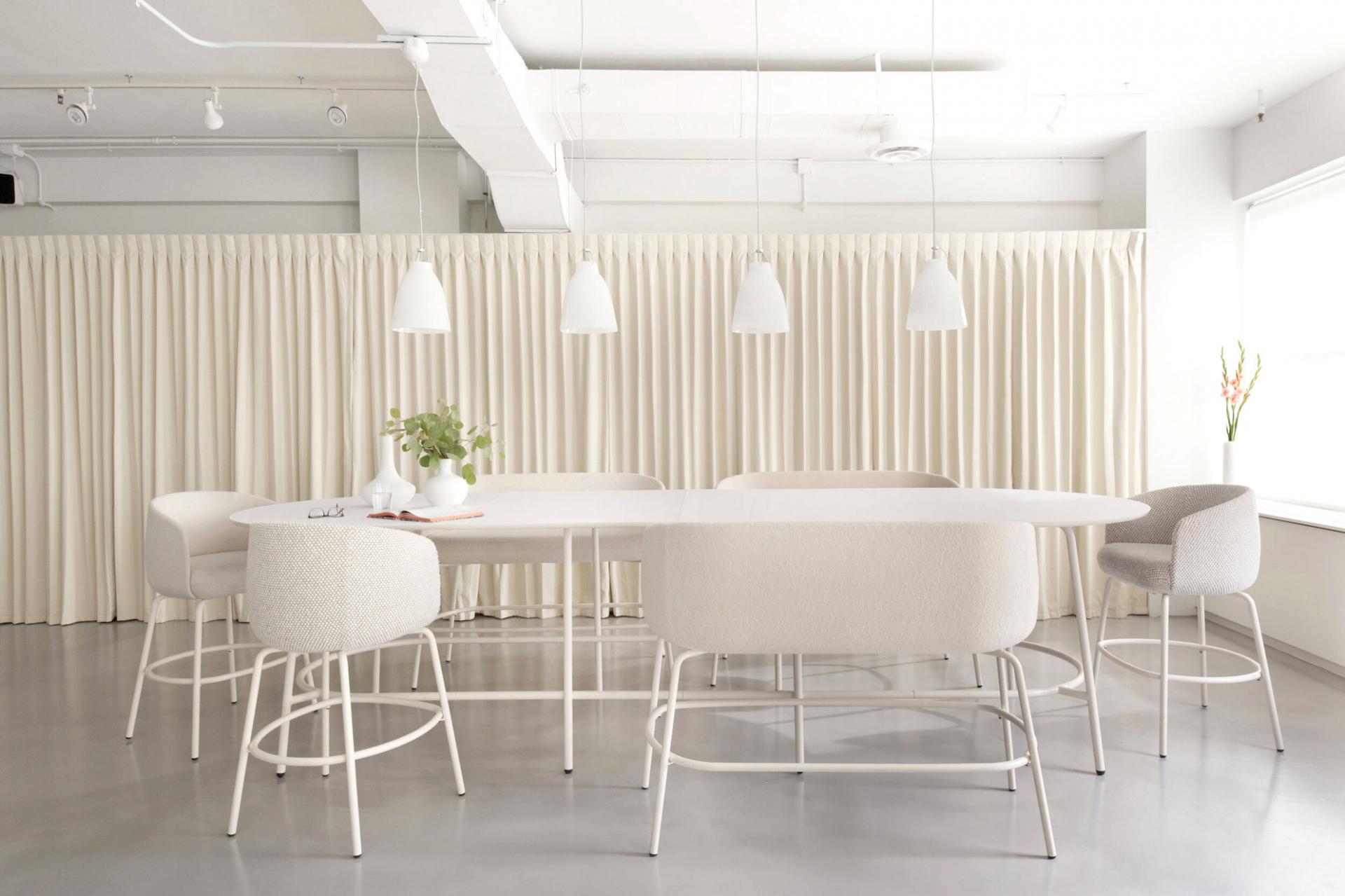 More unexpected details continue to unfold throughout the space, peppered with a host of bespoke creations by local artisans – a nod to Hightower's ethos focusing on local designs. They include everything from a wallpaper installation by Chicago artist Laura Berger to custom blush pink sofas and handcrafted ceramic plates.
Scroll through the gallery (photography by Petra Ford and Casework) below to find out more of the Hightower kitchen showroom: