Much like her collection of artworks, the new home of gallery owner Polina Askeri in Moscow boasts an eclectic mix of textures and colours. Valuable works of different art genres from different eras are scattered throughout the home and mingle harmoniously with modern furniture.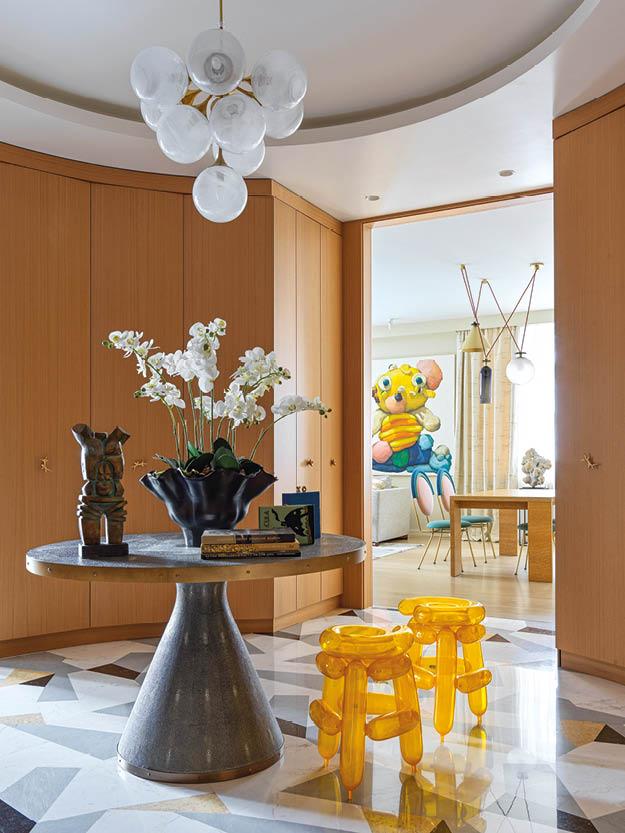 "I love to compare the apartment with a jewellery box as it is filled with a lot of art and design objects," says Angelina Askeri, designer behind the project. Scroll through the gallery below (Photography: Sergey Krasyuk) to find out more: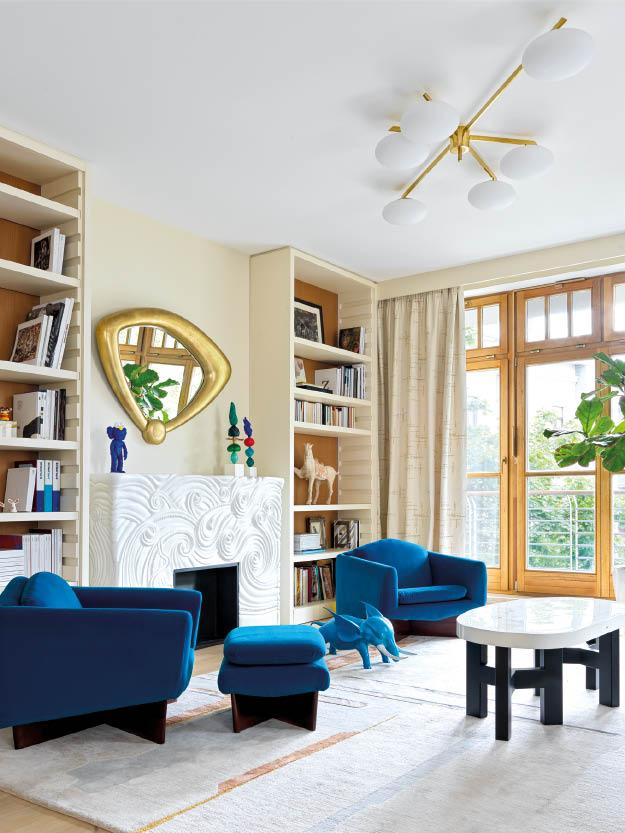 The home embraces a neutral palette throughout to allow the superb art and collectibles to take centre stage.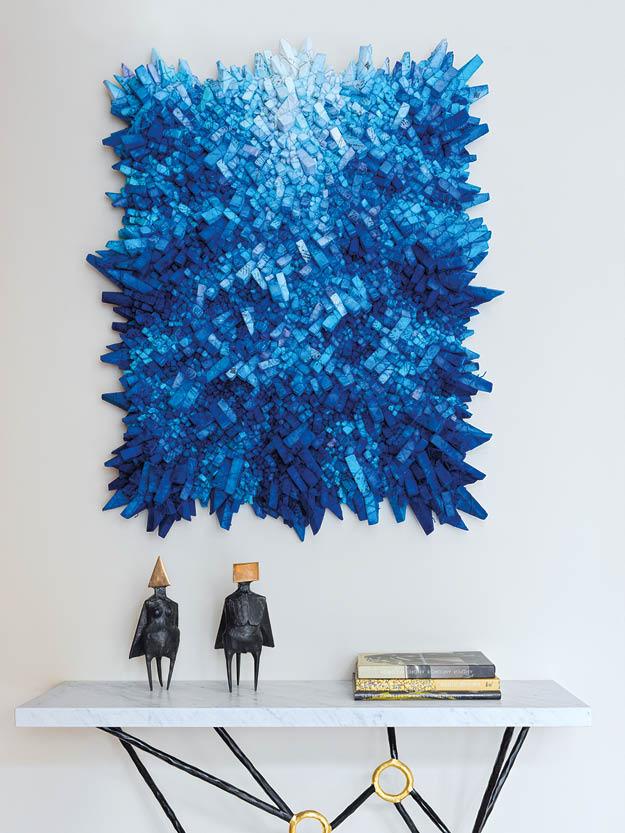 But it wasn't without challenges. The original layout came with several awkward trapezoid corners, particularly at the entrance hall. As a solution, the firm constructed an array of curved cabinets to hide them away. "Now what you see is a completely different look – soft and round, inviting people to come in," says the designer.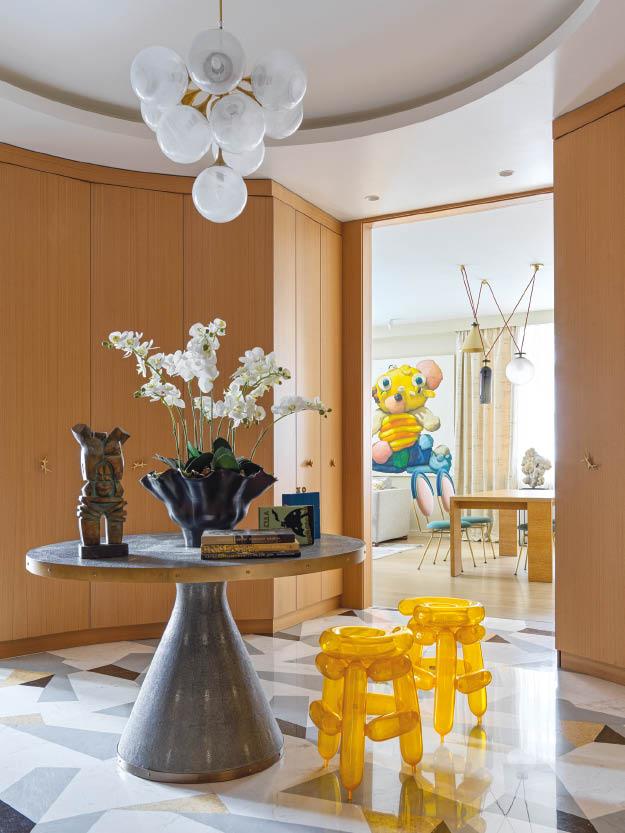 Here, "The Deer" sculpture by Moss & Lam art studio from a limited edition of eight copies greets visitors, accompanied by an Andrey Antonov sculpture and a pair of balloon stools by Korean designer Seung Jin Yang.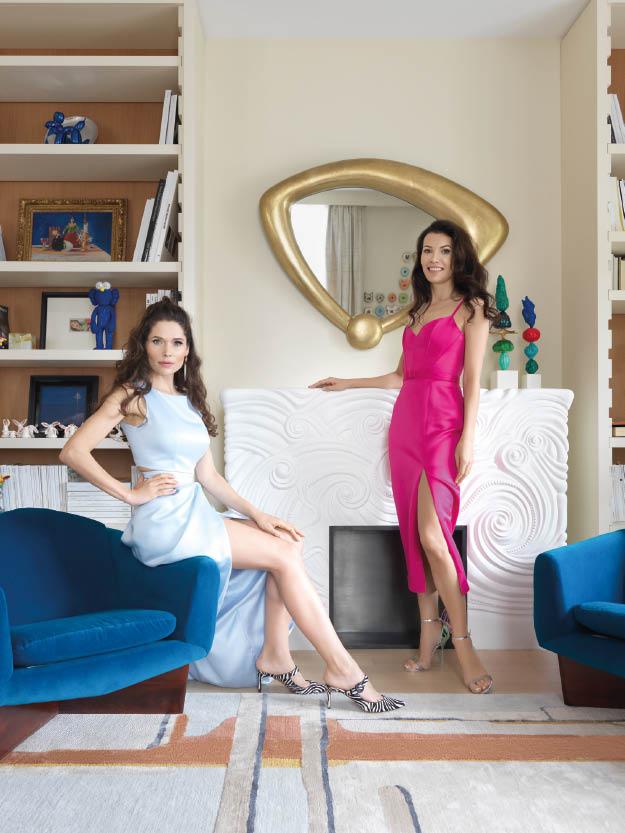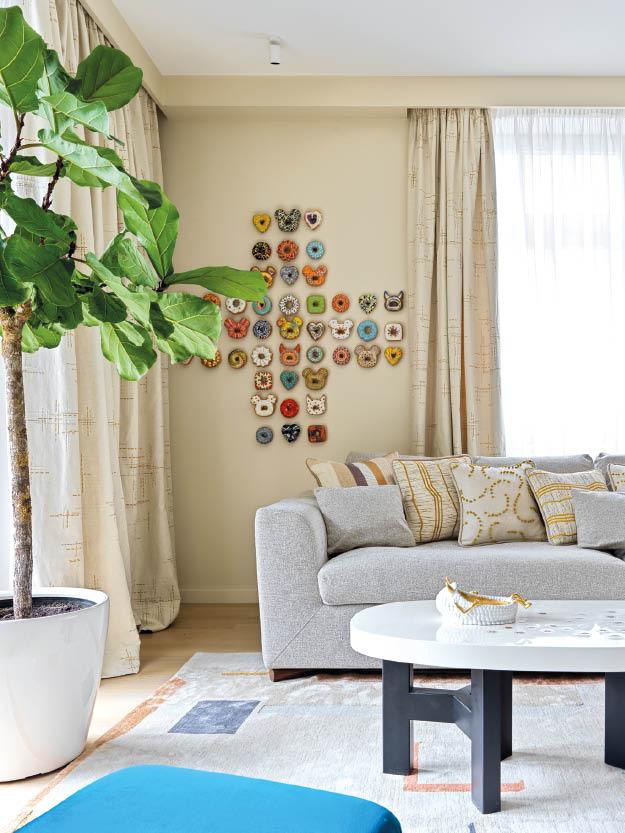 Bright and airy, the living room features a fireplace detailed by swirling engravings. Above it, a mirror dating back to 1960 is sourced from an antique shop in Brussels, setting a playful tone for the living room. On the opposing wall is a large donut-themed wall art by Jae Yong Kim that adds a dramatic touch to the space. In the middle of the room, a sleek Angelo Lelii chandelier hangs over a pair of Genevieve Dangles armchairs upholstered in vivid blue from 1961, complemented by the Ado Chale coffee table with an oval marble top.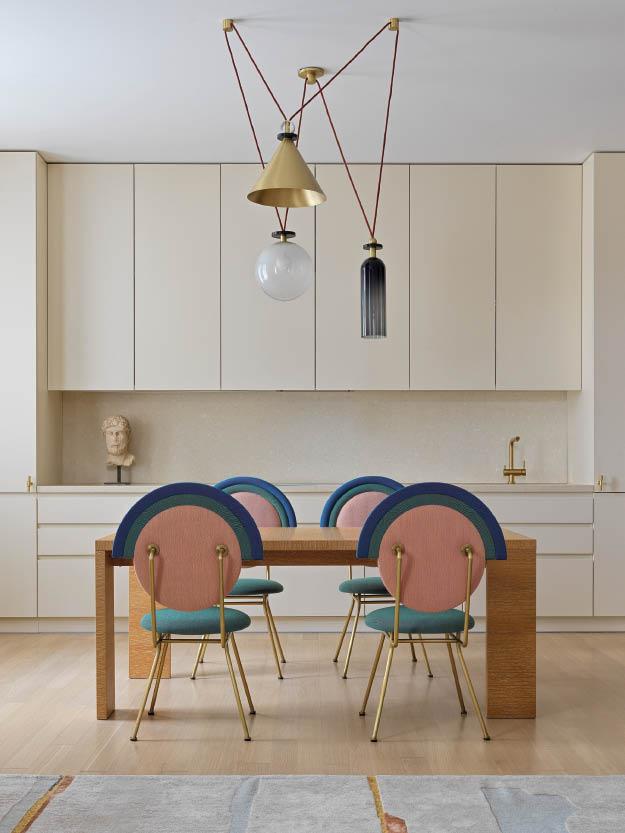 The Alceo dining table is by B&B Italia, flanked by two pairs of playful dining chairs designed by Turkish designer Merve Kahraman.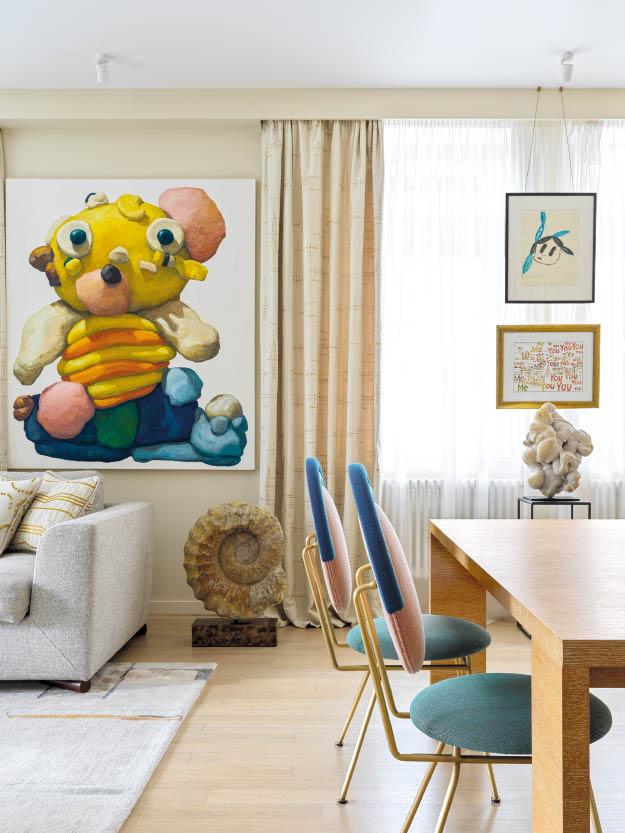 "The Ado Chale table has only one copy, very exclusive," recalled Angelina. "Polina loves stone countertops because they look like the planets in space. But the table was already sold. So we tried to find the buyer and purchase it from him, and we did it."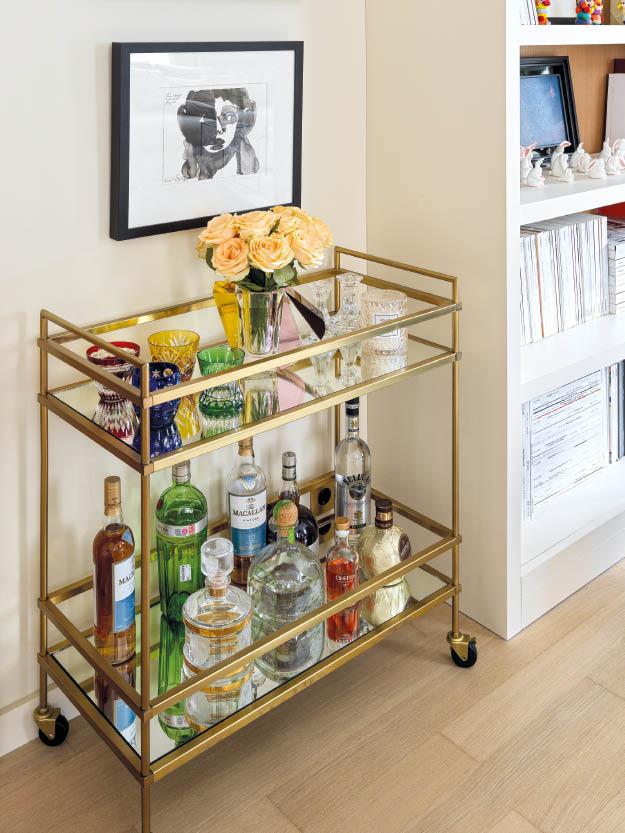 The room embraces a neutral palette throughout to allow a host of superb art and collectibles to take centre stage, including a KAWS figurine, the Elephant sculpture done in 2014 by Dashi Namdakov, the Balloon Dog sculpture by Jeff Koons, a still life by George Condo and a Chinese sculpture of a prancing horse harking back to the Tang dynasty, among many others. And this is just the living room.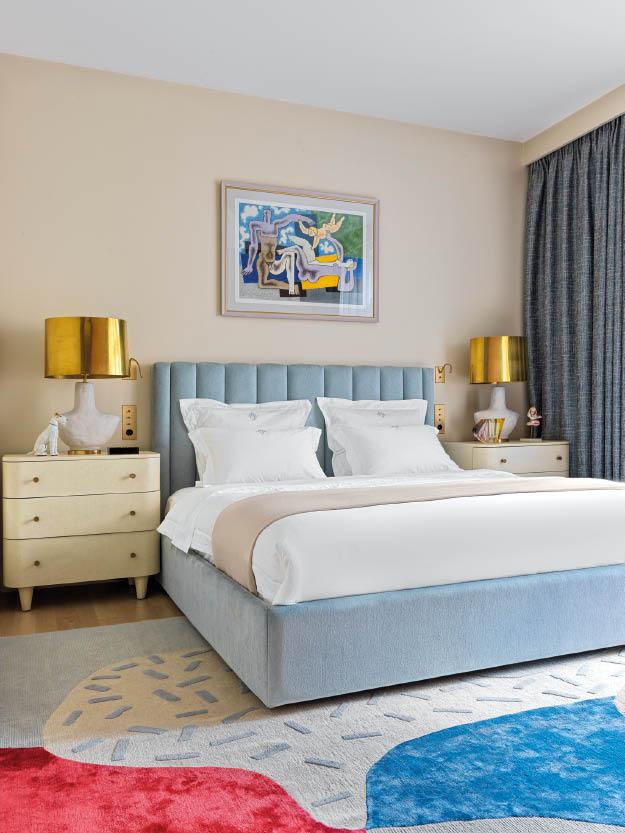 A glamorous Roll and Hill chandelier crowns the dining room, where a Roman patrician bust dating back to the 2nd to 3rd century AD makes a striking contrast to the clean-lined Alceo table by B&B Italia, flanked by two sets of Merve Kahraman dining chairs.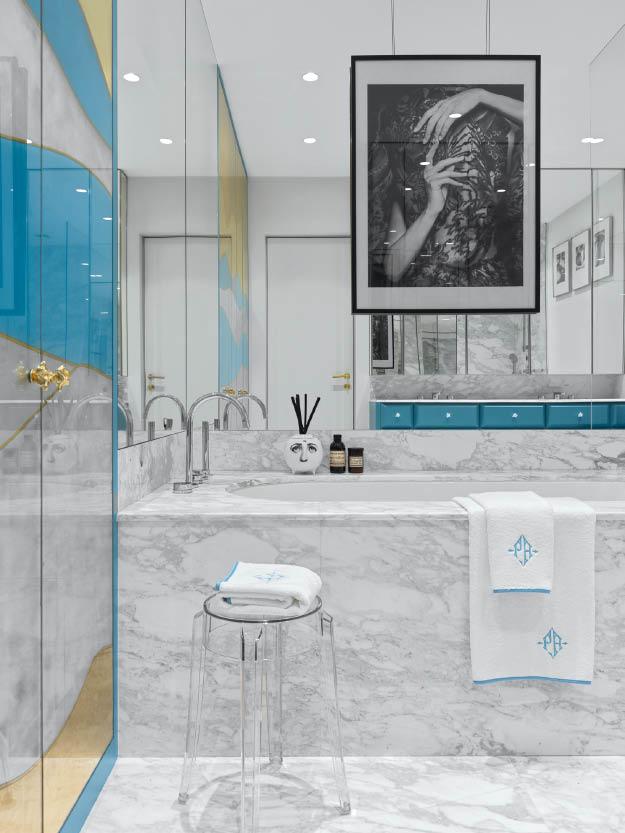 In the master bedroom, a crystalline paper sculpture by Korean artist Kwang Young Chun takes centre stage, offset by a bed in soft blue and a pair of Olivia Double nightstands intended to cosy up the sleeping space.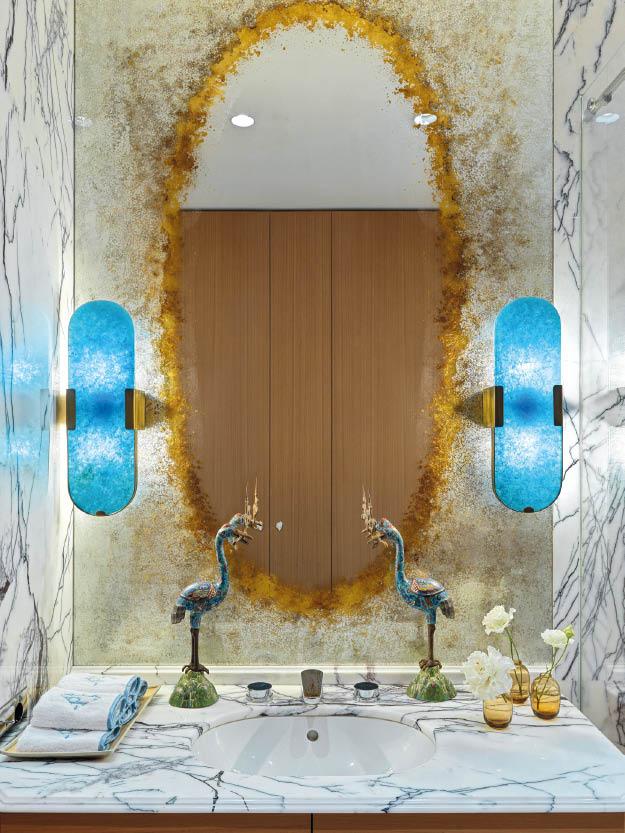 With a tasteful balance of classic and contemporary, this treasure trove of art is as functional as it is aesthetically sensational, despite being over-budget.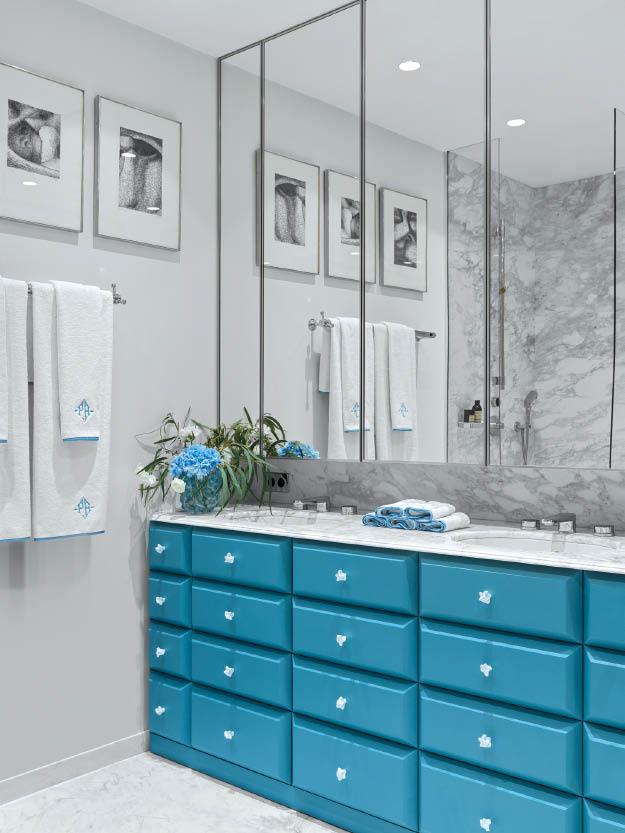 "At the end, we created a bright apartment that everyone enjoys, and it's all worth it."