"We wanted to recreate the mood of that cosy wintry evening in Oslo," reminiscences Hong Kong-based interior designer and calligraphy artist Rachel Ng. The interior design of Rachel and her partner's apartment was inspired by the young couple's visit to the Atlas Brasserie at the boutique Amerikalinjen Hotel in the Norwegian capital. The restaurant's poetic and soulful interiors set the scene for the renovation of their first shared home in the city's Eastern District. This convenient and well-appointed apartment deftly blurs the boundaries between interior architecture and interior design, resulting in a balanced and efficient use of space.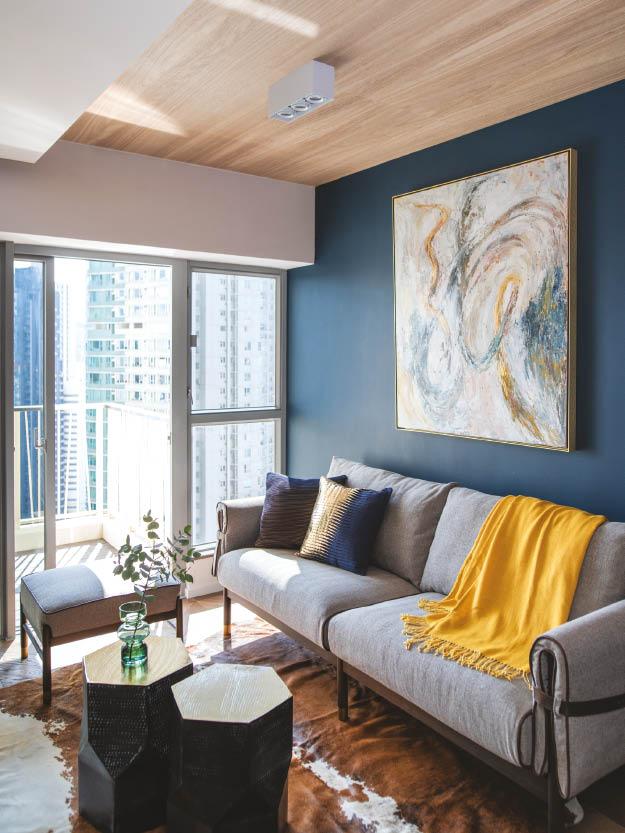 Working from Rachel's own design drawings, construction spanned four months. Rachel's partner is a professional architect, and their respective interior and architecture backgrounds enabled them to approach the project with complementary micro and macro design perspectives. "Existing architectural limitations gave us the chance to come up with clever design solutions," shares Rachel. This design duo transformed the apartment's bay window and structural wall into central and considered design features in their own right. Scroll through the gallery below (Photography: Justin Lim) to find out more about the delicate design: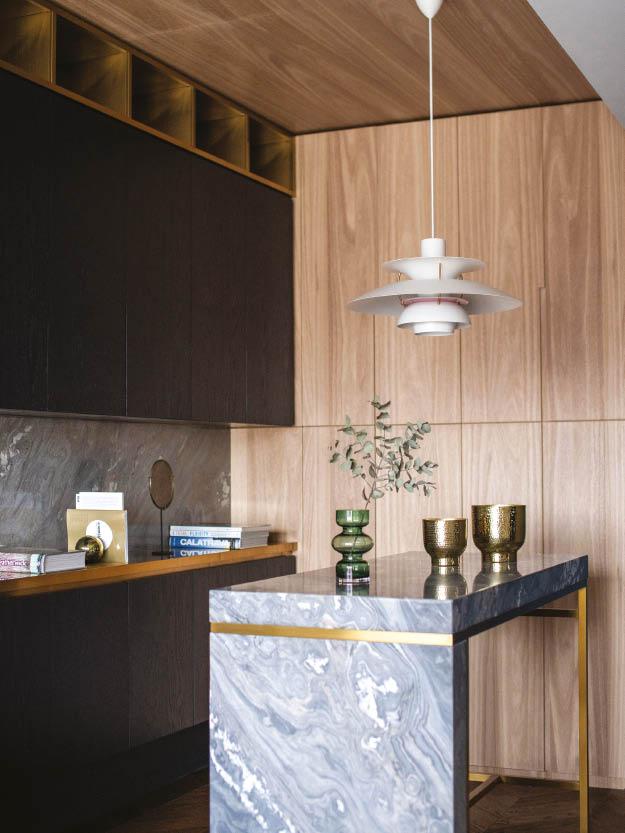 In the living room, the light blue Italian Palissandro Bluette marble table brings a cool contrast to custom wooden cabinetry.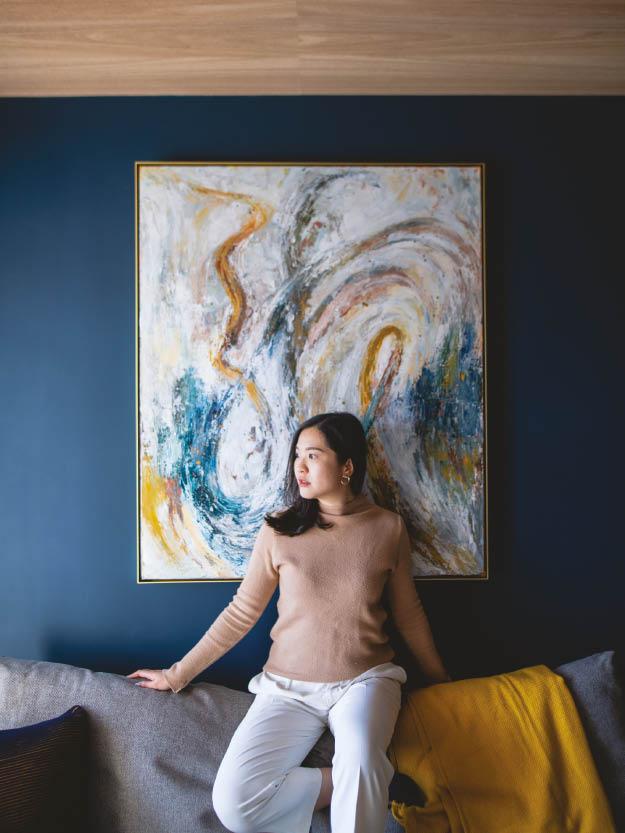 The central artwork in the living room is an acrylic painting composed by Rachel, featuring an abstract and painterly illustration of her partner's Chinese surname.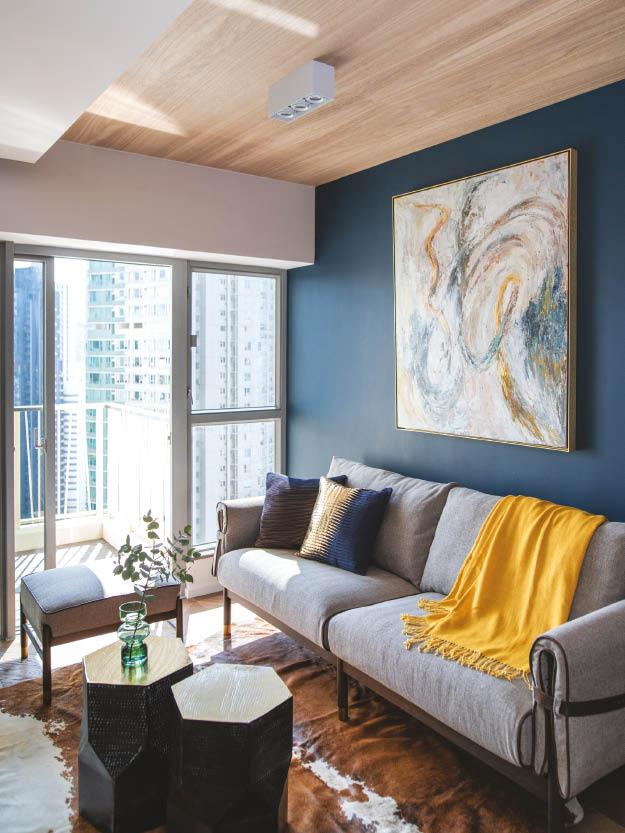 Firstly, the bedroom's bay window was converted into a multi-purpose boxy wooden sanctuary, which functions as a bedside table, relaxing nook, as well as chaise longue. "I love how this space receives abundant natural light… We thought it would be the perfect physical and mental cocoon to escape from our busy urban lives. We softened up the space with some cushions and a throw, for a welcome touch of coziness and texture," she says.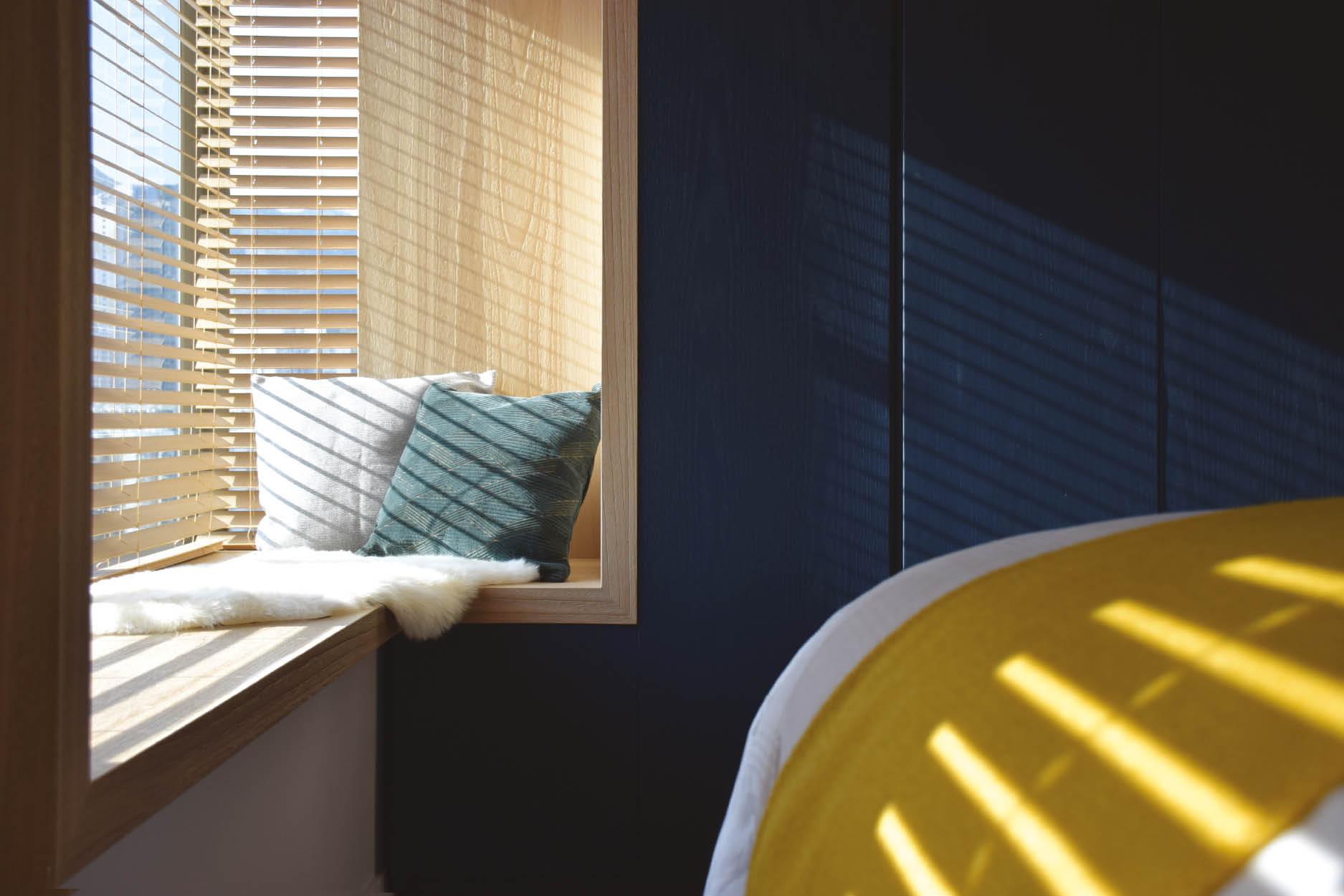 The otherwise limiting structural wall between the bedroom and the living room was concealed by the construction of a fitted wardrobe next to the doorway. "In order to create a visually seamless and clean look, we painted the cabinetry and walls in the same shade of deep blue," notes Rachel. When fully open, the doorframe resembles an oversized picture frame, which looks out to an abstract painting in the living room, creating a "painting within a painting" effect. This sense of poetic and aesthetic connection between different rooms is further apparent in the apartment's material and colour palette.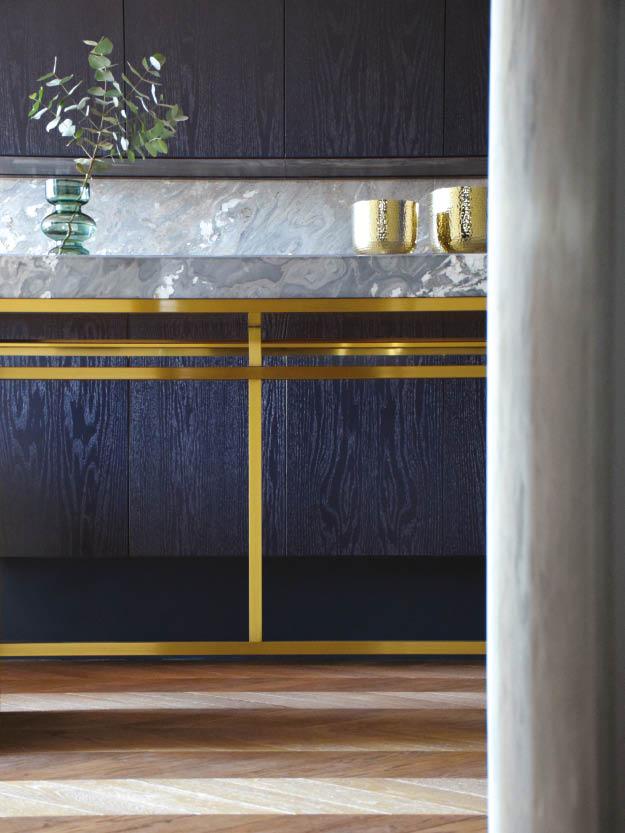 "The kitchen and bathroom are restorative spaces, and we wished to celebrate the ritualistic acts of cooking and self-care, through the choice of materials," recalls Rachel. A distinctive black and white terrazzo flooring is used in both areas, adding patterned and visual charm. Moreover, both the kitchen and bathroom are polished off with brushed brass metallic accents, for an alluring glow of warmth and contrast against the cool marble countertops.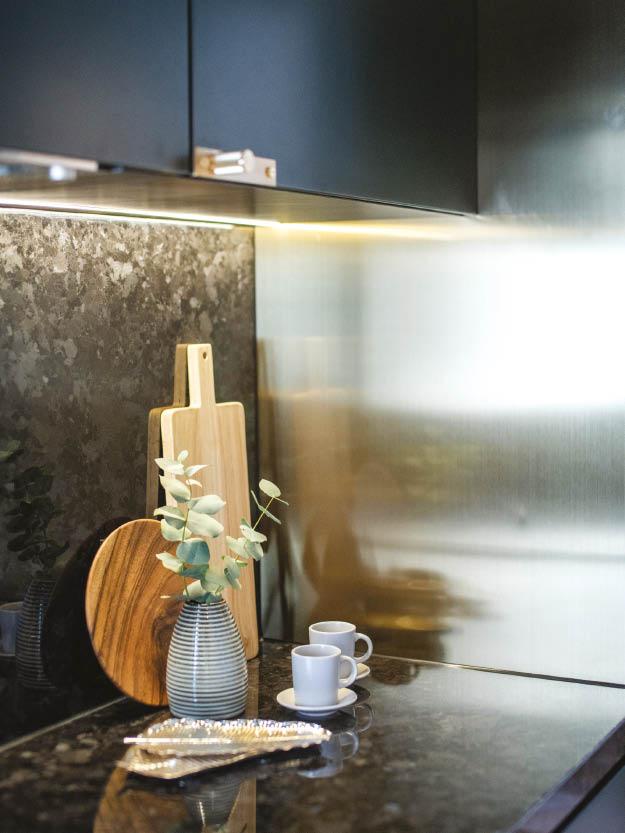 "Colour plays an undeniable role in influencing people's moods and emotions. As such, we painted the kitchen and bathroom walls green, for its refreshing and calming associations," she explains.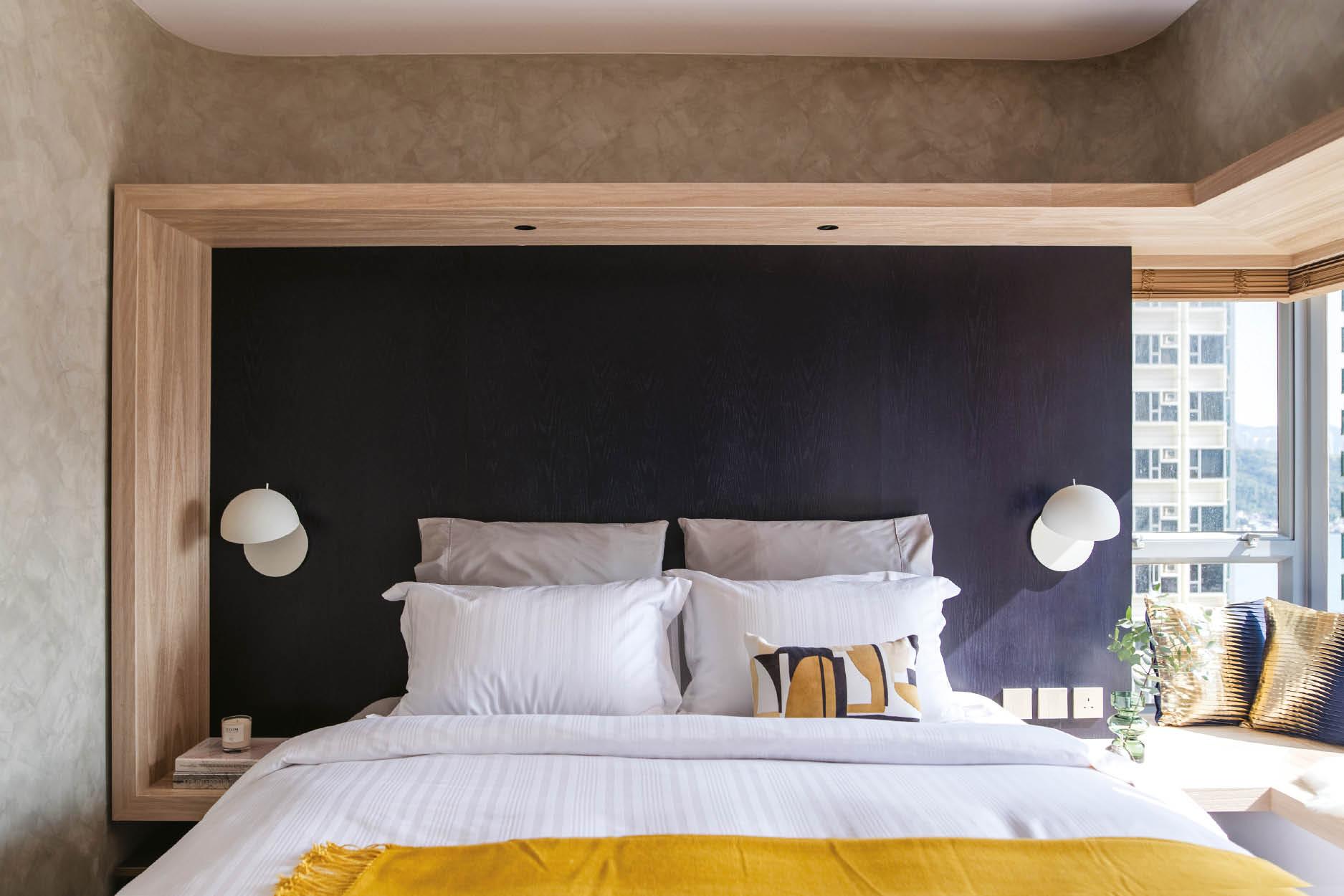 A shade of deep forest green was selected, further echoing the couple's love of nature and greenery, as well as desire for interconnectedness between their home and the outdoors.
The bedroom's cosy wooden sanctuary promotes rest and relaxation, whilst the large window receives abundant natural light throughout the day.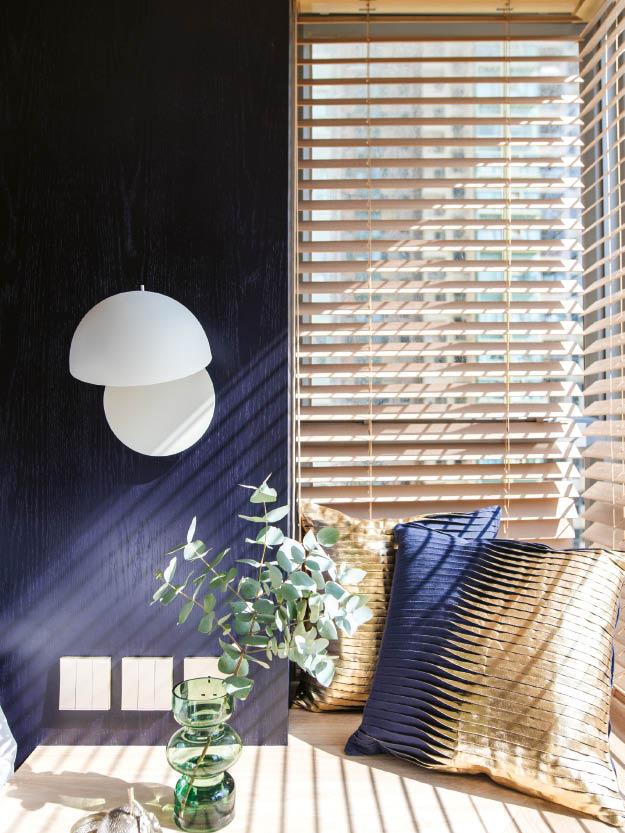 The spatial confines of this apartment has inspired the pair to create a home that challenges common architectural limitations, prevalent in many Hong Kong flats. As showcased in this tasteful and thoughtful abode, one's living environment is not merely limited to the physical walls of a home.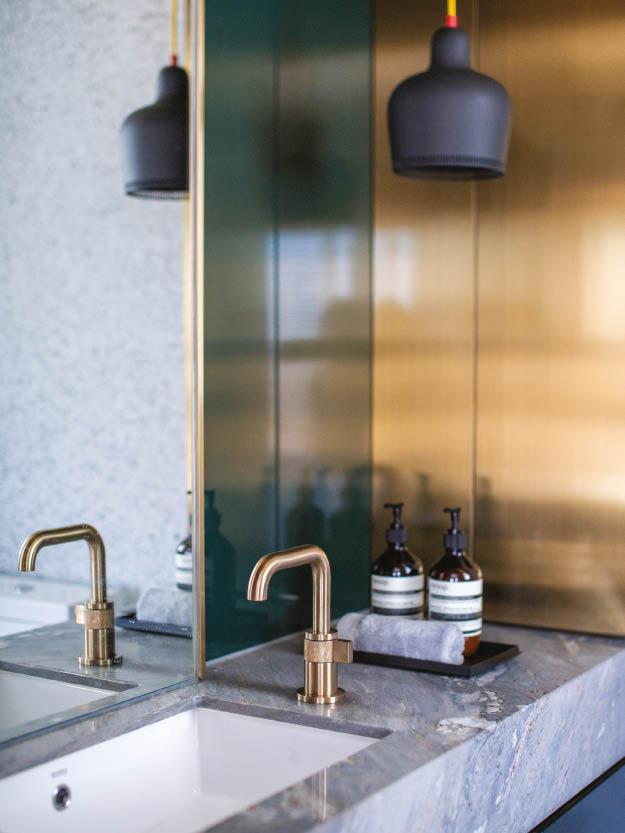 Rather, through materials, colour palette, and an eye for detail, it is possible to expand one's living space on emotional and cognitive levels. Travel, nature, and art are but a few of the their boundless sources of inspiration, which have been brought together in this thoughtful sanctuary they call home.