After being based in Singapore for a decade and shifting from one rented condominium to another, the expat couple from India felt that it was time to finally purchase a property and create a home that their family can call their own.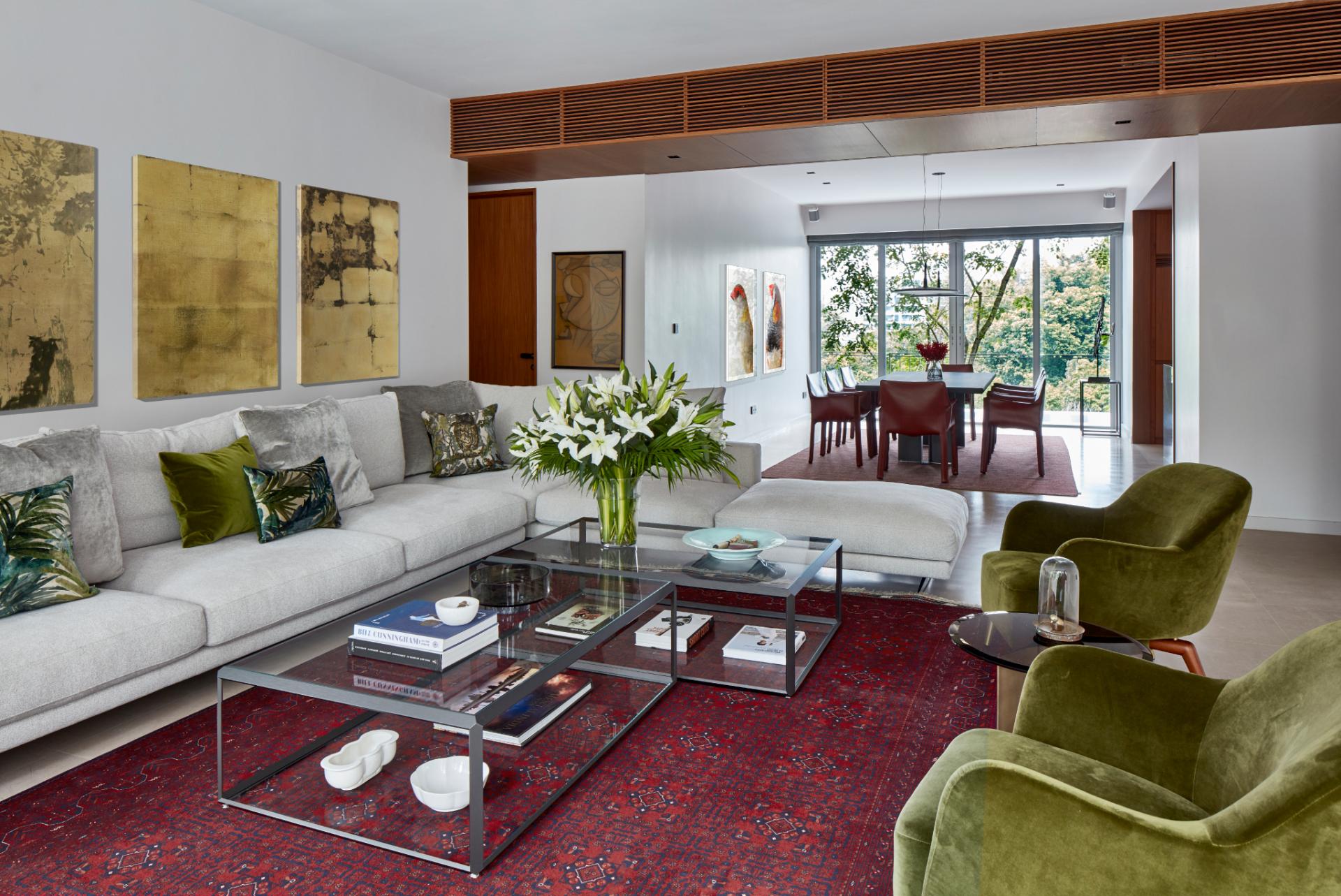 Their third-floor apartment at Draycott 8, while located centrally, offers a unique privilege of being ensconced by the surrounding trees, sheltered from the urban landscape beyond. However, the 2,900 sq ft unit, which was left untouched since the building completion in 2006, was neither old or new – it was just… ordinary.
To spice things up, the family approached Singapore-based firm Perinelli Design to transform their new home into an elegant, yet practical, tropical paradise.
"Our client's brief was very concise," says Alessandro Perinelli, founder and studio director of Perinelli Design. "They asked us to create an elegant, practical and modern house, which doesn't feel opulent."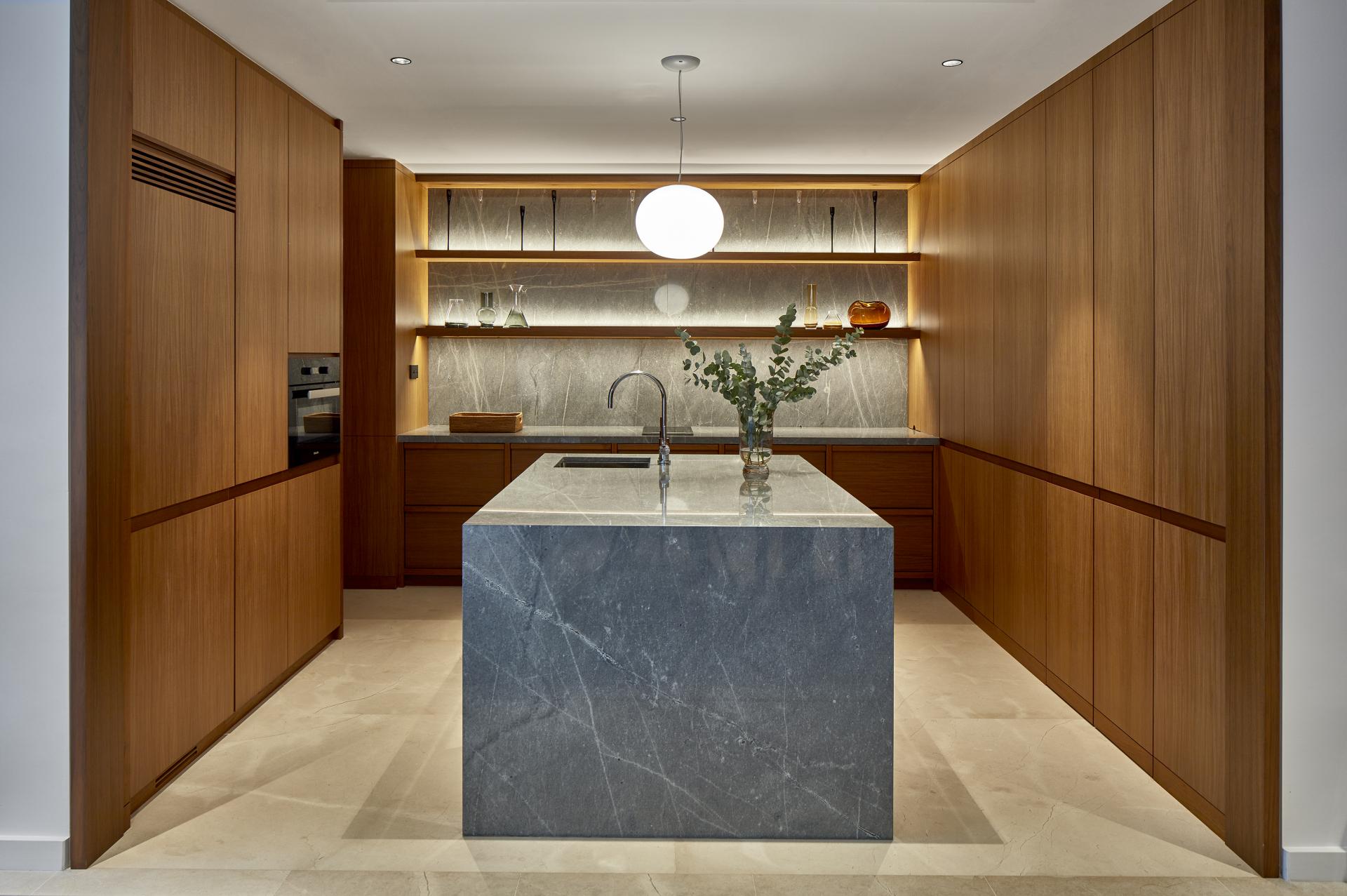 "The apartment was in decent condition, however unremarkable. It was obvious that the planning needed to be modified to create a better flow," he adds. "The bathrooms and kitchen had to be completely rethought to not only improve the look but also the practicality. We retained only the beautiful teak flooring in the bedrooms and the marble flooring in the living and dining area – this we honed to achieve a matte rather than glossy finish."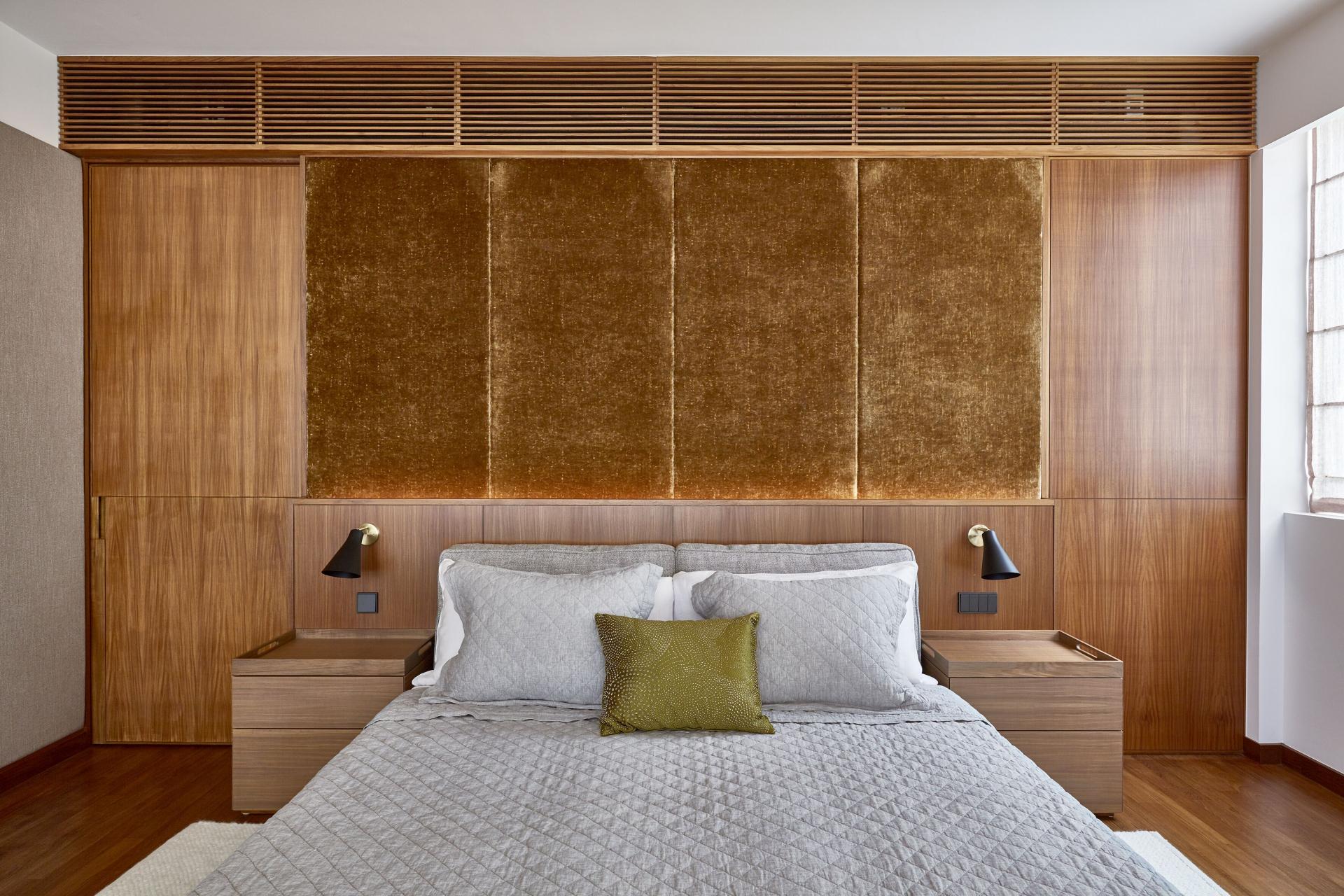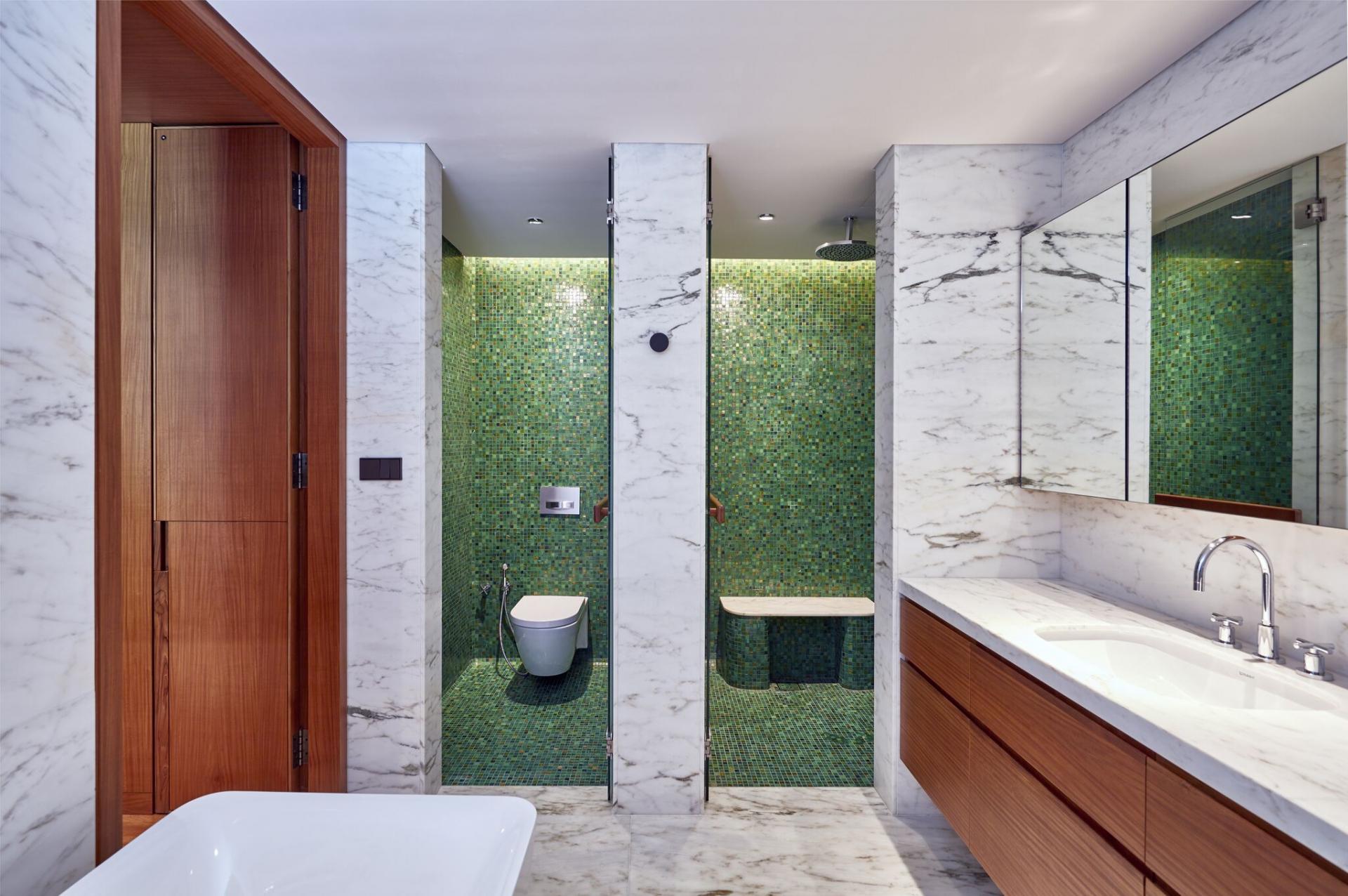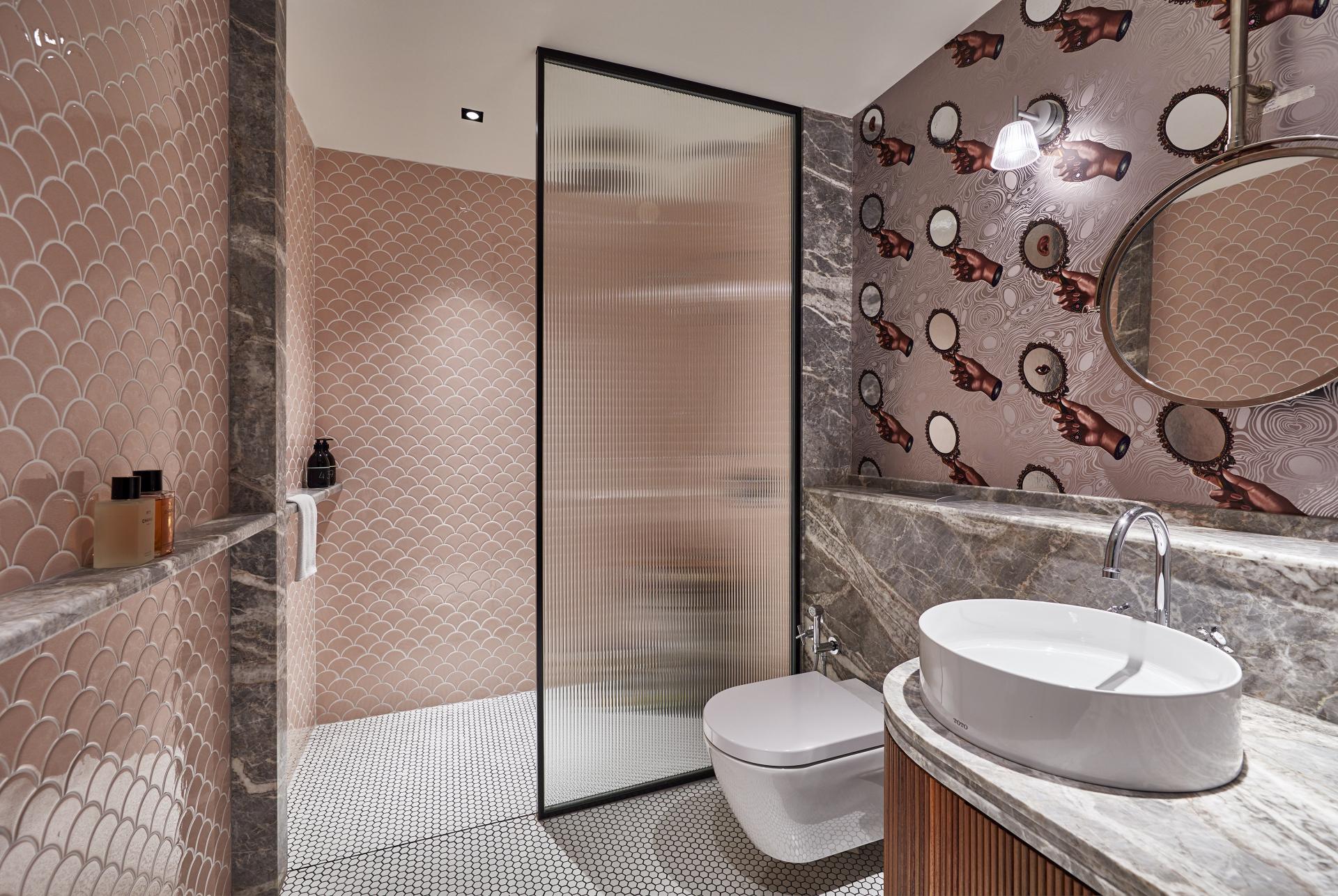 The result is a stunning balance between luxury and comfort, with crafted elements and quality materials and finishes. Developed around the family's requirements and character, the interior design brings out the individuality of each family member, yet maintains a cohesive look and feel.
Scroll through the gallery to see more of this timeless tropical abode: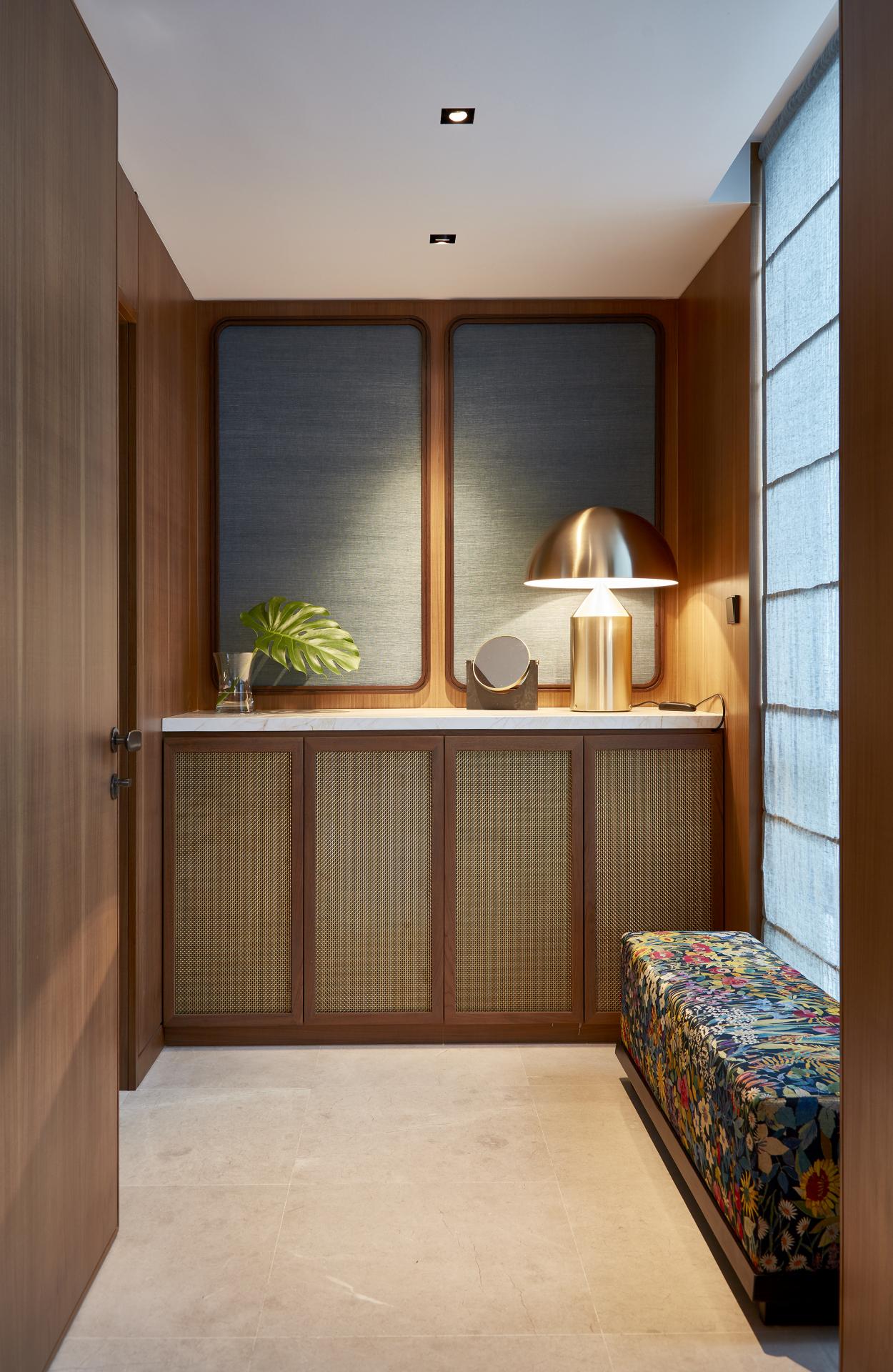 A private lift lobby greets guests in rich tones. The door leading from the foyer to the living room was flipped around, so the whole lift lobby becomes a part of the living room as a transitional space. Teak wood, Golden Spider marble, woven brass mesh and Japanese natural wall coverings from Casadenza are layered to create a subtly glamorous, textured space. A custom-made bench upholstered in eyepopping colourful printed fabric from Liberty London brings a touch of fun.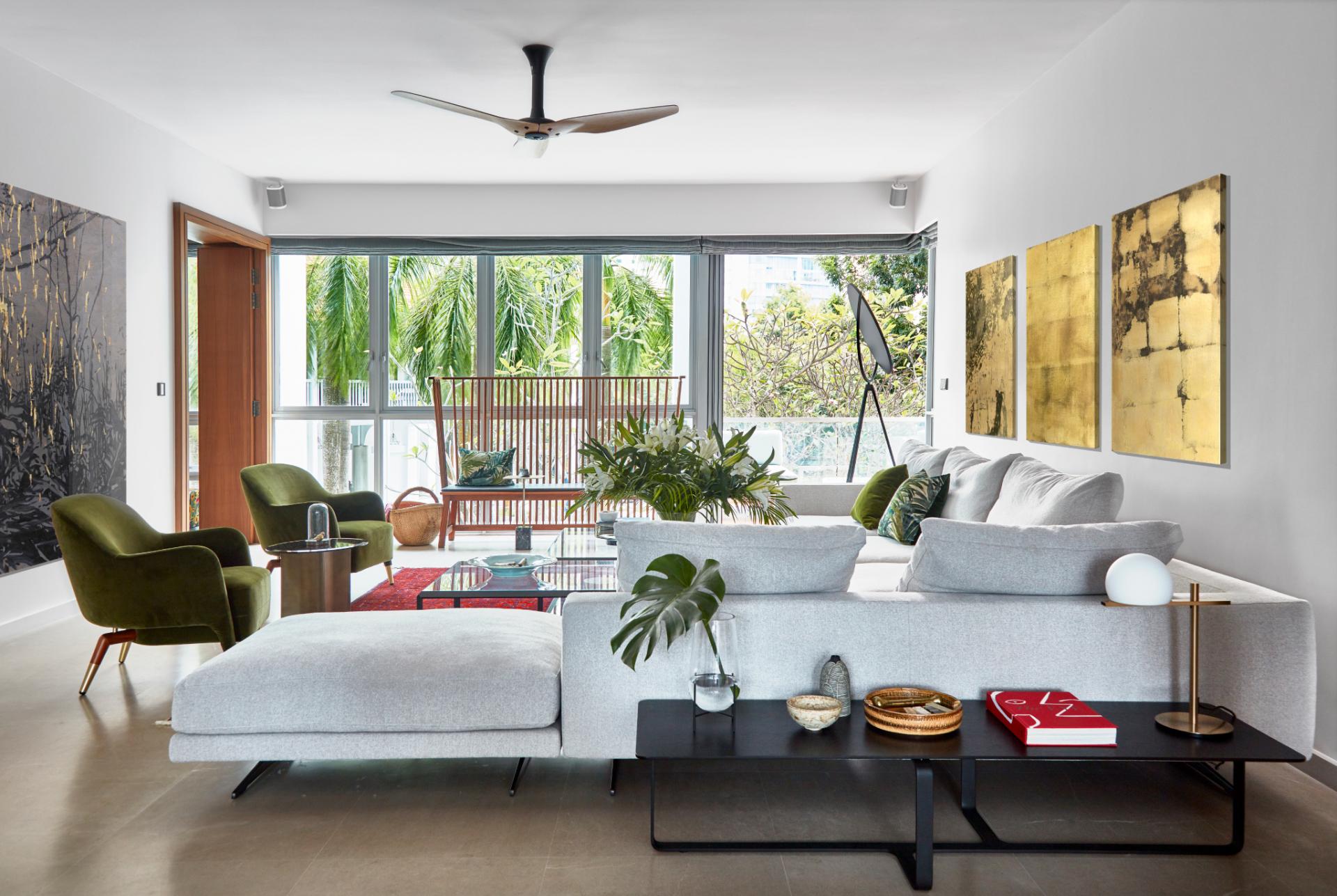 Wall-to-wall glass windows on both sides of the living room afford picturesque views of the surrounding greenery. The existing marble flooring was mattified, so that complements the contemporary interior scheme and reduces the reflective glares of sunlight. A four-metre L-shape sofa from Flexform grounds the large lounge. Featuring Gio Ponti armchairs, a pair of Molteni & C coffee tables, and a selection of other key pieces in various styles and influences, the sitting area tastefully and comfortably accommodates a big gathering or more intimate family time.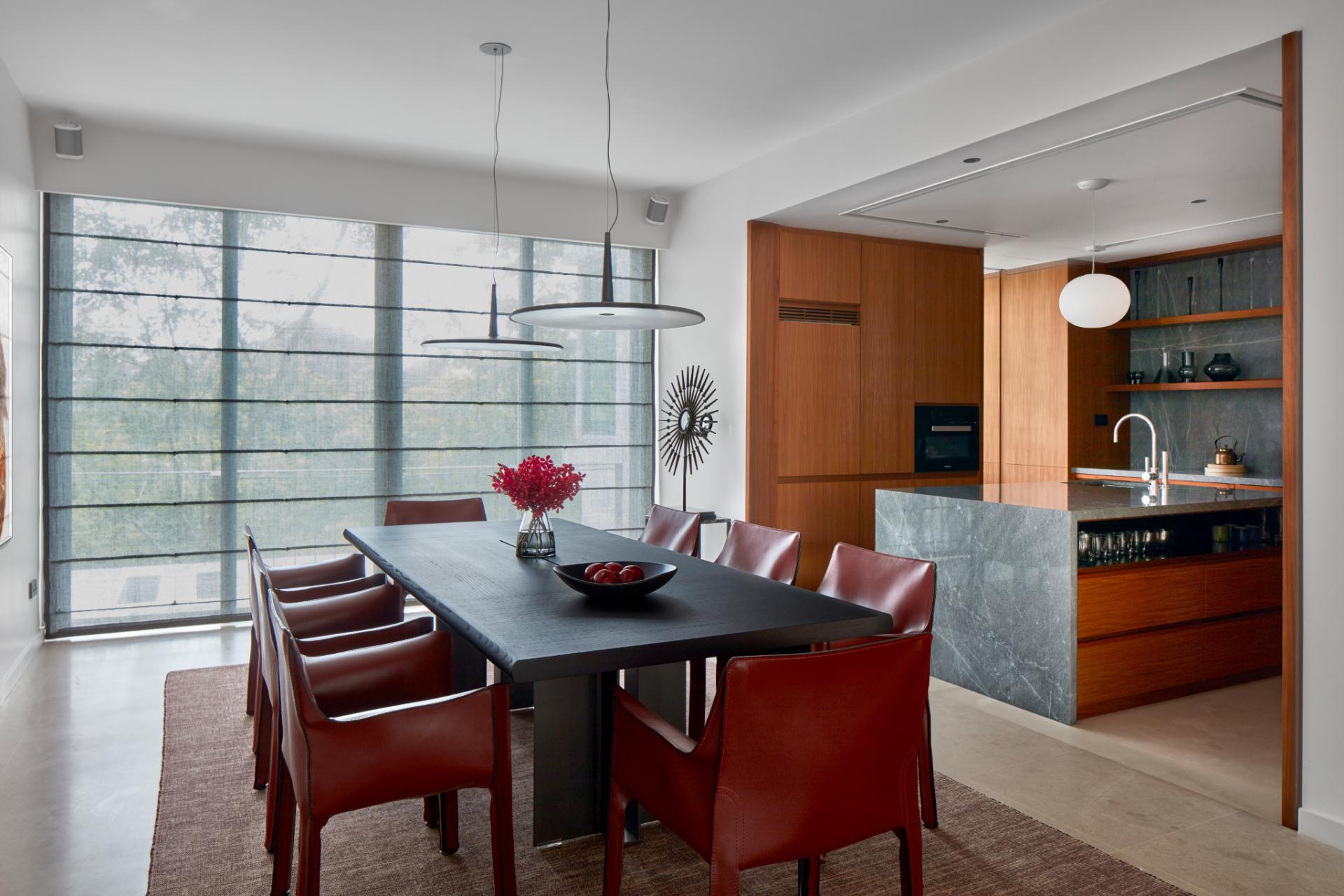 On the other side of the room, clearly defining the dining area is an imposing black stained ash table from Flexform and Russian red armchairs from Cassina. Similar to the lift lobby, walls and doors were removed to widen the opening between the dining room and the dry kitchen. "They're an Indian family, and when they entertain, they like to have the food there for everyone to serve themselves," Alessandro explains, "so it works perfectly as an extension of the dining room."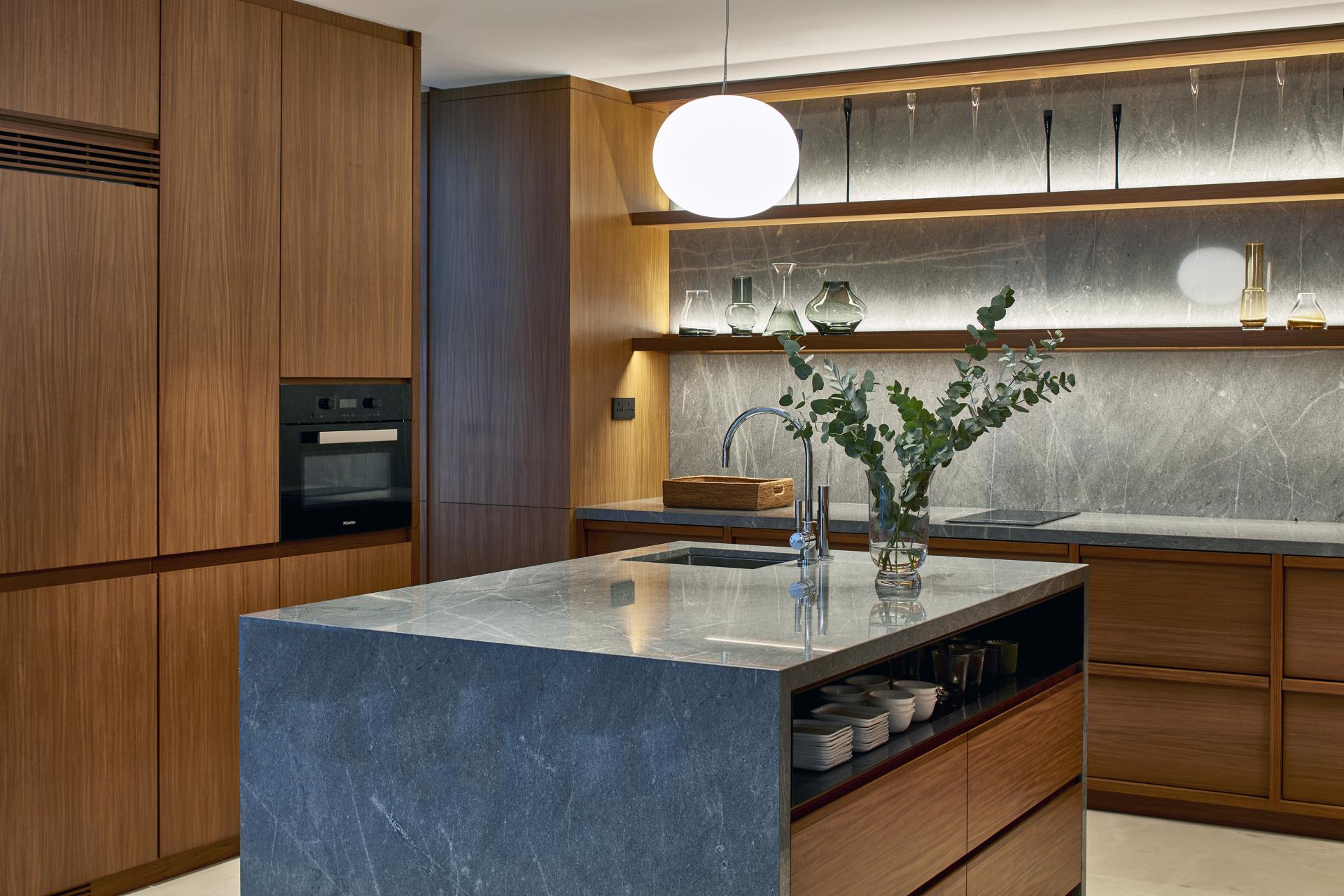 The wet kitchen was pushed back and made more private, leaving the dry kitchen as a refined scene perfect for entertaining. Slabs of Baltic Gray marble, used for the backsplash and island counter, are offset by honey-coloured teak wood panels. Flushed panels conceal a walk-in pantry, a cocktail station and integrated fridge.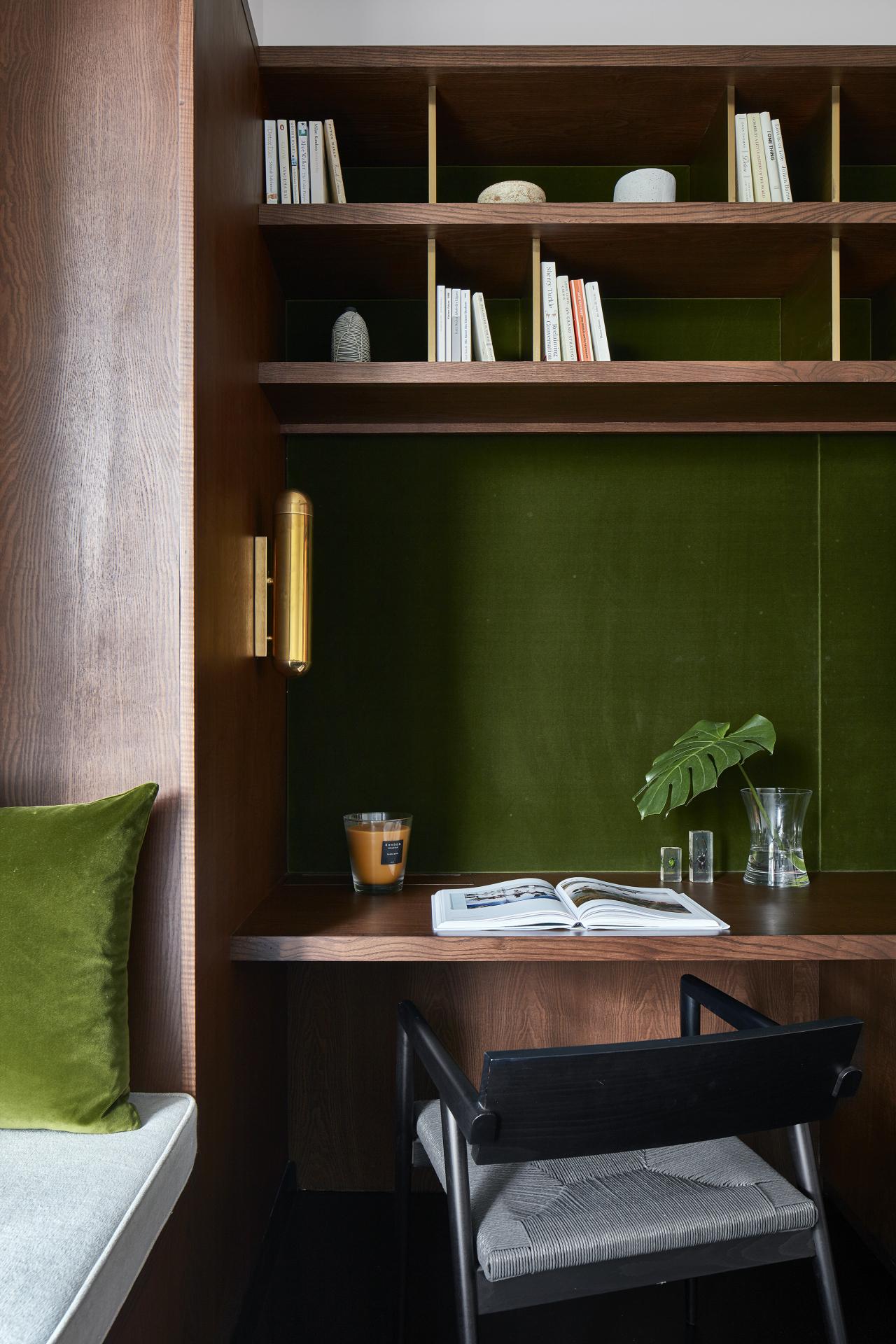 Being avid readers with a large collection of books, the couple wanted a library combined with the family room. Flooring stained black, rich mahogany tones, heavy drapes and plush upholstery create a cosy and comforting ambience, while strips of brass accents in the carpentry add a hint of lustre.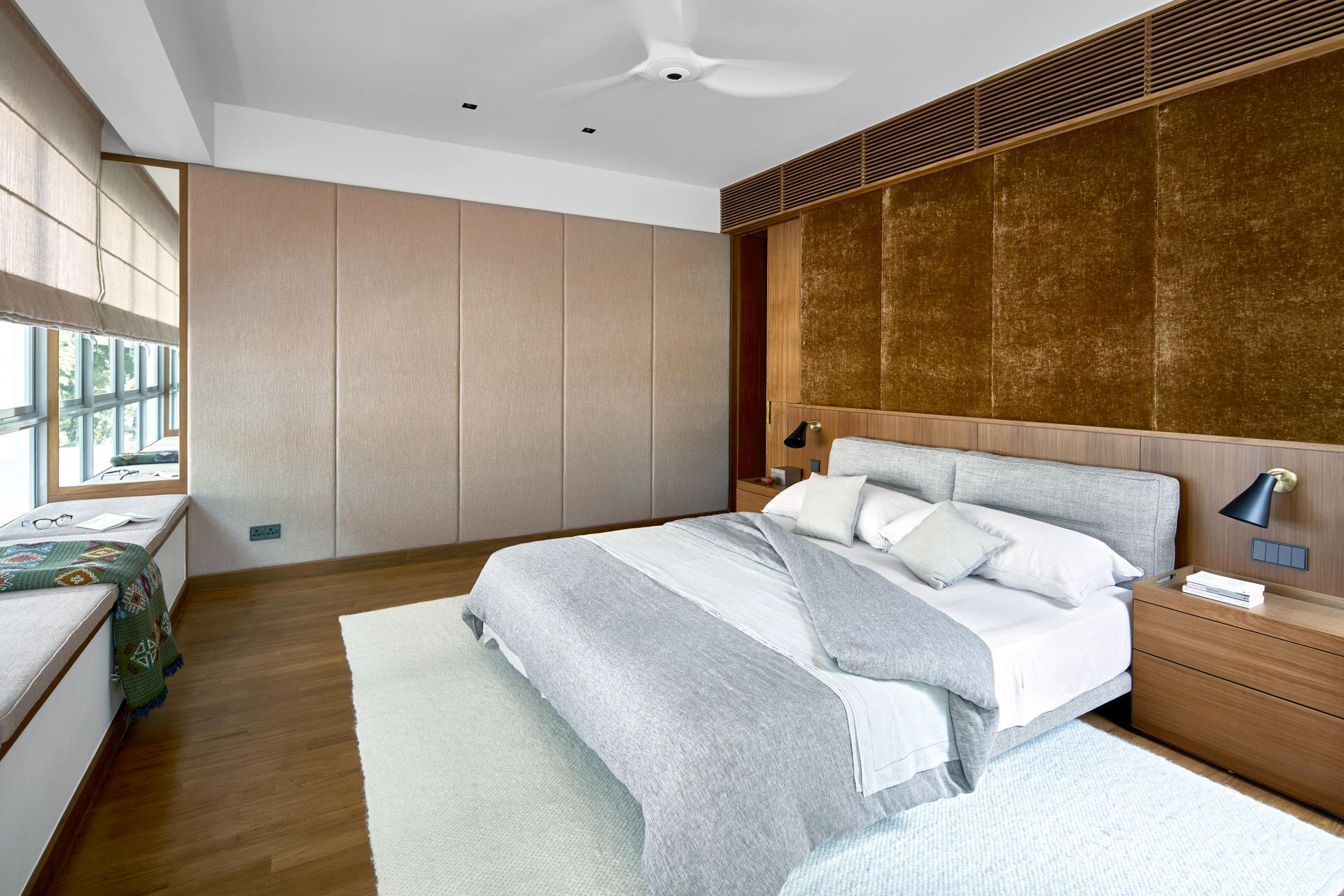 Set away from the corridor and accessed through the dressing room for increased privacy, the master bedroom is layered in feminine tones that are soft and sophisticated. Combining form and function, the bed headboard is enhanced with concealed uplighting and specially designed nightstands featuring moveable tray tops. Butterscotch-gold velvet fabric panels compliment the teak wood backdrop perfectly.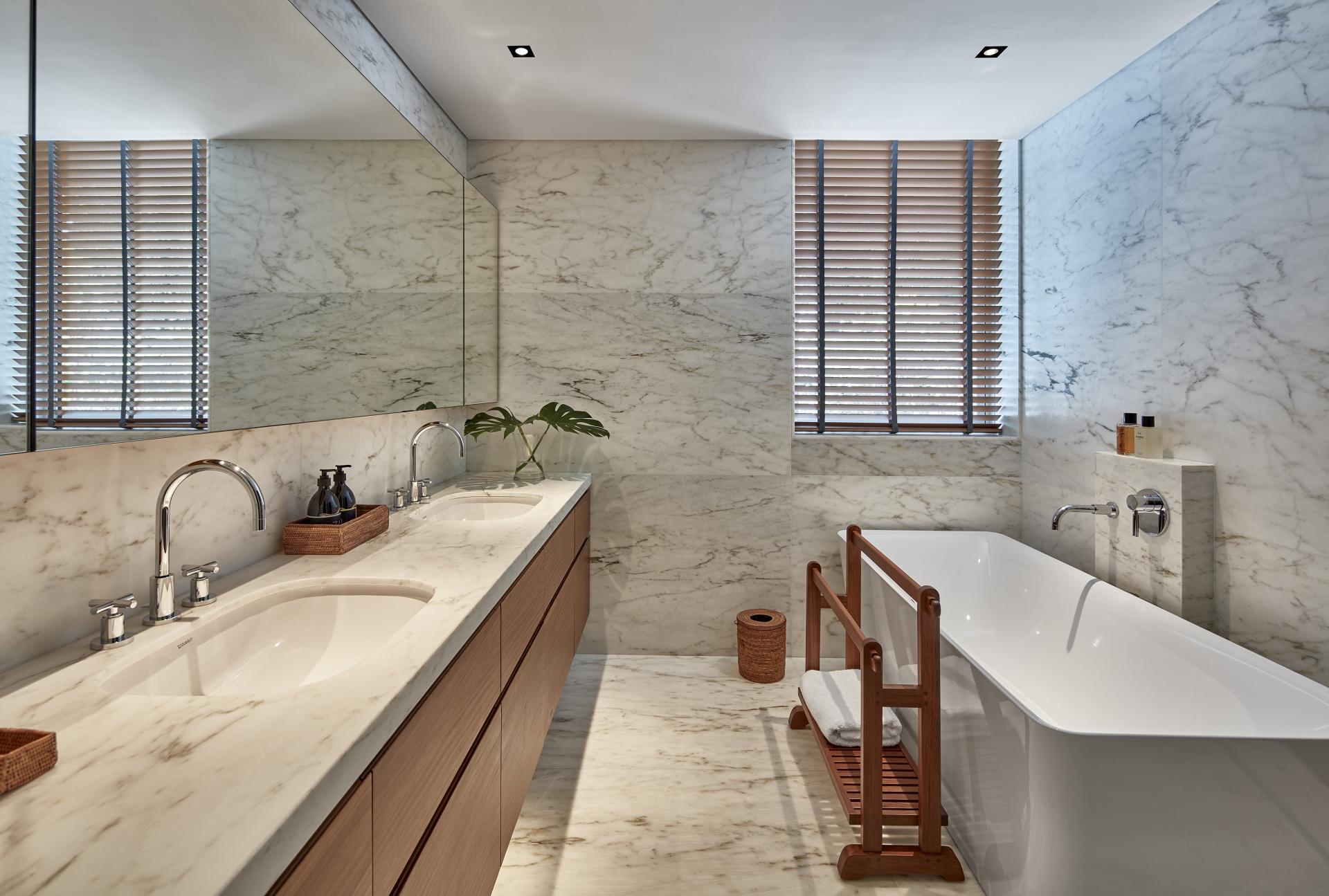 One of Alessandro's favourite part of this project is working on the bathrooms. "All the bathrooms have been a lot of fun, and they are all so different," he says excitedly. Clad in white Calacatta marble, the master bathroom is light and timeless. It features a his-and-hers vanity spanning the whole width.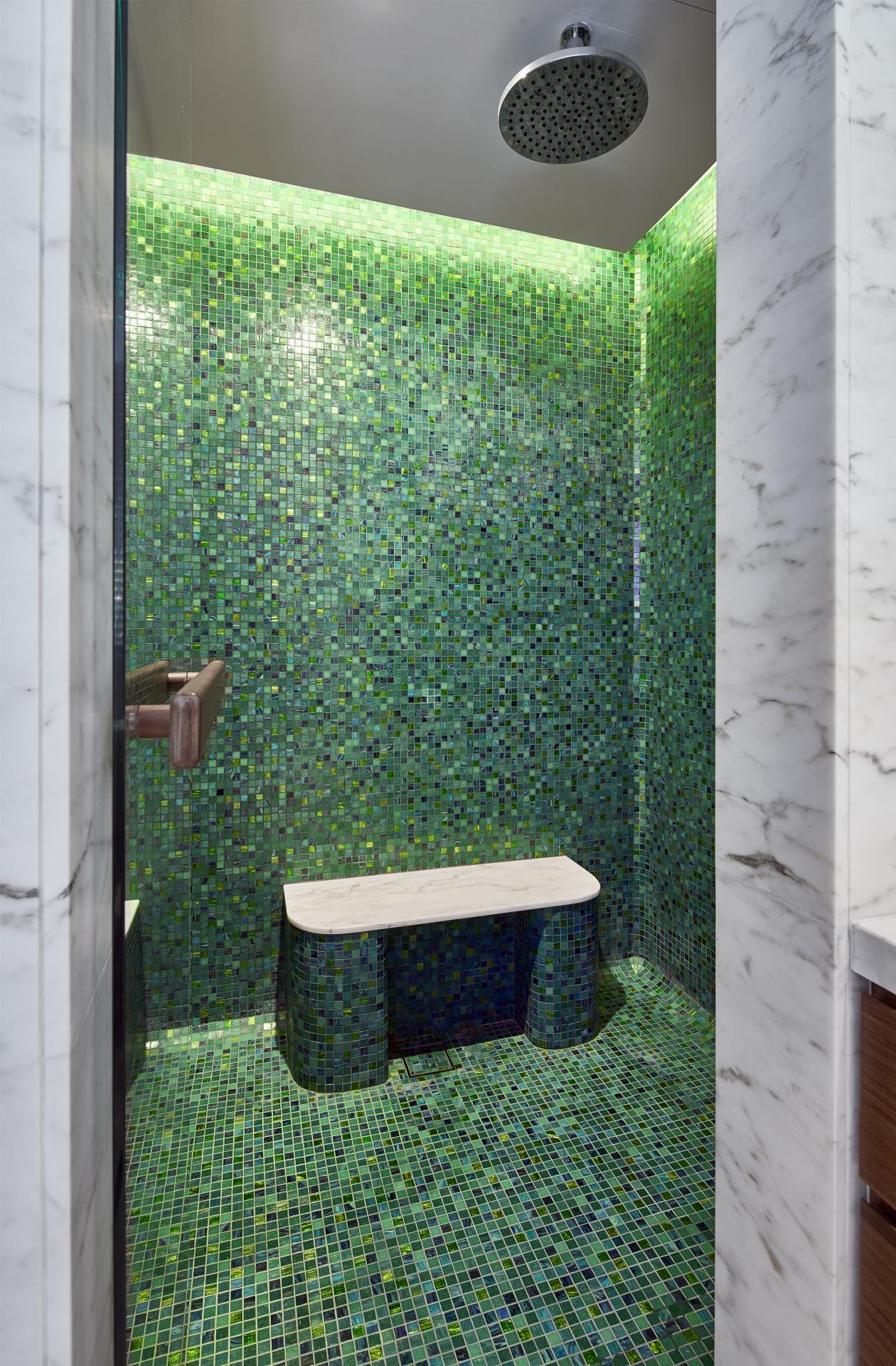 Contrasting against the purity of white marble, dazzling green mosaic tiles from Bisazza define the separate shower and WC on one side.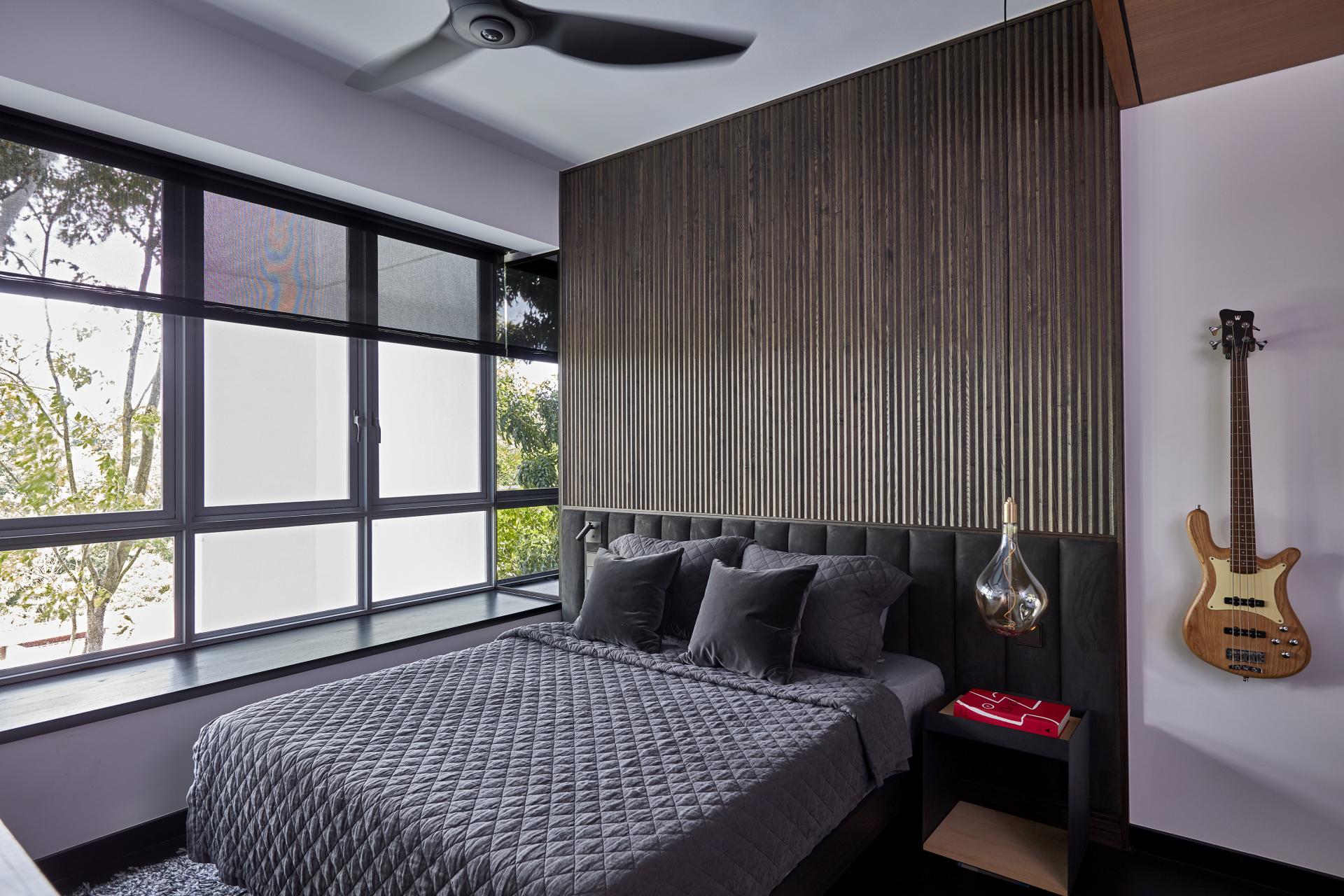 Dark, modern and masculine was the brief given by the son for his bedroom. The focal point of the room is the bed headboard, a feature wall fashioned using leather upholstery and dark stained timber cut at an angle for a 3D effect. As the son is a music lover and record collector, a record display wall was specially designed. A console was also custom-made for his record player and other audio equipment, featuring a dedicated sized-to-fit compartment for his collection of vinyls.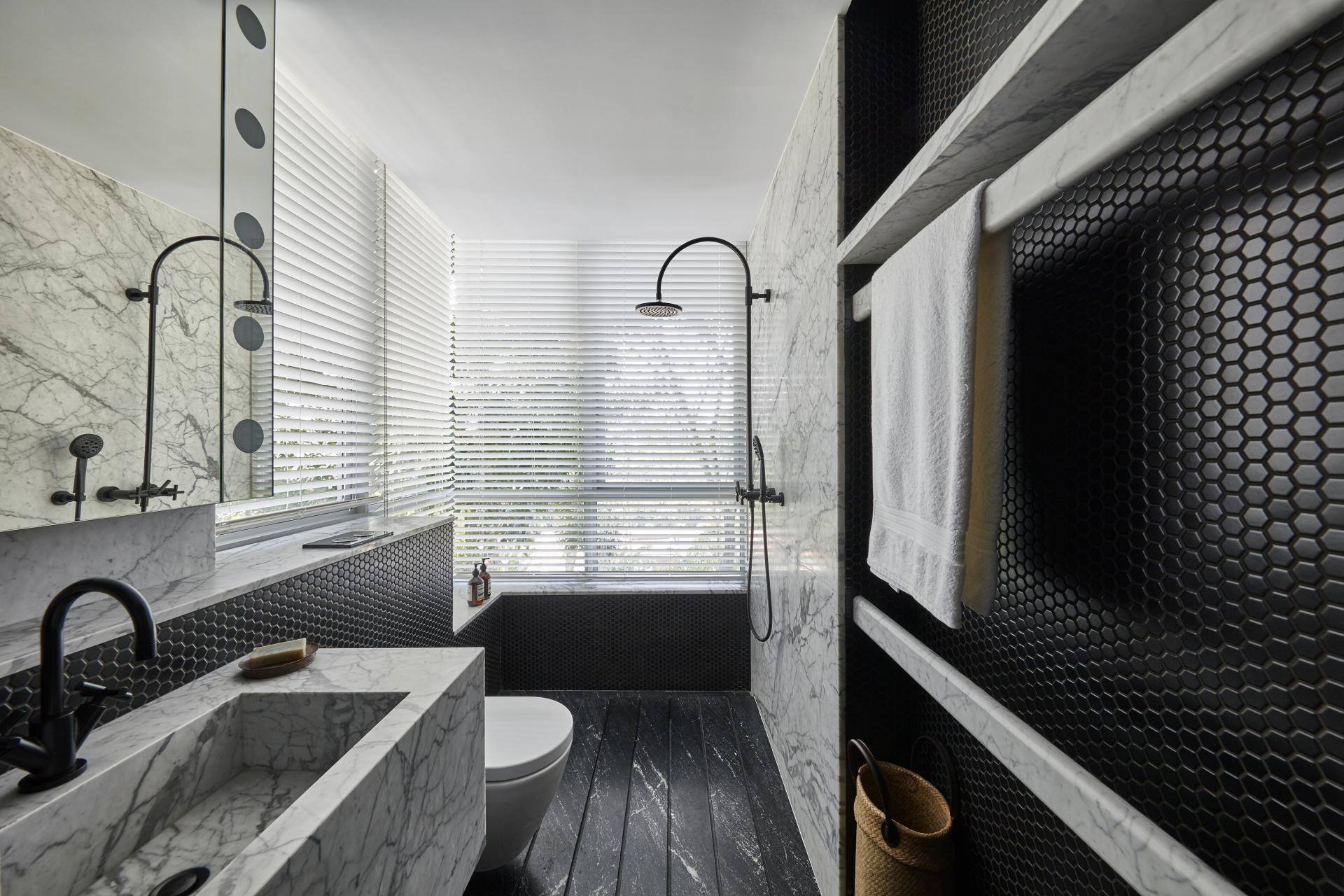 The ensuite bathroom is stylishly monochromatic, with a captivating combination of white marble, black marble and black hexagonal mosaic tiles. Black bathroom fittings complement the contrasting theme.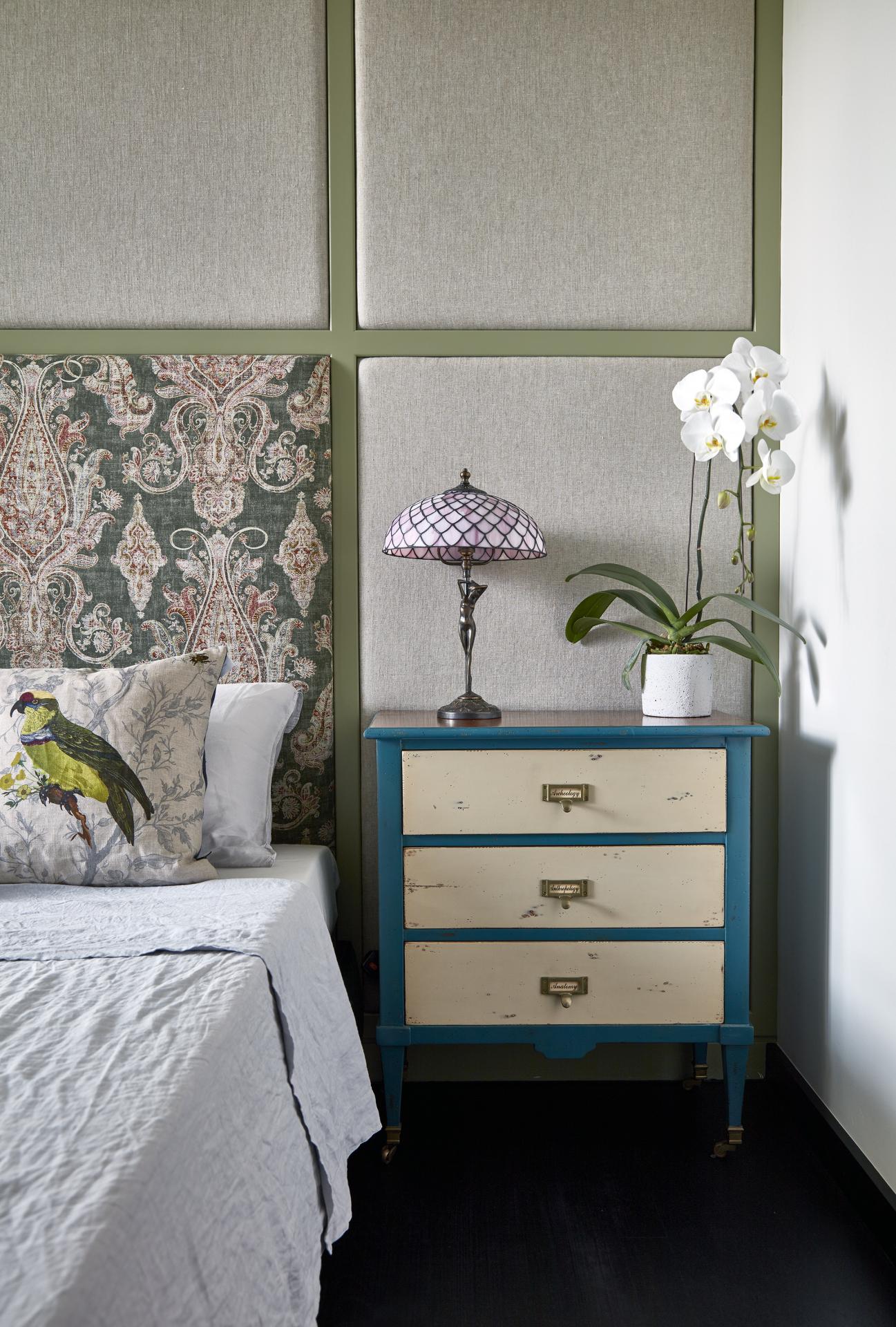 The daughter's bedroom presents another world - eclectic and whimsical, with a Bohemian flair. Different shades of green and pink, as well as various textures and rounded shapes serve as the perfect stage to show the daughter's personality.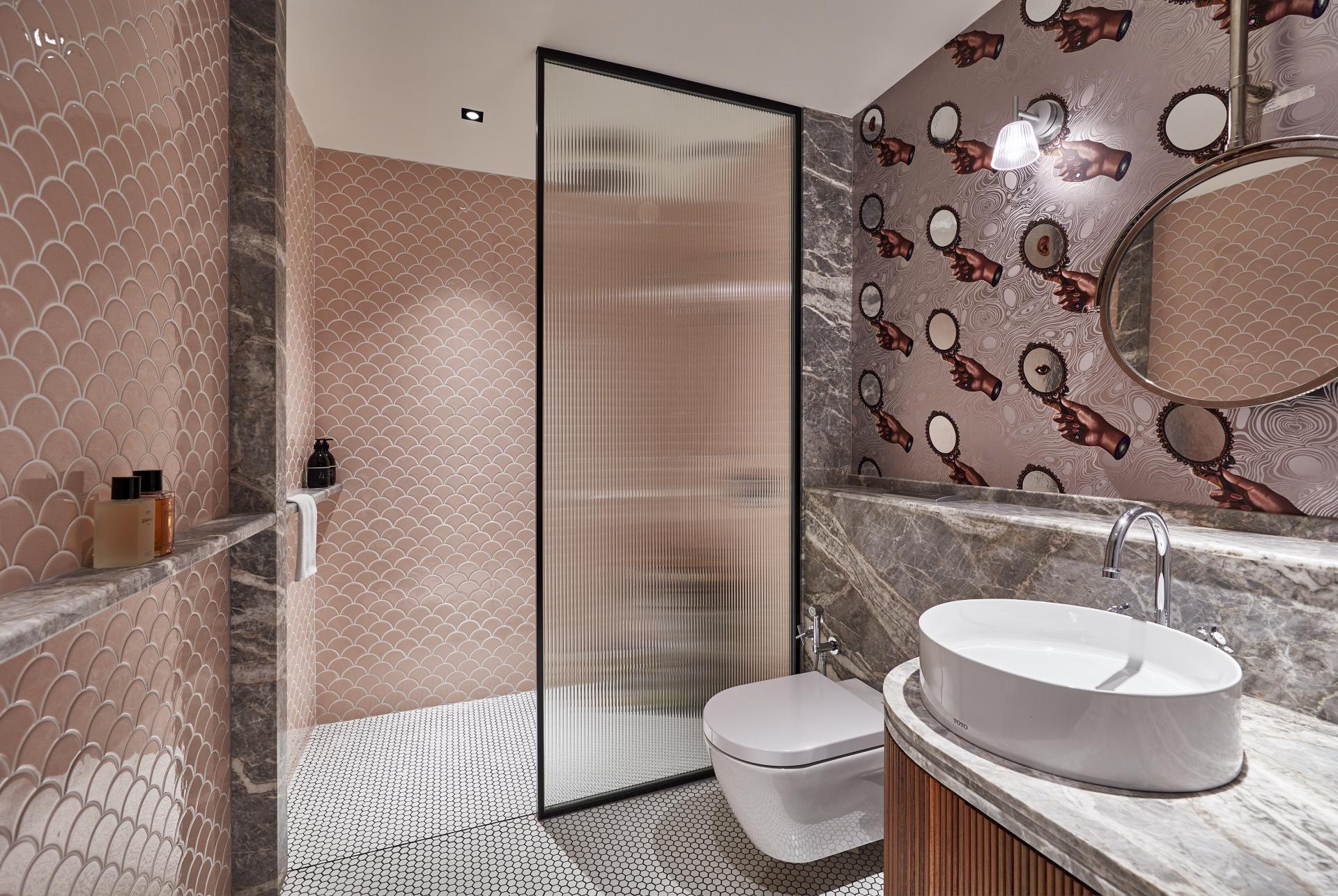 Her bathroom is a smorgasbord of quirky elements artfully blended to create a layered, stylish space. Bold printed wallpaper from Brooklyn brand Flavor Paper, elaborate Fior di Pesco marble, fluted glass for the shower screen, pink scalloped wall tiles and white hexagonal mosaic flooring – it all ties together for a one-of-a-kind look.