Unsurprisingly, Seven Terraces was named so because it consists of a row of seven terraced houses.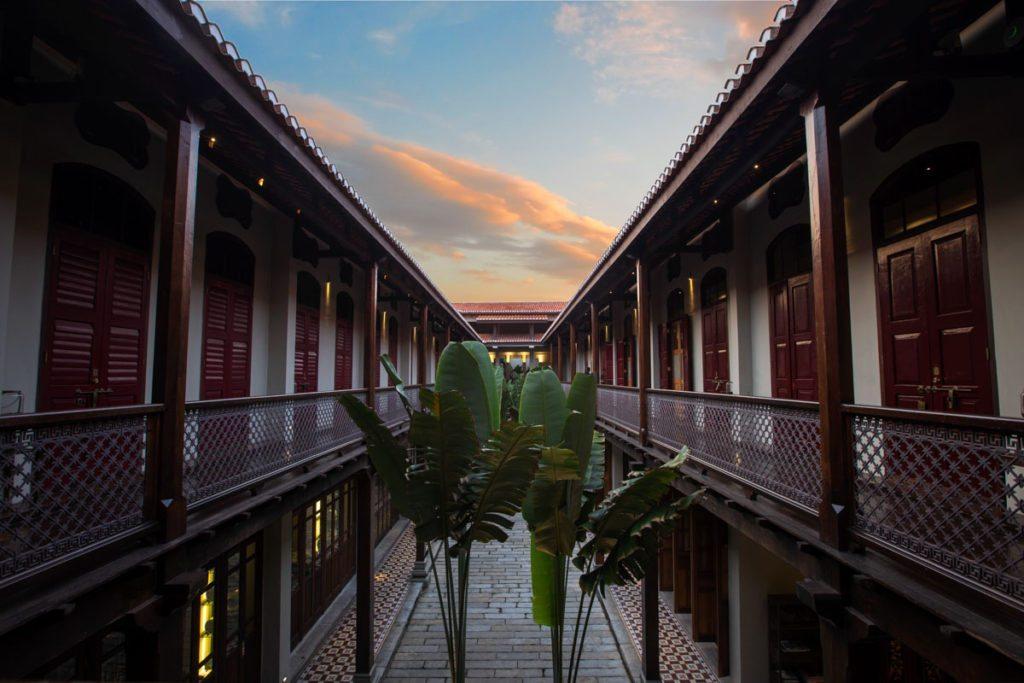 But for owner Christopher Ong, the number seven has a deeper meaning.
"I sort of see seven as a quite a magical number," says the investment banker turned international hotelier. "Firstly, it is a prime number. Secondly, ask yourself, how come there are seven days in a week? Why are there seven colours in the rainbow? Why is it called the seven deadly sins? I just thought, there must be something very special about the number."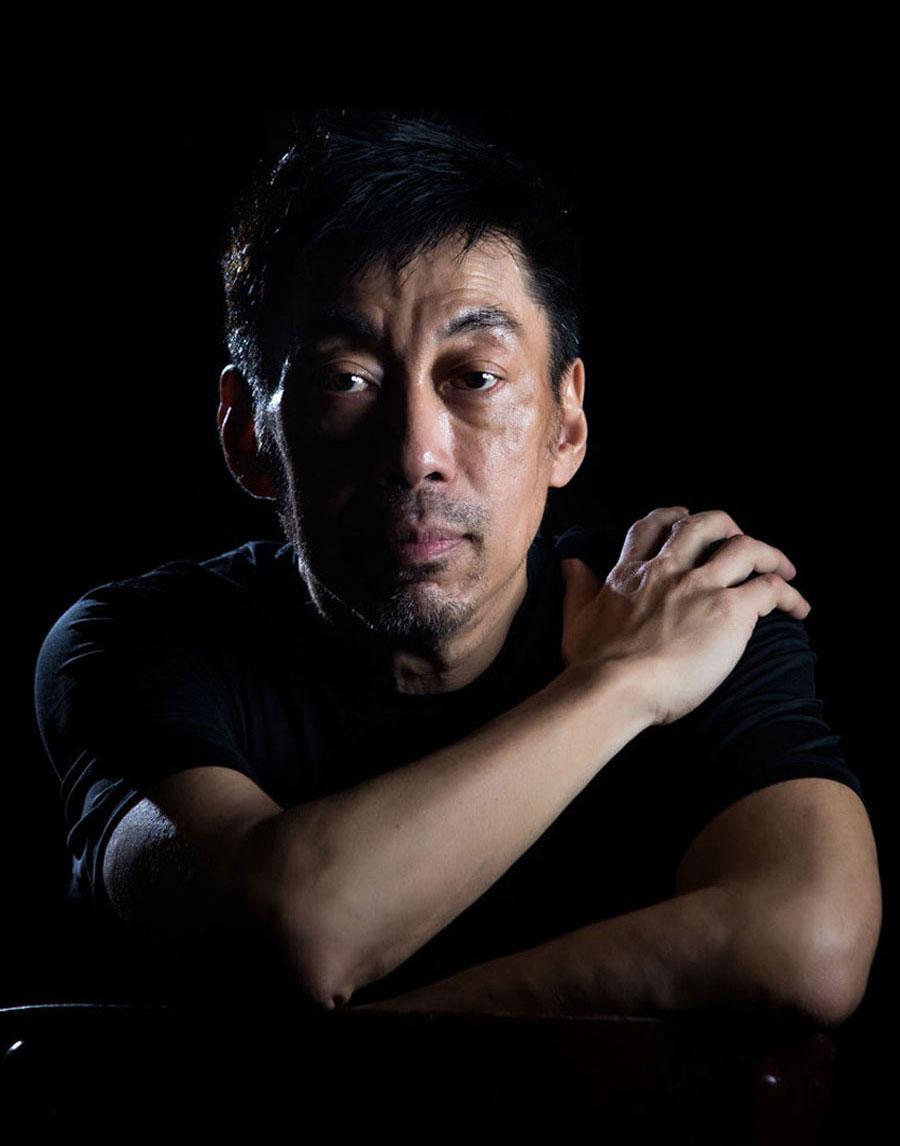 So when he chanced upon the property that was put up for sale in 2007, he thought it was an amazing opportunity although it "looks like a combination of junkyard plus Angkor Wat put together".
"It looks like a really rundown row of terraces, with almost no roofs and nothing. The structure was there, but because they let it open, the building was vandalised," recalls Chris.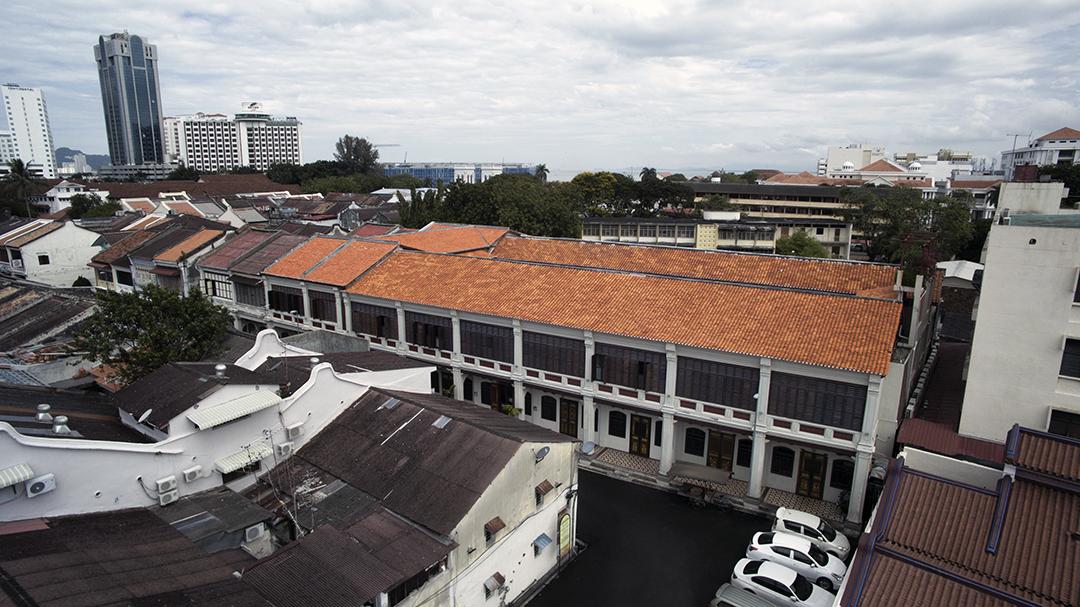 But Chris knew it was very hard to come across very large terraces with high ceilings like these, having lived in Muntri Street for a long time. With the experience of restoring several decrepit buildings in the past like Clove Hall and Muntri Mews, he saw the potential of what could be done to the seven terrace houses.
Scroll through the gallery to see how Seven Terraces came to life: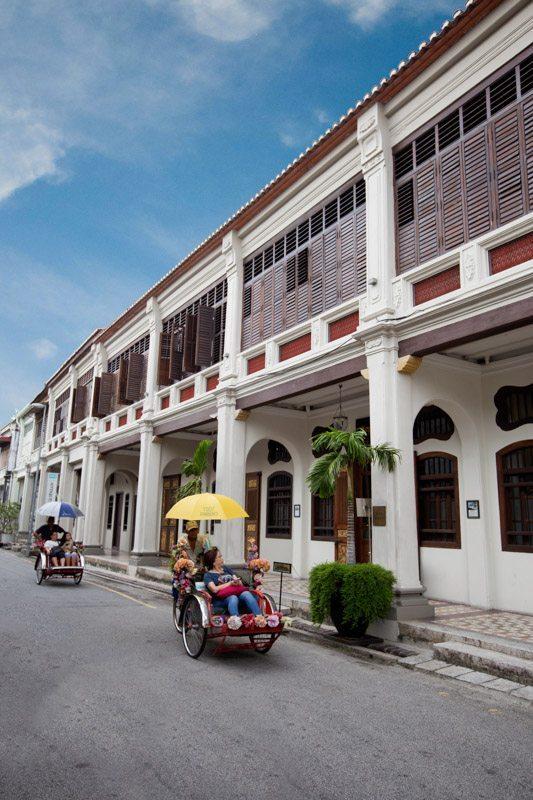 "I've always had this love for Straits Chinese, Anglo Chinese traditional heritage architecture," says Chris. "I was disappointed because not many people have actually moved back into the inner city, and I just wondered why. But now I can understand because one, the lack of off-street parking - Malaysians are obsessed with their cars so they don't like park their cars in the street. And secondly, these houses are just too large for small nuclear families."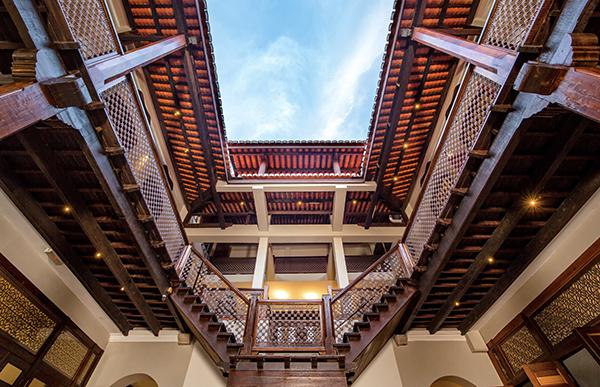 While it was obvious at that time to turn crumbling buildings into hotels, it may not make so much sense today. "It is very, very expensive to do that right now. To buy one of these homes and turn them into hotels is something you do out of a passion rather than just economic reality," explains Chris.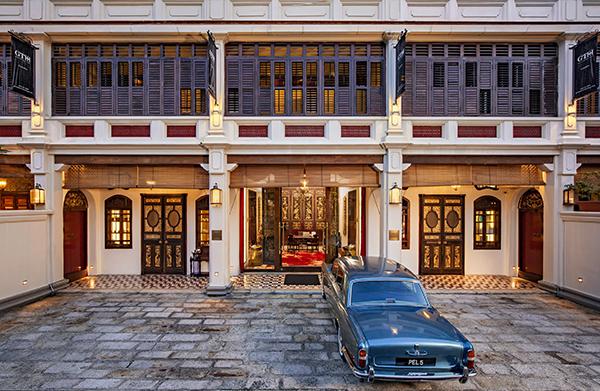 As a lot of the original features were missing except for the structure. Chris had a free hand in doing whatever he wanted to do, and that's precisely what he did. Quoting Chris: "My fantasy was always to recreate a Peranakan mansion, so the decorations and everything is all about going into a grand Peranakan mansion in the 1920s."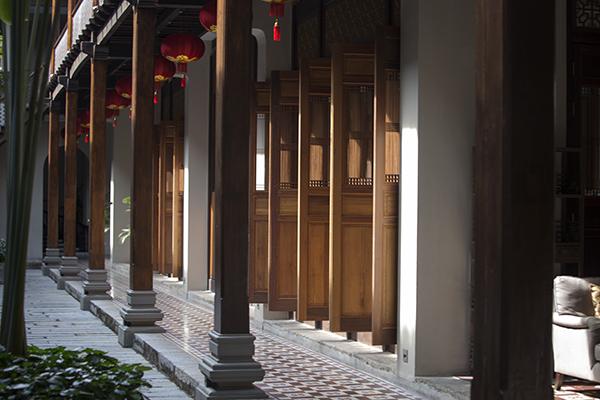 The first step was to combine the contiguous row of Anglo-Chinese into one property. Built in the late 19th century, the architecture of these shophouses, with classical decorative details imported from England, was similar to the traditional urban house models common in southern China.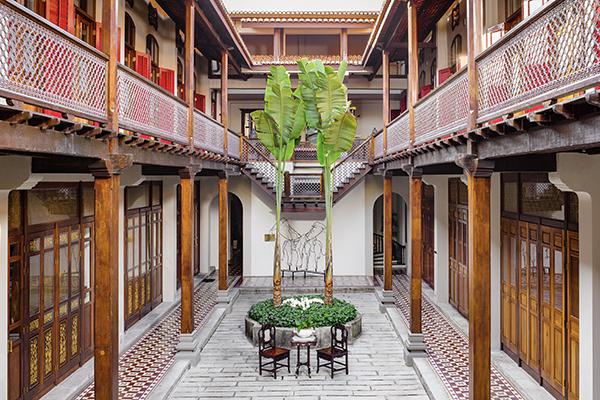 The open courtyard, another distinctive feature, was traditionally used for natural ventilation for the houses, allowing light and air into the interior rooms to keep the whole place well illuminated and cool the entire day through.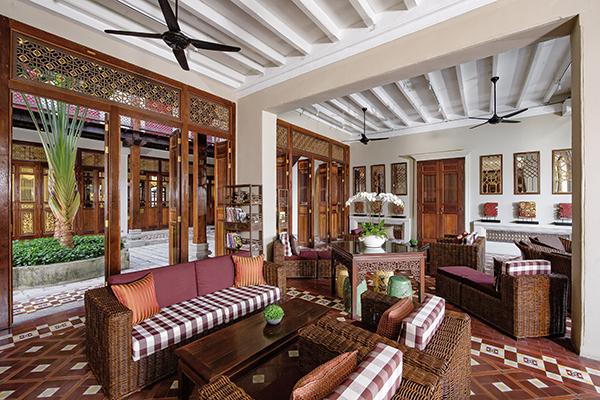 Complementing the Anglo-Chinese exterior, the interior was one that harks back to the romance and splendour of the Peranakan Chinese era. Cast iron lace work and rows of slatted wooden screens which adorn the interior serve to introduce ornate details to the simple background while the antique furnishings and fittings placed in choice spots throughout the hotel stand out in stark relief, bringing guests back to a bygone era that is steeped in culture and strong family bonds.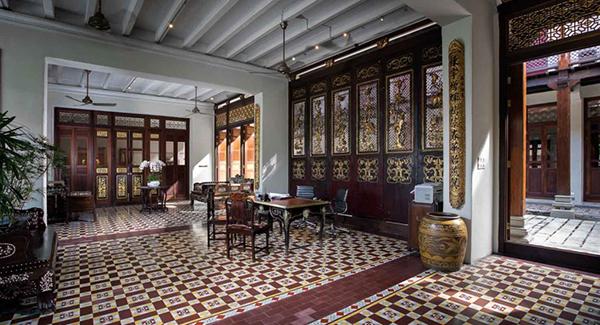 Chris' collection of priceless antiques such as porcelain ware is proudly displayed around the hotel. "The first thing I did was basically to rent a large warehouse the minute I bought the building and started collecting as much furniture as I could, wherever I could," he laughs. "I've always joked that Seven Terraces is like a museum with a few rooms that you can live in rather than rooms with antique furniture in them."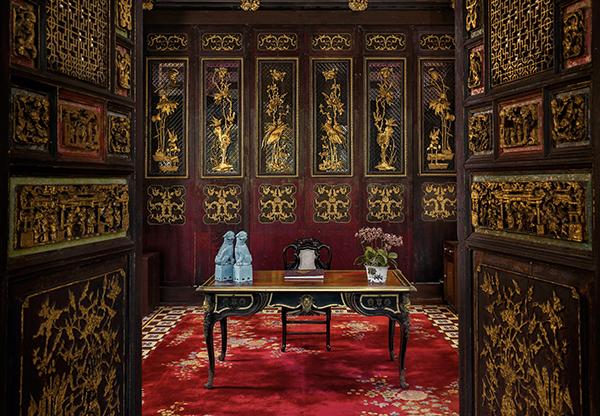 "Everything is obvious because there is so much of it that you don't have to take it all in at once," adds Chris. Because it is so much sensory explosion and so much sensory stimulation, you just can't take it all in. Sometimes you just need to focus in on some things."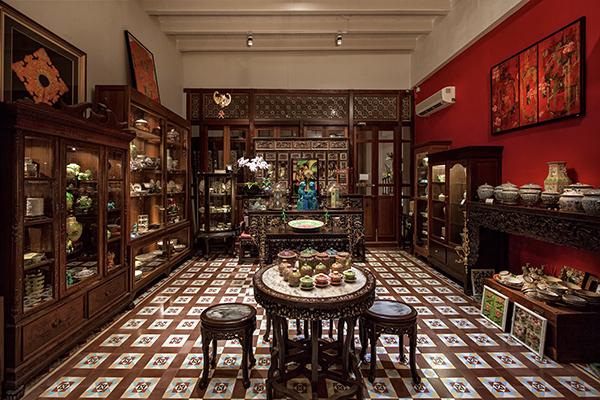 The collection that Chris is most proud of is his collection of around 70 to 80 Kam Chings – colourful Peranakan ginger jars, which currently in the hotel's reception area.
While those are not for sale, there is an antique shop within the premises where you can purchase some of these precious collectables. "This is my favourite area. I think it's something that people don't realise, but it's, I think, the cleanest and most well laid out antique shop in Penang, if not Malaysia," says Chris. "I spend a lot of time curating the collection, and every single piece has been selected by myself. So even if it doesn't sell, it doesn't matter because I love all those pieces there."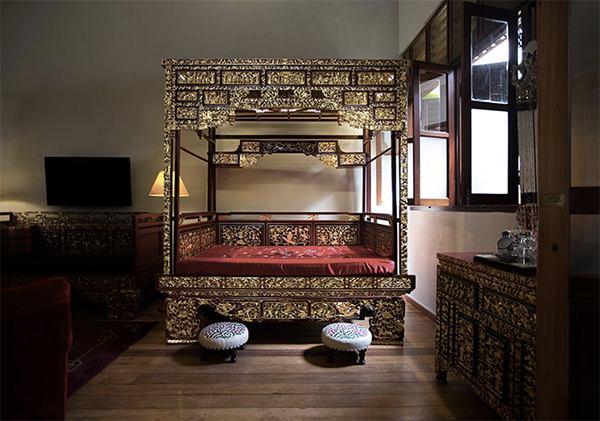 Upstairs, each hotel suite boasts of blackwood and mother-of-pearl inlaid furniture and gilded cabinets and tables. In the Stewart Apartment, guests will be delighted with the original Peranakan Chinese wedding bed and accompanying cabinets.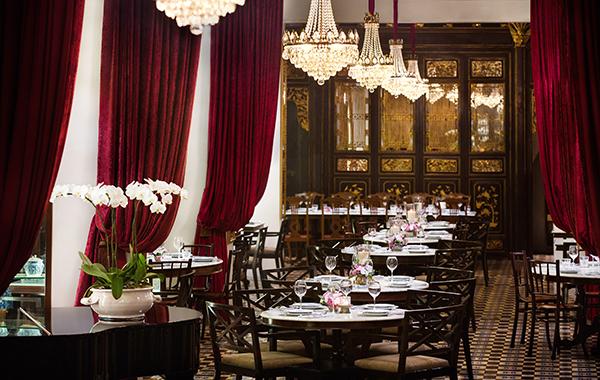 The whole design concept goes down to even the restaurant, which was created from the front spaces of all the seven houses. "The concept was then to create a dining experience of what it would've been like to dine in the grand Peranakan mansions of the 1920s," says Chris. "So we use a lot of old China that's mixed up, because in the old days, people used to borrow and mix up different China from different generations when you entertain people."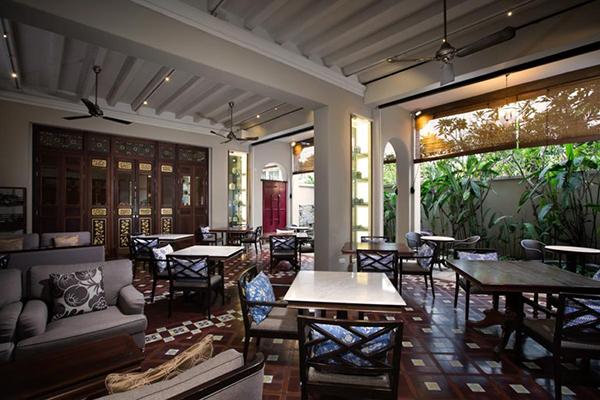 When asked if he was ever worried about visitors mishandling his antiques, he replies without hesitation: "I just think that people who choose to come to Seven Terraces are people who love these things. I think if you didn't like Peranakan heritage or antiques, you just would not be attracted to come to stay here."