It's a new year, and Chrissie Chau has just moved into her new home. Her style, and the style in which she dresses her home, have also changed.
She's graduated from casual and colourful to understated and simple in recent years, favouring a sophisticated type of modernism most would call low-key. To achieve this look, Chau turned to 70-year-old Danish furniture brand BoConcept for help in transforming her home, in the same way the brand has uniquely transformed thousands of homes in Hong Kong over the past 10 years.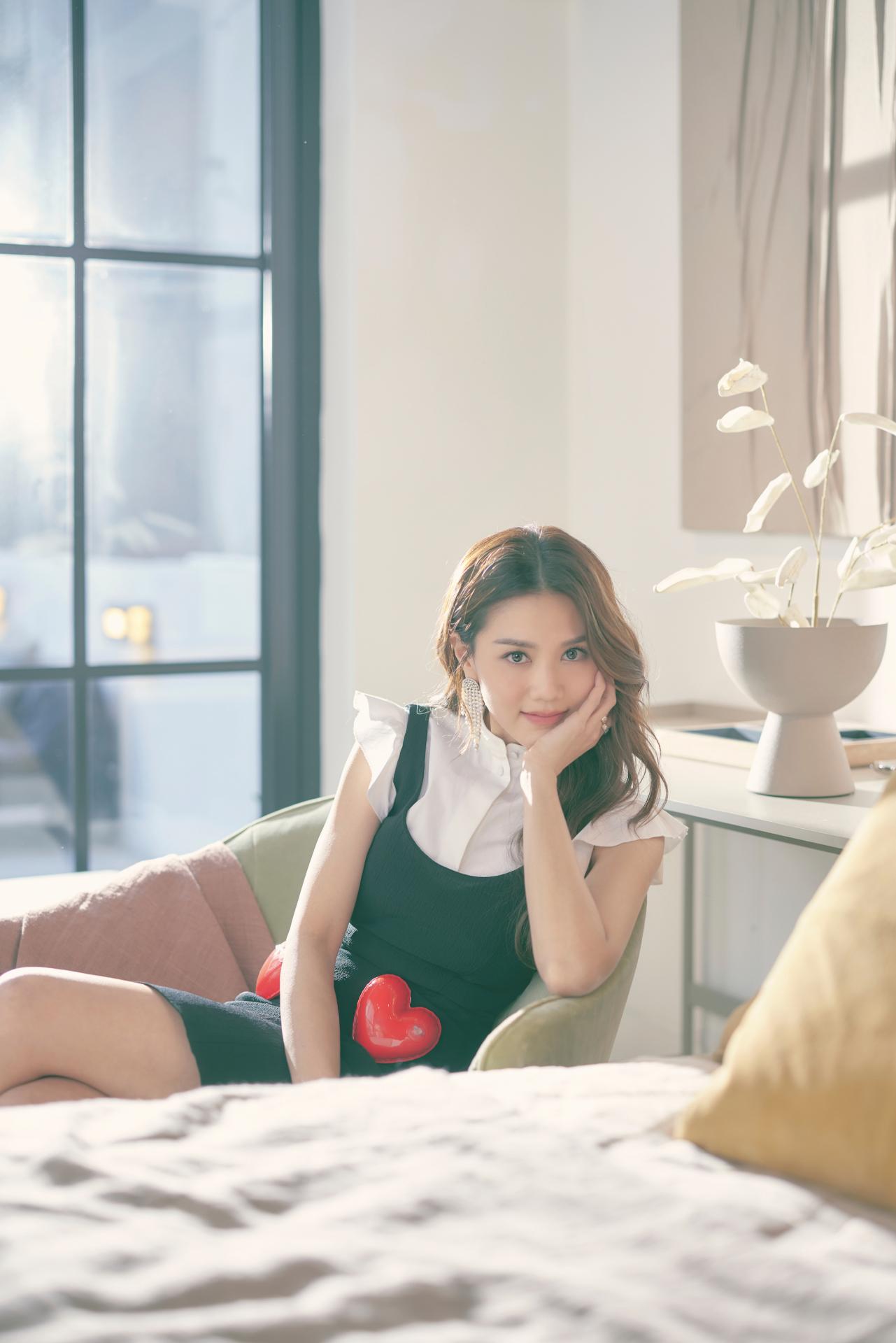 WHERE THE HEART IS
When she was at her busiest with work, Chau's former home was a place for respite between professional commitments. "In the past, I bought furniture I liked when I saw it. Just like that," she begins with a laugh. "The result was pink cabinets with orange and green pieces that didn't match at all when you put them together."
Like most people around the world, Chau spent a lot more time at home during the pandemic, entertaining family and friends for gettogethers.
Taking advantage of a move into a new home, she decided to make it something of a fresh start. "This time, I seriously planned ahead, and really thought about creating an ideal home for myself. Because I'm spending more time at home socialising with relatives and friends now, we all are, I wanted to create a comfortable, welcoming environment for myself and for my family."
Having absorbed the lessons of casual buying, this time around Chau decided the way forward was by unifying the interior style from jump.
There would be no winging it this time. Each time she'd moved in the past, she had picked up random tips from home interior design TV shows, browsed furniture shops she liked, and bought new furniture every time.
With seven decades of design history to its credit, BoConcept was the logical choice to help make the process smoother.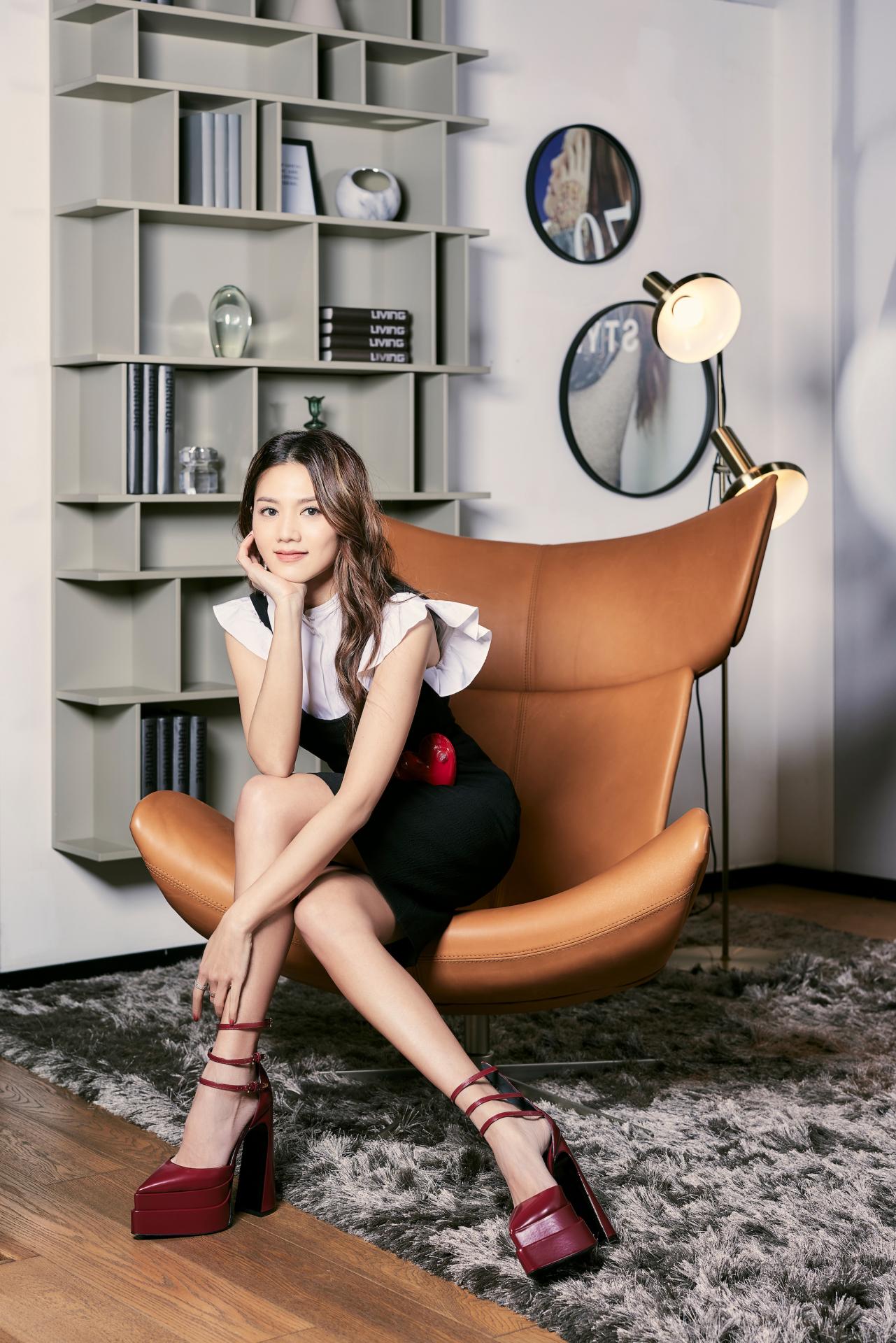 "A friend introduced me to BoConcept about three years ago," Chau recalls. "I really like Nordic minimalism, and I have always had a few items.
When I moved this time, I got a lot of help from BoConcept's interior design consulting service.
"I like wooden furniture very much, and they had just launched a new extendable wooden dining table," she continues. "I can't wait to invite my family to dinner on New Year's Eve and 'consecrate' this table." She's talking about the Hauge Dining Table, finished in natural oak and available in dark and light tones. Built for six in its standard configuration, it can accommodate up to 10 with its extension in. To go with it, Chau opted for the complementing Hauge Dining Chairs and wide, leaf-shaped Ottawa Chairs.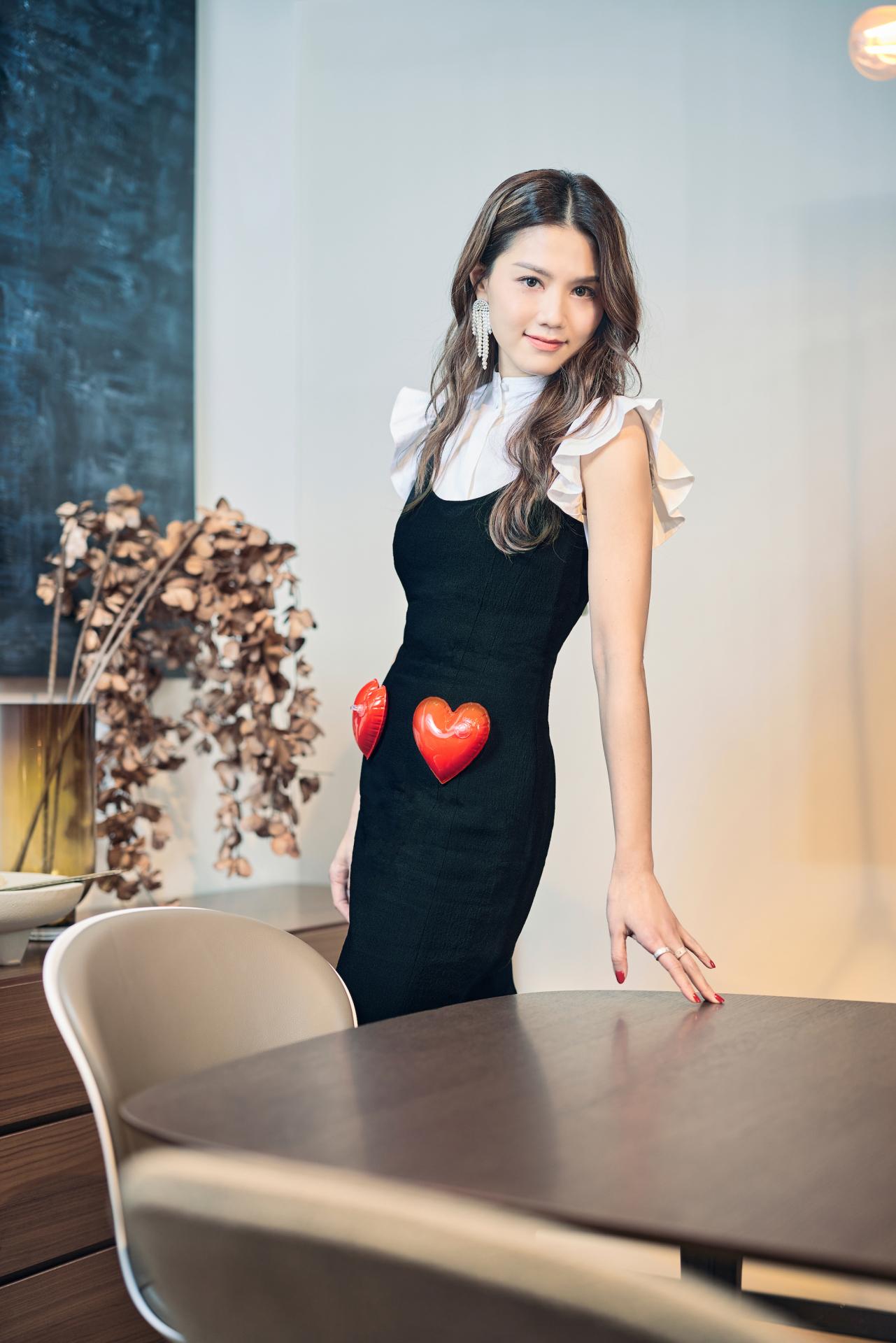 "I really like the design of the Ottawa, but the back width of the Hauge provides great support, and elderly people prefer it," Chau says. The fabric of the chairs is optional; the colour and texture is up to each customer personally. Chau decided to go with matching fabrics in a uniform light grey. "My new home is dominated by light-coloured furniture, so it feels bright and airy and this grey shade fits in perfectly."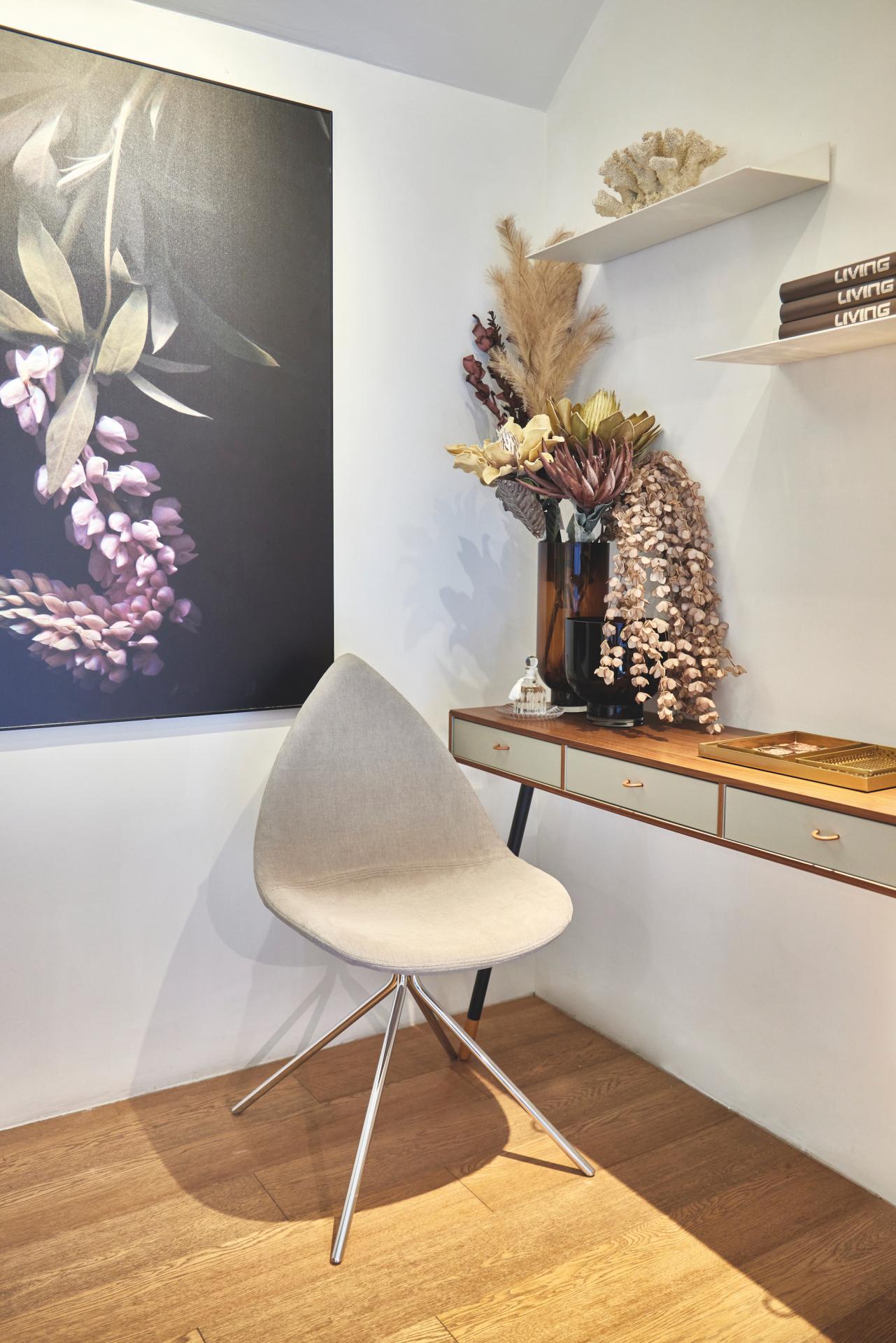 The easiest way to start bringing a home together is by making an appointment online or dropping in to a BoConcept store to chat with a dedicated BoConcept rep to give them a chance to start understanding your personal needs and preferences – be it for a minor renovation, a single room, or a new home in its entirety, like Chau's.
For small projects, BoConcept's design consultants can provide assistance on the spot to select the right fabrics and collections.
For big projects, consultants go to the actual space, inspect and measure the home, and then make a 3D rendering. The renderings are the best way to choose the appropriate furniture, and truly showcase the space as it is conceived by the customer, which is what Chau did.
Chau's family also extends to the four-legged kind. The proud owner of two exotic short-haired cats, she's unafraid to admit she exists at the pleasure of her cats. "The masters have a fixed peeka-boo play time every night for me," she laughs again. "I run around the house chasing them. If I'm late, they complain." Cats are well known for their love of scratching sofas, as Chau, and millions of catowners worldwide, have learned over time. Years ago, her leather furniture was damaged by scratching, which she corrected this time around with help from BoConcept consultants.
"They suggested a high-wearing fabric, one that was durable and water resistant too. Even if the cats scratch the sofas, the marks won't be as conspicuous." Spoken like a true pet owner.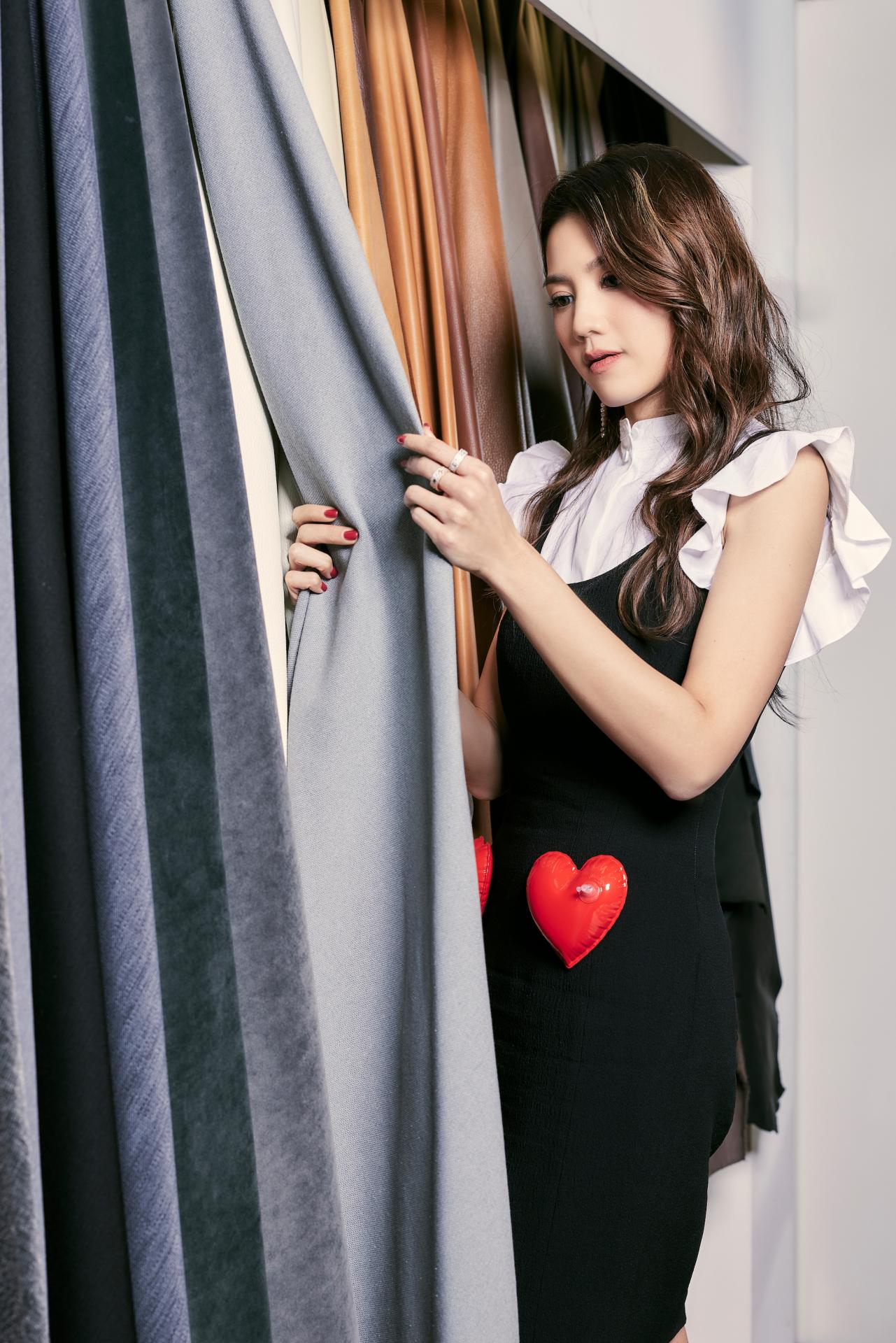 Creating the Ideal Home
So what makes an ideal home for Chau? For starters, she needs her space to include room for work as well as play. After getting outdoors for some activity in the morning, unless she's working, it's back home to watch Netflix and play with the cats.
"I'm quite a homebody. As a cat lover my rhythms sync up with my cats. But aside from scratch-resistant fabric and furniture that's comfortable for all ages, I want a unified look in my home, with simple lines and a foundation of light colours," she says, adding that she'll be the one to finish off the ambience. "I'll light the space with soft, yellow tones, and use scented candles to create a warm atmosphere. And tidiness is key. When I'm at home I often think, 'How do I store this pile of, I don't know, books?' and then I can't help but organise everything until I'm satisfied," she says with a chuckle.
The right furniture helps with organisation and storage, and among the pieces she has welcomed into her home is the Copenhagen wall system, which was also the most pleasant surprise. "BoConcept's customisation services let me mix and match the partition combinations on the cabinet, and that gave me all kinds of options for the candles, fan letters and awards I've collected over the years. A few compartments have doors, which keeps the messy stuff out of sight, and best of all I can choose the position of the power outlet access. The feeder for the cats is also neatly placed on the lowest level." Chau took her consultant's invaluable advice and ended up with a beautifully designed showpiece while maximising storage capacity.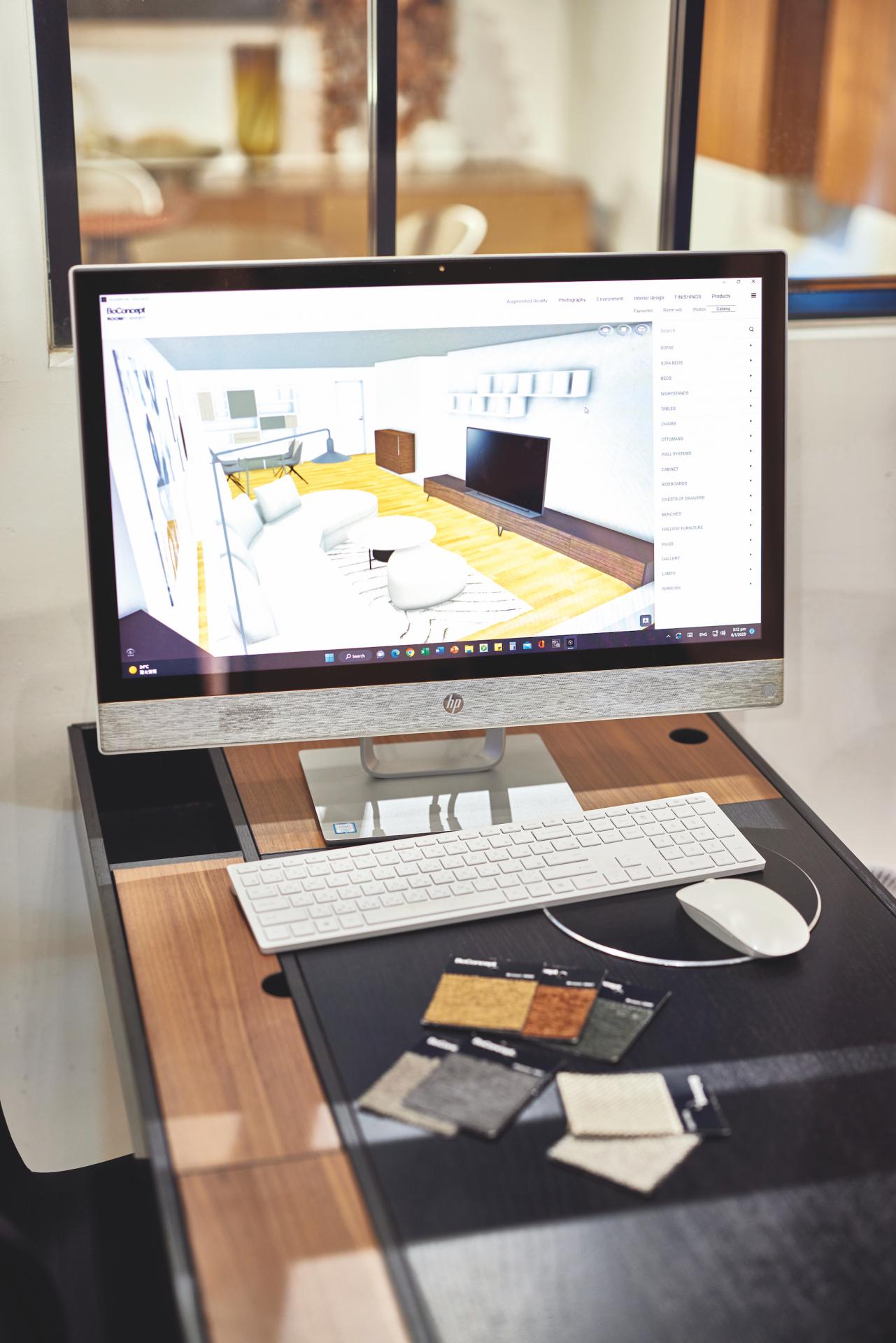 Because she also likes to sprawl on the floor, she added two white carpets to the space, the Form Rug and the Structure Rug, which add both texture and another cushioned surface to the home. Notably, the sofa was the last piece of the puzzle rather than the first to be built upon.
"The first thing I do when I get home from work is lie down on the sofa, so the right one is important," she says. "I read scripts there, and when friends visit we flake out there." Her habits are what make the streamlined, L-shaped Bergamo so ideal. It was also perfect for the space in front of the main window of her new home. Well, almost perfect.
"The sofa was too long on one side for my flat," she recalls. "Fortunately, BoConcept has a customised furniture service that helped me solve that problem."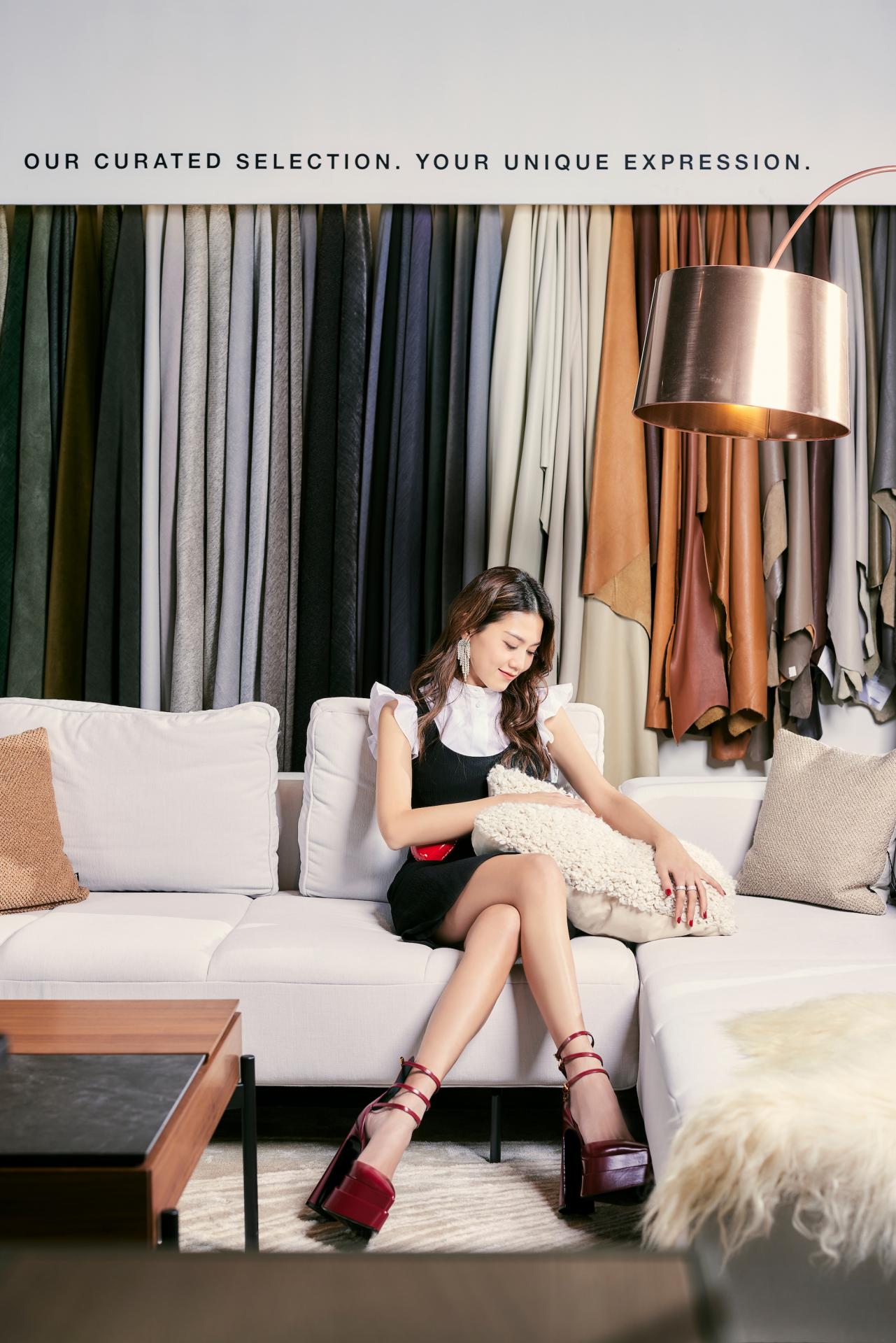 BoConcept transformed the sofa from a four-seater into a three-seater and removed the armrest, shortening the length but retaining the curvilinear design she was so taken with. Having so much control over the design and style of her furniture – and how it fitted precisely to her new space – was an exciting and fulfilling experience for the actress.
Pale hues and light woods dominate her new home, which she selected based on accessories she's collected during her travels around the world, as well as paintings she's done since she started creating art three years ago, and items representing the "memories and stories that are meaningful to me."
The bright colours of her youth have been replaced by a neutral canvas; a home that she will paint her life on going forward. With help from BoConcept, she was able to make colour, fabric and design choices that stretched her new canvas. "The sofa, the cabinets, everything completely suits my needs this time," she finishes. "I couldn't be happier!"
BoConcept Interior Design Consulting Service
BoConcept provides customers with complimentary interior design consulting service, tailored to meet each customer's unique living habits, needs and styles. Services include fabric selection, furniture matching, 3D renderings, and door-to-door measurements.
BoConcept Customised Furniture Service
BoConcept's customised home furnishing service covers items for every room in the home, including sofas and seating available in a range of leather, dining tables and other items constructed from customers' choice of natural wood, ceramics and other materials.
For details, call us on 2668 0027, visit our website at www.boconcept.com/en-hk/, or visit the store to inquire with our staff.
Photo courtesy of Jason To