Maurice Benayoun spends a good portion of his time exploring computer graphics, virtual reality, the internet and emerging technologies. In the era of digital proliferation, his works come off as oddly prescient in hindsight.
I was sitting in what Maurice Benayoun called the torture chair, a headset strapped to my forehead sensing and interacting with my brainwaves. Across me, on a screen pinned to the wall, was an ever-mutating, liquid-like object. Think when you pour boiling water mid-air in the frigid winter and it instantaneously turns to ice, that's what it looked like.
It isn't far-fetched to say the scene was something straight out of a Hollywood sci-fi. Only that the electrodes weren't exploiting my memories to extract whatever secrecy or espionage information was inside my brain – in fact, this three-dimensional (3D), somewhat phallic-sized thing iterates my idea of what "friendship" is, as per my brainwave signals.
"As your brain is focusing on the word 'friendship,' the headset captures your brain activity in real time through Electroencephalography (EEG) and converts it into an ever-changing shape on the screen, something that appears like brain juice in motion," Benayoun told me of the interactive art installation I was trying out.
Value of Values (VoV) is the artist's brainchild, a blockchain-based art project borne out of a curiosity to understand the cultural context and perceived economic value of abstract human values – including "love", "freedom", "power", and "justice", among 42 pinpointed by Benayoun's team for the purpose of research. It began in 2016 as simply an interactive art installation, but has since evolved into something more.
As I got out of the said chair, Benayoun handed me a paper receipt automatically generated from a touch-screen machine. "That 3D shape extracted from your brainwave is now minted on the Blockchain as a numbered Non-Fungible Token (NFT) – we call it the VoV," he explained. "As the owner of the VoV NFT and the 3D geometric model that defines its shape, you can now sell it, buy or collect other VoVs using Matic or many other cryptocurrency. You can also barter it against other VoVs."
A quick browse of the VoV website yielded the market prices and ask orders of the pre-identified human values in USD. "Openness", for instance, has the highest median value as of writing this story, with the project having produced a total of 58,080 NFTs to date. Benayoun said the data amounts to much more than simple NFT transactions.
"It's about reification, the idea that thoughts can be converted into objects, giving shape to the abstract and the inexplicable and rendering them into tradable commodities. Take the example of 'love', how do you define it? A wedding ring and the money that purchases it may tell us something about it but it's never the full picture," Benayoun explained with an infectious zeal and exuberance.
"Blockchain becomes a medium for us to understand the monetary value of abstract values in life, hence the project name 'Value of Values,'" he said, raising the tip of his index finger to his temple. "To make sense of the whole thing, we generate poetic statements based on the actual NFT transactions."
"I Will Always Say No To TRUST, And Yes To KNOWLEDGE."
"For Me BEAUTY Means Much More Than MONEY."
"In Democracy There Is A Bit Of WISDOM And Also Some EQUALITY."
"I Never Regret MODESTY When I Reach HAPPINESS."
So read some of the statements. I glanced at the tiny paper slip with the text "FRIENDSHIP 0437" printed on it and pondered how, where the world of NFT is filled with cartoonish – and, let's face it, largely generic – collectables, fads, and people only seeking capital gains from digital art investment, Benayoun's project somehow feels like a breath of fresh air.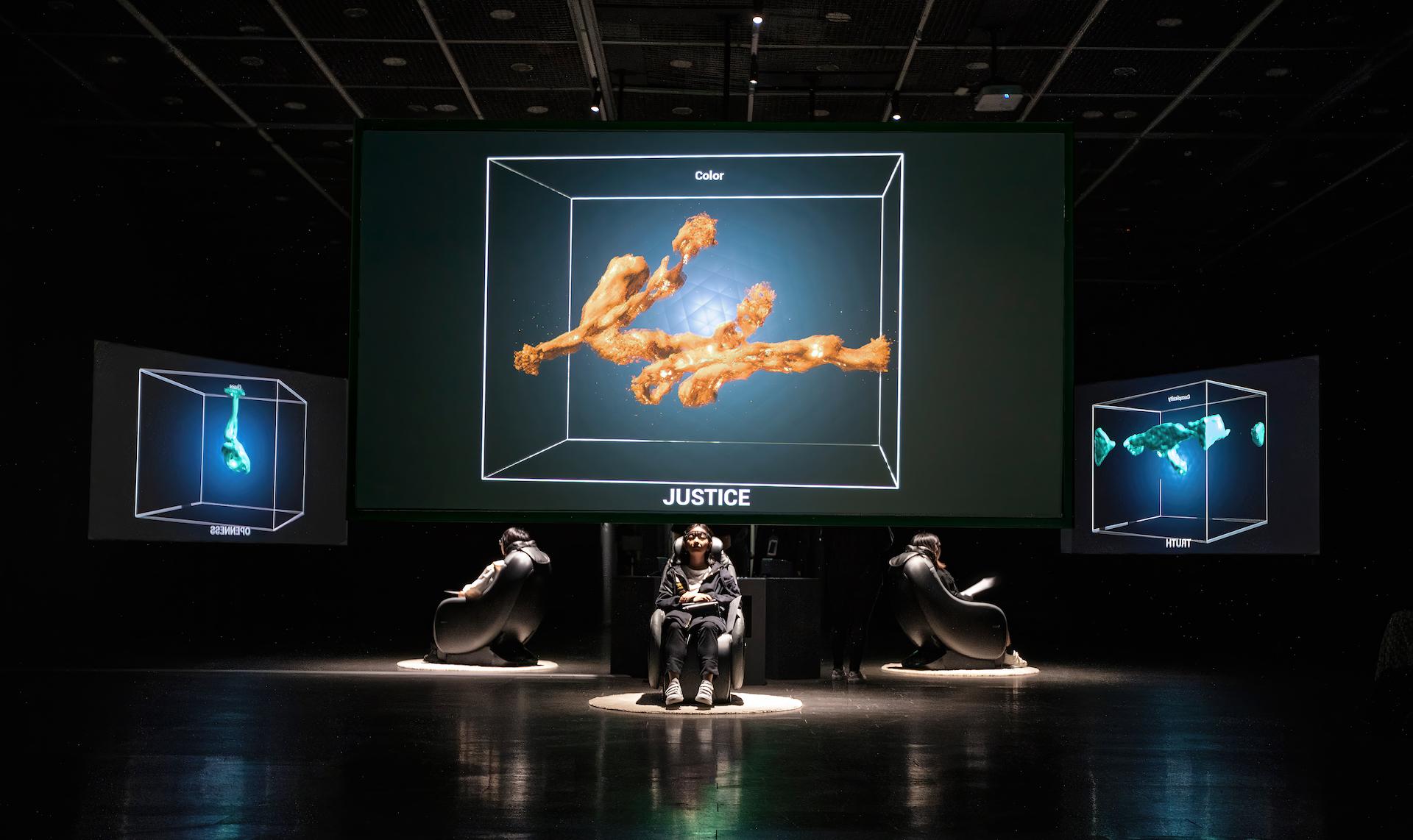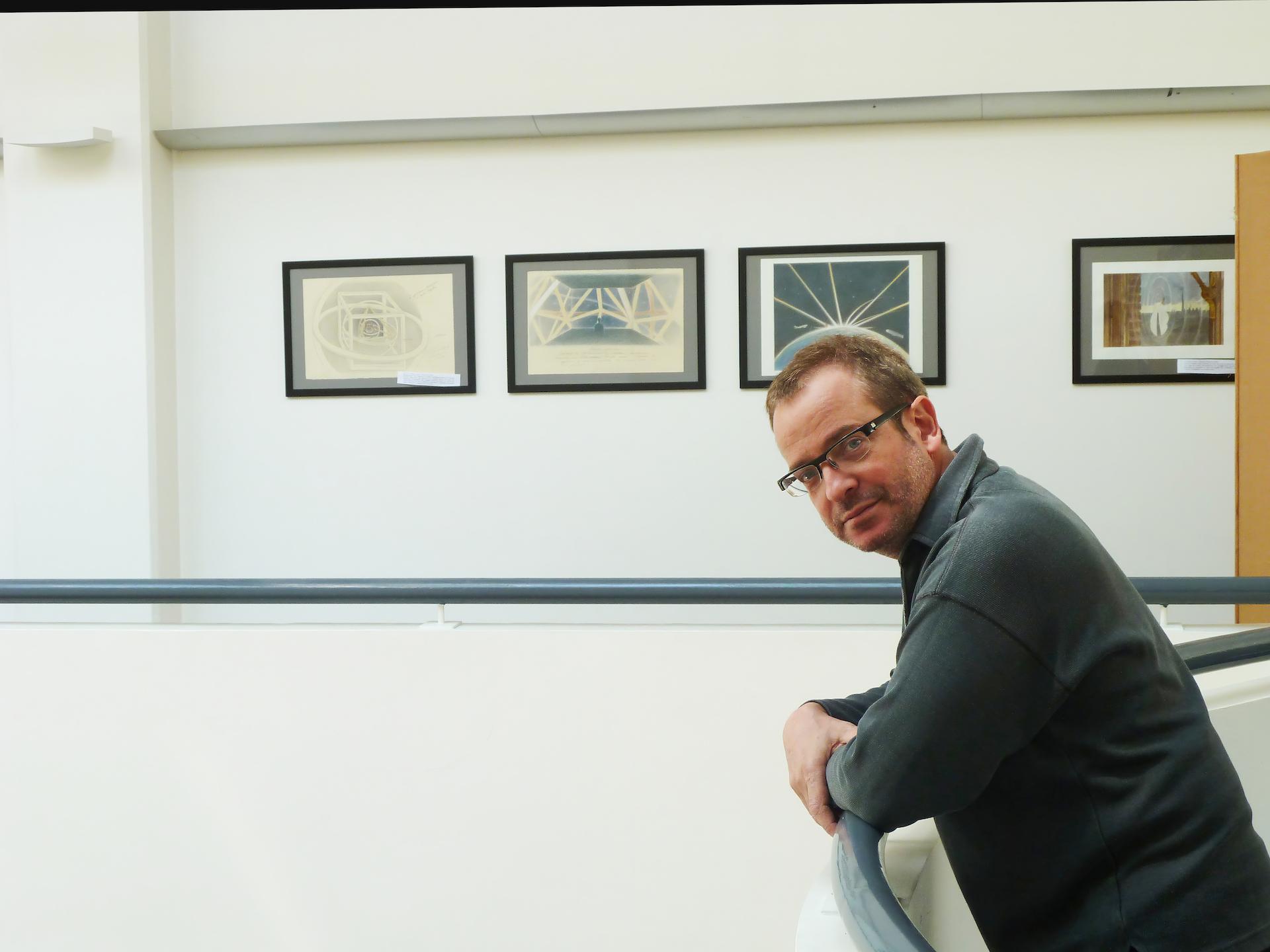 It was late May, I spent half a day with Benayoun at his studio in the City University of Hong Kong, where many of his monumental installations find home. To say the artist-theorist-curator-and-professor is a pioneering figure in new media art is an understatement, given how many firsts the French descent has garnered in a career span of over 40 years.
In the late 1980s, when the world was still grappling with the nascent computer graphic technology ("one second of 3D animation took one full month to render"), Benayoun seemed to revel in trying what others deemed impossible at the time, spearheading one of the world's very first computer animated series.
"It's a dark, grimly conceptual art that plays with the limits of technology, illustrating living creatures indifferent to the laws of nature and physics," he was talking about Quarxs, which started production in 1989 and was broadcasted on prime time TV across 12 episodes in 1993. "It won a dozen of awards but what's missing is the essence of virtuality: meaning something can happen but hasn't been defined yet. That pushed me to apply real-time graphics and virtual reality (VR) to art."
Benayoun, who is 65, has the calm, deep-seated confidence of someone who goes his own way – the sort of artist that's always bursting with ideas and will always follow through with them. I reached out to him hoping to glean some insight into the current NFT landscape and the application of VR in art, because who better to ask than someone so steeped in new media practice and emerging computer technologies right from the 1980s?
He ended up walking me through almost the entirety of his career. ("I was far from a diligent student in high school, always scribbling in the classroom when the teacher was talking," he chuckled a little while actually doodling on a blank piece of paper in front of him.) Glimpsing into the man's journey from a war orphan in Algeria, to an immigrant in France and now teaching creative media at the City University of Hong Kong is very fascinating to say the least.
In Benayoun's early works lurk a foreordained projection of the way technology would convince us to reinvent ourselves, and it's apparent he's always one step ahead of everyone else. Take Art After Museum: As early as 1993, Benayoun has gone virtual with a contemporary art collection that bridges the digital and the real world, stretching the technique of VR that was then largely unknown.
Within the brick-and-mortar, cube-shaped gallery spaces scattered across several locations, the artworks, built as computer databases, were projected onto the walls and the artists must optimise the site's potential together with the engineers. "The showcased artworks were dynamic – constantly evolving, transforming, disappearing and dialoguing with the outer world and the visitors," said Benayoun.
Fast forward to 2022, we can now tour the world's greatest museums on their virtual viewing platforms and browse a plethora of incredibly imaginative art spaces in the metaverse, reaching collectors, galleries and the art world at large from the comfort of our own homes. If Art After Museum affords an uneasy prediction of where the art industry is heading, that's because people like Benayoun dare to tread the untrodden paths.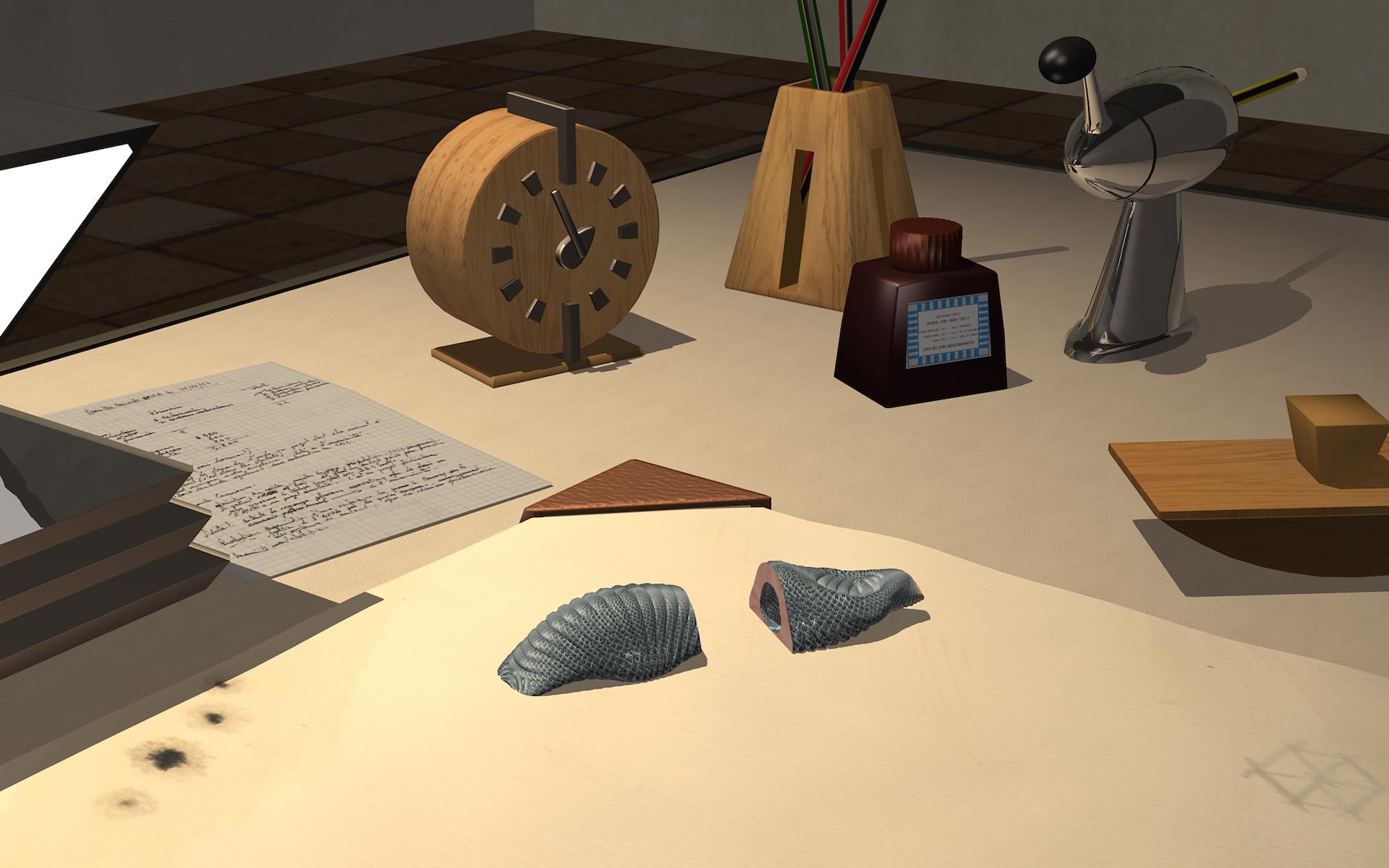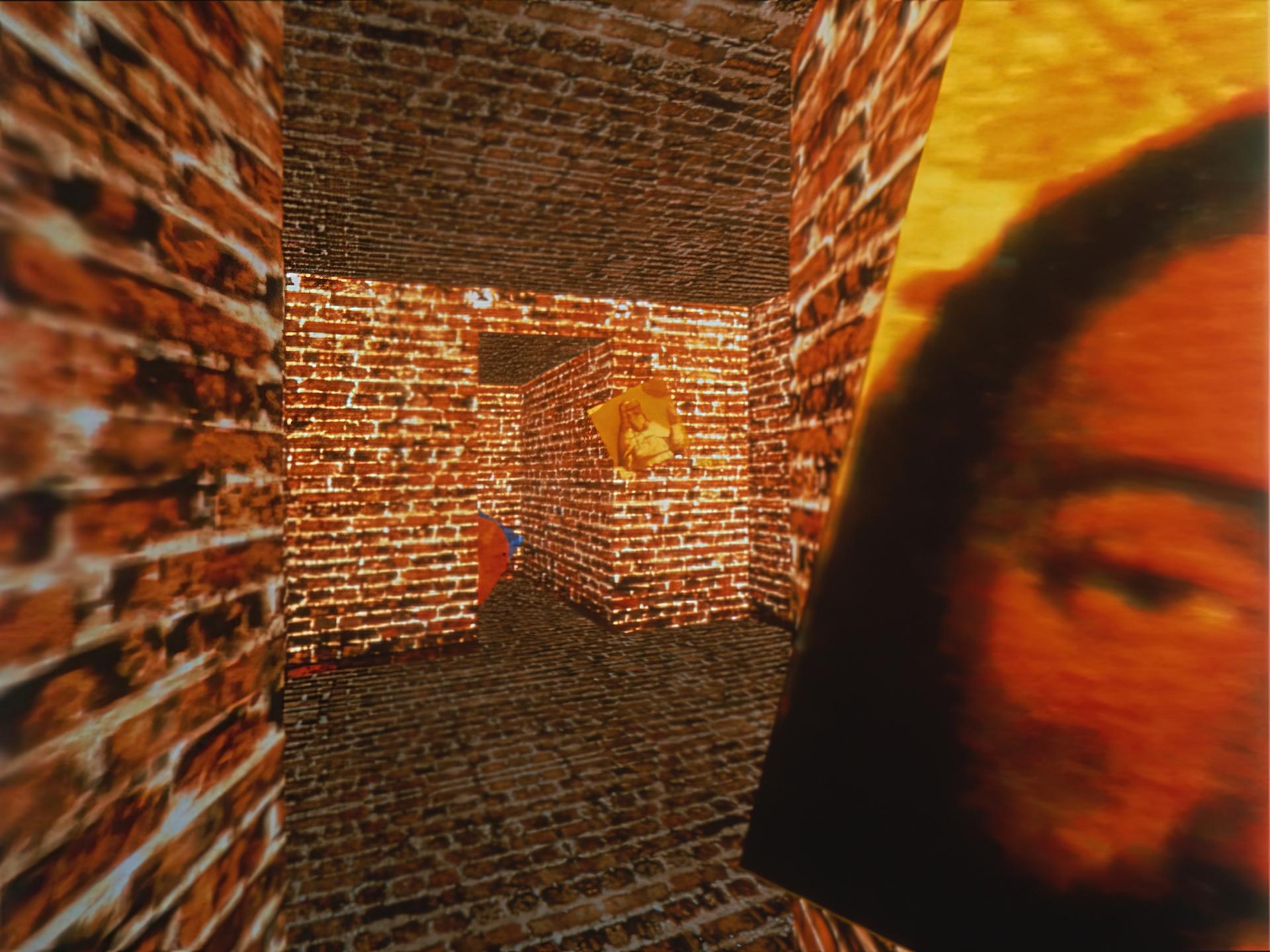 Or, consider Is God Flat?, a VR video game Benayoun created back in 1994. In a VR environemnt resemblig a monastic cell, players pursued the image of God: Facing a world of bricks, the walls in front grow hollow as they move forward, and if one decides to change direction, they break open a new corridor never existed before, revealing the portrayals of God in different cultures from the history of art.
The game conveyed to me a sense of inward gazing. "It's like life, where everybody defines his or her own route. It can also be a metaphor for the world, because this flat and infinite space within which we thought we were moving proves to be a finite and spherical space. It puts the spectator in the centre of the universe," Benayoun said.
I couldn't help but sized up the big room where we were having this conversation. Just inside the door were two robotic arms: Controlled by servomotors, they competed head-to-head in a chess game against immersive, cinematic music ("They're trying to figure out the logic of human conflicts"), as a studio assistant so kindly demonstrated the machine. Next to it stood a large-scale skeletal tunnel installation, with a circular opening of a screen, the passage tapering off and seemingly vanishing off the ground.
That was another rendition of Benayoun's remarkable virtual reality creation in 1995, known as The Tunnel Under The Atlantic. "Michael Century [who is now a professor at Rensselaer Polytechnic Institute's Arts Department] came across Is God Flat? and contacted me to do something between France and Canada. I proposed an inter-continental virtual reality project linking up visitors in the Pompidou Center in Paris and the Museum of Contemporary Art in Montreal for the ISEA," he recalled.
This time the element of virtuality was front and centre. From either end of the tunnels, visitors "dug through" cultural materials made of images, paintings, sounds and maps using a joystick, and with each step they took, they got closer to their counterparts located in the other museum, taking more than five days of digging before the first virtual meeting through the world wide web happened between Paris and Montreal. The project has since ventured into New Delhi, Seoul, San Jose, Hong Kong, and Nanjing after its first outing in 1995.
Not to undermine it as a spectacular technological breakthrough ("real-time video conferencing was feasible in the 1990s but it's so costly that nobody could afford it"), but if you think this was merely the 90s-version of a Zoom meeting but in a VR environment, Benayoun's creation actually alluded to even grander philosophical questions.
"The cave is filled with memory fragments and real-time images. When people carved the tunnel, what they would discover was constantly changing. The machine analysed what people enjoyed looking at and how long they stayed at certain points, then producing the images and sound based on their expressed interest. In other words, the space reconstructs itself in real time," Benayoun said.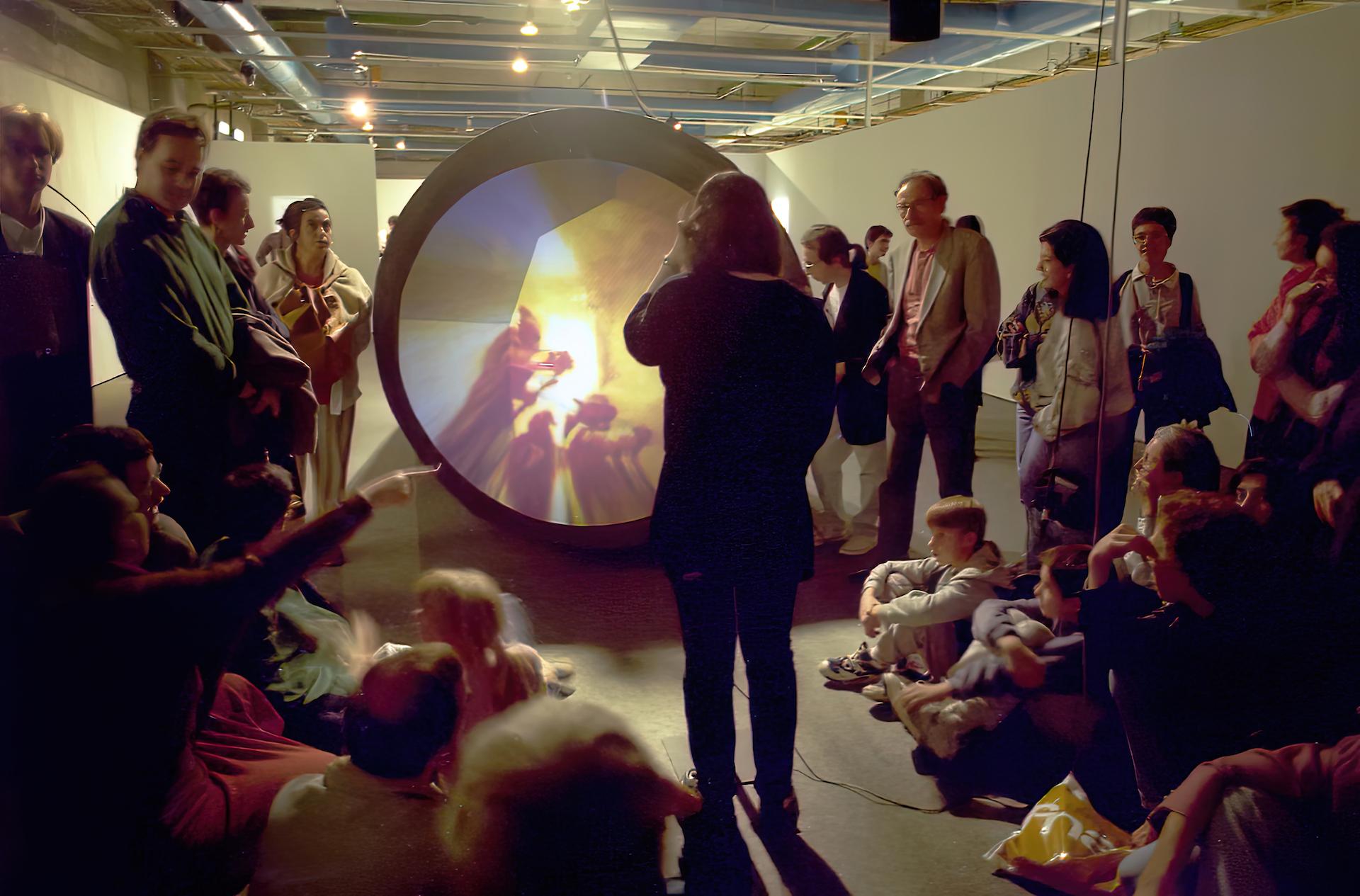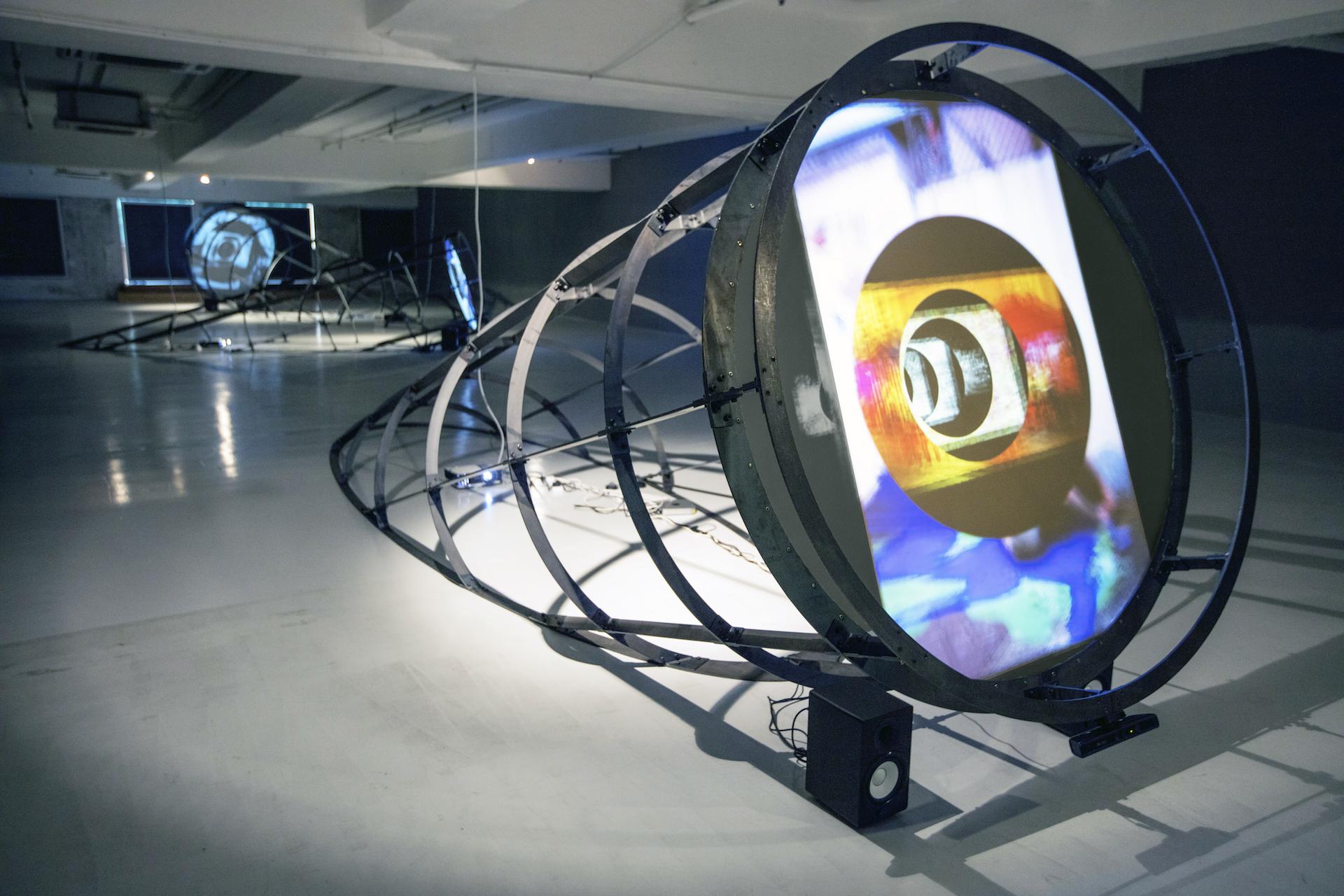 Tracing Benayoun's career trajectory would reveal the increasingly palpable human interaction made possible by disruptive, new technologies – and how the definition and representation of art are ever evolving, as they always have been. While I ruminated on this, Benayoun began telling a story about Bird in Space.
The series of bronze sculptures created by France-based Romanian artist Constantin Brâncuși, poised to appear at the avant-garde Brummer Gallery, came under intense scrutiny when they arrived in New York harbour in 1926. Though the collection was named Bird in Space, Brâncuși focused the sculpture not on the physical attributes of the bird but its movement: a slanted oval plane-shaped sculpture depicting the creature's elongated body, head, and beak.
"While artworks weren't subject to customs duties, for the officers to believe that the tall, thin piece of polished bronze was art was a bit of a stretch, so they imposed a tariff on them as they did for manufactured metal objects," said Benayoun.
The trial that ensued completely altered the legal definition of an artwork. "This is how artists move the lines," added Benayoun. That art is a medium in and of itself and that something can have infinite subjective artistic expressions has been a proposition since time immemorial, but this really makes me think about NFT naysayers' take on what should and shouldn't be counted as art.
"Blockchain changes the perception of digital art in the market and people are starting to see digital art as art. In the 90s it was nearly impossible to display digital art, except in dedicated galleries or festivals. It simply cost too much to operate and maintain a 'digital gallery'," explained Benayoun.
He was cautious in calling blockchain technology liberating just yet: "What's so confusing about NFT is that it's not the artwork or the object per se. You are literally buying and selling the ownership of the artwork and preserving the data on the blockchain. Before blockchain, it's mostly the galleries – the so-called gatekeepers – who decided what's important and what people should buy.
"Galleries take about 50 percent commission and artists can expect their work to become accessible to the public. Now blockchain removes the go-between because people can organise themselves, the same as how Uber drivers can trade service with customers directly."
Does it entail artists are able to raise significant moolah? "If I want to sell an NFT painting, I mint it on the blockchain, which costs money, then display it on OpenSea, which needs money too. There're lots of initial investment so the whole buzz around NFT art is actually not as liberating as it seems," he adds. "Unless you're ultra-famous, you can't make much money from it. What it does is open up the market for artists, it empowers people to become creators."
Then, the term FOMO (Fear Of Missing Out) has been on everyone's lips ever since NFT made it into the mainstream media and the public psyche. From the artists and gallerists I talked to in the past, there's a general sense of uneasy trepidation towards digital art popularism and how it will result in a hyper-saturated market. When artists are only creating for the sake of money, what ethical and cultural value does art preserve?
Benayoun brought up the American artist Jeff Koons: "He's gained worldwide fame for his balloon animal sculptures that bring back precious childhood memories. But is that all that's meaningful to art?" As it transpires, Koons unveiled his first-ever NFT project Moon Phases earlier this year, and he's sending sculptures into space.