Some 50 years on, Alan Chan – from adman, designer, artist to art collector – is still charting new paths.
Alan Chan has developed a reputation for being a perfectionist over a 50-year career that has seen him established as one of Asia's pre-eminent admen, designers, artist and art collectors.
It's a trait that reveals itself from the very first moment we meet in his art-filled office-and-gallery in Wan Chai. "Do you know why I agreed to take the interview?" offers Chan, with a warm smile. "Because your magazine is in need of a rebranding."
The perfectionist in Chan has identified an issue – as he sees it – and he wants to rectify it immediately. And if there is anyone in the city who has the right to be fastidious when it comes to branding, it is Chan.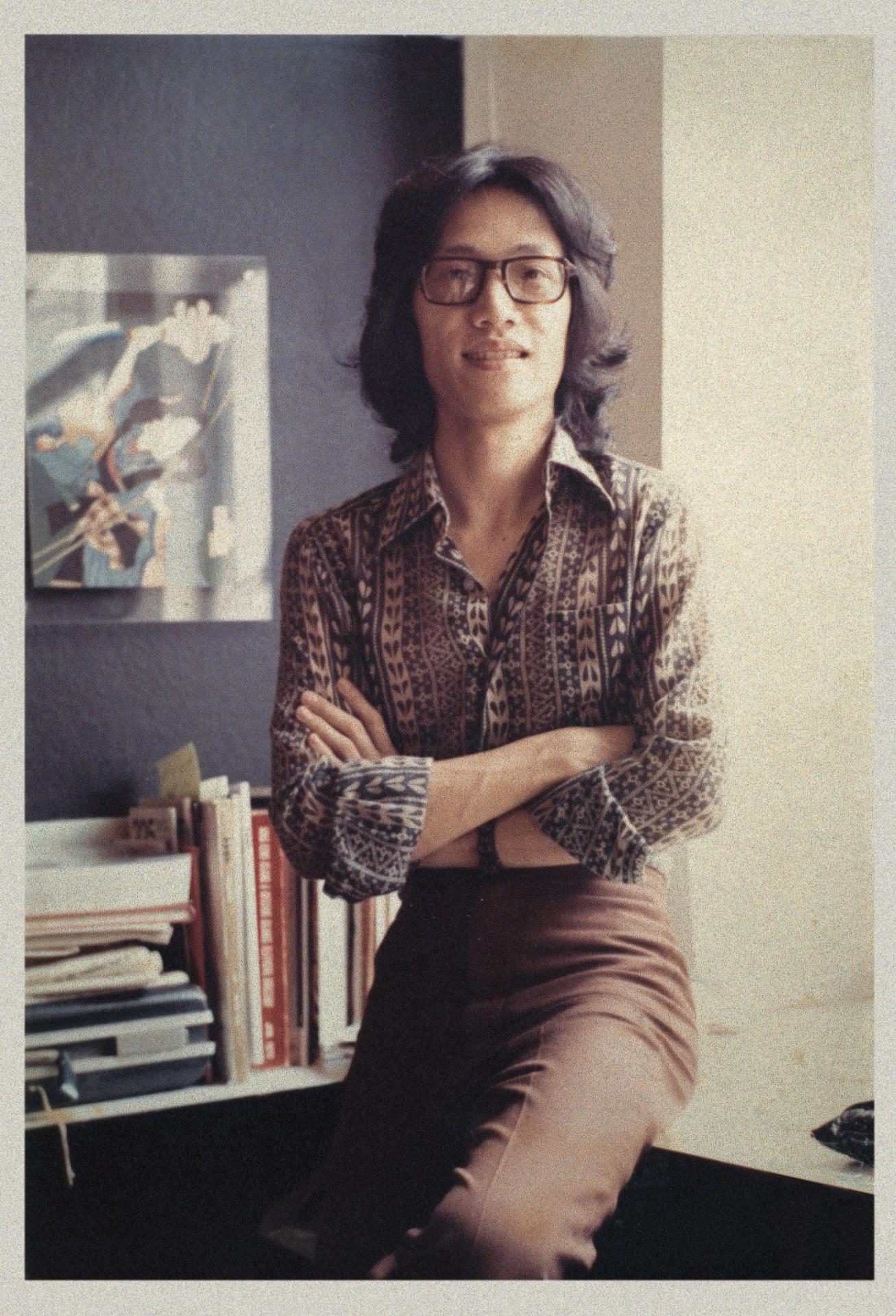 He's unapologetically blunt, yet roguish and witty. But Chan is also behind some of the region's most celebrated brands, names that are still etched in consumers' minds, sometimes decades after their inception. Think Seibu, Bossini, Fairwood, Vitasoy, Sunday Communications, 1010, City'Super, Four Seasons Hotel, Mandarin Oriental Hotel, Hong Kong International Airport, the logo mark for Coca-Cola China, and the latest visual identity for Shanghai Library. The list goes on.
Now, at 72, Chan is still creating, exploring, and charting new creative paths, including design work as diverse as the branding identity for the newly opened ZNS Jewellery last year, and a new album cover design for jazz singer Jolie Chan.
It's for branding strategies that Chan is perhaps best known. He started his career in the 1970s as an adman – for the most part at Thompson Wong Kiernan working alongside advertising veteran Mike Chu – before founding Alan Chan Design in 1980. He shot to fame with his iconic album cover designs for canto-pop legends, including Leslie Cheung, Anita Mui, and Roman Tam.But Chan is so much more than a brand guru. The multi-hyphenate creative has also left his imprint on perfume, wearables, books, jewellery, the retail space, furniture, homeware and – perhaps lesser known – digital creations.
Chan's passion for digital art sparked a decade ago, when the iPhone was still in its early stages. "I liked taking snapshots on my iPhone 4 back then, especially when travelling," he recalls. "It is the easiest and most direct way to capture the moment of life."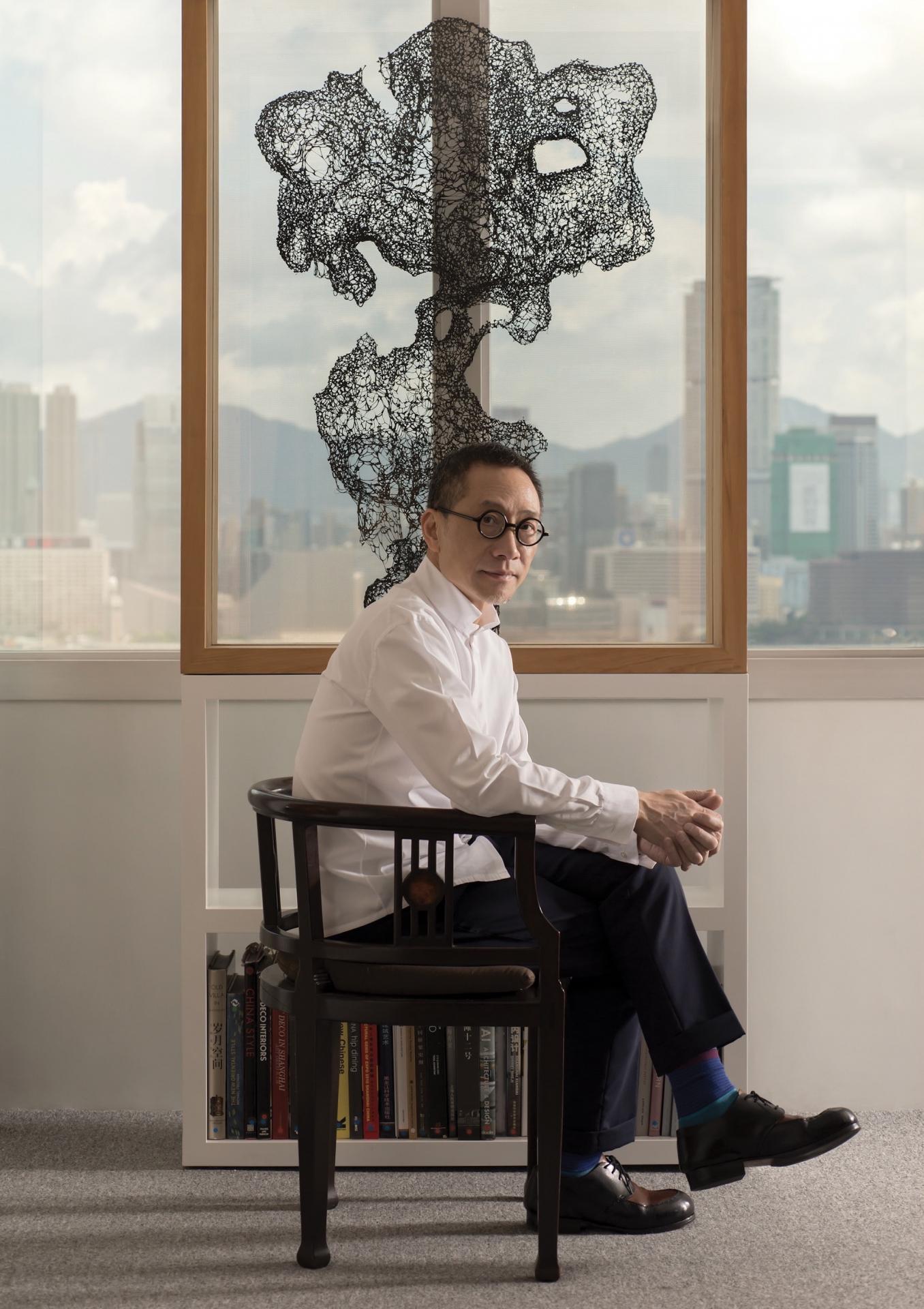 But it wasn't just a passing fancy for Chan. He soon developed into an acclaimed photographer – and more. Driven by a deep emotional bond with Kyoto, where another of his gallery resides, Chan turned some 50 snapshots taken in the former imperial capital into a two-minute film, titled "Kyoto My Love", where snapshots of cherry trees, lanterns, and wooden finishes – all framed on the iconic iPhone screen – are curated in a curtain-like animation that wafts like a Japanese noren in a gentle wind. Quietly observant, the prosaic animation oozes a Zen appeal that is surprisingly absorbing.
"The video wasn't made for any commercial use," Chan notes. "I didn't give too much thought about how to display it when we set about making the video. It was just for my memory."
But the video did find its place. In 2018, Chan was invited by Kyoto's Tea Festival and Tea Ambassador Contest to grace the 800-year-old Ryosokuin temple inside the famed Kenninji complex where the video was screened via a digital projection. The moving "noren" cast on the screen was in rhythm with the breeze that drifted through the room's openings. Together with a showcase of Chan's own teaware collection, and ancient Japanese volumes about ikebana and tea-making, the art installation infused the age-old tatami room with an additional layer of sensuality.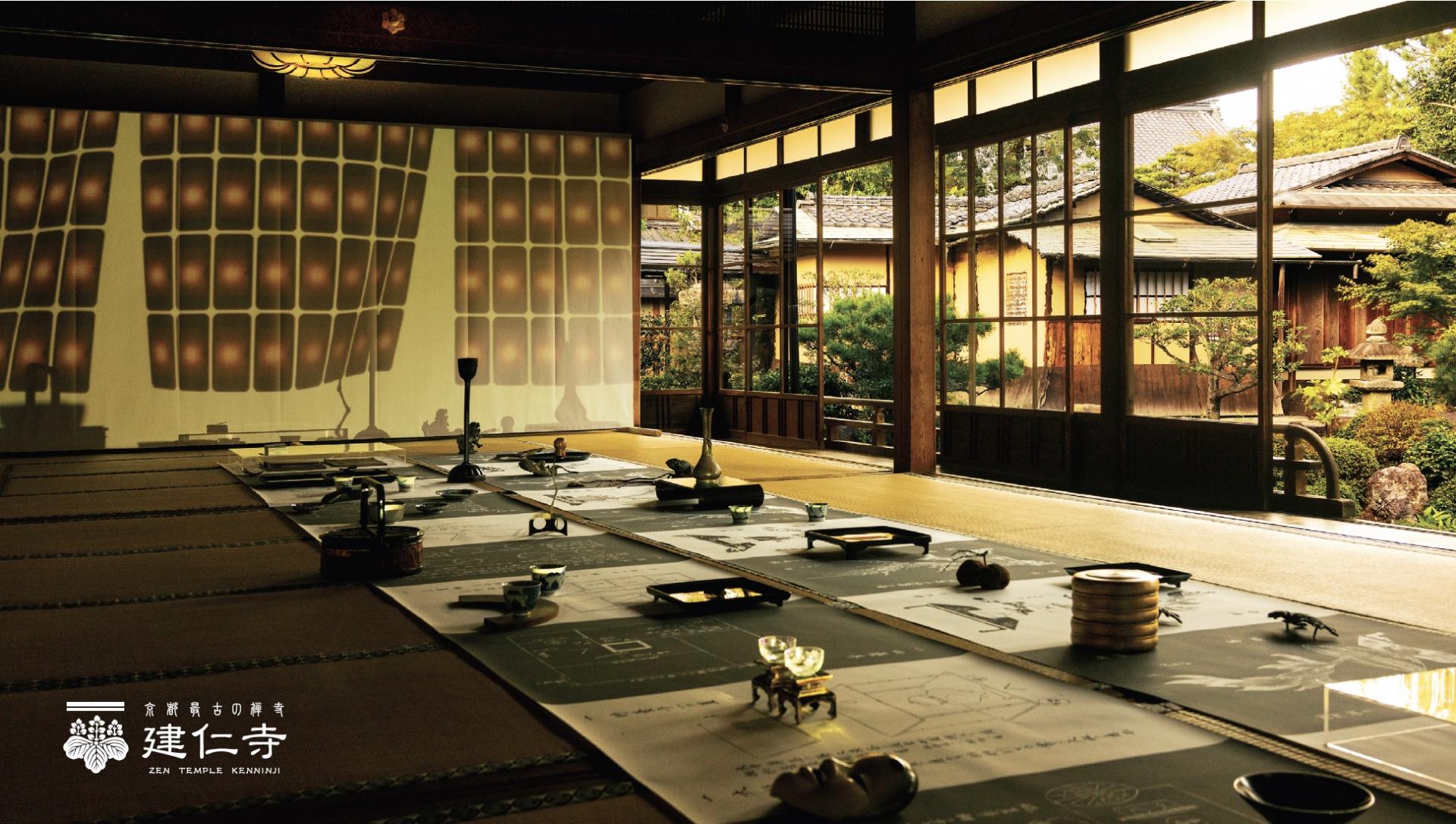 Be it by coincidence or not, I was offered a cup of hot Tieguanyin as he showed me the video via a wall projection of the moving "noren". With the green tea's brisk aroma in the air and its warmth in my palm, for a brief moment I felt like I was right there in that humble tatami room, far, far away from this interview and work. Indeed, when it comes to this branding expert pulling off an immersive experience, not a single detail is spared.
Another of Chan's digital works, "Hello Ginza!", completed in 2017, shows the other side of Japan in a more vibrant, dynamic note. Spanning nearly five minutes, the film weaves together more than 300 images – carefully selected from some 6,000 snapshots of scenes and happenstances in the streets of Ginza that Chan has taken since 1975 (the first time he visited the city) in bewildering, ever-shifting kaleidoscopic patterns that animate in self-sustaining loops to capture the true colour of the bustling shopping district, and how it has evolved throughout the years.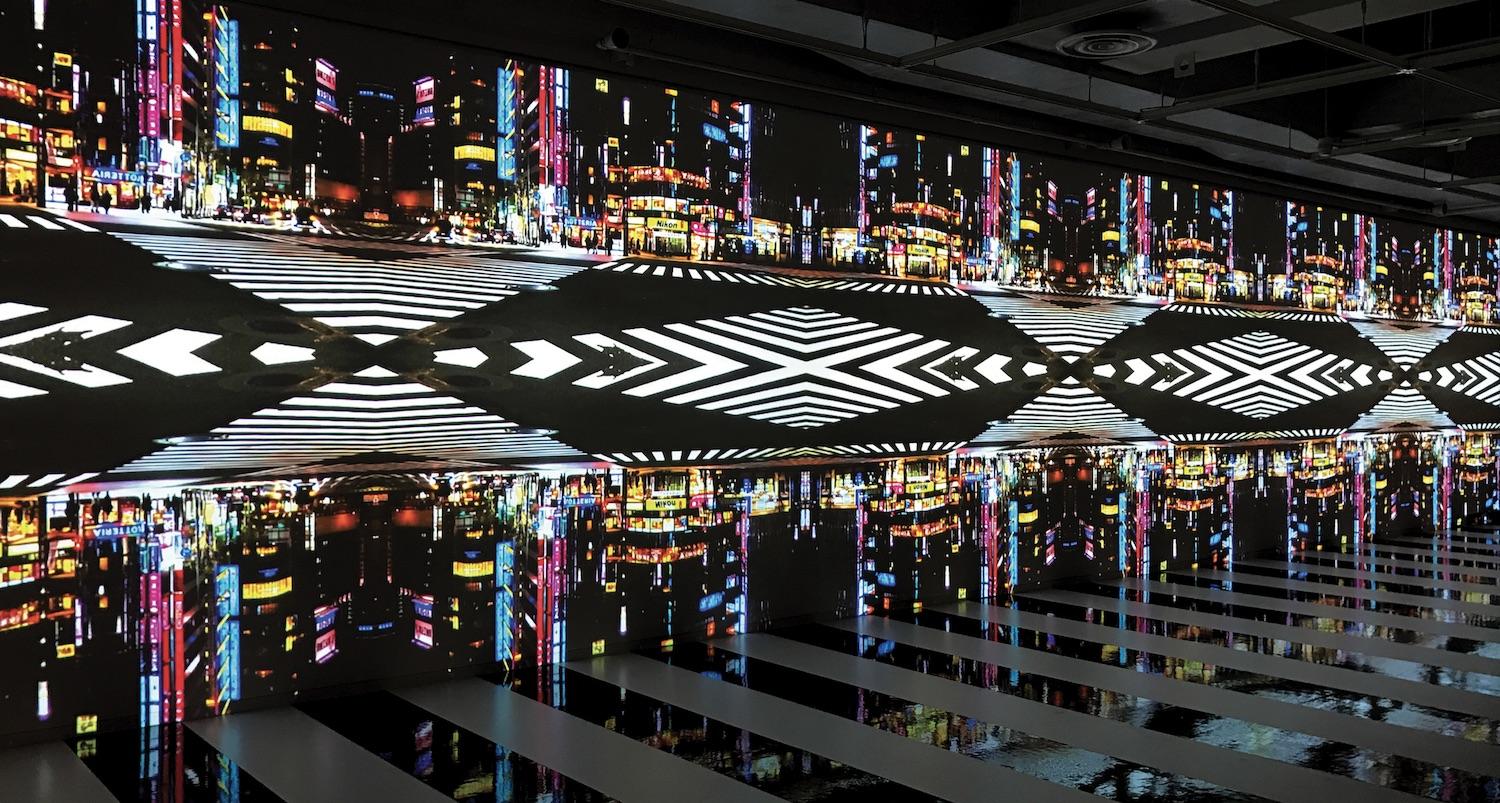 The video was shown at the Pola Museum Annex in Ginza, Tokyo, in 2017 alongside a life-sized Ginza Crossing, transforming the gallery into a time portal that offered visitors glimpses of the district's past and present. Fleeting moments, with the iconic Ginza Crossing, traffic lights, light box signage, and skyscrapers, have been frozen and reimagined into a riveting narrative that grants the snapshot batch a whole new meaning.
"The beauty of digital art is that it provides an alternative way of interpreting what's been done with a different sentiment, a sentiment of the moment," says Chan.
"I went back to the centre of the Ginza Crossing and nearby areas for four months trying to take the best snap. I felt like documenting the scenery for my own record, not for any purpose."
That may be the case, but two clips from the video have been mined as works of NFT (non-fungible token), and are pending for sale. "Perhaps 'Hello Hong Kong!' could be next, who knows?" says Chan.
Designers, artists and brands, big and small, have welcomed the idea of NFTs with open arms. Ever since a digital artwork of Beeple sold for $69 million last year, and with the later success of Bored Ape and CryptoPunks, brands have been jumping on the bandwagon of NFT projects with all kinds now mushrooming in the market – from behind-the-scenes footage of movies, to digital perfumes.
But launching is one thing, trading is another. A recent Nansen report found that one in three NFT ventures underperform in trading activity. Industry insiders, meanwhile, argue that lacklustre trading in NFTs is more a sign of a frenzy cooling off than of a fad passing.
"I wouldn't say no to NFTs," says Chan when asked about his take on the new medium. "After all this is something you should try your hand at if you want to keep moving forward," he adds, stressing that NFTs should come with a purpose instead of simply being a means to make quick money.
"I've been approached to turn one of my album cover designs for Leslie [Cheung] into an NFT," reveals Chan. "To make it invaluable, they suggested to burn the original contact sheet of some of the photographs. I must say, I'm just not convinced – unless the money I get from that NFT is beneficial to the music industry. Until then, I'll never make money off the Leslie brand."
On the day of our meeting, the main area of Chan's office is colonised by a group of joyful prints by Japanese designer Kazumasa Nagai, meant for his first-ever retrospective show that takes place at K11 MUSEA, exhibiting more than 100 of Nagai's posters since 1960. At 93, Nagai is venturing into toy collectibles, collaborating with Chan on a set of five figurines that evolved out of Nagai's quirky prints.
"This is the first time Kazumasa has tapped into art toys. It's amazing to see a 93-year-old still taking on new adventures," Chan says with a spark in his eyes, clutching a prototype in hand.
The trend for artists and designers to blend art and toys with collectible objects has emerged in recent years as a force to be reckoned with. Figurines by the likes of KAWS, BE@RBRICK, Hebru Brantley, Yoshitomo Nara, and Takashi Murakami have found their way into the collection of power players and Millennials.
However, while the designer toy now sits side by side with antiques, paintings and sculptures to be considered as true works of art, where does the line between art collector and regular art buyer rest? Some argue it lies in the narrative that binds individual pieces together as a collection, elevating them above being just a group of individual objects. For Chan, the common thread that binds together his own accumulated art as a collection is his signature chinoiseries flair, and the emotional response that each work brings.
One case in point is the enchanting painting "Placebo" (2002) by contemporary Chinese artist Zhou Tiehai that takes pride of place in the meeting room. Featuring the artist's iconic "Joe Camel" spin on classical European portrait-painting, the print melds the old and the new with a touch of irony that infuses a much-needed playfulness into the workspace.
"I've known the artist for 20 years," explains the collector. "His work embodies the beauty of East meets West, which coincides with my design style. That's why I bought it."
On the opposing wall, a photograph titled "Model Opera Song of the Yimeng Mountain" (1975), by yet another Chinese photographer in Zhang Yaxin, hangs proudly above a melange of artefacts and handicrafts. The picture spotlights two stern looking actors posing on a cliff in rigid postures that call to mind the Chinese martial art of tai chi, capturing the visual style that marked the 10-year Cultural Revolution in China.
"The photograph is remarkable as it represents the political significance of a certain period in China, and it provokes glimpses of my childhood memory," he points out.
"It portrays a play, which is make-believe. It is the relationship between real and surreal that fascinates me most about this photograph, because it works in the same way branding does, an art of make-believe. It truly speaks to me."
Yet the bulk of Chan's treasures rest at his private atelier, Salon 27. What was supposed to be a makeshift venue meant for his 70th birthday celebration has morphed into an insiders sanctum, housing an extensive art and furniture collection of some 400 pieces encompassing both noteworthy and unknown works Chan prizes.
The result is an eclectic, tasteful fantasia full of surprises at every turn. More than just an art atelier, this is a storied, lively space where soirées, corporate events, and even floral design classes frequently take place.
"Many of my friends grow into art buying after visiting here," he says. "They started to learn that art is more than adornments, it's a stimulation in life, something that enriches your mind."
Upon arrival at Salon 27, a Zeng Fanzhi oil painting of Chan's portrait greets visitors with unscripted hints of mystery straining through its canvas. Looking down, you'll find on the floor a conceptual stainless steel sculpture titled "San San's Long Journey No. 2" (2006) by Chinese artist Liao Yibai, which resembles very much to me a toddler sprawled on the floor, crying out for attention. "It cautions you to watch your step around here," Chan jests.
Taking centre stage in the hallway is a swirling bronze sculpture "Spiral Helix Y" (1998) by M.L. Snowden, flanked by a gild-framed chisel that once belonged to legendary sculptor Auguste Rodin (which was a gift to Snowden, Chan says, who happens to be a protégé and the last living link to Rodin); and a Jake and Dinos Chapman sculpture "Ronald Goes Fishing", completed between 2012 and 2013.
Unassumingly looking from afar, "Ronald Goes Fishing" is a tad intimidating on closer inspection – a bleak house perches on the shore of a sea of Nazi corpses in water. There is nothing beautiful – a term that Chan hates when used to describe a work of art because he believes "it basically says you don't know anything about the artwork" – about this sculpture. But it's so palpable. It takes hold of you effortlessly and pulls you into the creator's mind.
Truth be told, I can't say I know enough about either the artwork or the artists, yet the gruesome details, the dark hue and the ominous vibe it conveys were all working together to transport me back to the moments when I was struck in horror looking at the bales of hair cut from Holocaust victims at the Auschwitz concentration camp. Pieces of memories flash back for no particular reason, and perhaps the artwork has done its job.
Further on in, the cabinet room – flanked by the chef's table and drawing room – displays an assemblage of hundred-year-old China trade silverware that blends Western forms with Eastern motifs, juxtaposed with Japanese kewpie dolls and childhood figurines.
The exhibits are amazing, yet my eyes couldn't help travelling to the stupendous tablescape in the adjoining dining lounge. A rosy bouquet of dried flowers – arranged by Chan – takes centre stage on a Fritz Hansen table, punched up with surrounding glassware and porcelain from the Edo, Taishō, and Meiji periods. The decorative table is set against a line of wall-mounted works by Zao Wou-Ki, Yuichi Inoue, and Albert Watson, which adds a bit of contemporary zing to the palatial room.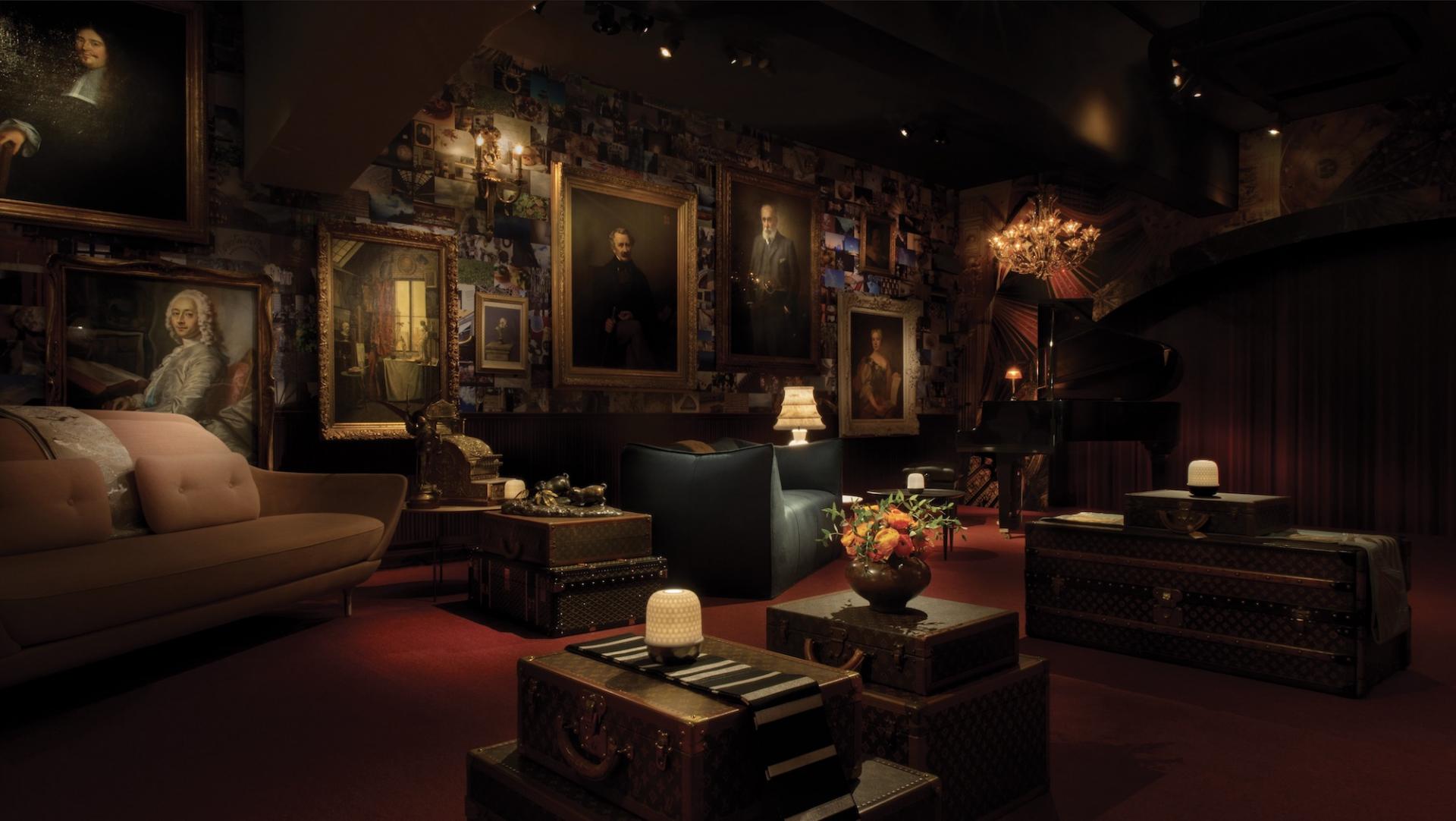 In a delightful paradox, the drawing room flaunts a funky-chic flair, where the Charles sofa in dark blue Mohair, and the Formiche coffee table by B&B Italia, mingle with a vibrant, playful wall of contemporary artworks in unabashed hues, featuring, among others, Damien Hirst, Marc Quinn, Futura, and Japanese illustrator Hajime Sorayama.
Such a strong palette is offset by the calmer vibe from the opposing wall, decked out in art with clean lines and restrained shades intended to bring serenity to the otherwise over-the-top design. Here, the "How High the Moon" armchair made of steel mesh by Japanese designer Shiro Kuramata rests in a quiet corner against the monochrome painting dubbed "Paris Tower" by Orie Ichihashi, making for a perfect me-time nook if you need a little break from the party crowd.
"Space design is all about humanity," says Chan. "When people come in here, they don't see this as a showroom. A good design should be able to inspire a new way of living and introduce people to how to appreciate life."
My favourite spot, however, is the music room. Brimming with a hint of 1980s glitz and glamour, this chamber, wrapped in salon-style walls, demonstrates Chan's multifaceted art tastes and strong personality.
The diverse wall art array ranges from European oil paintings – including a portrait of the French ambassador in China by Pierre Carrier-Belleuse – to contemporary masterpieces, including a Damien Hirst print "All You Need is Love, Love, Love"; an Italian poster of the 1969 movie "Perversion Story"; and a photograph by Nobuyoshi Araki, a Japanese artist widely known for his obsession with the subject of erotic rope bondage. Chan vividly recalls the day when he met "the lady" in the photo.
"It was already past four by the time I arrived at the photo fair in Shanghai. Most of Araki's photography was sold, except this one – the only one with clothes on, which is at a premium," says Chan, adding he was also intrigued by the poems that Araki had handwritten on the image, in a handwriting bursting with character.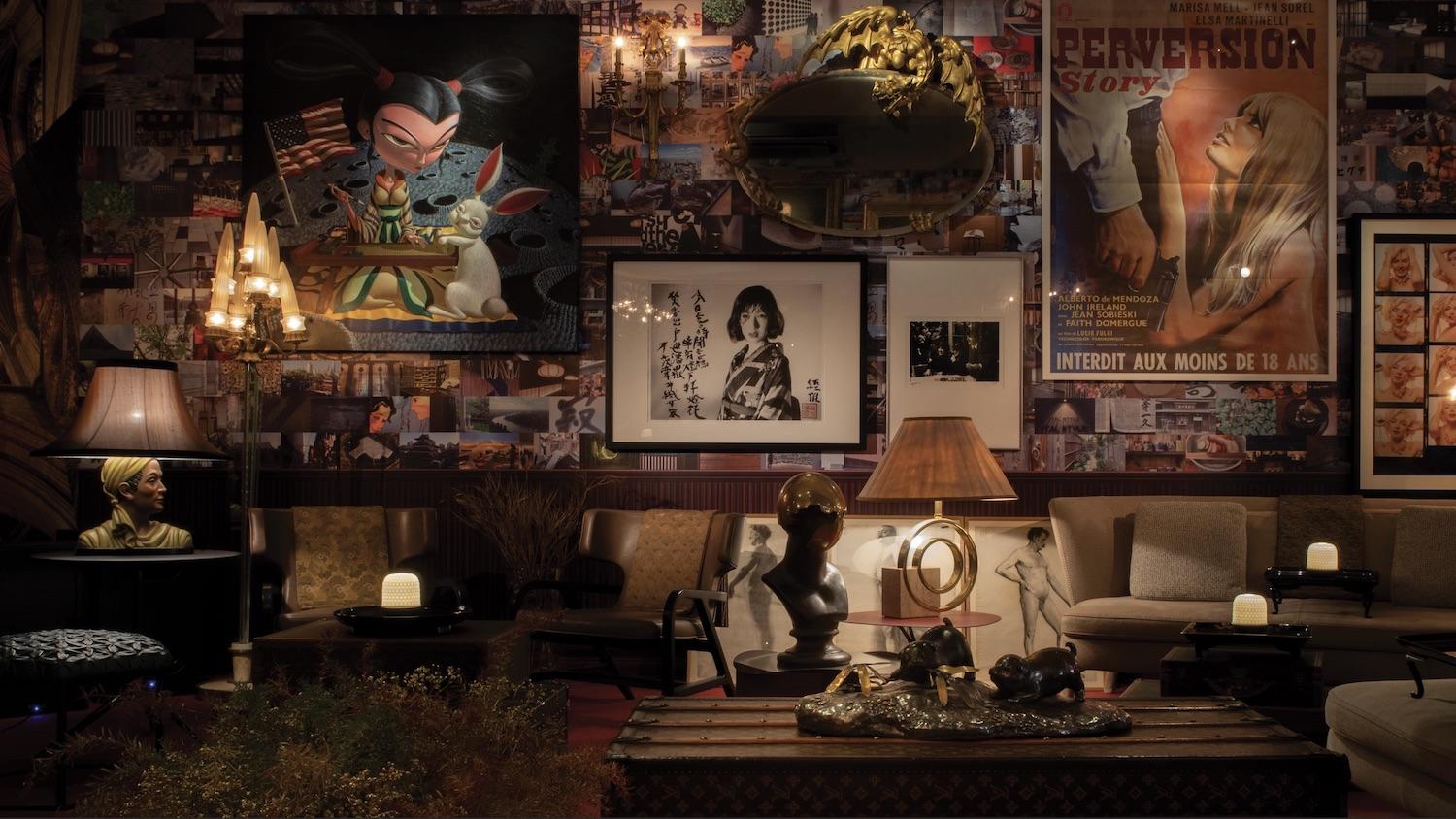 As a room for music jamming and entertaining guests with great panache, it also houses a careful selection of lounge chairs and sofas by B&B Italia, and COLOURLIVING, dotted with Chan's latest tableware collection "Chambre Rouge LED Lampion", done in collaboration with French porcelain house Bernardaud.
Other designer pieces such as the ever-classic Bocca Sofa by Studio 65, the IC range by Flos, and vintage Louis Vuitton trunks from the 1940s, bring a timeless flavour to the space while aligning with Chan's chinoiserie principle.
They coexist in harmony with casual finds that he has amassed from across the world in a freewheeling style, such as a brass coffee table from a hotel lobby in the US, a vintage cash register from the 1950s, and a pair of gaudy table lamps with shades in the silhouette of a floppy hat.
"I don't plan ahead on design or collecting," he reiterates. "To me, the only principle for buying art is to follow my heart, and let my taste lead the way."
Taste does lead his way of life – a quality that penetrates his portfolio through to his personal manner and etiquette. Speaking with Chan, you get that sense of the urbane and the debonair you'd expect to find in a man steeped in the art and design industry for the bulk of his life. It's not hard to understand his sudden fury when we speak of the design scene in China – where 70 per cent of his business is based.
"China has all the resources to propel the design industry forward, yet still lacks sophistication. The reason why Chinese design receives little fanfare on the global arena is that some of them are still copying from others," he laments.
"Through my projects, I want to fix this impression towards Chinese design, and show the world the depth of our culture and traditions."
Over the past decade, Chan has witnessed the upswing of the design industry in China, which he believes has now surpassed that of Hong Kong by all measures – from advertising, graphic design, interior, architect, music to fashion, he argues.
"But what we have in Hong Kong is an East-meet-West cultural heritage so unique that the government should really focus on nurturing and promoting [it]. The potential and momentum of the art and design industry in Hong Kong is irreplaceable in Southeast Asia," says Chan, before signing off with a sentiment that reflects well on how he has become the man before me today: "First find your place, and then press on with it."