Inspired by its namesake 'sushi moto' – sushi's origin – the restaurant's interiors, designed by MMH Interior Design, explores the origin of omakase through oceanic themes and plenty of Japanese architectural details.
The feast of sensory begins the minute you step out of the lift into the entrance, where the foyer has been transformed into a vaulted space. Stylish black granite floors and dimmed lights create a solemn atmosphere, as if you're in a tunnel between city and restaurant - the prologue before a chapter of feasting on good food.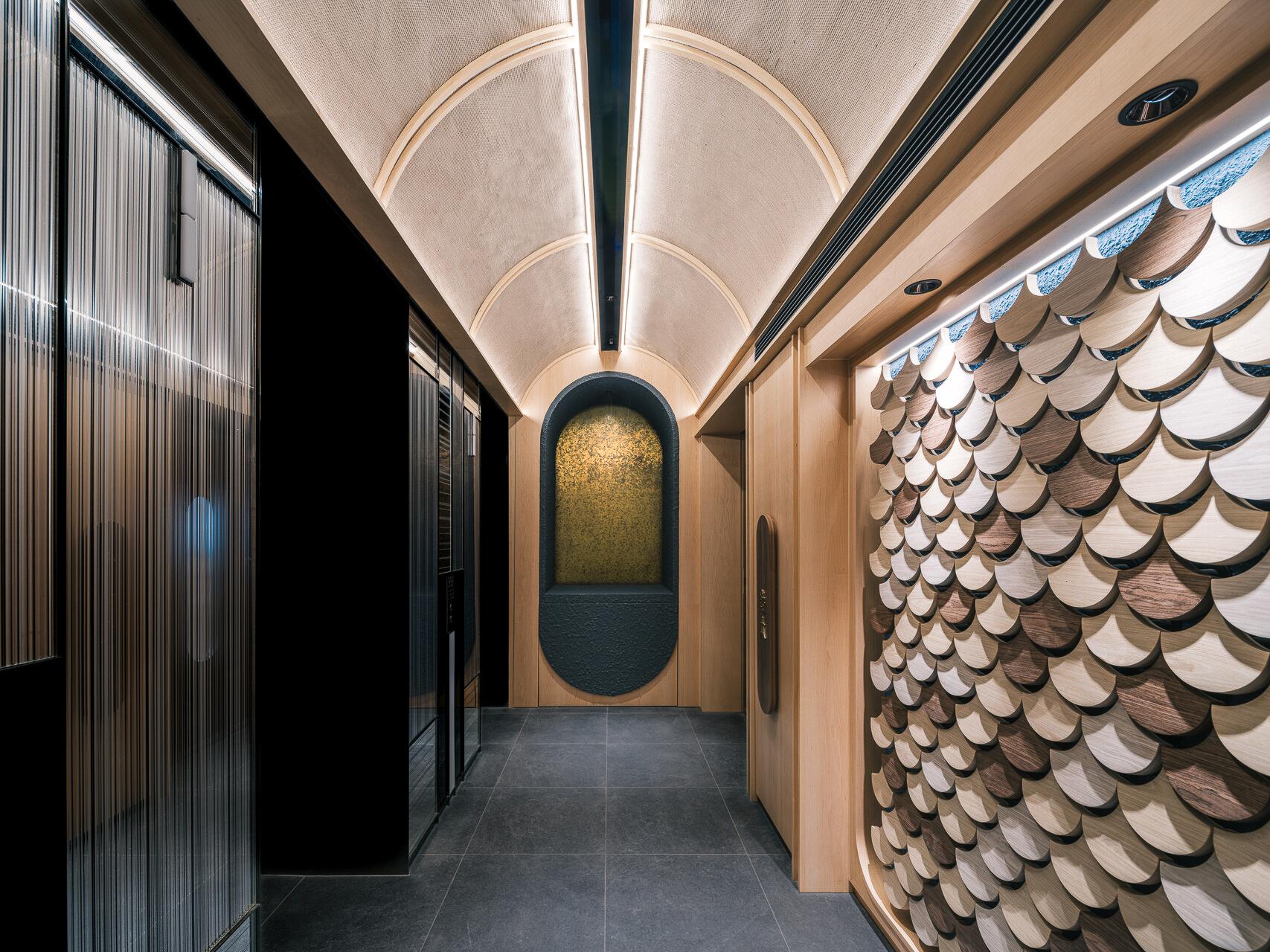 Next to the lift, a statement-making wall inspired by the classic Japanese ukiyo-e art genre catches your attention. A blue coloured stucco wall is covered in fish scale-like chips of wood. The abstract design symbolises the blessing of the sea, while the 'scales' are made with the same maple, oak and walnut wood that's used throughout the rest of the restaurant. Inside the restaurant, the domed rattan ceiling evokes thoughts of the baskets used by Edo fishermen while structural lines commonly found in Japanese households decorates the walls.
The restaurant is divided into two areas: the public area and the VIP area, with a total of 35 seats. An L-shaped bar table made with two planks of oak wood is built around the area where food is prepared and served to you instantly. This pared back, minimalistic design intentionally reflects the restaurant's namesake and motif: origin.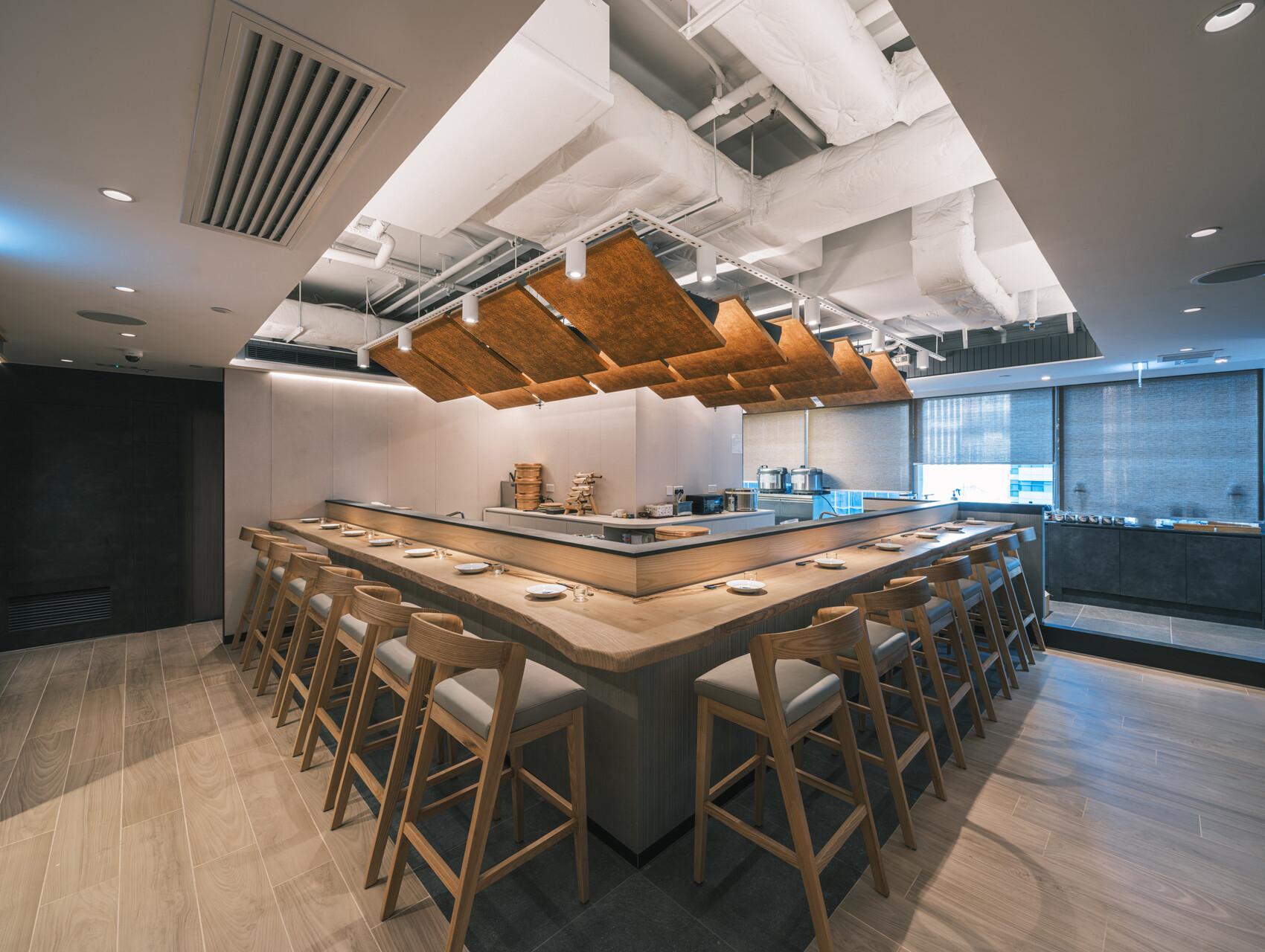 The ceiling above the cooking area uses imitation metal plywood panels to abstractly form a Japanese-style tiled roof, as if you're enjoying a meal inside someone's home. Plus, it also discreetly discreetly hiding the wind through. The golden toned ceiling also mimics the appearance of the ocean and fish scales under the sunlight, echoing the theme.
Apart from the bar table, the public area also houses a special, private booth that's designed to feel like a little world of its own. The booth continues to stay with the wooden, oceanic overall theme: think oak wood table tops, sea blue cushion seats and cutlery. The cosy spot is perfect for intimate gatherings with a small group of friends.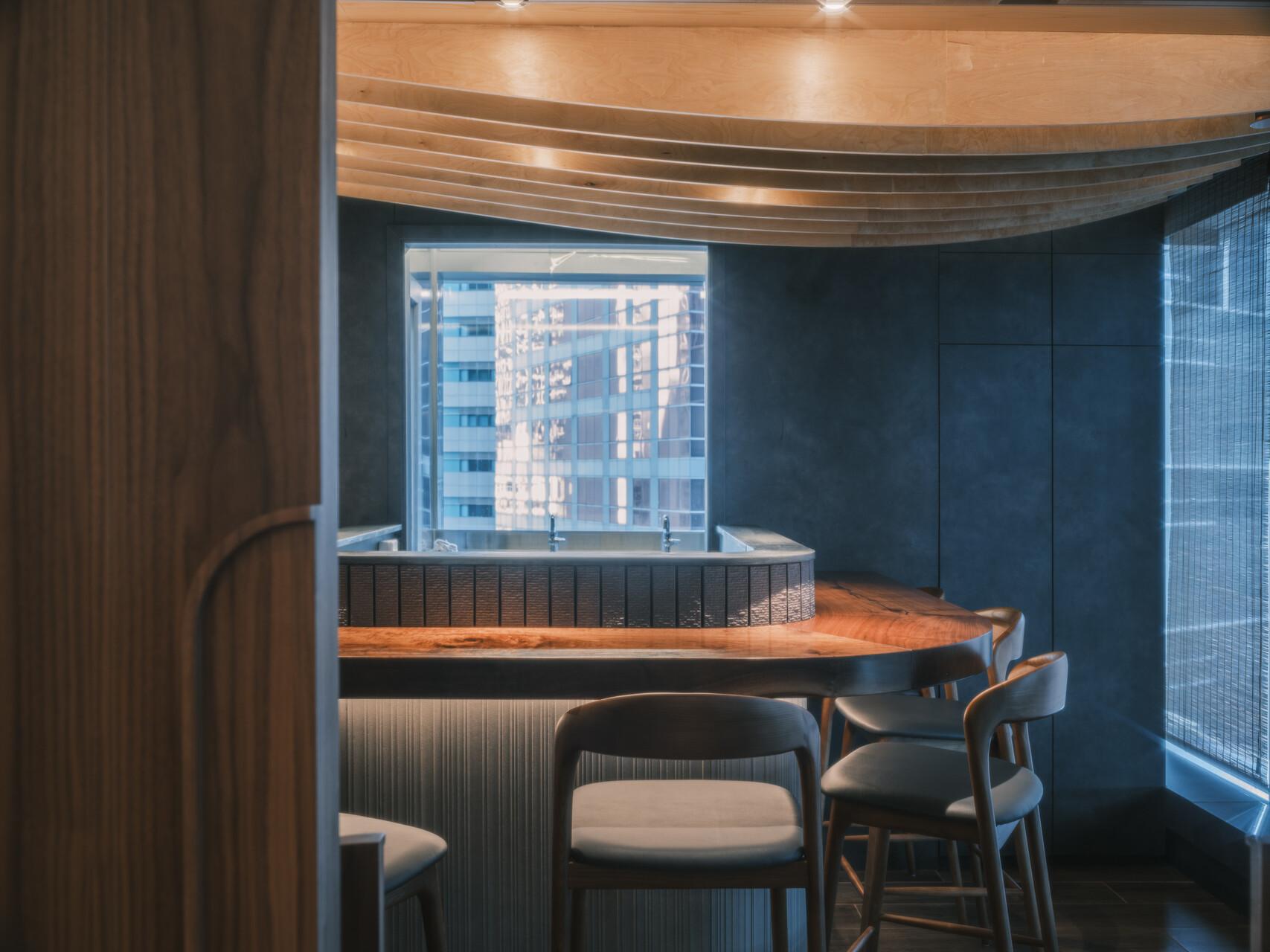 The VIP area brings an entirely different experience, a much more solemn atmosphere. The horseshoe-shaped bar table is the pièce de résistance of the space, carefully crafted with walnut wood. The dark, artificial stone wall is juxtaposed by the lightness in the plywood ceiling waves. The careful craftsmanship and dedication to detail in the art of omakase is reflected through Sushi Mato's stunning interior design.