Known for its decadent fashion that continues to push boundaries, Gucci is taking its unique Italian flair into the restaurant world by opening its first restaurant in the United States.
After Louis Vuitton's recent opening in Osaka, Japan, Gucci is the next big luxury fashion brand to delight fashionable gourmands with a restaurant that encapsulates the brand DNA to scrumptious effect. The restaurant Gucci Osteria da Massimo Bottura, serving up a deeply authentic and traditional Italian fare reimagined with a light, contemporary twist, is nestled on Rodeo Drive in Beverly Hills, surrounded by many luxury fashion stores.
Named after its three-star Michelin chef Massimo Bottura, Gucci Osteria da Massimo Bottura is the second collaboration between Massimo and Gucci's creative director Alessandro Michele. As early as 2018, the two already paired up to create the restaurant Gucci Garden inside the Florence Museum in Italy, where guests can enjoy and purchase unique Gucci products while dining.
Gucci Osteria da Massimo Bottura is built with a private entrance on a quiet street, with the restaurant's name illuminated on a luscious, light-coloured marble slab that makes passersby stop in their tracks. This glamorous indoor-outdoor dining space in Los Angeles accommodates 50 guests, focusing on intimacy and comfort all the while paying tribute to the gorgeous aesthetic of the existing Florence venue.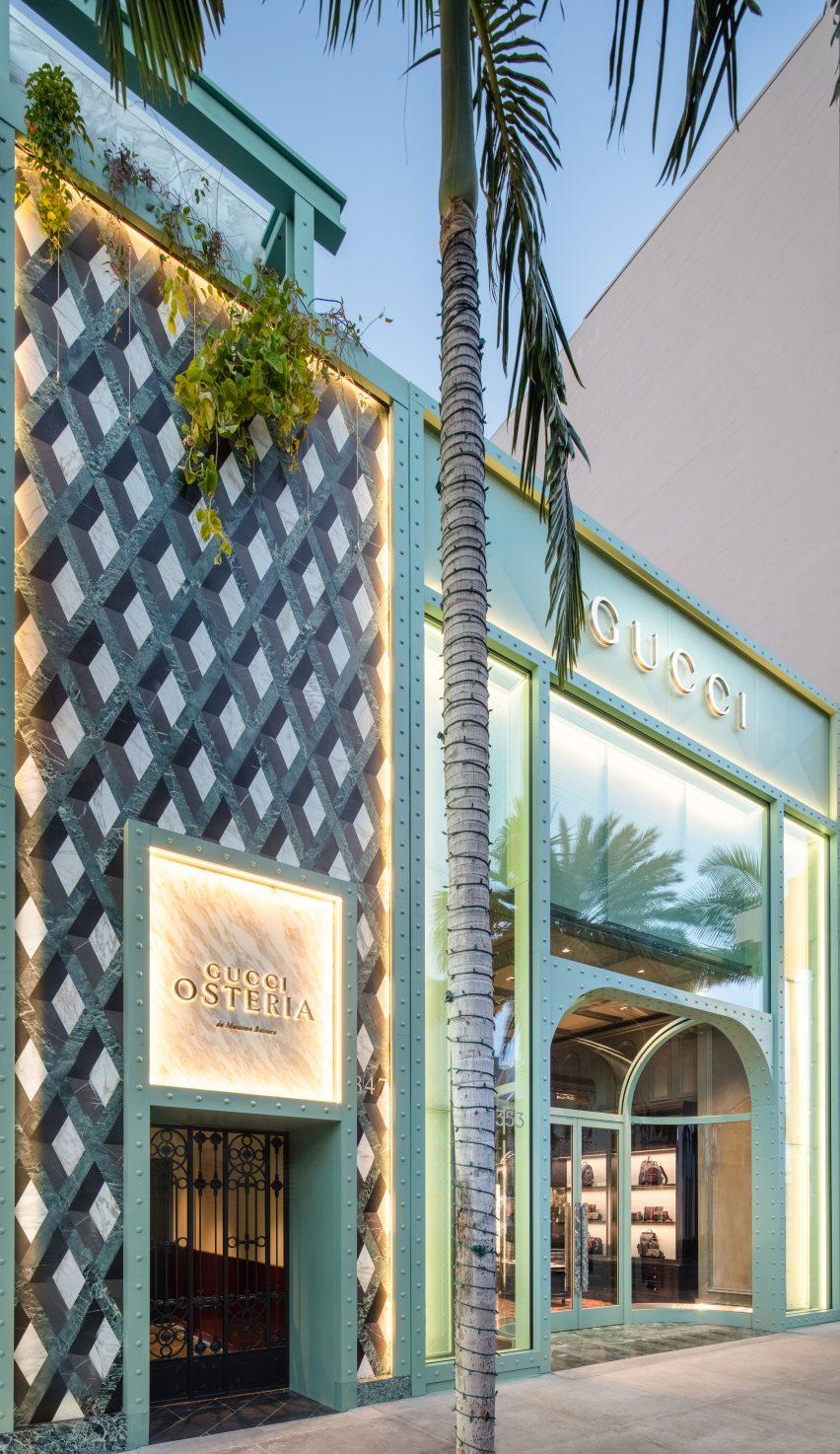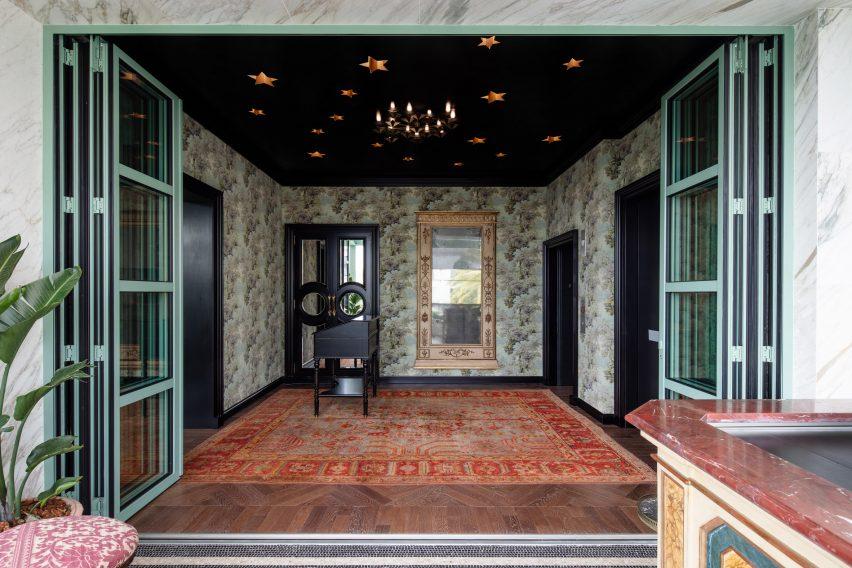 Decorated in lush Gucci foliage-printed wallpapers, the restaurant's reception area features stark black painted ceilings dotted with stylish starry spotlights accompanied with ornate red carpets on parquet floors. Further into the dining area, expansive concertina glass doors not only allow plenty of sunlight to stream through, but also open up to an expansive outdoor terrace where the same star patterns adorn the mosaic floors, accentuating a unique dining experience as diners overlook the ever-interesting streets of Beverly Hills.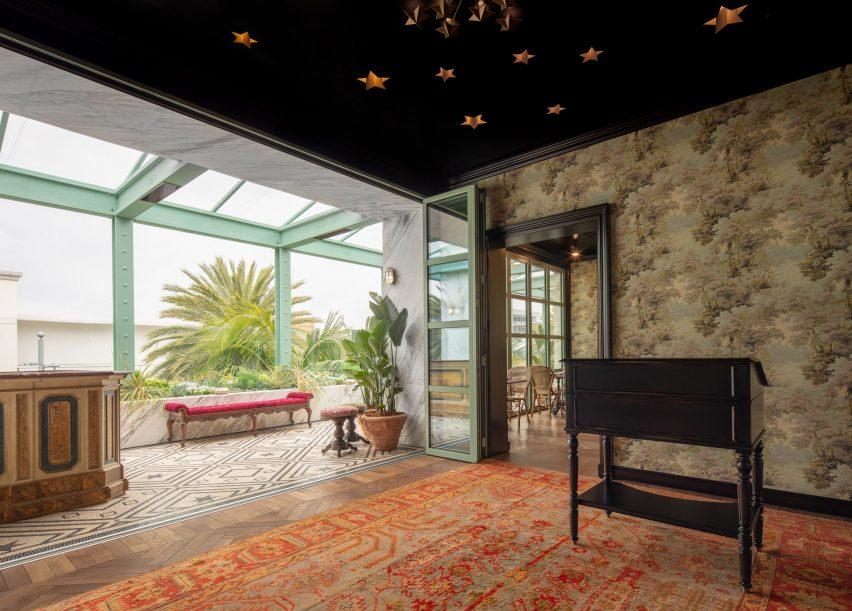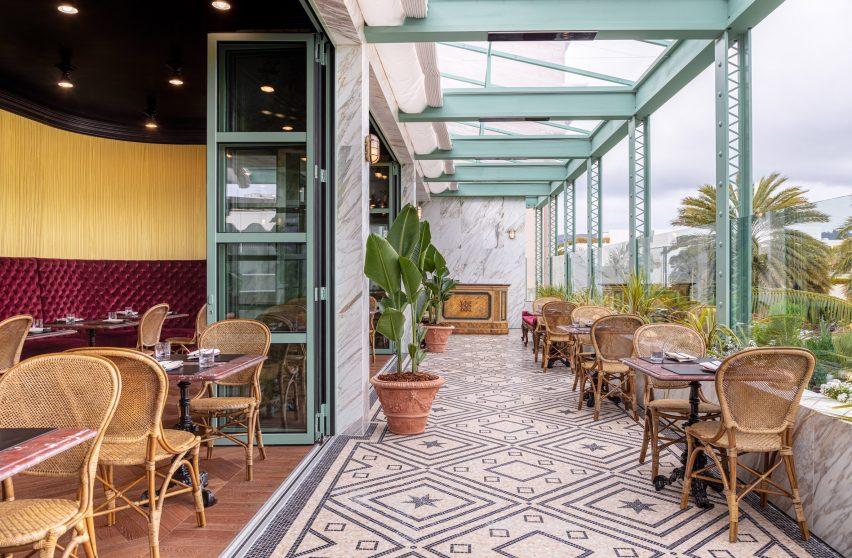 The terrace also enjoys softly shaded sunlight thanks to a series of jade-green steel beamed half-transparent ceilings; table tops are also marbled complete with bistro-style wicker chairs; antique wooden podiums have also been reused as outdoor bar counters.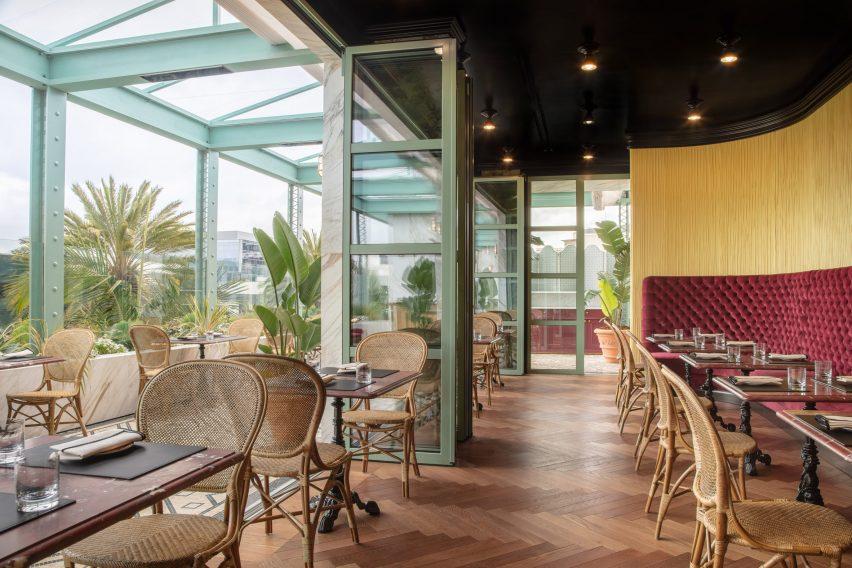 Close the concertina glass doors, and the space turns into a plush and quiet restaurant with private dining spaces dominated by huge fixed curved seats upholstered in Merlot-hued red velvet. The chocolate brown and jewel-coloured furniture are designed to evoke the retro nostalgia of Gucci.
Photography by Pablo Enriquez for Gucci