A few doors down from the brand's original Fashion Walk store, Aesop's revamped presence in Causeway Bay offers a serene oasis for reflection.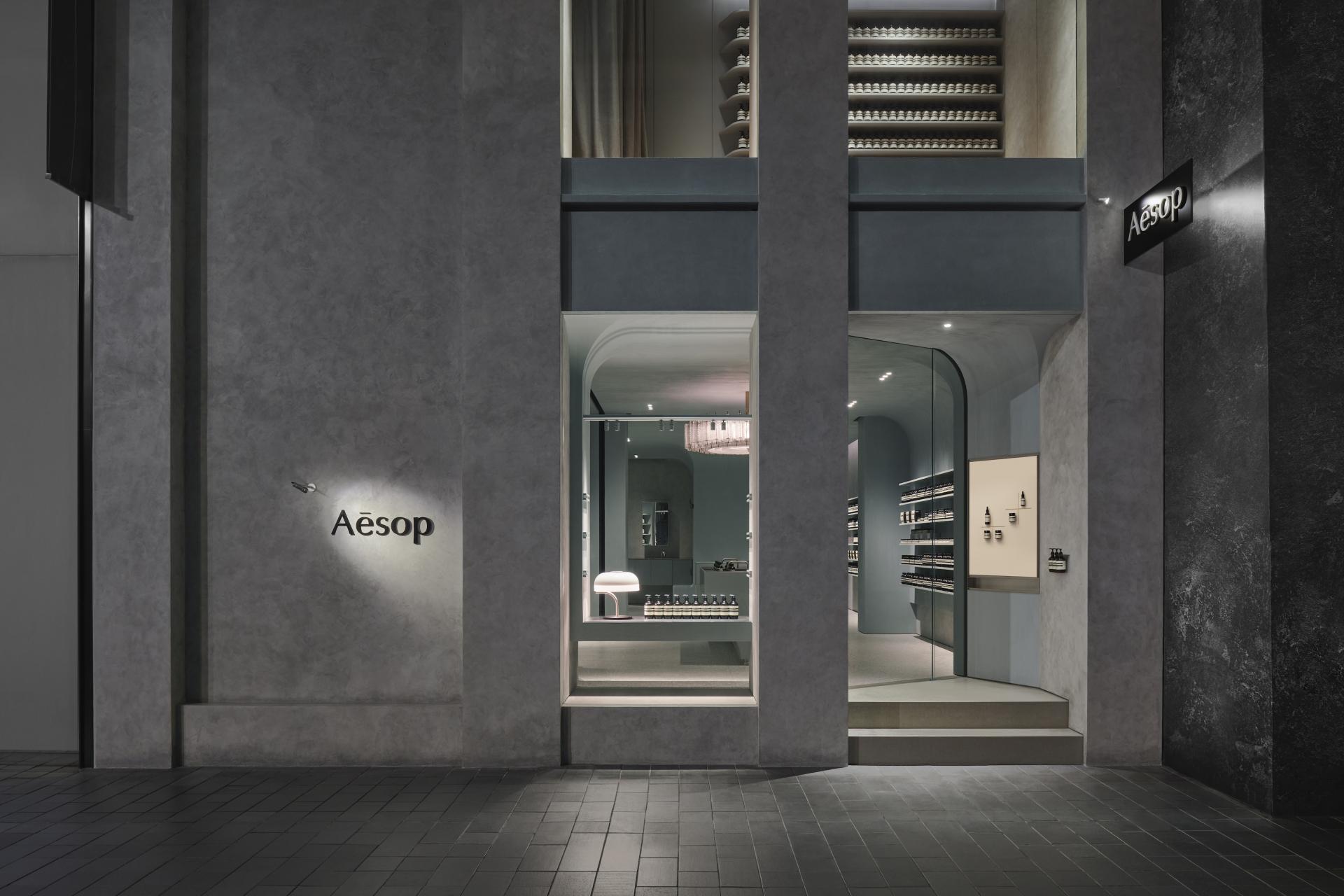 The collaboration between the brand's in-house design team and a team of MLKK Studio's long-standing collaborators has produced a space that evokes the warmth of Hong Kong's cultural heritage while also exuding elegance and sophistication. The space is crafted with mastery, employing motifs and materials that tell evocative tales.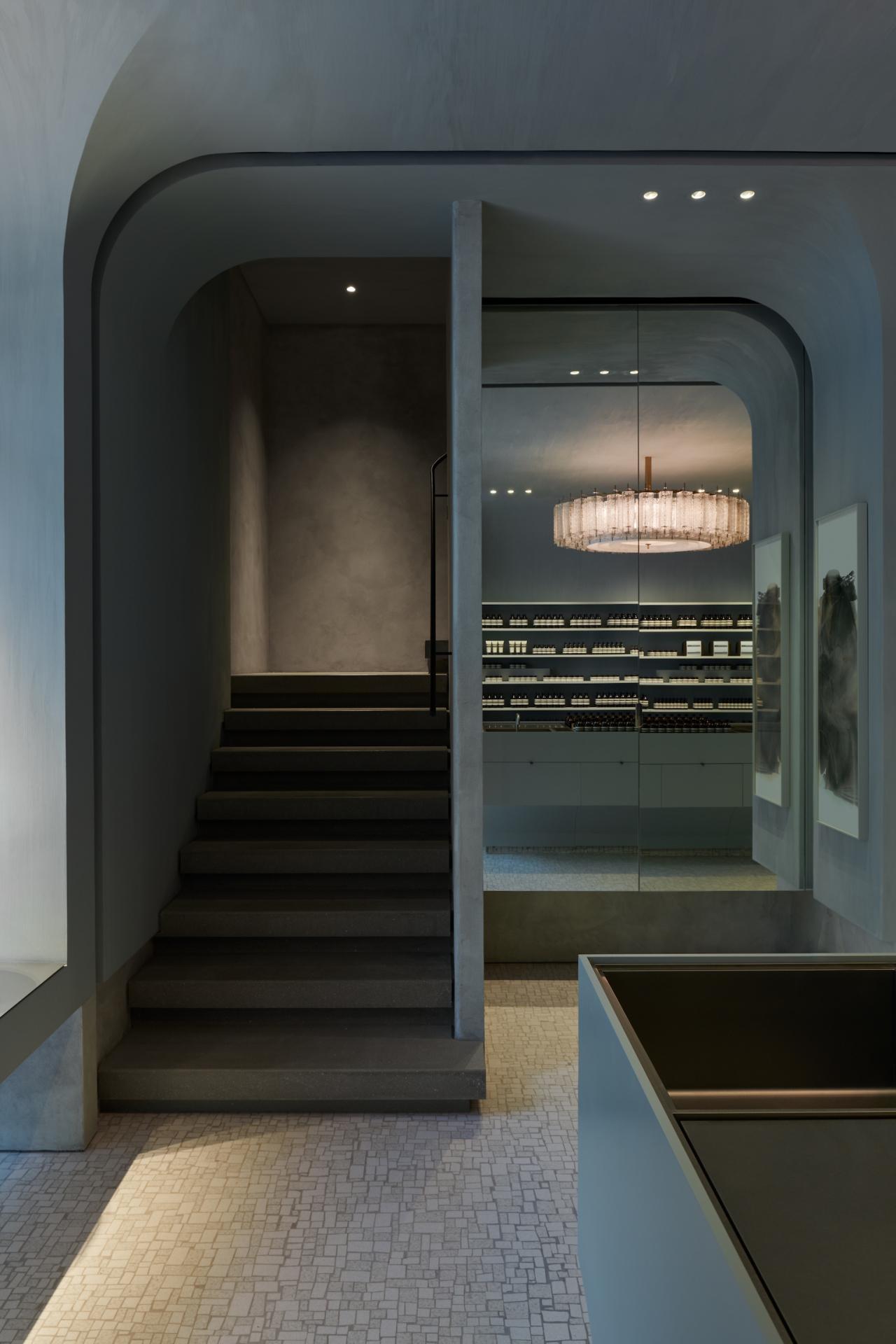 MLKK Studio, while exploring Hong Kong's cultural history, discovered the limitless possibilities of cloudy pattern boards – a staple of 1970s and 1980s Hong Kong, known for its affordability and durability. The marvellous architects noticed 'dead stock' of the delicately-patterned board in old distribution centres and made it their mission to devise something functional out of it. The mosaic floor of Aesop's Fashion Walk pays tribute to this unique and culturally significant material. The reclaimed veneer, made into small shards, is assembled into a mosaic that pays homage to local manufacturing while welcoming new feet.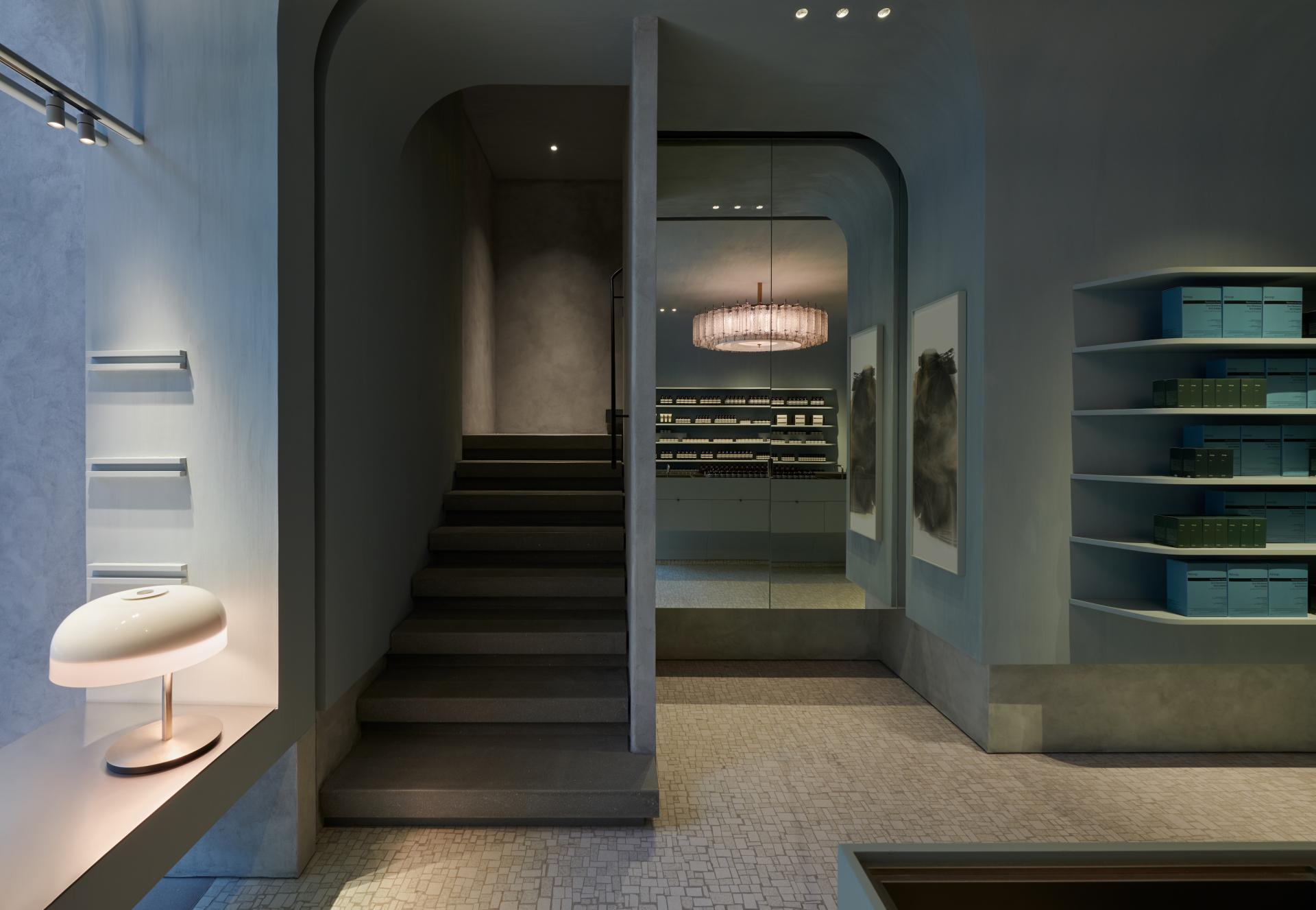 The gentle blue of the mosaic washes over the vaulted ceiling, creating alcoves, or conversational enclaves, that offer a haven-like experience for customers. The monumental basin in the centre of the room reflects these arched geometries. It provides ample opportunity for clients to interact, chat, and share while experiencing Aesop's full range of formulations for the skin, hair, body and home.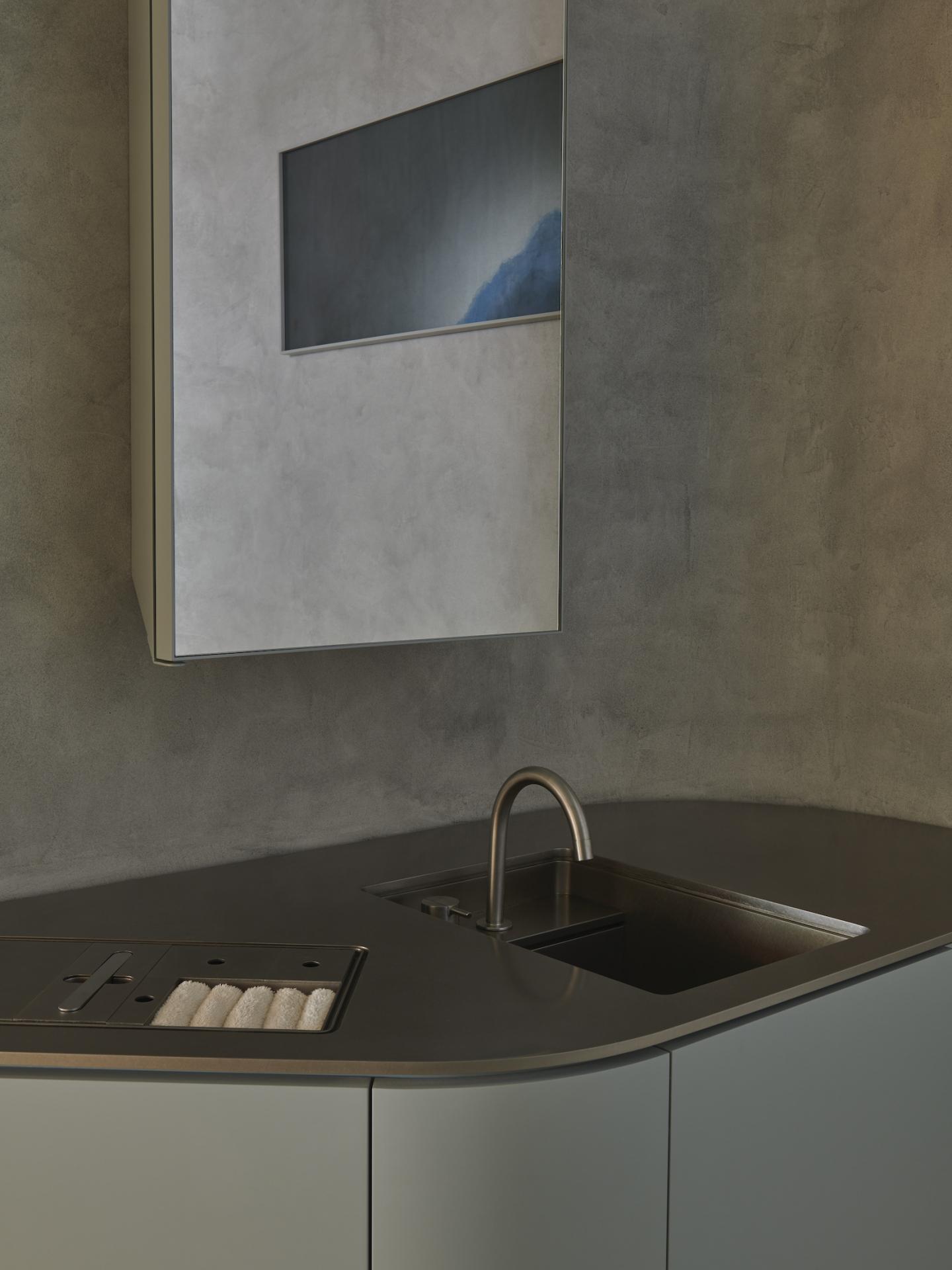 Further inside the store, two adjacent niches for product exploration are available for customers. Individual basins allow for personalised consultations where customers can indulge in product applications in the intimacy of their own bathroom. A Fragrance Armoire on the other side houses Aesop's unconventional Eaux de Parfums. MLKK Studio repurposed copper from an earlier store to create the cabinet's glowing interior. Meanwhile, meticulous Hong Kong craftsmanship brings continuity to the space. When customers open the Armoire, they will encounter not only a variety of elegantly crafted fragrances but also the masterfully created Hong Kong story of material continuity.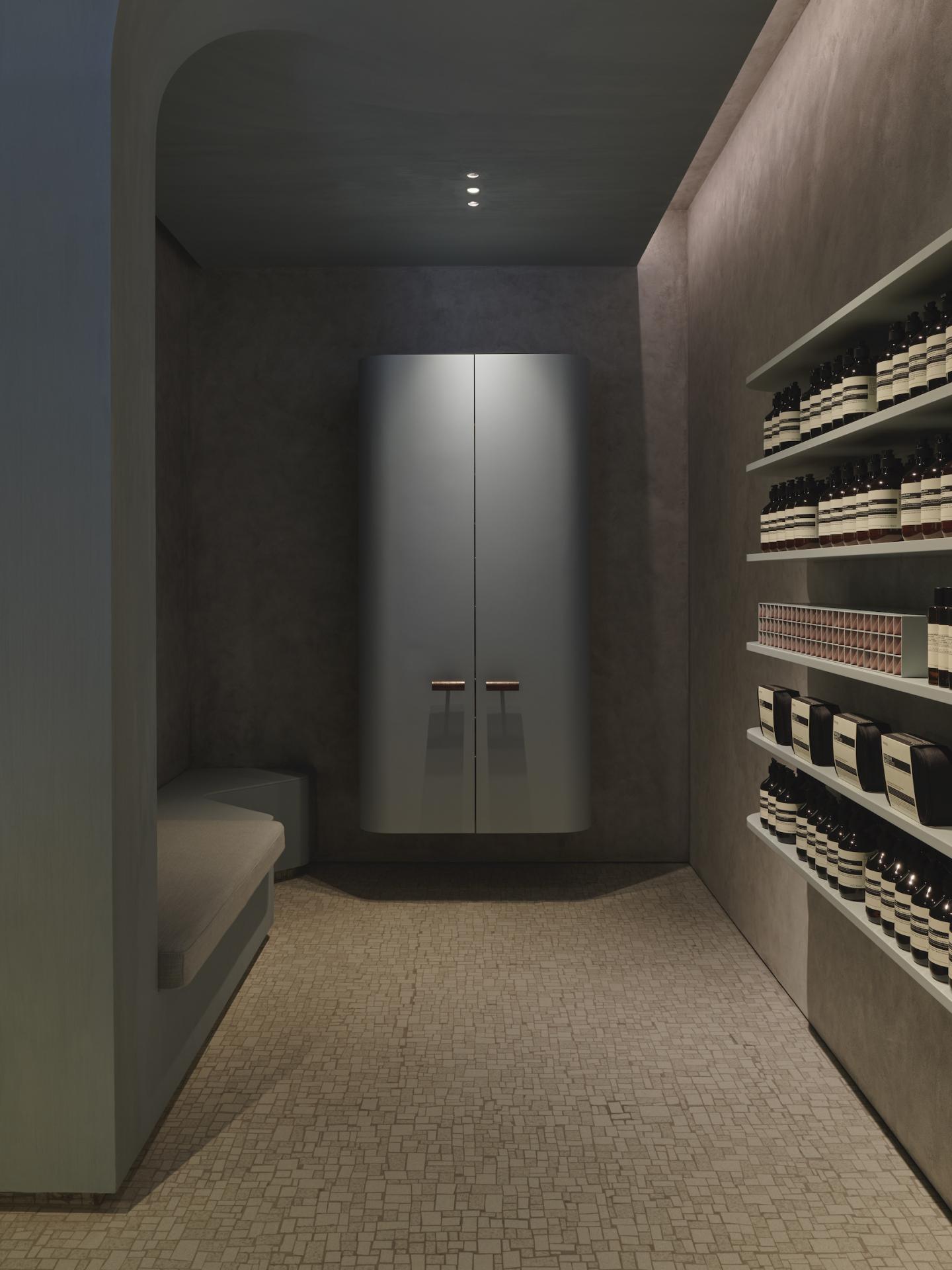 The elegantly crafted space inspires and rejuvenates. Aesop's skilled consultants are available to provide personalised advice to customers looking for the perfect product for their unique needs. The space tells a story that speaks to Aesop's reverence for beauty, hospitality, and cultural heritage. This is a testament to the brand's unrelenting pursuit of excellence in every aspect of their enterprise.