The fabulously flamboyant NoMad hotel is making its mark in London.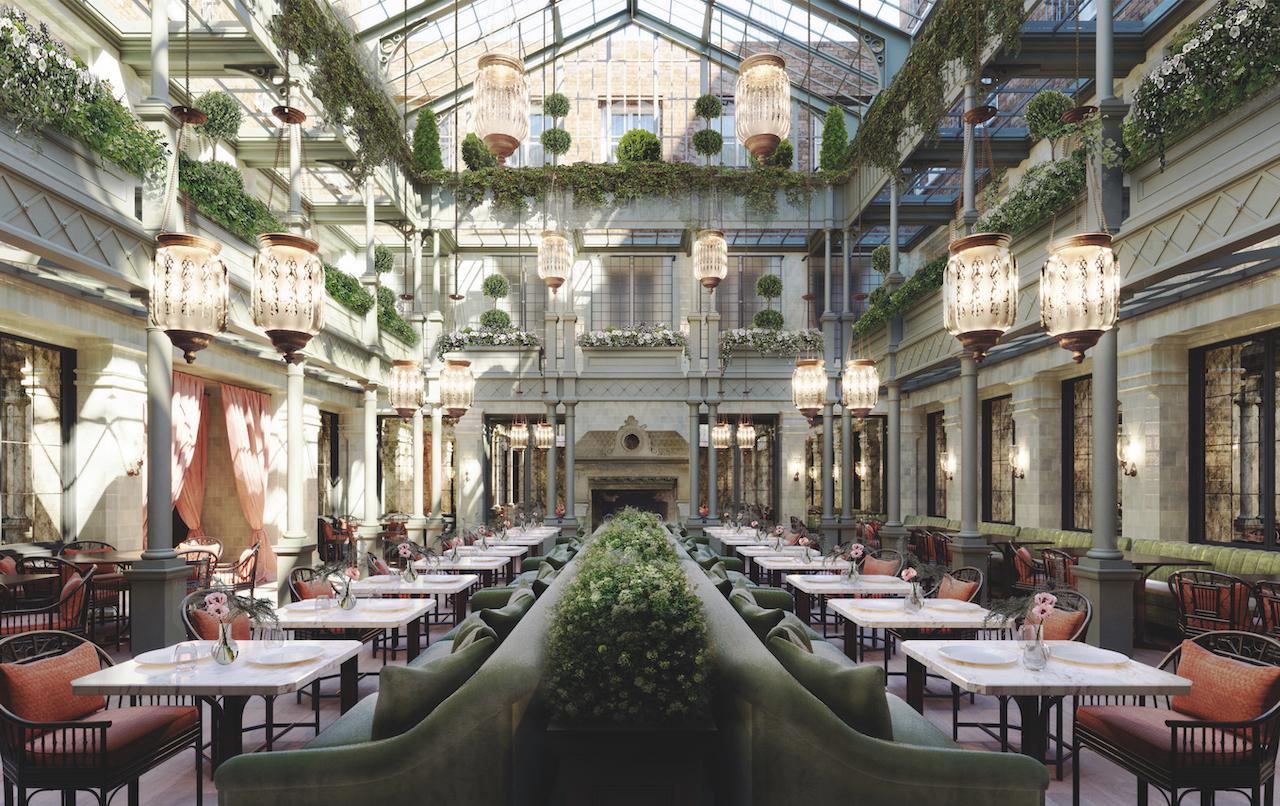 The search for the right building took nine long years, but finally the NoMad London is open in the historic Grade II-listed building known as The Bow Street Magistrates' Court and Police Station. One of the most famous magistrates courts in the world, it played a part in some of history's most notorious and high-profile cases.
The transformation of this storied 19th-century building draws inspiration from its history and location. Its dock witnessed the trial of the likes of Lothario Giacomo Casanova, Emmeline Pankhurst and Dr Crippen. Dame Vivienne Westwood was a guest in one of the cells for breaching the peace in 1977; while former politician Jeffrey Archer was found guilty in 2001 on two counts of perverting the course of justice and two of perjury, and sentenced to four years.
Andrew Zobler, founder and CEO of Sydell Group, which owns NoMad, describes the NoMad design philosophy of mixing, cajoling and juxtaposing as "the tensions of old fashioned, bohemian and modern while maintaining a sense of place that's been a long time coming and the group's best work to date".
Though past NoMads have been designed by Jacques Garcia, this time around Zobler turned to long-time collaborators Roman and Williams to bring the hotel to life.
The New York-based designers, and ex-set designers Stephen Alesch and his wife Robin Standefer, of Roman and Williams, believe the story of a space is as important as the design and the objects that go into it.
"We wanted NoMad London to be beautiful, bohemian and evocative all at once," says Standefer, who describes their design approach as "new romanticism", which she defines as embracing a romantic bohemian spirit without being precious.
They have curated a maximalist mix of decorative arts, with hand-blown glass chandeliers, richly textured fabrics and antiques sourced from Rupert Bevan and Jamb. The result is a harmonious layered, eclectic collection of periods and styles and a splendid celebration of "more is more and less is a bore". It's grand, yet intimate, glamorous, classic, yet playful, luxurious, sensual, comfortable, and unquestionably, a place to linger.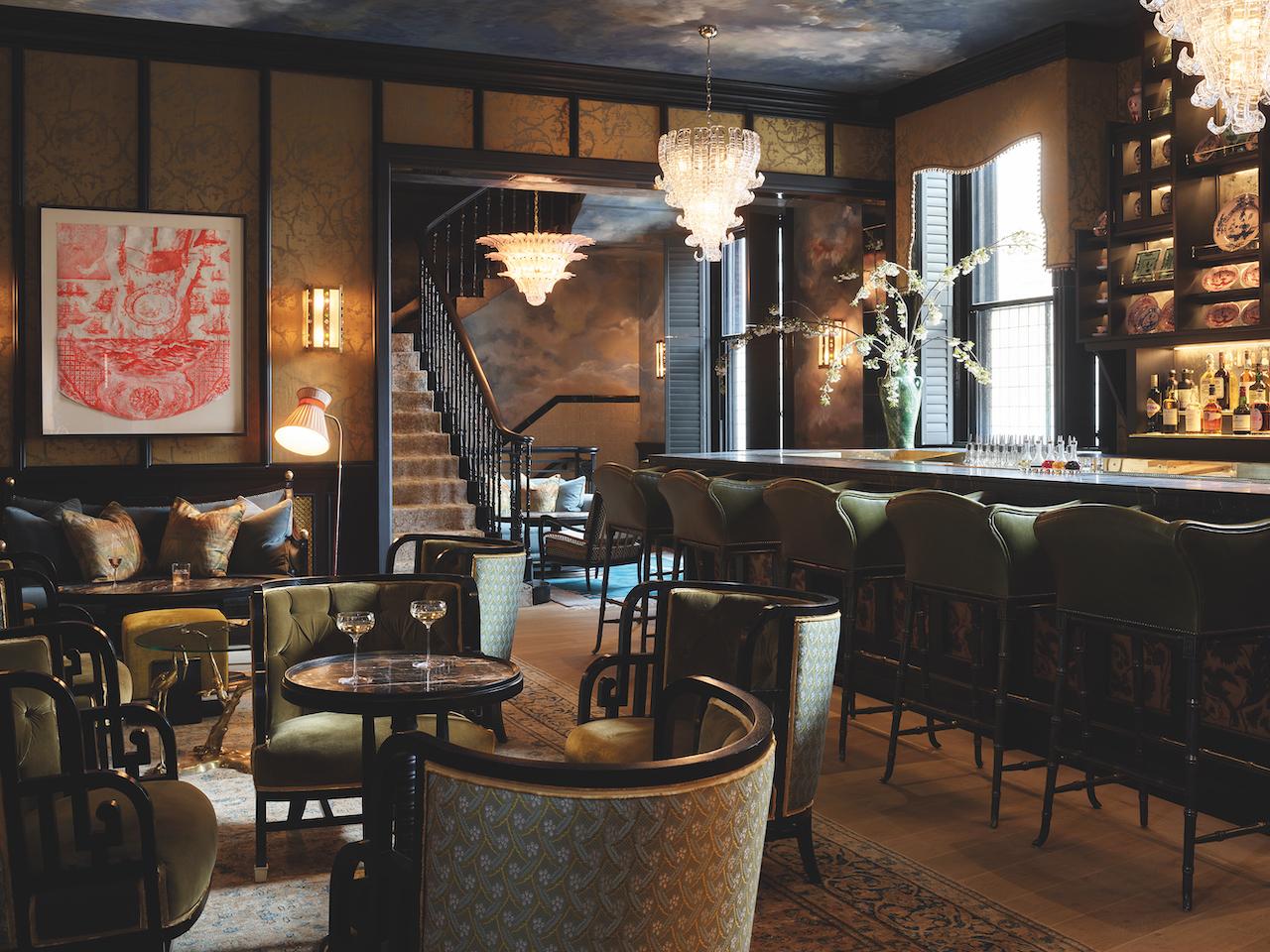 There's a certain frisson walking through the doors to the hotel knowing who has passed through them before you. The verdant lobby is exciting, intriguing and very discreet – a sense of theatre prevails, and a small reception area with a swirling black and blue large abstract artwork by Caroline Denervaud to the right is seductively lit by vintage chandeliers.
A walkway to the bedrooms forms a balcony with breathtaking views of a vast atrium. To the left, stairs lead down to another small reception area and further on to the fantastic lushly landscaped three-storey Atrium restaurant with a soaring glass ceiling reminiscent of an Edwardian greenhouse.
This was the original courtyard and the former stopping-off point for the police vans whisking in arrestees for trial or incarceration. This dramatic space is flooded with natural light during the day. In the evening, it gets a glamorous Hollywood glow.
Here, executive chef Ashley Abodeely, previously executive sous chef at NoMad in New York, shines a light on seasonal British ingredients.
As with the NYC NoMad, the fruits de mer plate is a big thing. The London Seafood Tower comes with caviar, bonito cream, and Parker house rolls (a buttery, soft and slightly sweet bread roll with a crispy shell made with milk). Other dishes include the sea bream crudo with radishes, mint and pickled strawberries; suckling pig confit with wild greens and smoked bacon jam and cauliflower roasted with vadouvan, figs and almond; and the infamous NoMad whole roast chicken for two, a signature dish that's been on the menu since the first NoMad opened in 2012.
The NoMad bar, which sits discreetly to the back with its sensual curving bar, is a very grown- up space, and a perfect spot to partake in enticing and utterly delicious cocktails –especially Leo Robitschek's Dirty Martini; or for a non Martini drink try the pretty in pink Red Curtain, an easy- drinking sour drink (Veritas Rum, Line Aquavit, lemon, beet, strawberry, cucumber, and egg white).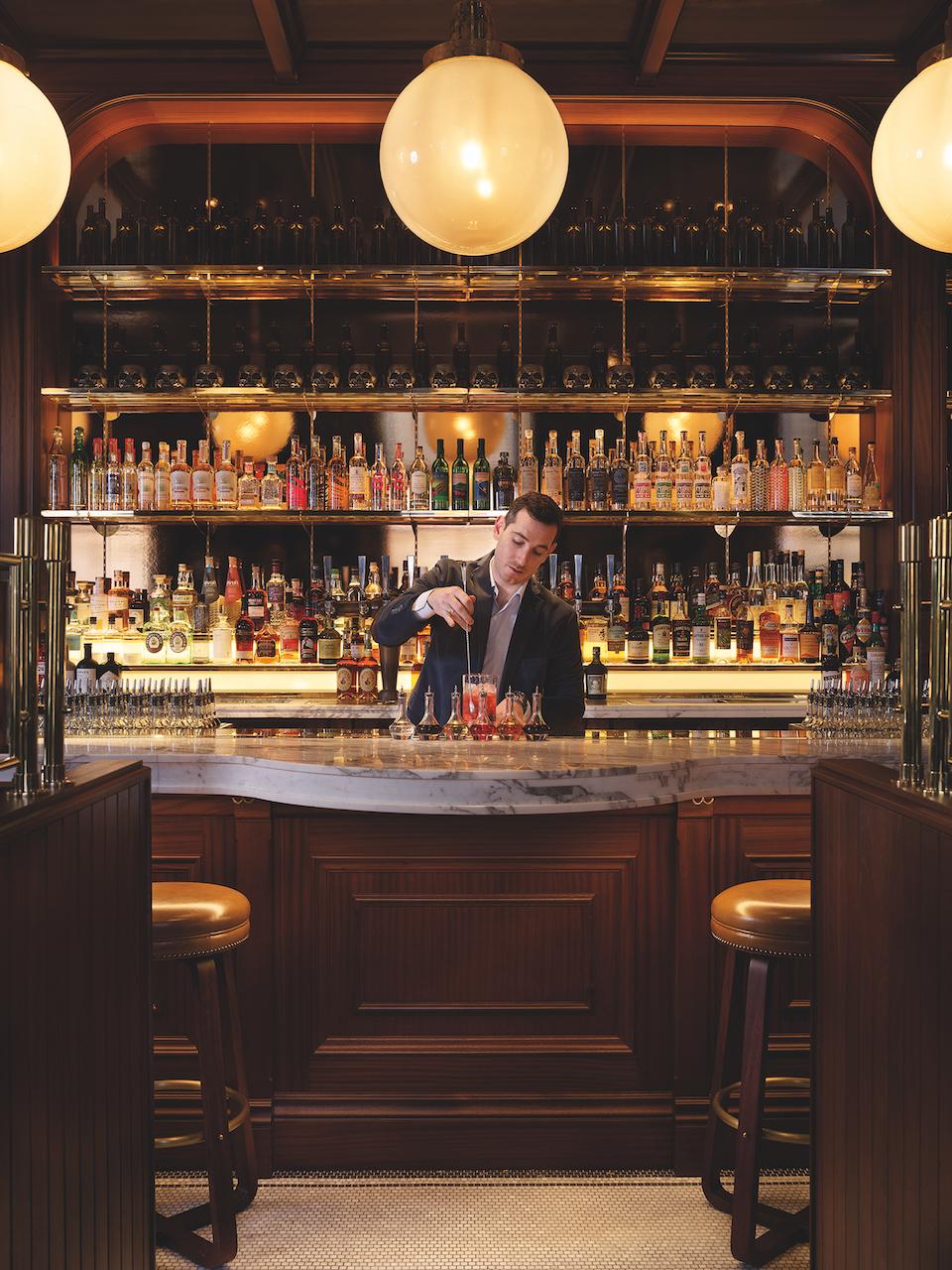 Pietro Collina leads the bar programme and his Walter Gibson is a must-have experience (Edinburgh Seaside Gin, Elyx Vodka, Viognier, and pear eau de vie). They age the drink in a bottle lined with beeswax for added aroma and texture, which they keep in the freezer so it's super chilled. Its served with a jar of house-made pickles – fennel, celery, onion and carrots, each one brined in a unique solution to elicit a different experience with each bite.
Side Hustle, in the former Police Station, is NoMad's take on the classic British pub "as seen through a New York lens". An American speakeasy meets a British pub replete with leather-clad walls and banquettes.
Satirical British photographer Martin Parr's colourful ironic photographs, which capture the everyday quirks of life and cultural peculiarities, embellish the walls.
Classic British pub grub is usurped with the flavours of Mexico via small plates of Mexican morsels and agave spirit-based cocktails, drawing from chef Abodeely's interest in Mexican and Cal-Mex food – in other words, her side hustle.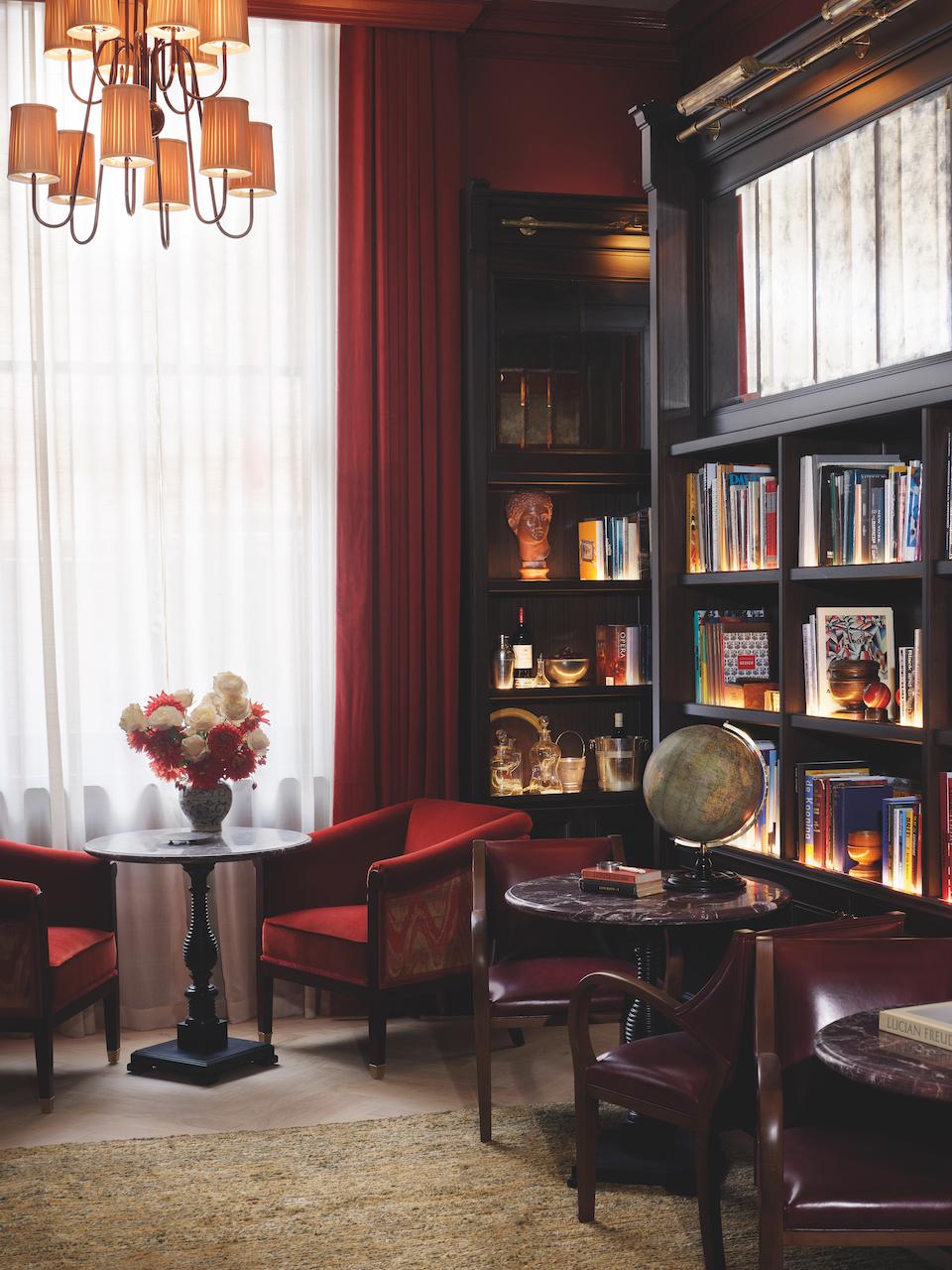 Below ground in the old coal vaults, Common Decency, a subterranean speakeasy-style playground and cocktail den decorated by the Royal Opera House by scene painters, which will open later in the year, is slated to be the after-midnight spot.
The Fireplace Room, located off the jungle-like atrium, is sheathed in blossoming Zuber wallpaper, and the perfect place to sip a Fireplace signature Royal Martini, fashioned from gin, herb-infused wine, sherry, pear brandy, Benedictine, and a soupçon of saffron.
The signature NoMad Library, the hotel's living room, serves anything from breakfast to afternoon tea to cocktails and after-dinner drinks.
The former Magistrates' Courtroom, decorated with an evocative mural by painter Claire Basler, is now the Magistrates' Ballroom, a wedding, events and private dining space with two adjacent private dining rooms, which uses the original courtroom entrance from the street. The cells and offices are now a permanent museum showcasing the history of London's first professional police force, the Bow Street Runners, along with records of the building's illustrious history.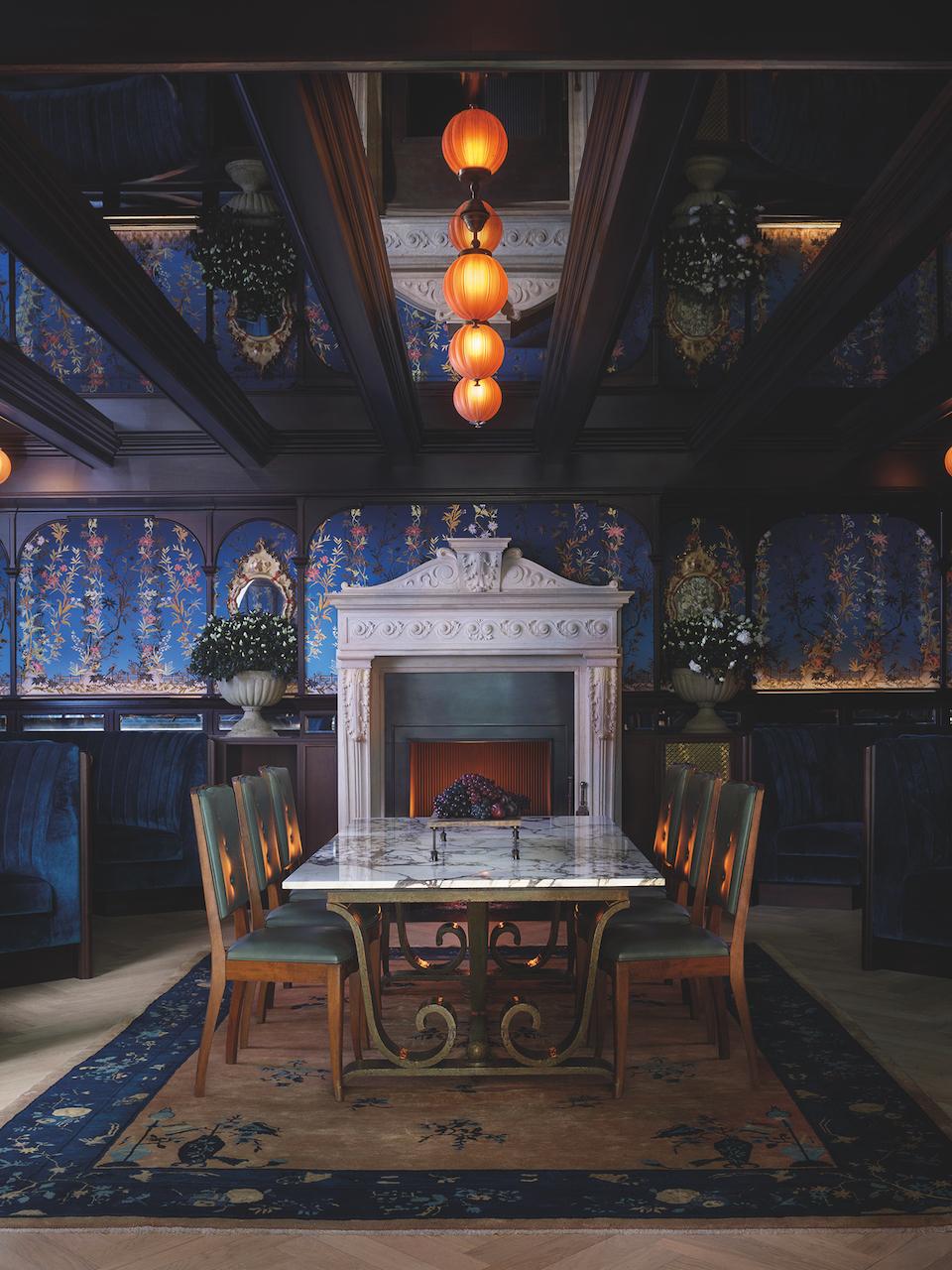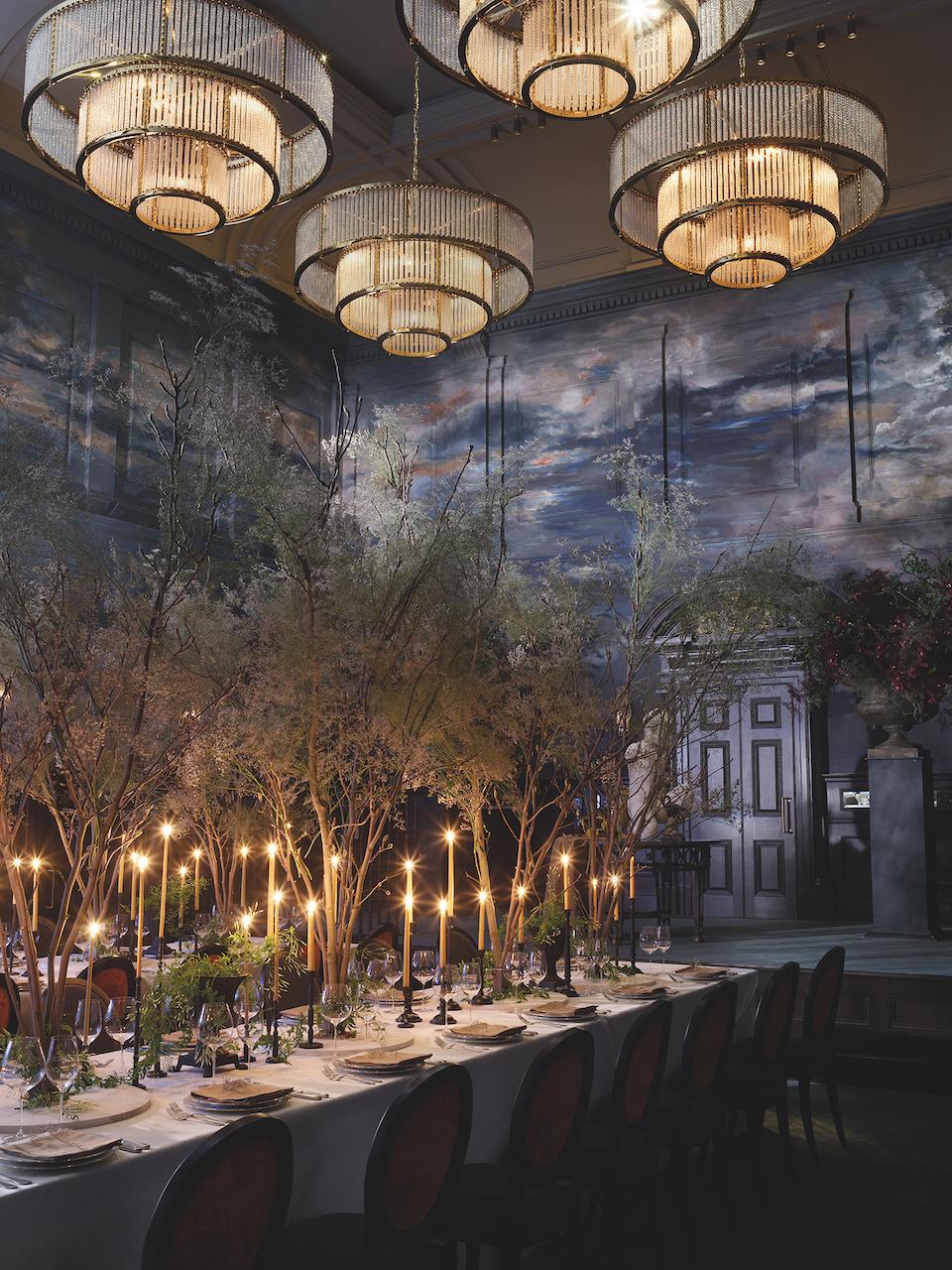 The rooms are exquisitely curated. The dreamy Royal Opera Suite, with its golden claw-footed bathtub, peeks out from behind a claw-footed screen, next to an enormous Caroline Denervaud bold abstract swirling work of art, and is richly furnished with luxurious fabrics and herringbone parquet floors.
The bathroom has a twenties-style aura – brass with rippled glass wall lights, and white and gold mosaic tiles. The Royal Opera Suite was the template for the other rooms, so you will find elements in all of the rooms.
The decadent bedrooms, formerly the magistrates' and clerks' offices, have soaring ceilings which are softened with dramatic drapes and Denervaud's dramatic swirling abstract artworks, beside free-standing bathtubs. Denervaud, a former ballet dancer, turned to art after an injury as a new form of self-expression, and uses her body like a brush in a sweeping dance-like movement making shapes with her body on a flat canvas.
Roman and Williams have reinvigorated a grand building with a new lease of life that many will enjoy for years to come. Our most famous dandy would be most at home in the fabulously flamboyant NoMad London.