The RA Summer Exhibition is a unique celebration of contemporary art and architecture.
A vital platform and support for the artistic community. It's the world's largest open submission contemporary art exhibition showcasing works across painting and printmaking, photography, sculpture, architecture, and film; that until now due to COVID19 has taken place each year without interruption, even through the war years. Thanks to the Royal Academy's positive and determined mindset that "the show must go on," the exhibition is merely delayed rather than cancelled.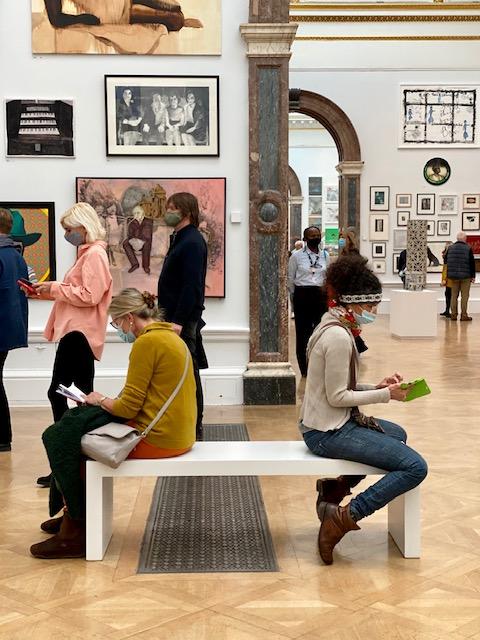 Another first in the exhibition history is the co-curation by the artistic duo, video artists, and twin sisters, Jane and Louise Wilson RA, who, together with fellow Academy Committee Members, have carved the 18,000-plus entries down to 1400.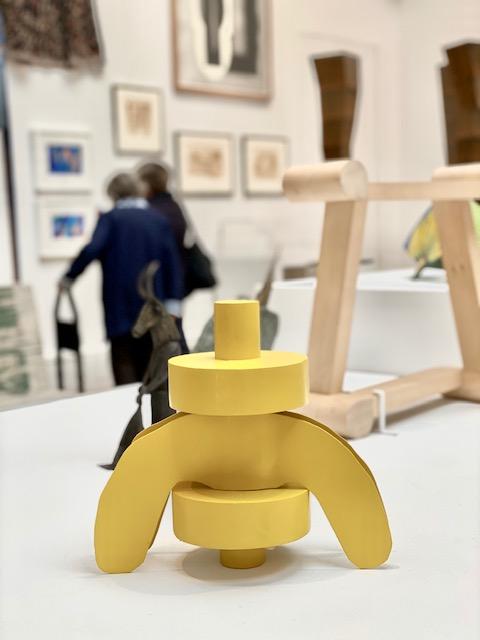 This year the show starts before entering the galleries with Brian Eno's ambient music Flowers 2018–2020, immersing you in auditory tranquility. Eno has produced eight ambient albums for art installations to date, describing them as 'an atmosphere, a tint" that is he says, as ignorable as it is interesting." It provides a transitional moment at the show's threshold, helping us cast off any feelings of doom and gloom, clear our heads, ready to enjoy the show.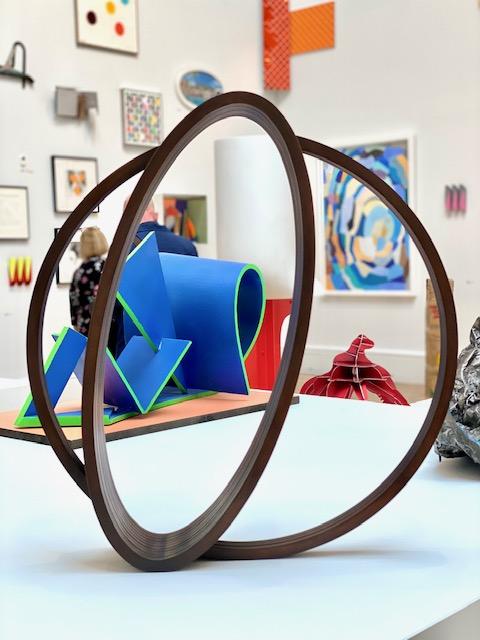 A new element for 2020 is the 'invisible walls' suspended from the ceiling on wires for video screens, adding another dimension to the hang. Plus new works by Tracey Emin, Rebecca Horn, Anselm Kiefer, Julian Schnabel, Gillian Wearing, and Ai Weiwei.
There are twelve rooms to explore the myriad of works hung mosaic style on the walls in a joyous celebration of art in many styles and media.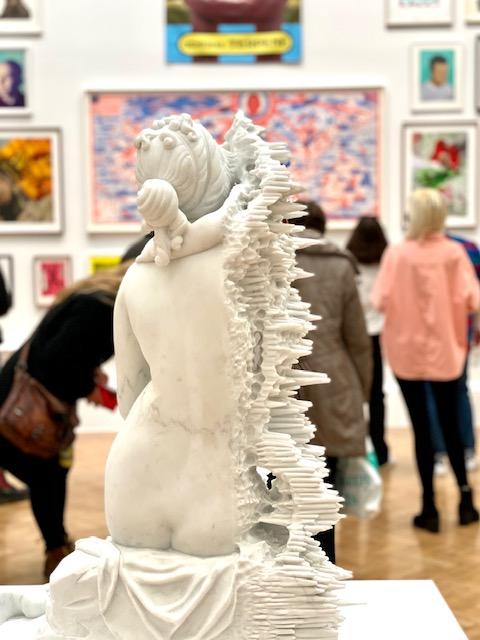 Isaac Julien curated the opening first two galleries selecting artists in homage to the late curator and art historian Okwui Enwezor (1963-2019). Highlights include Yinka Shonibare's The winds of change... Air Kid (Girl), and a haunting large-scale portrait by South Africa's Zanele Muholi hanging next to a dreamy triptych of timeless lovers by Chris Ofili. Muholi is a visual artist working in photography, video, and installation, focusing on race, gender, and sexuality.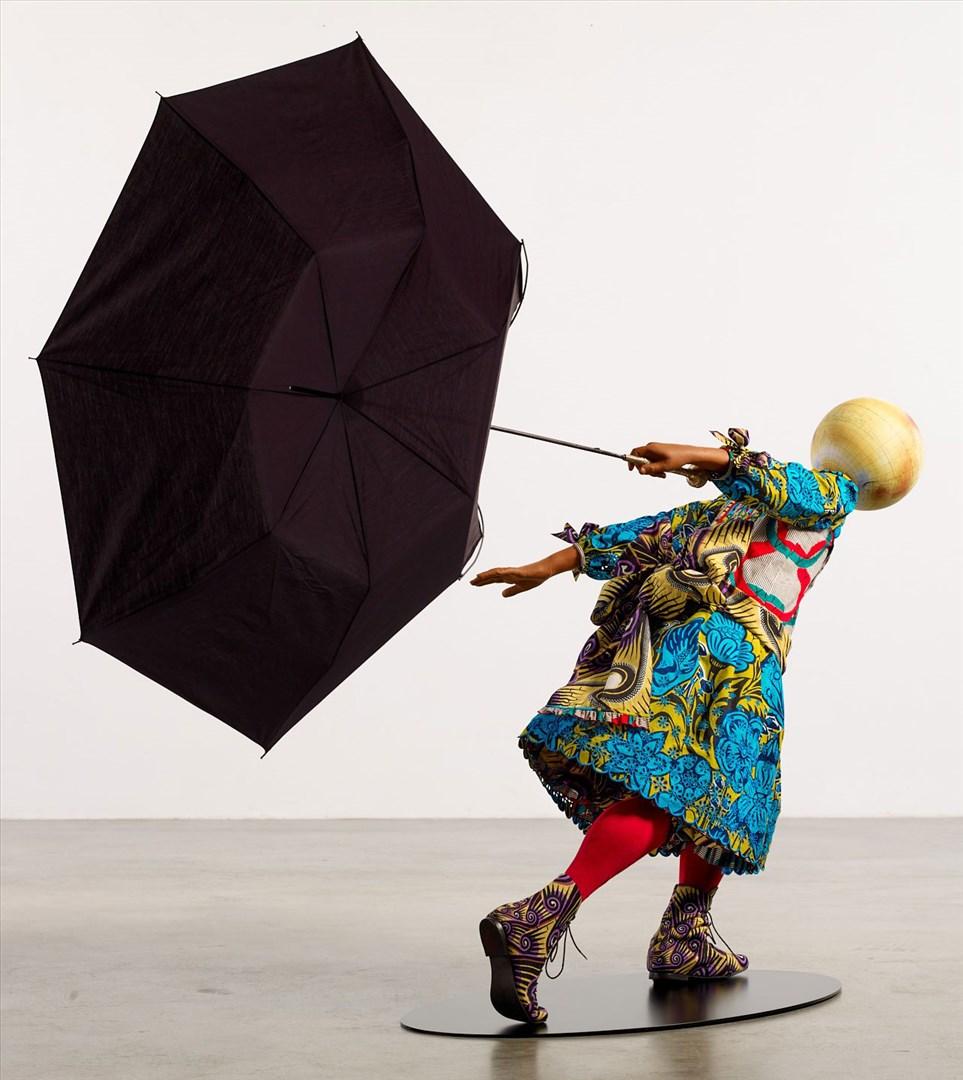 The Wilson's curation of the Large and Small Weston Rooms and the Wohl Central Hall includes works from Arunanondchai, David Batchelor, Ori Gersht, Joy Labinjo, Elizabeth Magill, Rosalind Nashashibi, Eddie Peake, and John Smith, along with some of their own work.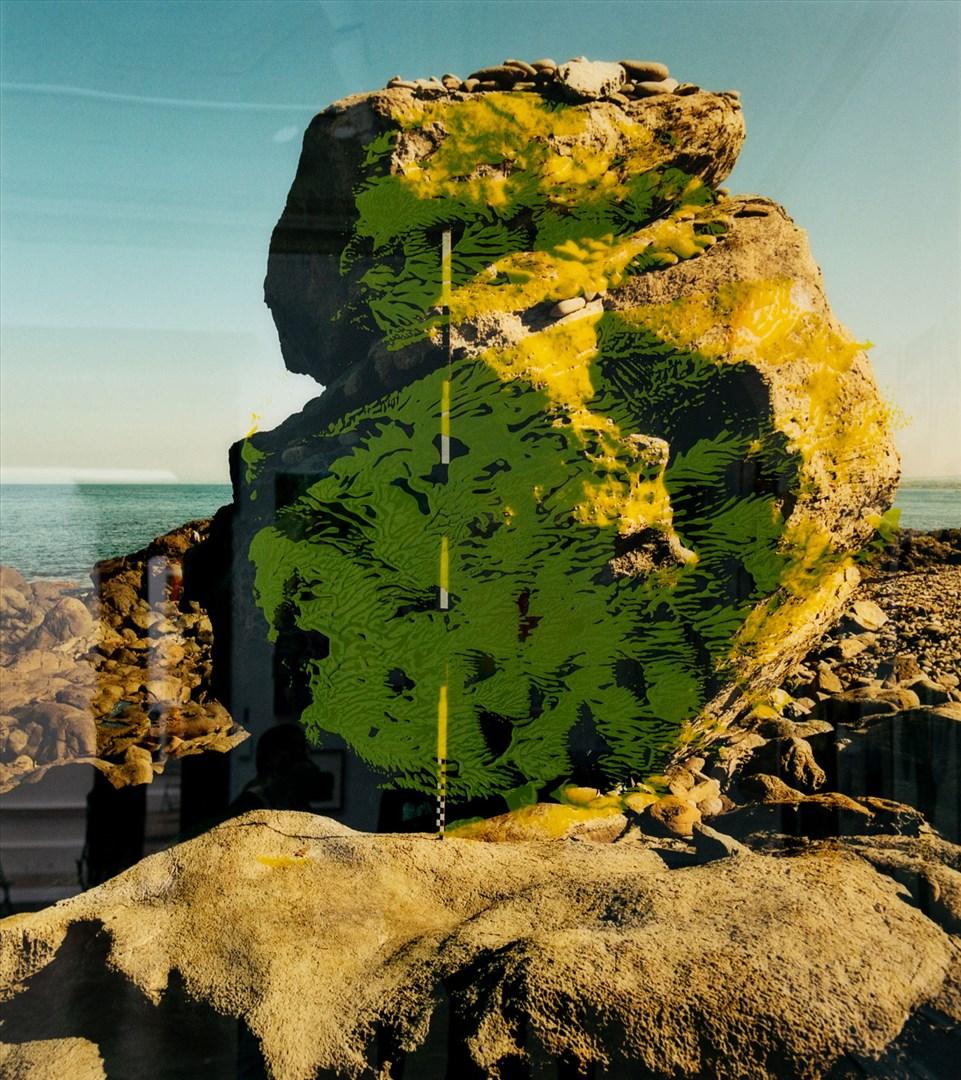 In the Small Weston Room, Brian Eno's sound and lighting piece of perspex and coloured LED lights offers a perfect atmosphere to accompany a timely film from Young-Hae Chang Heavy Industries on the coronavirus pandemic.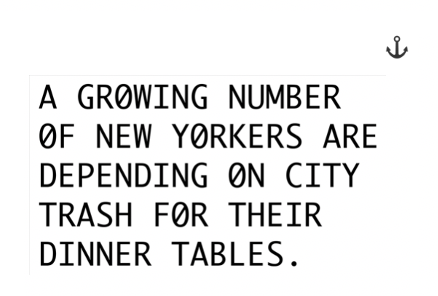 Young-Hae Chang Heavy Industries is a Seoul-based Web art group consisting of a Korean artist and translator Young-Hae Chang and American poet Marc Voge who lives in Seoul. They present their work in twenty languages, characterised by a text-based animation composed and highly synchronised to a musical score, that's typically jazz.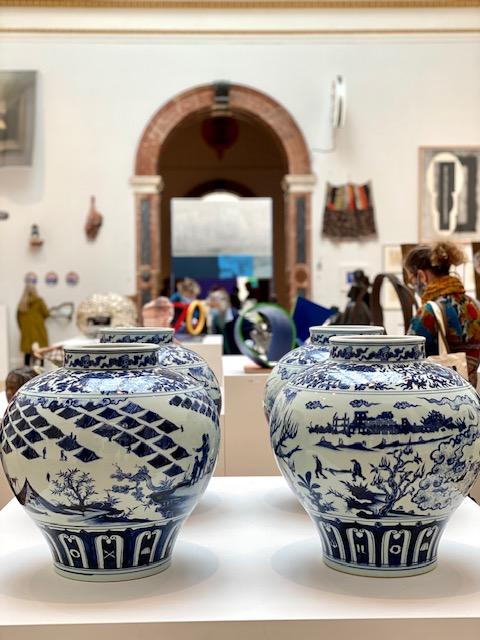 The Hon RA member Ai Weiwei's four porcelain vases Ruins, Refugee Camps, War, and Crossing of the Sea greet you at the entrance of the Lecture Room curated by sculptor Richard Deacon RA. The blue and white Chinoiserie pattern's freshness is quite arresting in its comparative starkness to the surrounding art pieces.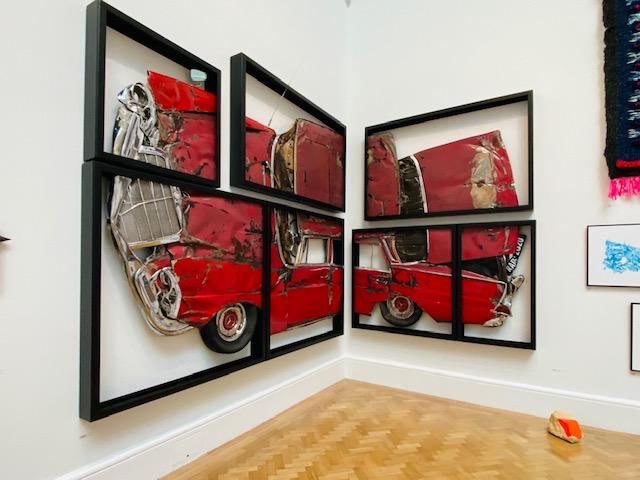 Competing for your eye is Ron Arad's Oh Lord, Won't You Buy Me? a crushed car split across seven frames. And this is where you need to be careful not to trip over Zhang's Reborn Baby on the floor as you twirl to take in the rooms fascinating and colourful display.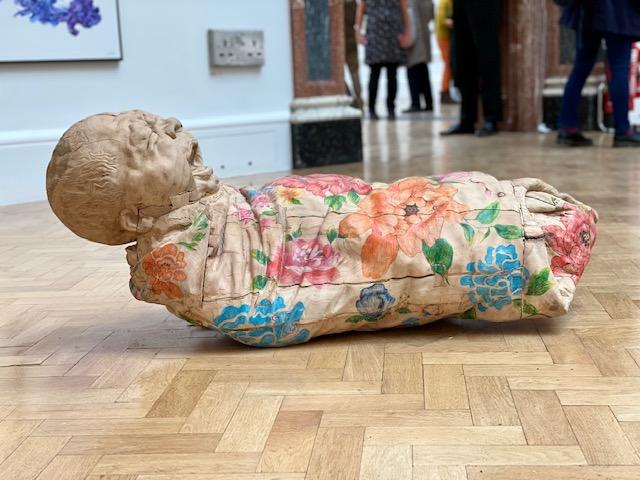 Nick Hornsby is well known for his large scale sculptures that he creates using computer algorithms. He has submitted a small bust titled MUSE II (CANDY JAZZELLE) for this show, and its stunning - funds allowing this would be my choice.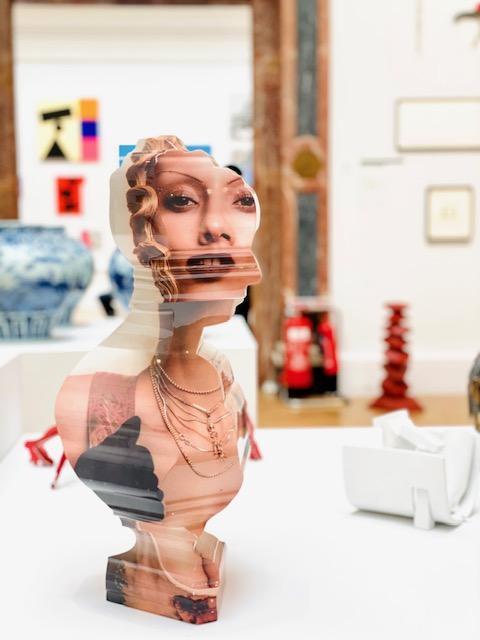 The Lecture Room leads you to the Wohl Hall. Jane & Louise Wilson's I'd Walk With You But Not With Her is a mesmeric fluid mosaic of moving colour that shouts at you as it cascades onto the floor. In stark contrast, Simon Periton's Outdoor Miner sculpture is flat, with its colour discreetly appended to the metal's inner edges; and only revealed as you pass by. It's an exciting placement linking through to the flashiness of Wilson's work.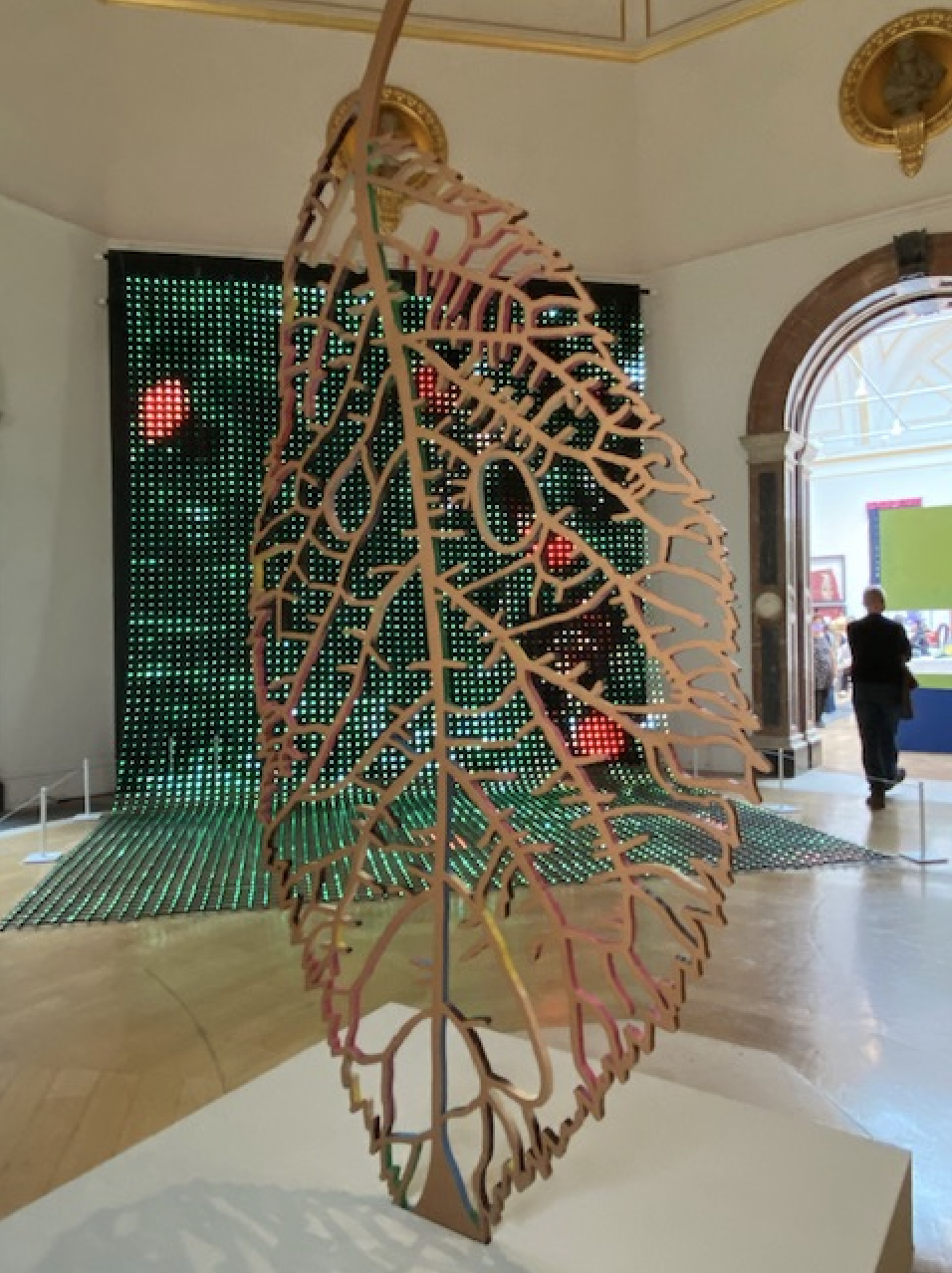 Also in the Wohl Hall is Marina Abramović RA's Dozing Consciousness (Body) - Eyes Closed. Abramović's performance art explores the limits of her own physical and mental endurance, exploring the passing of time, mortality, identity, and pushing the boundaries of self-discovery.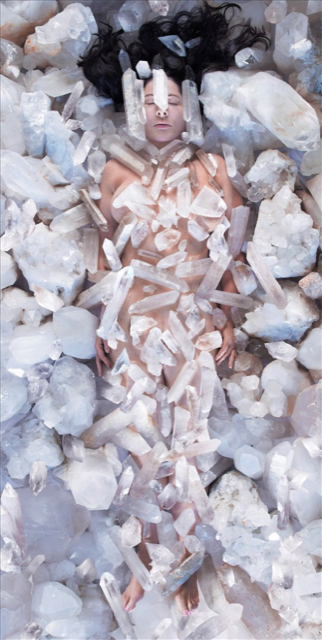 As usual, most works in the Summer Exhibition are for sale; the funds raised support the exhibiting artists and the postgraduate students studying in the R.A. Schools and the not-for-profit position of the Royal Academy.
The exhibition is not without its detractors; Rachel Campbell-Johnston in The Times has described it as a 'Britain's Got Talent, but for people who can't do backflips or play the bassoon.' Whatever you think of the art displayed, however, the Summer Exhibition offers a fantastic opportunity for artists, household names, and emerging to present their work for selection with the possibility of winning a place on the R.A.'s prestigious walls. For the rest of us, well, we get a chance to see art we love, art we hate, and art that makes us smile, up close, in the flesh where you can witness the scale, the brushstrokes, texture, and the depth of colour in all its glory; and a lucky few will get to take art home. Plus, there's the fun of perusing the walls looking for 'the one that speaks to us'- then - has it got a red dot? - and finally, checking our guides for the price!
It's also fun to see if we agree with the curator's choices.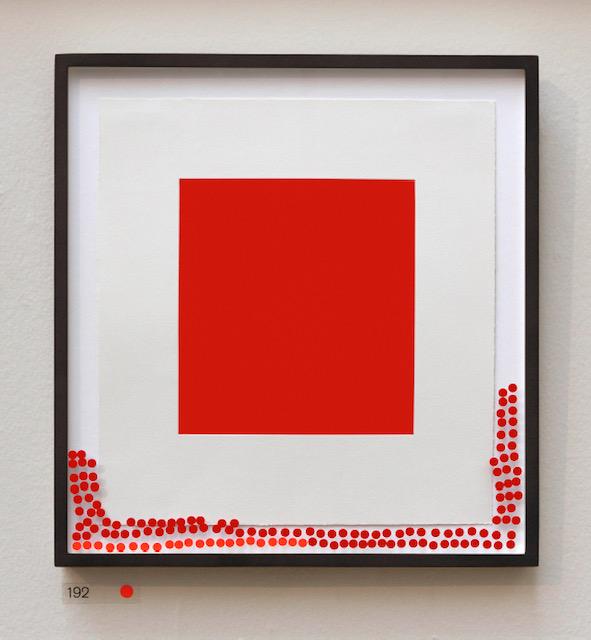 Red dots under artworks indicating that they are sold first appeared in the Summer Exhibition in 1865. They soon caught on in the art world. Cornelia Parker RA incorporated them into her work, Stolen Thunder (Red Spot), in 2012. Taking a photo of a fellow artist's work [she will not divulge the artist's name], she digitally erased the image, keeping only the red spots. It has become a signature of her work, and yes, she has one in this year's show.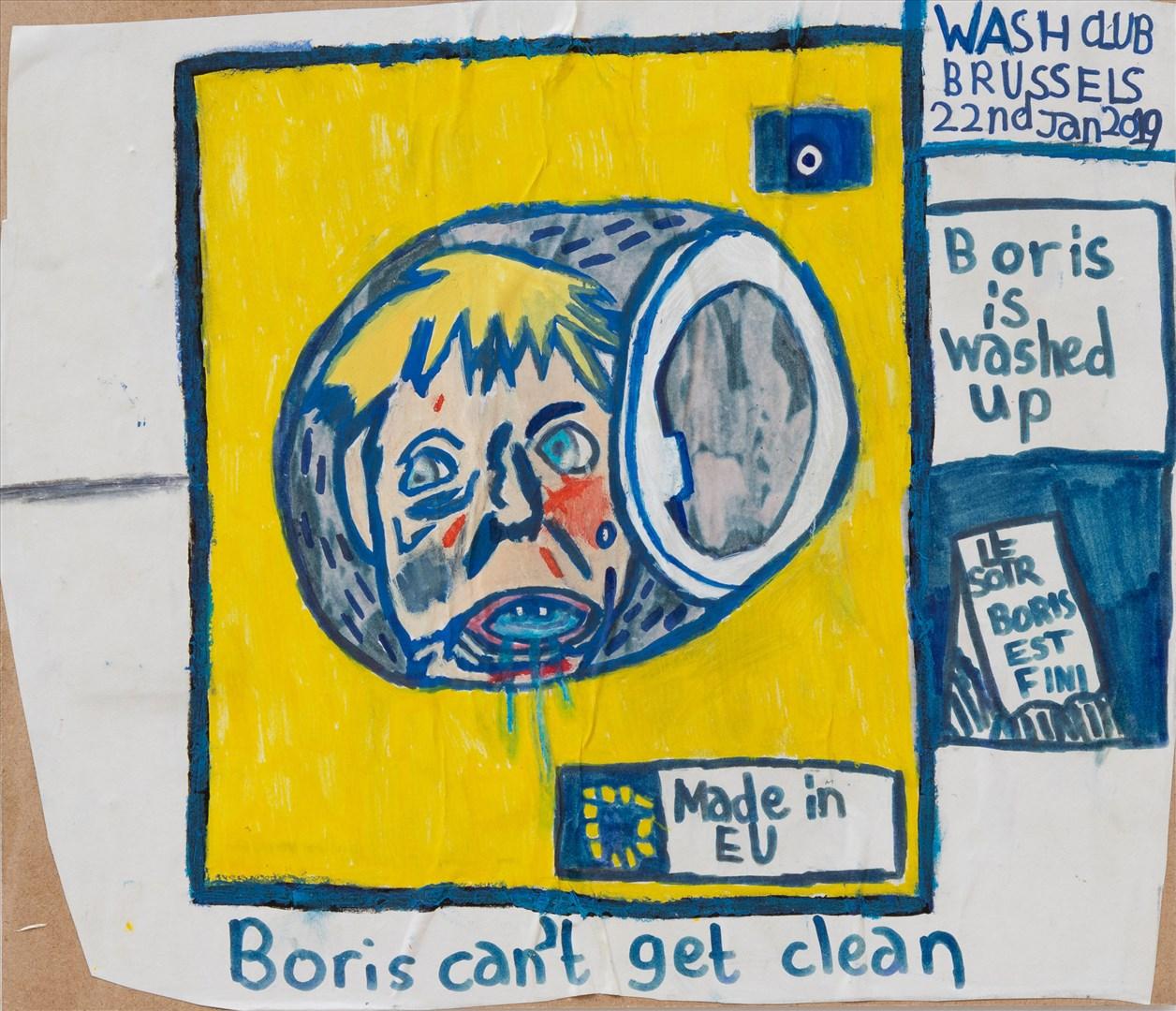 There is none of the joy de Vivre and the subversive wit of Grayson Perry's 2019 show.
Nor, I thought rather puzzlingly, is there anything much on view of the apocalyptic intensity of the moment. Other than the German artist Anselm Kiefer Hon RA's work Vier Plus Eins, [Four Plus One] The scythes are coming, and the scythes are real. A macabre work that stirs up a feeling of anxiousness. The Ship by Tracey Emin R.A. perhaps acknowledges that the storm is here.
There is a simple explantation for this however; the selection process had already started before Covid hit us. Let's keep our eyes peeled for next year's show, where perhaps we will see the fallout from the tumultuous turns of 2020.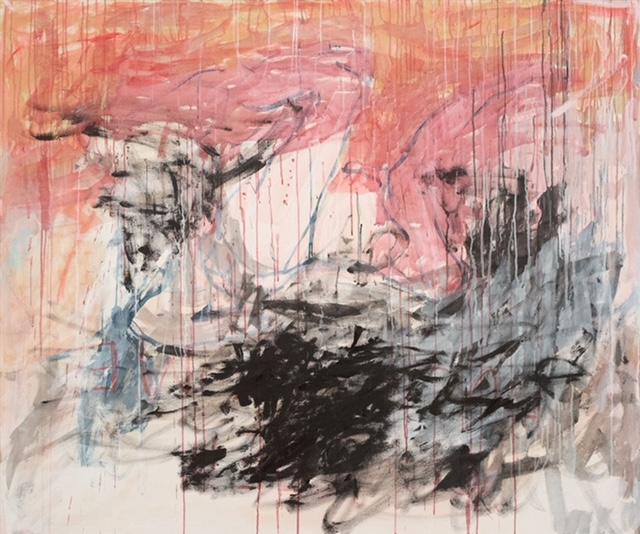 Until then, as the artists put it below, "We Will Get Through This With Art." We are merely in an "Intermission," and 'normal" services will resume soon!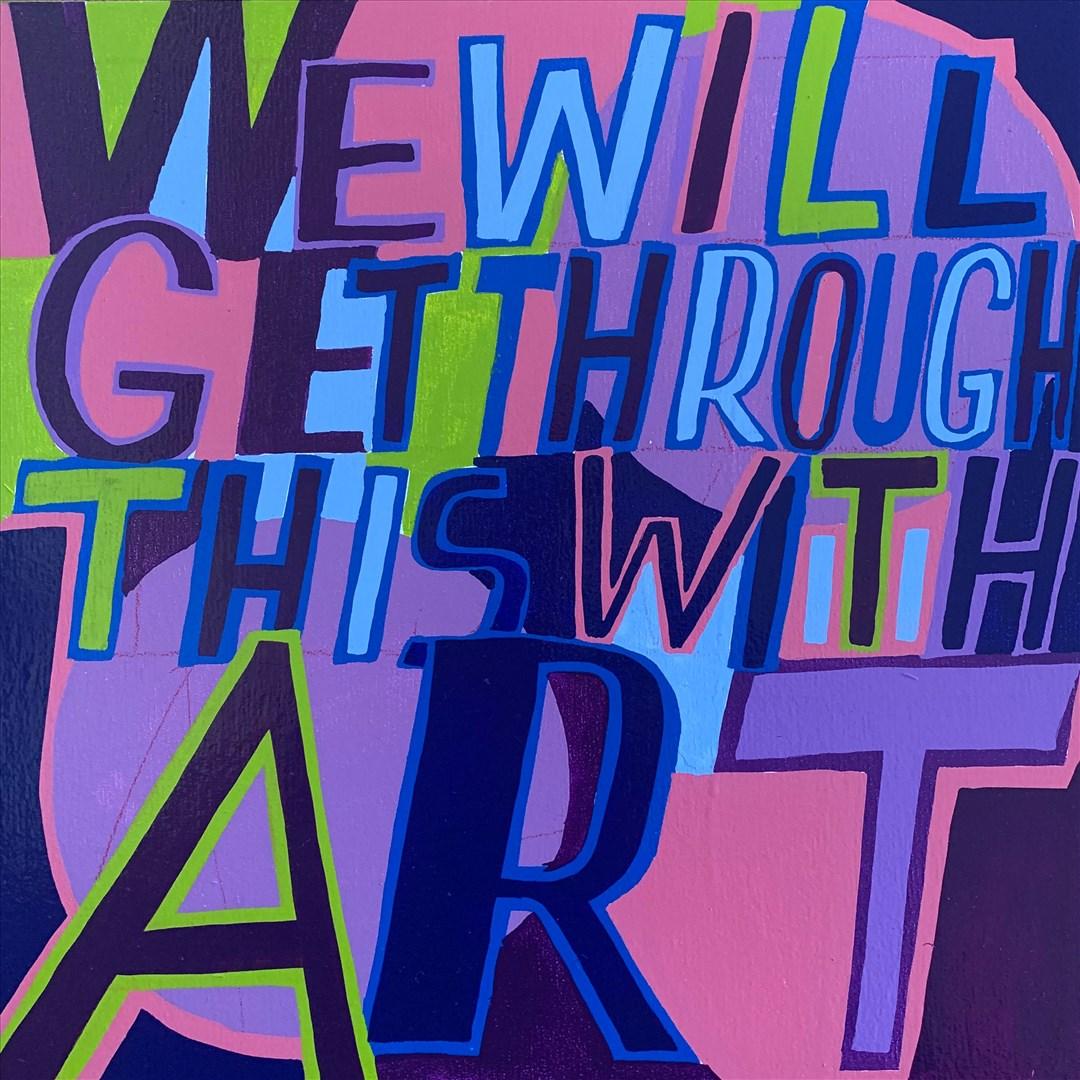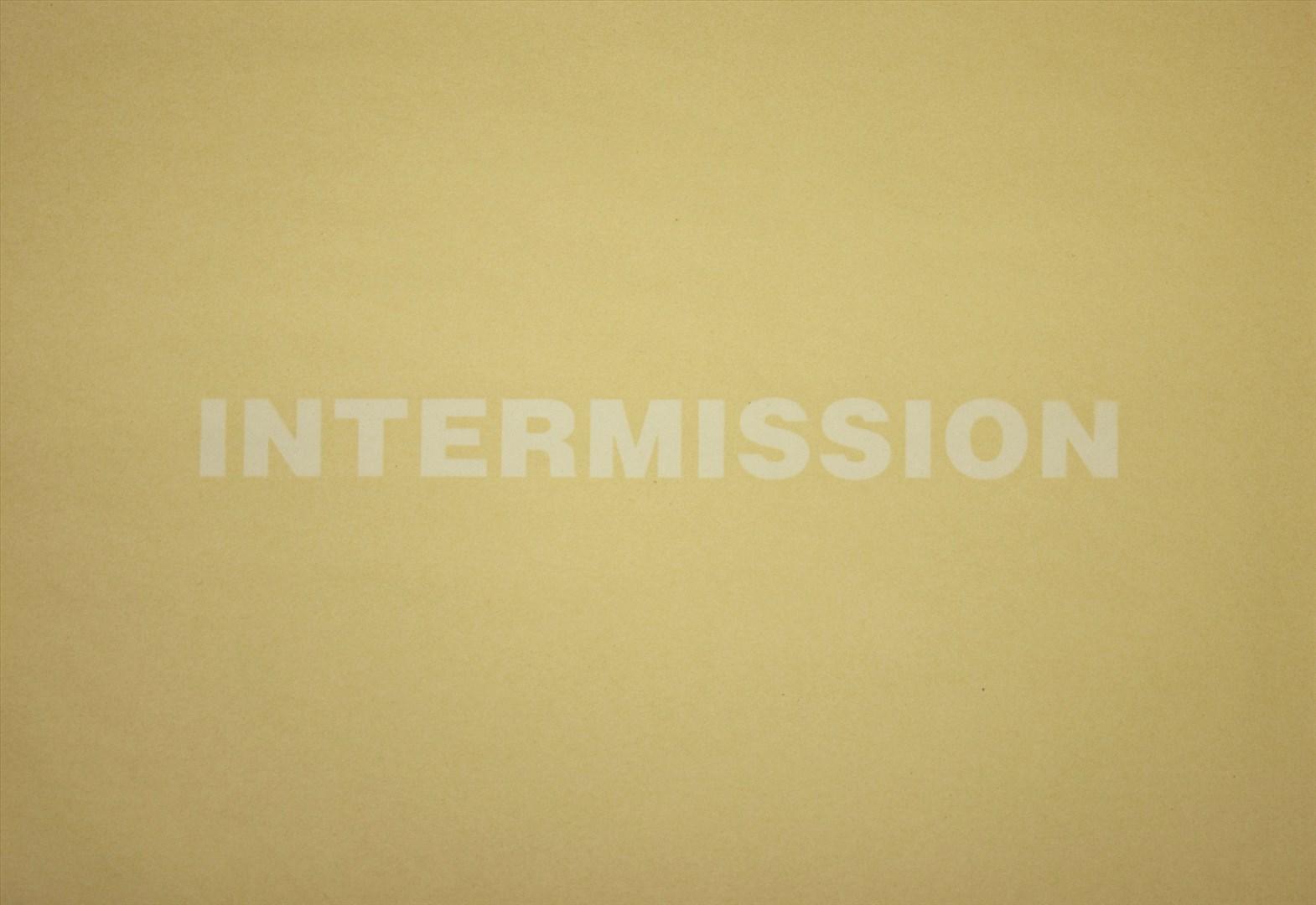 IMAGE CREDIT: THE ROYAL ACADEMY. ANJI CONNELL
In another first this year, there is a Virtual Viewing Room with an interactive tour of the galleries and the curator's choice of key pieces, excellent news for those unable to visit the exhibition.
The Royal Academy
Burlington House, Piccadilly,
London, W1J 0BD
https://www.royalacademy.org.uk/exhibition/summer-exhibition-2020
***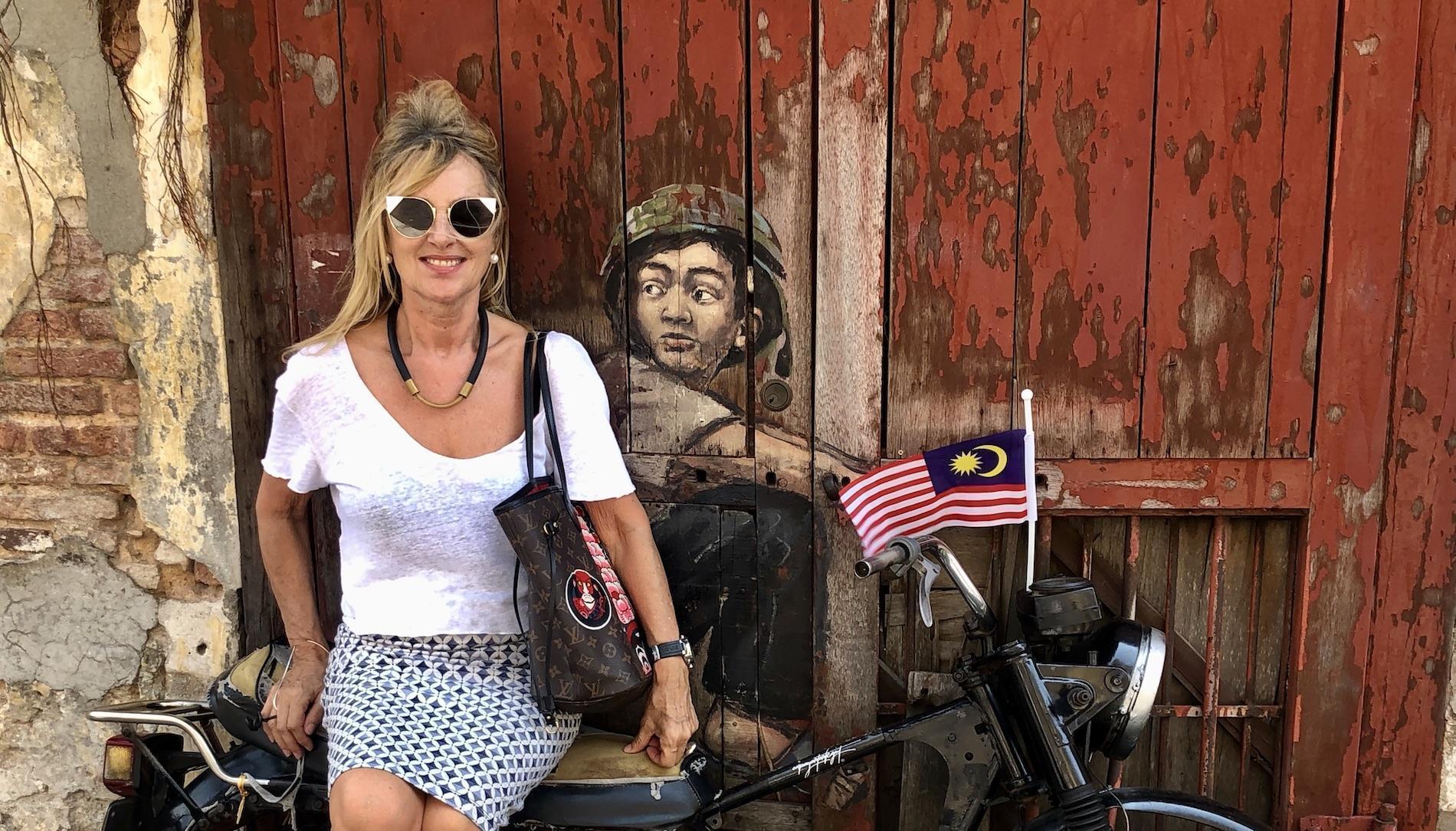 Anji Connell is an interior architect, garden designer and self-proclaimed nomad who regularly writes about art, design, lifestyle and travel from her globe-trotting adventures. Known for her bubbly persona and even more exuberant sense of style, Anji's portfolio spans everything from interior styling to furniture and landscape design for some of the world's most beautiful spaces. For now, you will find her @anjiconnell_acidplus and anjiconnellinteriordesign.com bingeing on future travel plans from her designer chair.