Chila Kumari Singh Burman's Neon Installation offer a sense of hope as we look to create a brighter future.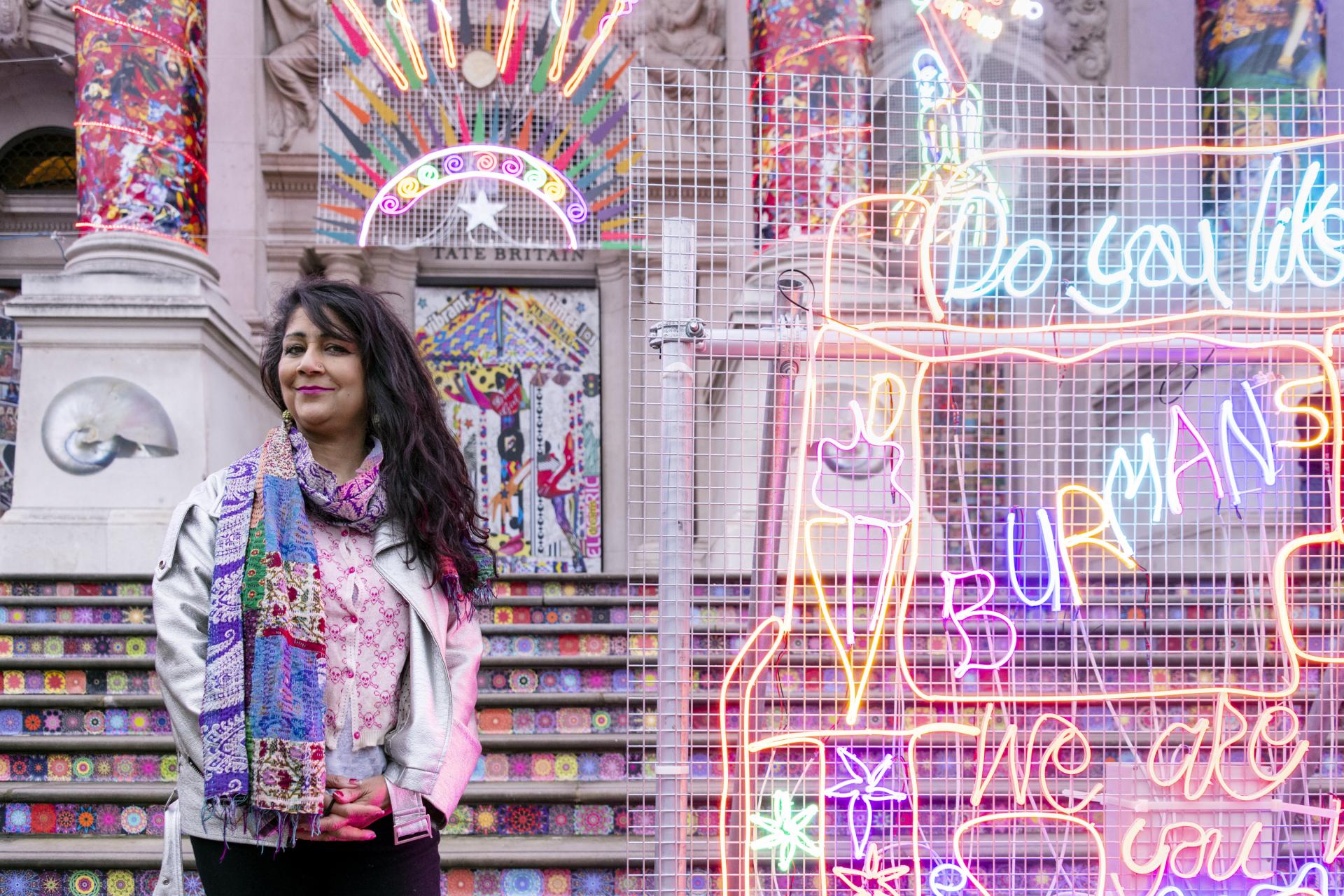 This year the Winter Commission at the Tate Britain opened in time for the Diwali Festival of Light. Diwali celebrates new beginnings, the triumph of good over evil, and light over darkness. The work's title 'Remembering a brave new world' suggests that inspiration can be taken from the past, and offer a sense of hope as we look to create a brighter future," Clarrie Wallis, Senior Curator of Contemporary Art Curator at Tate Britain, tells me.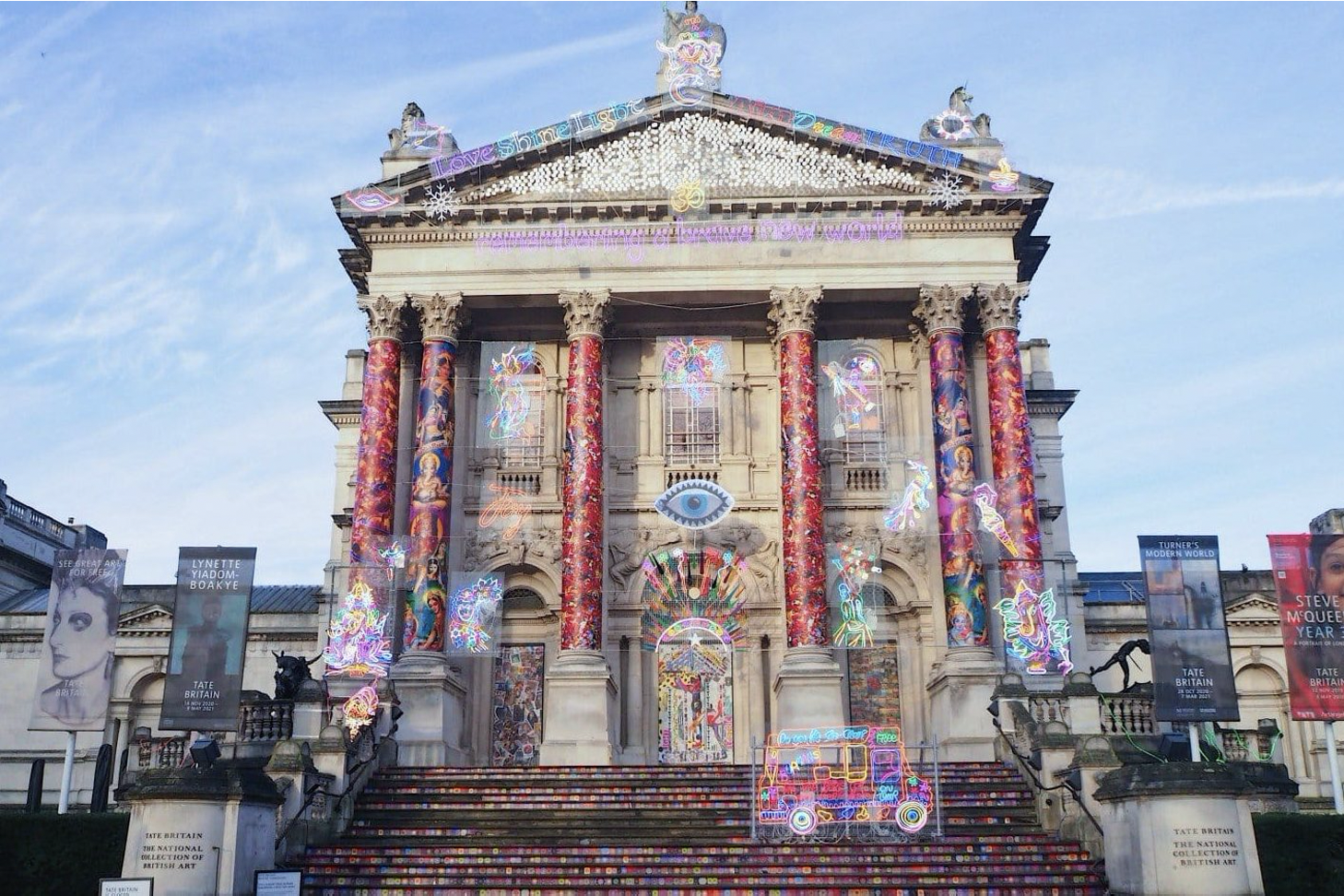 "Chila Kumari Singh Burman's transformation of the front of Tate Britain in a celebration of LED neon and swirling colour is the fourth in our annual series of outdoor Winter Commissions at Tate Britain. Burman is celebrated internationally for her mixed-media feminist practice, which incorporates multiple disciplines spanning printmaking, drawing, painting, installation, and film. We asked her to take on the commission at the beginning of the first UK lockdown in March. The installation takes inspiration from her Punjabi Liverpudlian heritage and celebrates figures ranging from the Rani of Jhansi to Kali, the Hindu goddess of Liberation and Power. Burman's artwork contains much family portraiture. Her mother and father feature in works depicting memories of her childhood in Liverpool and working together in their ice-cream van," Clarrie Wallis tells me.
"I started early March and completed the process end of October 2020. "I had no restraints, and it is just as I envisioned it!" Chila Kumari Singh Burman tells me.
And it's a gloriously uplifting work.
Born in Liverpool, Chila Kumari Singh Burman describes herself as a 'Punjabi Liverpudlian' who likes to combine her Indian roots with popular culture. Chila describes her art as fun, playful, cheeky magical journeys that are both happy and delightful. Collages are Chila's favourite medium; she uses them to open up possibilities, create images, turn them into prints, adds metallic acrylic paint, fluorescent poster paints, felt tip pens, glitter, and crayons, spray paint, and pastels.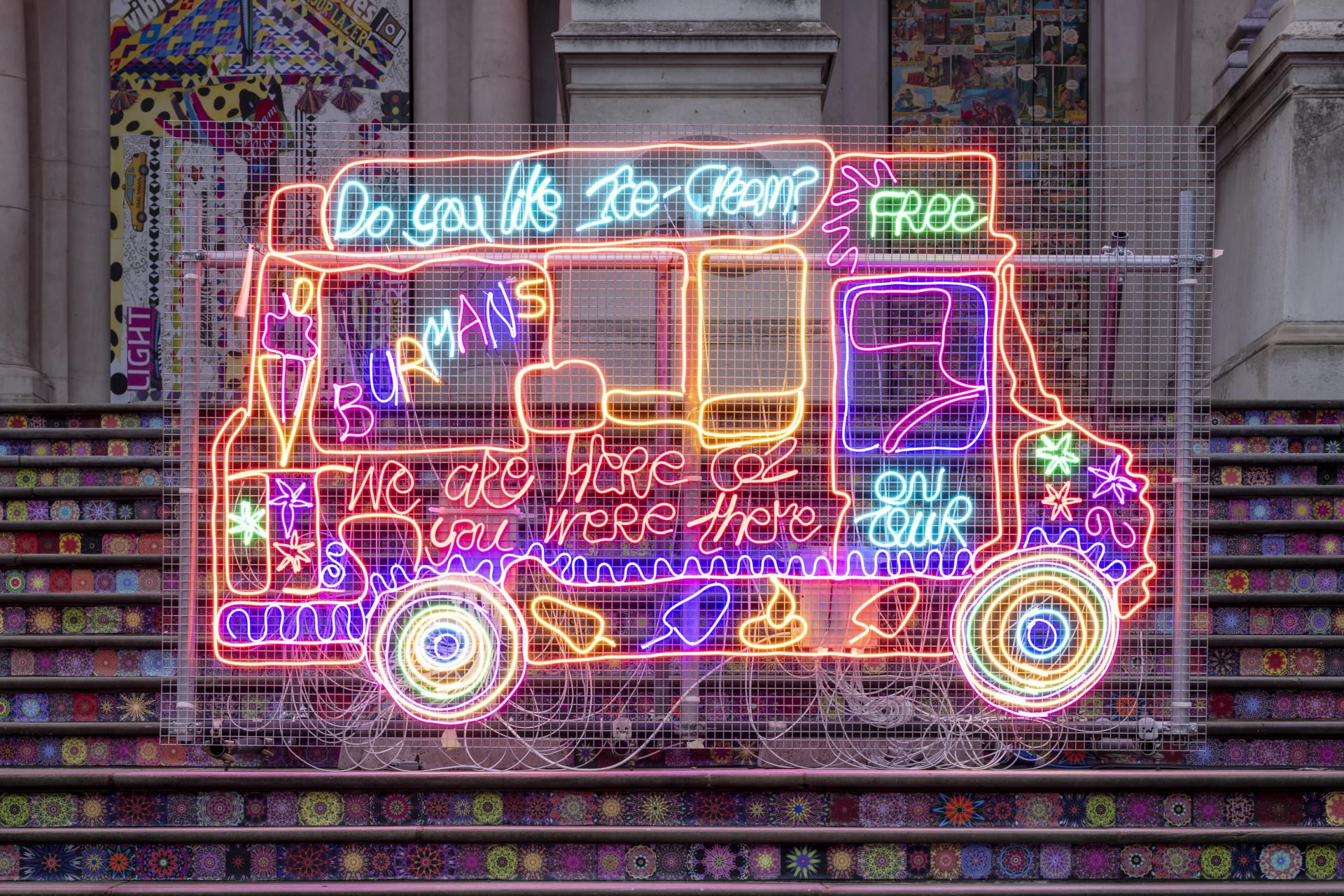 A confessed Magpie, she collects shiny things. Her East London studio is a testament to this; it's brimful with her treasures. "I collect as much as I can fit into my studio from sweet wrappers to kids toys, fabrics, Indian body stickers, Bindis, Hindu calendars, shoes, sketchbooks, fake jewellery, glass, as well as dresses from charity shops, art frames, hats, mannequins, and vinyl records!" In addition to her many paints, drawing pens, and crayons.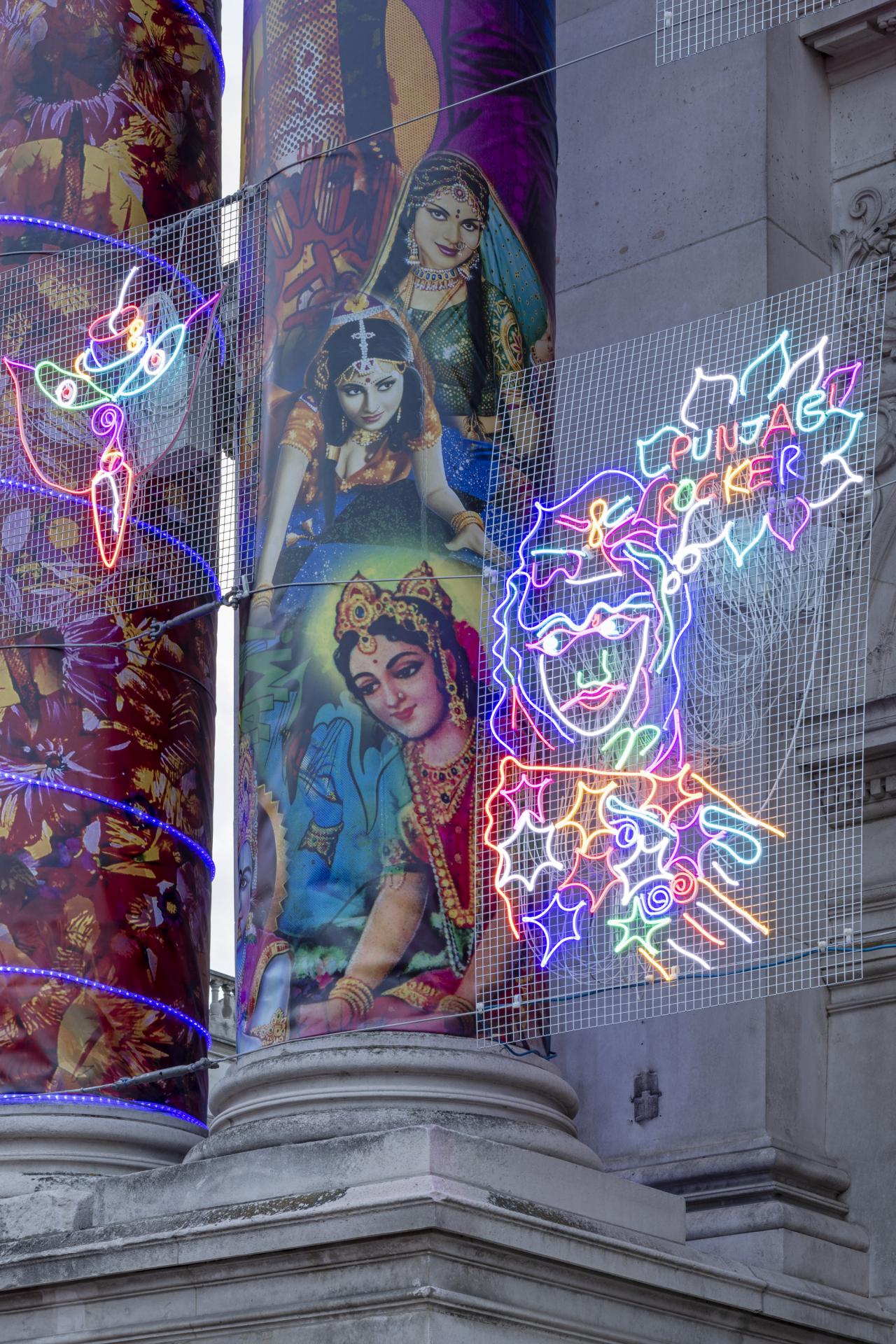 On her influences, Chila tells me, "My culture is inherent in me. I visit my family in India regularly; it's my motherland, and India and Liverpool are my roots."
Of her studio, she says, "I need a tidy, cluttered, but organised bright, warm, soulful, and textural studio. My bedroom is full of magazines, Pritt sticks, oil pastels, scissors, and sketchbooks." Of her work, she says, "its messy, eclectic, ordered chaos, at the same time its fun, playful, feminist, challenging, focused, zen, high art meets popular culture ..and so much more!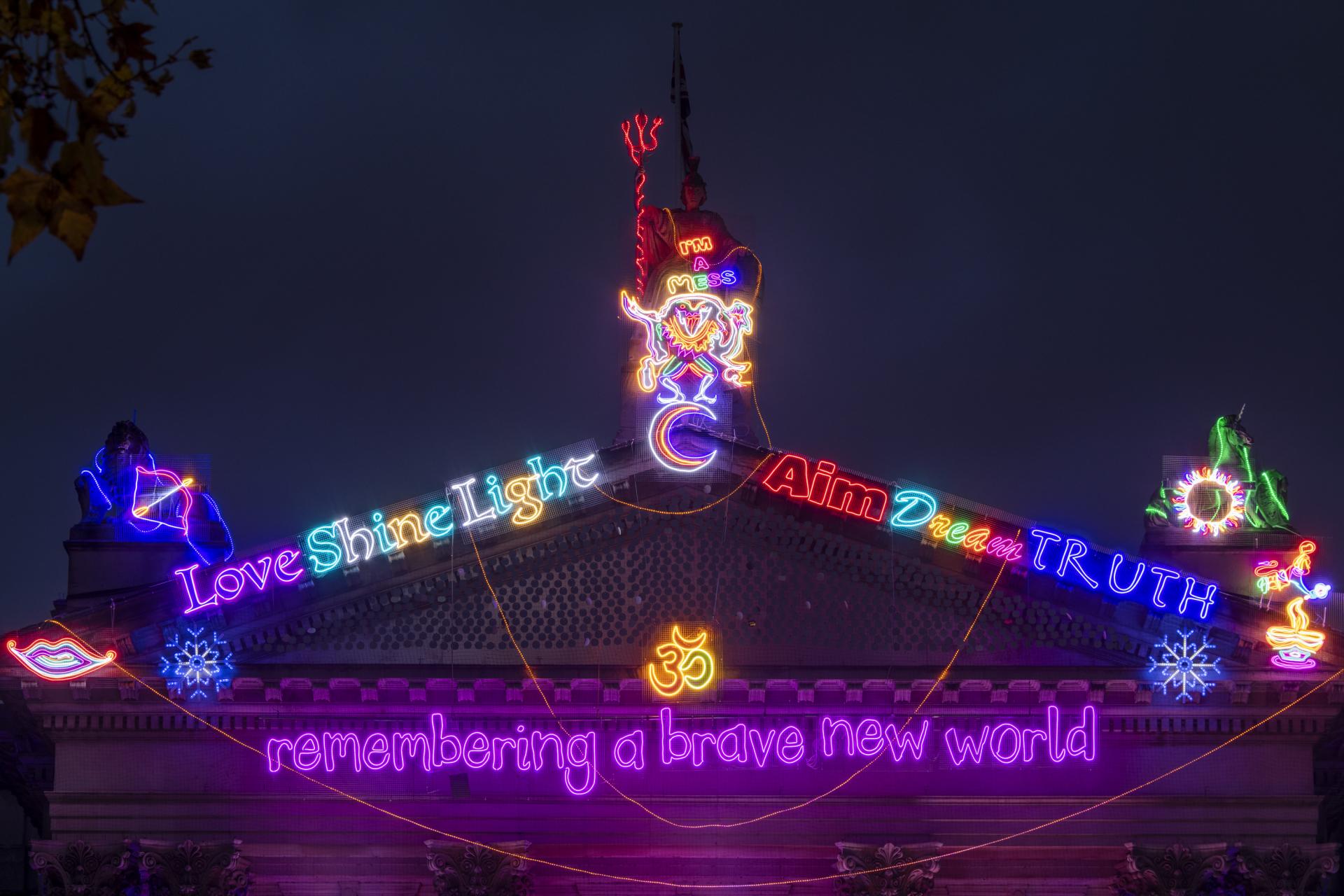 "I work from life's experiences, from everything inside me and around me, my late mum and dad, walking, daydreaming, thinking, swimming, travel, storytelling, watching movies Bollywood and Hollywood, my childhood memories, my exuberant Punjabi culture, school, politics, food, music, cars, meditation, films, colour, girlfriends, acupuncture, nature, chocolate, sleep, charity shops, books, toys, galleries, clouds, museums, ice cream vans, glitter, paint, and self-portraiture.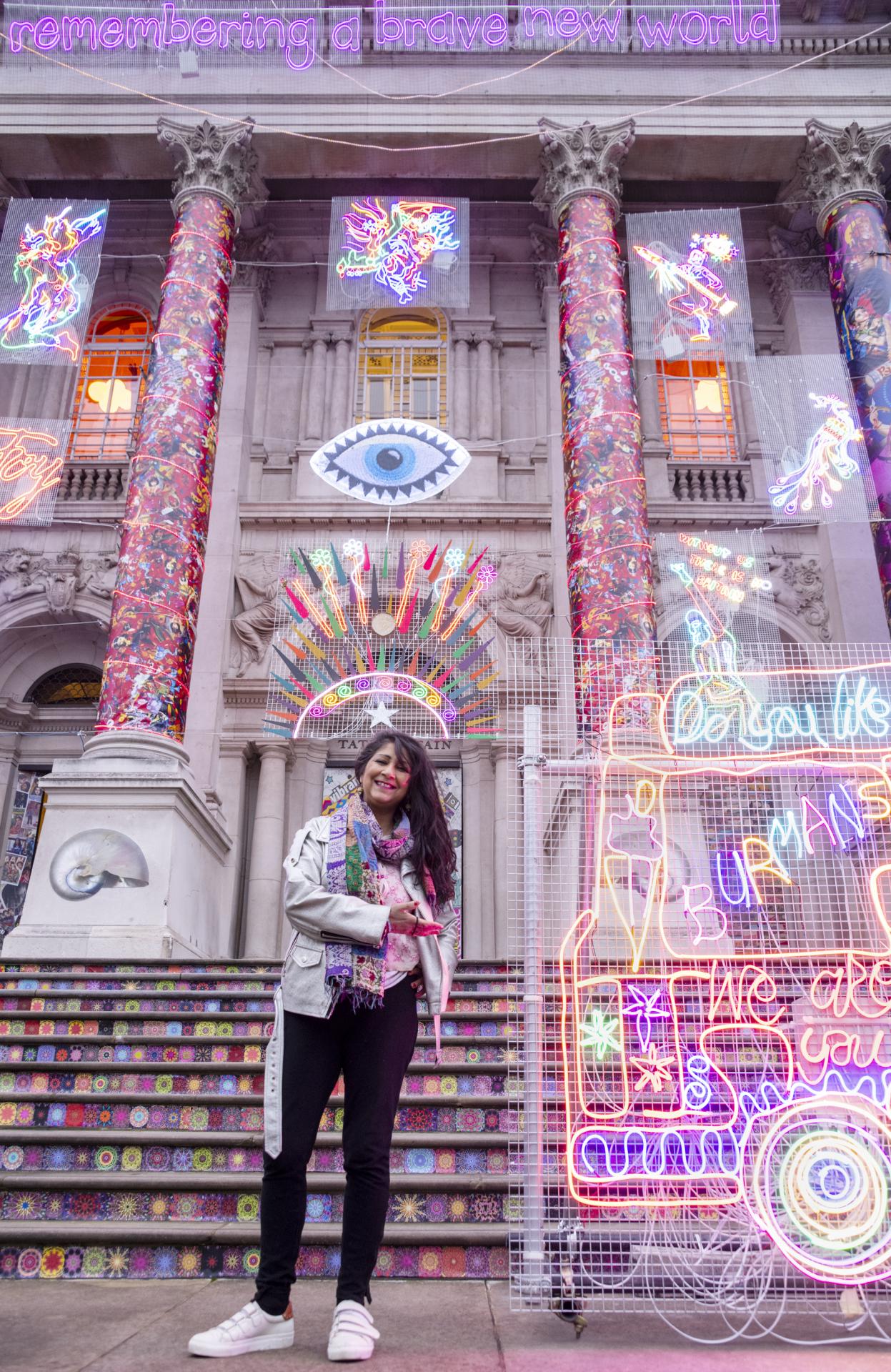 "I start drawing on my A4 sketchbooks with HB pencils, felt tip brush pens, glitter gold leaf, Pritt sticks, glue, scissors rhinestones, watercolor, and my IPad. I then transfer these ideas into large prints, etchings, collage works, photo works, paintings, mixed media works, huge sculpture, installations, and film and video."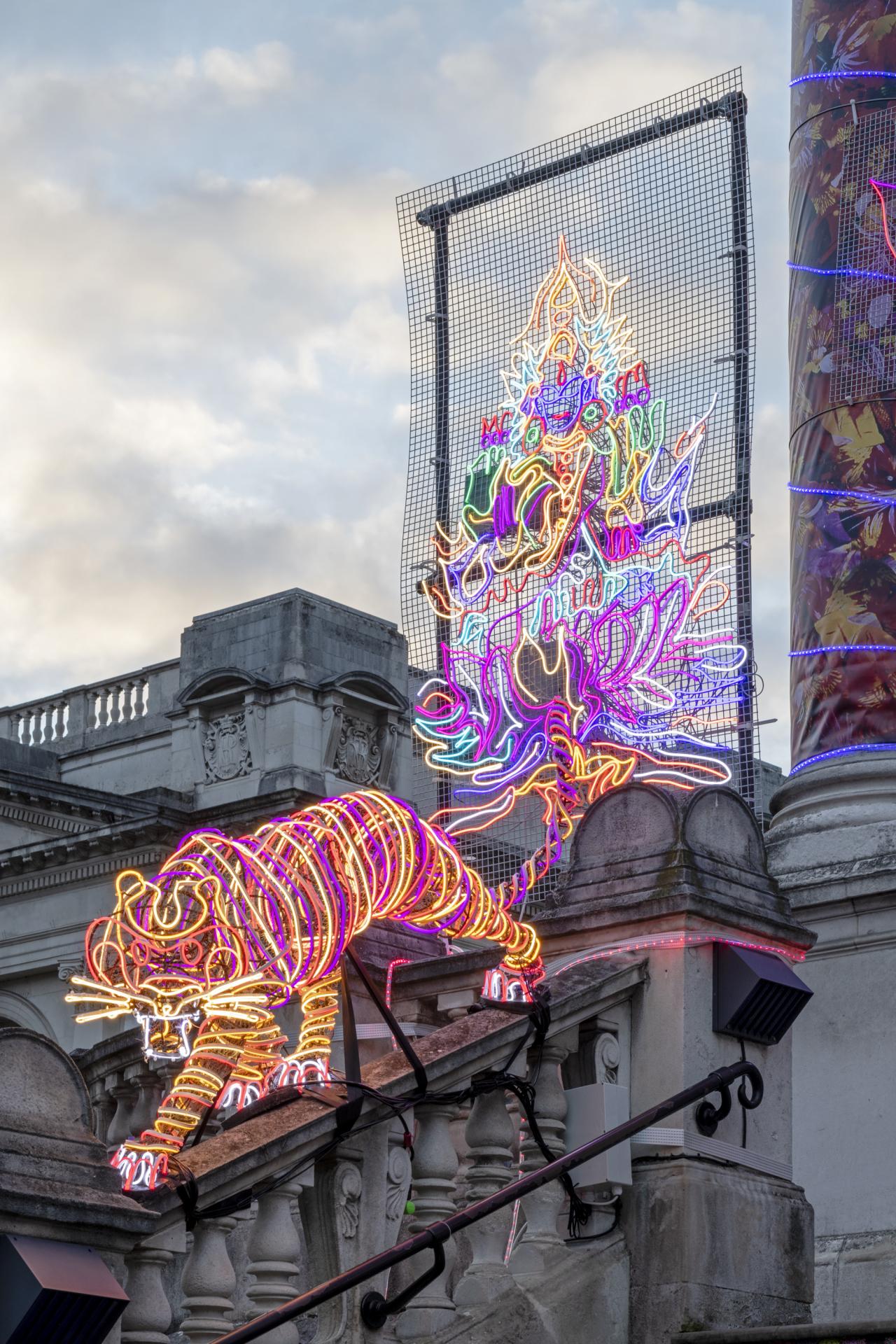 Chila's artworks are bold and vibrant; it's only up close you see the issues she addresses, women's empowerment and politics, workers' rights, and protest against nuclear weapons.
Chila also makes short films, Dada and The Punjabi Princess, featuring Punjabi dancers; the images are made similar to those seen through a kaleidoscope. Her self-portrait, Auto Portrait, took 12 years to make; it comprises 28 smaller portraits, while another called Tall Fly Girl has thousands of hand-painted images of her face. "Eat Me Now' is giant glittery ice cream with a chocolate flake on top is one of her most well-known pieces.
Her father was a tailor and magician at home in India; he emigrated to Merseyside in the '50s, and unable to find work bought an ice-cream van called Burman's, installing a big tiger on top.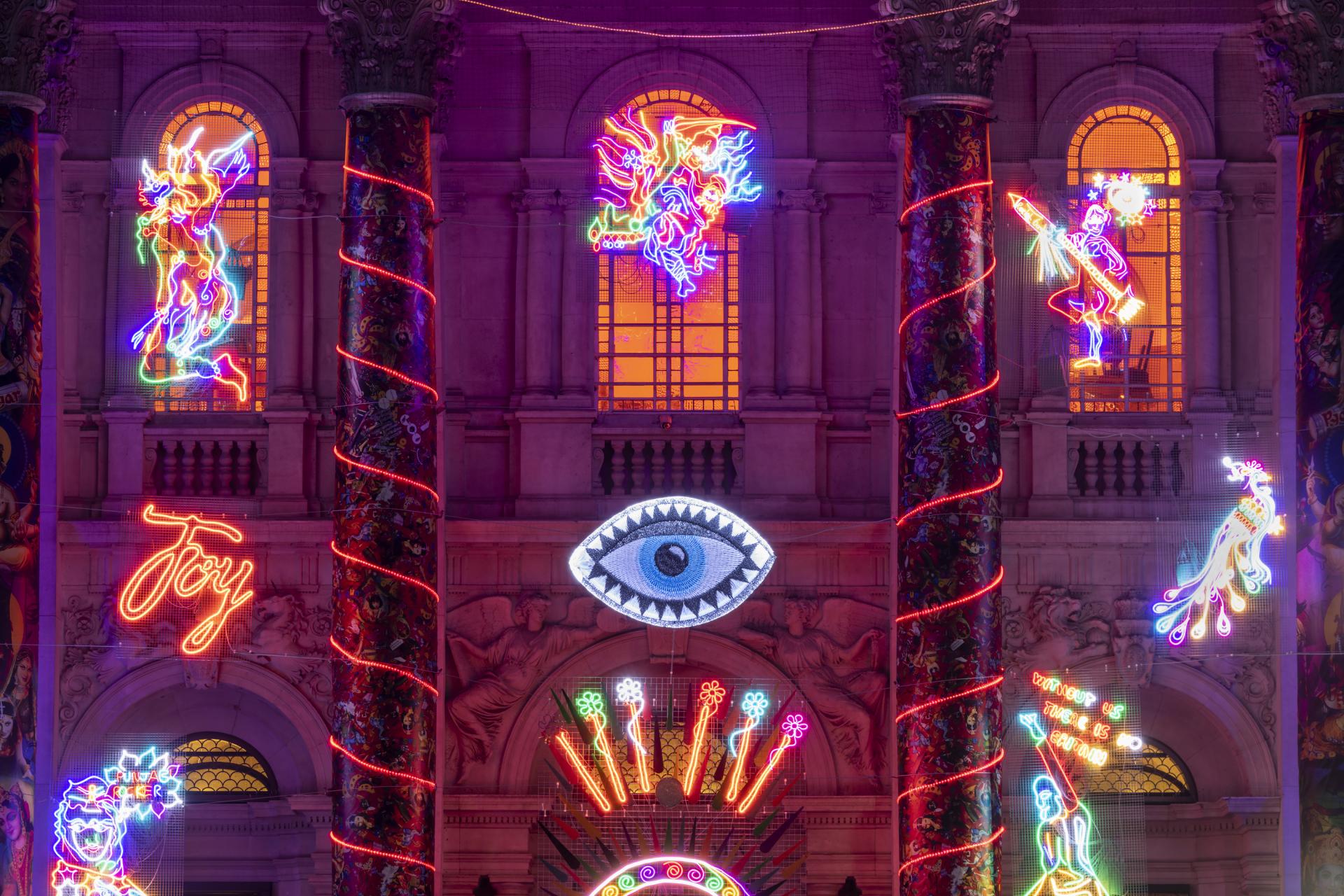 Chila has also decorated a tuk-tuk embellishing it with Nepalese's wrapping paper, gems from Sri Lanka, fairy lights, Indian stickers, and giant plastic eyelashes.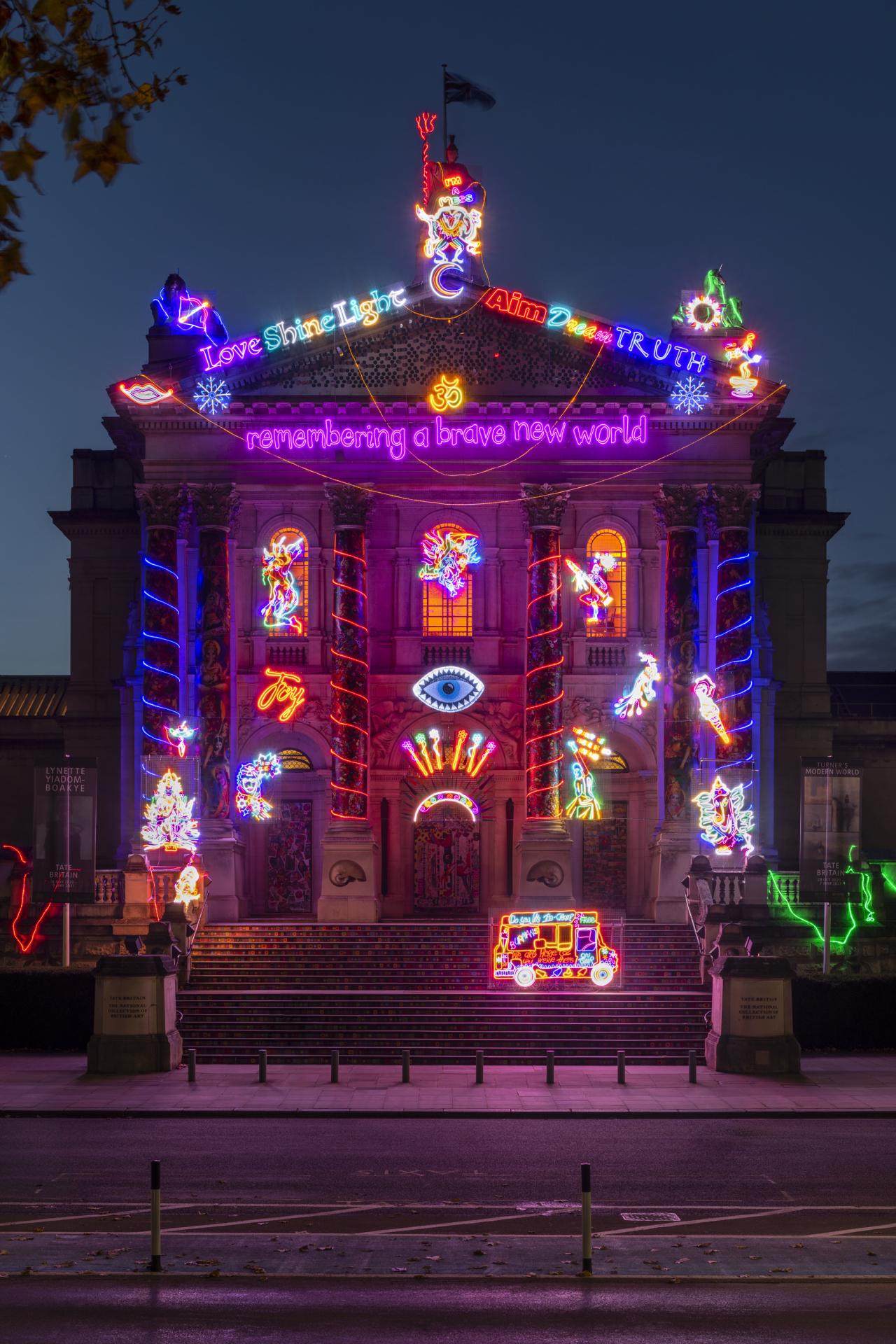 Surprisingly not all of Chila's work uses bright colours; her etchings are traditionally black and white. Chila tells me, "I studied and specialised in traditional etching and lithography on my BA and MA. I'm a natural printmaker/etcher and in love with the medium. I like the smell of etching studios, and black etching ink, etching acid, aquatint, and beautiful etching paper. I see Color in black and white." Chila experiments with her etchings, adding layers and screen printing over them, so there are many different textures within one artwork.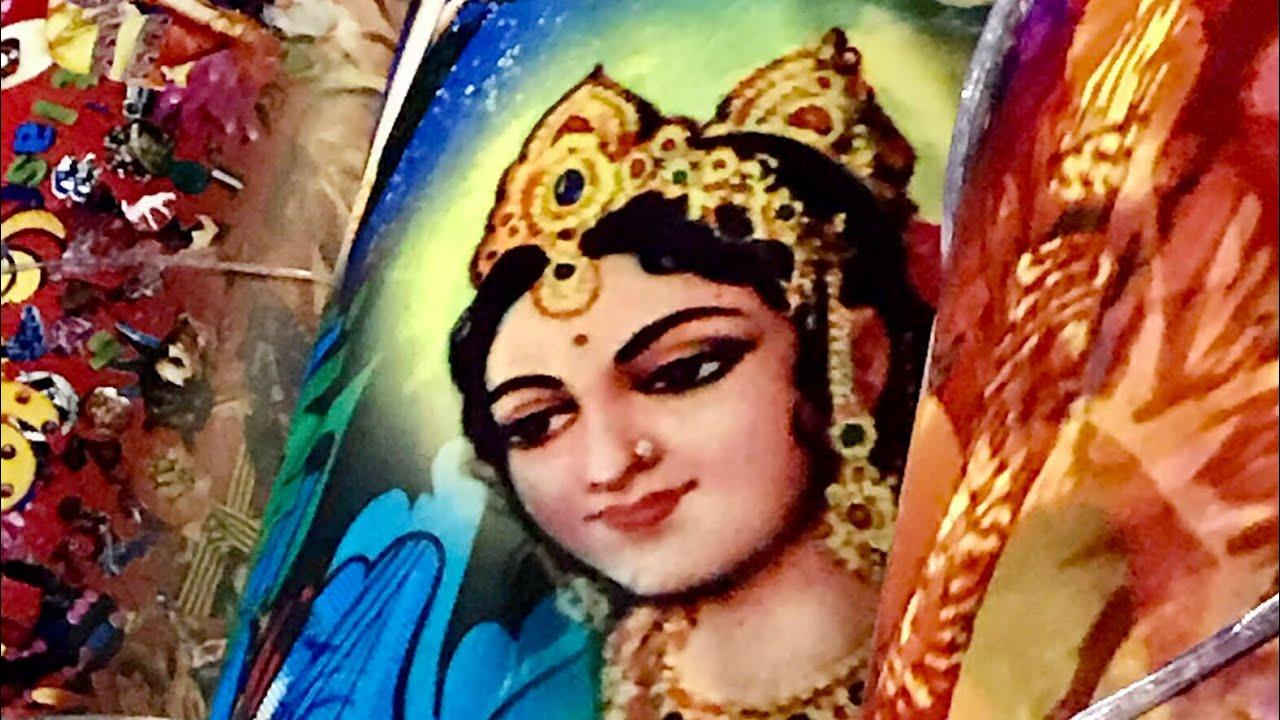 In 2017 Chila was awarded an Honorary Doctorate for her work, but she doesn't consider it 'work.' She draws everywhere, on the bus, on trains, in waiting rooms. Chila keeps a sketchbook by her bed and draws most nights with a big pencil. Chila feels an urge to draw and paint anywhere that she says -doesn't wobble too much, and loves being an artist.
All images are © Tate (Joe Humphrys).
Dr. Chila Kumari Singh Burman https://www.chila-kumari-burman.co.uk/index2.htm
Tate Britain https://www.tate.org.uk/visit/tate-britain
***
Anji Connell is an interior architect, garden designer and self-proclaimed nomad who regularly writes about art, design, lifestyle and travel from her globe-trotting adventures. Known for her bubbly persona and even more exuberant sense of style, Anji's portfolio spans everything from interior styling to furniture and landscape design for some of the world's most beautiful spaces. For now, you will find her
@anjiconnell_acidplus
and
anjiconnellinteriordesign.com
bingeing on future travel plans from her designer chair.