The Rose Hotel is about the details, bold colours, quirky chic, a welcoming charm, and vintage decor, set in a picturesque seaside town, an authentic slice of the British seaside.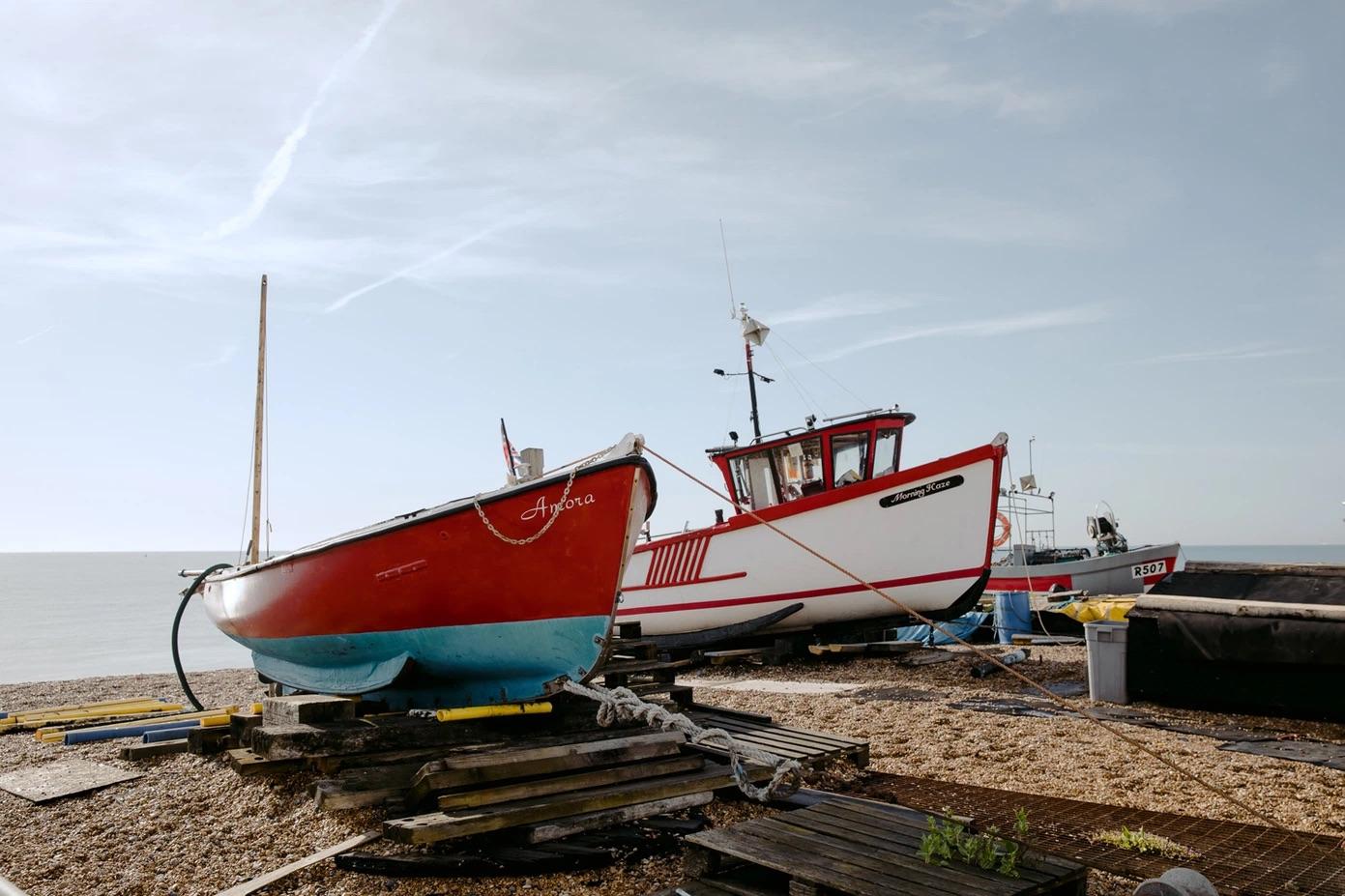 Located in the middle of the charming seaside town of Deal with its winding lanes and colourful fisherman cottages, the sea is only two minutes away.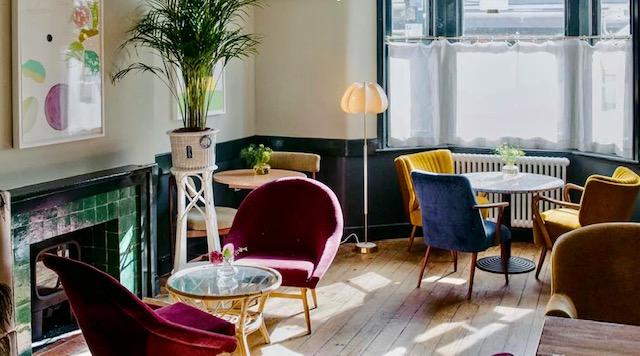 The Rose was previously one of the town's main traditional pubs, dating back to the 1800s, is now a restaurant with rooms, a hotel, a bar, and a restaurant; it fits the bill on all accounts, which means you don't have to stay there to visit, although you'd be missing out. And, you don't even need to read a write up on this rather fabulous place - just take a quick look at a couple of the many glowing accolades from all the best of our go-to travel reviewers, including Conde Nast, Elle Decor, and "Wallpaper*Magazine."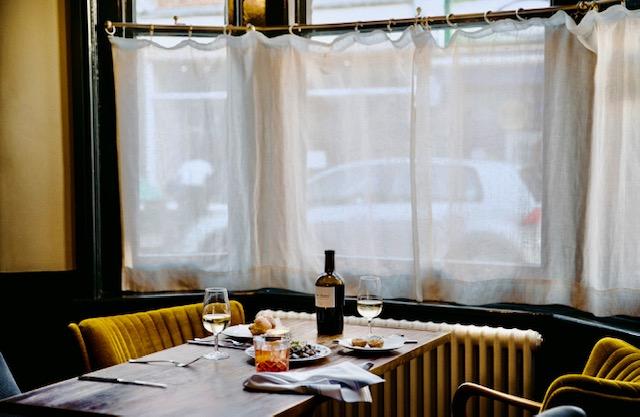 However, just a few years ago, the Rose was struggling. "It was an old-fashioned high street boozer. The upstairs was a series of very run down bed-sits," says co-owner Alex Bagner, the former design editor of Wallpaper* magazine. [Hence the stylish vibes.] And perhaps fate played a part here as her partner Christopher Hicks, a former banker, is the great-grandson of the brewers who had once owned the pub. "The hotel was a dream for us. Chris and I had been talking about doing something like this in the area for years. We had our eye on few properties previous to The Rose that fell through," Alex tells me.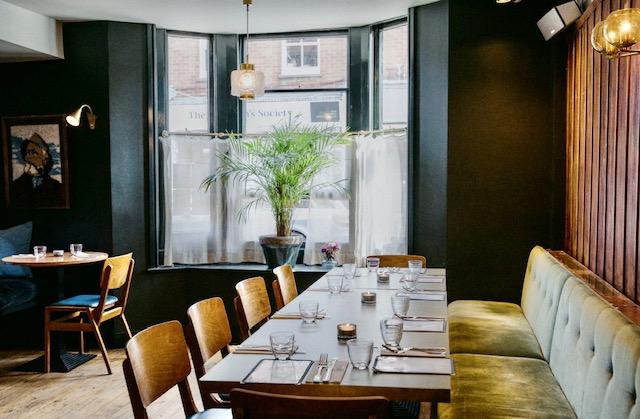 The building was very run down and needed to be gutted. It was time to call on talented friends to help them create the warm, fun, eclectic hotel they envisioned. Some of their close creative contacts included London-based interior designers Harding and Read stylist Michelle Kelly, and architects MAD Atelier. A sympathetic renovation has not dimmed the building's character, and The Rose has blossomed once more, this time into a quirky chic seaside hotel curated in a studied carelessness and choreographed in a riot of jewel tones and patterns.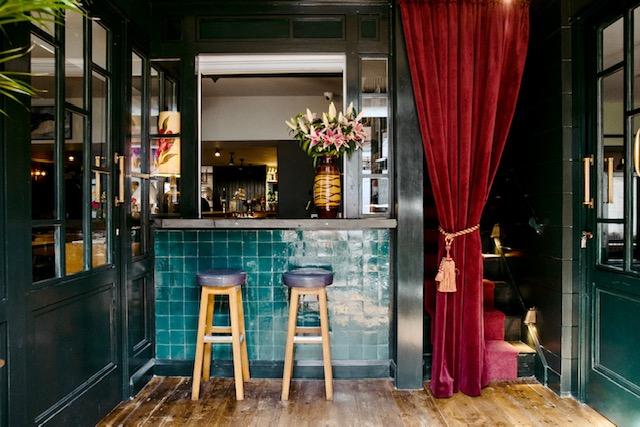 The lounge is splashed in plum, blue, and mustard with high-backed sofas covered in leafy motifs, and antique rugs sit on the original time-worn wooden floor. There's a wood-burning stove that's perfect for cold, blustery seaside days. An open circular bar and the dining room, with the original 1950's panelling, overlooks the open kitchen. The art comes from the Carl Freedman Gallery's Counter Editions in nearby Margate.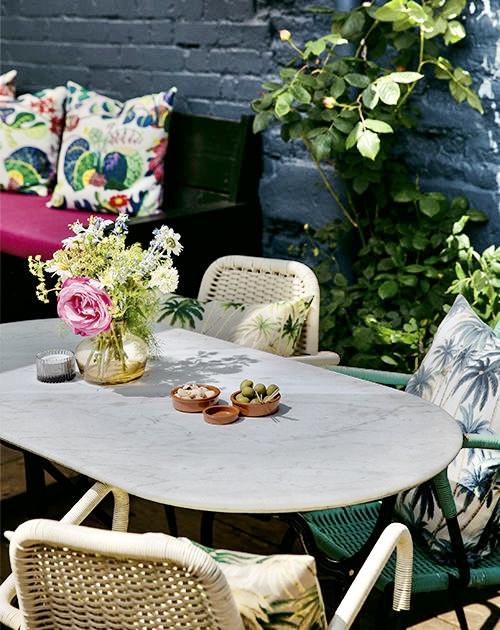 All eight rooms, including three suites, are individually designed, in a quirky, characterful style, with vintage touches and mid-century furniture. Delightfully curated with a studied carelessness and choreographed in a riot of colour, restoring the building's character with cinnamon headboards. The bathrooms are stylishly chic with pink, yellow and mint green fittings, vintage roll-top bathtubs and pedestal sinks. Soaps at The Rose are all from English company Austin Austin.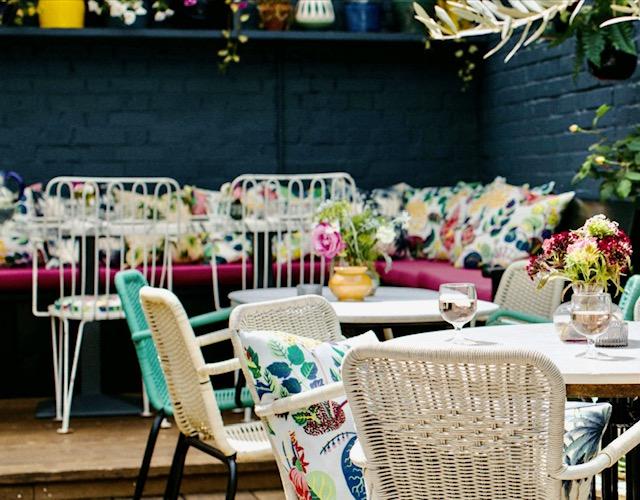 Room One is rich in colour and lush velvets.
Room Seven is a cosy corner suite with a superb vintage bathroom filled with plants and streaming sunshine.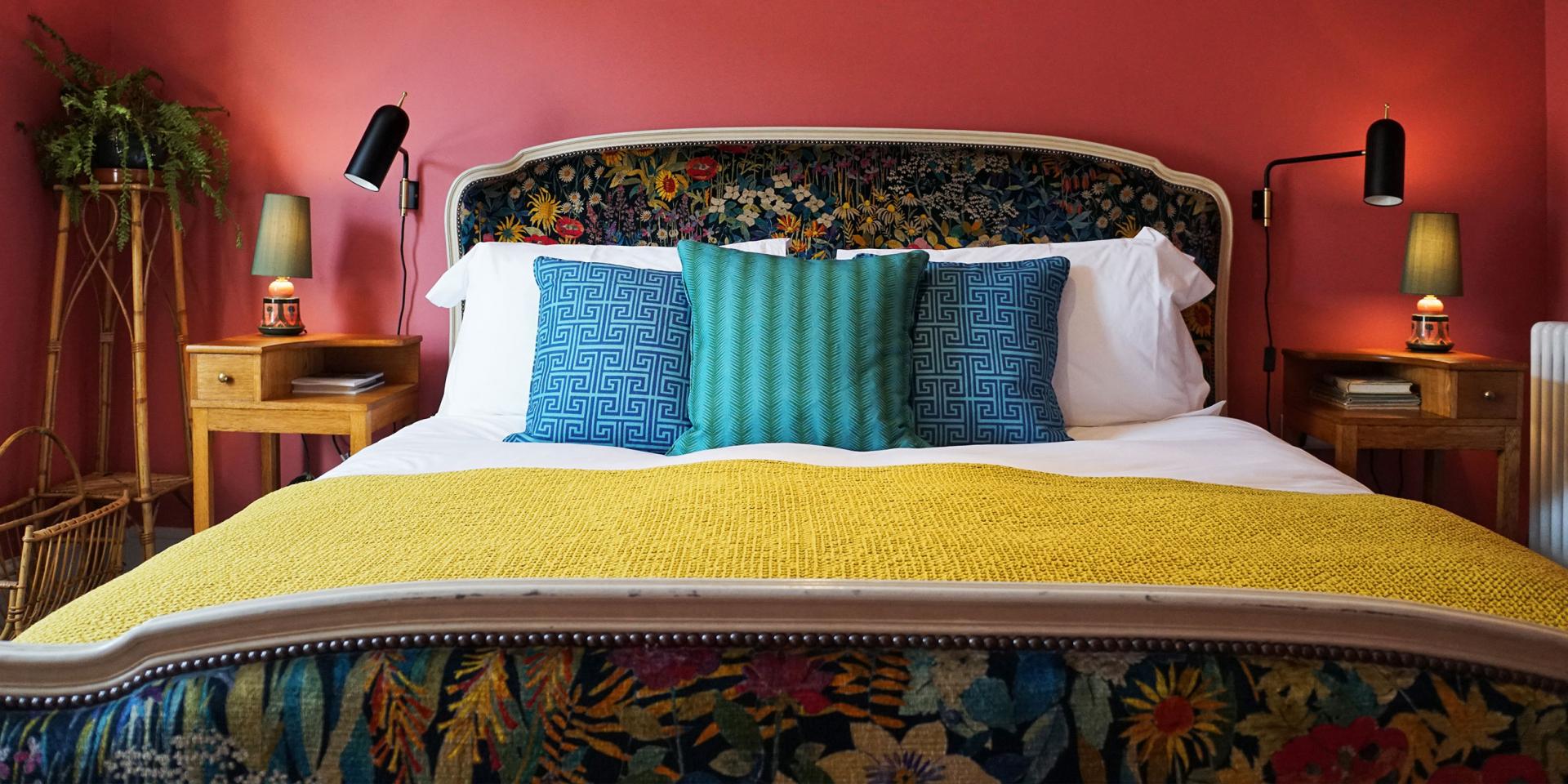 Room 9, my fave, is the smallest but perfectly formed in bright yellow and pink.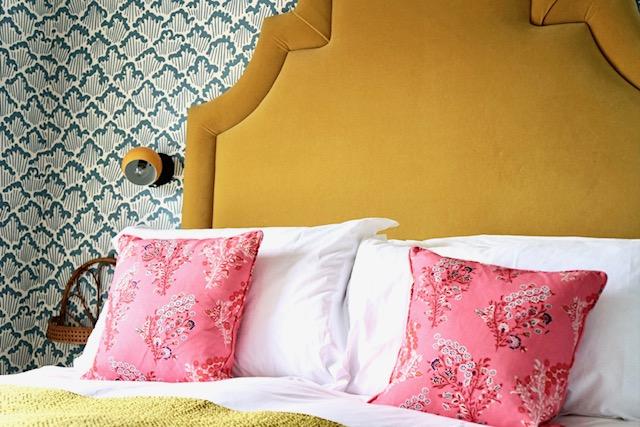 Complimentary tea and biscuits station with fresh milk, water, and whiskey for a nightly tipple are conveniently placed outside the rooms is a nice touch. Even better is a delivery of the issue of Wallpaper* Magazine delivered to your room at 3 pm to peruse with your cuppa.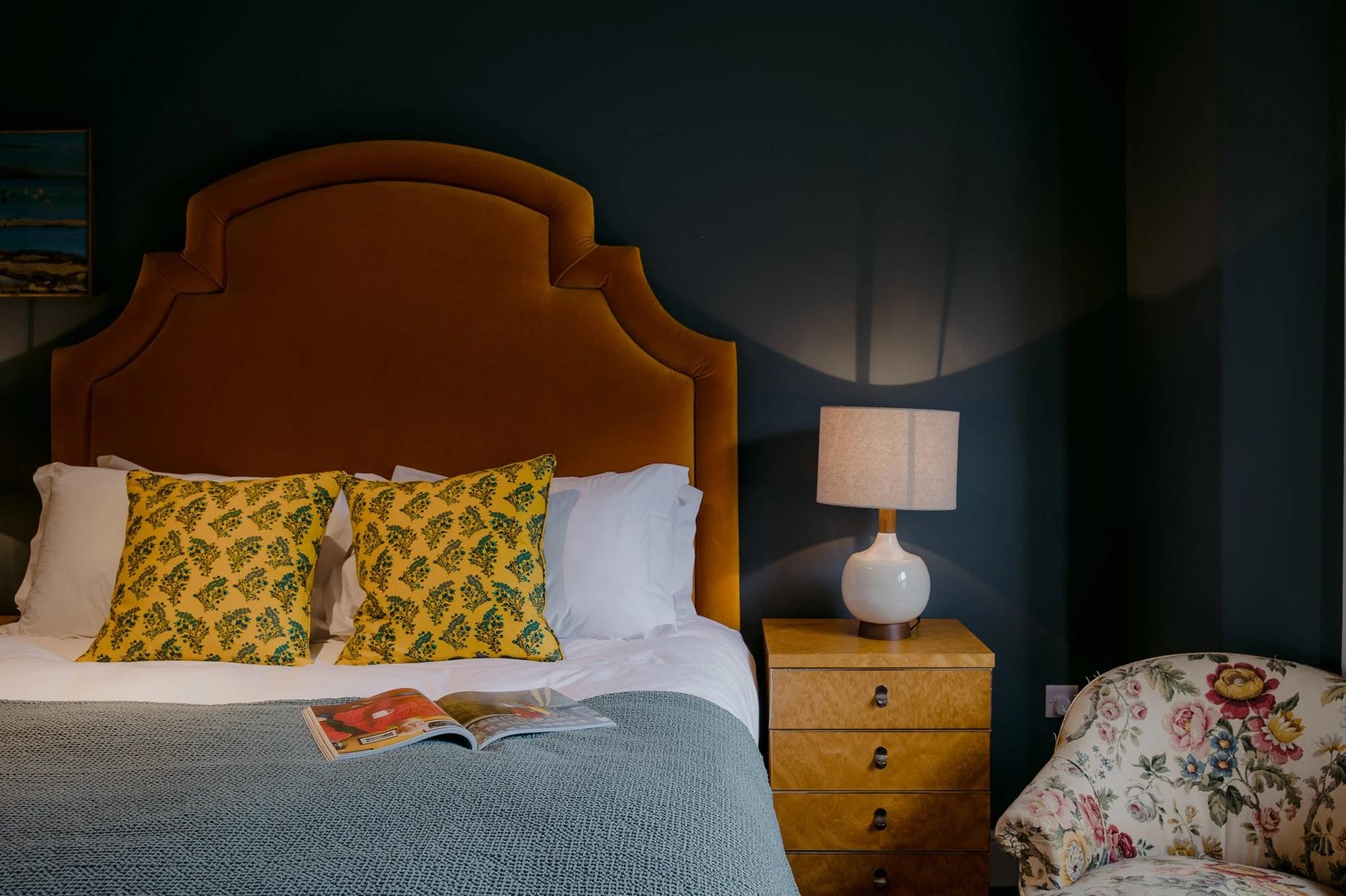 Record players, stacks of vinyl, and books are a fun discovery in the rooms.
But the piece de resistance has to be the charming outdoor terrace.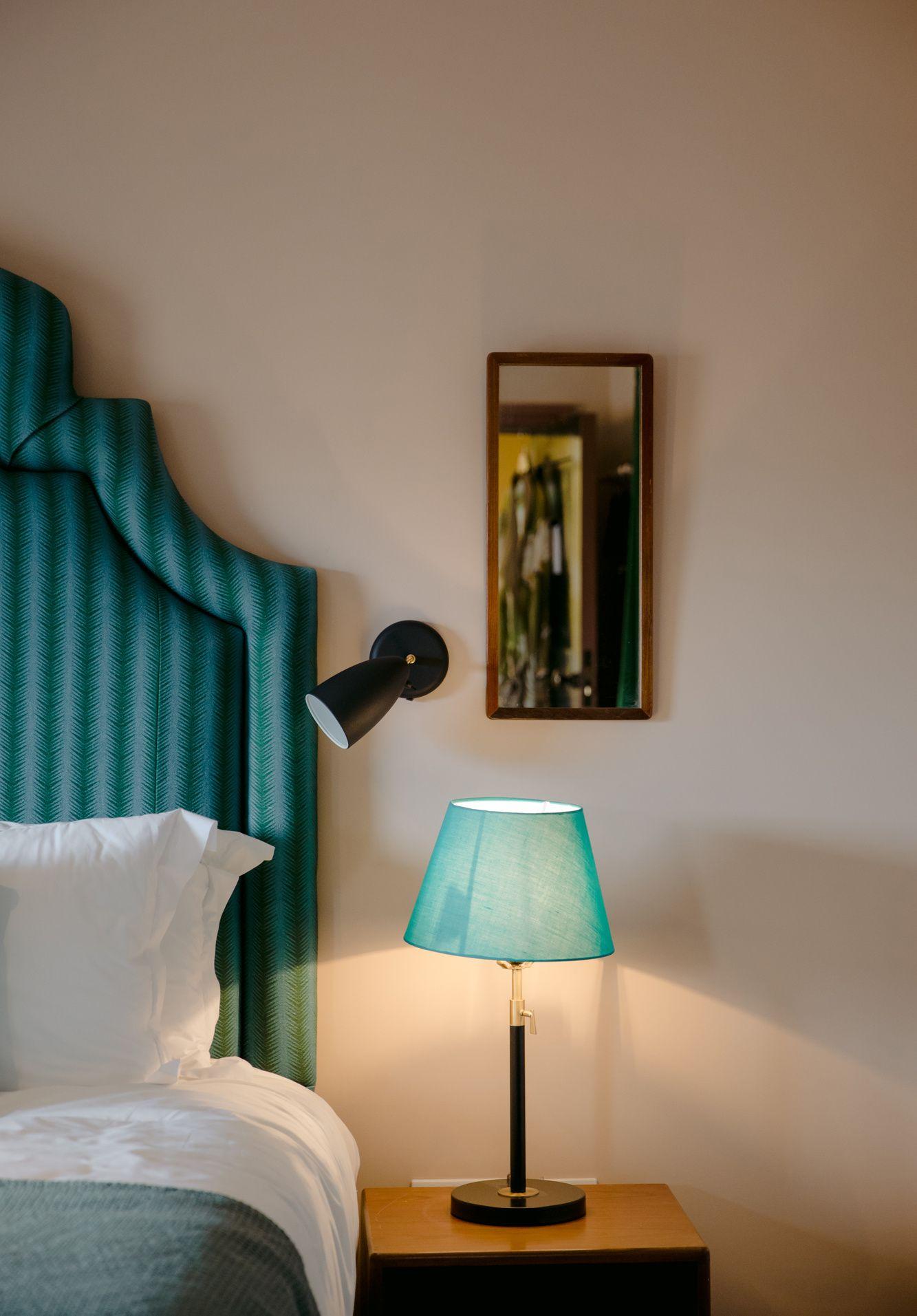 Weather permitting its a gorgeously inviting spot at any time of the day. For breakfast, lunch, snacks, drinks, cocktails, lazy weekend brunches, and the Rose cocktails are all divinely decadent. It's the loveliest place to meet up with friends.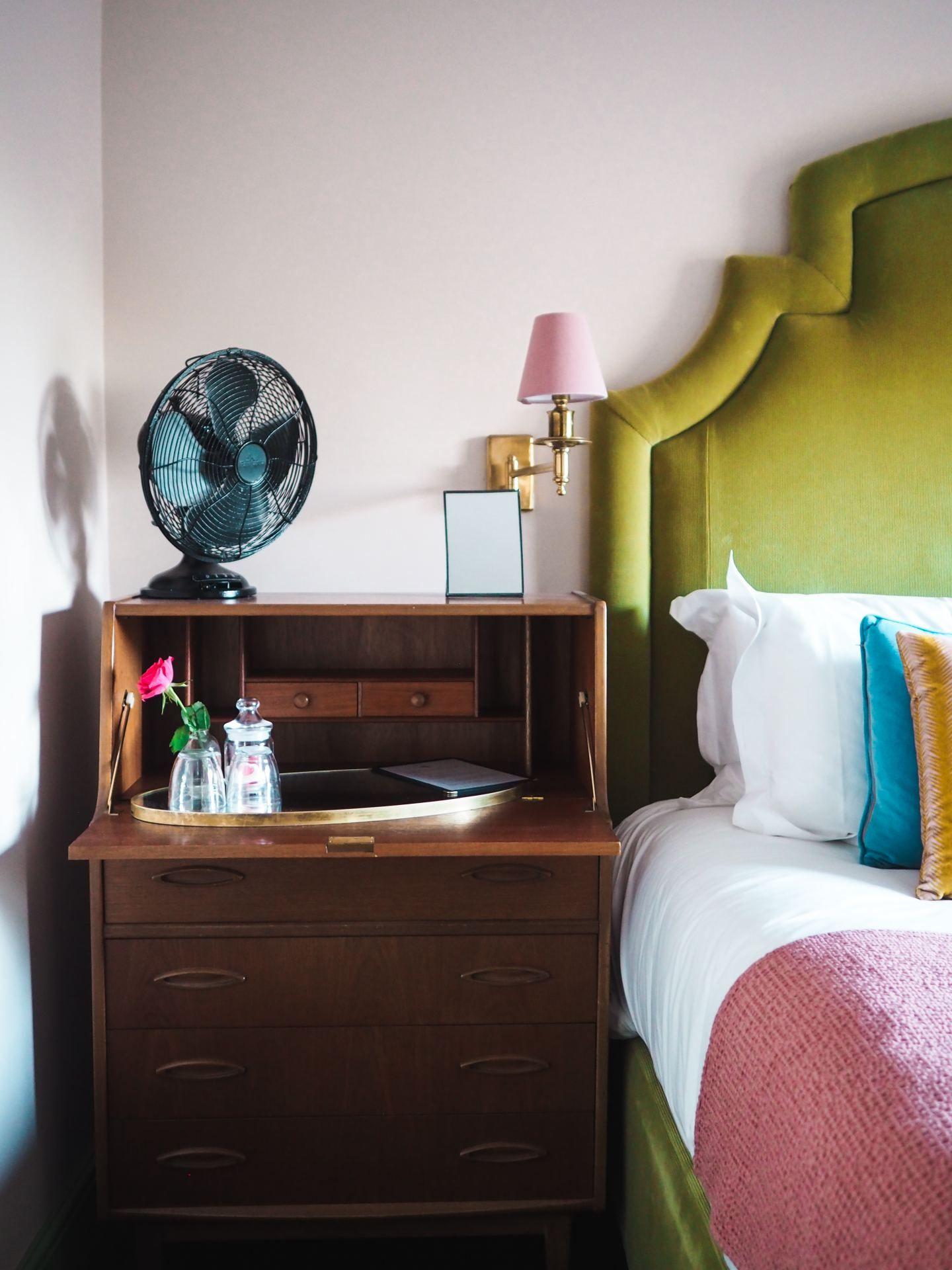 Cocktails get an extra zing with local herbs and fruits foraged by Lucia Stewart, the Wild Kitchen founder, who specialises in cooking with British plants & seaweed that grow locally in the wild. [Lucia also run gourmet foraging adventures].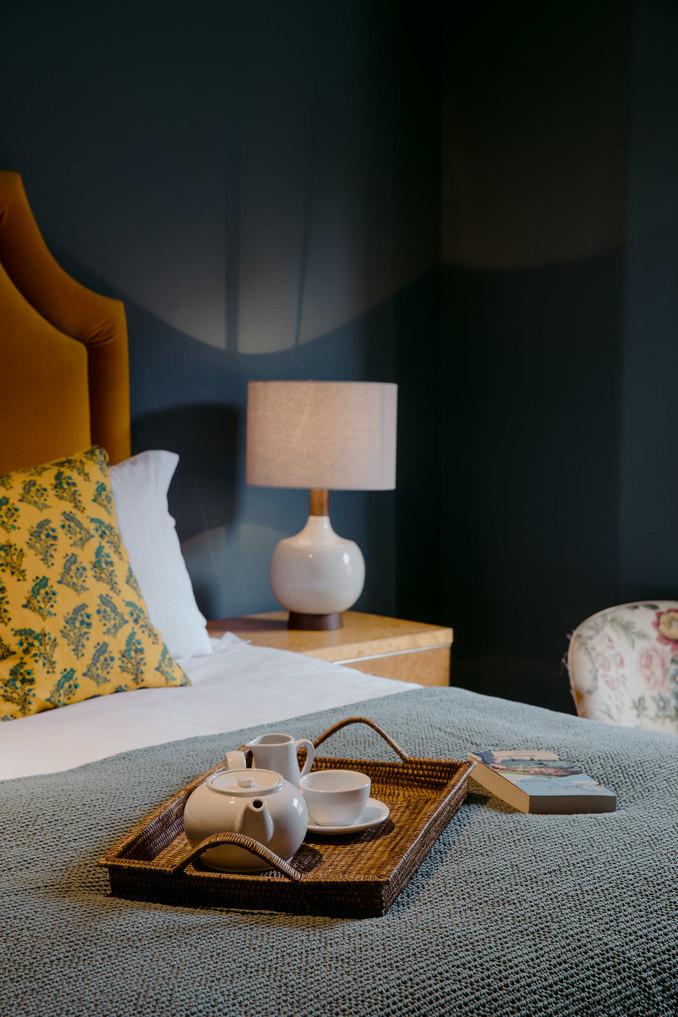 Excitingly, Nuno Mendes has recently joined the team. Mendes is currently executive chef at London's celeb hangout the Chiltern Firehouse and creative director at Bairro Alto Hotel, Lisbon. Nuno has worked with the world's leading chefs, including the legendary Ferran Adrià at El Bulli. Since coming to London in 2006, he has opened several of his own innovative and celebrated restaurants, including his pioneering Viajiante. He has just launched the Autumn menu with the Rose head chef Luke Green.
The menu is mouthwatering; you will want everything on it!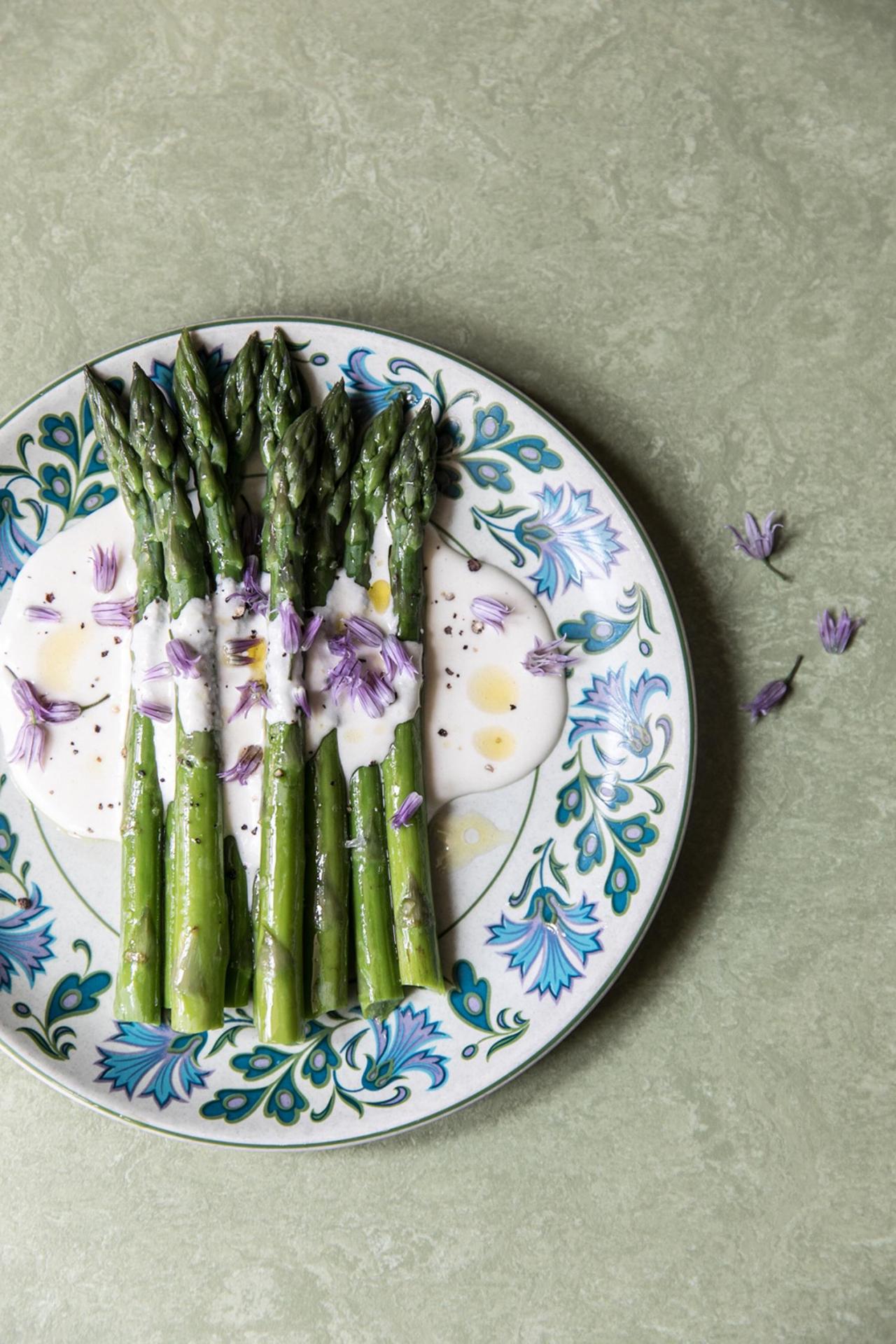 The Autumn dishes are made from authentic and local produce, the finest wild and foraged produce from the local coast, forests, and shores. New on the menu, a Seashore G&T, with seaweed and sea pulsate (sea coral) infused gin, Fever-Tree tonic, and fresh lemon. Another sea bounty treat is the Sea Buckthorn & Mezcal Margarita, a mix of sea buckthorn, mezcal, lime, and bitters. Starter choices include a lobster doughnut [a Mendes signature] and a smoked tartare of aged beef, cavalo nero and chives. Mains include roasted crown prince pumpkin, with sea purslane and hazelnuts, local squid, butter-poached salsify, and purple kale, and roast breast and confit leg of duck, with smoked Beetroot. Deserts include Fig leaf ice cream, crab apple granita, cobnuts, and Beetroot & apple tart, with apple brandy cream.
Deal is becoming an arty bolthole on the Kent coast with its quaint seaside vibe, cute boutiques (like Hoxton Store), art galleries, antique and retro homeware stores, and a whole host of coffee shops and eateries.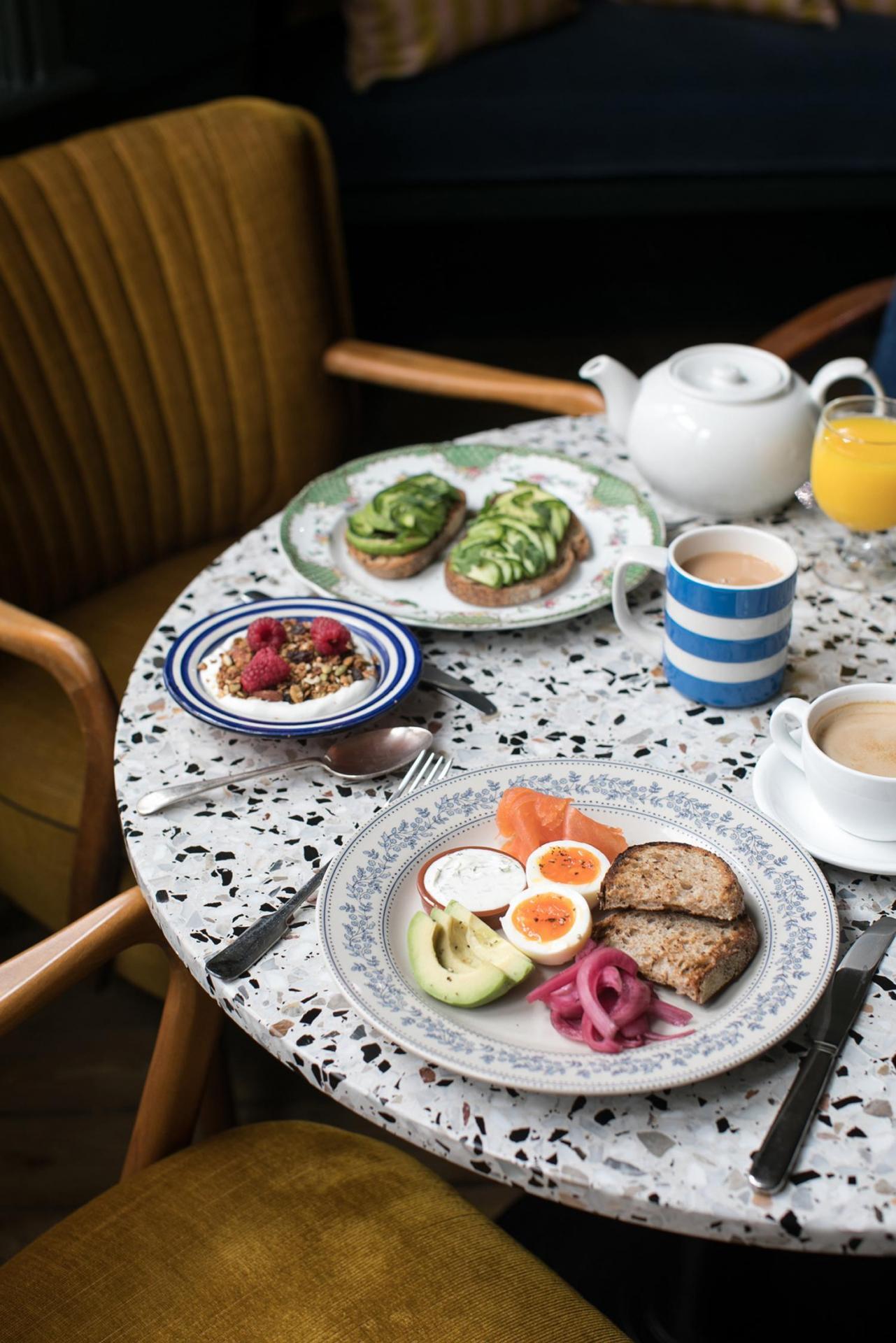 Middle Street is the most picturesque road of sherbet coloured fisherman cottages, and then there's the lovely seafront, with its pebble beach and cool brutalist concrete pier.
For a wonderful bit of nostalgia, head to the 1950s Deal Beach Parlour on the Pier for an ice-cream and a cuppa.
There's a Saturday antique market in Union Street Car Park, where you'll find retro seaside posters and vintage glasses, and curiosities.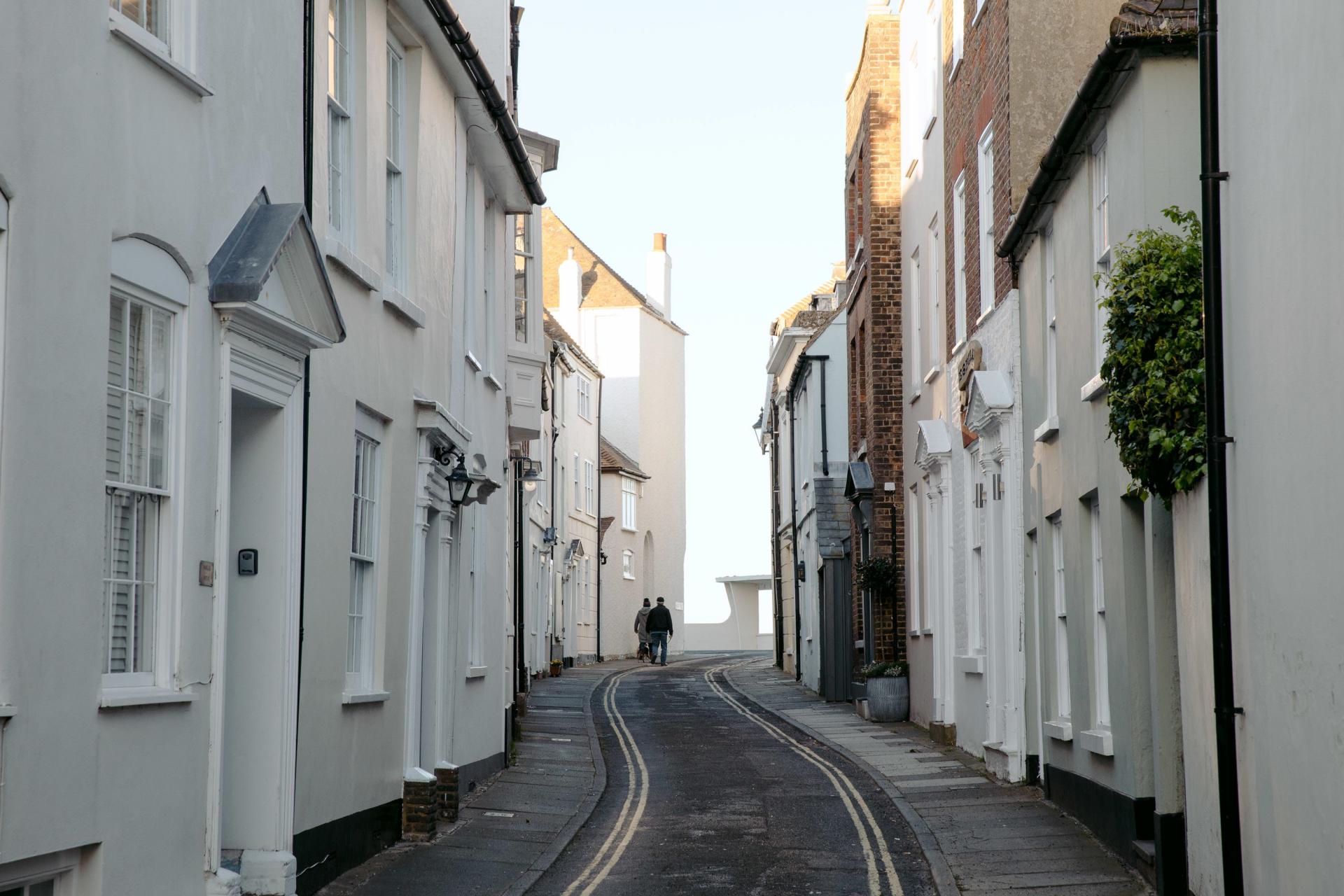 If you can steal yourself away from the Rose, there is much to do.
Take a walk along the White Cliffs, or borrow a vintage bike and explore the coast. Take in a bit of culture and visit The Turner Contemporary or a castle; Deal Castle is a 10-minute walk, and Walmer Castle & Garden, a 20-minute walk away.
The Turner and Carl Freedman's Counter Editions, the gallery that supplied Rose's artwork, are only thirty minutes' drive away at Margate.
Sandwich, once home to the Earl who inspired the eponymous snack, is a lovely two-hour coastal walk.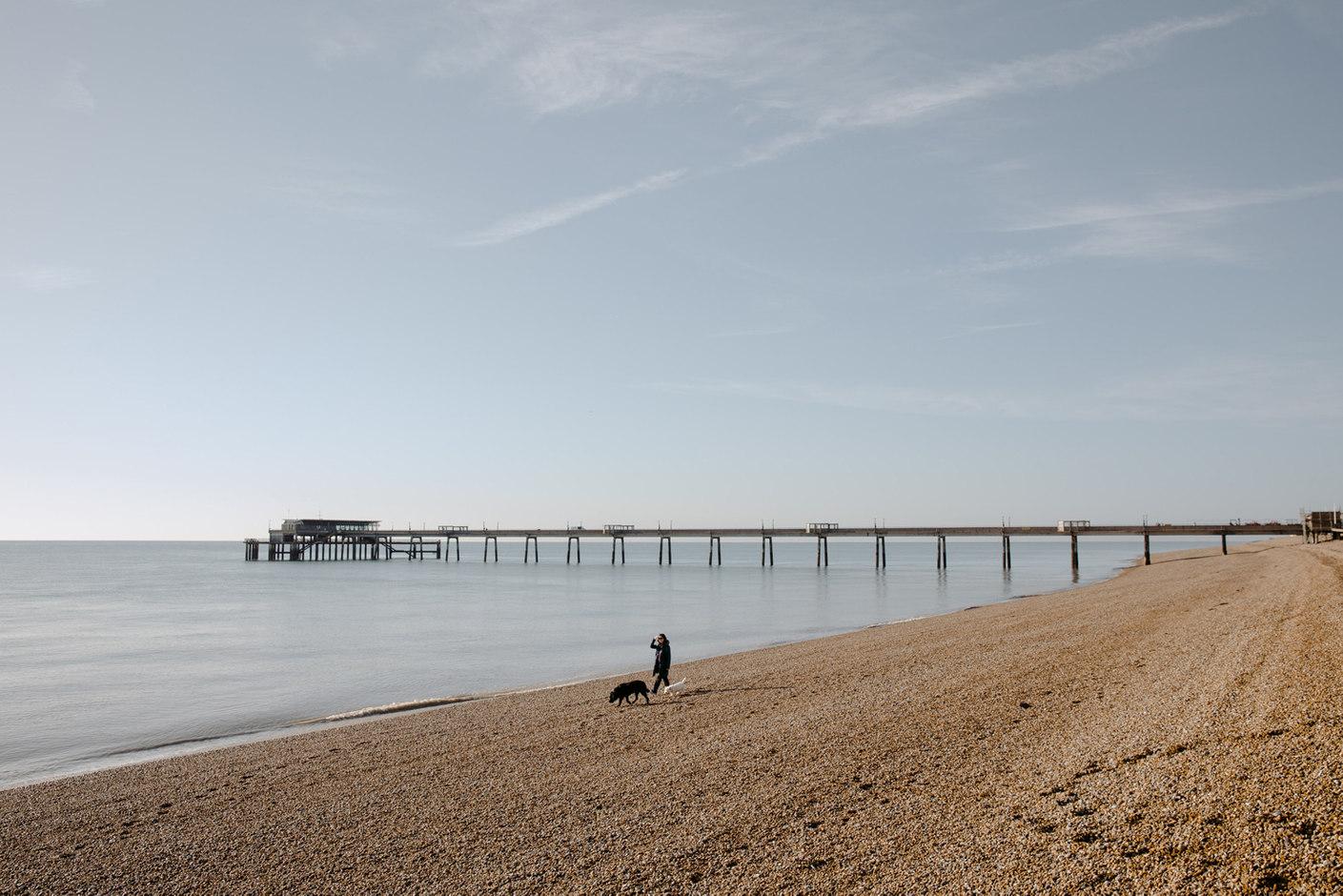 The dream now a successful reality, Alex tells me, "I love that it's always evolving, with new people coming on board and fresh ideas coming into play. We have a huge variety of guests, which I love. It's popular with couples as a romantic getaway, but equally, we have lots of people coming on their own for a few days. We're dog friendly, which attracts dog owners, and we have lots of groups of friends or colleagues coming for a seaside break. The restaurant and bar are popular with locals and draw people from across East Kent and London."

Can we see a sister hotel in the near future?
"We're not planning on opening any more restaurants and hotels, that's for sure, but who knows where else The Rose could lead......but more space would be good. I'd love to have more outdoor space and a bigger kitchen. And more rooms....."
Deal is pretty, peaceful, and the perfect weekend getaway.
https://www.therosedeal.com/restaurant/
***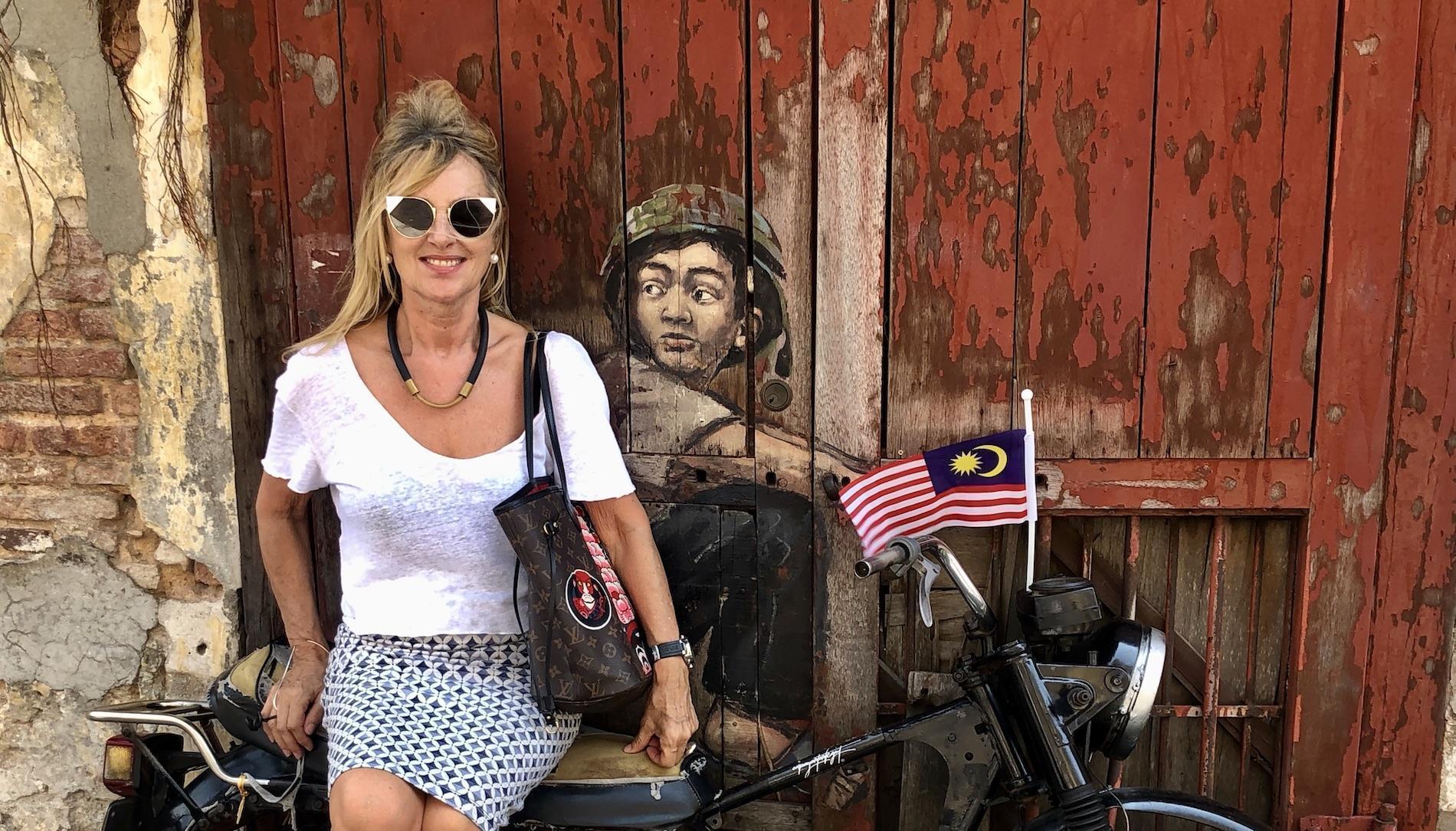 Anji Connell is an interior architect, garden designer and self-proclaimed nomad who regularly writes about art, design, lifestyle and travel from her globe-trotting adventures. Known for her bubbly persona and even more exuberant sense of style, Anji's portfolio spans everything from interior styling to furniture and landscape design for some of the world's most beautiful spaces. For now, you will find her @anjiconnell_acidplus and anjiconnellinteriordesign.com bingeing on future travel plans from her designer chair.