Art nurtures the spirit and calms the mind, it opens a window to a completely different world, and Cromwell Place makes a perfect setting its a place you'll want to linger.
Four years in the making, the long-awaited Cromwell Place is a new hub for the arts that opened to the public on Oct. 10. Spread across five Grade II listed townhouses in South Kensington's museum district. The classic stucco facades belie the museum-quality transformation inside. Buckley Gray Yeoman Architects' sensitive conversion is simply stunning. It's a joy to wander the galleries. Domestic rooms are now spacious and elegant galleries, flooded with natural light. Original plasterwork friezes, fireplaces, and the classic sweeping staircases with ironwork balustrades and timber handrails have been restored, distinguishing the space from the bland white cubes we associate with modern galleries. There are 14 separate galleries, a large exhibition space that members can hire for short periods of two to six weeks, and a new pavilion with a dramatic saw-tooth roof, clad in blackened stainless steel, and a courtyard. A series of glazed bridges link the old and new buildings. A Club Room, with food by the Michelin-starred chef Ollie Dabbous, will open early next year.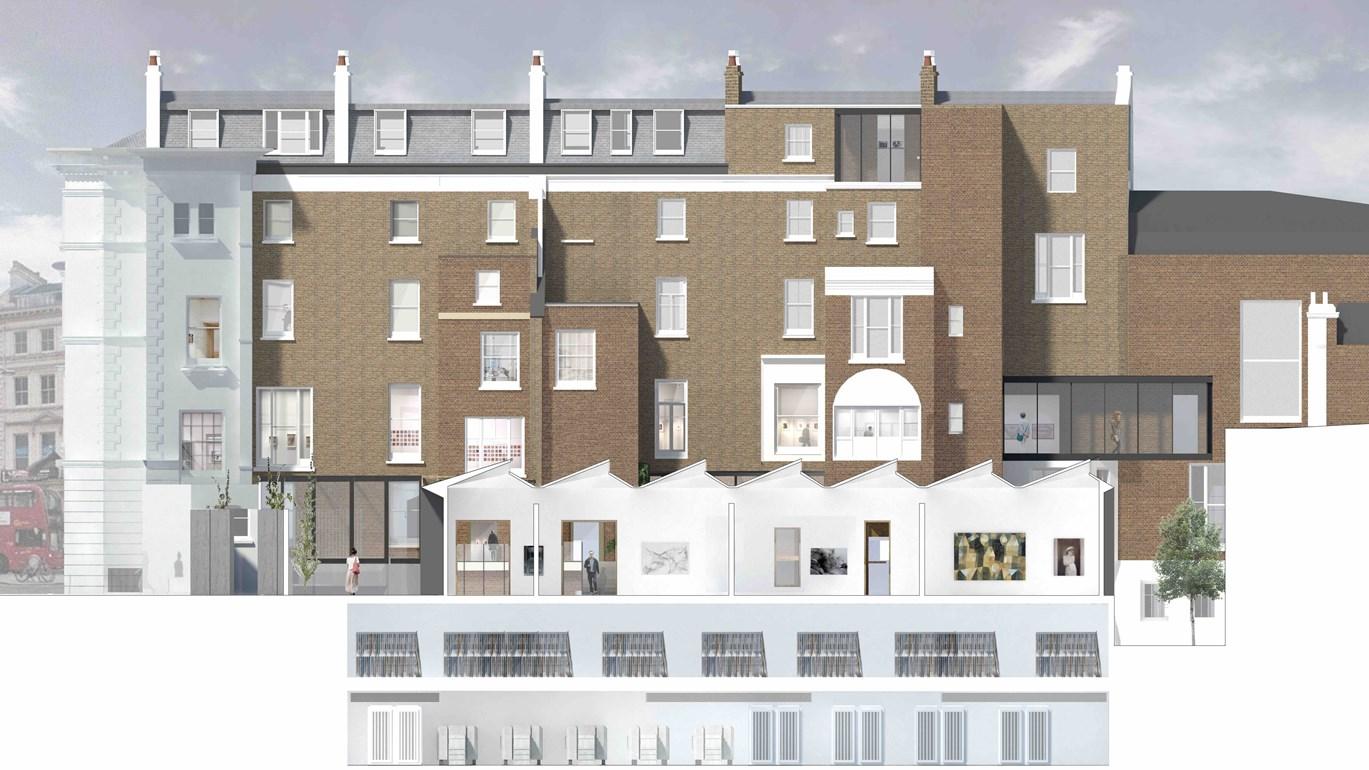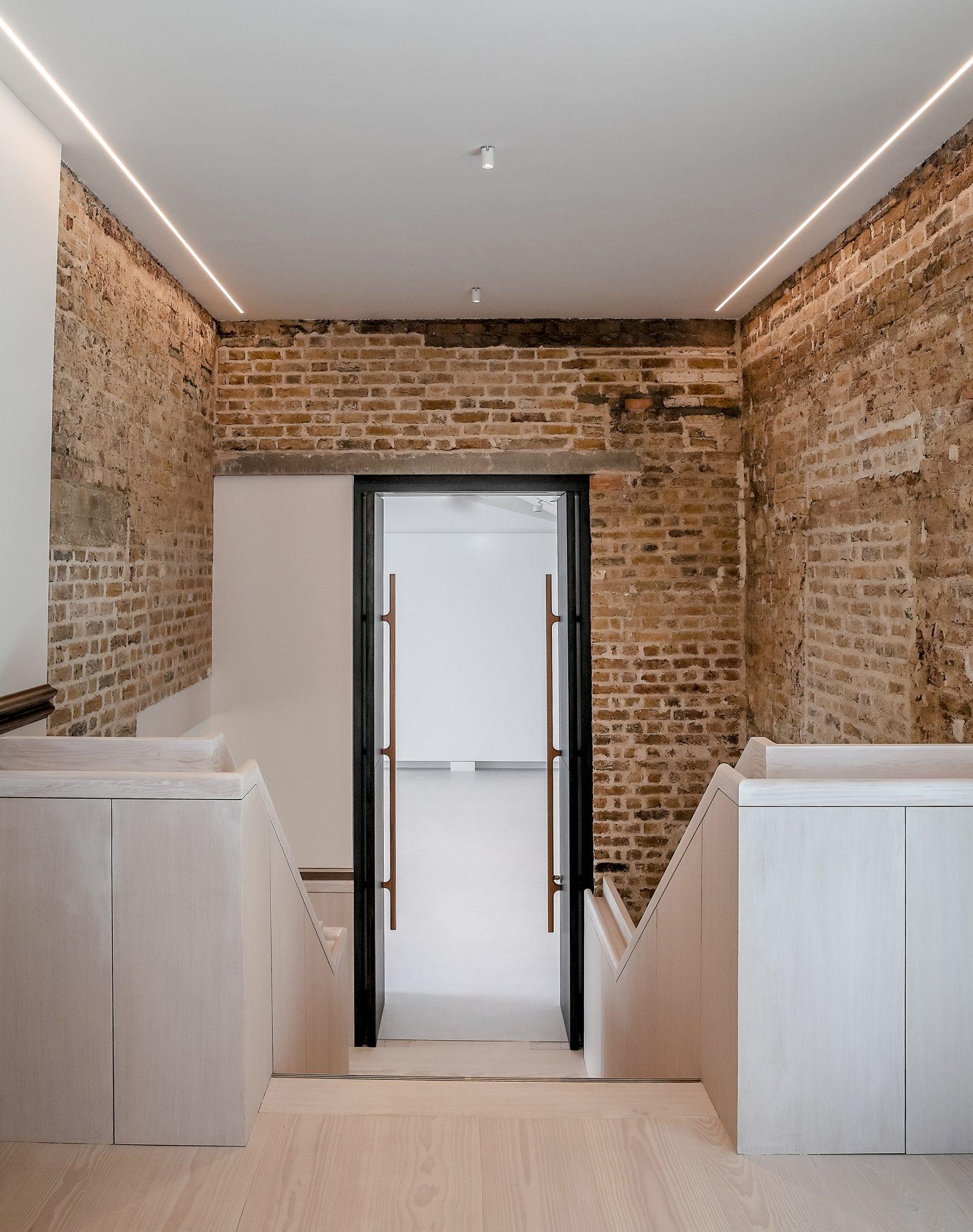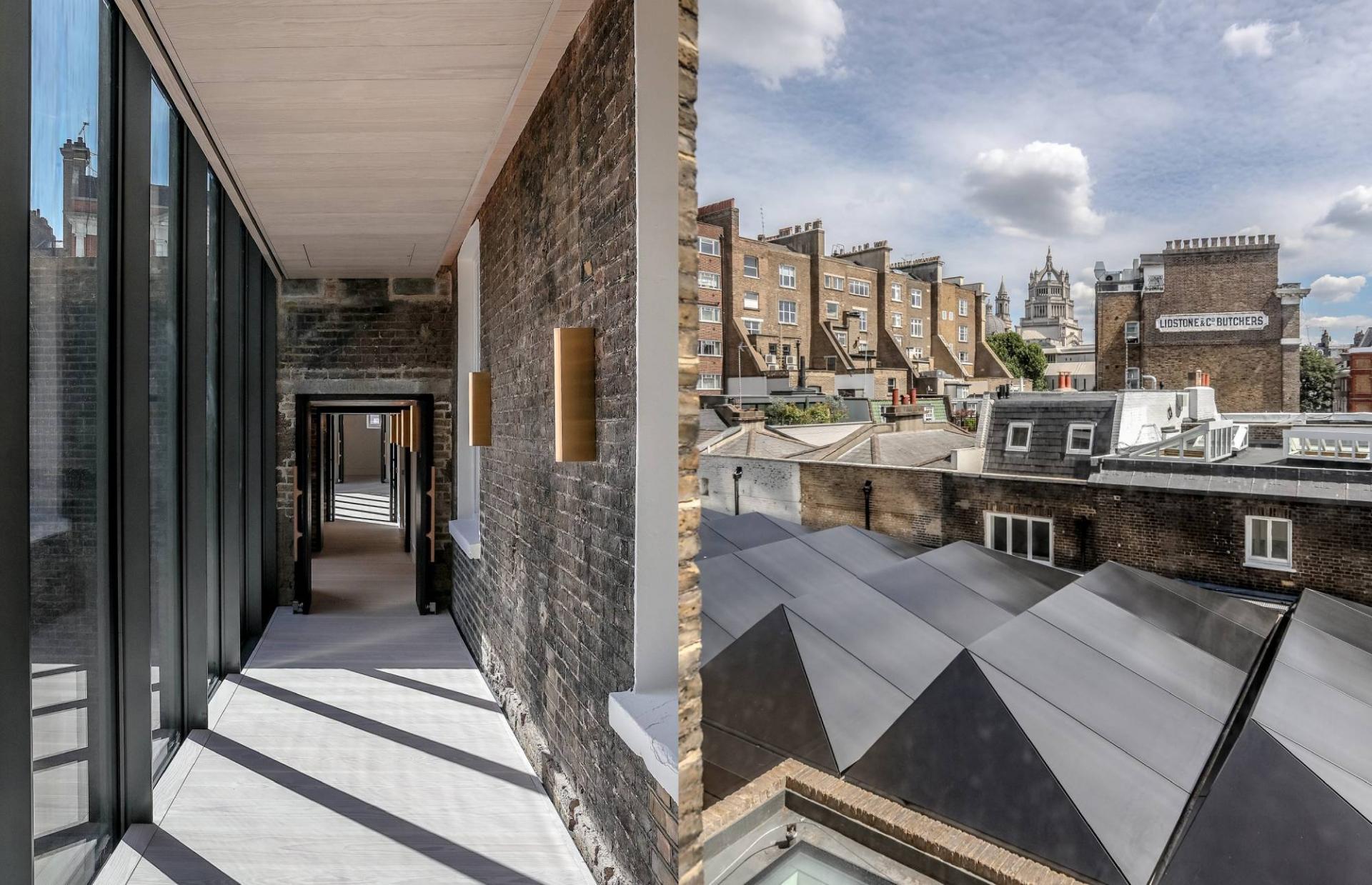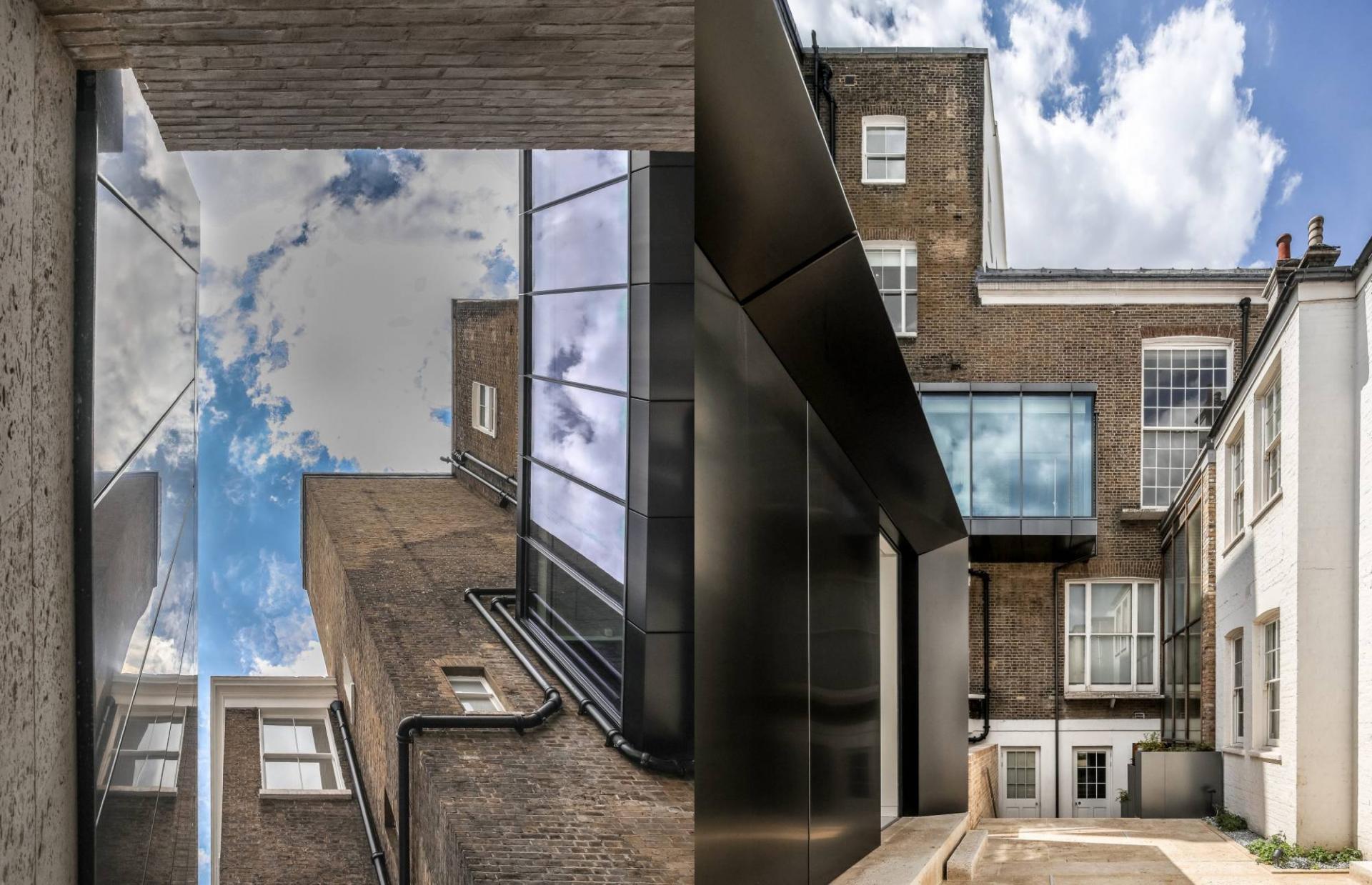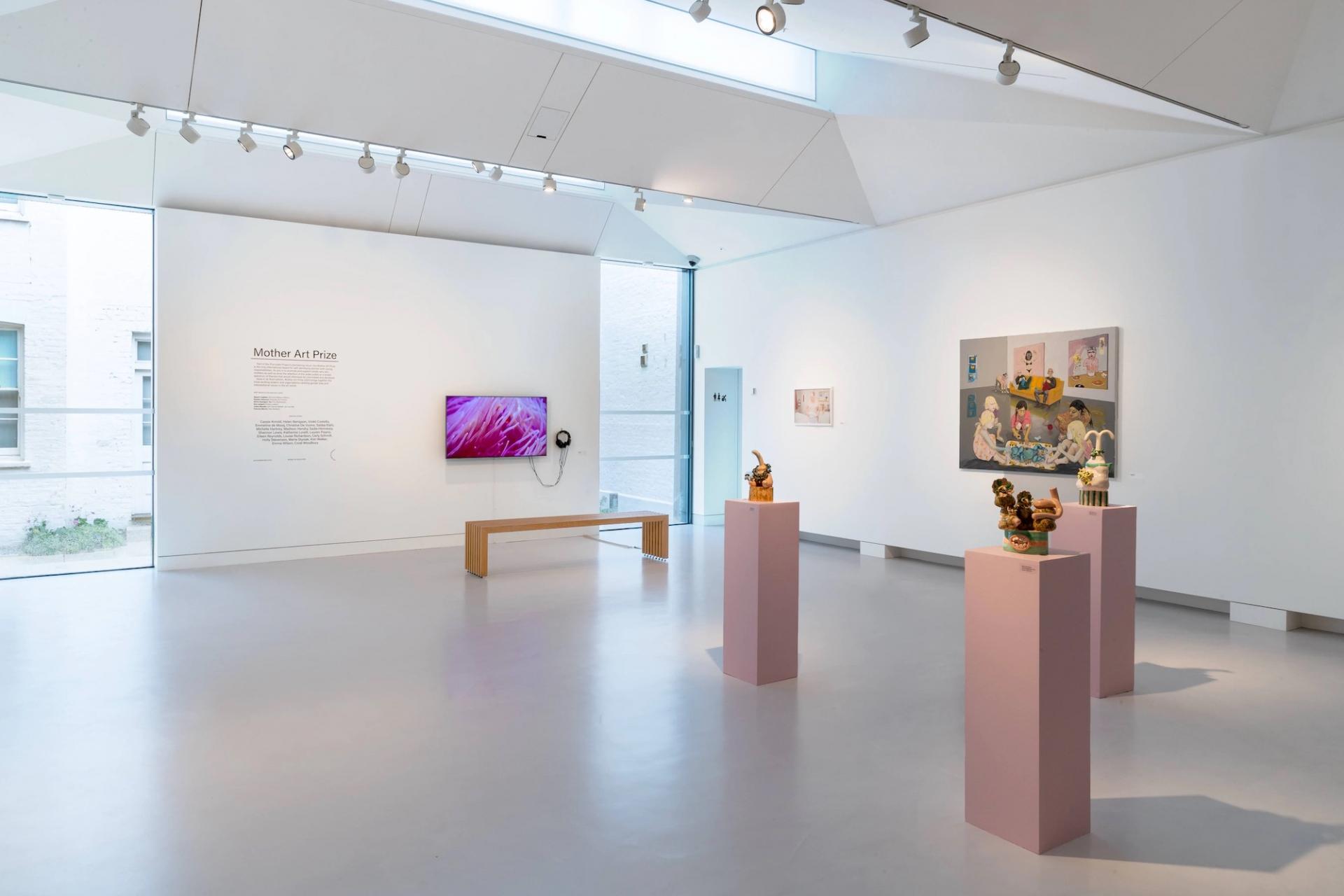 Procreate Project is the group exhibition featuring 19 short-listed artists of the Mother Art Prize 2020, the only international prize for self-identifying women and non-binary visual artists with caring responsibilities.
Membership is open to galleries, individual dealers, and curators who can have a permanent office or use the shared working space and gain a platform to show their work without investing in a permanent gallery.
Marie Tourre de Robien, the Budapest-based gallery Initio Fine Arts director, presented furniture works in two very different and distinct aesthetic styles. Hungarian designer Anna Horváth's strictly geometric collection and French architect and designer Reda Amalou's (RAD) elegant and organic creations.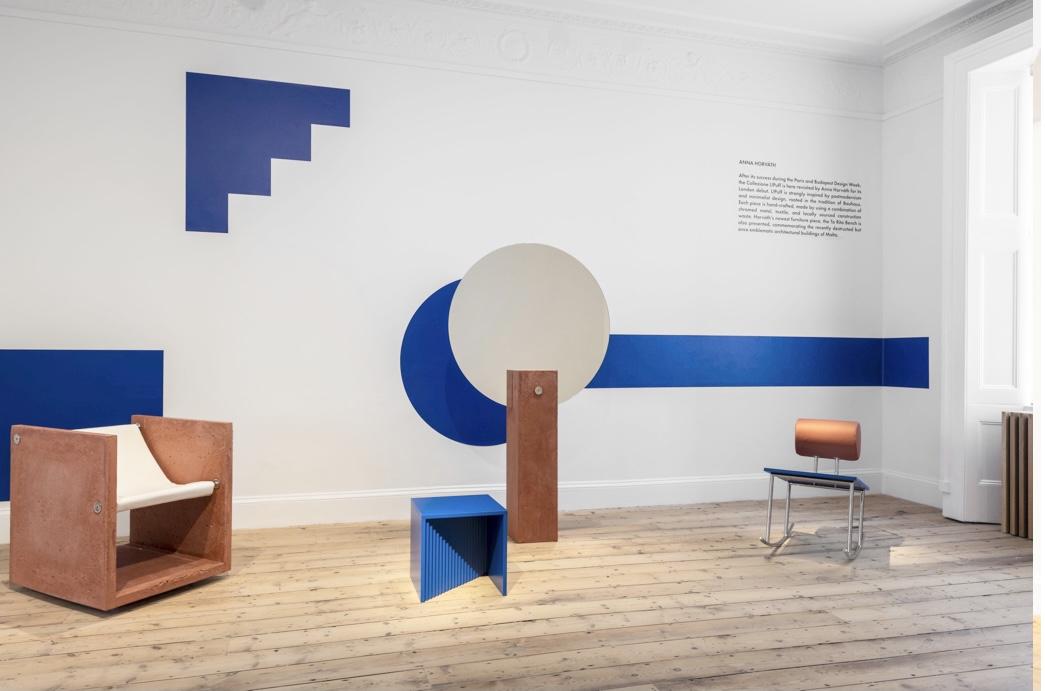 Anna Horváth has always been passionate about storytelling through art; she graduated with an MA in Narrative Environments from Central Saint Martins, London, and an architecture degree from Moholy-Nagy University of Art and Design, Budapest. Anna works in painting, illustration, stage set design, sculptures, small objects, costume design, graphic design, and art teaching, counting exhibition, installation, and furniture design as her areas of expertise.
Her Collezione L! PUFF is a unique capsule collection of playful handmade minimalist, post-modern inspired pieces made with minimalist concrete panels, stainless steel, and colourful glass. The colours and textures balanced by the simple forms, produced by local craftsmen using sustainable materials sourced from Sümeg and Tapolca in Hungary.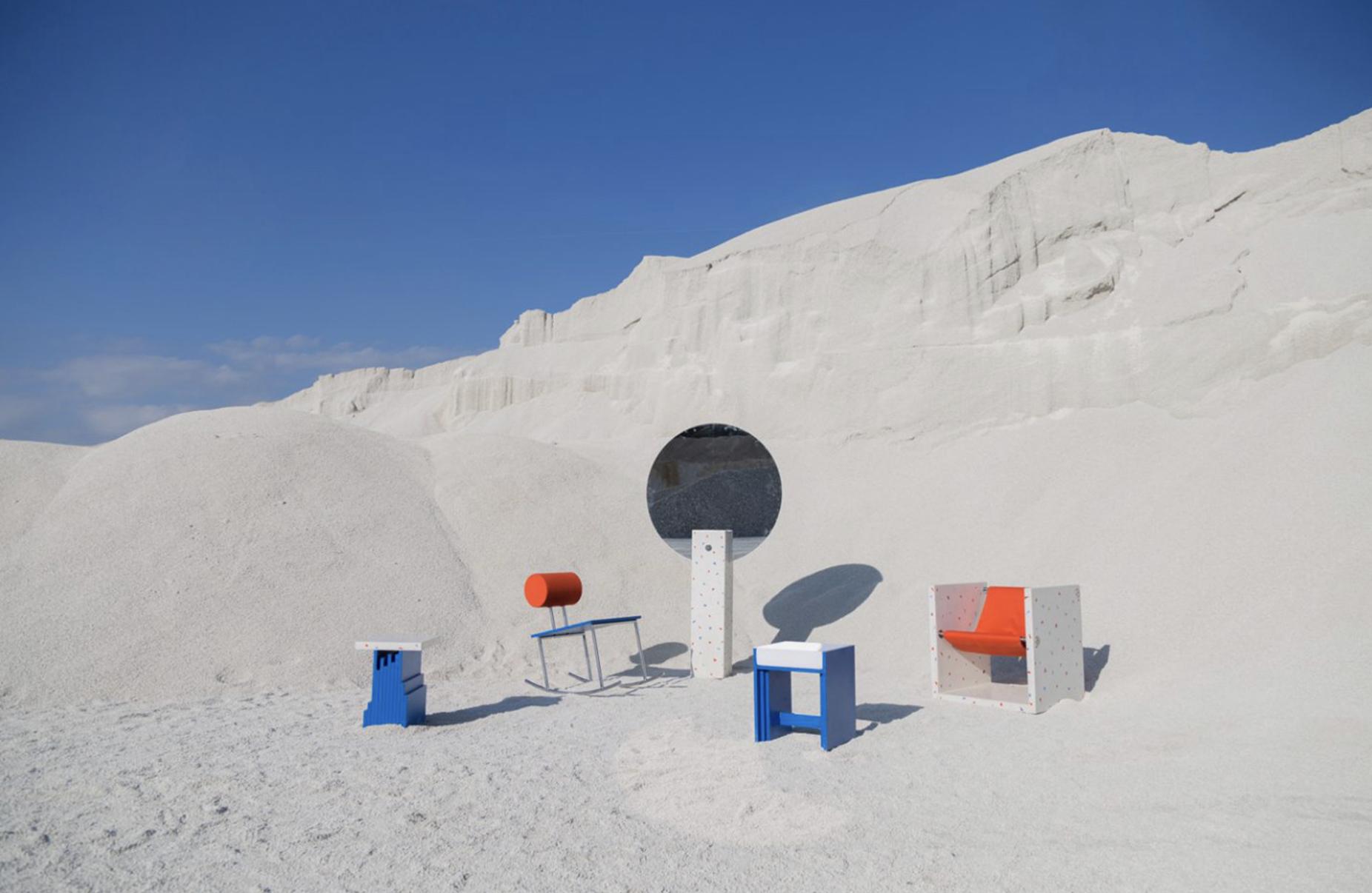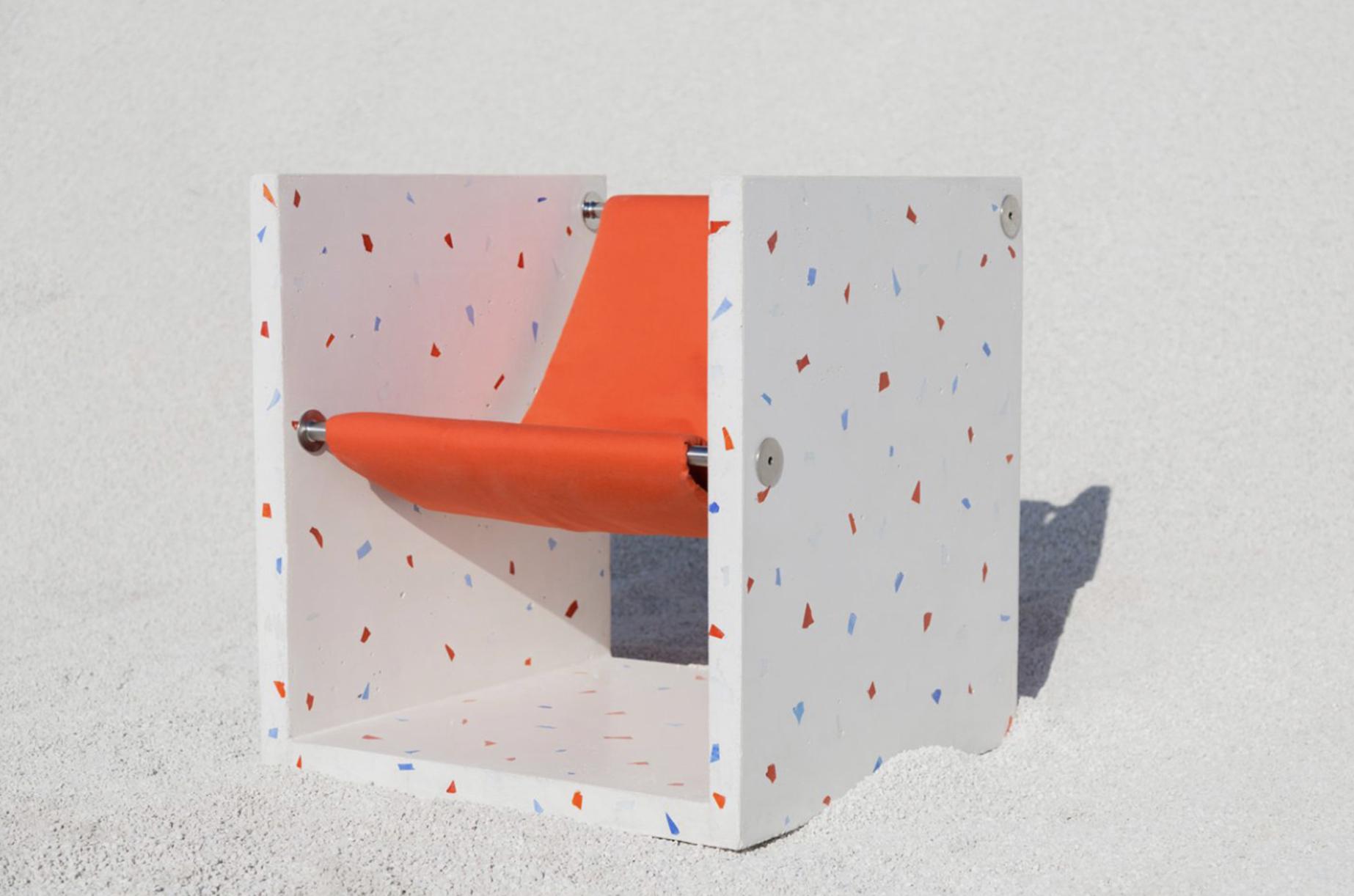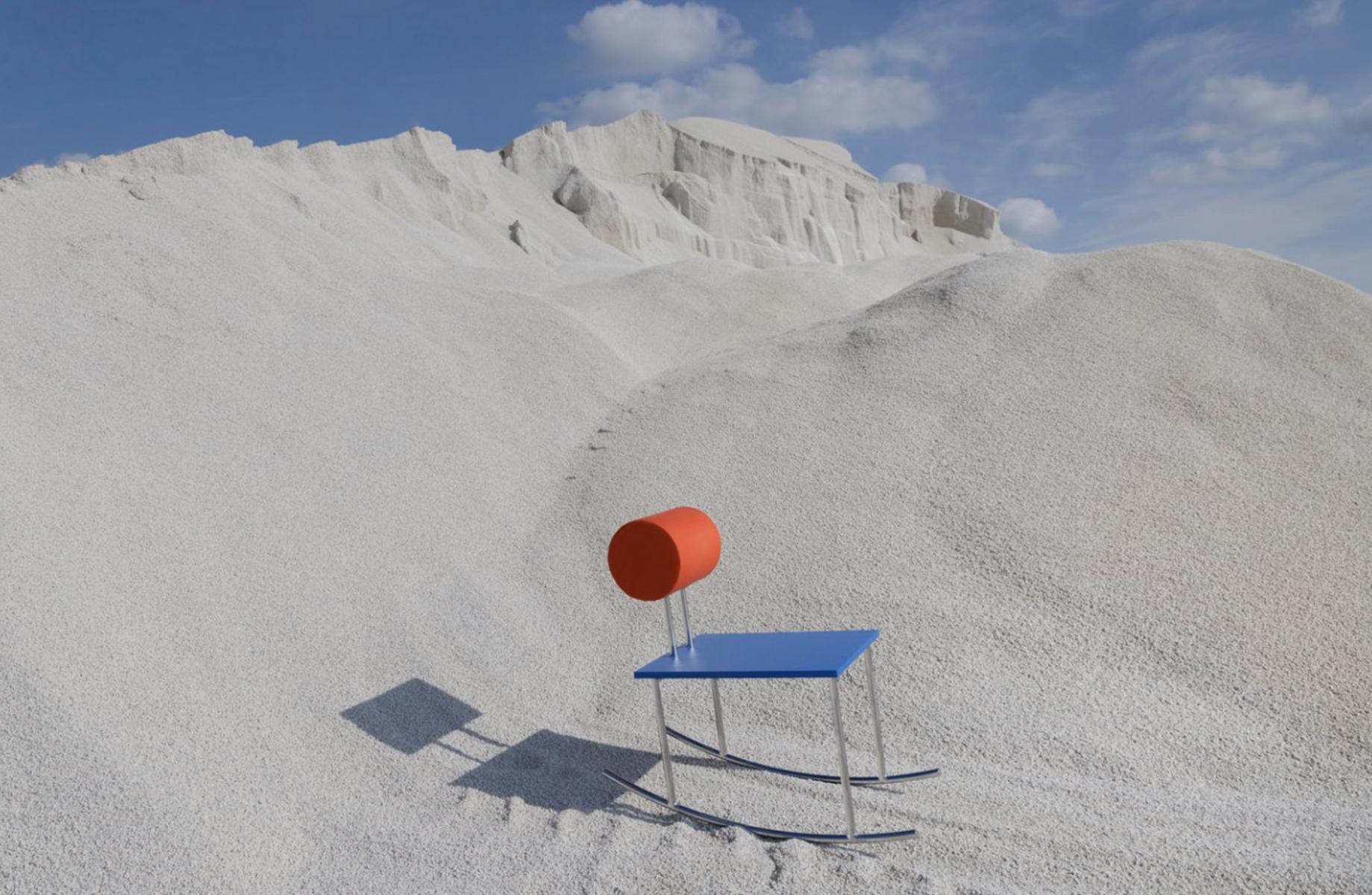 French architect and designer Reda Amalou describe himself as "a creator of experiences,' who, through his AW2, architecture agency, "takes over spaces, making them emotional places that create an impact and stir the spirit by talking to the eye, and making senses move around.' His signature furniture and objects are made from rich, textured, and vibrant materials, especially Walnut, bronze, leather, glass, eggshell, and lacquer.
Reda Amalou also collaborates works with several luxury and design houses like Véronèse, Baguès Paris, Hugues Chevalier, Roche Bobois.
Pieces on show include the following: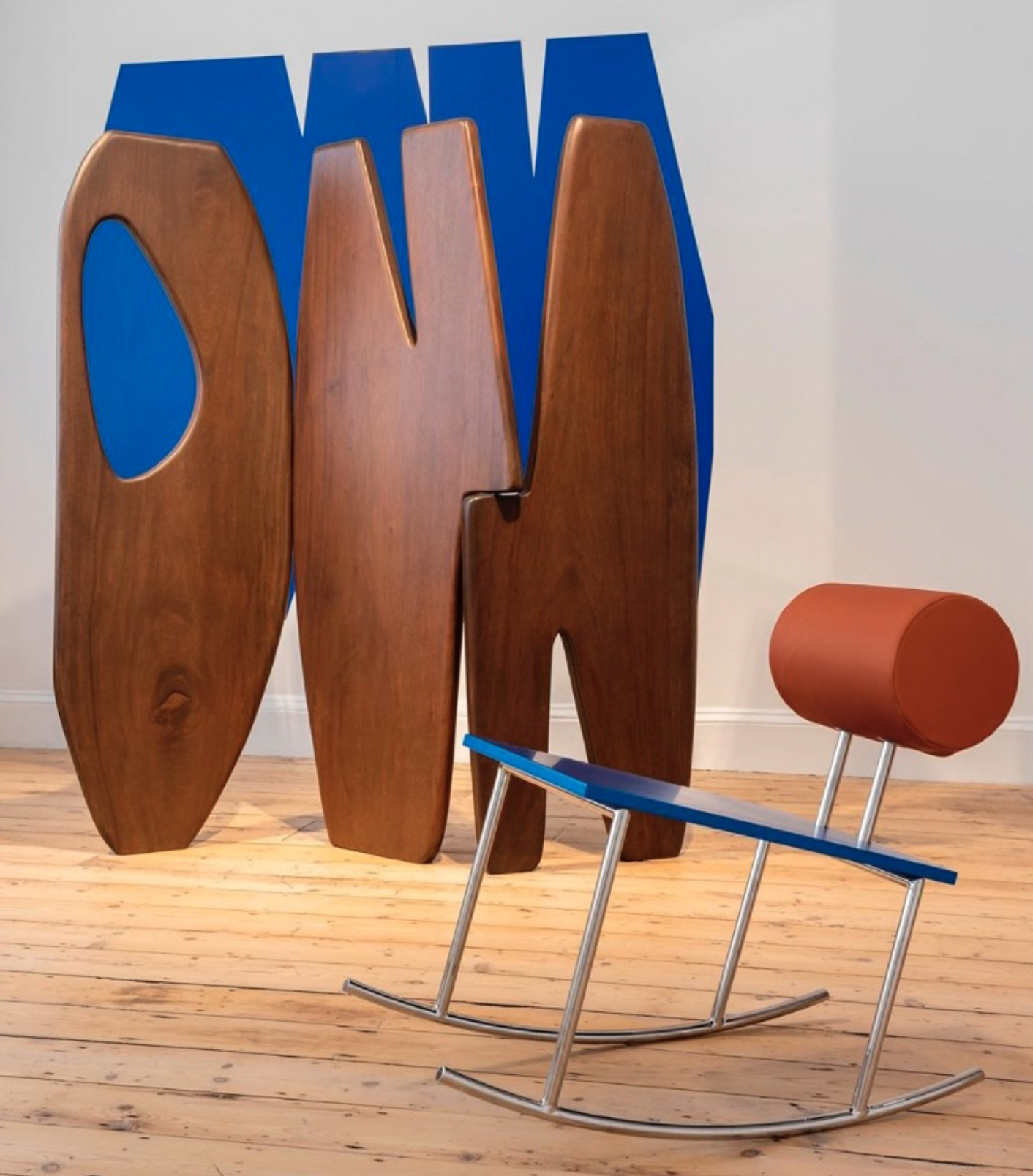 The DOT is a contemporary interpretation of the traditional Asian stool made with delicate eggshells.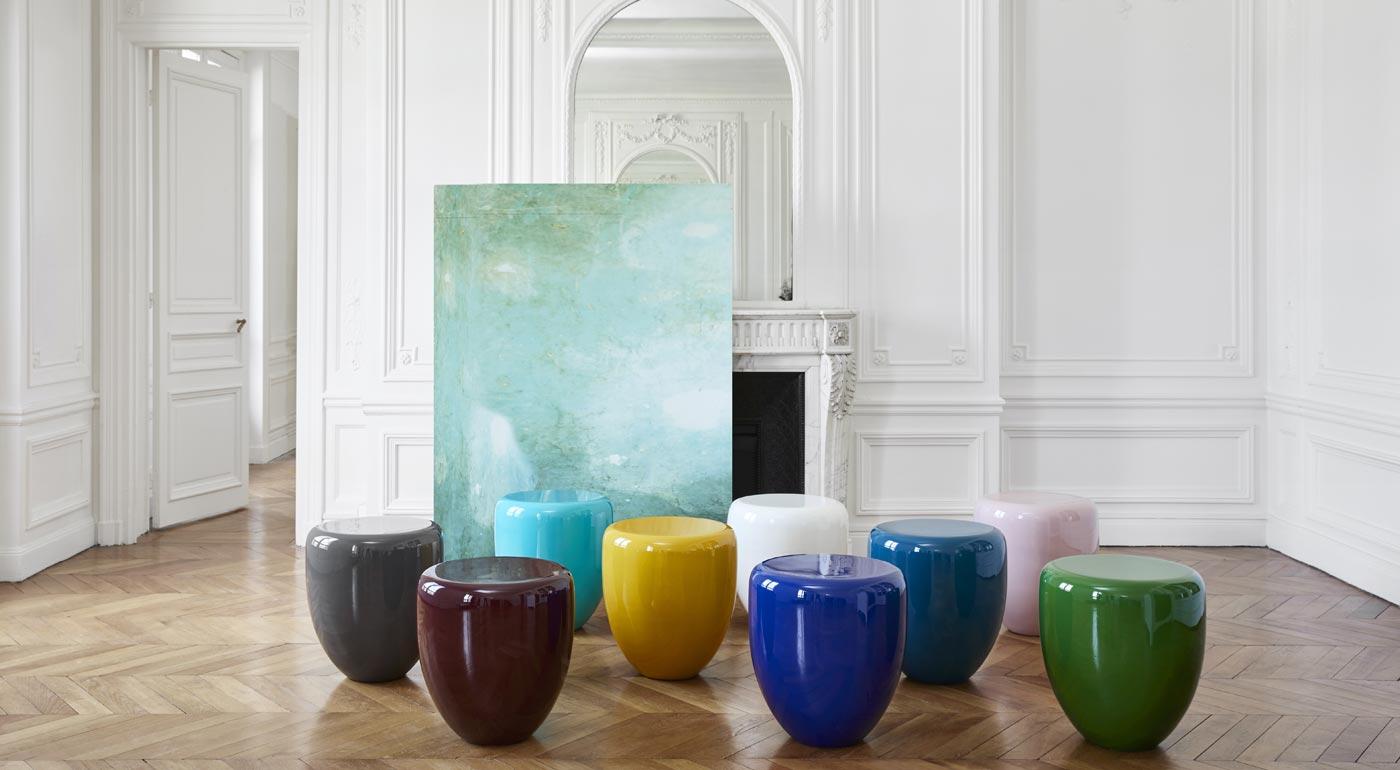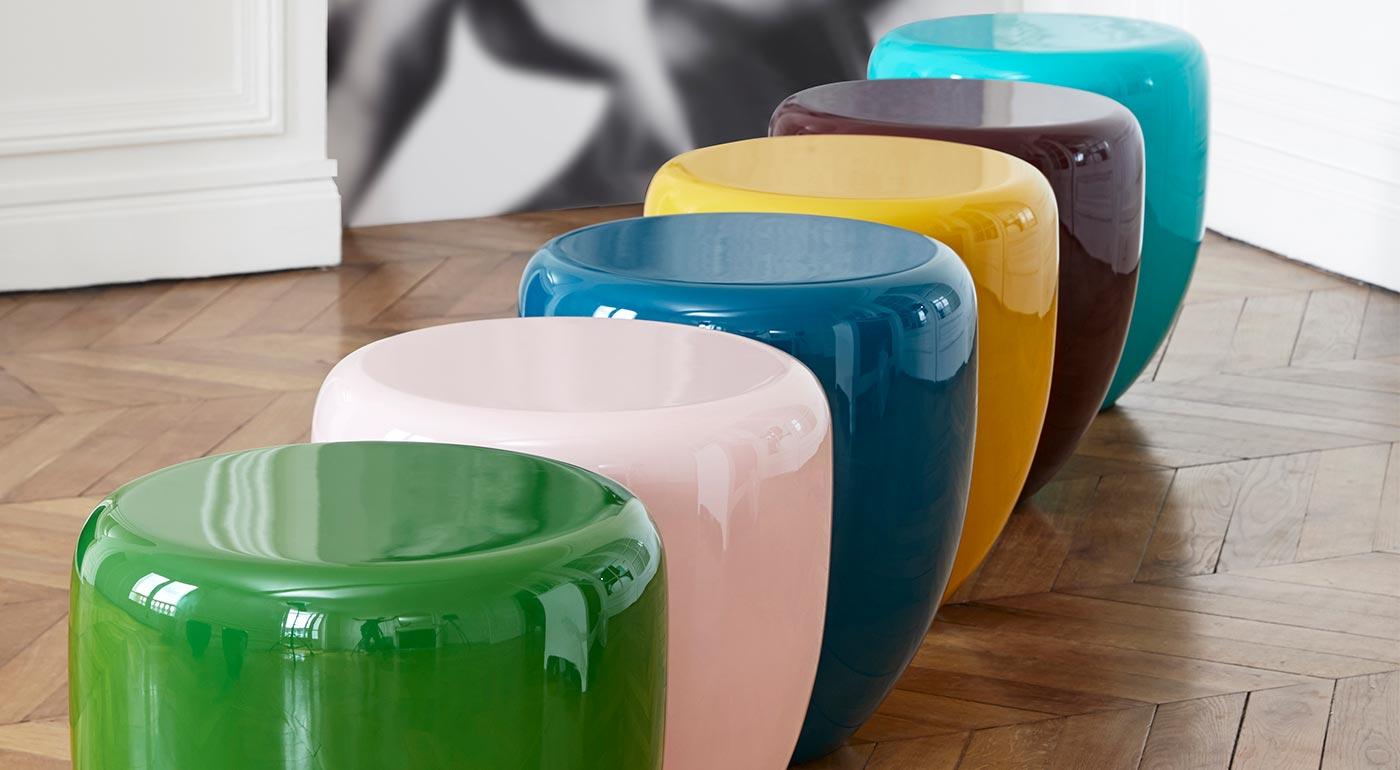 Other pieces available from Reda Amalou Include the Jah bench is a bold modernist piece in warm Walnut with black steel legs.
PANAMA is a beautiful sculptural screen created in Walnut Zapatero that has been underwater for a hundred years. Walnut is hard, dense, and resilient, resists warping, suffers little shrinkage, and isn't prone to splitting. Its defined grain occurs through changes in temperature and weather conditions. Countries with extreme changes tend to produce the best grades of Walnut, and the colour comes from the local soil. Walnut stock blanks come from the ball of the tree, which is almost entirely underground during its living life and denser as a result of the compression from the weight of the trunk.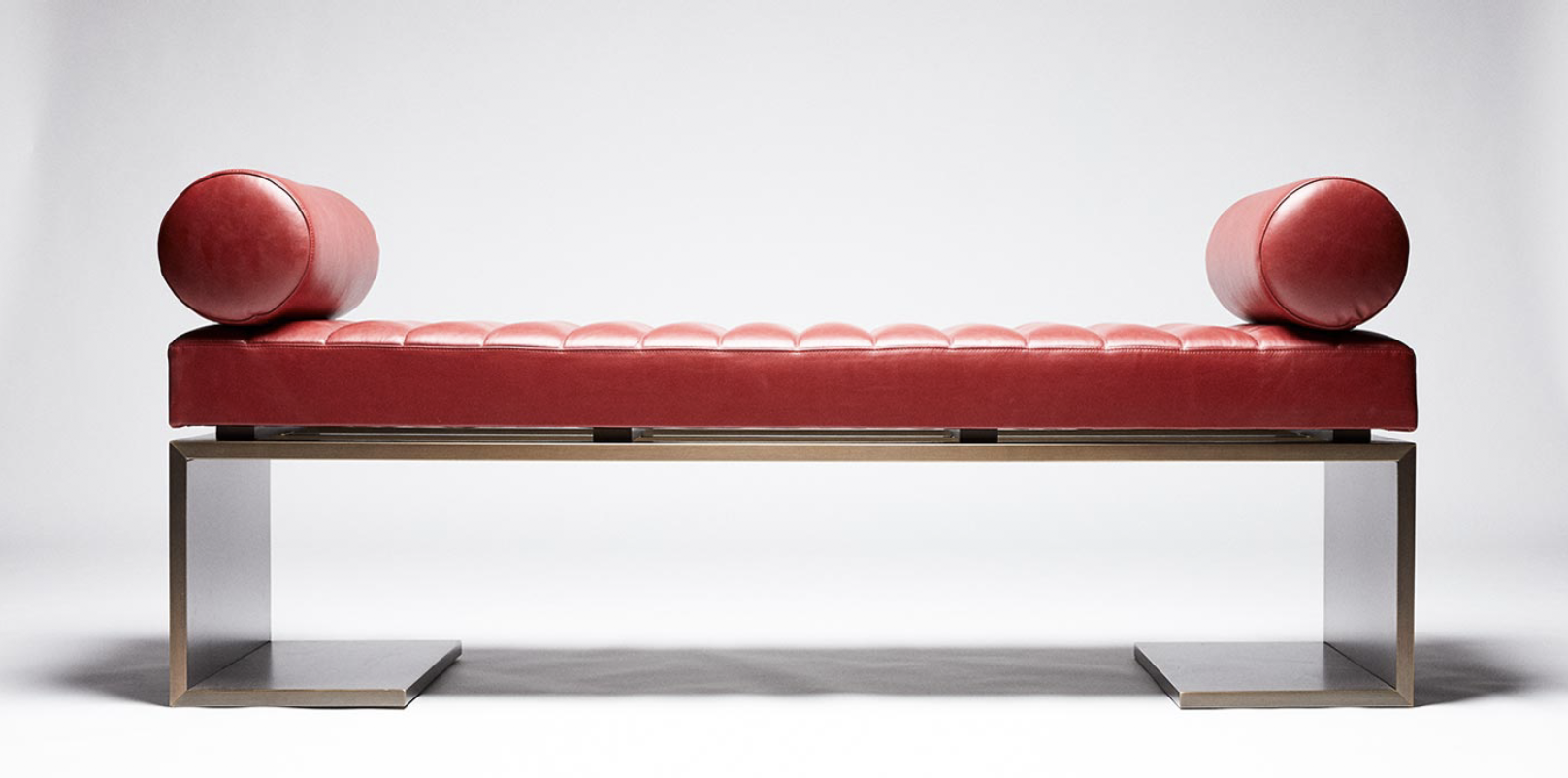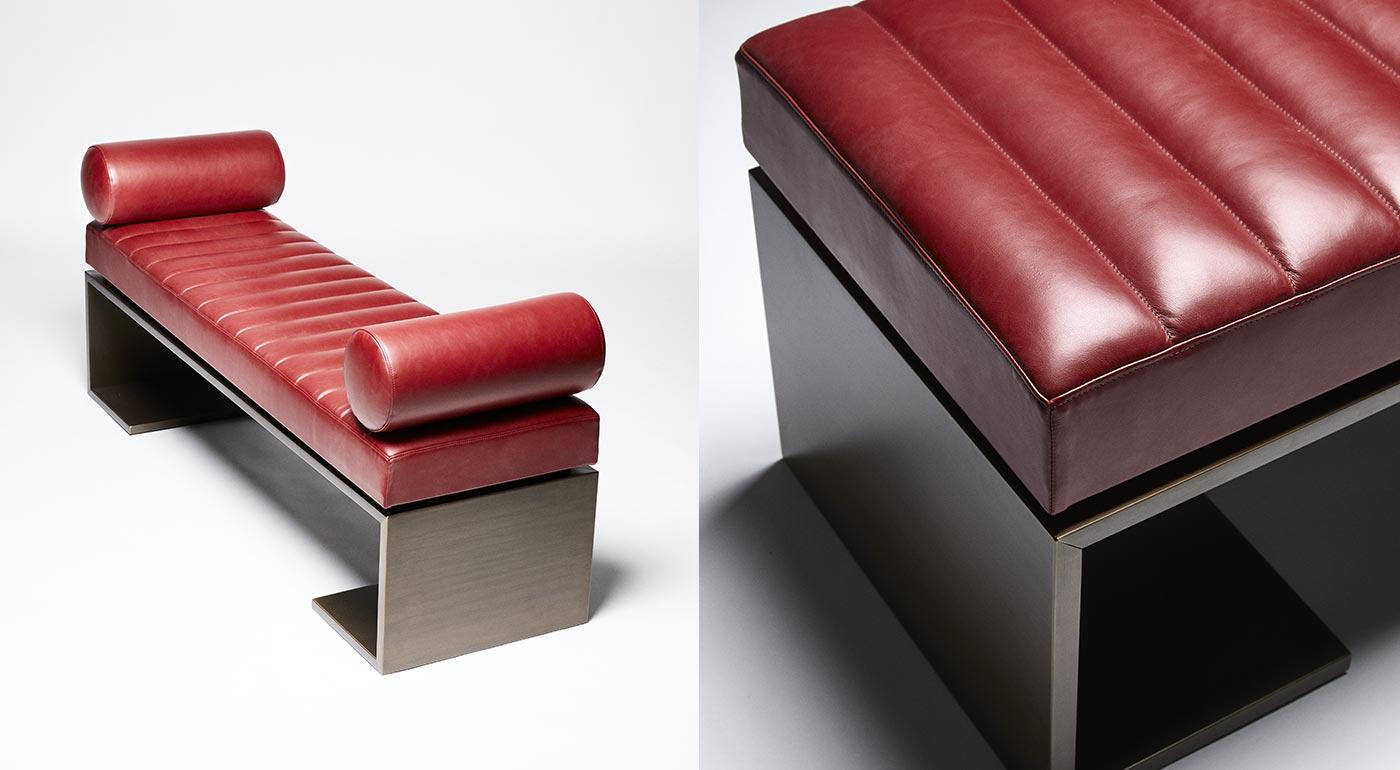 The KIMANI day bed has elegant pure lines created from a blend of bronze and saddle-stitched leather in a limited signed and numbered series of 8 pieces.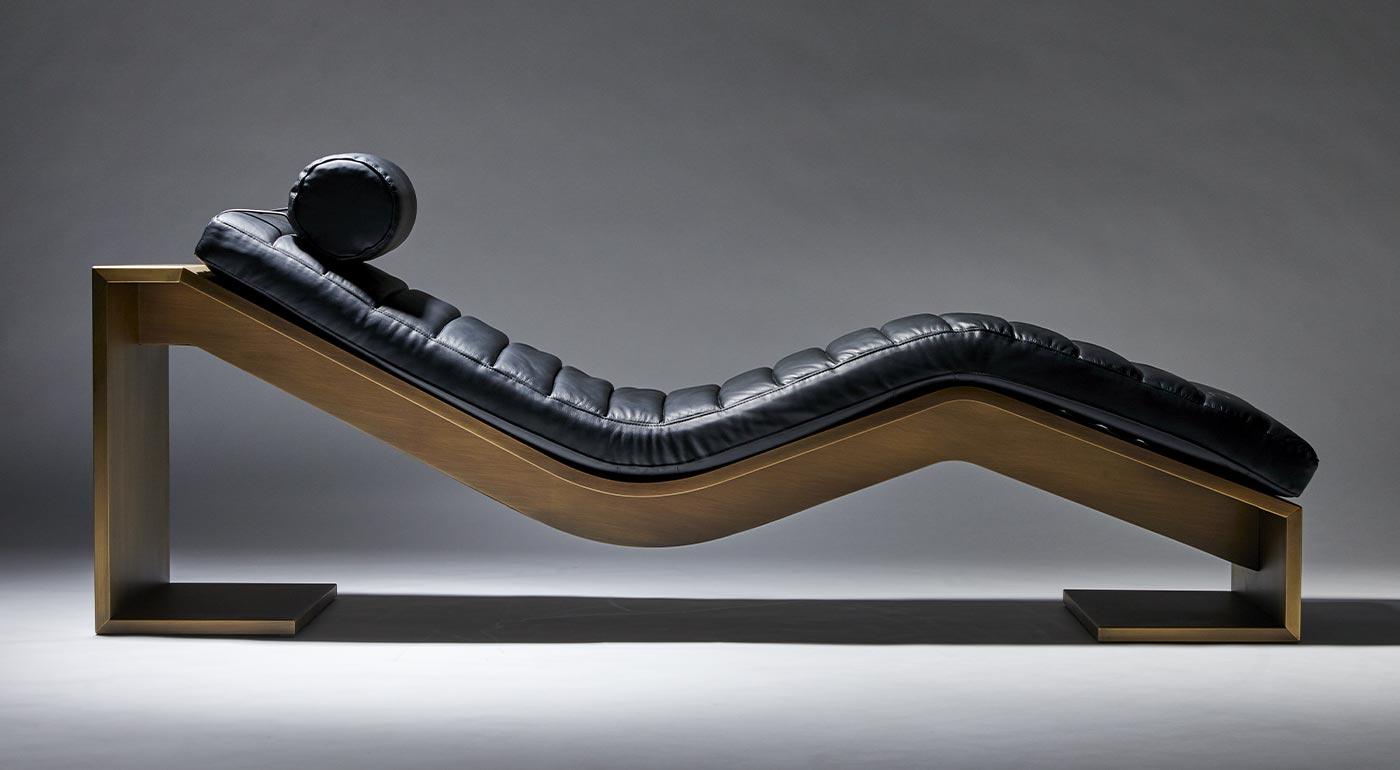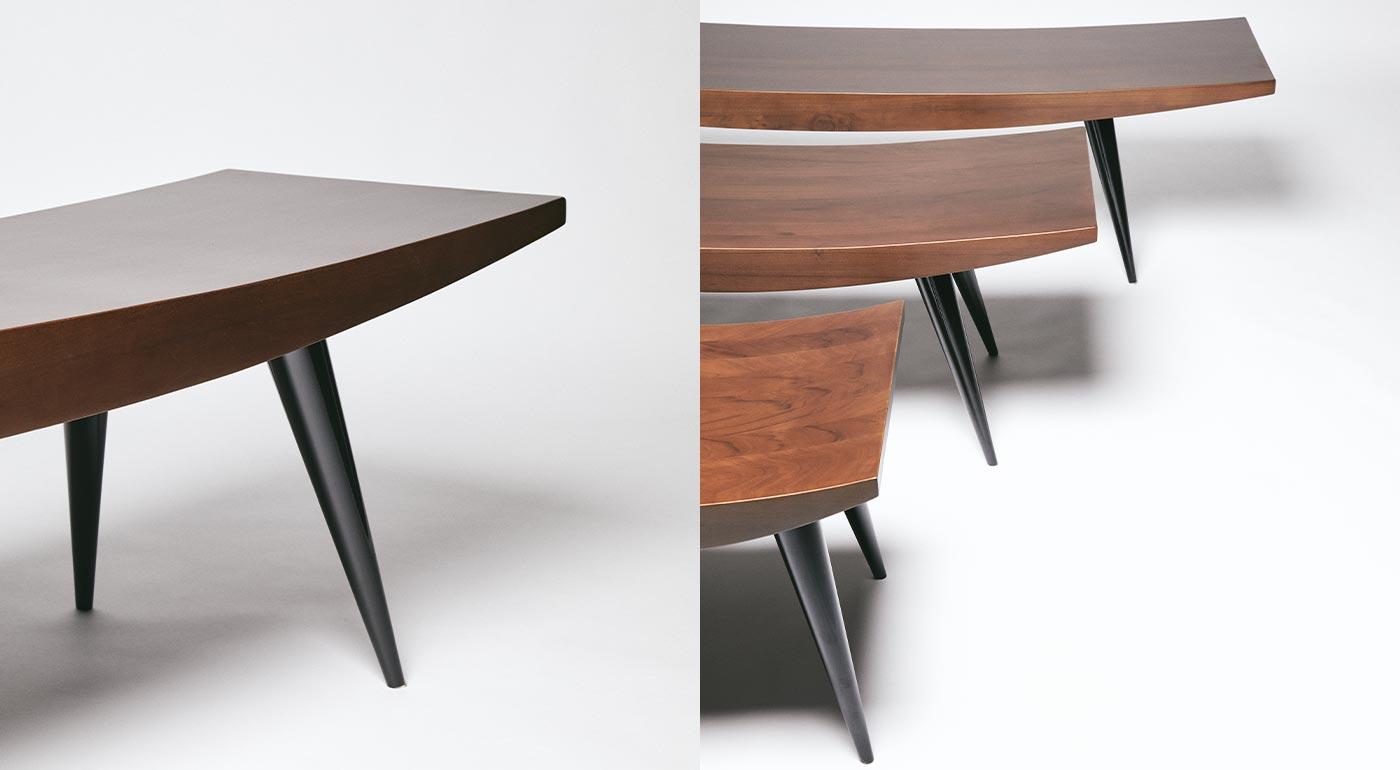 THIS IS NOT A VASE is more a sculpture than a functional object. Cutouts in the external white and opaque glass let light in and reveal the deep Venetian red inside. As they are hand, each piece is unique as it will vary in colour, finish, and shape. 22 carat Gold leaf covers the polished bronze lending it a unique light.
There are two different sized versions in a Limited edition of 8, numbered and signed.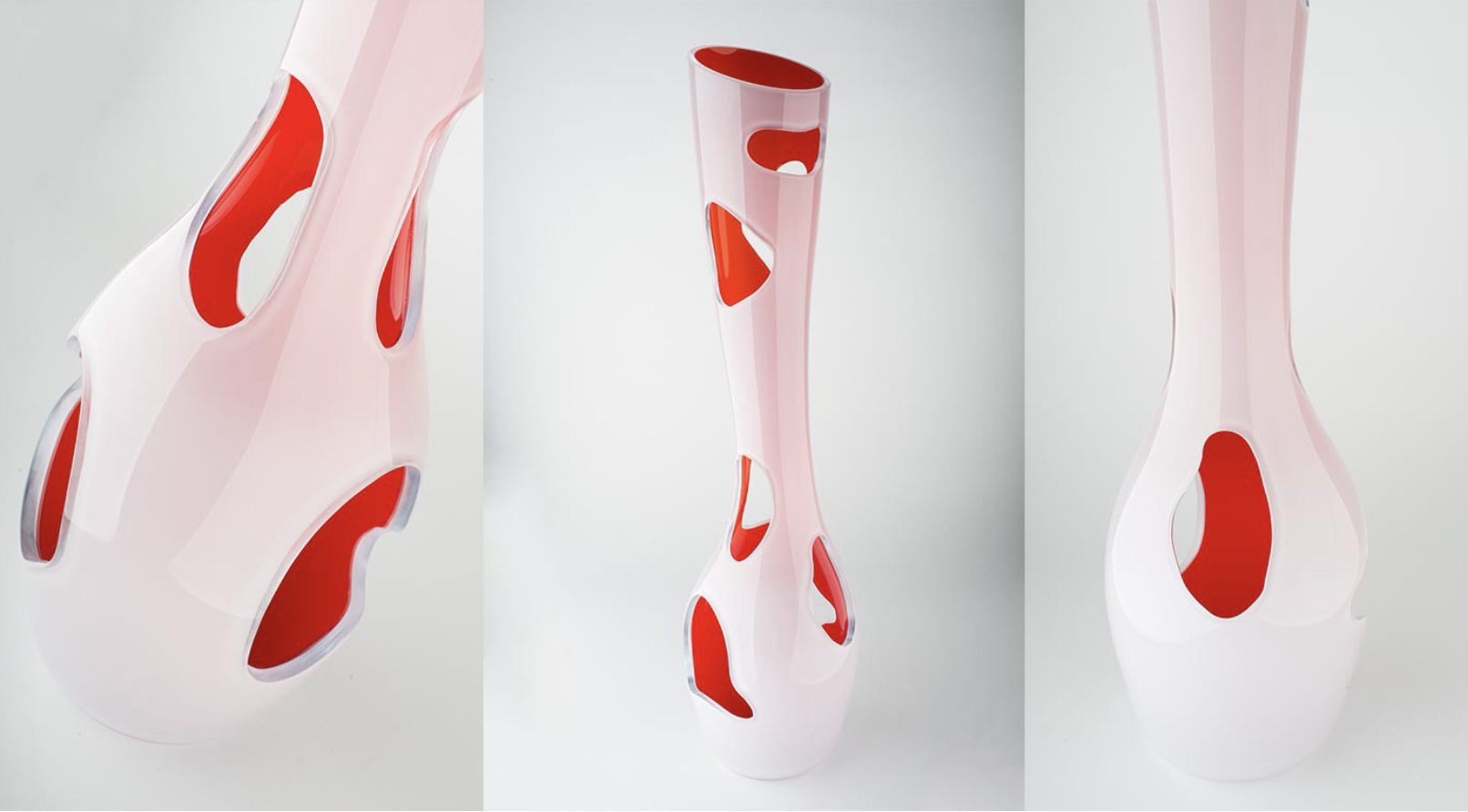 Most of us will recognise Amalou's 2017 wood and glass table 'ASTER made for Roche Bobois. The central table leg is designed with timber struts and is reminiscent of the Architect Oscar Niemeyer Brasilia Cathedral.
Aspan Gallery established Almaty, Kazakhstan in 2017 showcases artists who came of age during the tumultuous break-up of the Soviet Union. Meruyert Kaliyeva, the gallery's founder, is showing light-boxes by artist Almagul Menlibayeva, who investigates the clash of traditional and modern roles for women, and Yerbossyn Meldibekov, who tracks the changing waves of political and cultural allegiances in Central Asia.
Almagul Menlibayeva's "Aisha Bibi" and My Silk Road to You II are both stunningly beautiful Druratrans photographing prints in a lightbox. Both in an Edition of 3.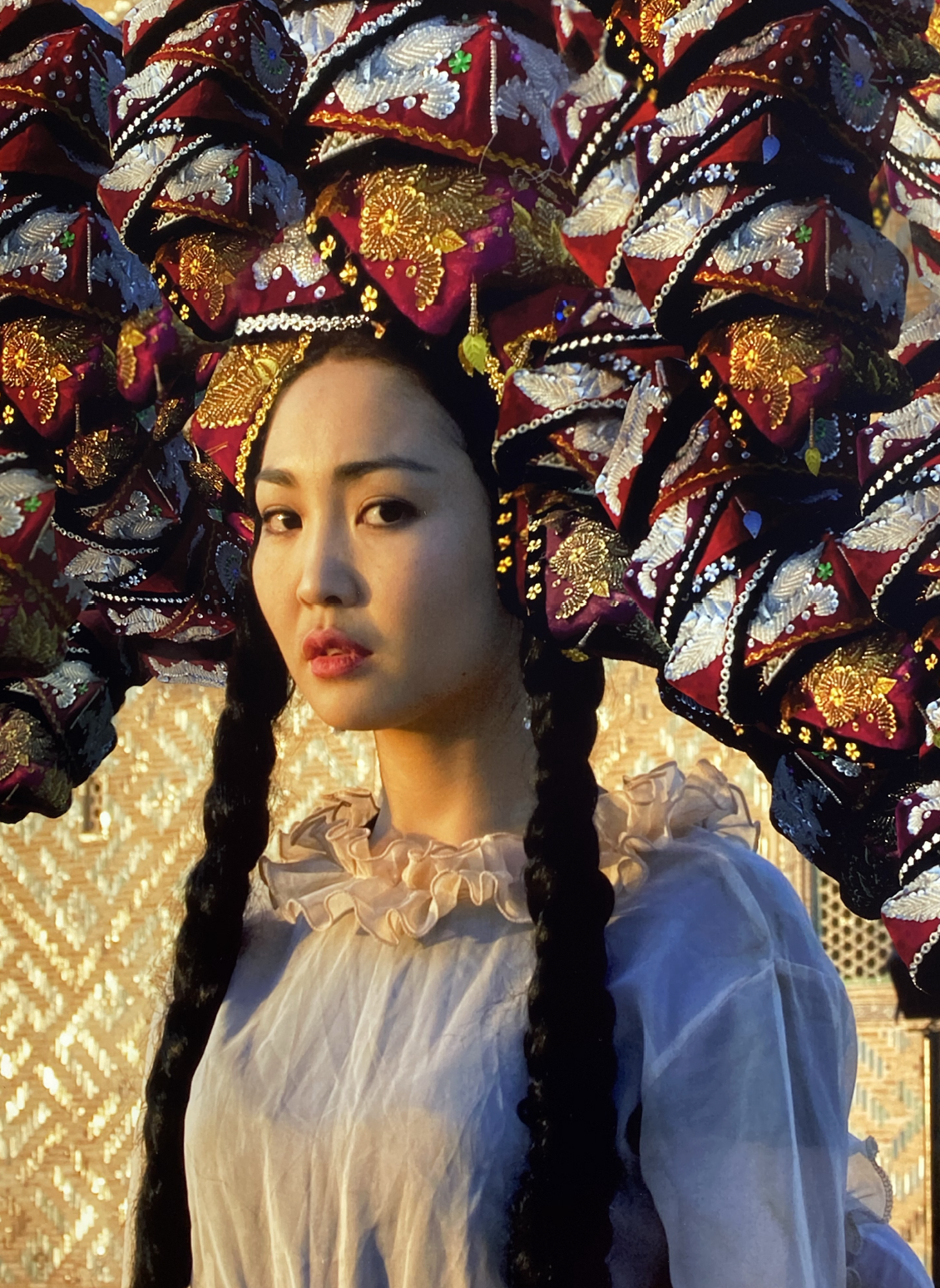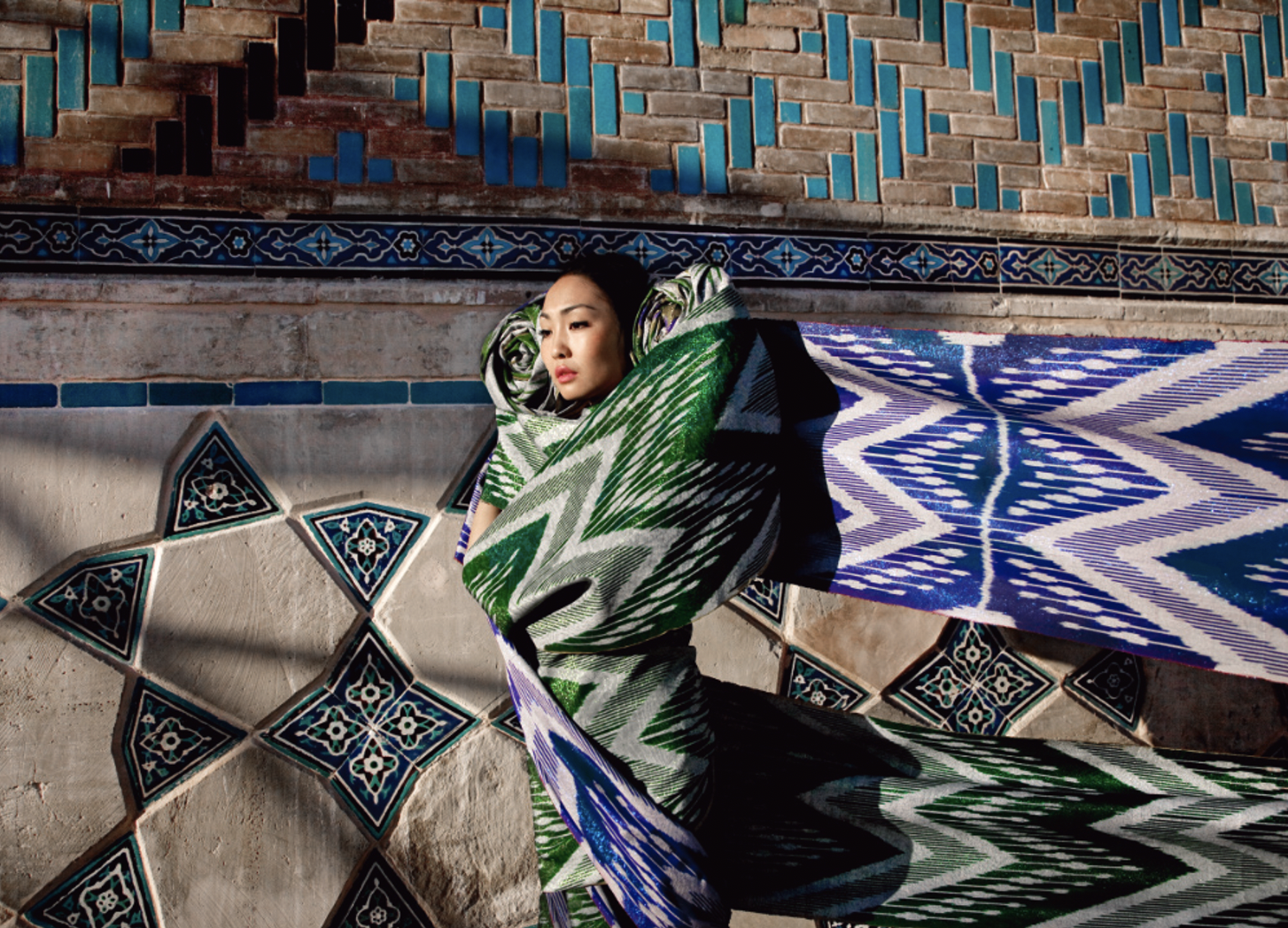 Yerbossyn Meldibekov's works reference the continual flux in the map of the Soviet Union. Nowhere else in the world has the geographical nomenclature changed so profoundly.
This politicised landscape has countless variations on the names of Lenin and other Soviet leaders.
Yerbossyn Meldibekov's Lenin's Peak 2007-2014 is on show. Lenin is a seven thousand meter peak on Tajikistan's and Kyrgyzstan borders. Meldibekov's three turned upside down, and hammered metal basins correspond to the three names the mountain had over the last 100 years. Kaufman Peak was renamed Lenin Peak during the Soviet Union times and renamed Ibn Sina Peak as Tajikistan gained its independence. Kyrgyzstan's side of the mountain is still called Lenin Peak. Yerbossyn Meldibekov is in the collection of the M+ Museum, Hong Kong.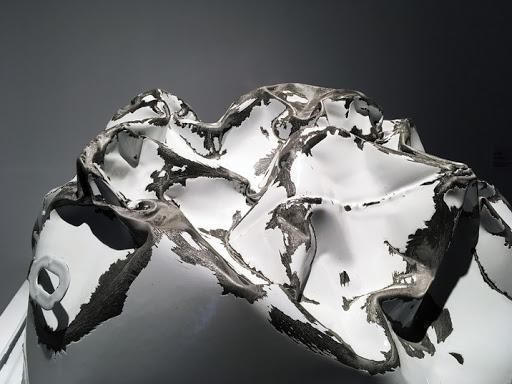 Yerbossyn Meldibekov Lenin Peak above and below / below right Dot 39°20'38.7380"N, 72°52'39.3575"E3, 2020.
Resident member, blue-chip gallery Lehmann Maupin's inaugural offering is a part-exhibition, part-residency with live painting from artist Billy Childish, timed with his newly published book of autobiographical photographs. Billy Childish, Photography 1974-2020, which will launch alongside his residency. He will be painting images from the book.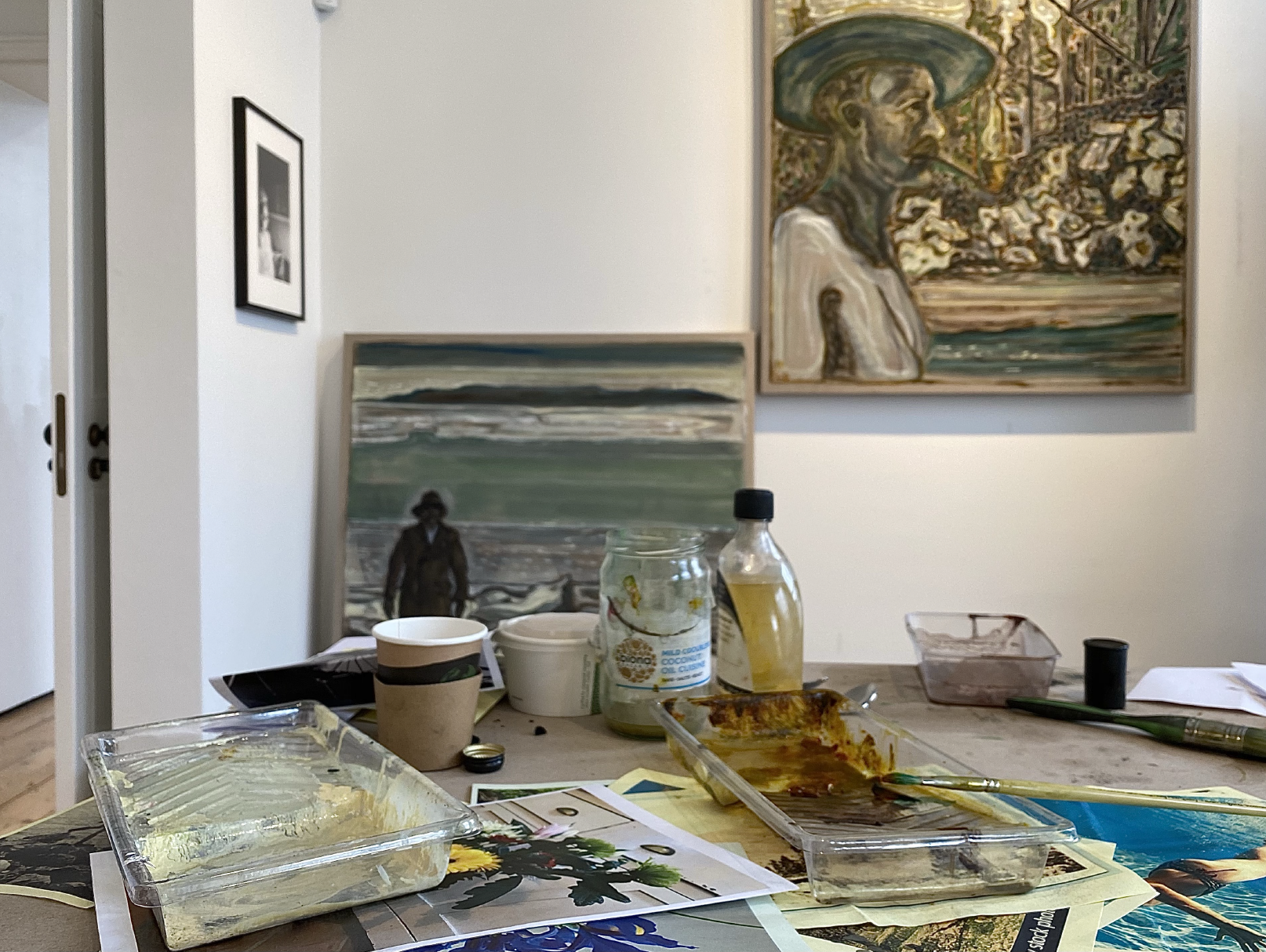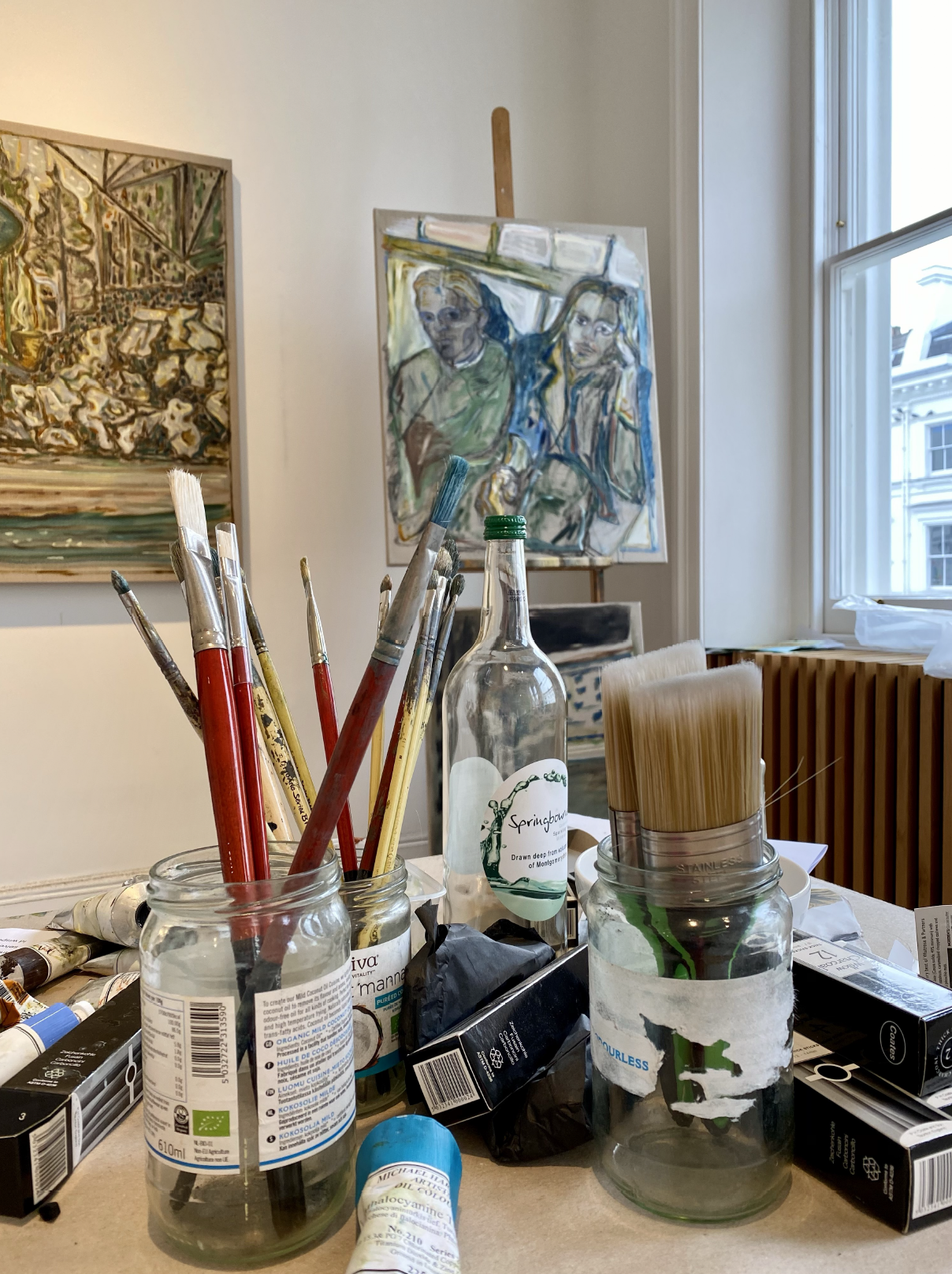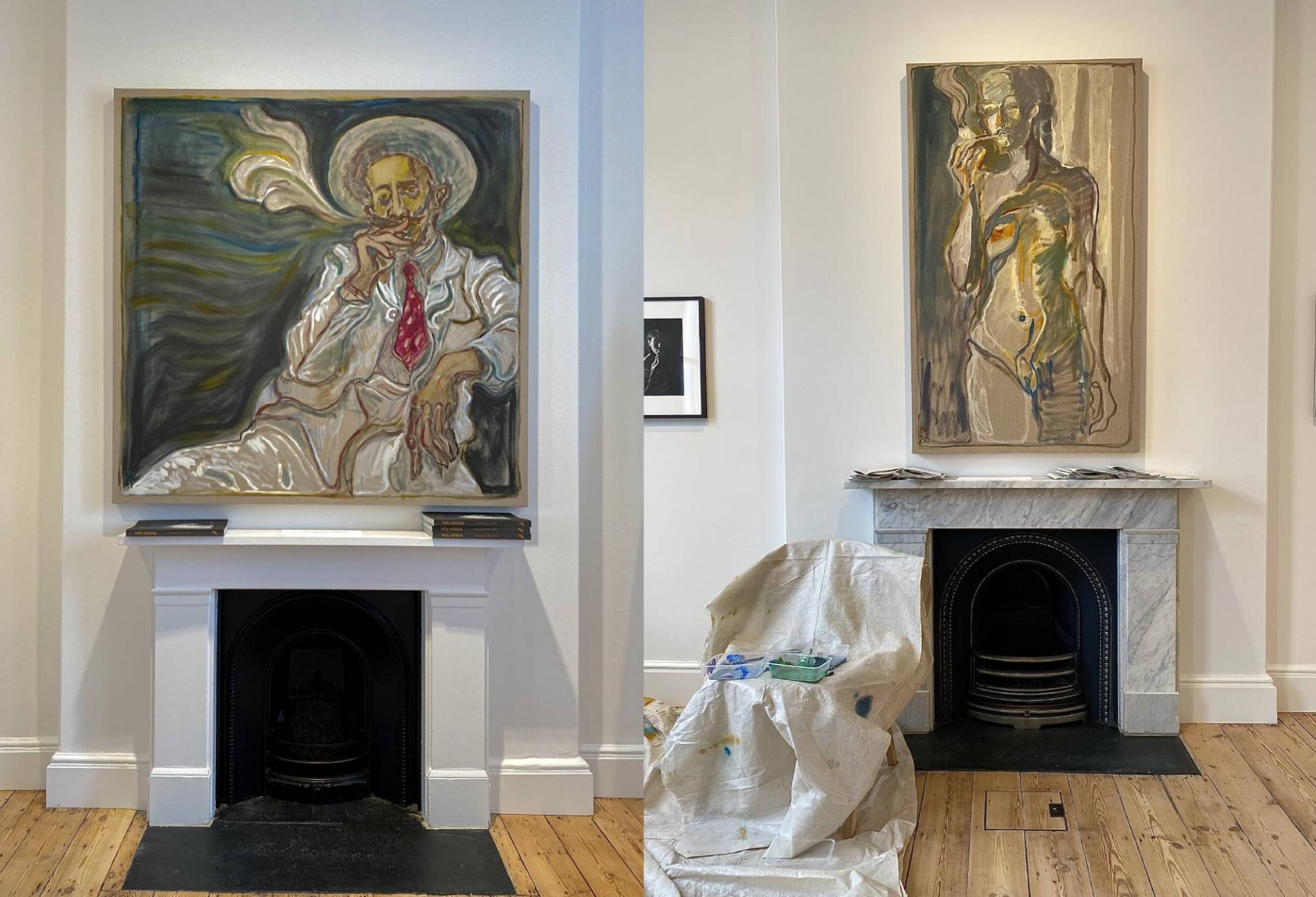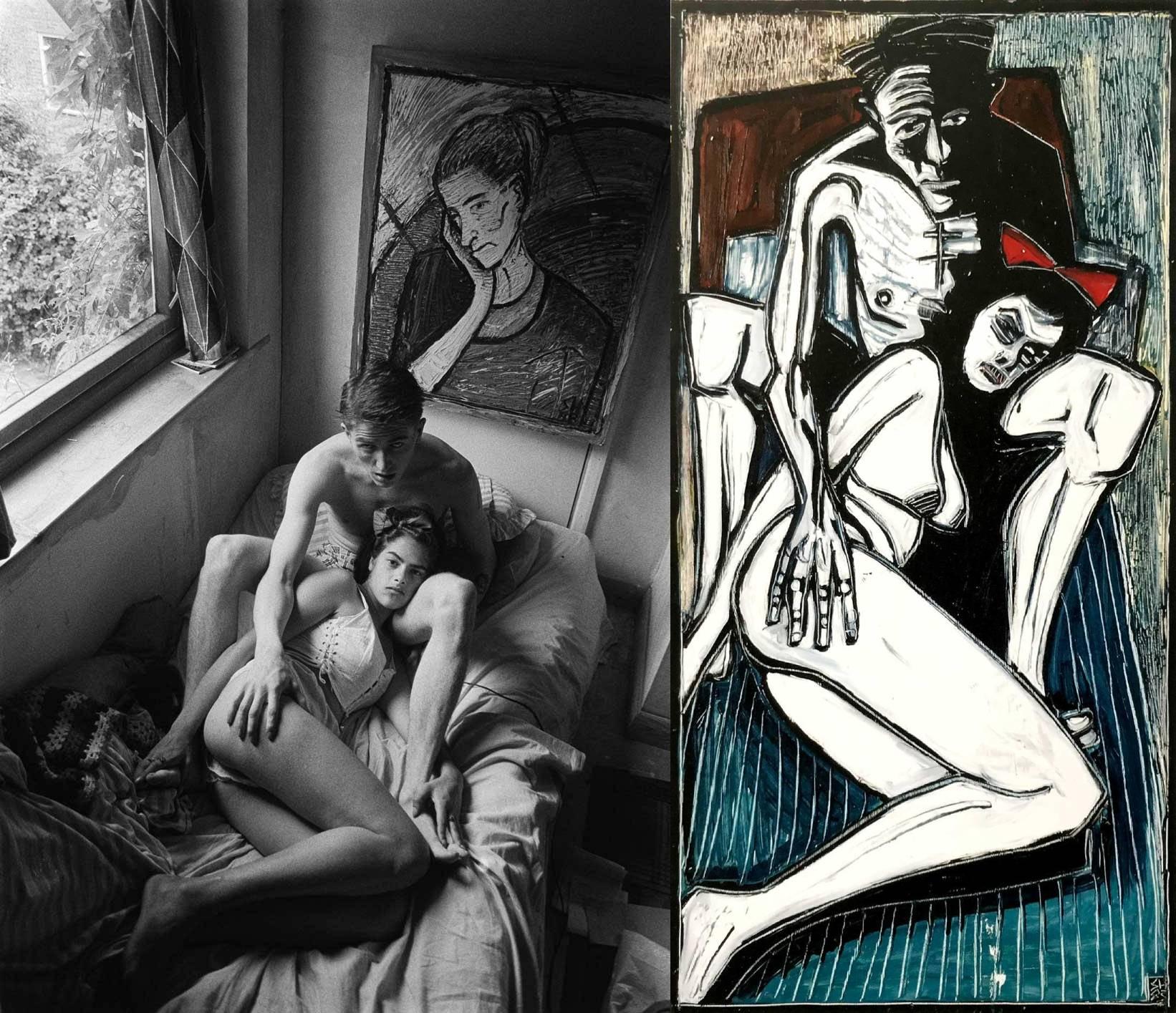 Currently closed for lockdown, Cromwell Place will re-open in December for the new exhibition, "The Possibility of an Island."
An exhibition of celebrated artists from Southeast Asia and the surrounding Asia Pacific Region, all united by the fact they all originate from islands. A relevant exhibition to have here as Britain is aware of the challenges and opportunities an island status provides.
The Possibility of an Island Dec. 3, 2020 - Dec. 11, 2020. The Pavilion Gallery
Arndt Art Agency (A3) is an international art agency with operations within Asia, the Pacific, United States, and Europe.
***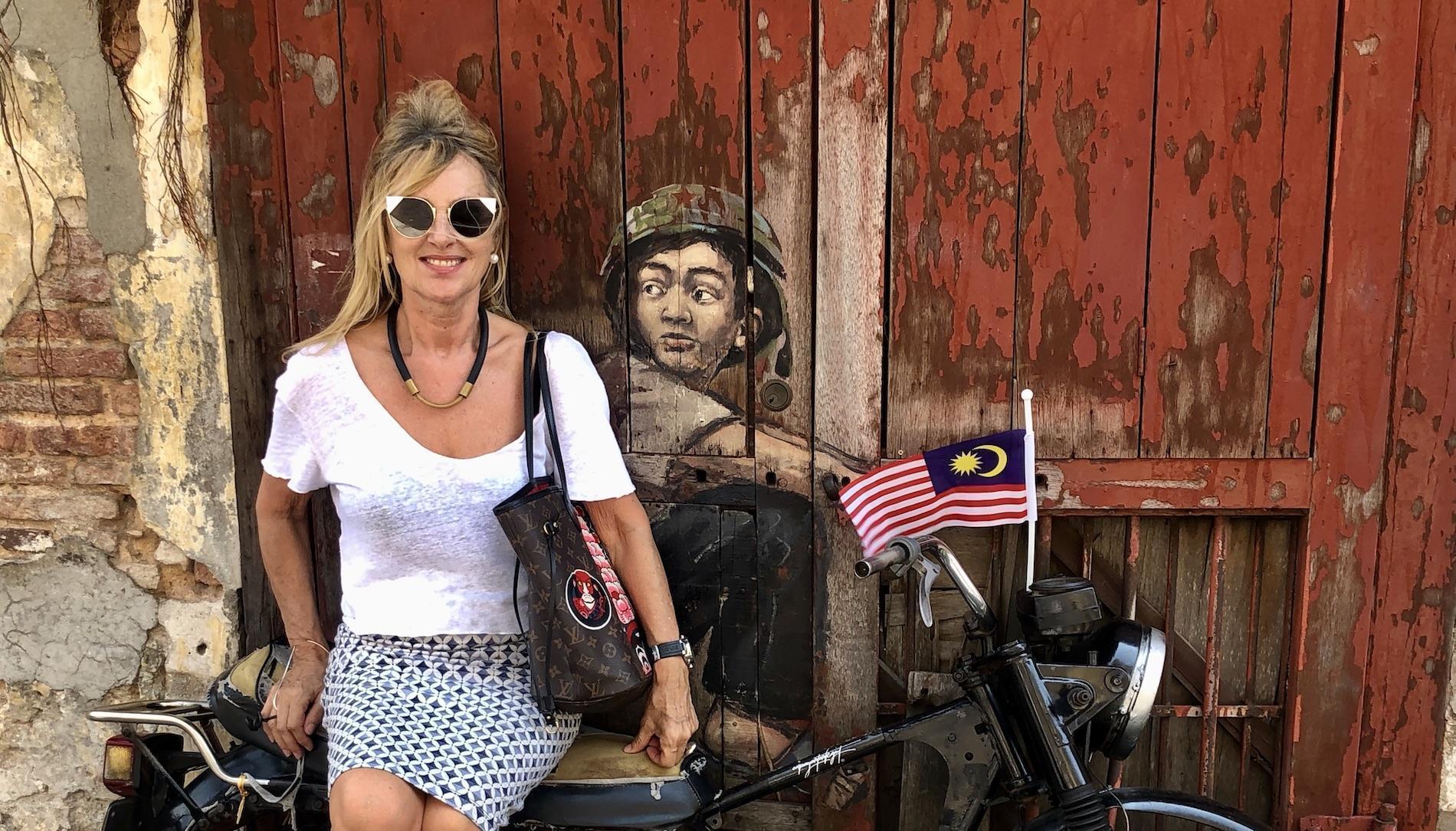 Anji Connell is an interior architect, garden designer and self-proclaimed nomad who regularly writes about art, design, lifestyle and travel from her globe-trotting adventures. Known for her bubbly persona and even more exuberant sense of style, Anji's portfolio spans everything from interior styling to furniture and landscape design for some of the world's most beautiful spaces. For now, you will find her
@anjiconnell_acidplus
and
anjiconnellinteriordesign.com
bingeing on future travel plans from her designer chair.