London's BAFARAT ARTISAN COFFEE HOUSE & PATISSERIE combines Middle Eastern coffee culture with eye-dazzling, delectably indulgent French Patisserie.
Bafarat was founded in 1952 by the late Omar Ahmed Bafarat. The eponymous business began as an import-export company, gaining renown in Jeddah by importing fine herbs, spices, and coffee worldwide. Over 60 years later, the Company is still a family business, with the sons and grandsons of Omar Ahmed Bafarat now guiding the Company. This expertise in coffee and coffee roasting led to the opening of Bafarat cafe in Jeddah in 2016, spearheaded by Omar Bafarat, grandson of the founder. He has now brought Bafarat to London. Their first international cafe.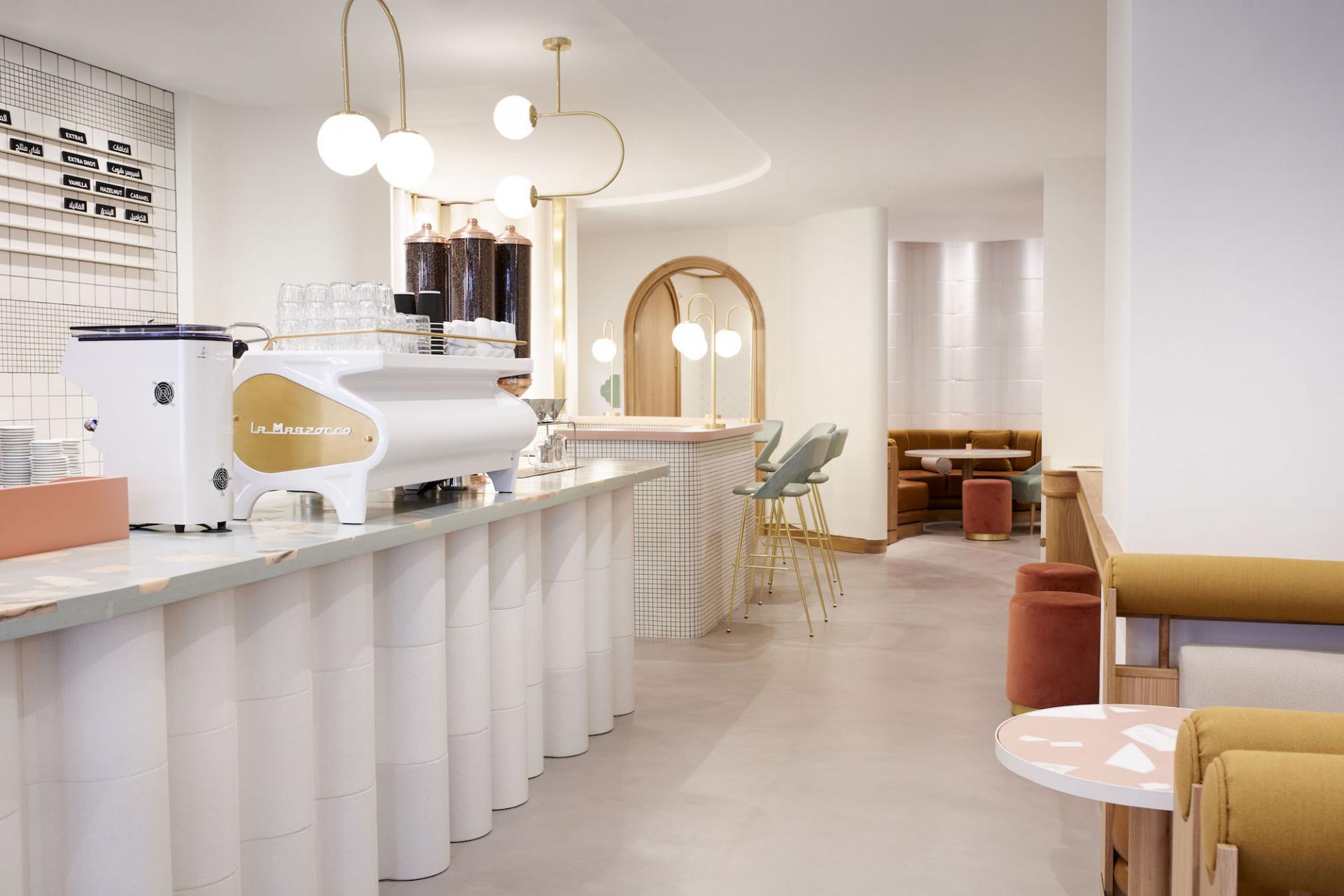 Having designed the Jeddah cafe for Bafarat in 2016, the London based design studio Blacksheep were delighted to be asked to imagine and bring to life their second cafe here in London. "Our inspiration came from a simple phrase, "A Tale of Flavours," Paul Mann, the Brand Director, tells me. "We wanted to capture the rich history, and the essence of Jeddah's coffee culture with the fusion of contemporary French Patisserie, and the vibrancy and diversity of London."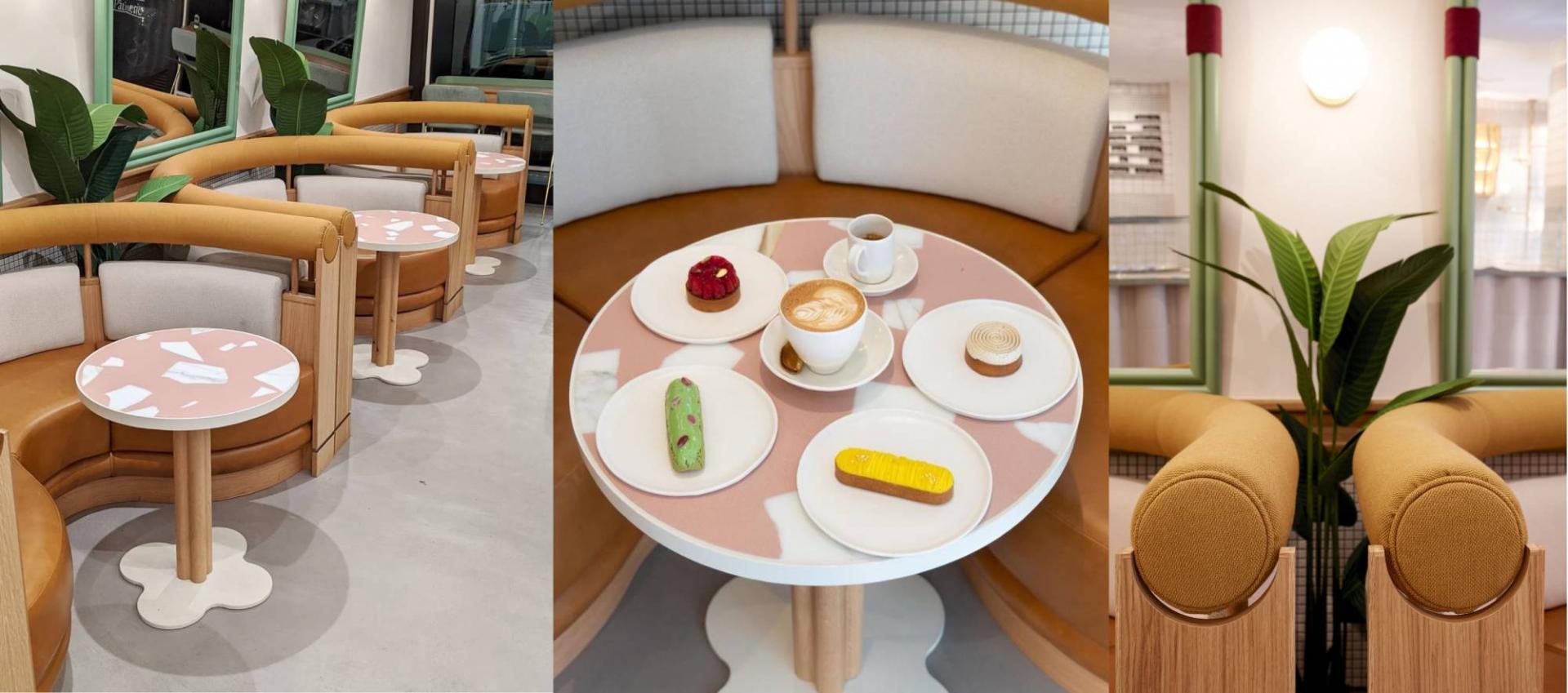 Bafarat Cafe is a serene and beautiful place to indulge the senses; it feels chic and luxurious, yet at the same time, it's fun and fresh, with a little bit of theatre. The design has a pared-back clean-lined minimal aesthetic softened with pastel hues and curvaceous furniture. Classic Arabic ingredients inspired the Pistachio greens and rose pinks. The colours are very forward looking as they've just been announced as the Spring / Summer colours for 2021 Pantone Spring Summer 2021 Interior Design Trends.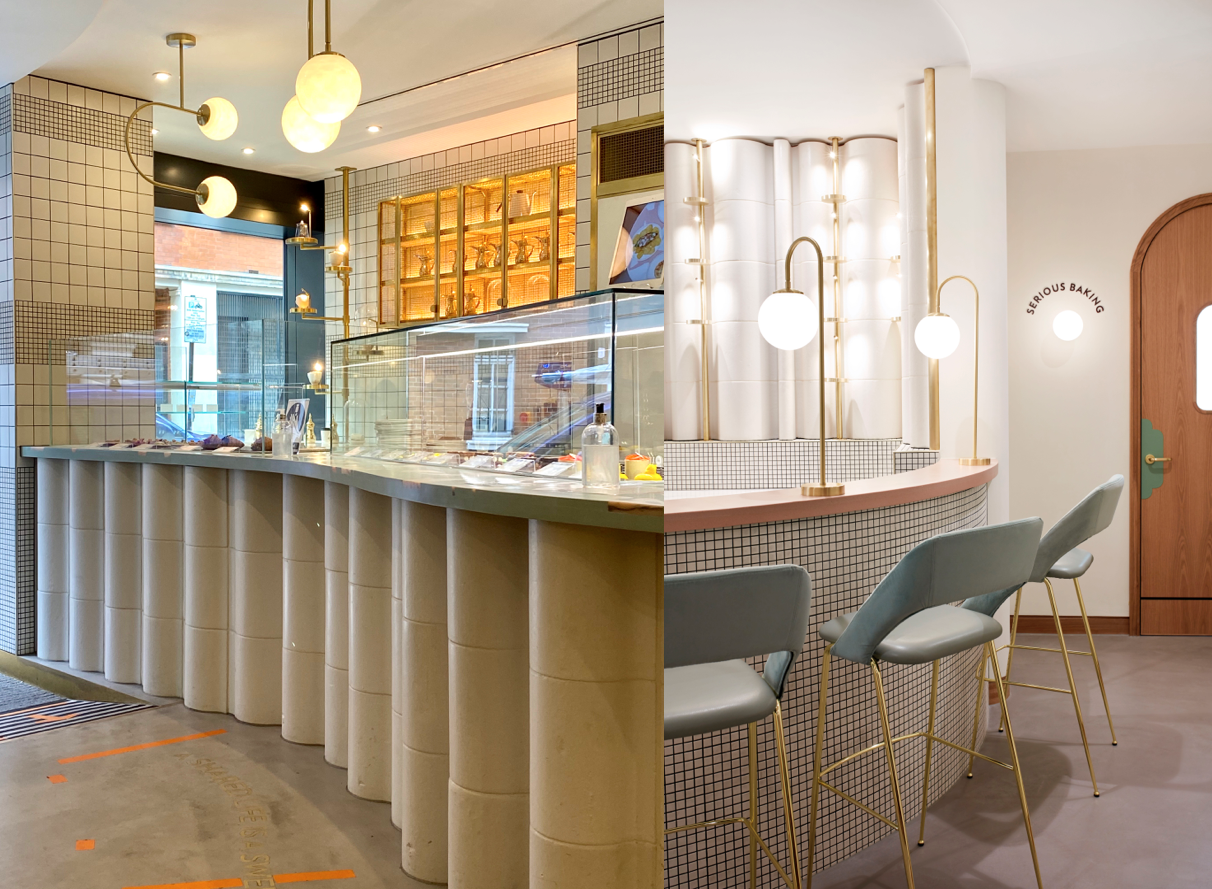 The cafe is rich in materiality, and every piece has a narrative, and has been meticulously designed. Accents of copper, and beautifully grained wood, ties everything together while adding warmth.
Thoughtful touches include the quote, "A Shared Life is a Sweet Life" set into the floor in front of the counter, while "Serious Baking" marks the kitchen entry, and a wall-hung menu is a graphic wordplay in Arabic and English. A wall hung copper fretwork display glimmers from behind the cake counter.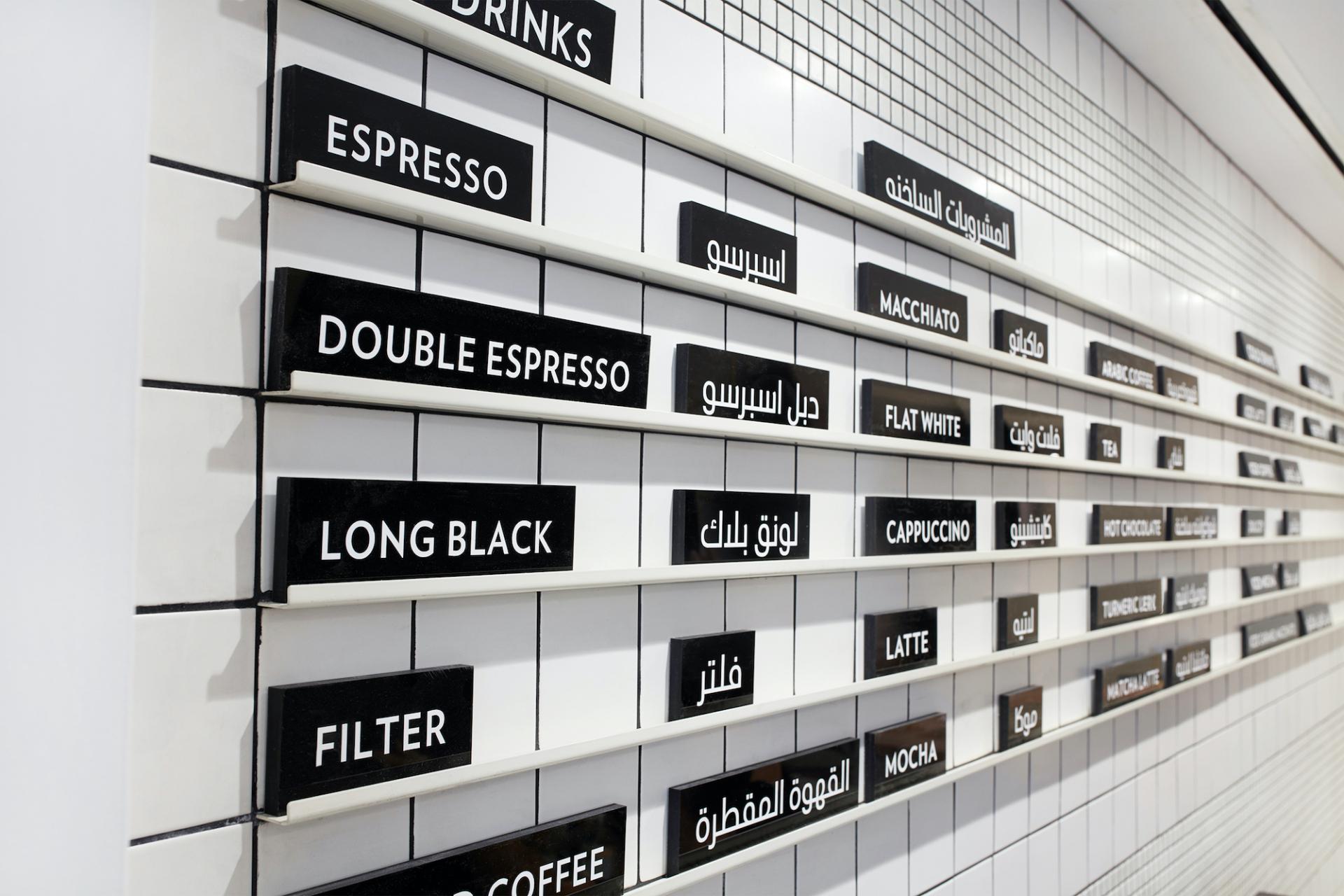 Comfy leather banquettes, and bar seating at the window facing the street are placed to the front of the restaurant, a bar that, with its pastel hues and globe lighting, has a nostalgic nod to an old fashioned ice cream parlour. To the rear a feature wall "splashed" in a rich Aubergine hue lends a more intimate feel to the dining area.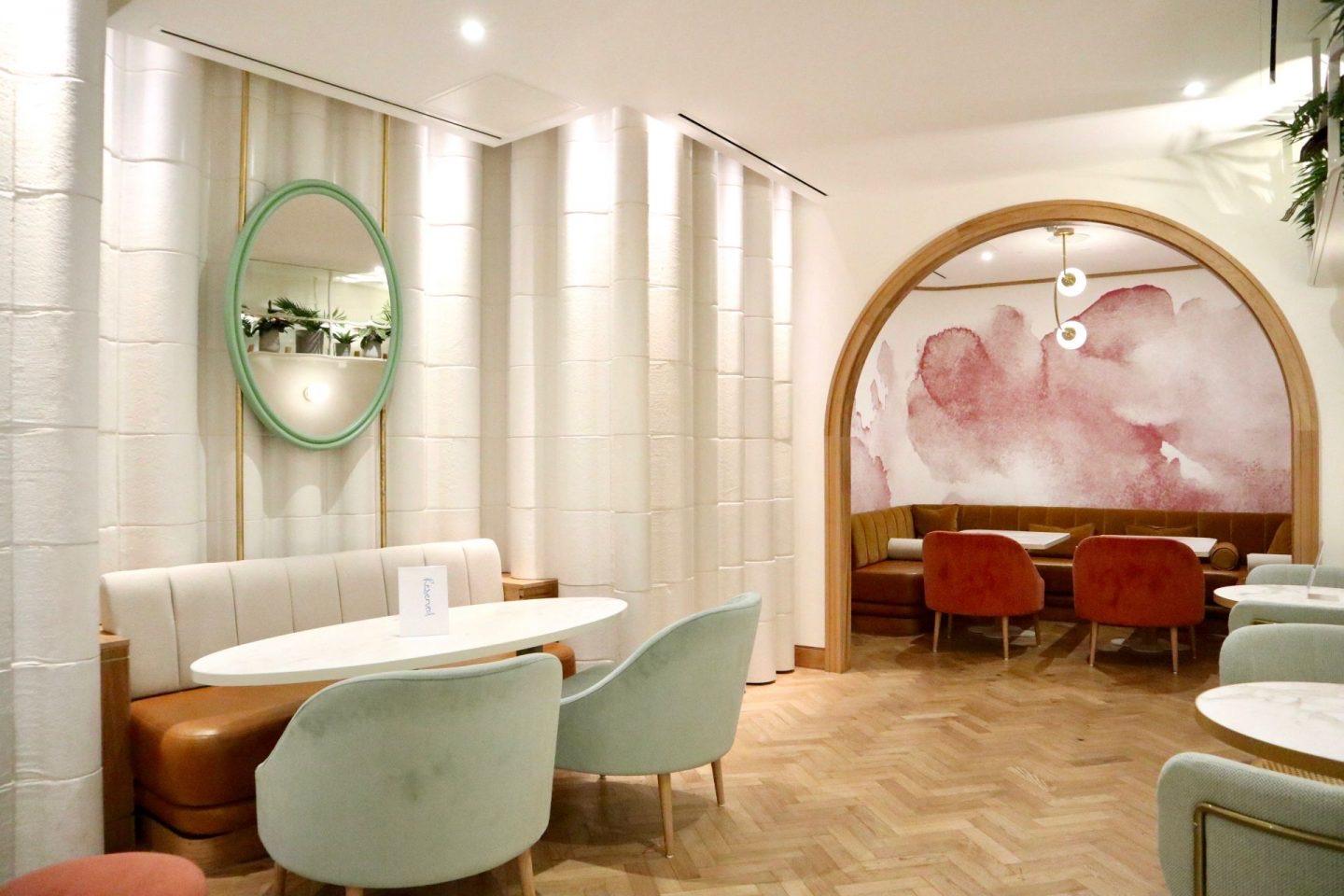 The Coffee
Arabic coffee is ingrained within Middle Eastern culture and tradition. The coffee is spiced with saffron and cardamom and pored from a tall pot called a 'dallah,' into traditional Finjan, a small cup without a handle. Delicious turmeric, beetroot and matcha lattes, add more delicious pinks and greens, to the Wes Anderson'esque setting. Teas include English Breakfast tea and delicious smelling herbal infusions are decanted into into individual tea bags only upon ordering.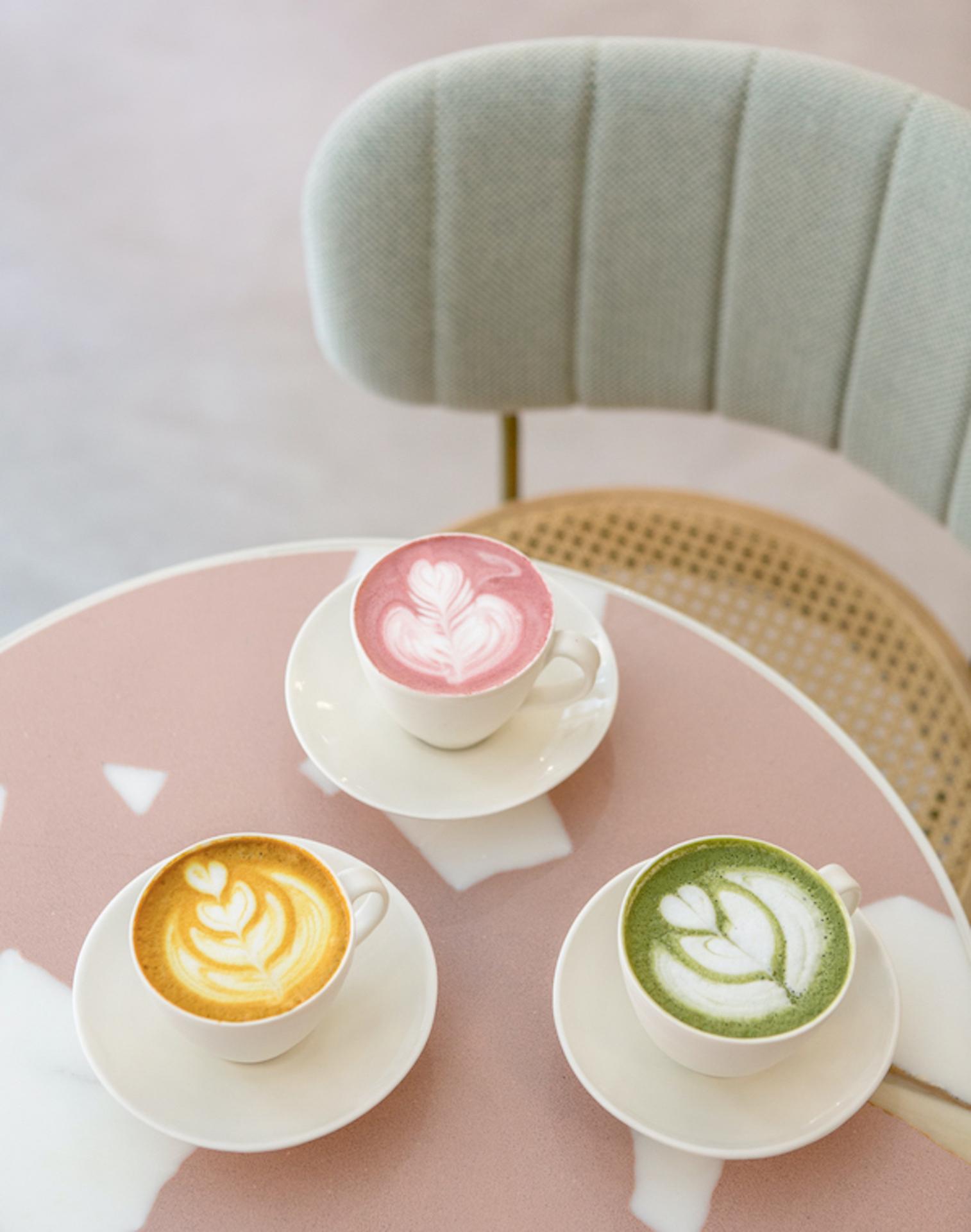 The Cake
The eye-dazzling collection of pastries created by French Patisserie Chef Thomas Alphonsine—an alchemist of super-modern luxurious confections that rely on new ideas and techniques to deliver sublime flavour combinations. They look and taste divine—from the raspberry tarts, pistachio eclairs, lemon tarts, passionfruit cheesecake, and mille-feuille, to the dreamy caramel and cinnamon pillows, they are a feast for the senses. There are several types of cookies too, including pineapple and coconut; plus five types of ice cream macaroons including mango passionfruit macarons, and strawberry and lime as well as their glossy and shiny signature Lemon Tart. As well as multi layered buttery breakfast croissant.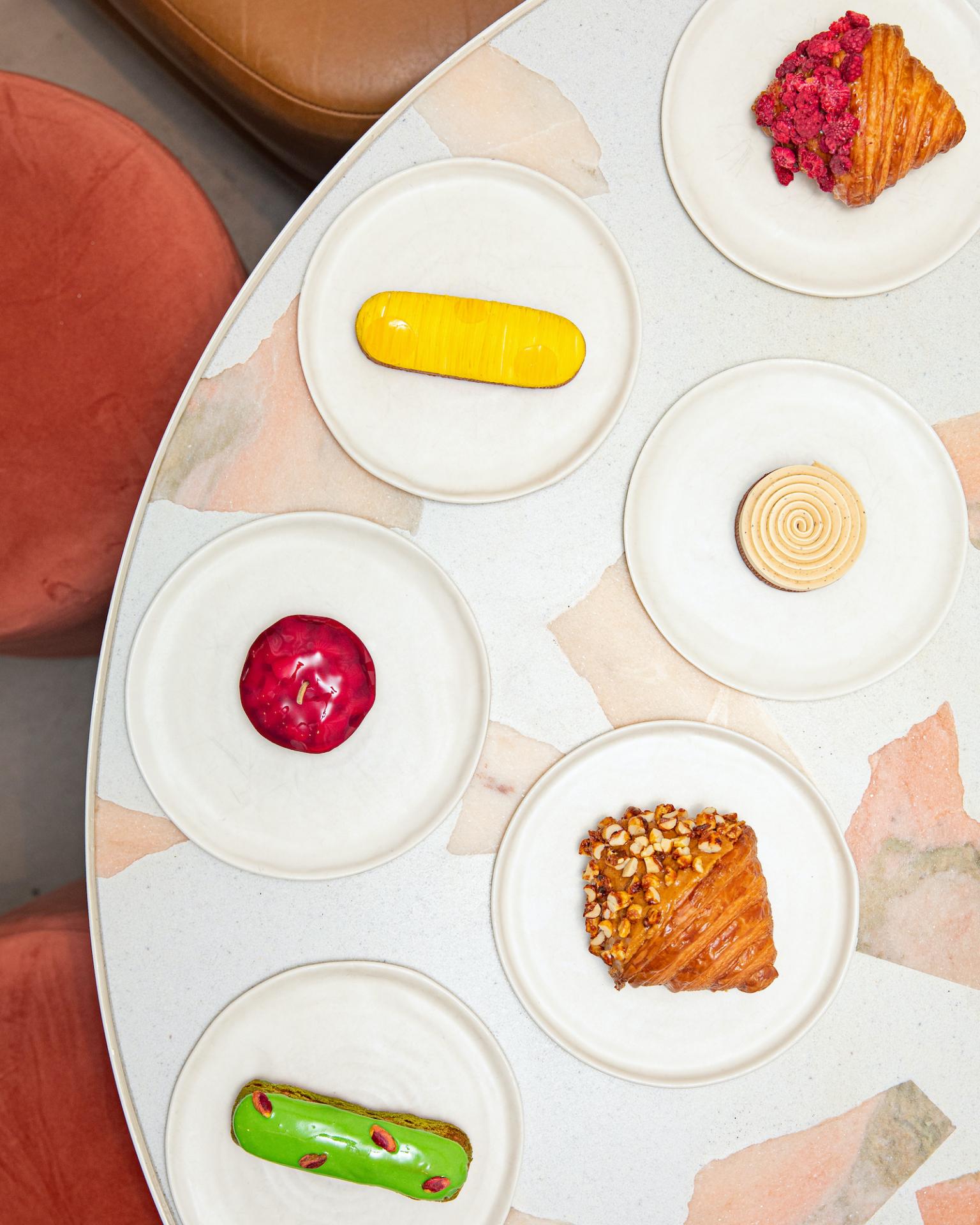 The Main Event, The Afternoon Tea
The Afternoon Tea menu features sumptuous savoury bites of Truffle Croque Monsieur and Lobster Roll, Patisserie, and buttery scones with clotted cream & jam. If you feel incredibly decadent, you can add the indulgent chocolate tree, holding dark chocolate truffle and tender caramel, and peanut. Sadly, the chocolate tree isn't edible; it's merely decorative to hold more tasty morsels.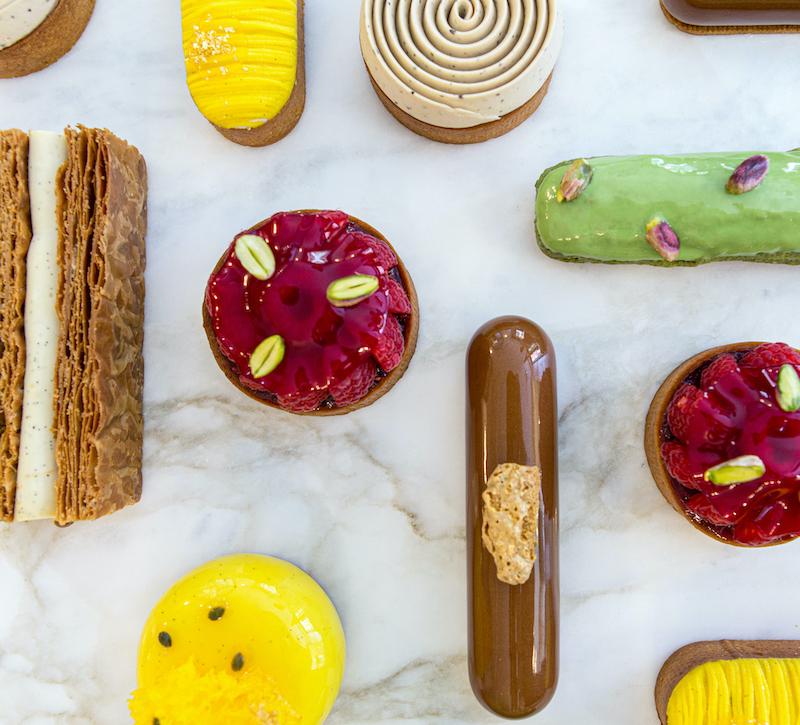 The Etiquette
Much like a French Cheese Plate, there is the right way to imbibe your sweet patisseries-starting with the more subtle flavours of the vibrantly coloured delectables. First up is the dreamy mango & passion fruit cheesecake, apple-cranberry tart, and a bite-sized pistachio eclair, followed by a peanut & salted caramel cookie, Belize Origine chocolate macaron, ending with a Colombian coffee tart.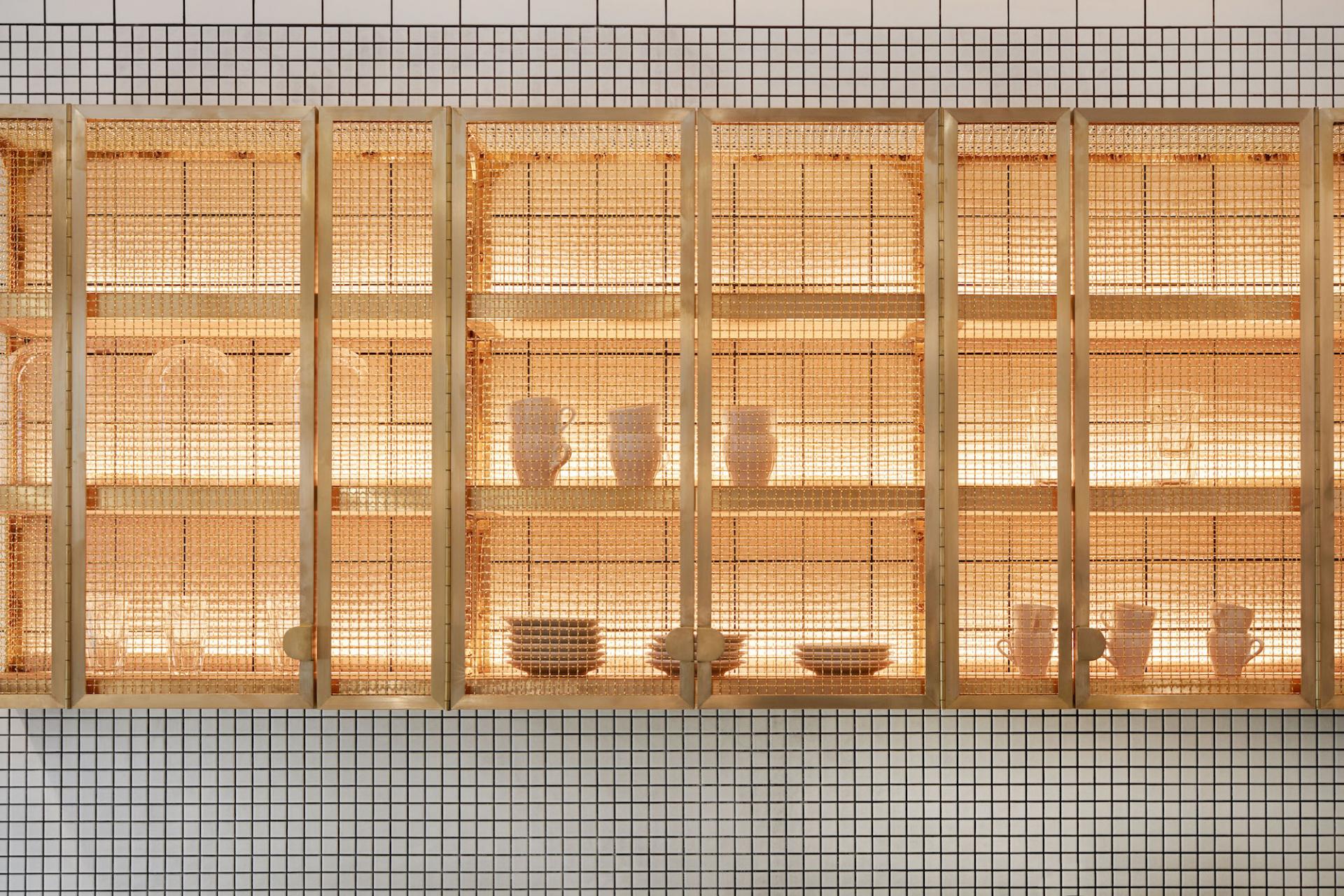 The piece de resistance
The piece de resistance is the "five-course interactive dessert tasting menu, served at the dessert bar where the chefs create their sweet delights to order in front of you.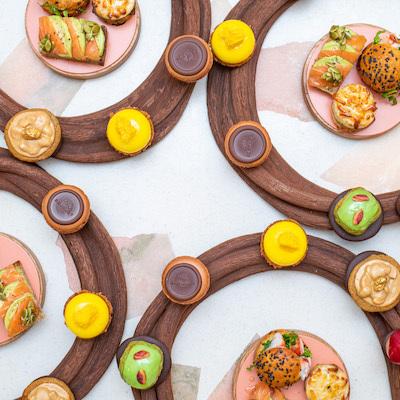 Other chocolate creations to test your willpower include chocolate nougat with hazelnuts and pistachio, caramel and peanut, and a tangy yuzu bonbon. New for autumn is a Caramel and Cinnamon pillow.
The staff are enthusiastically welcoming, knowledgeable, and efficient. It is defiantly my go-to place for a stylish sugar fix, and its no surprise that Blacksheep has made the shortlisted for the 2020 Restaurant & Bar Design Awards in the Cafe (UK) category.

Bafarat, 6 Warwick St, Soho, London, W1B 5LU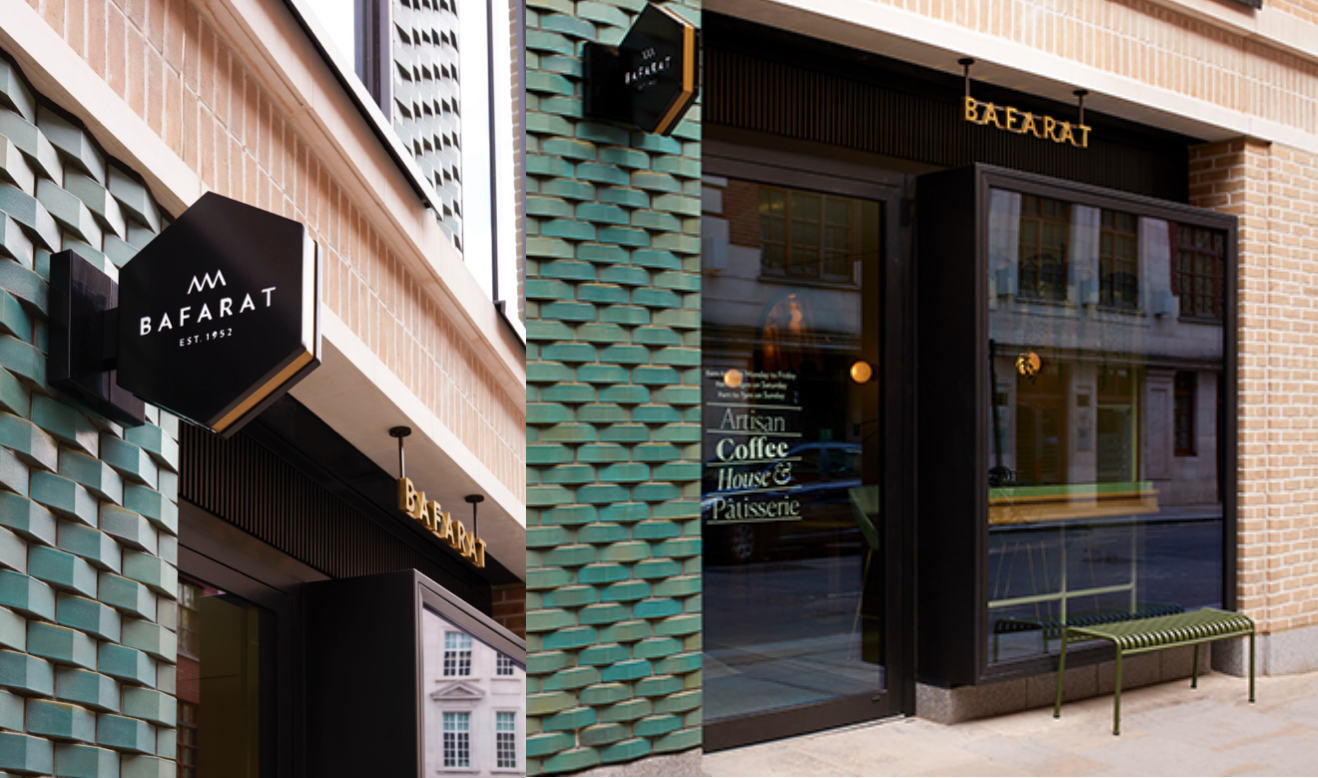 IMAGE CREDIT: BLACKSHEEP
***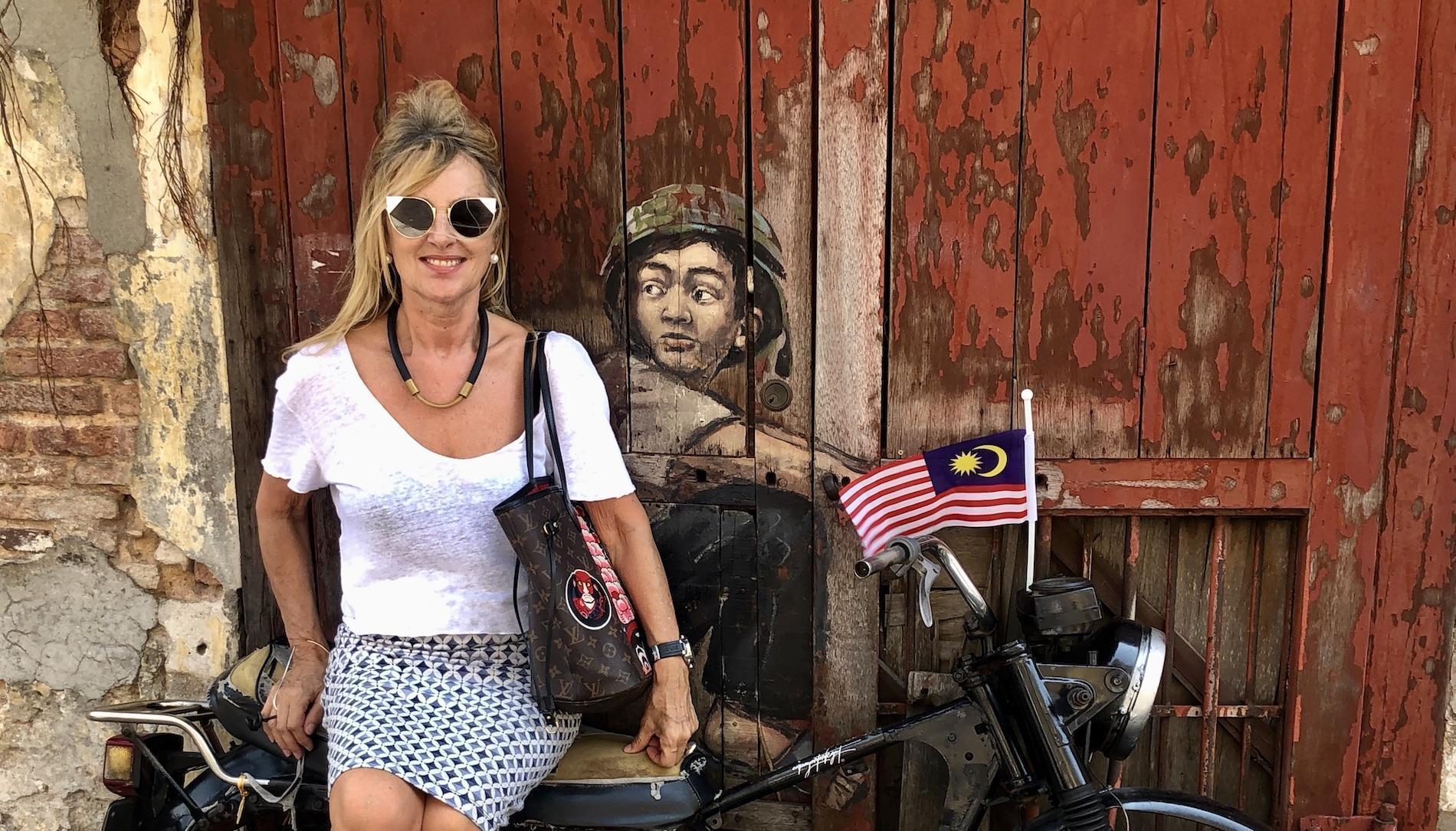 Anji Connell is an interior architect, garden designer and self-proclaimed nomad who regularly writes about art, design, lifestyle and travel from her globe-trotting adventures. Known for her bubbly persona and even more exuberant sense of style, Anji's portfolio spans everything from interior styling to furniture and landscape design for some of the world's most beautiful spaces. For now, you will find her
@anjiconnell_acidplus
and
anjiconnellinteriordesign.com
bingeing on future travel plans from her designer chair.