… on founding Kalo Make Art
Before Kalo Make Art, I studied Fine Art in London where I lived for nearly ten years. After graduation, I worked in various art galleries and spent three years working in an office, while making artwork in the evenings. Being an artist in a creative city like London wasn't easy! Luckily, my passion towards arts and designs keeps me going. In the summer of 2001, I moved from London to Singapore. Since I was much closer to my hometown, Hong Kong, I flew back almost every month. My twin sister, Kalam, who has been working in the Hong Kong's bridal make up industry for many years, encouraged me to make an attempt with wedding invitation designs. After some investigation, I realised there was a lack of personalised and creative wedding invitation card design service in the market, so I was determined to give it a try and that was how Kalo Make Art was born.
… on what sparked it all
My interest for beautiful handwriting developed at a young age and I was very much influenced by my father, who gave me constant guidance and encouragement. Each year at school, I participated in the penmanship competition and was keen to win! I would spend hours and hours practicing to perfect my writing. When I first moved to Singapore, I came across a book on calligraphy and was fascinated by the stunning forms and lines of the writing. With computer typing as the mainstream method of communication nowadays, hand-written words become more rare. I wanted to learn this old and traditional skill, so I began practicing calligraphy!
… on starting the workshop
Last year, I had the honor to teach a series of calligraphy workshops at Shop Wonderland, a modern florist-café shop based in Singapore. I met Melissa, the shop owner, at a wedding event where she saw me performing some calligraphy demonstrations. I was so thrilled to see that the workshops were popular and successful. More importantly, I really enjoyed sharing my passion of calligraphy with the students and felt achieved to have inspired others!
… on teaching calligraphy
My calligraphy workshops focus on traditional dip-ink calligraphy in modern writing style. To cater a range of calligraphy abilities, I am running the workshops in two different levels – beginner and intermediate. My beginner workshops are suitable for everyone! Participants will not require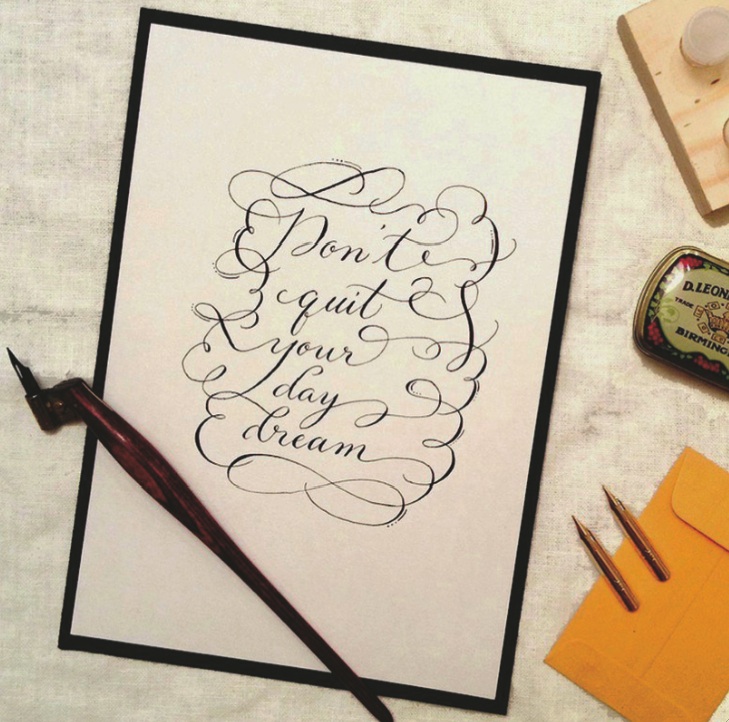 …on materials and techniques
Although the trend in dip-ink calligraphy is growing, there is still a lack of calligraphy supplies available in Hong Kong. I purchase the majority of my calligraphy supply from overseas and have certain items in stock for students who are interested in purchasing. My personal favourite is to write with walnut ink and oblique calligraphy pen in flourishing calligraphy technique.
… on personal favorites
I love designing wedding invitations! Each couple has their own story and background to tell, so each wedding invitation project is unique and personal. Recently I designed a fun and unconventional wedding invitation suite for a couple getting married in Thailand, using modern calligraphy, quirky and whimsical illustrations mixed with florescent colours!
… on the design concept for Kalo Make Art
Kalo Make Art is dedicated to provide bespoke wedding invitation design and calligraphy services; most of invitation designs are created in response to a customer's design brief. And as the designer, I enjoy the diverse styles of each project, it's what makes my job creative and fun! A recent example is a couple that met through friends at a restaurant, we used their favourite restaurants as table numbers at the wedding. Instead of a large seating plan, escort cards were displayed at the reception table to inform wedding guests of where they would be seated. To add a personal touch, the couple asked me to hand write each wedding guest's name in calligraphy on the envelopes, guests would need to open the envelope to find out to which restaurant they would go.
… on inspiration
I seek inspirations from various things and nature is one of them. I visit botanical gardens regularly to draw; a lot of my wedding invitation designs are original artwork from these trips. During leisure time, I visit art galleries and museums to get inspirations by learning other artists' work. Artists that I admire and seek inspiration from include contemporary New York illustrator Yuko Shimizu, Japanese artist Yayoi Kusama, British children's book illustrator Anthony Browne and the late Austrian painter Egon Schiele.
All images courtesy of Kalo Make Art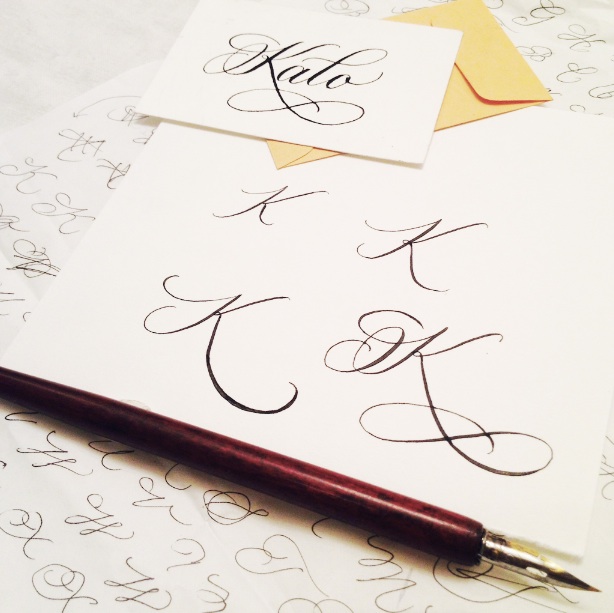 any prior calligraphy skills to join. Students will learn to write in modern calligraphy and gain grounding in pen and ink tools and the basic brushstroke techniques. During the workshop, students will have the opportunity to practice and receive my personal help and guidance. Each workshop covers a different project theme – from creating your own mini quotation poster to designing your own monogram. My intermediate workshops are suitable for learners with some degree of calligraphy skills or those who have attended our beginner workshops before. Students will study and practice calligraphy in an extensive level, such as flourishing the alphabets. Intermediate workshops are ideal for learners who want to take their calligraphy skills to the next level.
The post Calligraphy with Kalo appeared first on Home Journal.