Head to East London's shiniest new stay for a little bit of groovy al fresco-ness. One Hundred Shoreditch dazzles with its rooftop bar, Goddard & Gibbs seafood eatery, and mixology maestro Ryan Chetiyawardana's (Mr Lyan) basement bar, Seed Library.
"Elevated, yet not too serious," is how Jacu Strauss defines the exciting new edition to London's vibrant hotel scene, One Hundred Shoreditch (OHS).
Strauss is the founder, creative director and lead designer of the forward-thinking international hospitality company Lore Group. The hotel portfolio collection includes Sea Containers London, (Strauss led the design of the interiors for Sea Containers while as a senior director at Tom Dixon's Design Research Studio); the Pulitzer Amsterdam; Riggs Washington DC; and the Lyle Washington DC.
One Hundred Shoreditch occupies the building that pre-COVID was home to the East London Ace Hotel. Ace was a design-led hotel aimed at the young 20-something market, popular for its ground floor public spaces where anyone could drop in, plug-in, and work for a few hours for the price of a coffee. The bedrooms resembled student apartments with low-level futon-style beds, retro record players, and guitars hanging from the walls.
"It was necessary to look beyond the normal considerations of architecture, context, and neighbourhood for OHS. We had to re-evaluate how hotels must adapt to our new post-COVID world, how Shoreditch has evolved, and how we needed to evolve with it," Strauss recounts.
Strauss and his design team have spent the past two years reworking the interiors, retaining what was good about the Ace, and adding a more grown-up polished feel.
"We wanted to work with elements of the previous design, and in doing so, embrace a sustainable approach by keeping some features and enhancing them to elevate the design and create a new guest experience," he adds.
"I like to start each of our projects from scratch to create an element of surprise with a mix of contrasting elements. I want to tell a story with my interiors, to create a narrative. I'm interested in how design can affect people differently and uniquely, and how a space makes you feel.
"I always strive for balance. As a designer I will always fight the design corner, but I also understand the other aspects that make a hotel successful: service, offering, and atmosphere, and all need to be equally balanced."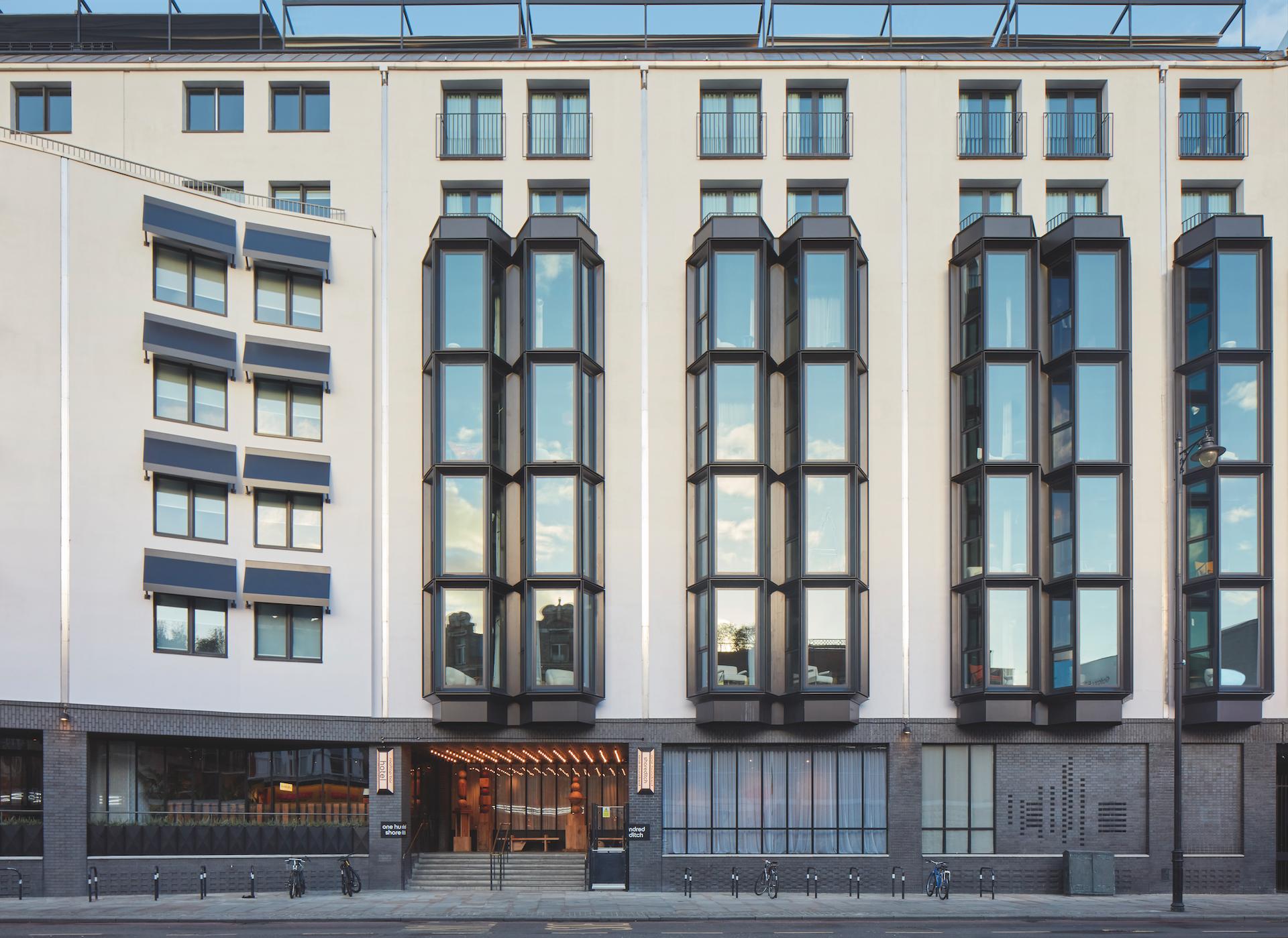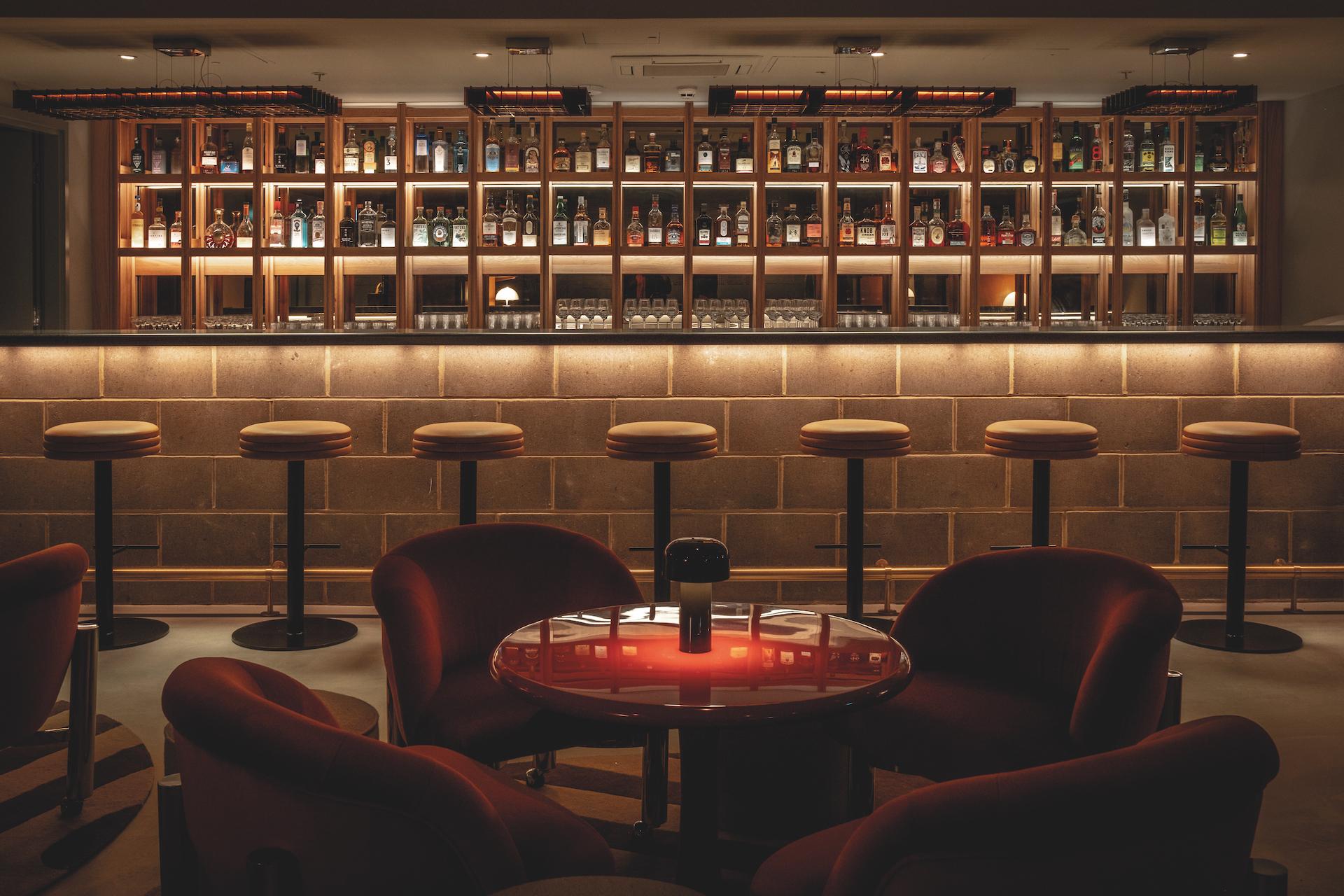 "It is a design hotel, but we do not see design as more important than anything else. Everything has equal billing – that is how to make it work." The vibrant and dynamic abstract artworks and textile panels strategically placed throughout are all created in situ by Strauss.

"For me, the most important aspects in a hotel are ambience, [music] and art. They have a tactility that you don't always get with hotel art," he says. "I have always painted, drawn and sketched. Plus, I enjoyed doing it! For OHS, I felt my art could be integral to the hotel's story and instantly make the rooms feel more special and residential."
OHS demands attention from the street with its fabulous fun; the funky totem poles standing sentry-like, which mark the entrance, are a collaboration between Strauss, Maya Loud, and master craftsman Jan Hendzel, of Jan Hendzel Studio, from exquisitely turned wood embellished with perspex shapes. The wood's natural and beautiful grain and smooth surfaces scream at you to reach out and touch.
In contrast, Goddard & Gibbs' stylish, bright yellow awnings add a sophisticated aesthetic.
Once inside, the "totems" continue into the lobby, reflected in a giant mirror. A series of spacious interconnecting communal areas open up before you from the living room lounge, the lounge bar, a cool coffee shop, and several breakout zones, ultimately leading to the hotel restaurant Goddard & Gibbs, the wine bar, and Hatch, the street side takeaway.
"It's important to have a flexible place where people can do whatever they want, where you can just sit down and take in the spectacle of your community – space that encourages hotel guests and local community gatherings."
Music is ever-present, with a playlist that gains in tempo and volume as the day progresses.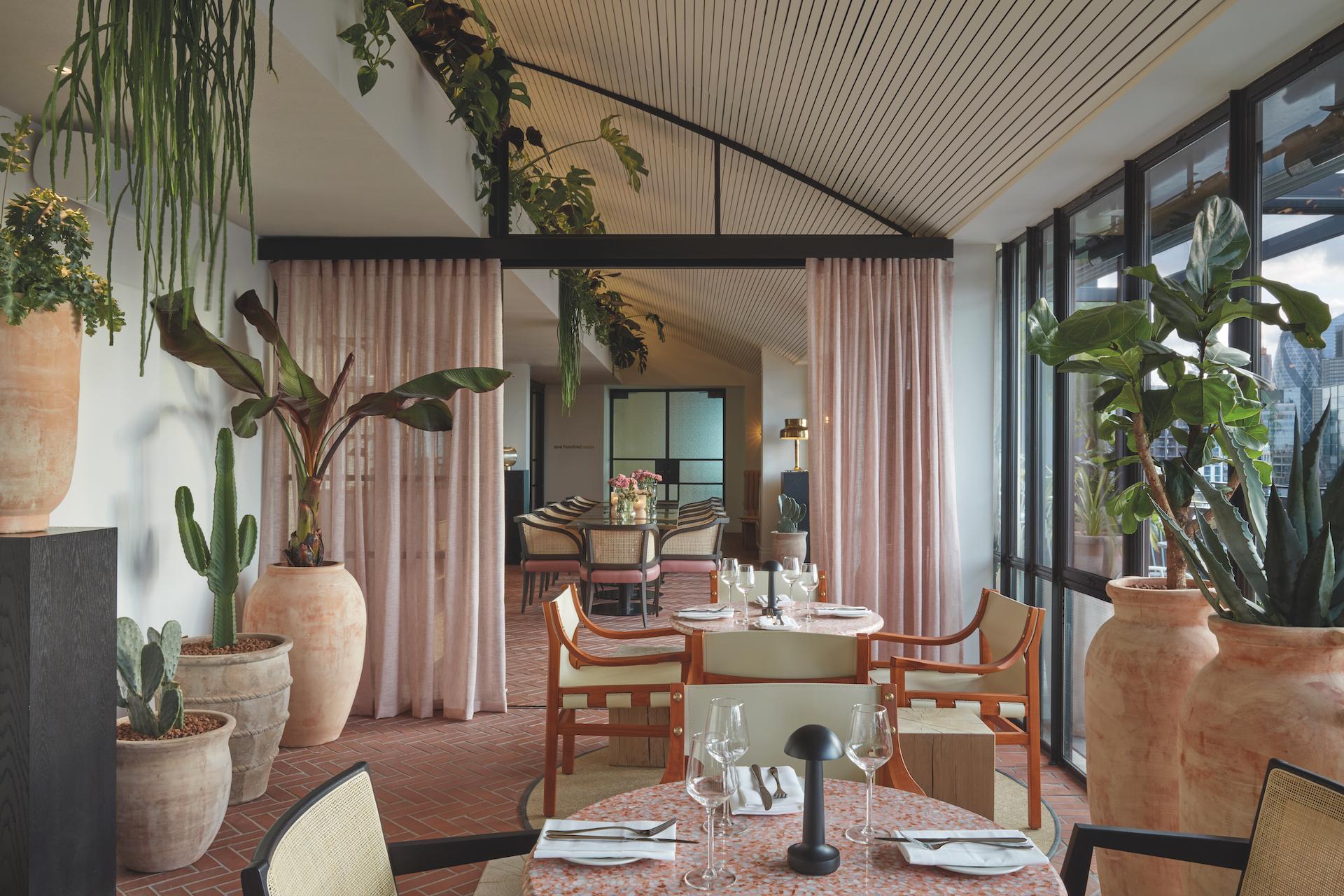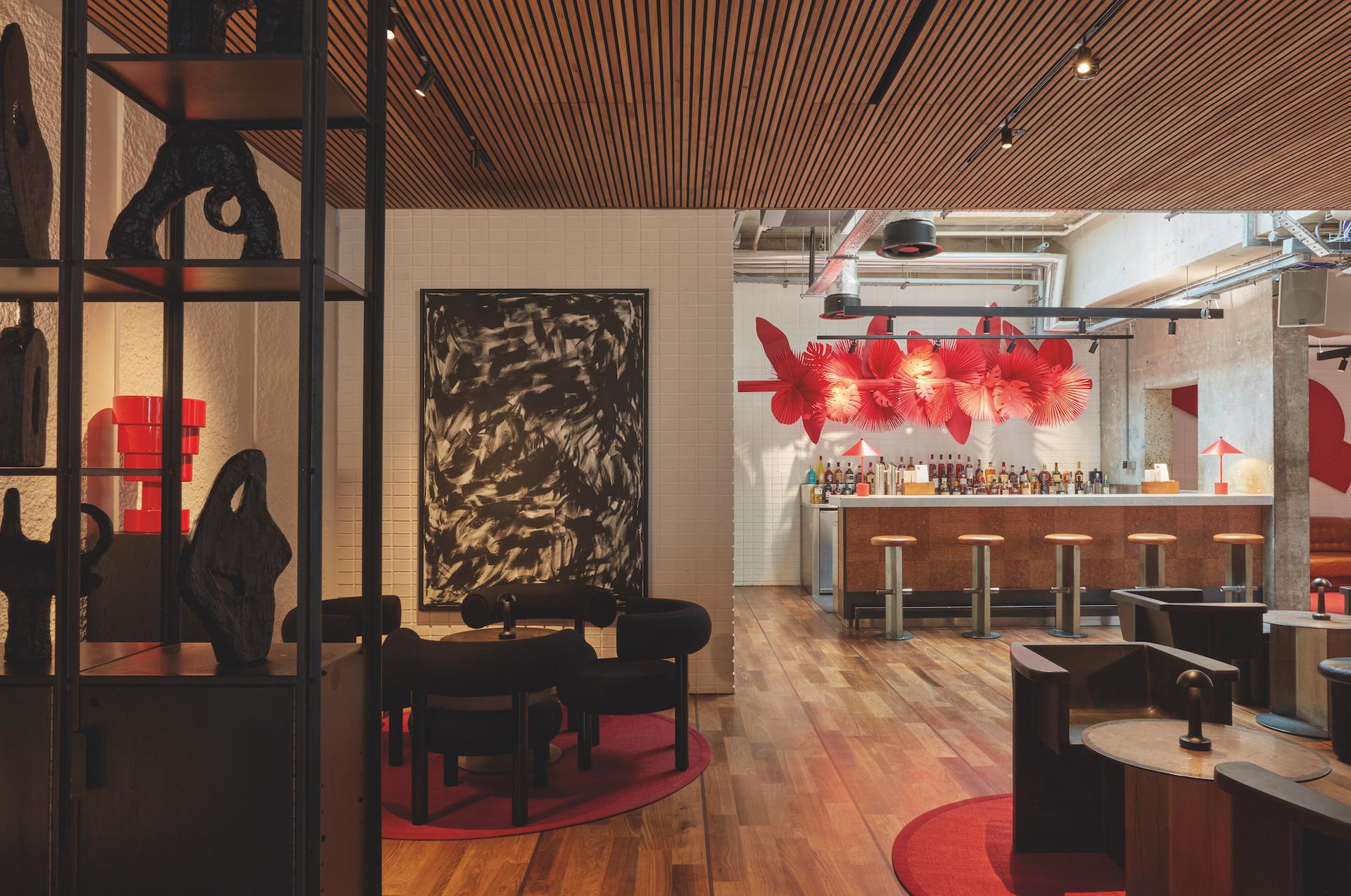 LOBBY BAR
An arrangement of giant scarlet paper flowers above the bar comes from Antwerp-based paper art company Mio Gallery. A selection of custom art and furniture includes one of Strauss' paintings, along with custom plinths; Fat chairs by Tom Dixon Studio; Brutus chairs by 101 Copenhagen; a vase by Kartell; along with Philippe Malouin's leather armchairs DS-707 for de Sede; and the super- sized communal table from Made by Benchmark.
THE SEED LIBRARY
Mixology maestro Ryan Chetiyawardana's latest offering is a lounge-style cocktail bar on the basement level that takes inspiration from Stanley Kubrick movies. A speakeasy vibe with 1960s-style lamps is juxtaposed with wooden wall panels fixed using metal racks taken from an office shelving unit.
GODDARD & GIBBS
Strauss infused a playful sense of nostalgia in Goddard & Gibbs. A cross fish motif takes inspiration from the original Victorian gates of East London's Billingsgate Fish Market. Like a stack of washed-up items you find on a beach, a big standout yellow sculpture takes its inspiration from Strauss' memories of trips to the seaside as a child. Large lampshades like jellyfish float down from the ceiling, and a row of yellow sand-art pictures adorn the walls, with a line of angled mirrors around the room redirecting your eyes back to the sculpture.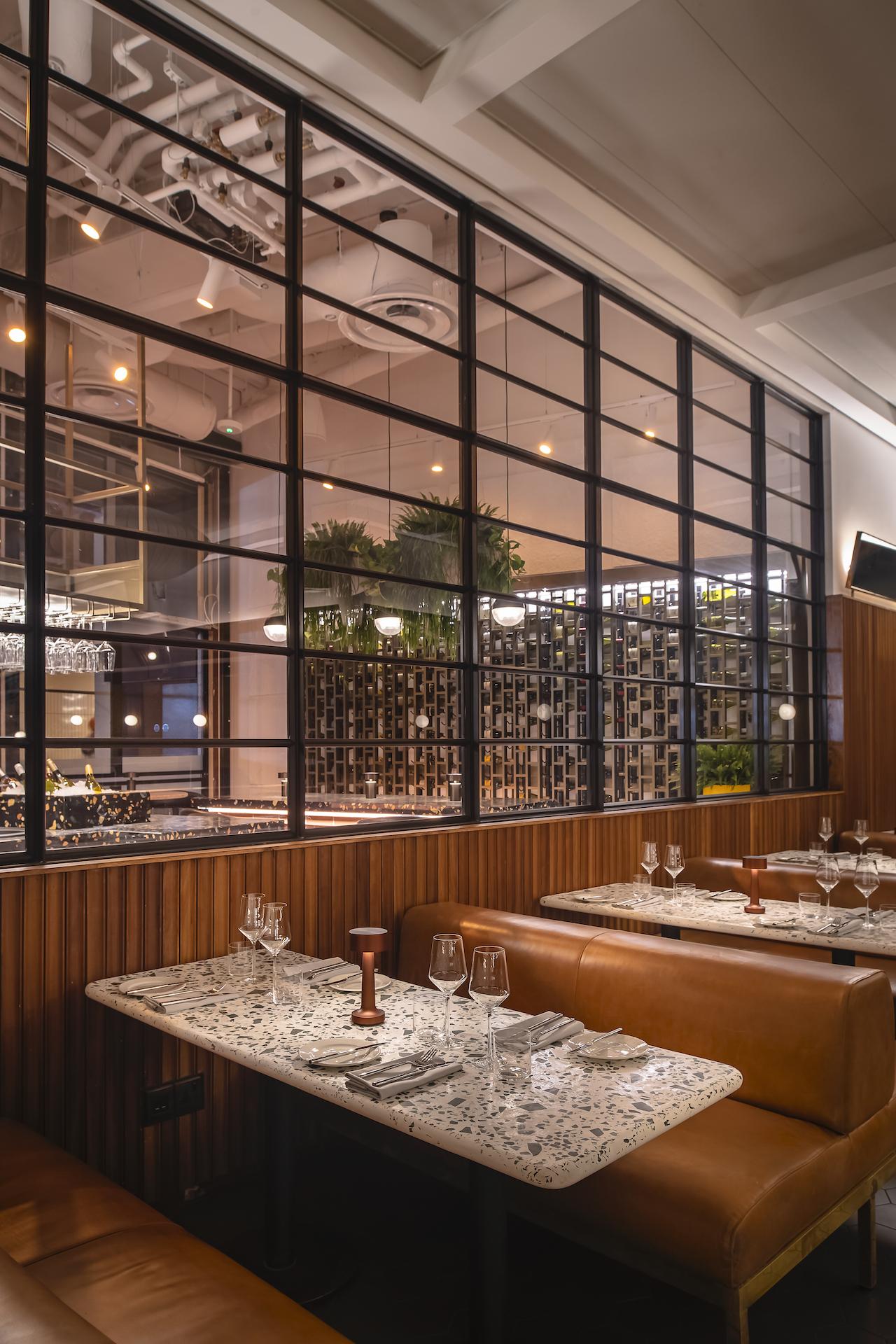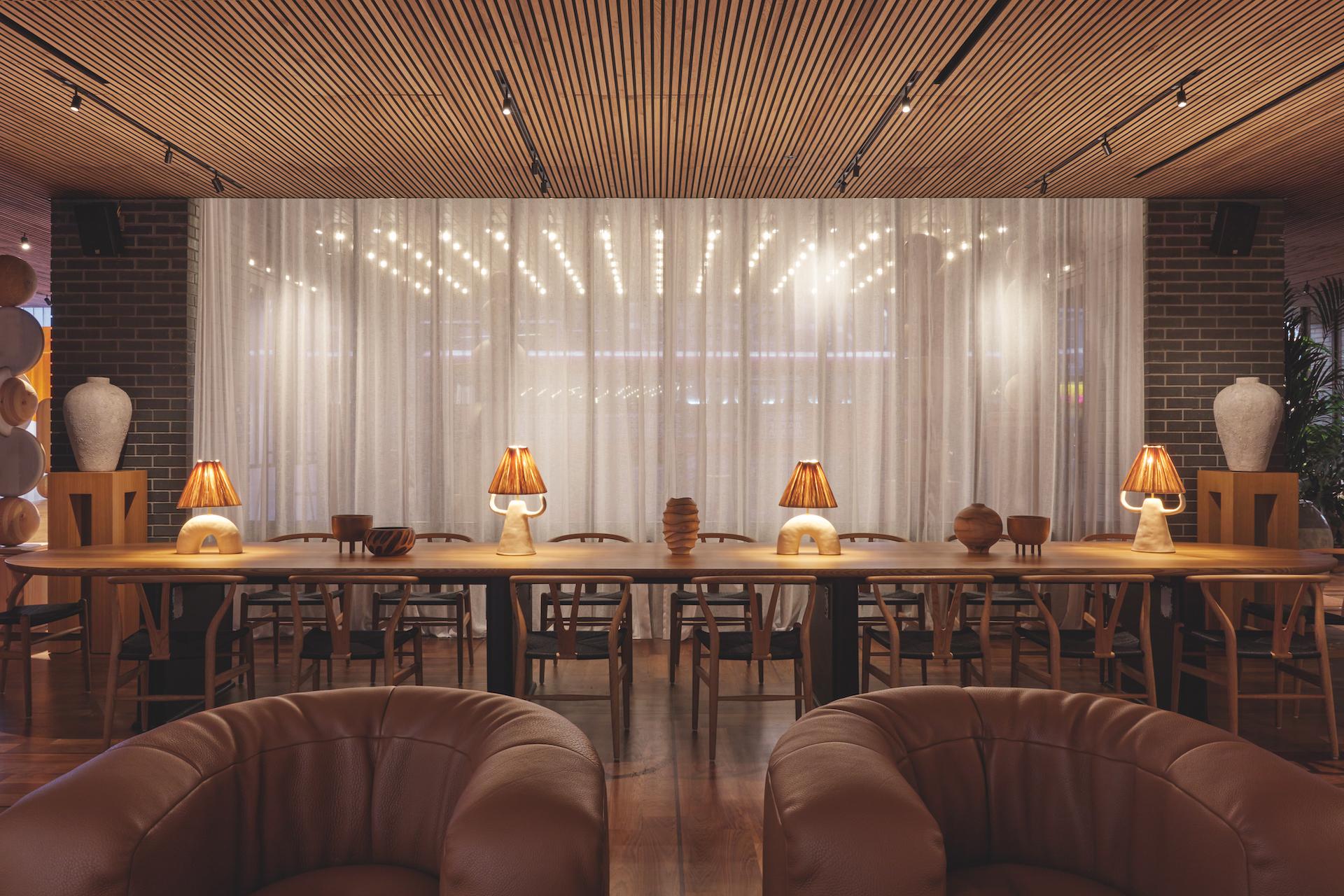 THE BEDROOMS
Strauss wanted the rooms to be a sanctuary, a place of calm so that when you enter them you need to shift your energy. The rooms are stylish, light, contemporary, and comfortable, with crisp white linens brought to life with vibrant abstract art combined with thoughtfully curated vintage and bespoke pieces.
The rooms and suites are a tranquil space of calm away from the vibrancy and energy of the hotel's restaurants and bars. The rooms are light, white, super comfy and contemporary, and the artwork and fabric panels are all designed by Strauss.
The bathrooms retain the black and white theme, with the ceilings painted black, highlighting the exposed steel casing for the lighting and electrics. Berber carpets add softness. The beds have a shrunken base to create the illusion of floating. Playful vases are filled with eucalyptus to scent the rooms.
The Studio rooms are perfect for two. The Studio double rooms have two super comfy double beds, while the Studio Plus rooms offer extra space for lounging, with wall-to-wall sofas, dining tables and larger beds.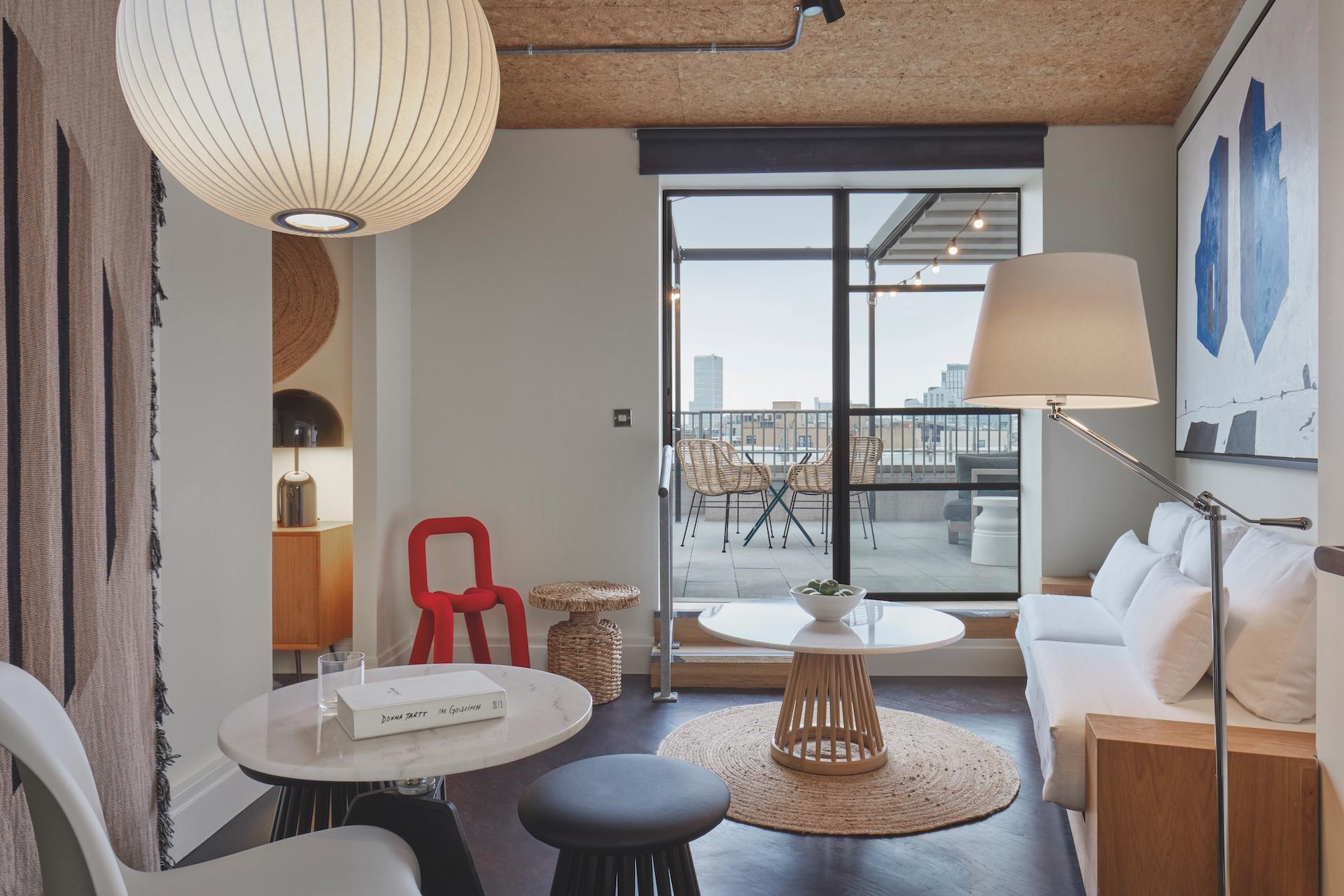 The Studio suites have a spacious living room, relaxing bedrooms and a fabulous private terrace with views over East London. Light floods into the Studio lofts from the newly added feature oriel windows with Juliette balconies. Staying in a Studio suite is like having a pied-à-terre in the city.
The Lore Group aspires to reveal and celebrate the history, personality and distinct characteristics of the buildings they acquire through the concept and design. Strauss added oriel windows that have enhanced the look of the building and the feel of the rooms.
From the outside, they add character to the previously monolithic façade, and inside, they provide 48 bedrooms with new floor-to-ceiling bay windows, perfect to sit in and watch the world of Shoreditch trundle by below. Each oriel window has a unique furniture arrangement with a pop of colour.
OHS has 258 rooms and five meetings and events spaces to host private dining, receptions and weddings. The largest of which is a very cool space – the Hundred Room is enclosed by floor-to-ceiling windows and views across the city. Wall art is in the form of a full-size unfolding parachute, with modular tan leather cubes and blocks for seating. The largest of which is enclosed by floor-to-ceiling glass.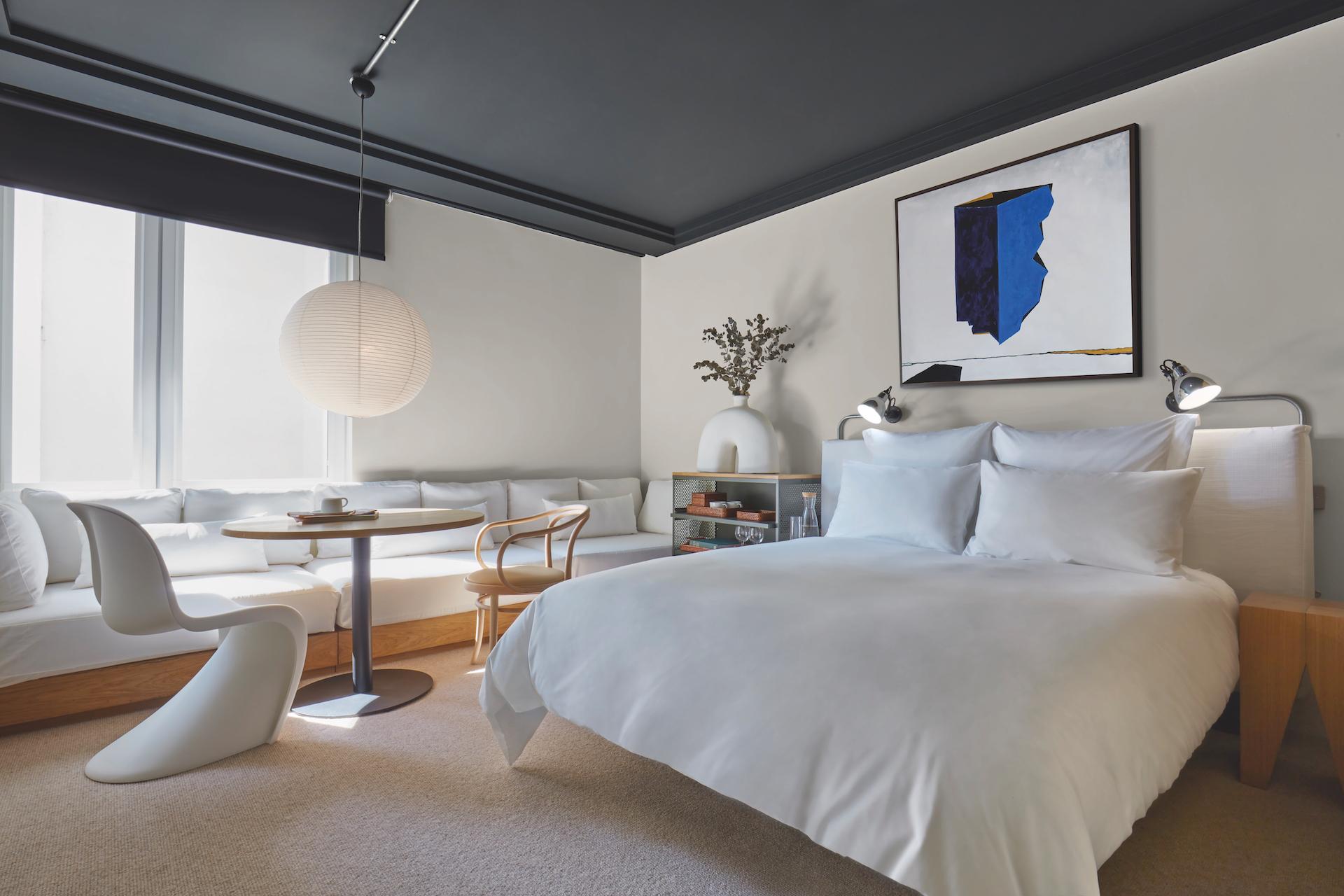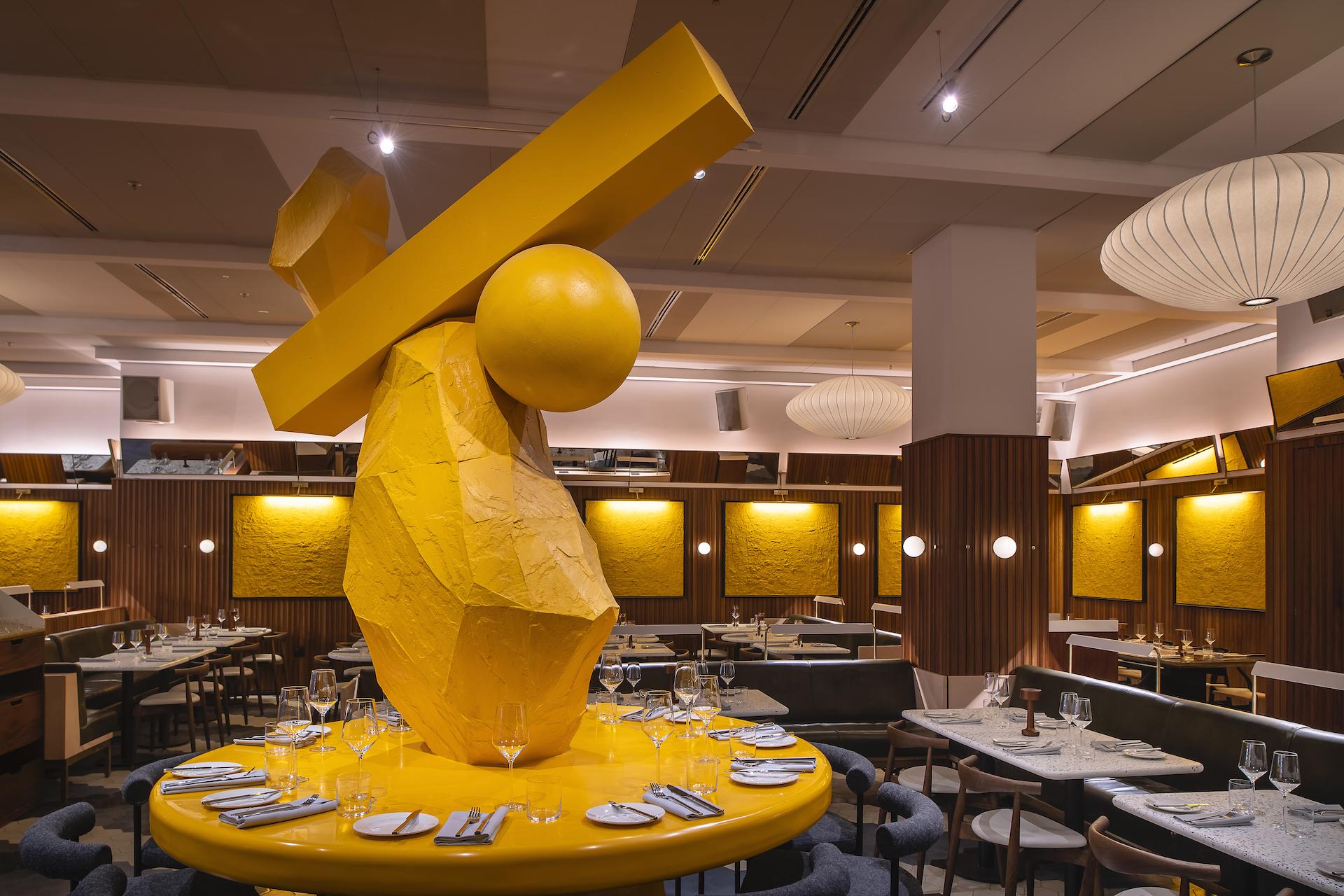 THE ROOFTOP
But the jewel in the crown is the Rooftop with its Miami beach vibe. Light floods onto the dusty pink surfaces and white wooden bar stools. Large terracotta planters containing tall dessert cactus plants sit in clusters, and exotic greenery cascades from the ceiling.
STILL TO COME
OHS will host a year-round events programme spanning music, art, fashion, design, and wellbeing. The workshop, a creative hub, gallery and art space, will showcase global contemporary, urban print and street art, through rotating exhibitions, events and pop-up retail that brings the neighbourhood's cultural scene to life, in partnership with Nelly Duff, the East End art institution on London's Columbia Road.