Unless you've been on a social media fast (or living under a rock), it's likely you've caught sight of Vessel, the honeycomb-like art installation at the heart of Hudson Yards in Manhattan's Upper West Side.
The 150ft structure by British designer Thomas Heatherwick was introduced to the public along with the complex's official debut on March 15, and has since been raved about, criticised, climbed and, most importantly, Instagrammed.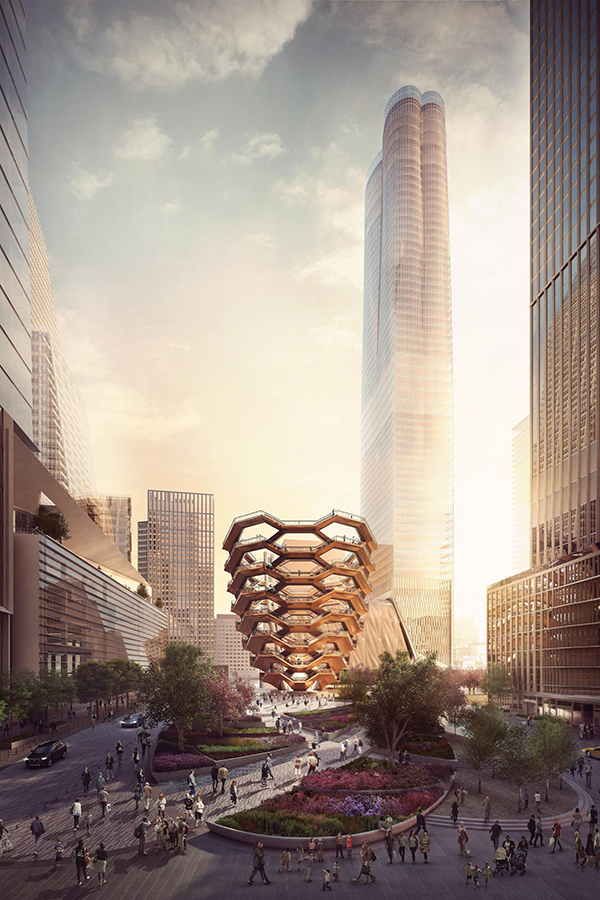 Once in it, visitors get to ascend the 150ft Vessel's 154 flights of stairs – about 2,500 steps in total – and snap photos to their heart's content of the gleaming copper-coloured structure. There are also views of the nearby mall and its 100 shops and 20-plus restaurants, as well as surrounding residential towers. With developers recently issuing a call for Vessel's new name online, the public now gets to rename the building, too.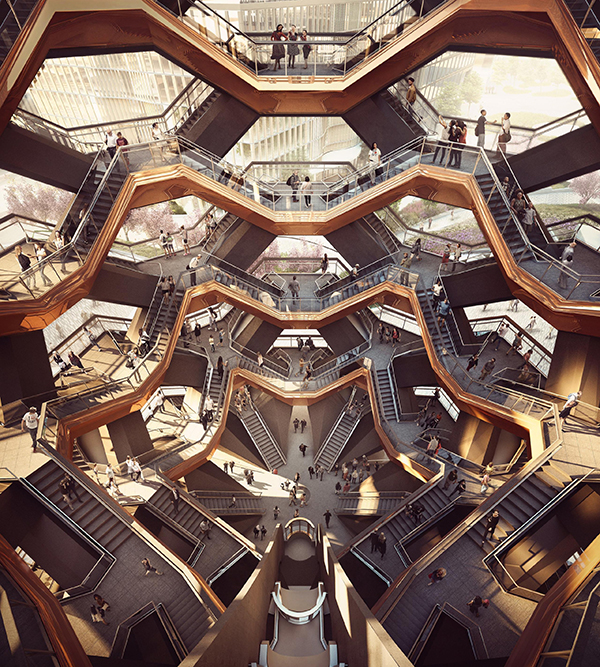 Of course, there's more to the 11-hectare commercial, cultural and residential complex – co-created by Related Companies and Oxford Properties Group – than Vessel. Here are four other spots to look out for (and Instagram) around Hudson Yards.
The Shed
Set to open to the public on April 5, this multipurpose arts venue is dedicated to performances and exhibitions that span the full artistic spectrum, from literature to hip hop to classical music. Designed by Diller Scofidio + Renfro and the Rockwell Group, the Shed features a movable outer shell that extends to double the structure's indoor space. Inside, the eight-level building is home to two galleries and a theatre, and graced at top with a skylit, 9,500sqft events and rehearsal space called the Lizzie and Jonathan Tisch Skylights, and the Tisch Lab, a performing arts lab. It must be noted, though, that while the Shed connects the neighbouring High Line to Hudson Yards, it is a non-profit that operates independently of Related and Oxford's shiny new complex.
Equinox Hotels
Luxury fitness brand Equinox, known for their gyms in the US, Canada and London, has opened their first hotel in 35 Hudson Yards – a move that blends in tip-top hospitality with their fitness offerings. Applying the same lifestyle philosophy to their 212-room hotel, the rooms, including 48 suites, have been outfitted with natural fibre mattresses from CocoMat that adapt to the body's form, Scandinavian bedding designed to help regulate body temperature, completely soundproofed windows to help facilitate quality sleep, as well as a slew of room services that include an in-demand IV vitamin drip treatment for a boost of energy and hydration. To top that off, hotel guests also become Equinox Fitness Club members during their stay, with access to the Joyce Wang-designed gym and spa and its group classes, a Pilates session, a personal trainer, as well as the hotel's 75ft indoor salt water pool, hot and cold plunge pools, and outdoor pool.
Snark Park
Almost a year since Bounce, their installation of oversized beach balls fronting Harbour City mall in Tsim Sha Tsui, New York City-based design studio Snarkitecture has opened Snark Park at The Shops in Hudson Yards, a 3,000sqft installation space dedicated to large-scale projects and installations. The studio founded by Daniel Arsham, Alex Mustonen and Ben Porto is known not only for their store designs of streetweat label Kith, but also their thoughtful and always-playful designs, architecture and installations, many – if not all – of which encourage audiences to interact with the space. Such can be expected of Snark Park, which opens with the installation Lost and Found, featuring a forest of columns (and a couple of surprises within). The multipurpose space will also offer merchandise by Snarkitecture, as well as a Kith Treats ice cream and cereal bar.
The Edge
It's not open yet, but the Edge on the 100th floor of 30 Hudson Yards is one for bucket lists: jutting out by the tower's side, stretching 65ft from the building's main structure, the Edge is a 7,500sqft observation deck 1,110ft in the air, 100 floors up in 30 Hudson Yards. A glass floor dares visitors to glimpse the city below, while a nine-feet-high glass enclosure bordering the deck invites lookers to lean into views of the city. Above, the space on the 101st floor will house a restaurant by London hospitality group Rhubarb, also privy to spectacular views of the city. Once open, this viewing spot will be higher than the Empire State Building's 1,050ft-high perch – and become the highest observation deck in the Western hemisphere.
See more: New York Artist Derick Melander Turns Old Clothing Into Stunning Towers of Art