From a new modern classical tower with an unbelievable pool in the sky to a sleek super-tall skyscraper that's bringing the outdoors in with living plant walls, these are the most top-of-mind indoor pools at some of the Manhattan's most luxurious condos.
Indoor pools at residential projects used to be just a space for residents to exercise and not much thought went into the look and feel of their designs. Now, pools at some of the world's newest residential projects are set within ultra-high-design spaces, drawing residents into luxe pool rooms that are true oases they actually want to spend time in all year round, whether they're swimming or not.
1. 200 East 83rd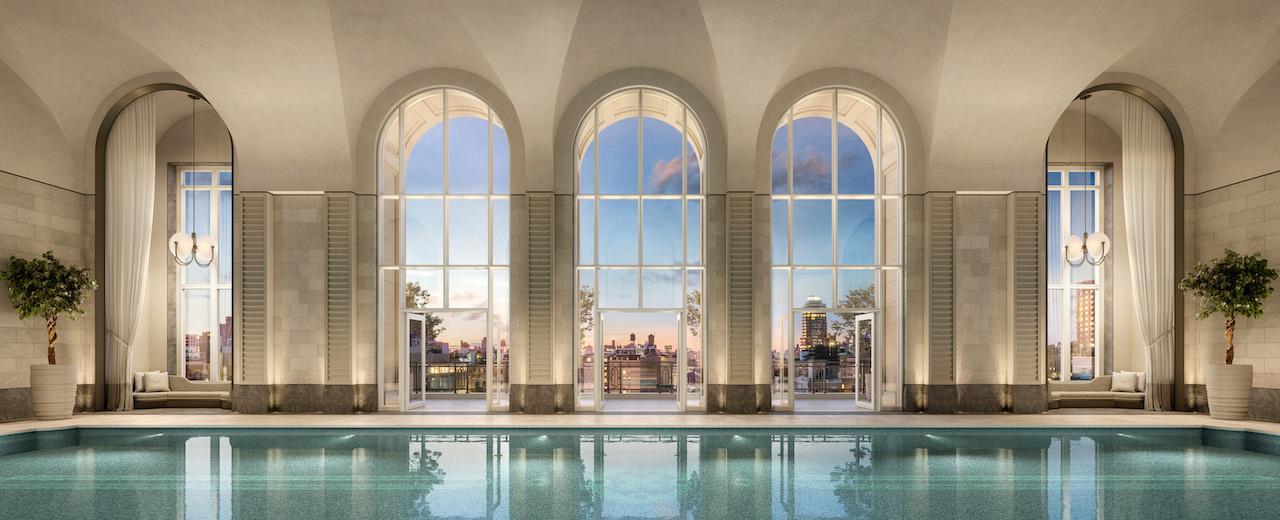 The 17th floor at 200 East 83rd, the new Upper East Side residential tower, features a seventy-foot pool that allows residents to feel like they're swimming in the sky. Uniquely situated in the middle of the 35-story limestone-clad tower, the pool room features a vaulted ceiling, honed limestone walls and a double-height loggia with floor-to-ceiling arched windows and French doors. This massive space exudes old-New York opulence and creates visual drama while inviting the outdoors in and allowing for natural light, fresh air and incredible New York City skyline and Central Park views.
2. 53 West 53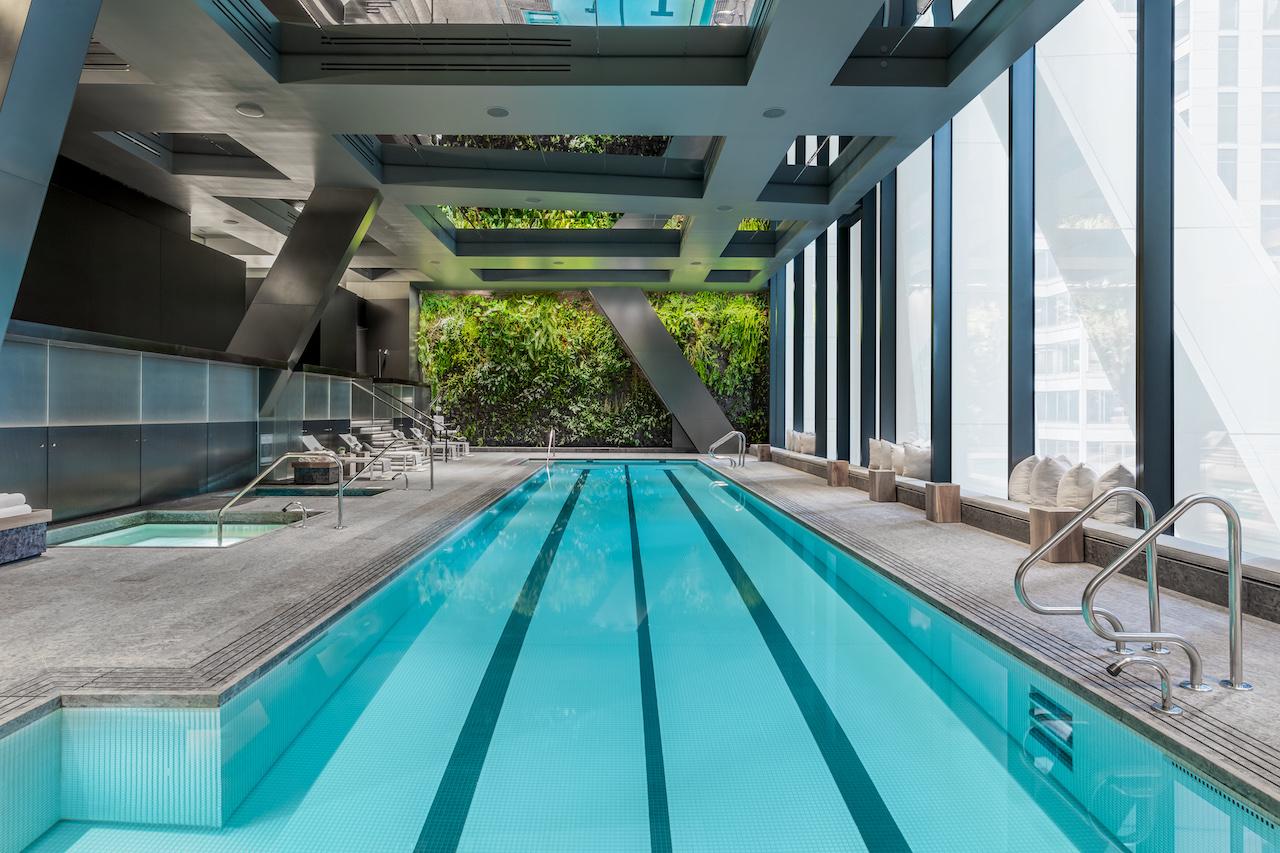 Pritzker Prize-winning starchitect Jean Nouvel is the master behind 53 West 53's eye-catching exterior architecture and the interiors of the full-floor residence club, which features 15,000 square feet of lavish wellness amenities. Within this Wellness Center, residents can enjoy a naturally lit 65-foot lap pool, cold plunge pool and hot tub situated between elaborate poolside vertical gardens. Each "wellness wall" uses over 3,500 plants, giving each garden a rich multi-dimensional texture and creating a stunning contrast against the vibrant pool. The pool room's aesthetic makes residents feel as if they've been transported to a tropical resort despite being 12-story up in the heart of Midtown Manhattan.
3. Rose Hill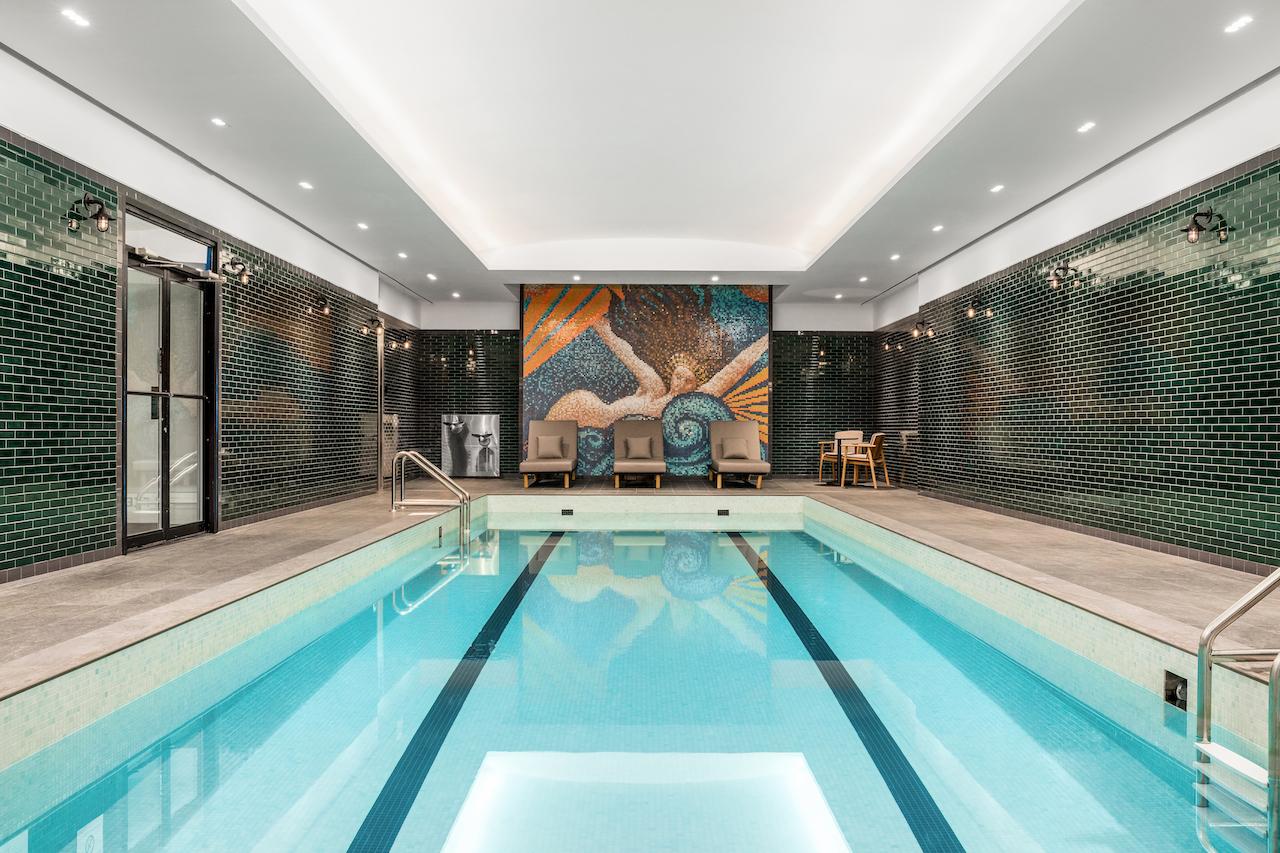 Developed by Rockefeller Group, Rose Hill is the new 45-story luxury condominium tower in NoMad. Designed inside and out by CetraRuddy, the Art Deco building nods to the historic firm's greatest creation in all aspects including the interior design of the pool space. Taking inspiration from the public bath houses of the 30s and 40s and the Spirit of Normandy ship directly, the 50-foot pool is clad in hand-wrought tiles and trim with deep turquoise handmade tiles from Vermont. The artful center masterpiece, at the end of the space, pays homage to women and the Amazon goddesses of the time period.
4. 505 W 43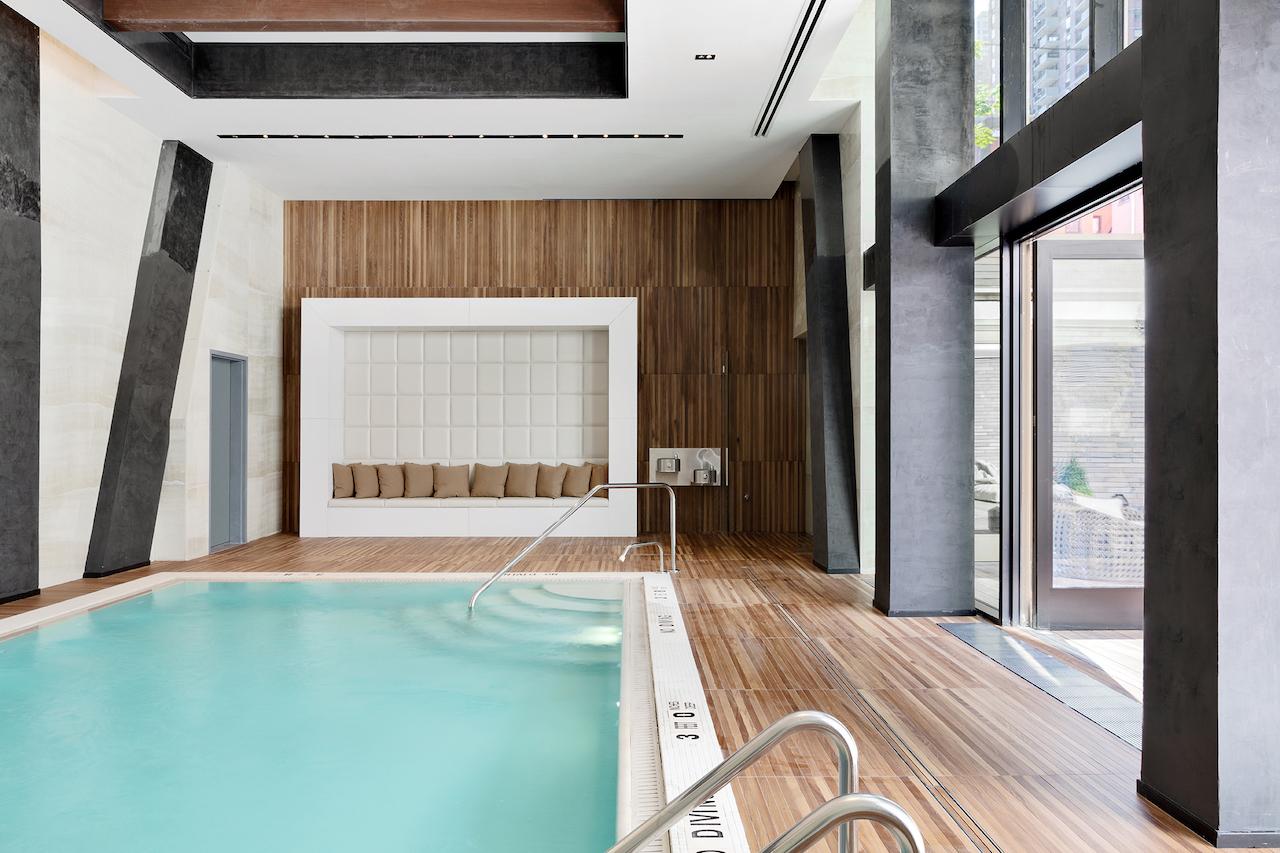 At 505 W 43, the new Midtown luxury condo featuring architecture by ODA and interiors by Andres Escobar & Associates, raw, natural materials are fused with sumptuous textures throughout residences and the building's collection of wellness-oriented amenities spaces. The tranquil indoor pool room showcases a gorgeous wood-panelled feature wall, which compliments the flooring around the lap pool and extends seamlessly outdoors into the 6,000-square-foot open-air courtyard meditation garden at the building's center. Residents will feel a sense of relaxation and calm while using pool room.