Cindy Wang, from global boutique real estate brokerage firm The Agency Beverly Hills, is the go-to agent for Chinese nationals seeking high-end homes in LA's prestigious Beverly Hills.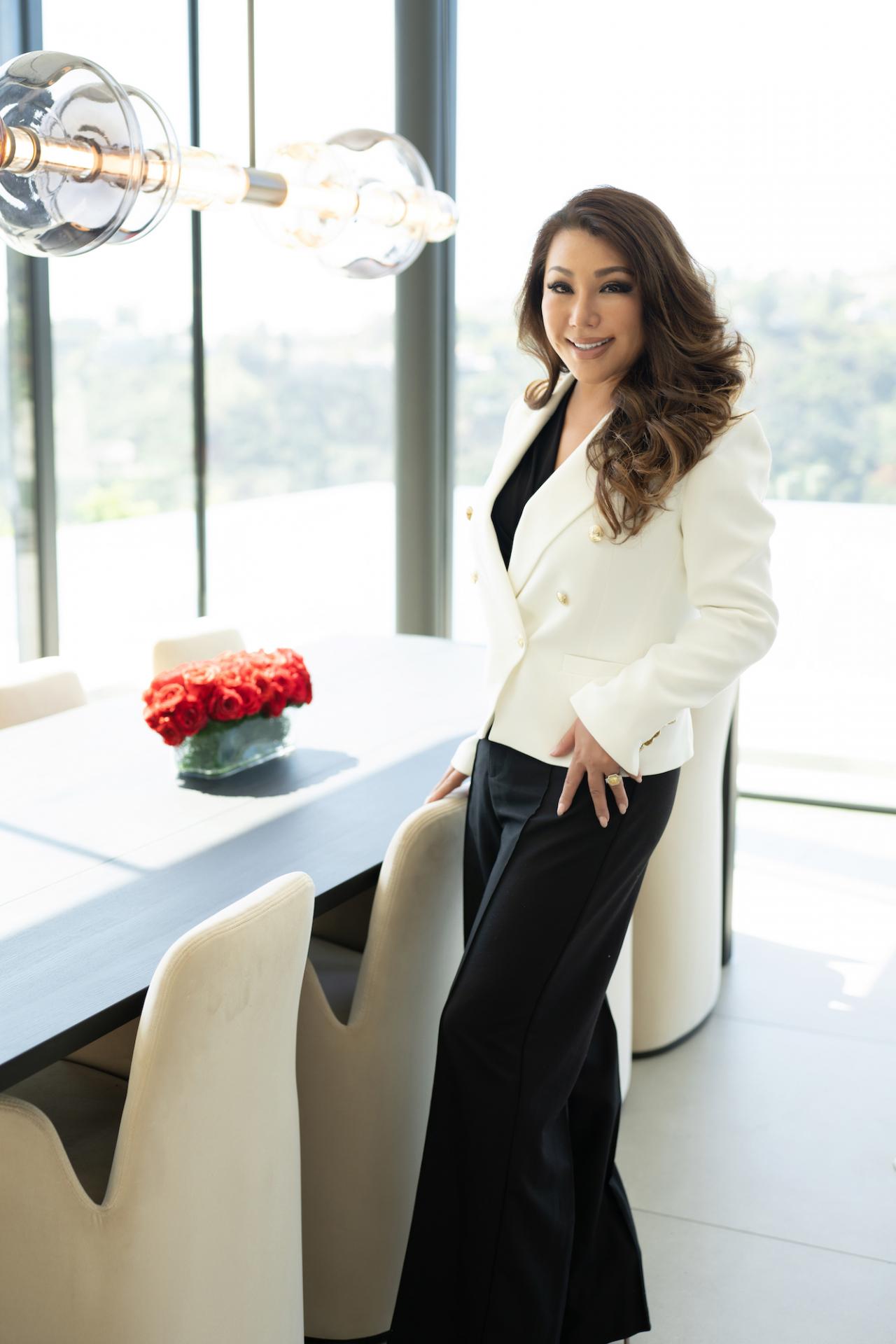 Few locations in North America have as much prestige as the city of Beverly Hills. Located in Los Angeles County, California, this is where you'll find palm tree-lined streets, the expansive Beverly Gardens Park with its fountains and rose gardens, the upscale shopping street of Rodeo Drive, and the Greystone Mansion and Gardens, which was built in 1928 for the son of prominent oil baron, Edward L. Doheny.
But what the city is best known for is its celebrity residents such as Leonardo DiCaprio, Sandra Bullock, Eddie Murphy, Taylor Swift, and Rod Stewart who own sprawling estates and mansions in this part of the country. Indeed, the rich and famous have long had an affinity for this part of Los Angeles, and Beverly Hills has become part of American pop culture.
The city's reputation as a celebrity enclave can be traced back to Hollywood's "golden age", where between the years of 1910 to 1970, talent in the film-making industry flooded to Los Angeles where for the first time, they made massive fortunes working for the big studios such as Warner Bros and Universal. These superstars then invested their sizeable earnings procuring or building opulent homes in the LA Westside areas of Bel Air, Brentwood, and of course, Beverly Hills.
Some of the legendary homes in Beverly Hills that were once owned by golden age Hollywood titans include Kirk Douglas' home off Sunset Boulevard, Frank Sinatra's mid-century style Bowmont Drive home, and Lucille Ball and Desi Arnaz's North Roxbury Drive residence. Today, tourists visiting Los Angeles often join guided tours to marvel at these iconic properties, which have become a symbol of the Hollywood high life.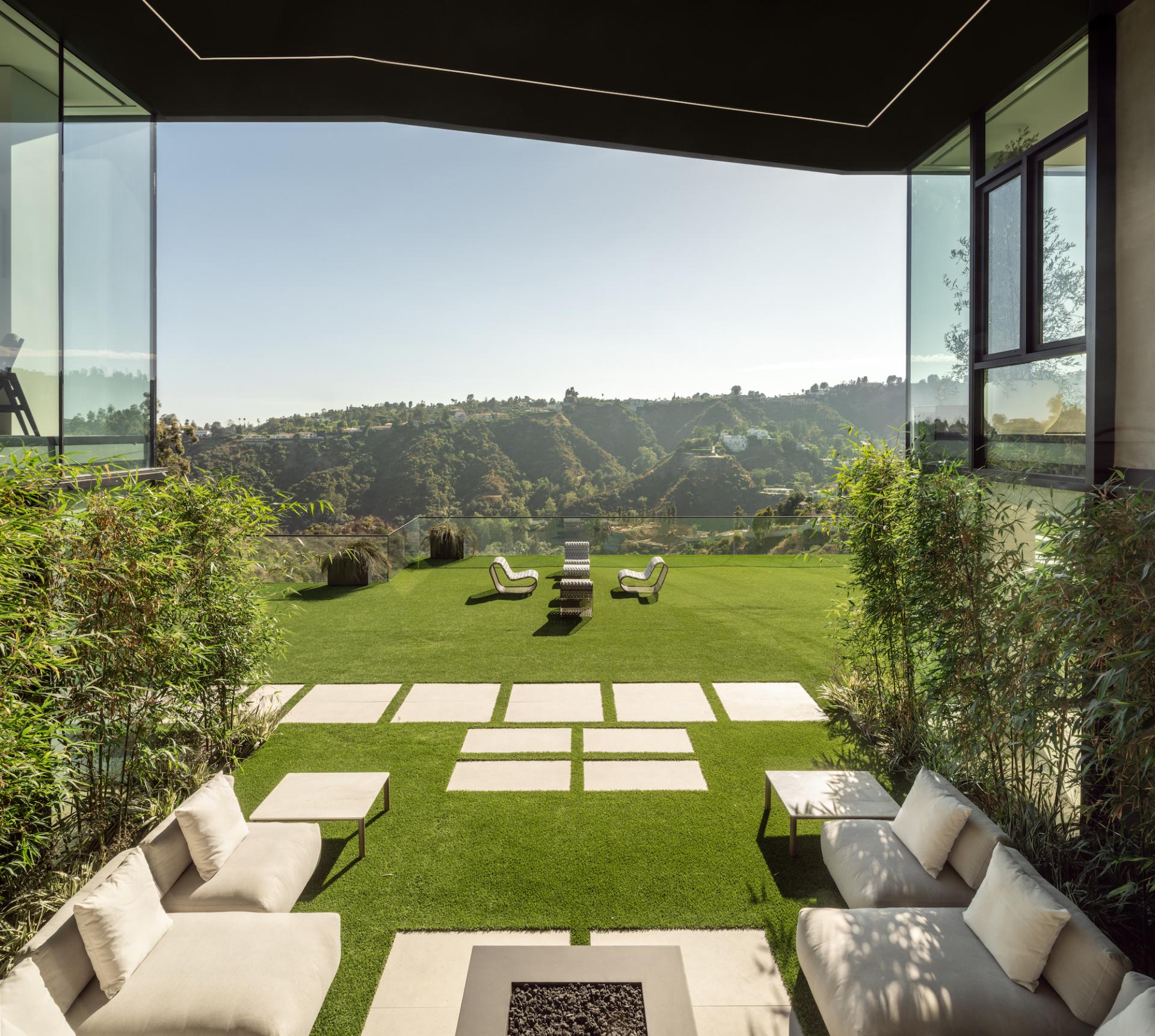 Beverly Hills' long-lasting appeal for celebrity buyers is a good indicator of the resilience of this city's real estate market. Though property prices are significantly higher here than in other parts of Los Angeles, the esteemed way of life associated with a Beverly Hills address makes real estate here highly sought after, both for investors, and those looking for high-end second homes.
The property value of luxury homes in Beverly Hills has generally increased over time and the appreciating value of real estate here frequently surpasses other markets. Low supply, high prestige, and sustained popularity translate to high-yield investments, and in the long run, buyers can typically expect to capitalise off the appreciation of their purchases.
For Chinese buyers seeking out a luxury second home or high-yield real estate investment in California, Beverly Hills is an excellent choice, and global boutique real estate brokerage firm The Agency is ready to guide global buyers through every step of the way.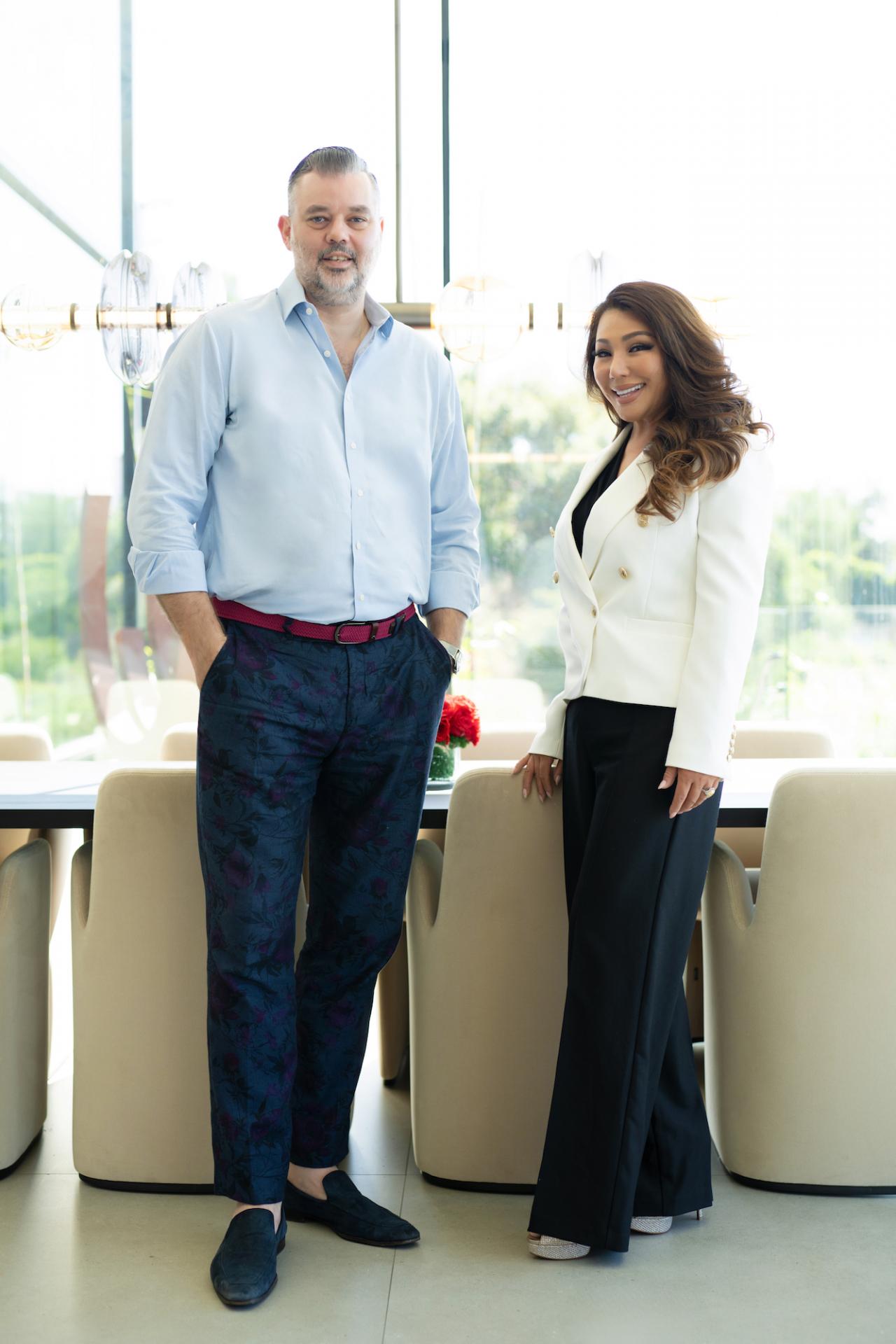 Cindy Wang, The Agency Beverly Hill's China specialist can help Chinese nationals navigate the ins and outs of purchasing properties and living in the United States. Born and raised in Northern China, Wang speaks fluent Mandarin, Cantonese, and English, so she's able to help Chinese clients bridge linguistic and cultural barriers associated with purchasing property as a foreigner in America.
Wang's expertise in China-to-US relocation, and her insider knowledge of Chinese culture and feng shui, make her the perfect real estate agent for Chinese clients seeking upscale properties in Beverly Hills.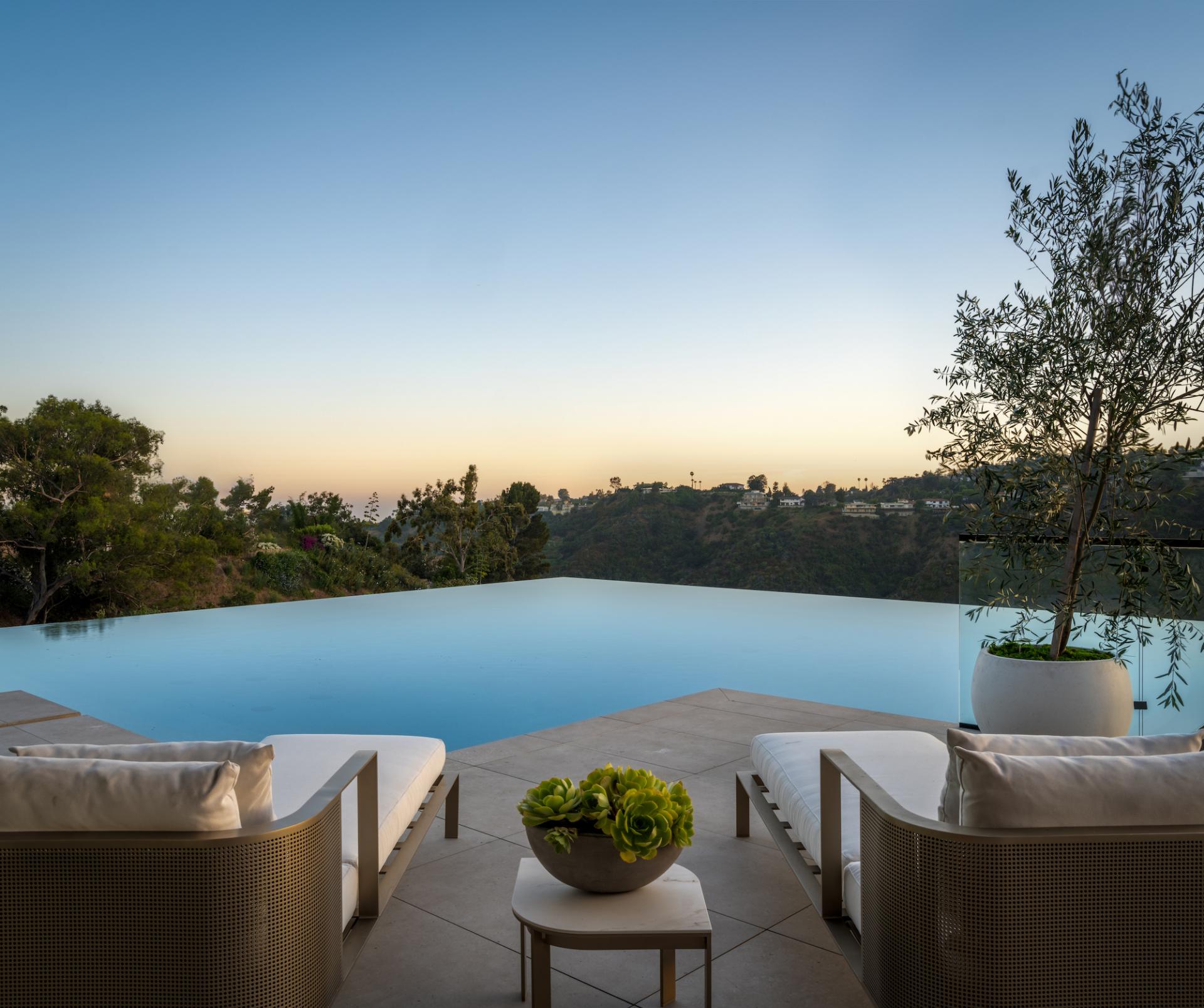 Wang says that despite the fact the US market as a whole experienced a drop in Q4 of 2022, which many saw as a correction of the robust market of 2020 and 2021, other factors such as local ordinances and higher interest rates continue to contribute to a fluctuating market. However, transactions continue to take place and the market remains competitive for properties that are priced correctly.
"Beverly Hills and Bel Air have perennially been great investments. Even when there are market fluctuations, Beverly Hills and Los Angeles in general continue to offer sought-after, world-class lifestyles and amenities, making it a destination for people from all over the world," she says.
"Los Angeles is unique in that it is essentially a group of very diverse cities under the umbrella of a large metropolitan city. Most people choose their home in Los Angeles based on their needs and lifestyle.
"Many people love the brand name of Beverly Hills with its abundance of world-class shopping and dining options. However, I believe the best investment for anyone is one that fits their unique needs and lifestyle, and it takes a true expert of the city, like my colleagues and myself at The Agency, to guide you through the options here."
The Agency offers a wide range of luxury residential listings. Its portfolio includes this stunning property located in Bel Air to the northwest of Beverly Hills. This residence – which has been brokered by The Agency's founder and CEO Mauricio Umansky – showcases amazing city and canyon views and has a spectacular suspended staircase that looks like an aluminum and steel art sculpture.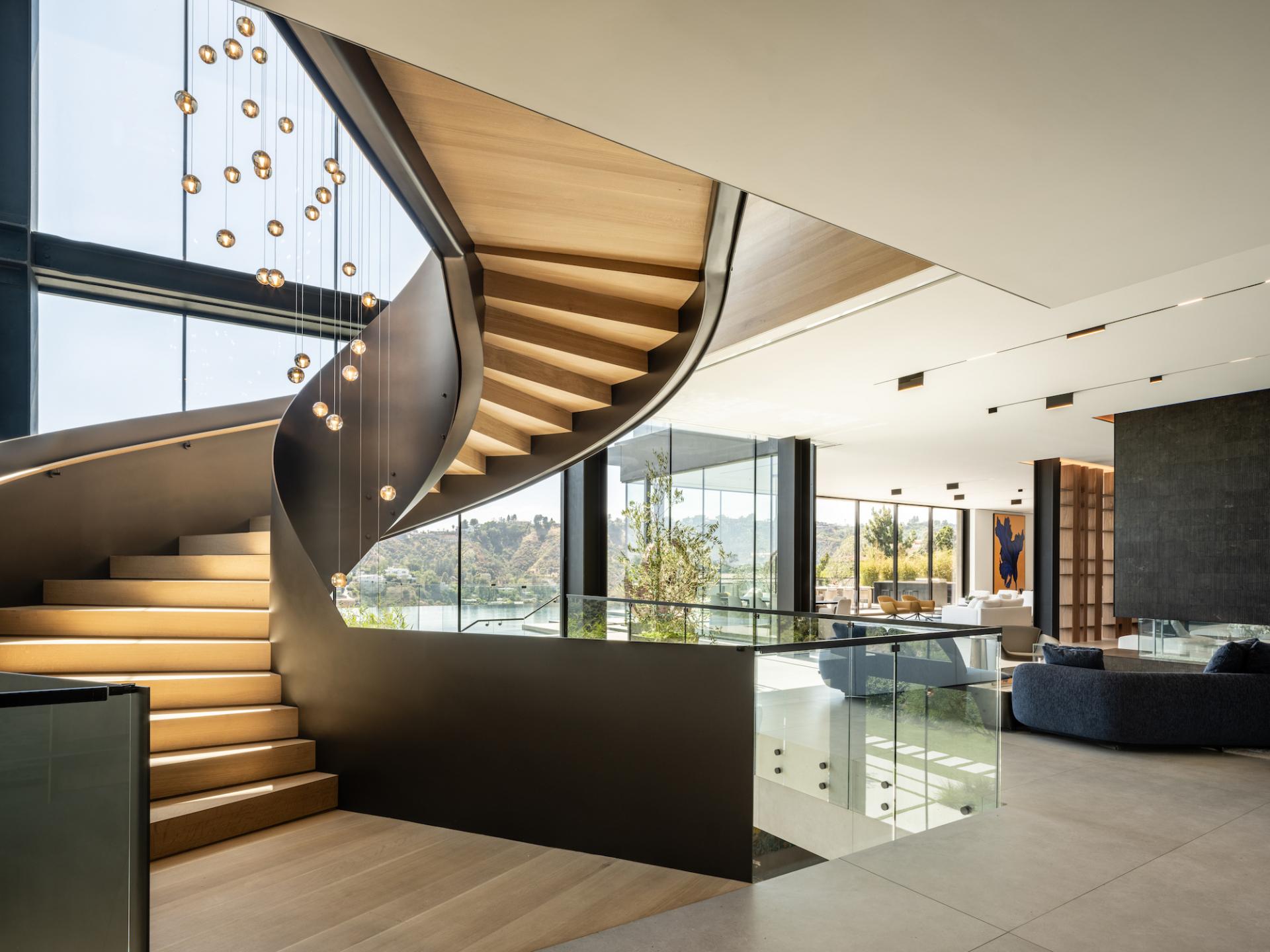 Sitting on a 1.6-acre plot, and designed by award-winning West Hollywood architectural firm Tag Front with interiors crafted by world-renowned designer, César Giraldo, it encompasses over 20,500 square feet across three levels. The nine-bedroom, 13-bathroom home's award-winning design and breathtaking elegance is evident upon arrival and deepens with the discovery of each exquisitely unique space, features, and amenities.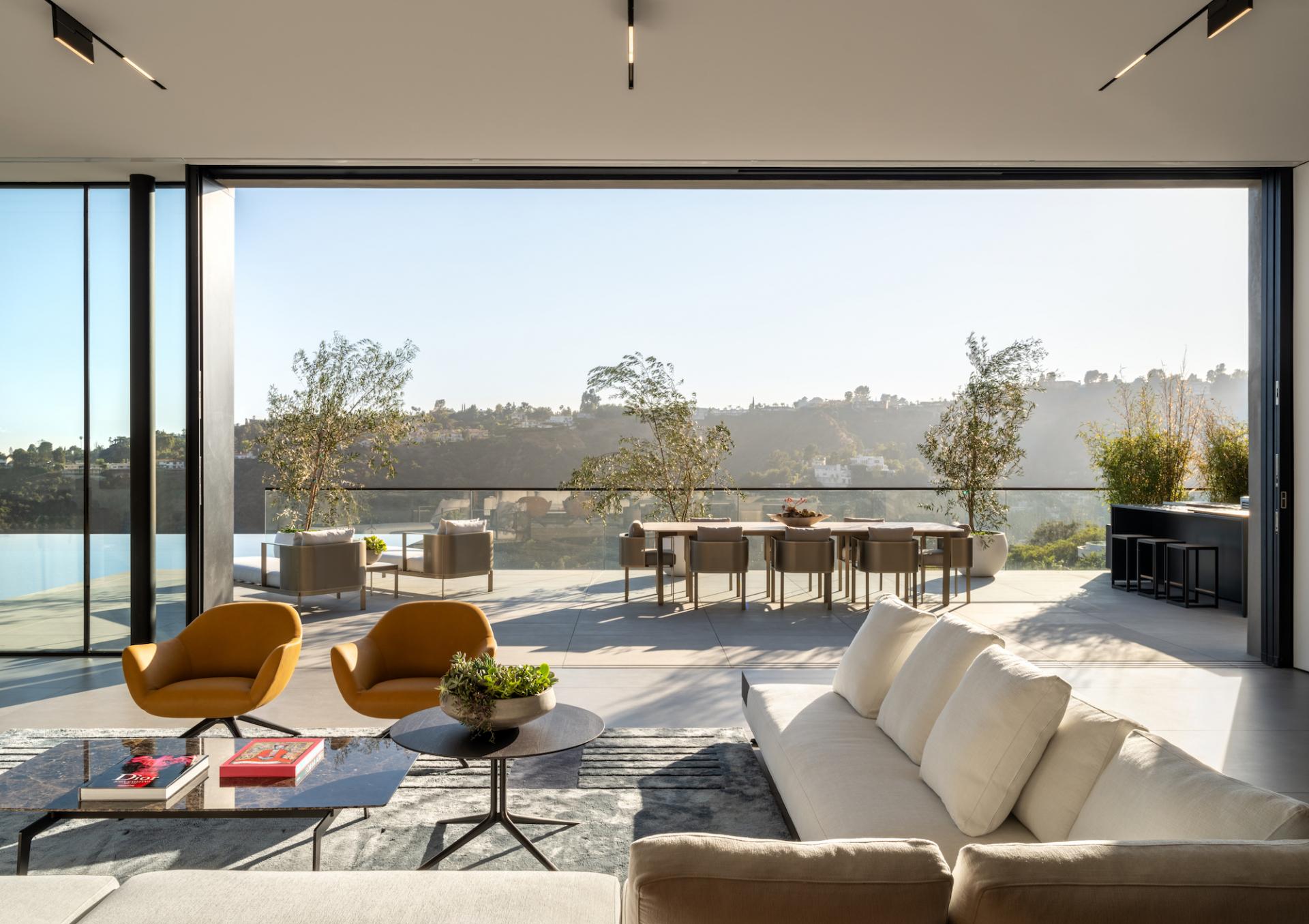 On the upper level is a vibrant green living wall, a fireplace, automatic doors, and blinds. Also located here is a private en suite bedroom with two bathrooms that each have their own soaking tub and waterfall shower, dual walk-in closets and a full balcony with stunning views, and additional flexible rooms that can be configured into a home office or children's room.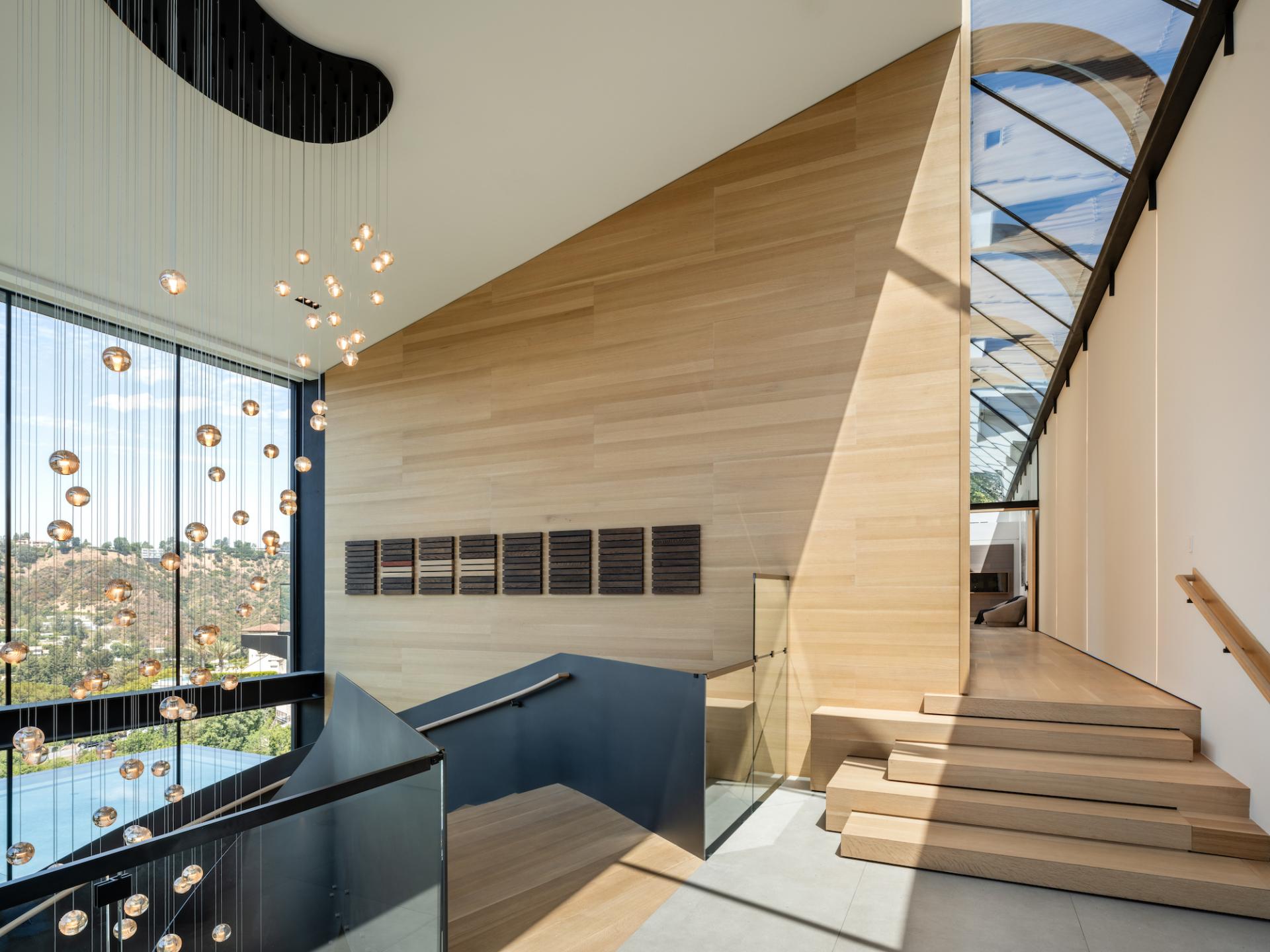 On the level below are sunlit spaces lined with Fleetwood doors that open to an outdoor terrace with an infinity-edge pool and spa. This open-plan level presents a dining area, a living room and fireplace lounge, a chic Gaggenau kitchen with Poliform cabinets and a breakfast nook, a wood-panelled library, and a cosy family room – all illuminated by walls of windows that frame the stunning canyon views and backyard terrace.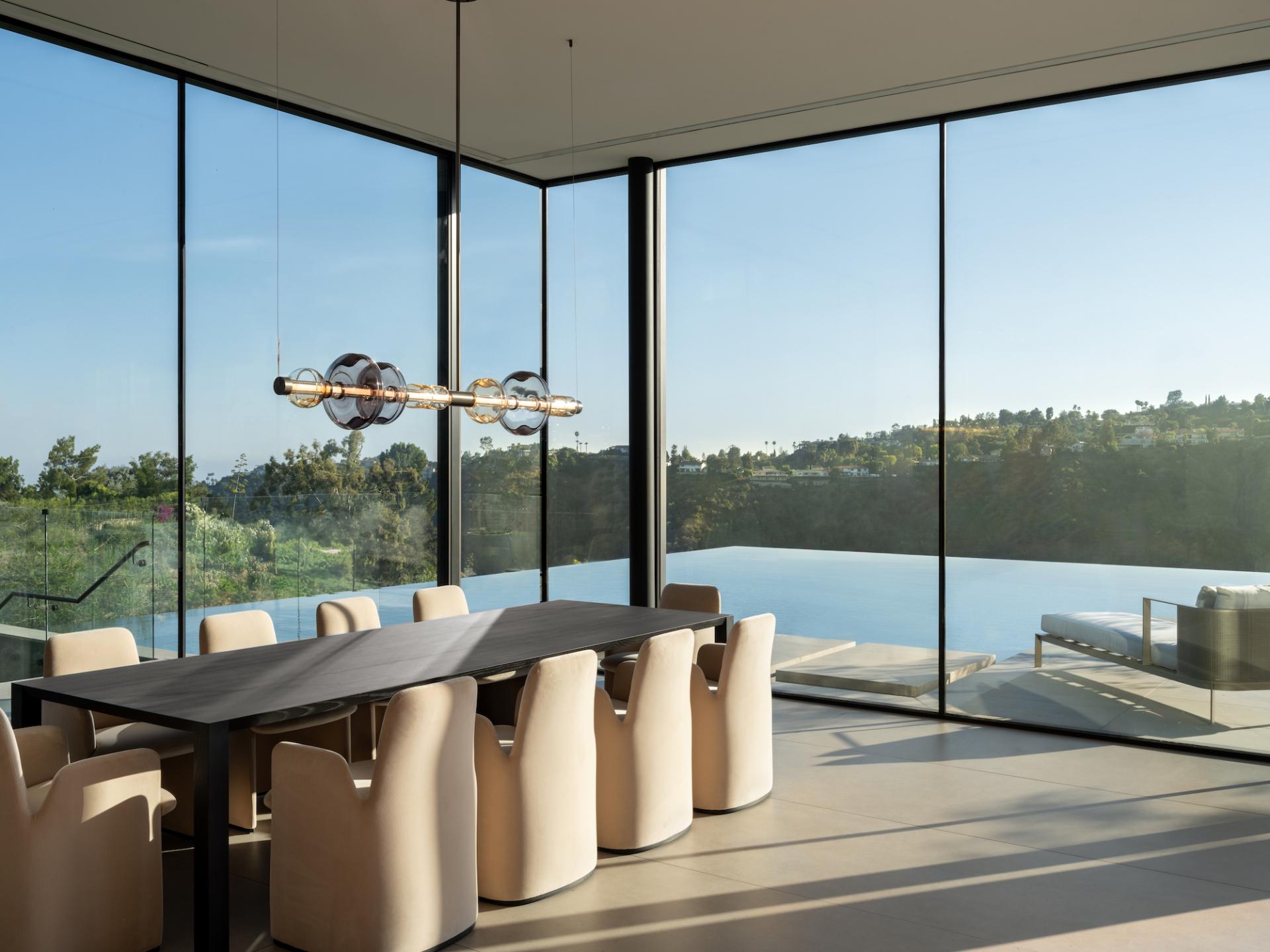 Wrapped with bamboo and mesquite trees for added seclusion, the two-level terrace is complete with a full bar, barbecue, and a projector-enabled TV. The property's hillside also presents an opportunity for its owner to grow vineyards or cultivate a citrus grove and is equipped with four tanks and pumps that collect rainwater.
On the lowest level is a home theatre with acoustic panelling by Kneedler Fauchère, a gym with Technogym equipment, a wine lounge with storage for more than 1,200 bottles, and a tranquil spa with a waterfall shower, soaking tub, and sauna, plus three additional large and private bedroom suites.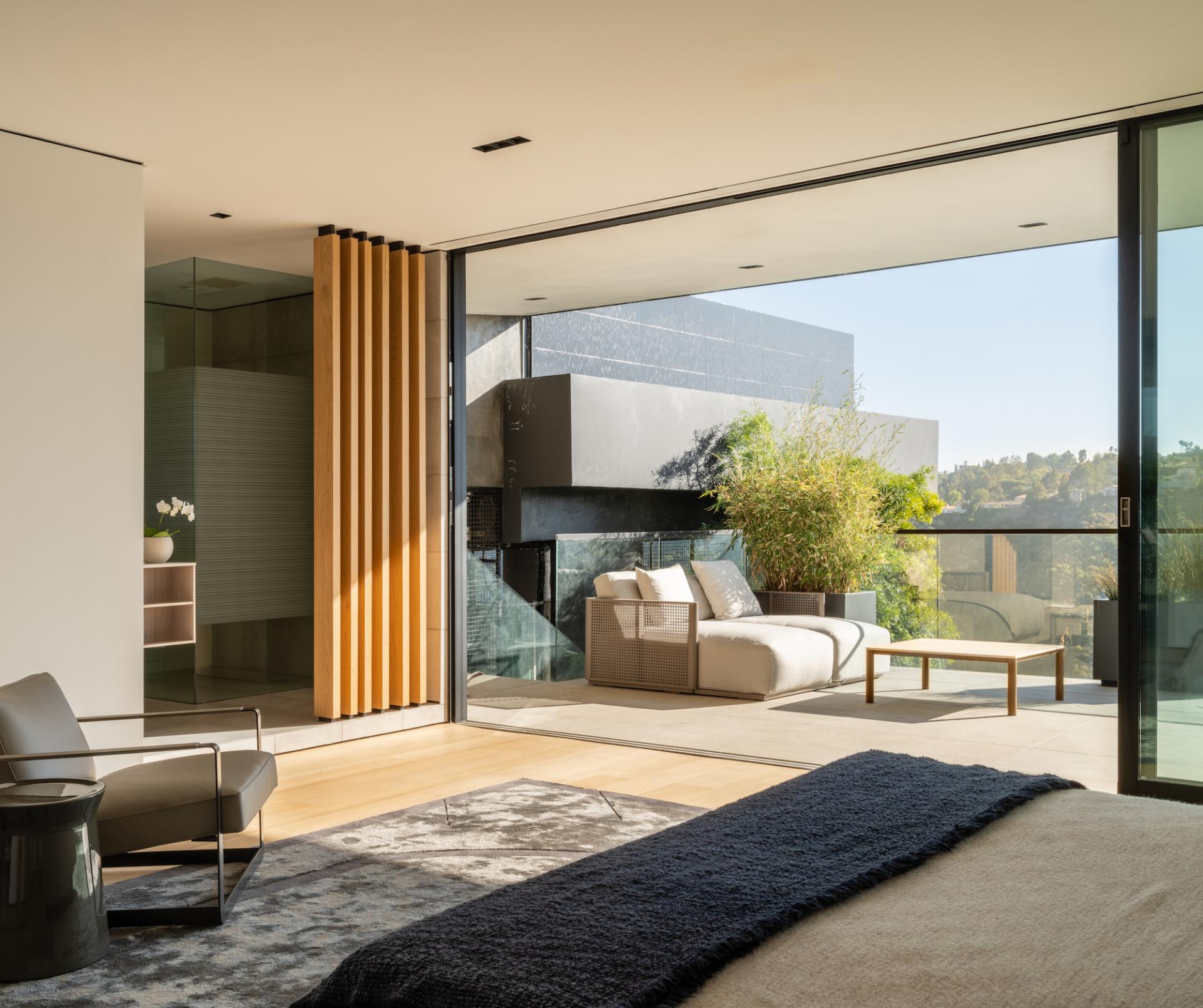 So, if you're in the market for a truly luxurious Beverly Hills second home or investment property with plenty of Hollywood charm, contact Wang at The Agency to kick-start your search.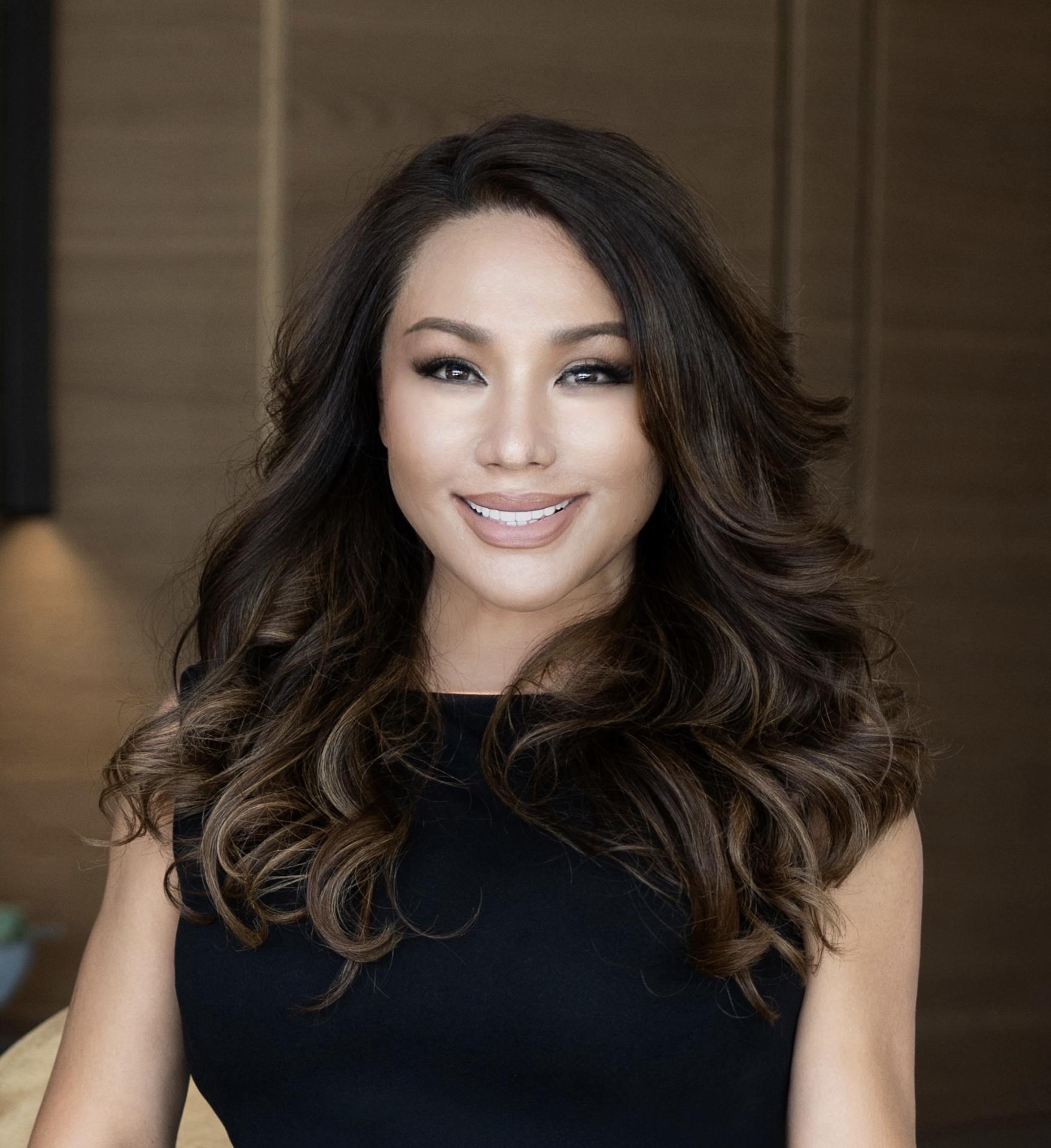 Cindy Wang
Email: cindy.wang@theagencyre.com
Tel: 424 466 5838
Website: TheAgencyRE.com