This Moscow apartment doubles up as a gallery for its owners' rare and valuable art décor vase collection.
Located in a historical section of Moscow, this 2,766 square foot apartment – designed by architect Oleg Klodt and interior designer Anna Agapova of design studio O&A London – includes French windows that open out to a balcony overlooking charming old streets.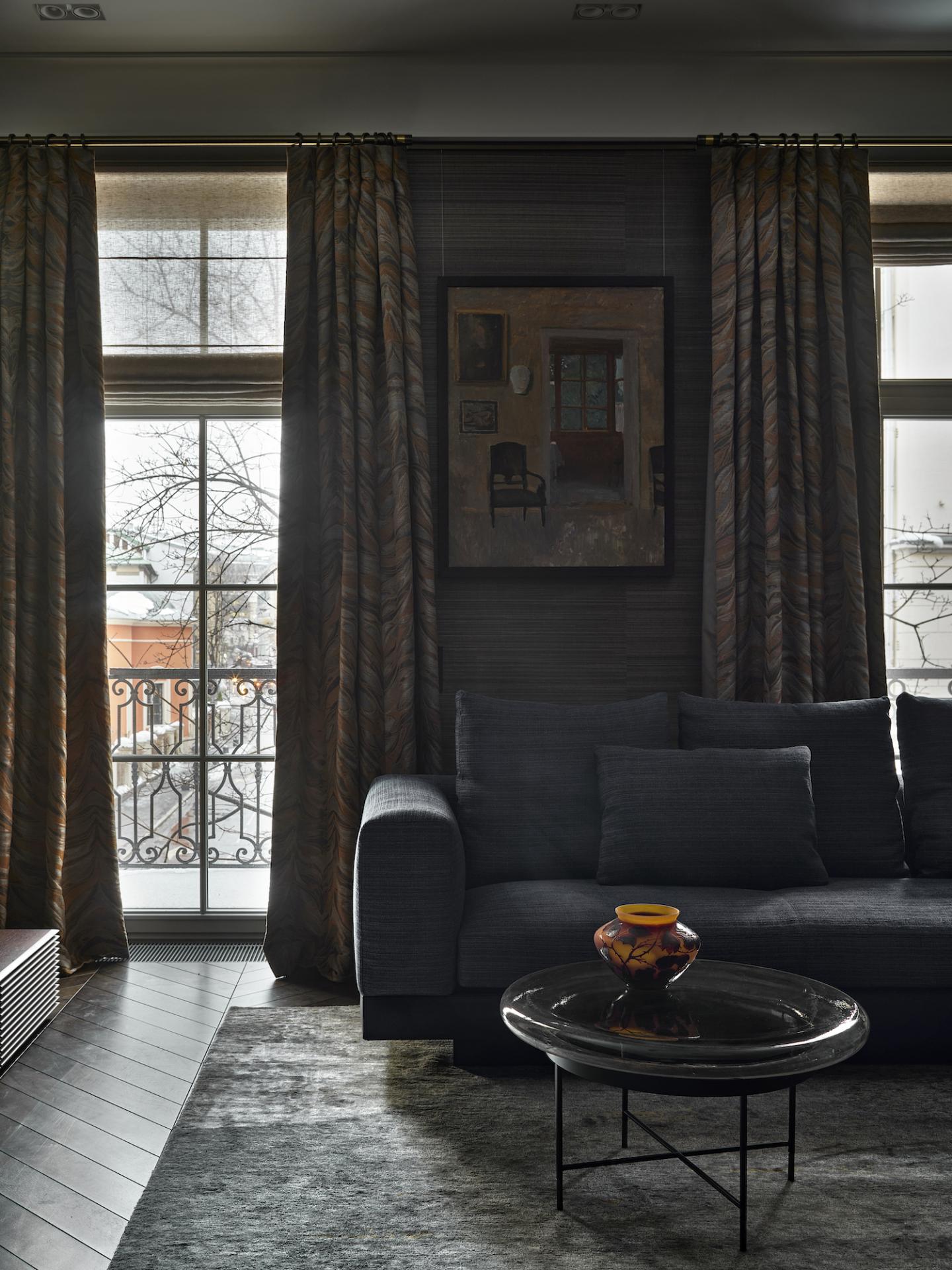 While these windows draw in plenty of natural light and give the interiors a regal elegance, the historic architecture presented some challenges for the O&A team.
The space did not have a conventional floor plan; and it had walls with asymmetrical geometry, and unusually shaped bay windows. To address these issues, Klodt did a full renovation and completely rearranged the layout, turning the structural anomalies into advantages by creating a unique open plan living room that seamlessly connects to the dining and kitchen areas.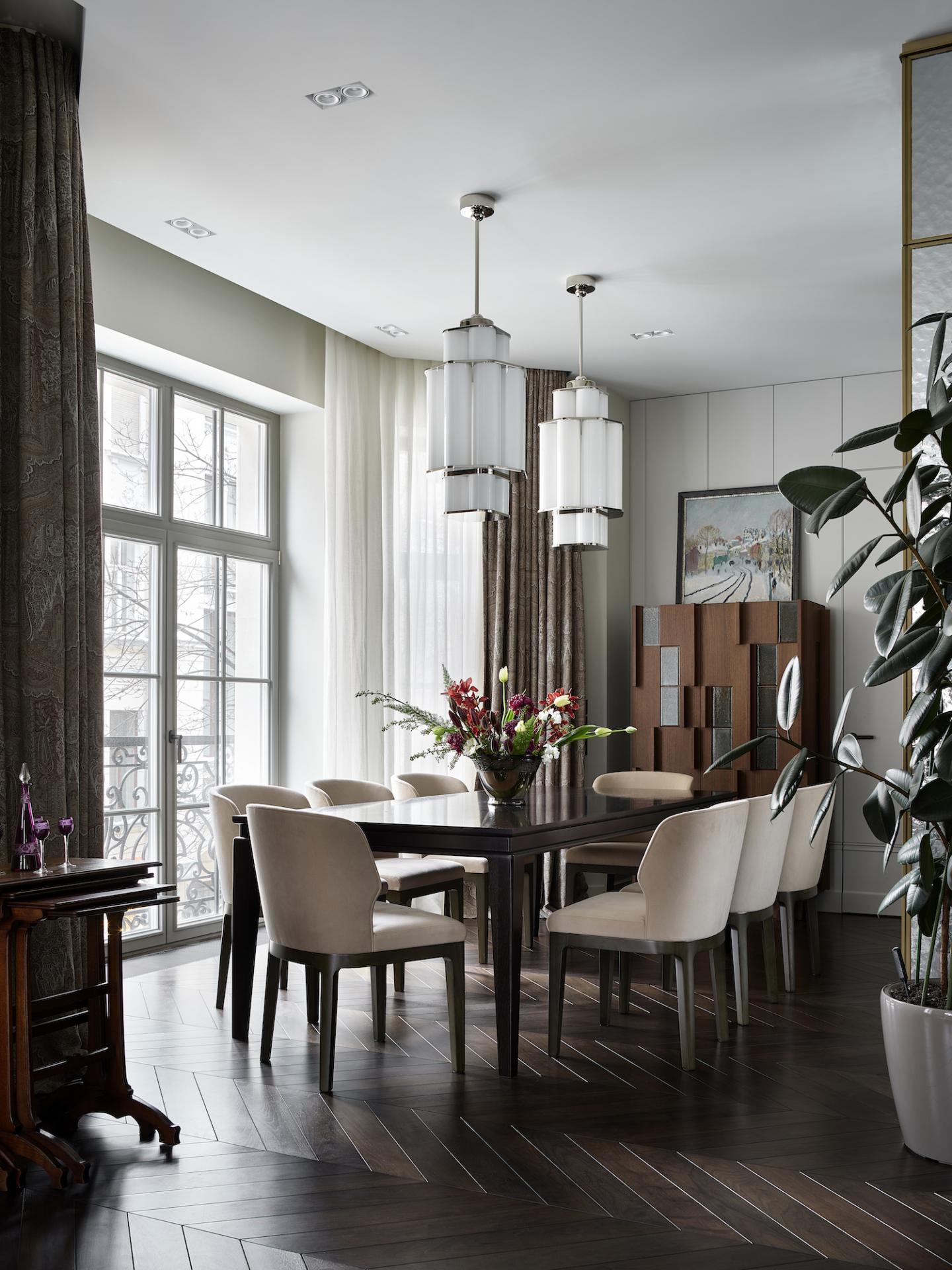 The clients – a young couple working in finance – wanted their home to include spacious social zones, a cosy bedroom with a spacious walk-in dressing area, a gym, two study rooms, and a guest room that could be converted into a nursery in the future. Most importantly, they wanted to be able to showcase their collection of art and décor.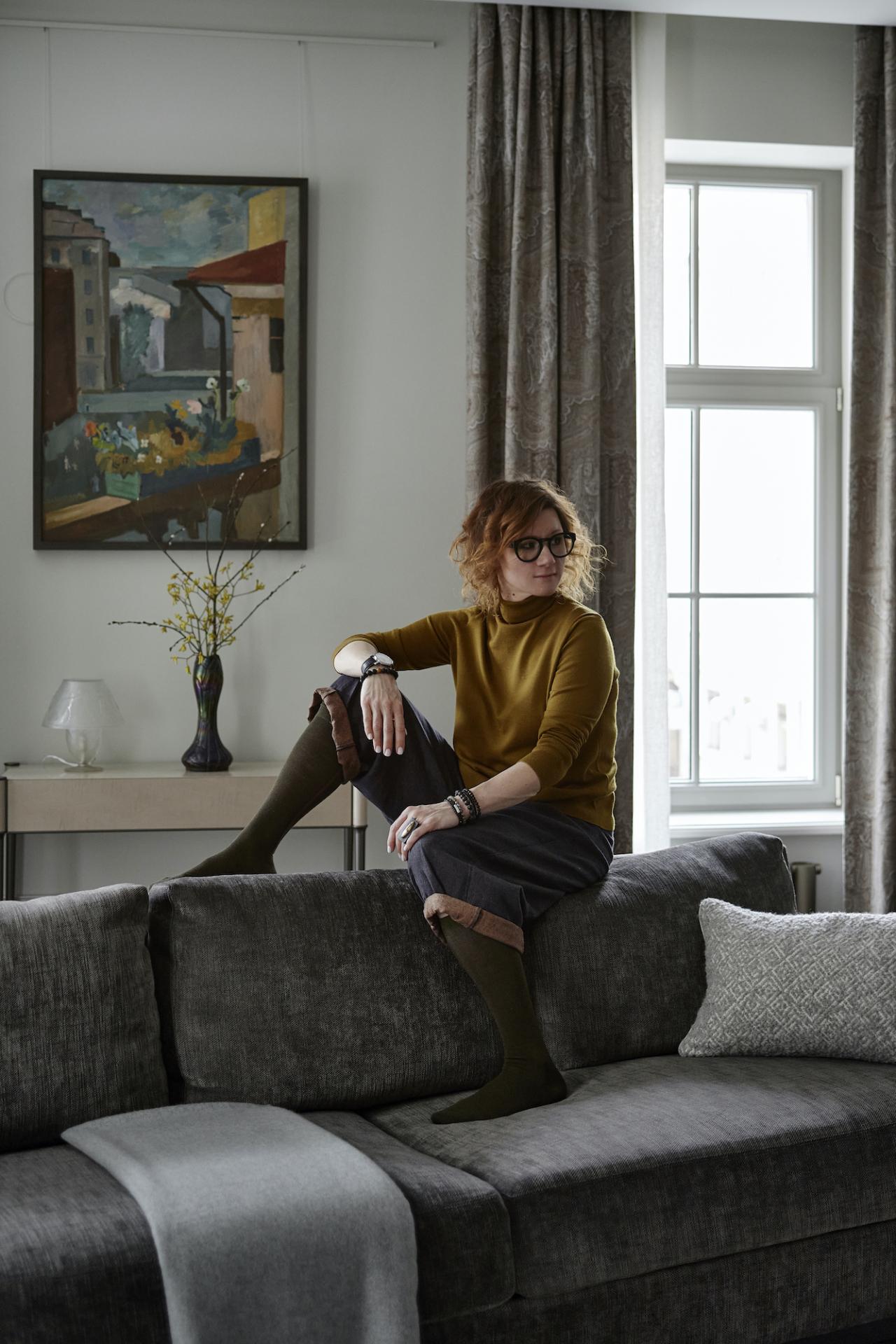 "Our clients had a significant collection of art deco vases and paintings, so we wanted to ensure that these eye-catching pieces could be displayed in an effective manner," Klodt says.
"To allow for this, we chose a neutral background for the walls with no complex finishes or panels to detract from the artworks and vases. The architecture was kept simple, with the exception of the master bedroom where we made a bold statement with an impressive gypsum finish."
The entrance hall was designed like a private gallery with artwork in golden frames set against dark coloured walls. Mosaic floors, lights by architect Jean Michel Valmont, and a wall lamp by designer Stephane Parmentier, come together to create the atmosphere of a contemporary French salon.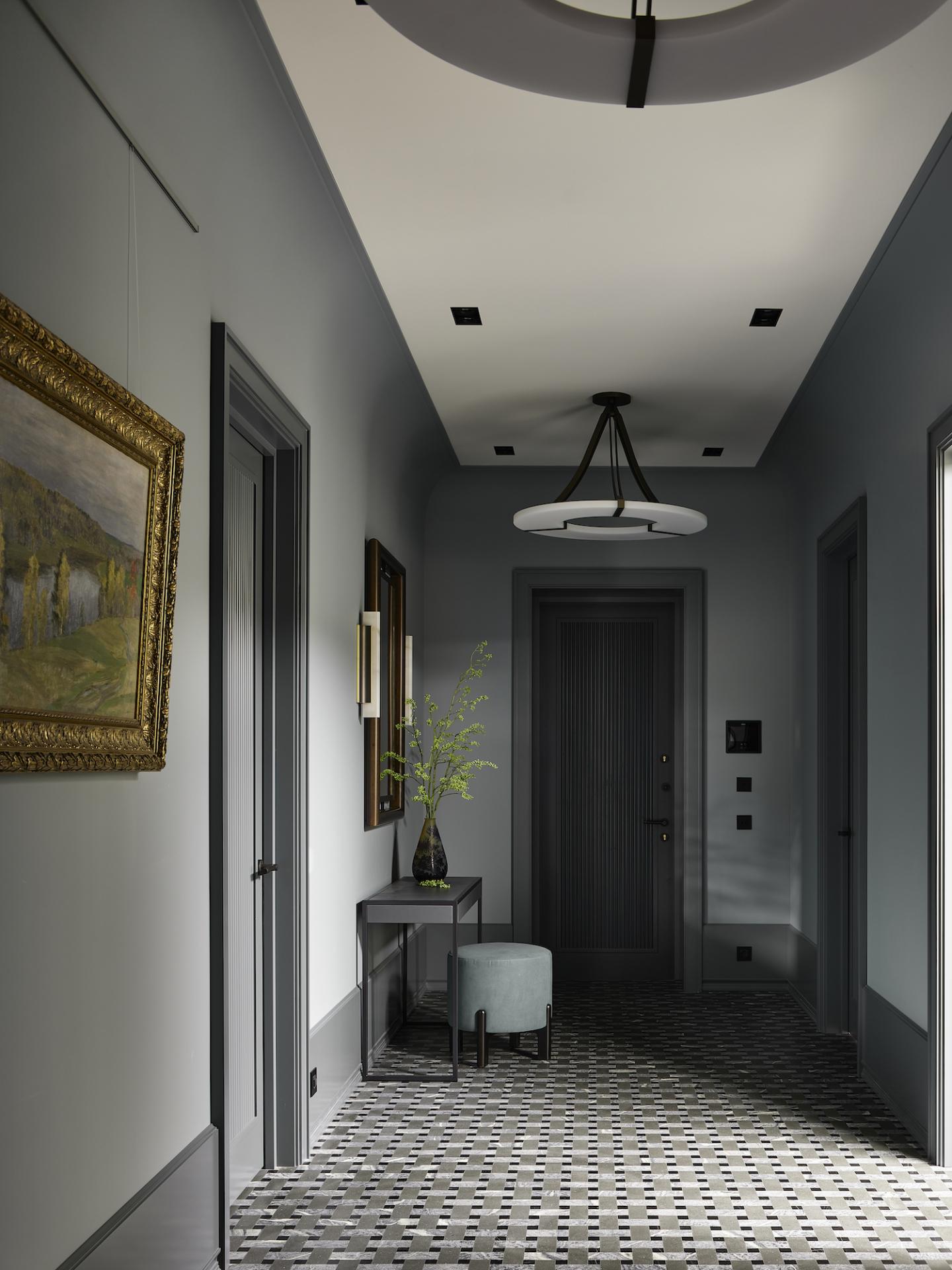 "The blend of styles within the interiors has resulted in a harmonious atmosphere throughout the home. Walking into the hall, you can almost feel yourself transported to an artistic French salon, while in the living room, the vibe is of an inviting English parlour complete with a combination of modern and vintage items," Agapova says.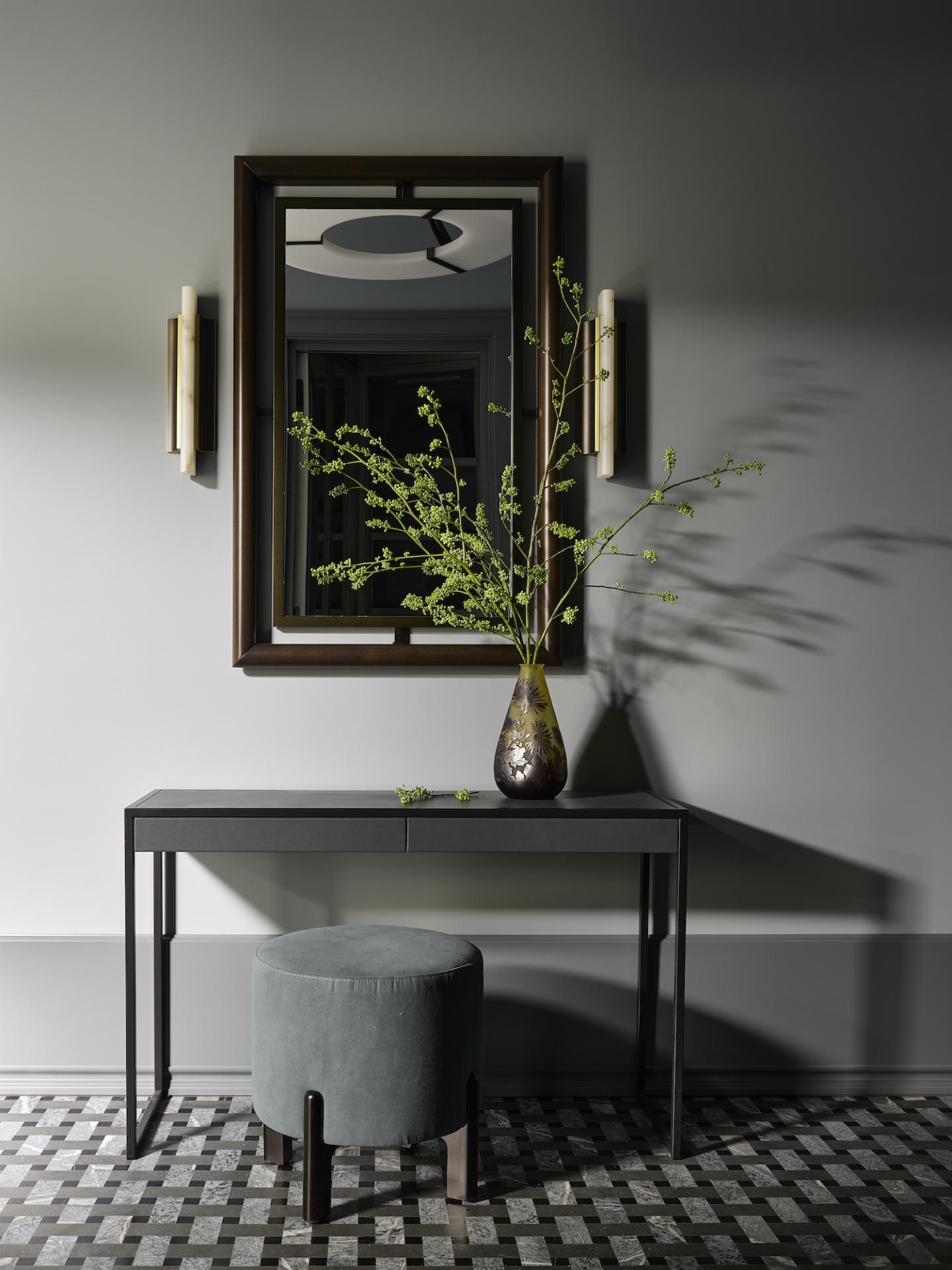 In the living room and kitchen, O&A has included built-in display shelves for the owners' vase collection.
"We designed and produced cupboards and decorative alcoves with spotlights which hold a large collection of unique and fragile vases. The collection, which is the clients' pride and joy, has been displayed in the best possible way to complement and enhance the interiors," Klodt says.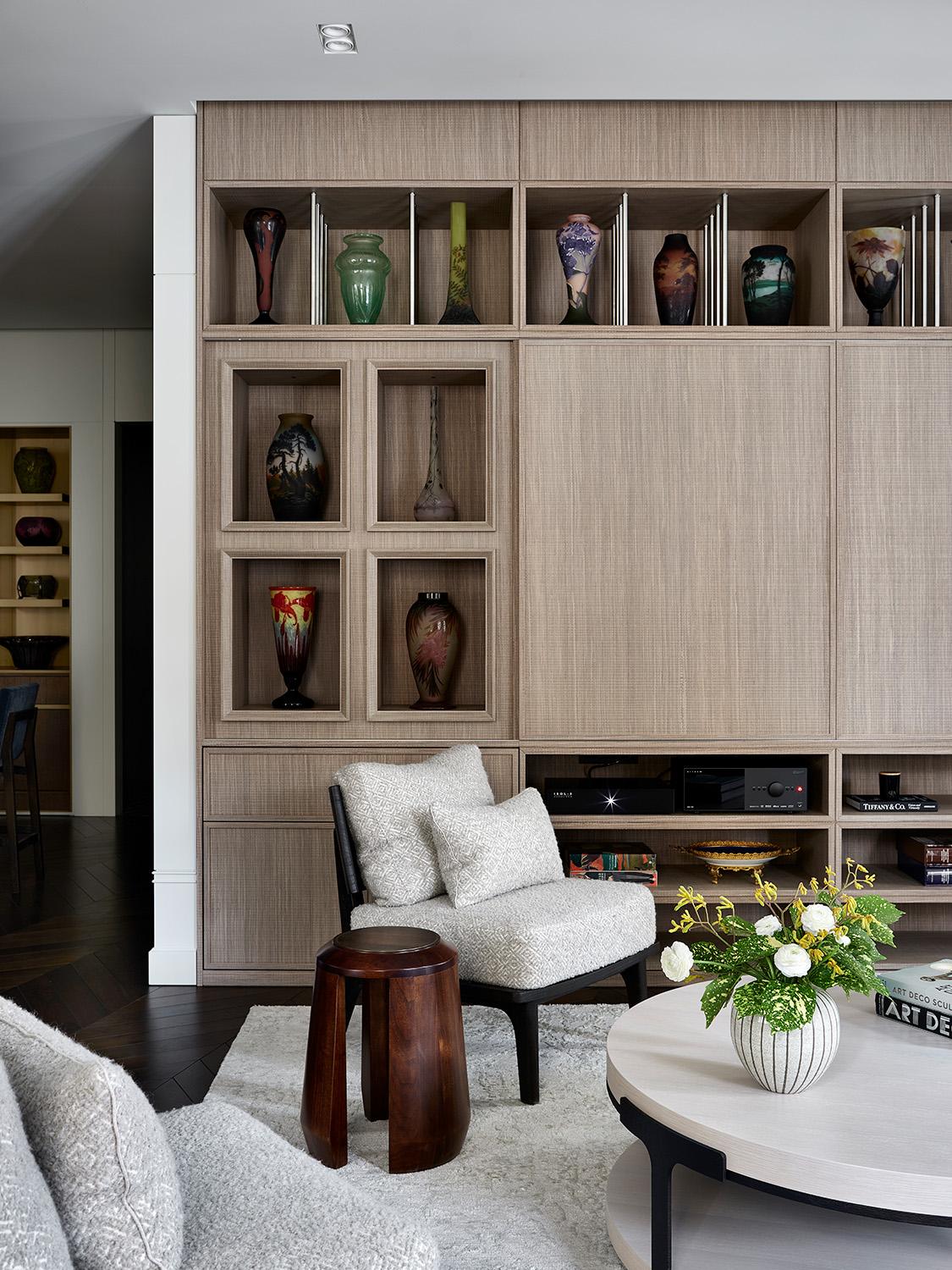 Agapova curated textiles such as curtains from English brand de Le Cuona for the project.
"De Le Cuona's founder Bernie de Le Cuona spent a long time going through archives to try to recreate these prints, which were used in the textiles of Queen Victoria reception rooms," she says of the textiles selected for the living room.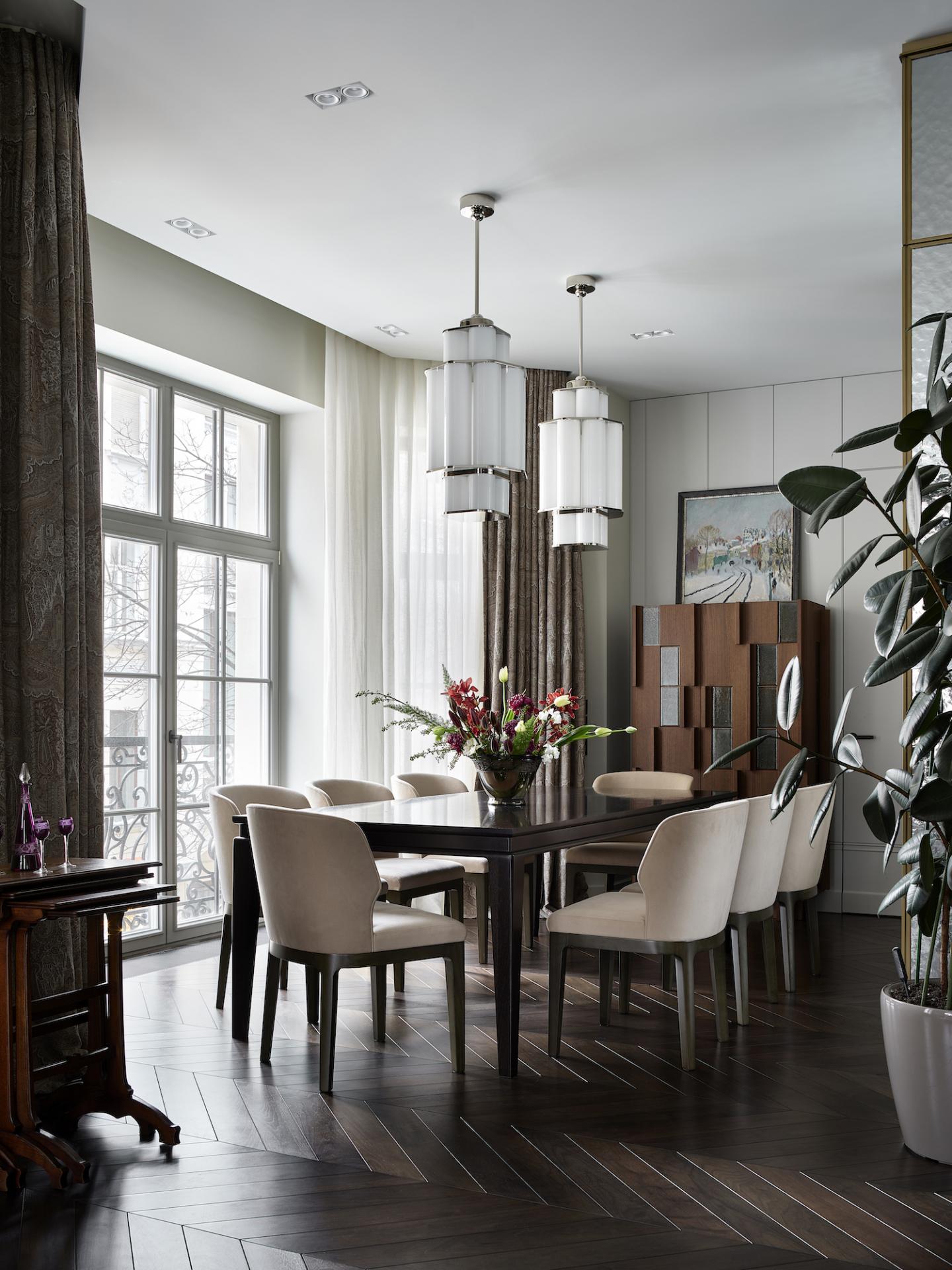 To maximise the seating capacity in the dining room, they chose a rectangular table. Complementing this dining table is a Terzo bar cabinet by French designer Bruno Moinard made of walnut with geometrical ceramic inserts that resemble the facades of brutalist buildings from the 1950s and '60s.
A futuristic cube-like mirror structure connects the kitchen, dining, and living areas. On one side of this cube structure is a lit bar, and on the other is storage spaces for kitchen appliances.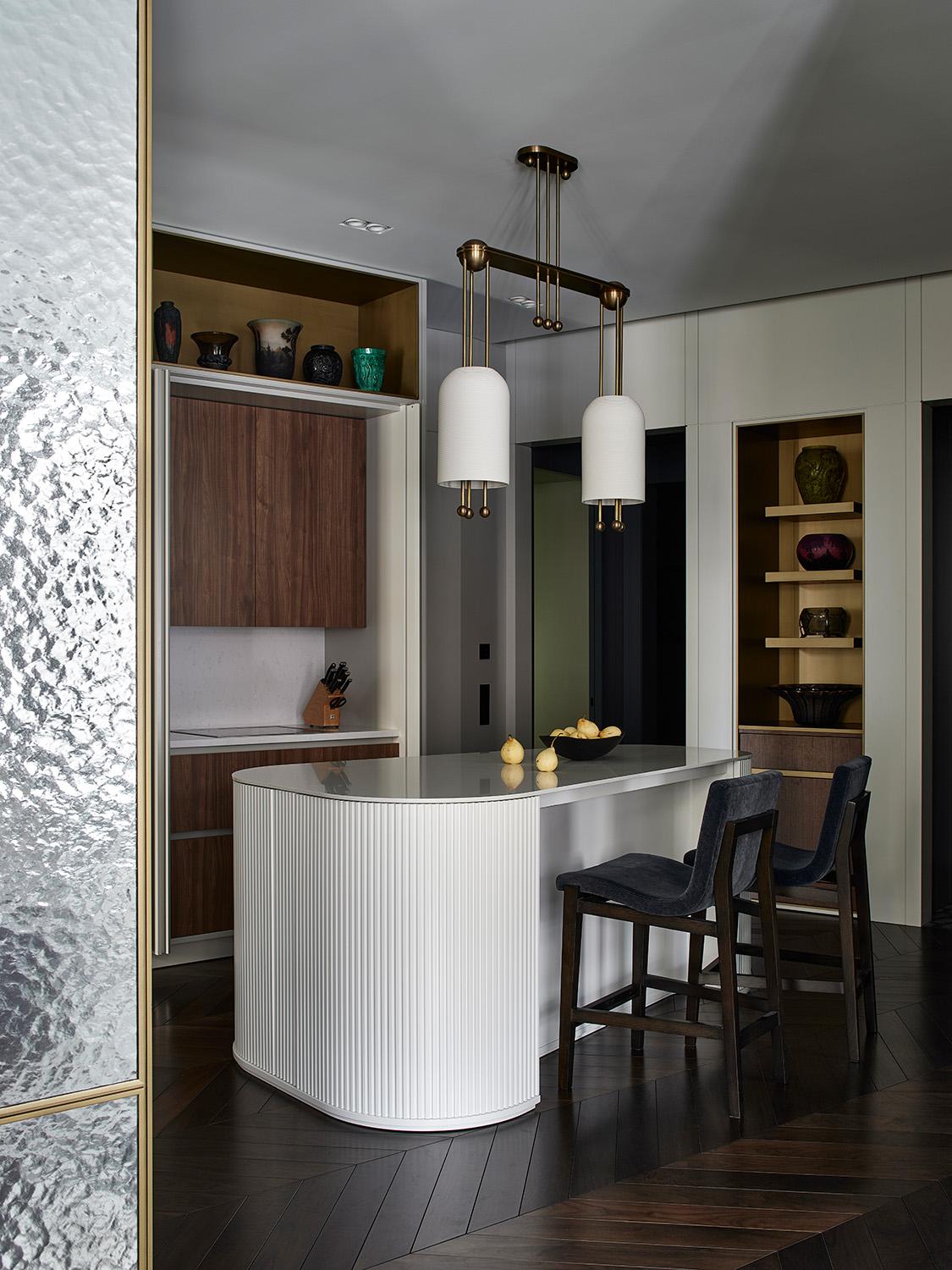 "The kitchen work area is concealed behind sliding facades, which helps us to avoid visual clutter. We also designed an organically shaped kitchen island with a sculptured worktop base," Klodt says.
The dining room leads to two studies – one for the husband and one for the wife – each with their own distinct look. The husband's study has a strong historical character with wood panels, a vintage Lalique chandelier, and a bespoke shelf with a large collection of vinyl records. The wife's study is more feminine with modern furniture and soft nude and gold hues.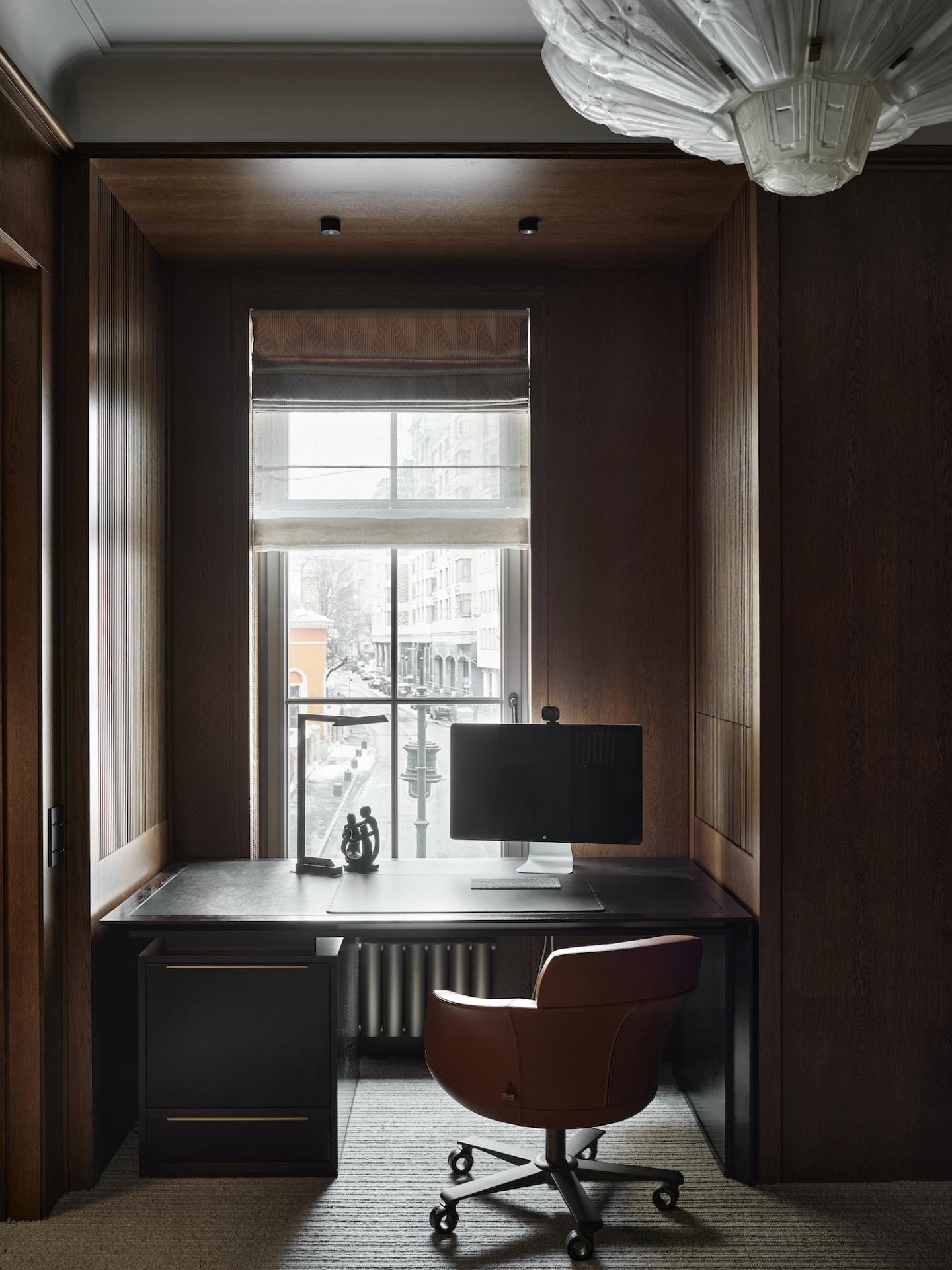 The master en suite is separated from the social areas and is accessible via the walk-in dressing room. Light, earthy colours and different textures were used to create a soothing, multi-layered ambience.
Behind the headboard, the team used decorative gypsum panels that encourage interesting light and shadow play with the changing variations of day and night light. The curtains were from O&A's Caledonia collection, which Klodt and Agapova created in collaboration with British textile brand Holland & Sherry. A very tactile Flakes rug by Tapis de Bourgogne brought everything together to create a sophisticated, but intimate atmosphere.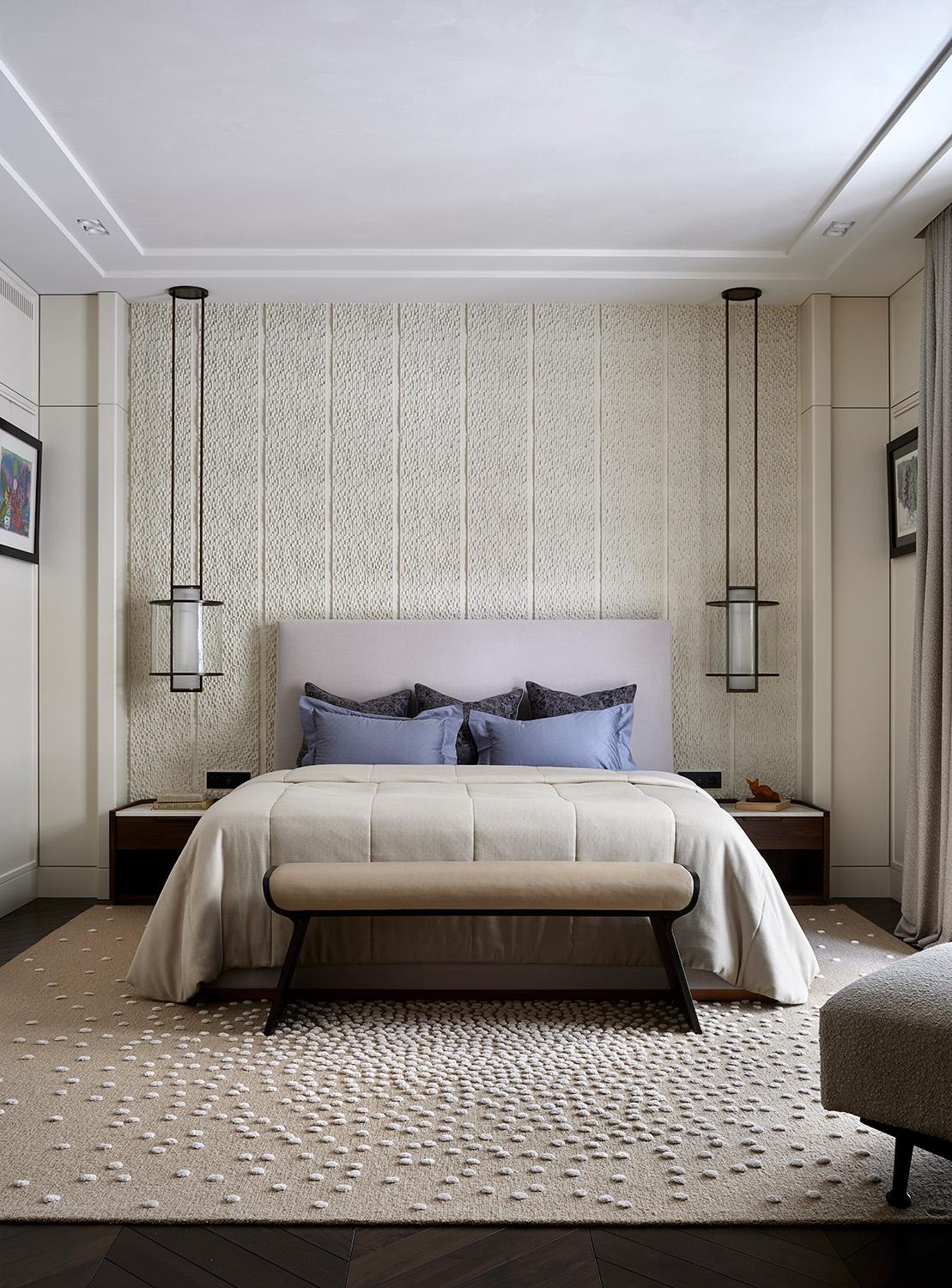 Similar to most of O&A's projects, the apartment is filled with bespoke pieces – from the wall panels, bookshelves, and kitchen island with a sculptured worktop base, to the doors and mirrors – that were custom made according to Klodt and Agapova's designs.
"Our projects strive to be sustainable, utilising natural materials such as wood panels and floors, along with beautiful natural textiles," Klodt says.
"We choose natural textiles not only for the upholstery and home textiles, but even for the wallcovering. We place a special emphasis on these elements so that they can last for generations."
Photos by Sergey Ananiev