This 1,688 sq. ft. house pays homage to Mexico's rich colonial heritage while facilitating a comfortable lifestyle for its inhabitants.
Located in the capital city of Mexico's Yucatán state, Mérida is a lively city with many colonial architectural elements and ancient landmarks. The 1,668 sq. ft. Casa Canela is just a short stroll away from the Canton Palace in the local museum Paseo de Montejo in Mérida's historic downtown.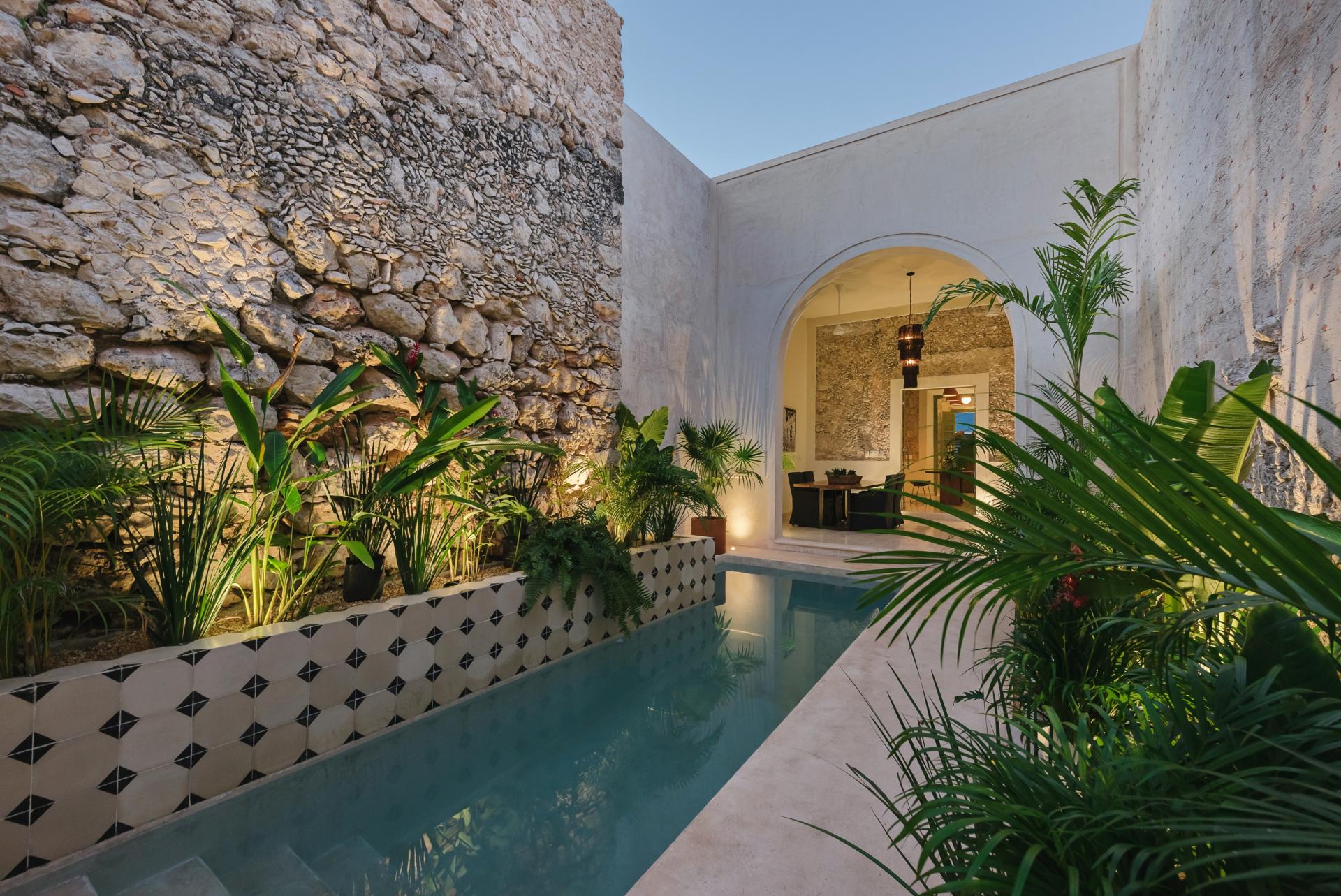 This residential project renovated the interiors of a colonial house that dates back to the beginning of last century, and aims to honour the historical values of Yucatán in its redesign. A breathtaking sculpture by Javier Marin greets the residents in the centre of the room as you enter through the green doors. A simple pendant lamp hangs above the figurine from the original green beams, encircled by stone walls and antique white pasta tiles.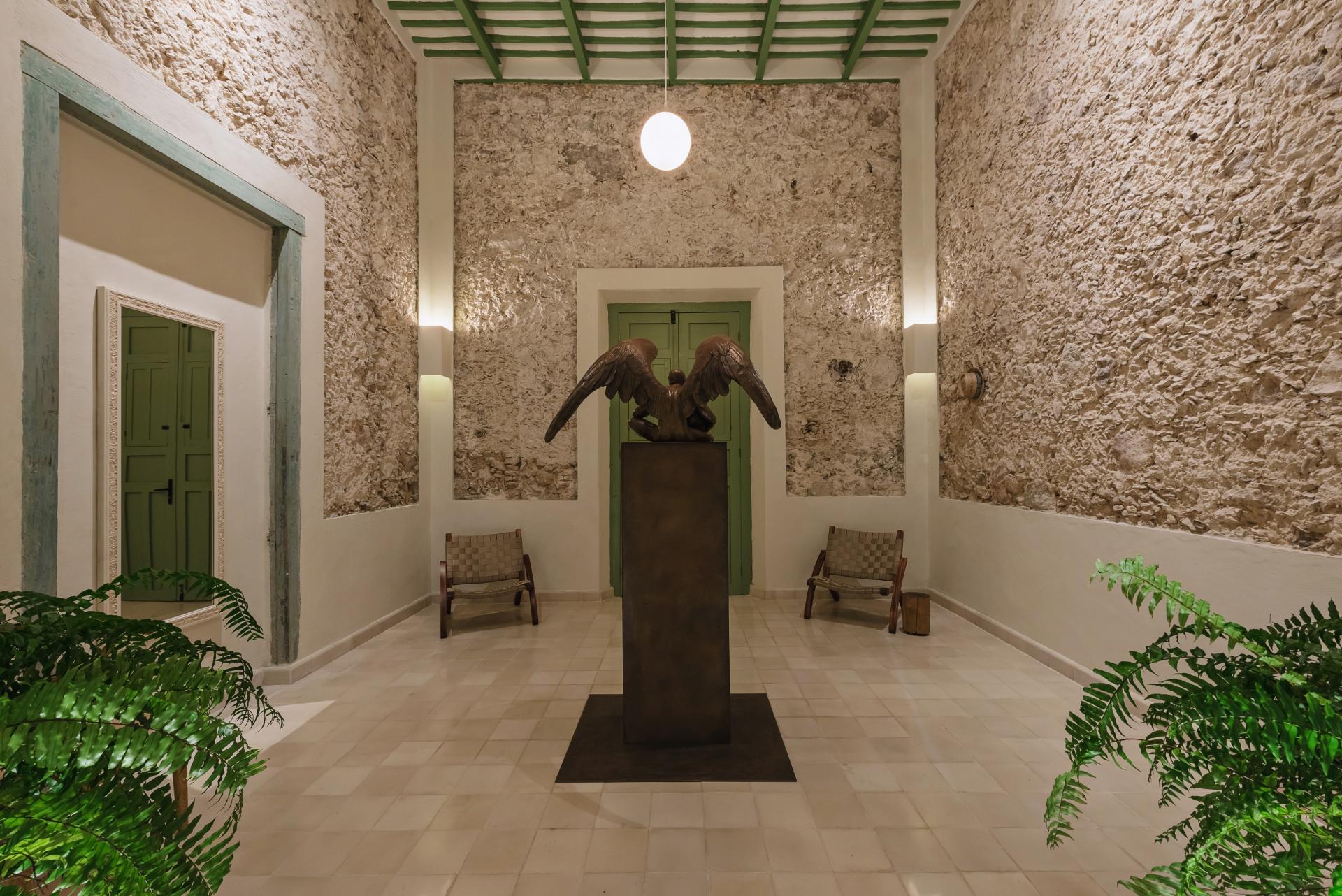 The roof rafters and cabinets are a unified shade of green, seen again in the kitchen area. With a high roof, Workshop Architects included three ceiling fixture claywood lamps as central light for the modest Tzalam wood table in the middle. Over the pasta tile backsplash, different decorative objects, cookware, and utensils have shared space on the hanging shelf with two art pieces by Fernando Andriacci, across from Isabel Garfias's painting on the opposite wall.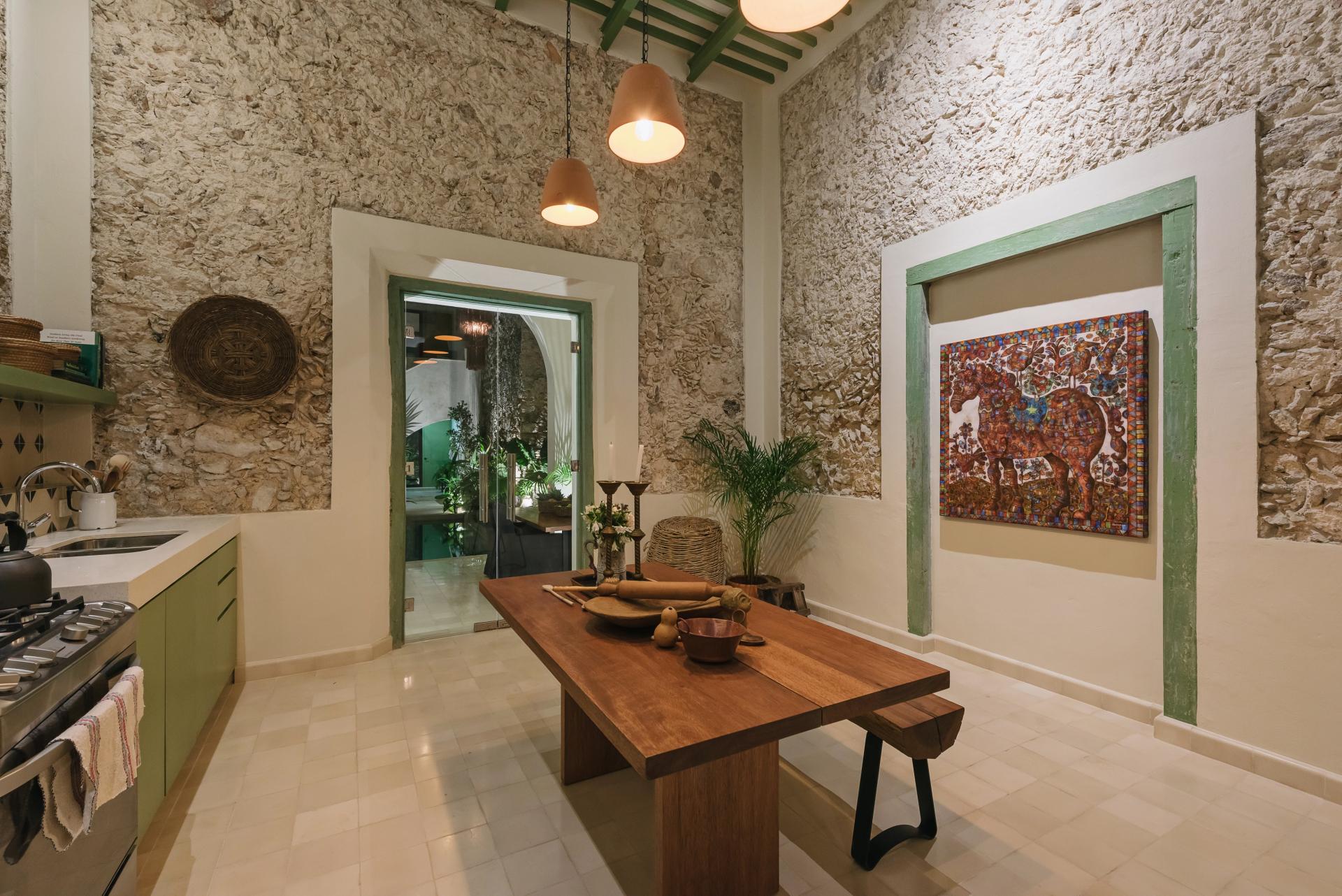 Moving on, the covered terrace is separated by two glass doors and serves as a dining area. Just like the other spaces of the house, this room also features art works and ceiling lights. Here, a piece from Pedro Friedeberg accompanied by a small drapery chandelier in burgundy. The further one moves inward, the more this residential oasis reveals itself. Opening to the next zone, a semicircular arch frames and leads one into the lushes garden, full of vegetation, tall walls and a variety of rock textures alongside a small pool.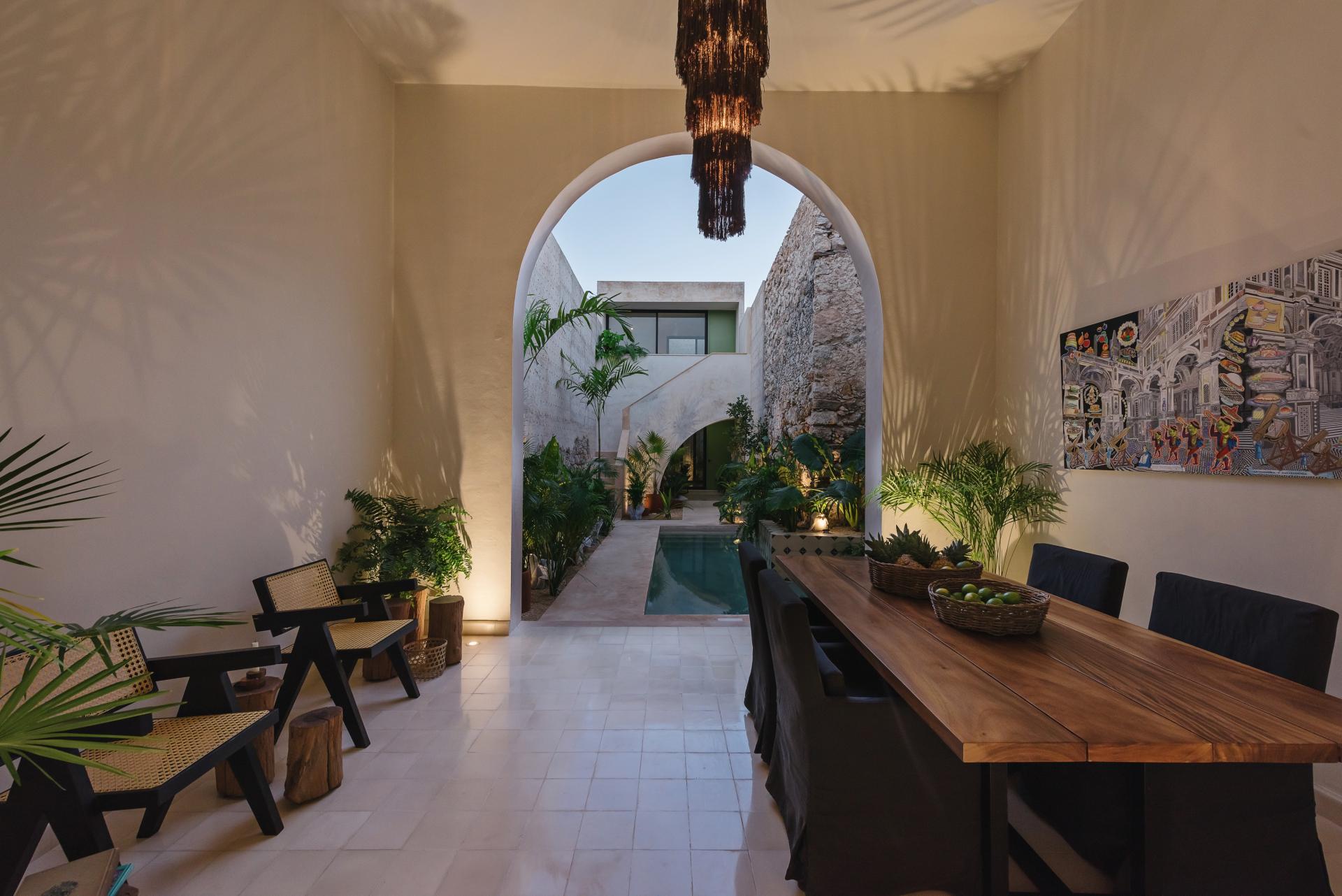 Using a contemporary style, the bedroom downstairs features a traditional pasta-tile headboard, another Friedeberg work by Galeria Urbana hung over the bed and a large sliding window overlooking the garden. Accessed via the outdoor staircase, which took its shape from the traditional designation, the upstairs bedroom applies the same layout as the one below, only with the additional detail of a front terrace.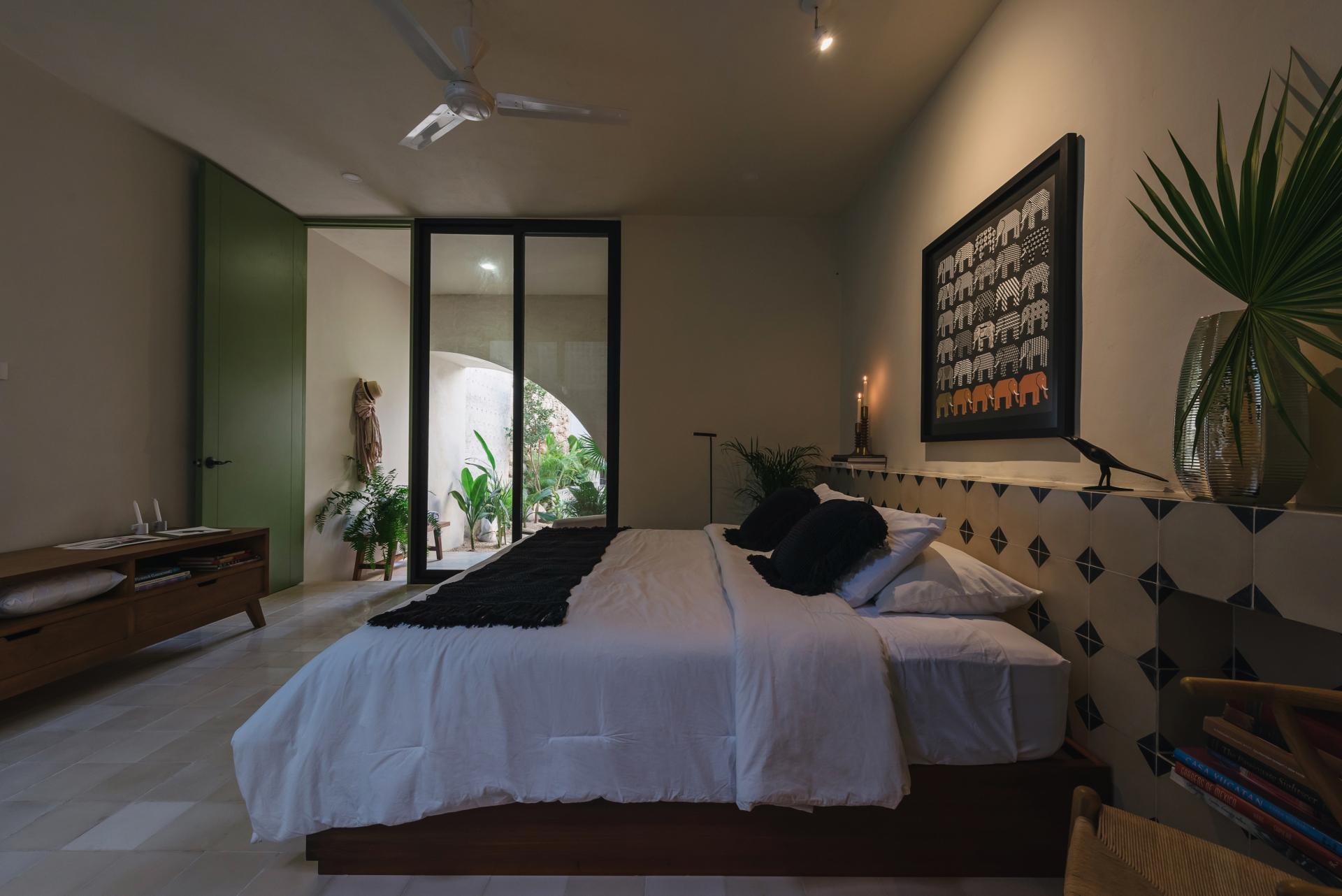 Behind the elegant and contemporary façade, Casa Canela is an oasis of a laidback lifestyle that preserves local heritage from the pre-existing architecture.
Photo: Tamara Uribe