When the London-based COO of a large property company sought out Trilbey Gordon's design services for his home, she remembers how enjoyable the experience was – from planning to conception – because they had a clear, shared vision of the ultimate look and feel. "We wanted the home to be an eclectic mix of old and new, and raw and refined, with a sense of playfulness and decadence that also evoked drama and moodiness," she says.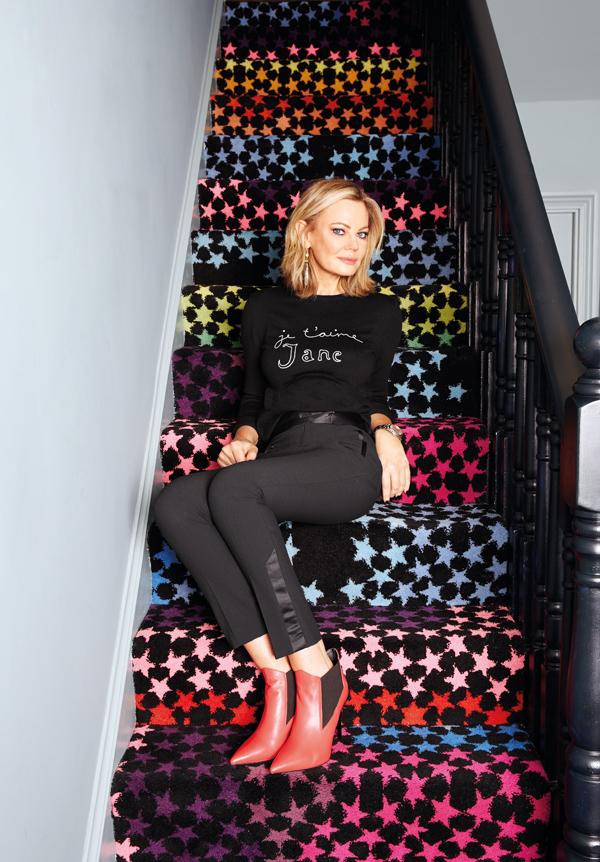 Originally a typical Victorian house with a warren of small rooms, Trilbey recalls that the initial goal was to open up the spaces of the residence and move the rooms around. "We moved the kitchen to the centre of the house and the reception room to the front, while a huge living room combining the media room, bar area and dining room was extended at the back of the house onto the garden," notes Trilbey. "I opened up the entire first floor to create a huge master bedroom suite with a large bathroom, steam room and a walk-in closet. Then we turned three of the other existing bedrooms into a two-floor Moroccan-style mezzanine bedroom and sitting room for his daughter. The top floor was turned into another huge bedroom suite for his other daughter."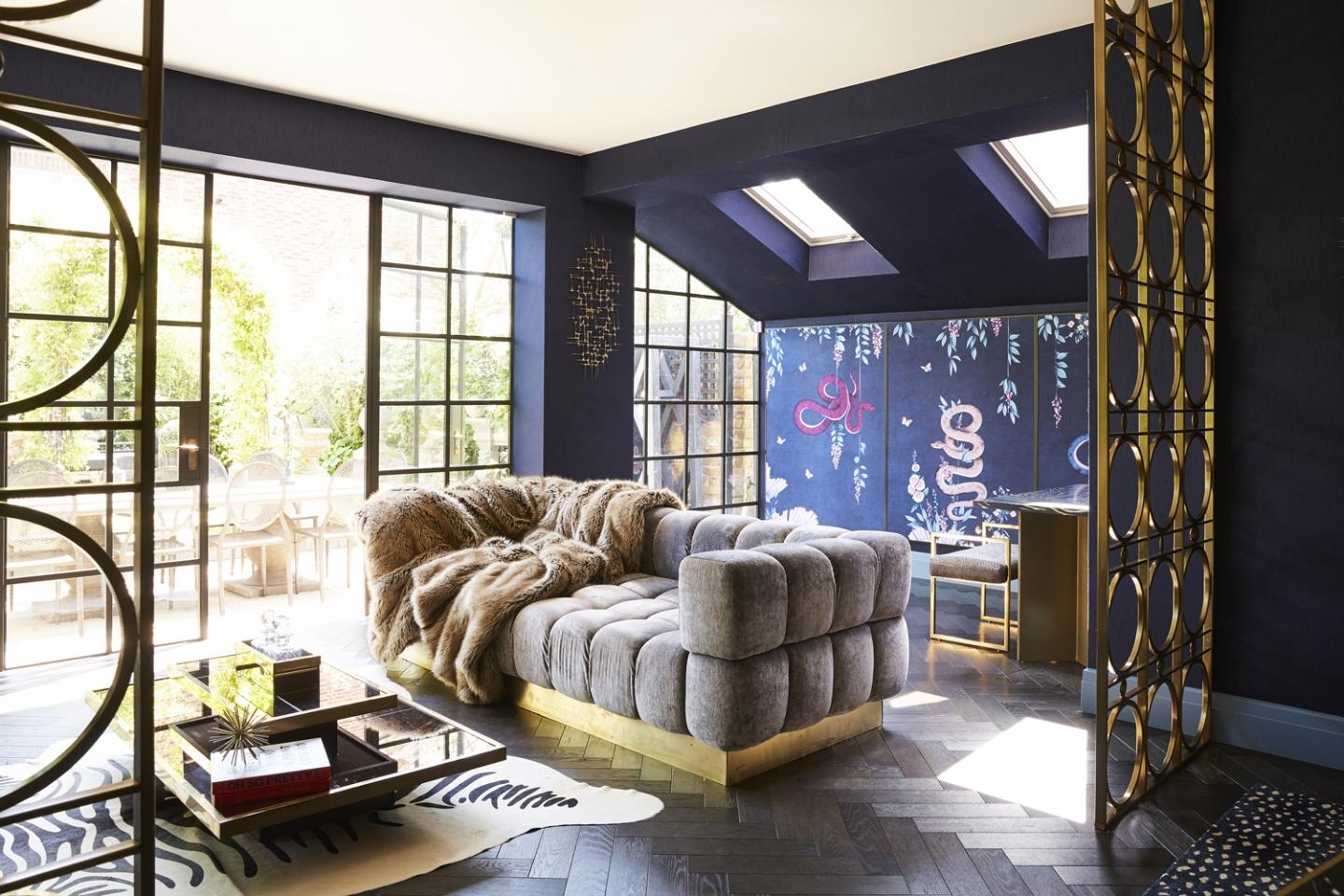 To retain a sense of history, Trilbey inserted some architectural features back into the house, including deep dentil cornices, high skirting and wooden floors. Confiding her love for mid-century furniture and a 1970s vibe, the designer explains that the look was very much on the agenda. "My interiors are very influenced by fashion – I used to work at Vogue, so the styling side of things comes naturally to me. I view a room as a stage set and style it in the same way I would for a photography shoot. Details are the essence to me and nothing is overlooked."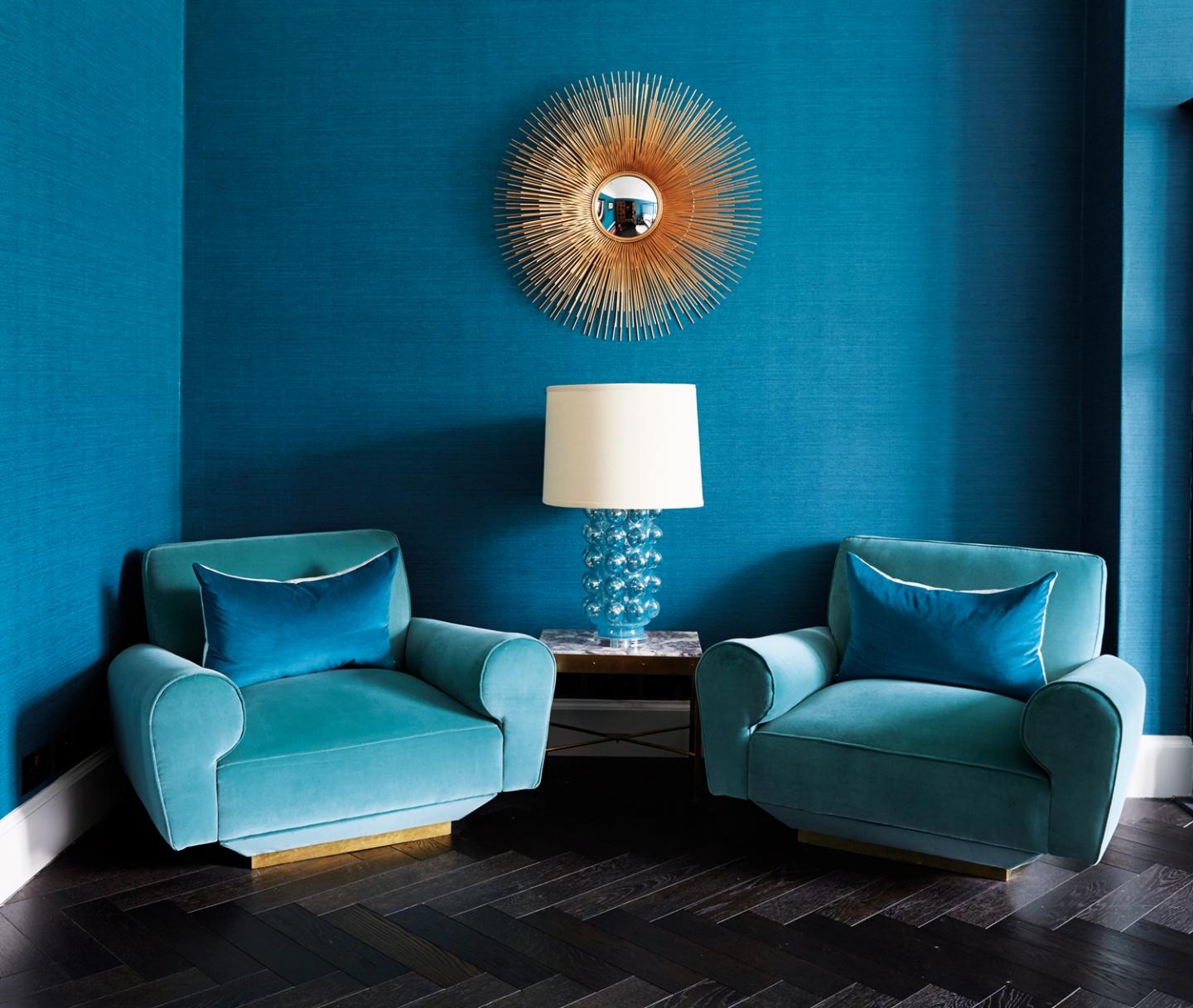 Trilbey lived in Los Angeles for a few years in her early 20s; she recalls it as a time when the mid century-modern aesthetic was practically unknown in London. "That period was such a huge influence on me – from architects like John Lautner and Frank Lloyd Wright to the maximalist homes furnished by Tony Duquette, I also discovered wonderful, creative mid century furniture by designers like Milo Baughman, Aldo Tura, Paul Evans, Karl Springer and Willy Rizzo," she says. "It was also during this period that my own style began to emerge."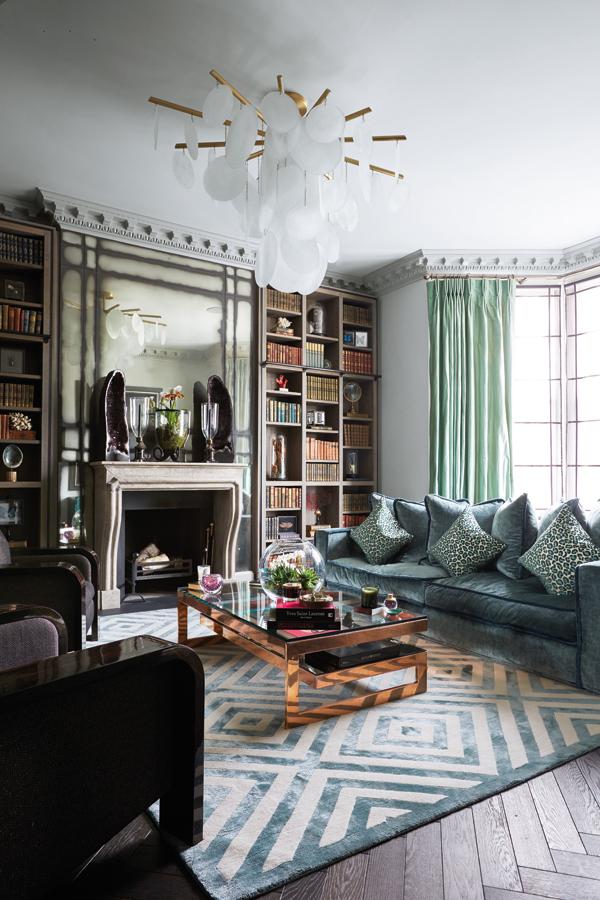 For this home, Trilbey feels that her unexpected choices give the space its spirit and edge. She confesses to loving colour in her work, but for this project, she wanted this home to feel both masculine and sexy. The starting point for the design was a handwoven star rug by jewellery designer Solange Azagury-Partridge. As a huge fan of her jewellery work, Trilbey saw the rug in the designer's showroom and instantly fell in love it. "We wanted to create that wow factor as soon as you walk into the house," she says. "I cut the rug up into individual pieces and had them put onto each stair, so that each one was different."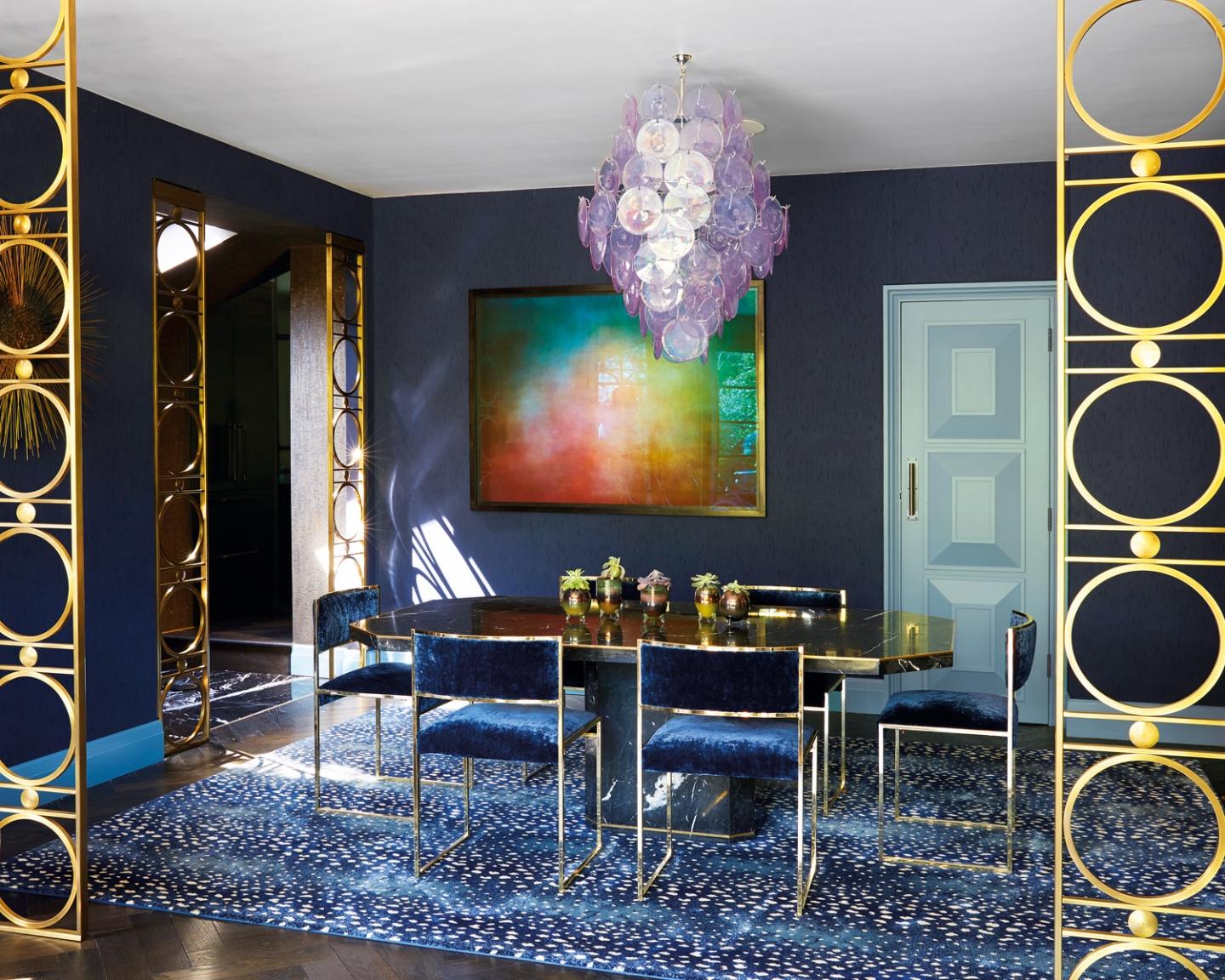 The reception room was designed to feel like a modern version of a classic English gentleman's club – a place where the homeowner can enjoy a whisky, read a book and smoke a cigar. "I love bookshelves in a home, so I carefully curated a selection of the most beautiful antique leather and cloth books with hand-painted bindings," says Trilbey. "Being as detail-obsessed as I am, I even had some old books hand-monogrammed with my client's name. I also wanted the shelves to look like a cabinet of curiosities; I think these accessories have given the room its personality. I found an emerald green Aldo Tura goatskin console in Miami and added an oil painting by Sally Jane Fuerst above it."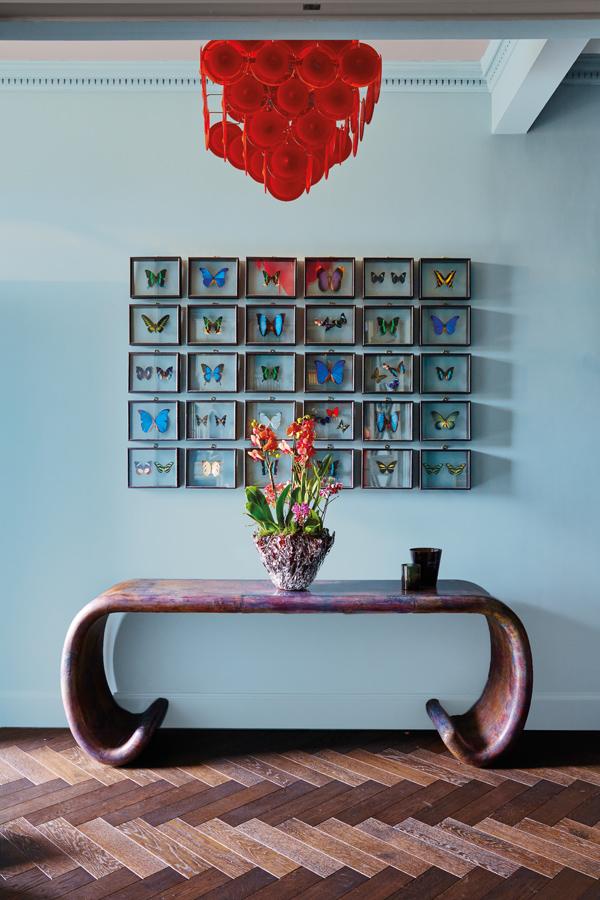 Another standout is the kitchen design, which was inspired by a beautiful 1930s Parisienne pharmacy. Unlacquered brass cupboards with mirrored backs and glass shelving display vintage glassware, while a piece of Tiffany blue marble has been used as the room's centrepiece. Trilbey designed the kitchen island to look like a freestanding piece of furniture, with bands of brass going through it, and stood it on a brass plinth. She then carried the marble through the back wall to give the room a sense of continuity.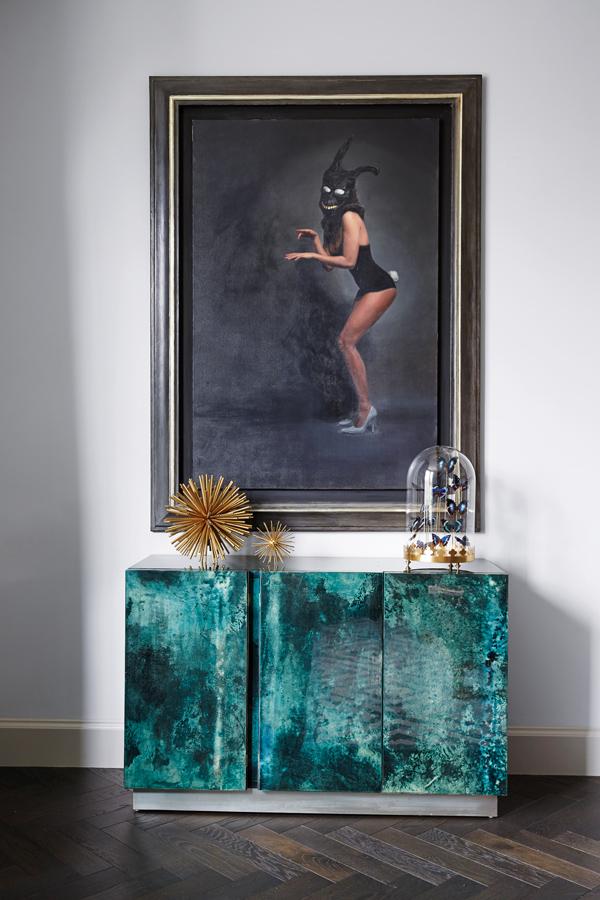 "I was aware that brass and marble could look a bit gaudy if I wasn't careful, so I added some hand-cut black tiles to add an industrial edginess and a more masculine feel to the room," says Trilbey. "We also wanted it to be an inviting room where people could hang out, so we added a fireplace and I designed an antique mercury mirrored surround with a deco 1930s feel to it. We found the 1940s vintage brass and faceted glass circular light in the Marché aux Puces in Paris; this statement piece really brought the whole kitchen together."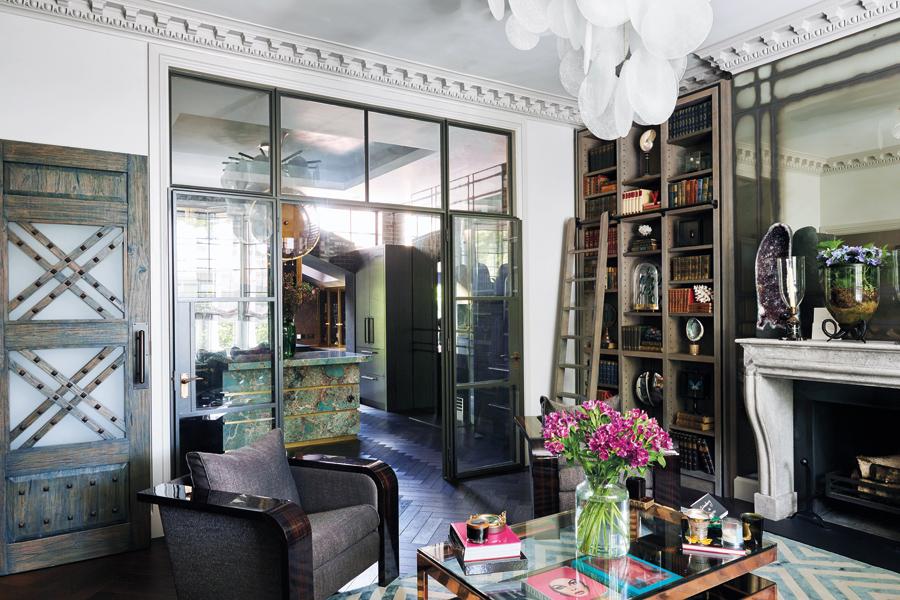 While all the living spaces are seductive and inspiring in their own right, Trilbey wanted the bedrooms to echo the design sentiments, yet serve as oases for rest. Her goal for the master bedroom suite was to create a masculine, charming space, so she sourced a teal wallpaper by Phillip Jeffries called Vinyl Amalfi Silk. "To keep things light and airy, I left a border of white wall around the top where it meets the ceiling and added a large dentil cornice," she notes. Other fine furnishings that complete the look are the custom-made bed, the 1970s chairs recovered in blue Dedar velvet, a brass sunburst mirror and a bubble lamp by Julian Chichester.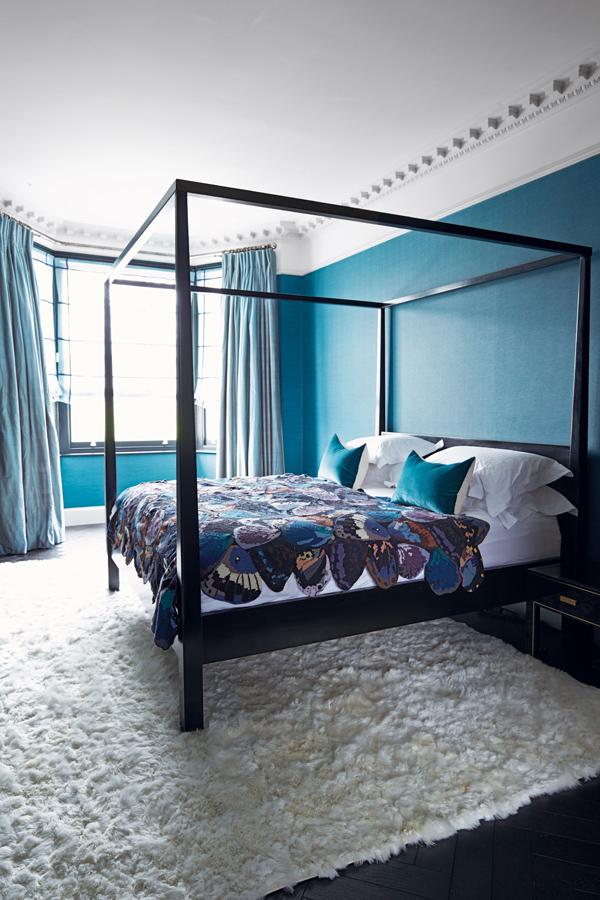 "Each project I do is a unique exploration of curiosity and experimentation," says Trilbey. "For this home, I sourced eclectic pieces from everywhere – Paris, London, Miami, LA – through dealers, auction houses, first dibs and vintage stores. She concludes, "When I walk into a space, I want to feel emotion. I want to see pieces that are interesting and collectible, but also to be in a space that tells a story. I wanted the house and everything in it to be a conversation piece."