Contemporary and sculptural pieces coexist beautifully with the period architecture of this duplex in a historical Moscow building.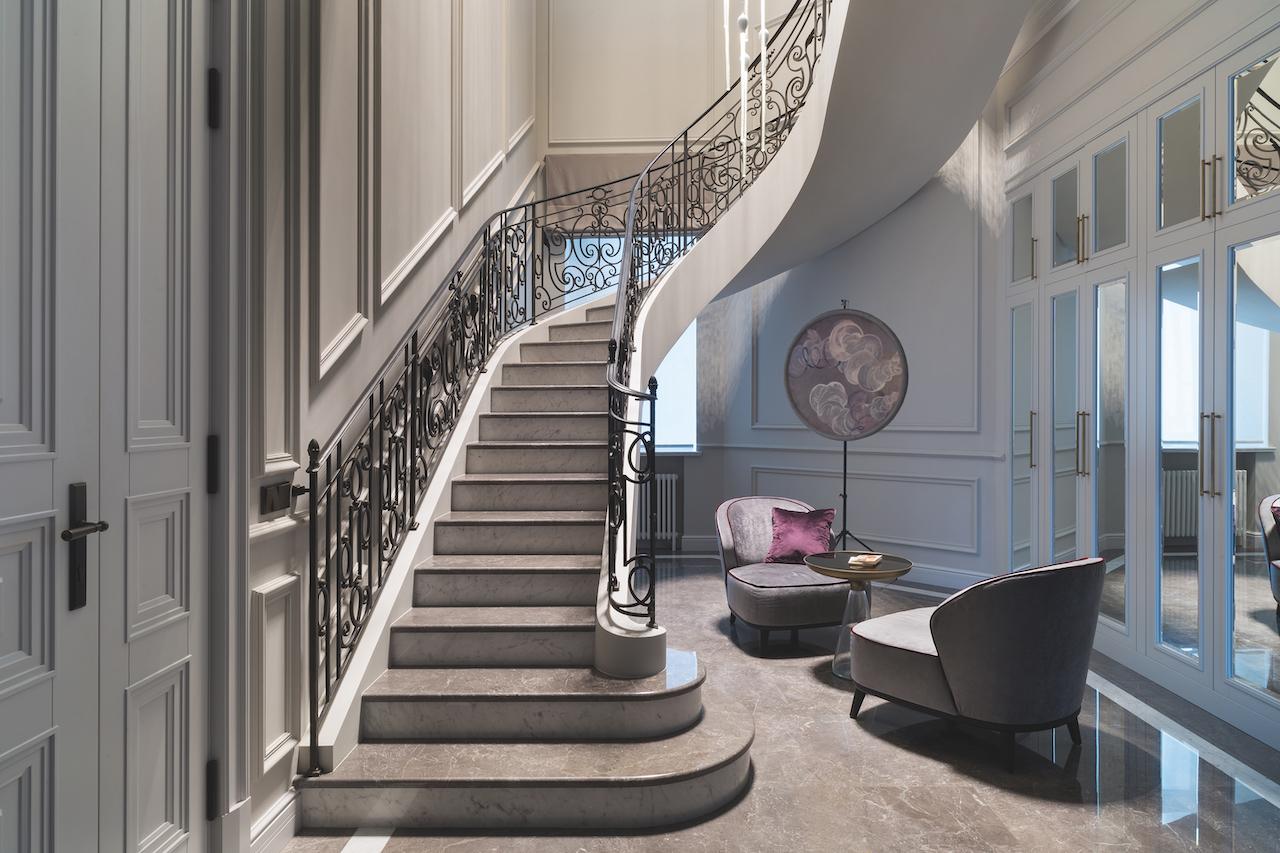 Inga Arshba and Daria Shirokova, of Moscow-based interior design studio I.D. Interior Design, have transformed what was formerly the second and third floor of a historic Moscow revenue house into a stunning duplex apartment with a carefully curated selection of eye-catching sculptural furnishings.
The interior architecture of this 5,188 square-foot two-level residence was in very good condition, so much of the existing stucco walls were retained. I.D. Interior Design had plenty of attractive spaces to work with as both levels have bright voluminous rooms with ceilings that are more than four metres high, along with many tall windows, some of which provide gorgeous views of one of Moscow's most beautiful streets.
Its clients were a couple with three children who entertain frequently. Their request was for large entertaining areas, and also additional living and sleeping areas for a nanny, and for their parents when they come to visit.
"Our clients adore eclectic and French-style interiors, so we combined classic sideboards and dressers with bright and bold modern furniture and lighting," Arshba says.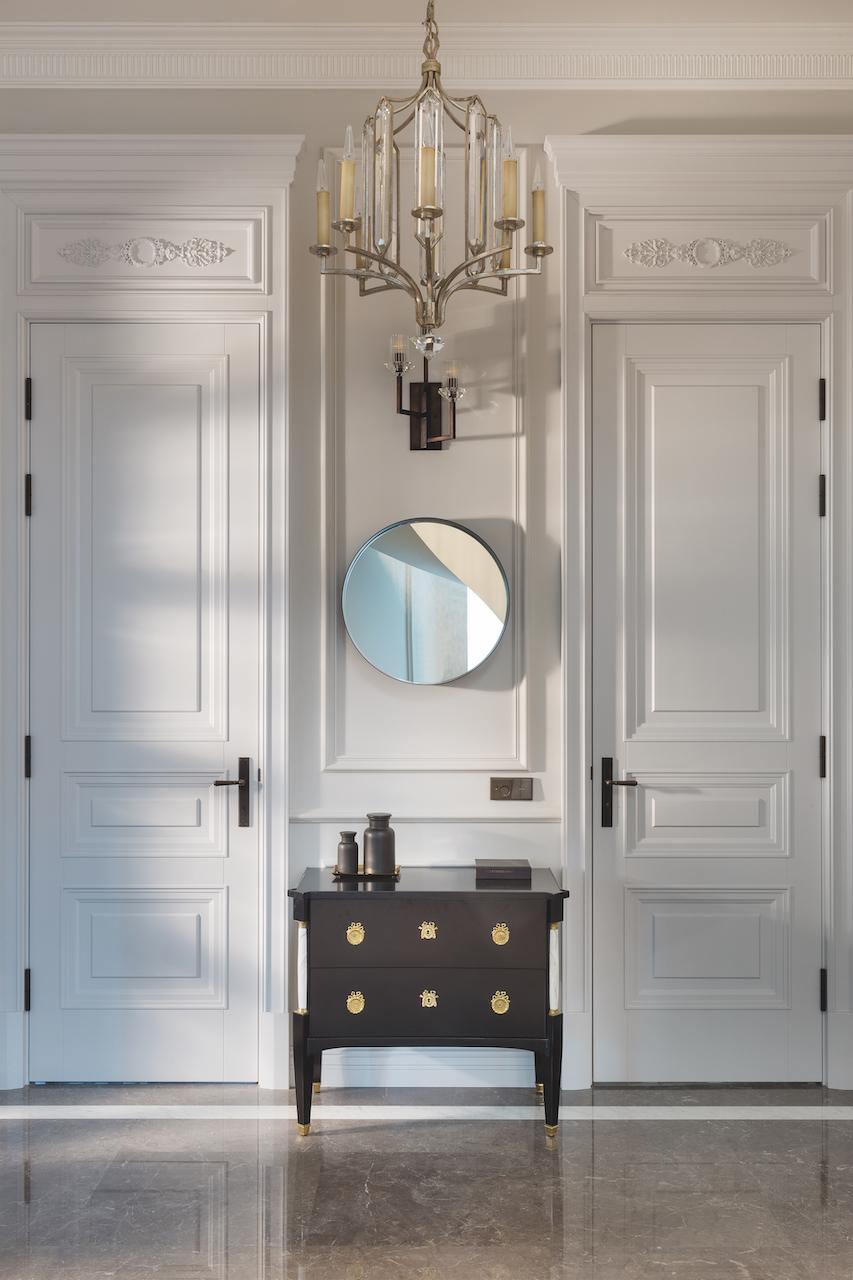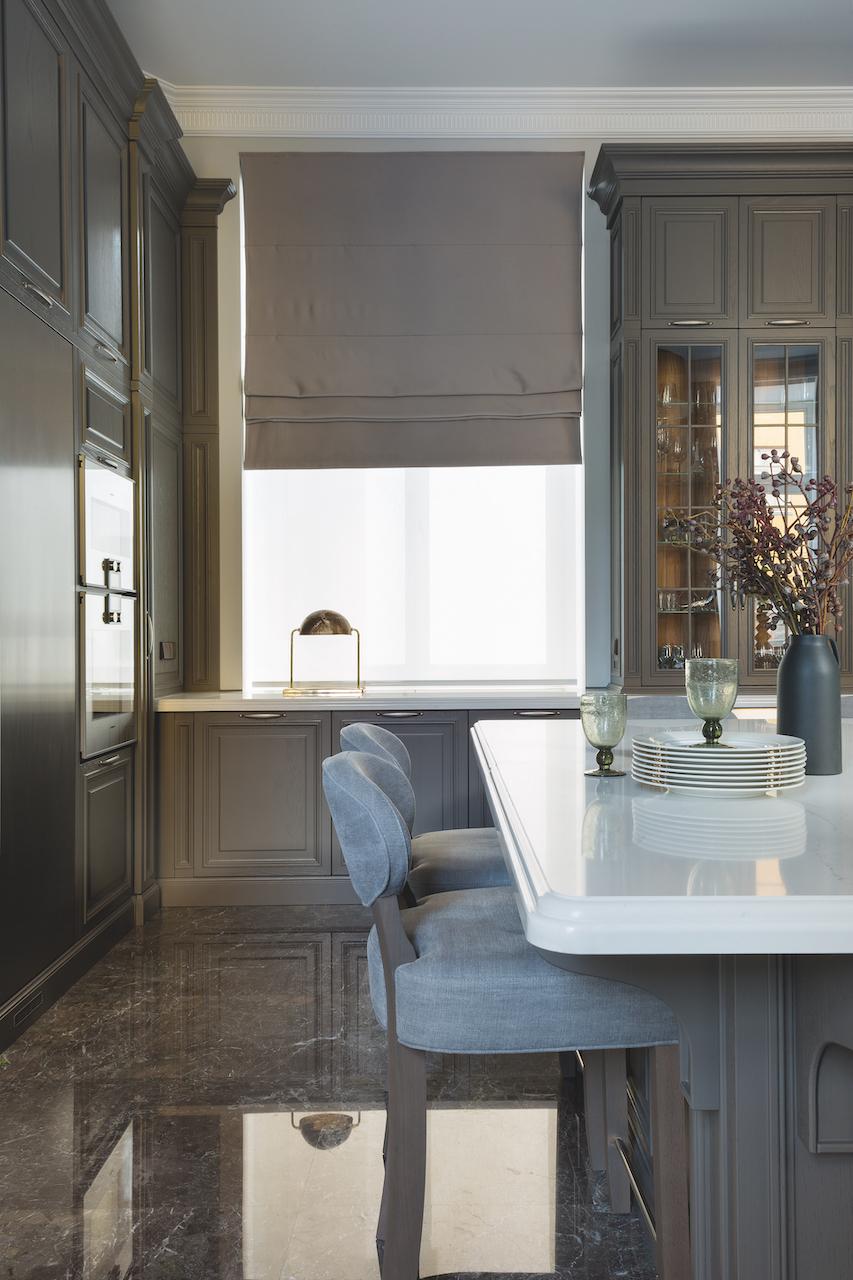 When Arshba and Shirokova walked through the space to develop the design plan, it became immediately apparent to them their client's preference for an eclectic style, with a reference to French aesthetics, would work well within the space.
The public areas, which include an entrance hall, a guest bathroom, the living room, dining room, main kitchen, and a laundry room, are located on the first floor. Also located on this level is a master en suite bedroom and large dressing room where guests can stay.
"The owners love to host parties and dinners with friends, so we created a large living lounge with a grand piano and a dining room with a fireplace," Shirokova says.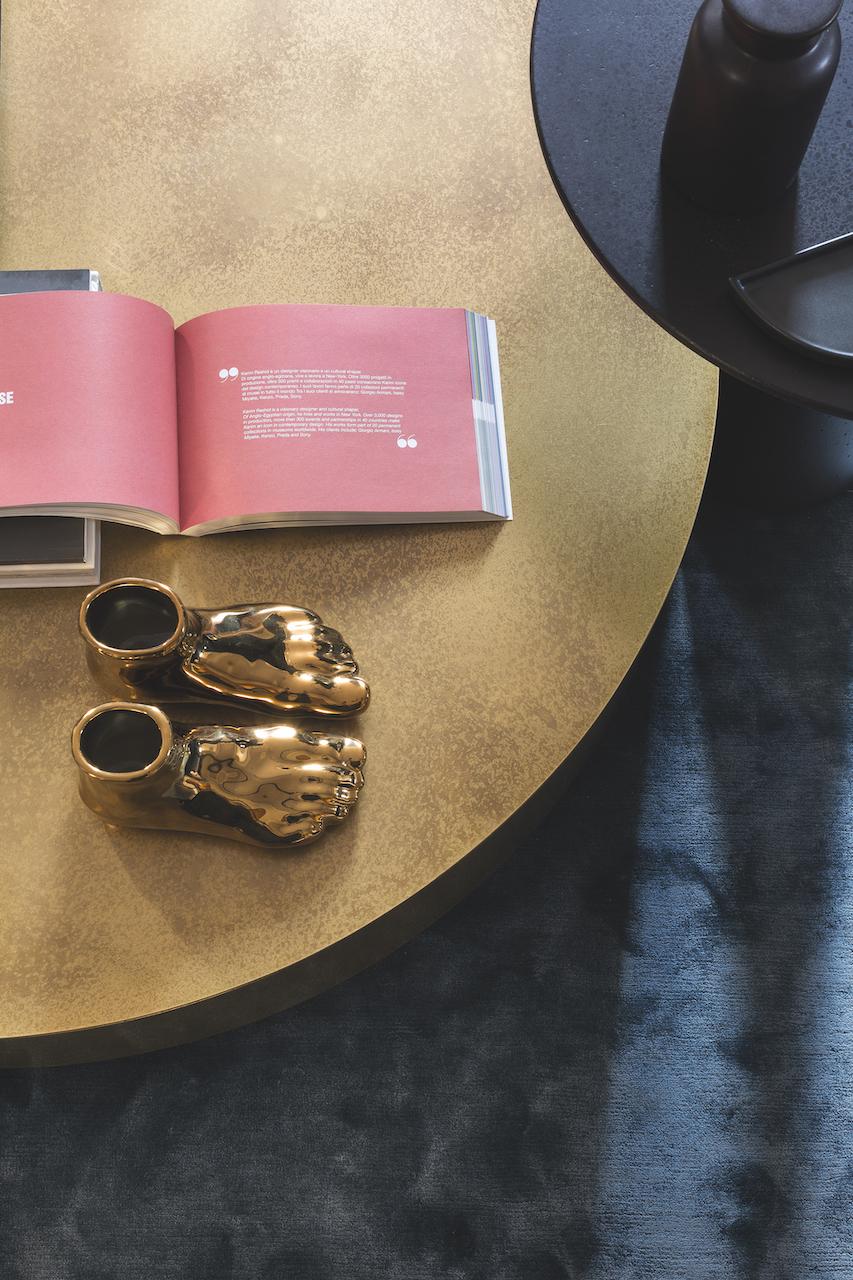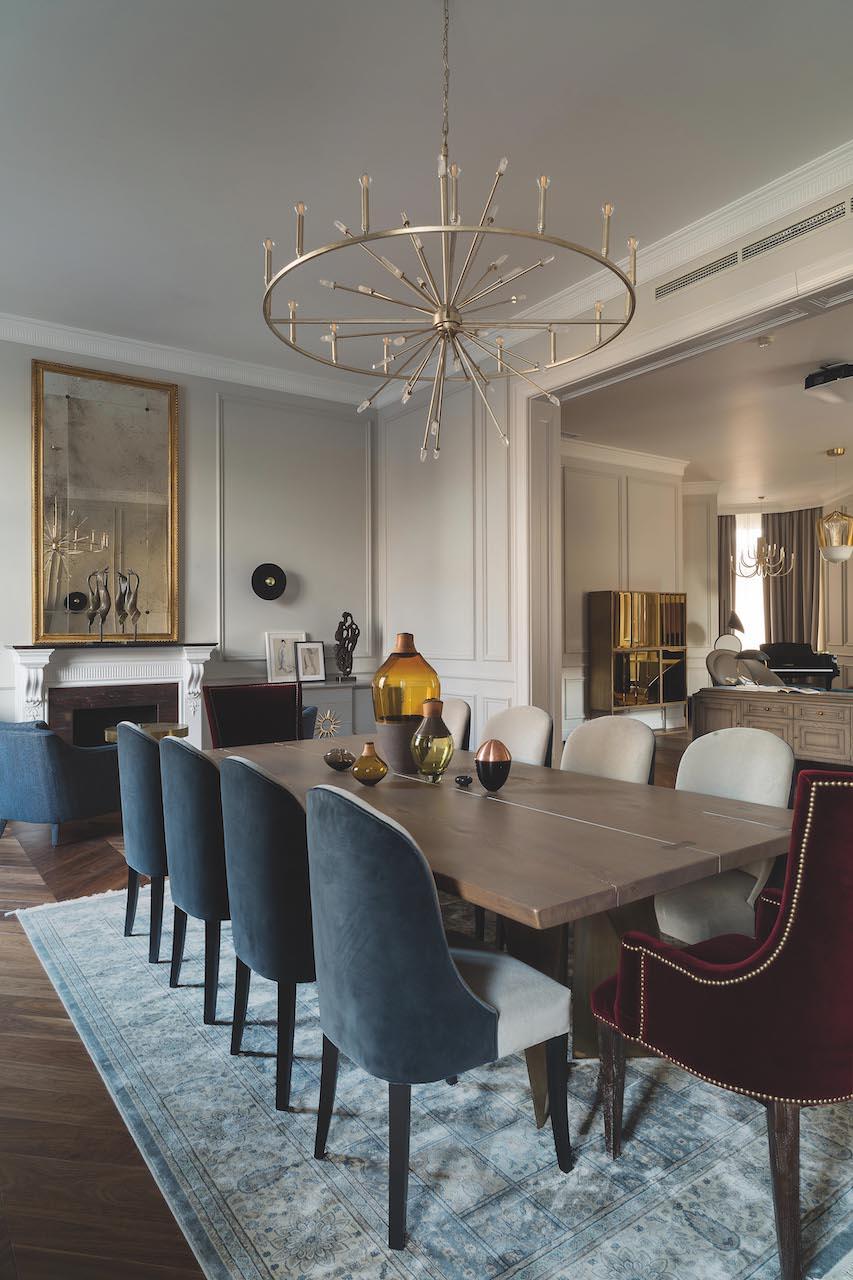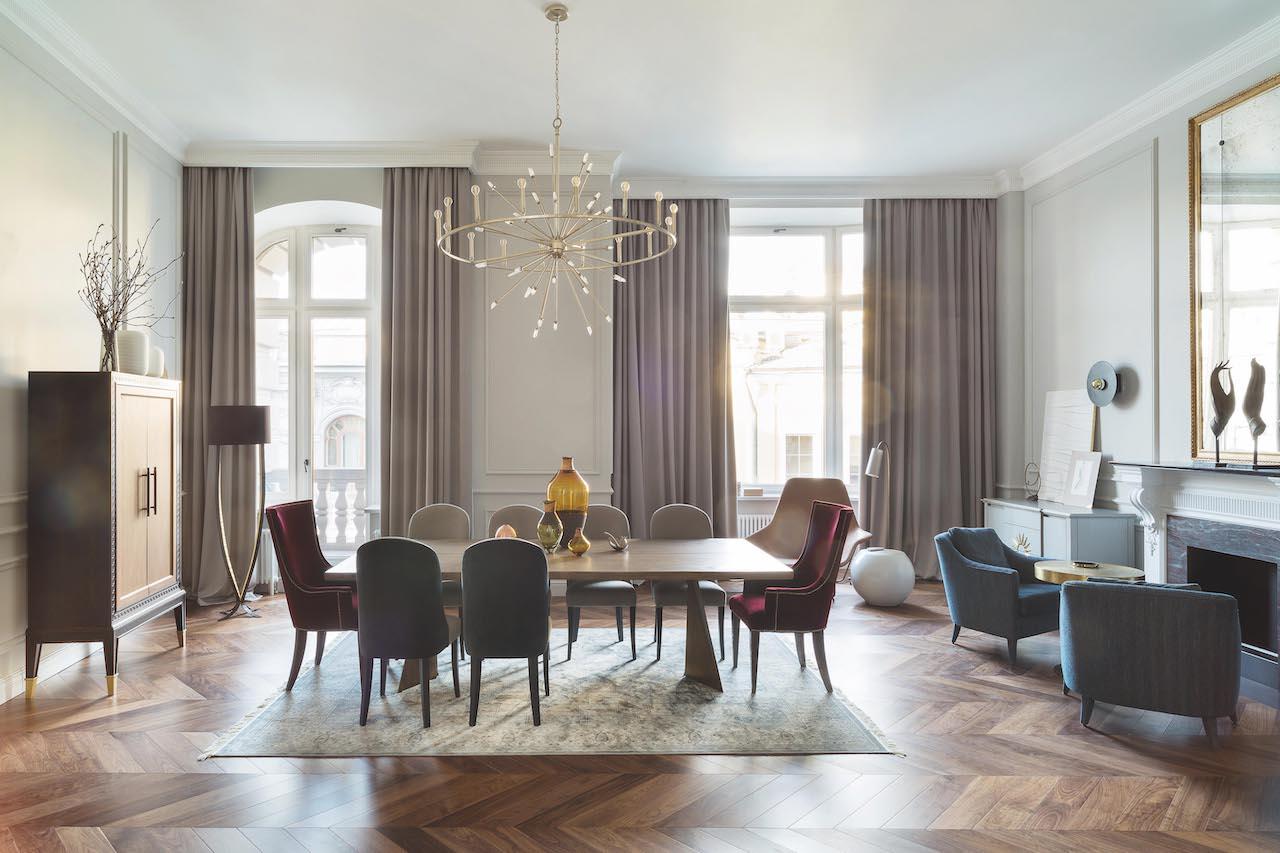 The private areas are located on the second level, and these include the couple's bedroom, bathroom, dressing room and a private kitchen; a small living room and three bedrooms and bathrooms for the children, and a home office.
The project's pièce de résistance is a grand staircase that connects the public and private levels.
"Initially, we had planned on including an elevator to connect the two levels, but in the end, we decided on an elegant staircase that gives the space old-world grandeur," Arshba says.
Arshba and Shirokova spent a lot of time choosing the design of the staircase railing. They eventually chose a forging pattern, which they adapted with complex spirals and swirls to create a historical look.
Another challenging task was choosing the chandelier that hangs above the staircase.
"It took a particularly long time to choose a chandelier above the stairs, the total height of the span of the two levels is almost eight metres, so we needed a beautiful, large, but not overly ostentatious chandelier. We finally decided on a modern design from Barovier & Toso – a family brand founded about 700 years ago – with a shape and size that fits the hallway," Arshba says.
Most of the furniture, lighting and accessories were ordered from Europe and America, while the built-in cabinetry was custom-made in the right dimensions for the bathrooms and walk-in closets.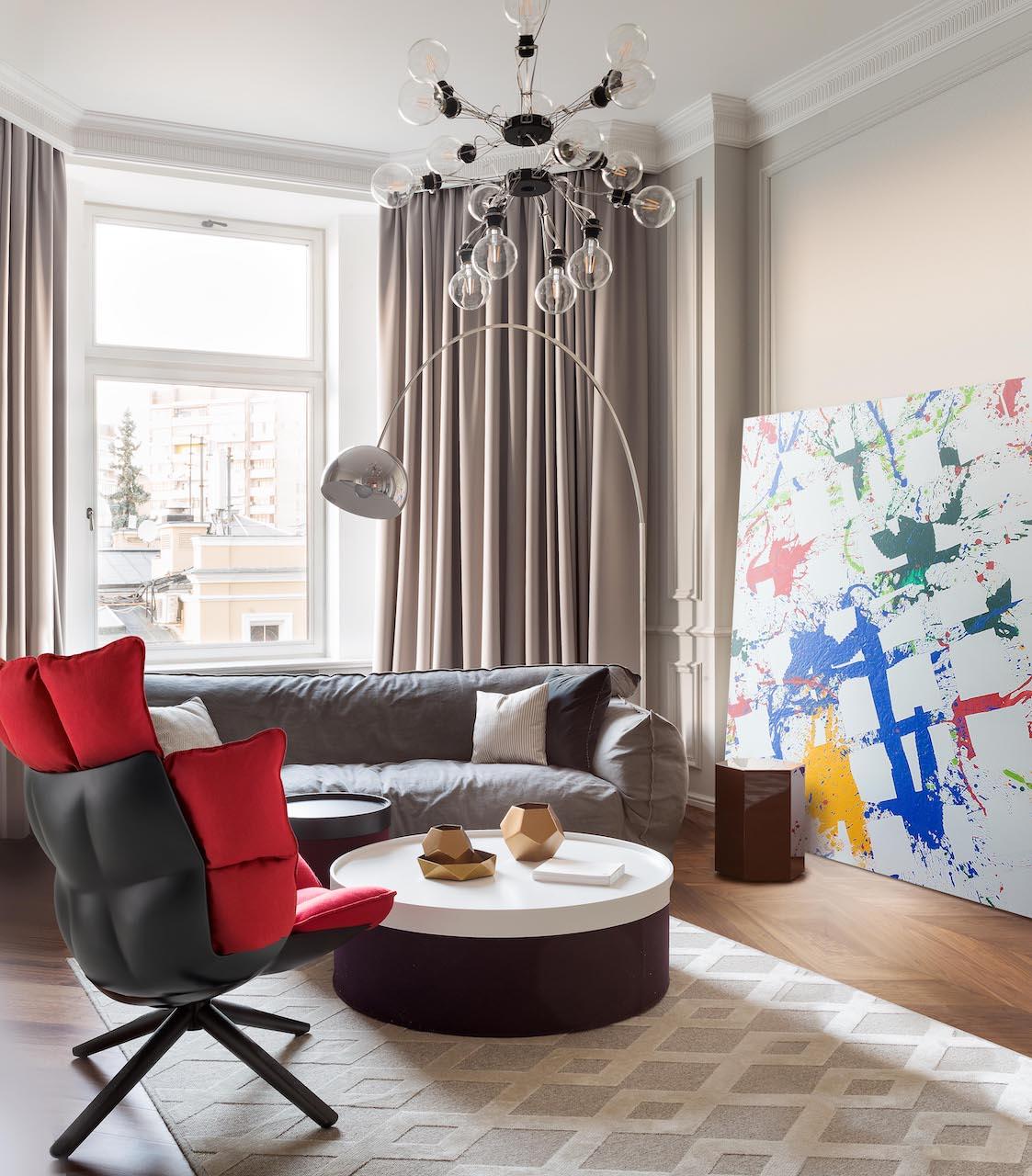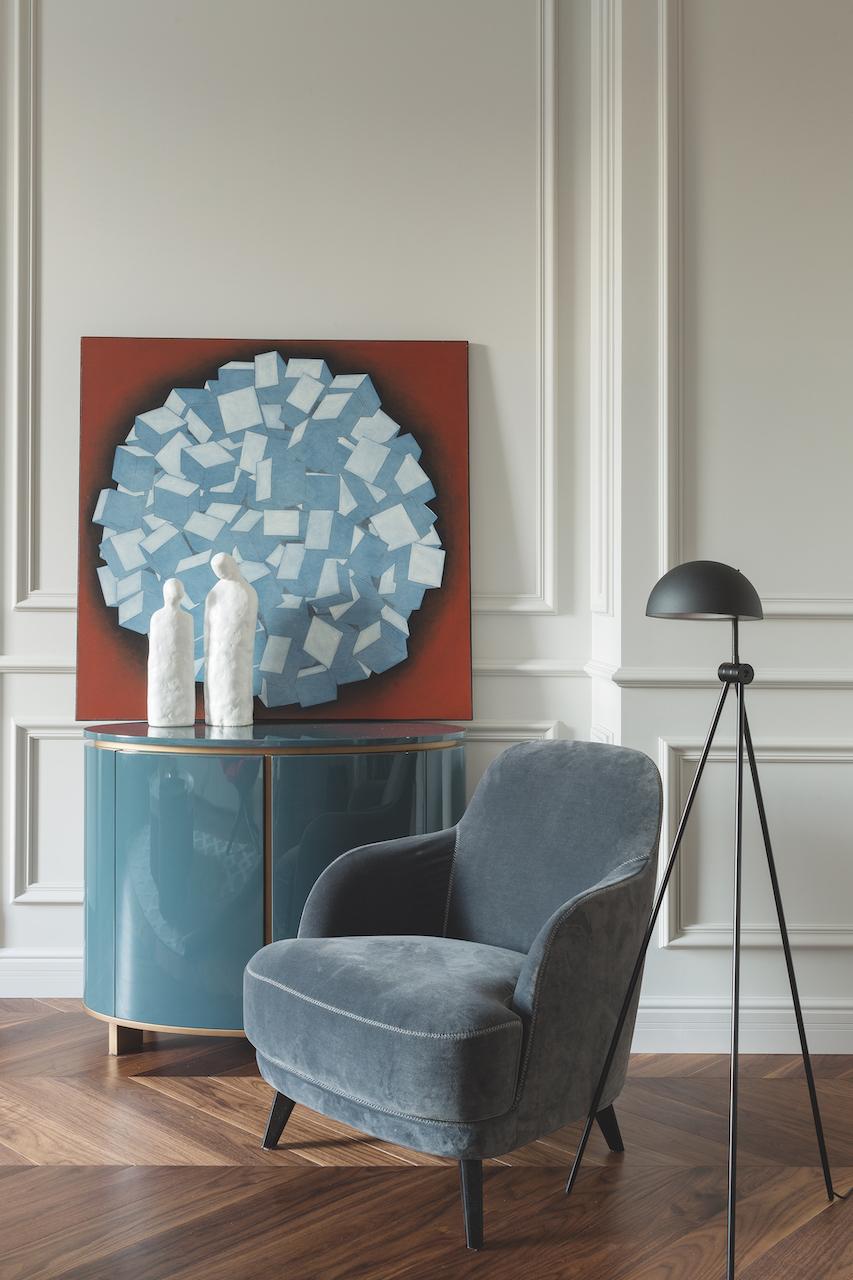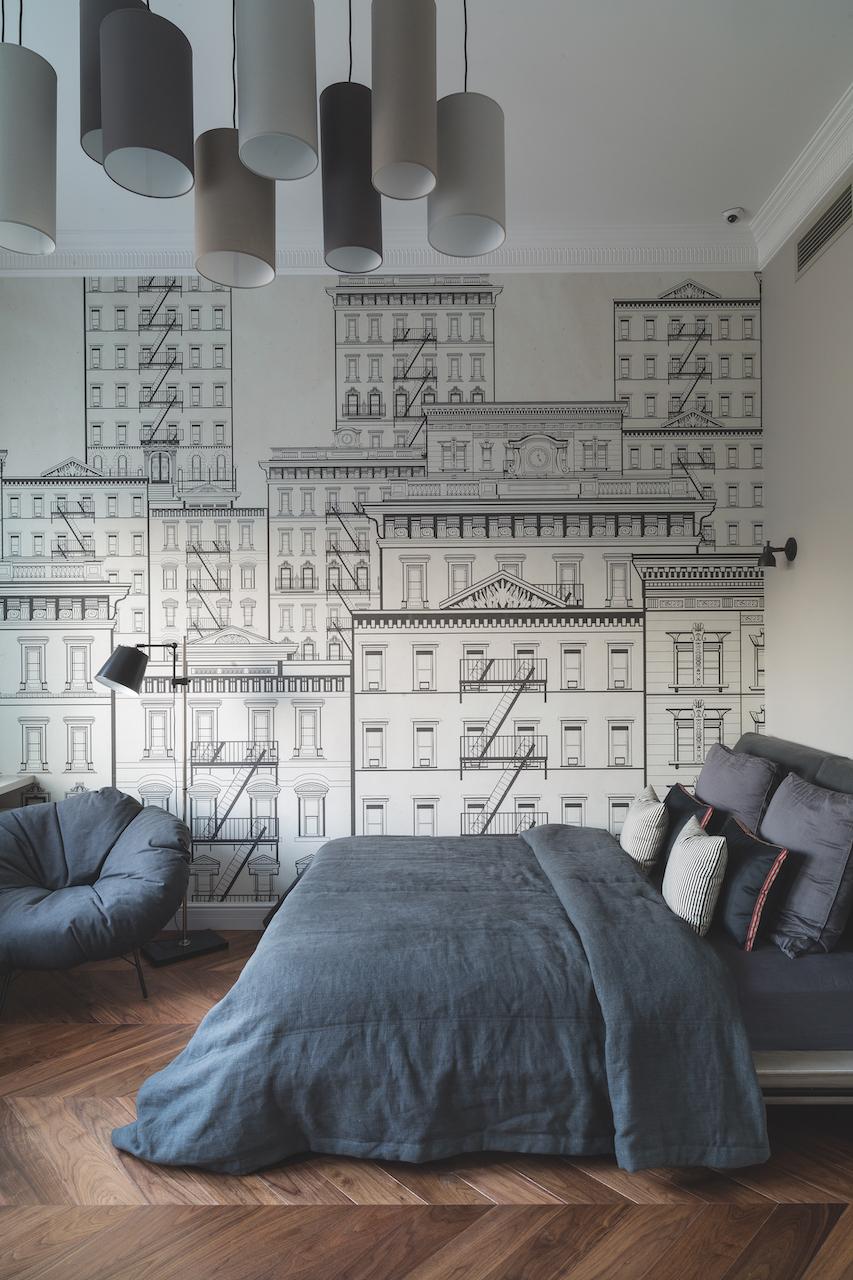 The building's historical stucco wall panels were retained as atmospheric backdrops for striking furniture pieces such as a gold Meridiani display case; a round leather Imperfetto Lab armchair; a Zanotta couch; a chandelier by Currey & Company; and a dining table from Arte Brotto.
It took Arshba and Shirokova 10 months to complete the apartment – a much shorter time frame than usual. To meet the tight deadline, they had to start work on the design planning while the construction crew were still doing the renovations.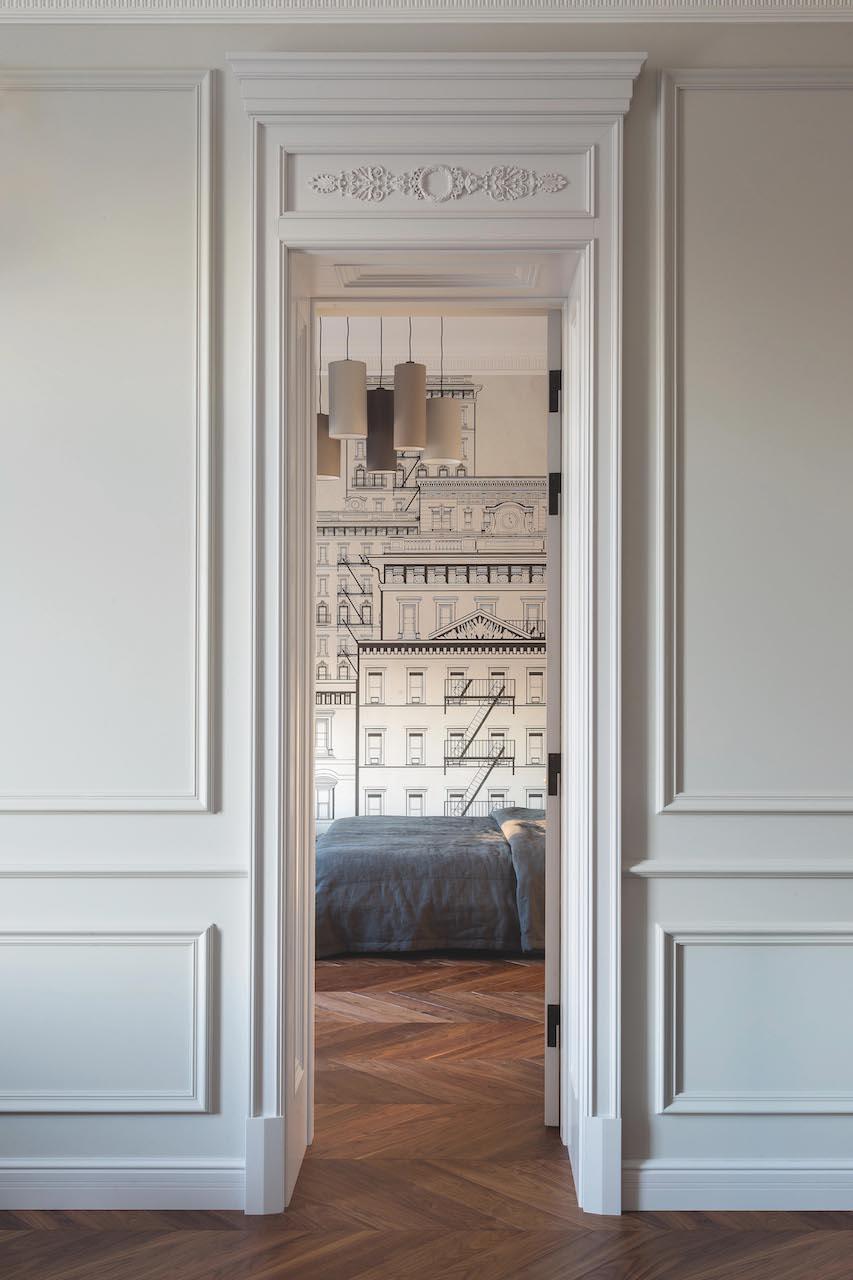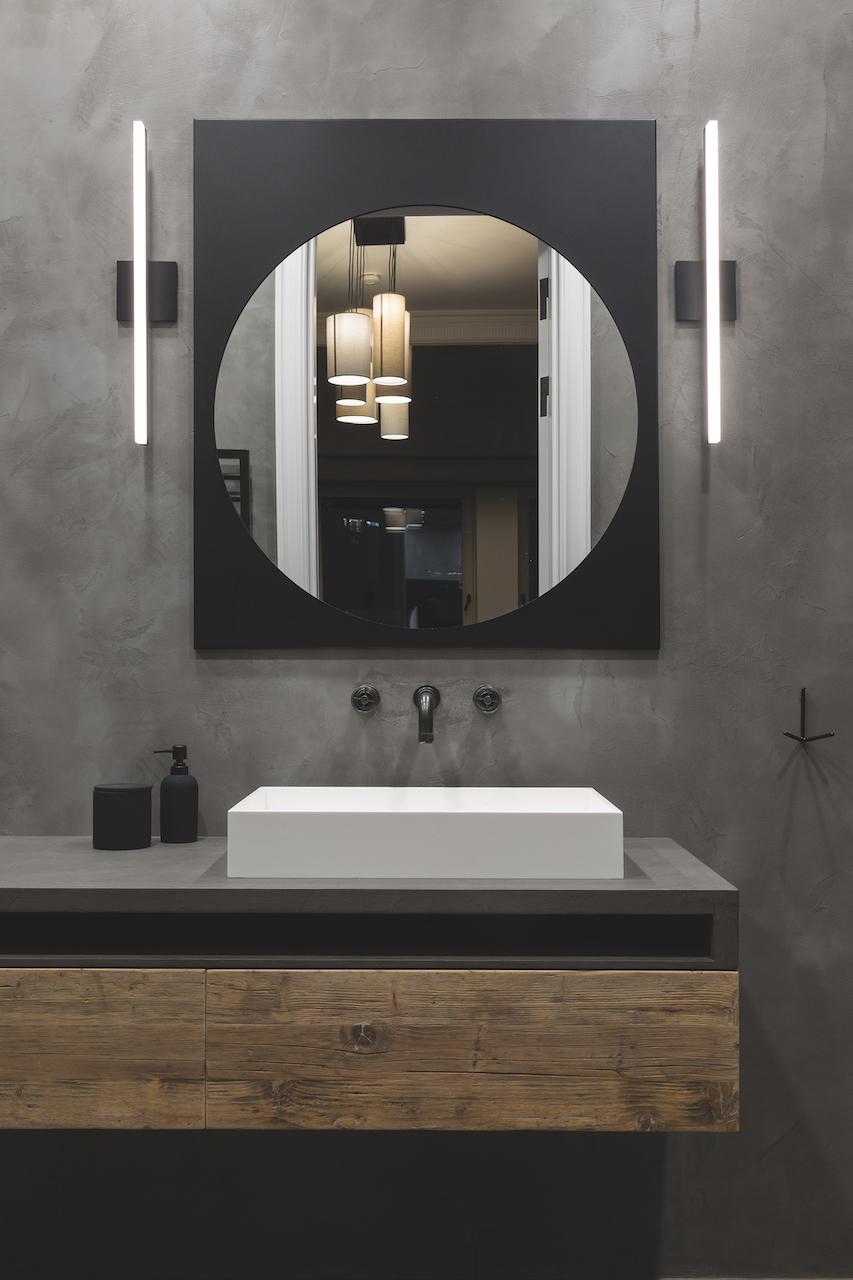 "Decisions had to be made quickly and instructions delivered clearly. Thankfully, our clients were very involved in the design process and helped us with the co-ordination so everything could proceed quickly," Shirokova says.
Adds Arshba: "In general, the work process was very smooth and easy, though we had to do a lot of forward planning. We were already looking for dining chairs and half-chairs for the dining table at the very early stage of the project."
While the staircase, grand piano, fireplace and the tall gilded bevelled mirror in the dining room evokes the spirit of period Russian manors, contemporary artwork and décor, and furniture with bold shapes and rich colours, imbue the interiors with a distinctly modern feel.
"Though the dimensions and interior architecture are clearly historical, by using contemporary pieces we've created a space where old and new exist harmoniously," Shirokova says.