Once again proving that living without compromise can be done in the most modest of spaces, Taiwanese studio A Little Design has transformed a former piano studio in Taipei into a fully-functioning apartment.
Although its current owner, who travels frequently for work and occasionally spends periods of time abroad, didn't need a large space for when they returned home, even 190sqft proved too small to accommodate some of the most basic of modern living requirements – including a fully-functioning kitchen and adequate storage space.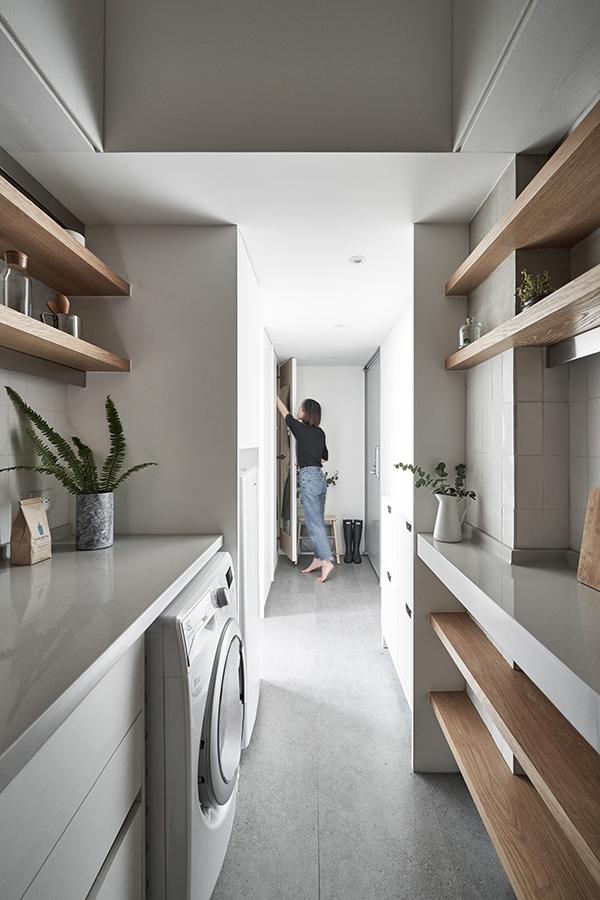 A view of the entryway from the kitchen.
The owner posed these challenges, along with the limited real estate – about 11ft in height for the living area, 10ft for the kitchen and bathroom areas thanks to piping, and a beam that ran the length of the apartment – to local studio A Little Design, who they enlisted for help.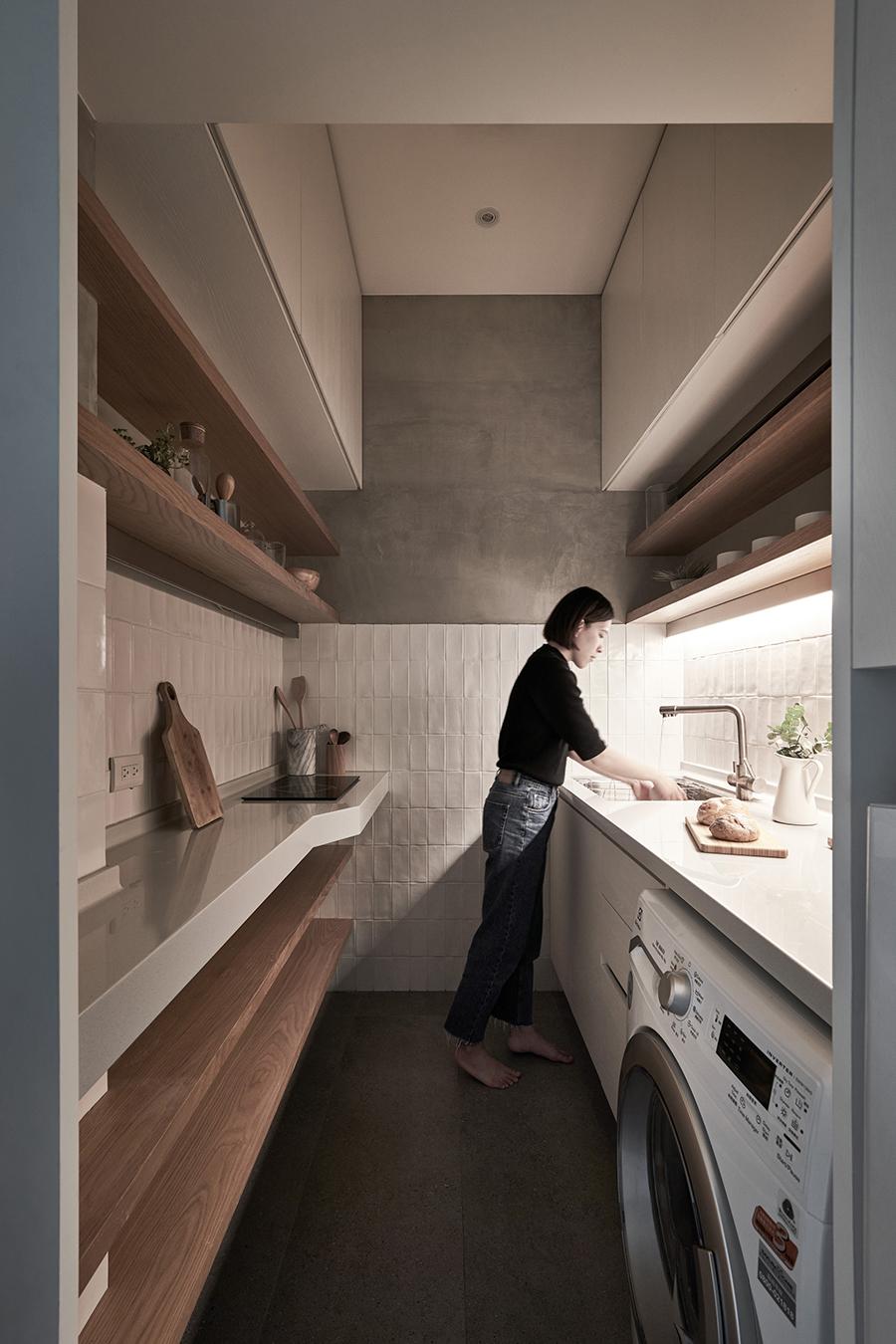 A Little Design has incorporated generous counter space into the compact kitchen.
The first order of business: redistribute the apartment's proportions. The kitchen and bathroom areas were switched, now allowing for the corridor-like portion of the house to accommodate kitchen. Room on either wall has been used to house the washing machine, electric stove, and fridge, while a large counter area was designed to comfortably facilitate cooking activity. Above, shelves and cupboards were installed for frequently-used utensils and kitchenware, as well as higher cabinetry for storage.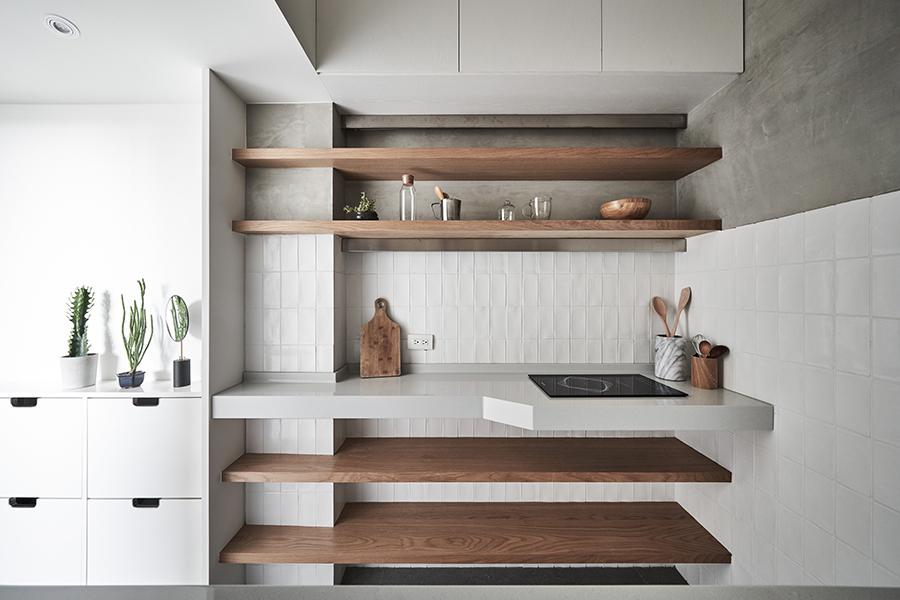 Built-in cabinetry to the side serves as an extension of the kitchen area.
Rounding the corner by the staircase, a doorway reveals a spacious bathroom replete with sunlight, along with sliding mirror doors brightening the space and concealing more storage. This new location, says A Little Design, allowed for better ventilation.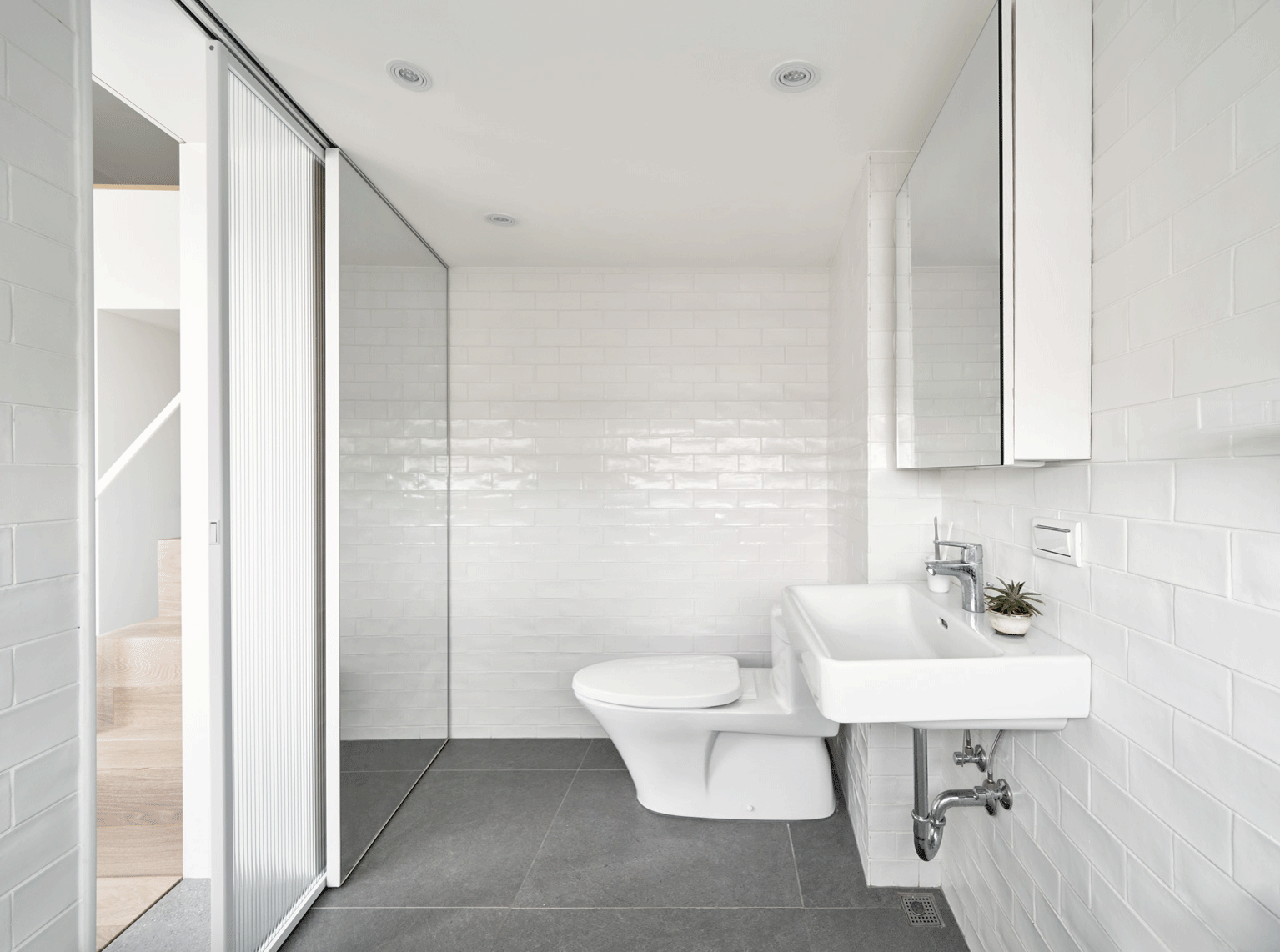 A bright and spacious bathroom housed in a 190sqft apartment.
Outside the bathroom, the well-thought space continues with the living room, dining nook, and study – all in one area.
Along the wall from one end, a long bench extends from a slim, vertical shelf – which doubles as a side table and bookcase – to serve as storage and a reading nook.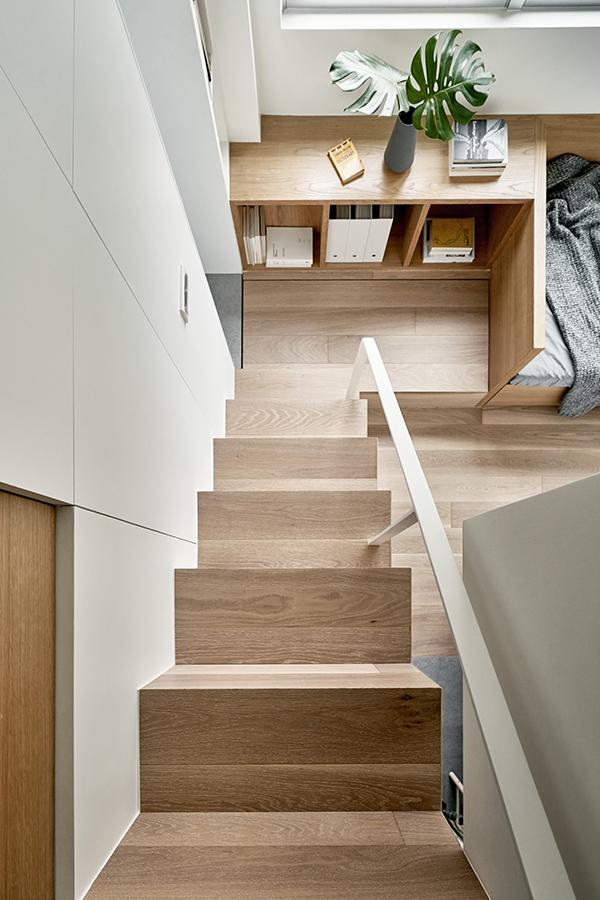 The corner book case-cum-reading nook, and the staircase leading to the mezzanine, housing the bedroom.
Further along, the bench connects to a larger, cushioned volume, which serves as lounge seating or a sofa bed, allowing room for a guest to stay over. More storage lies underneath.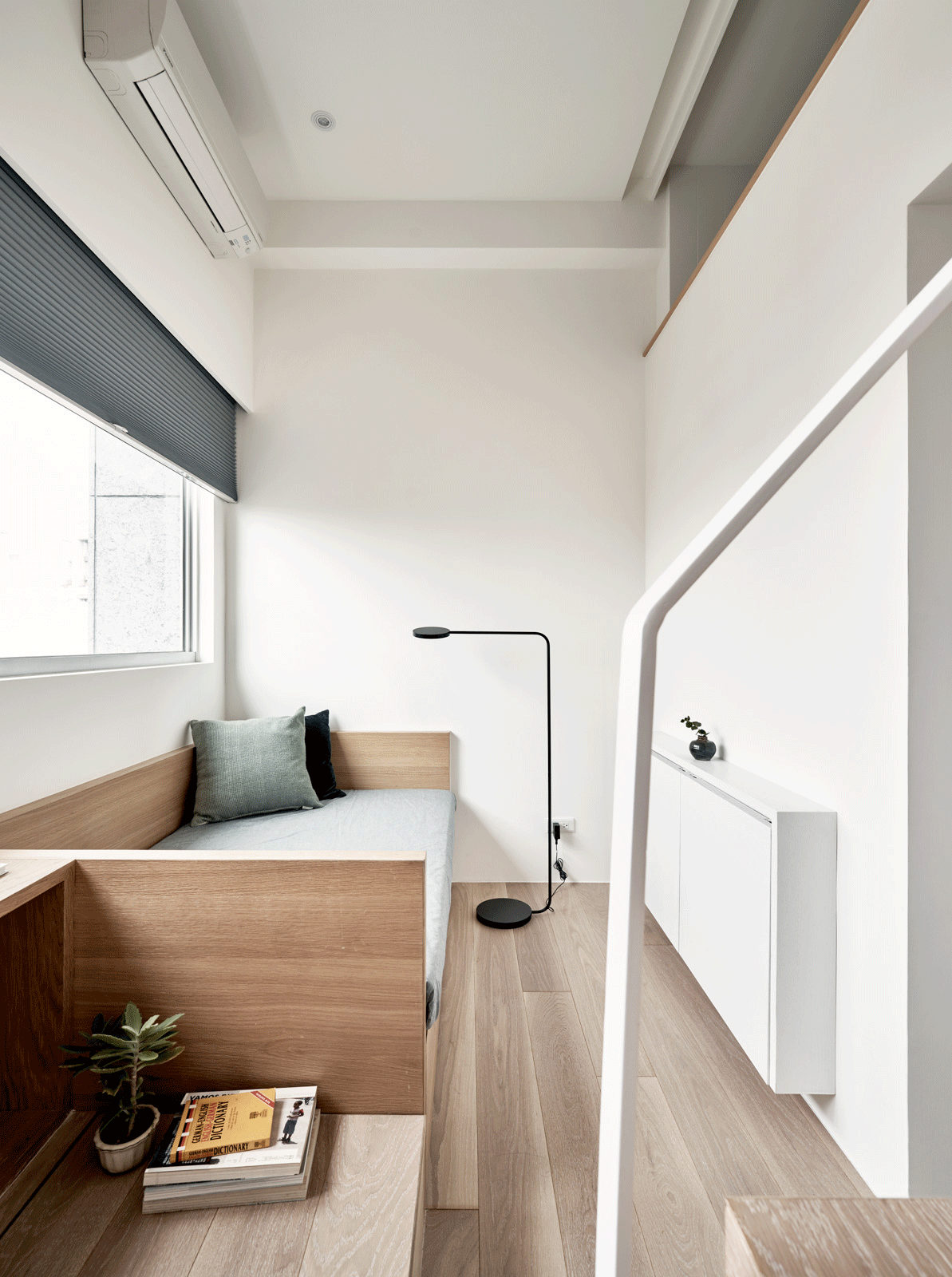 The foldable table works multiple ways: as a study nook, dining area, and dresser table.
Across the sofa-bed, a foldable table conceals more storage space, while allow for being used as a dining table and study.
The staircase then leads to the sleeping area.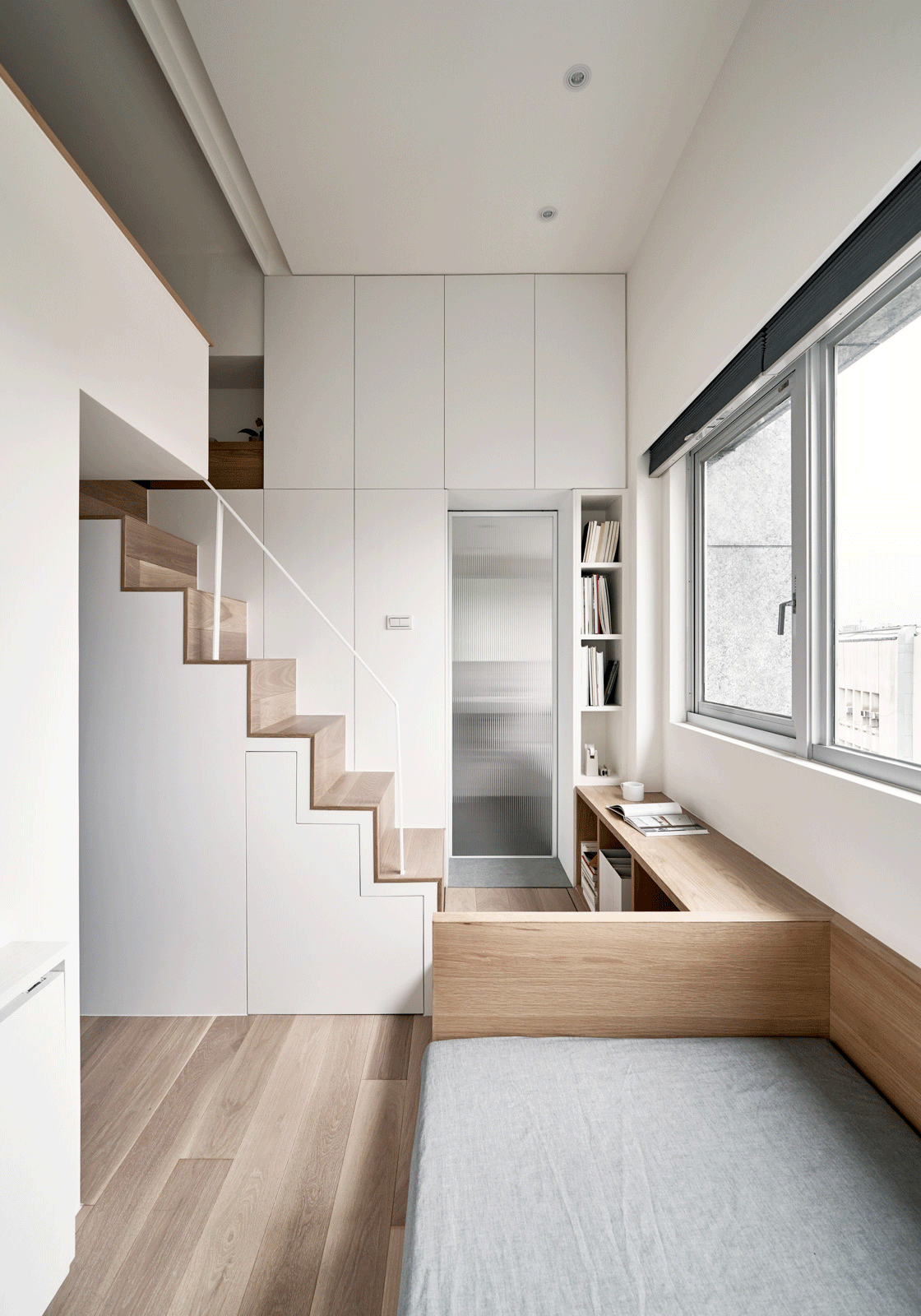 With built-in storage and multipurpose furniture, A Little Design ensures every limited square inch of the apartment works twice as hard to serve its owner.
Photography: Hey! Cheese
All images courtesy of A Little Design
See more: 8 Must-have Design Essentials for a Nature-inspired Interior