This 500 sq. ft., three-bedroom flat in Tseung Kwan O is home to a family of four. After having lived here for over twenty years, the family decided the space is in need of a serious revamp to breathe new life into it.
Although the homeowners were happy with the layout of the flat, they were tired of the worn-out furniture and decors. To solve this problem, they sought the help of Smart Interior Limited to style the interiors. The design team selected materials and colours that looks good but also complements the family's lifestyle and storage needs.
The breathtaking mountain views stand out as one of the most impressive highlights of this flat. The design team carefully coordinated the interior and exterior décor to harmonize with the natural beauty of the surroundings. As an example, the living room boasts a striking yellow and apricot sofa paired with lively cushions, creating a serene atmosphere.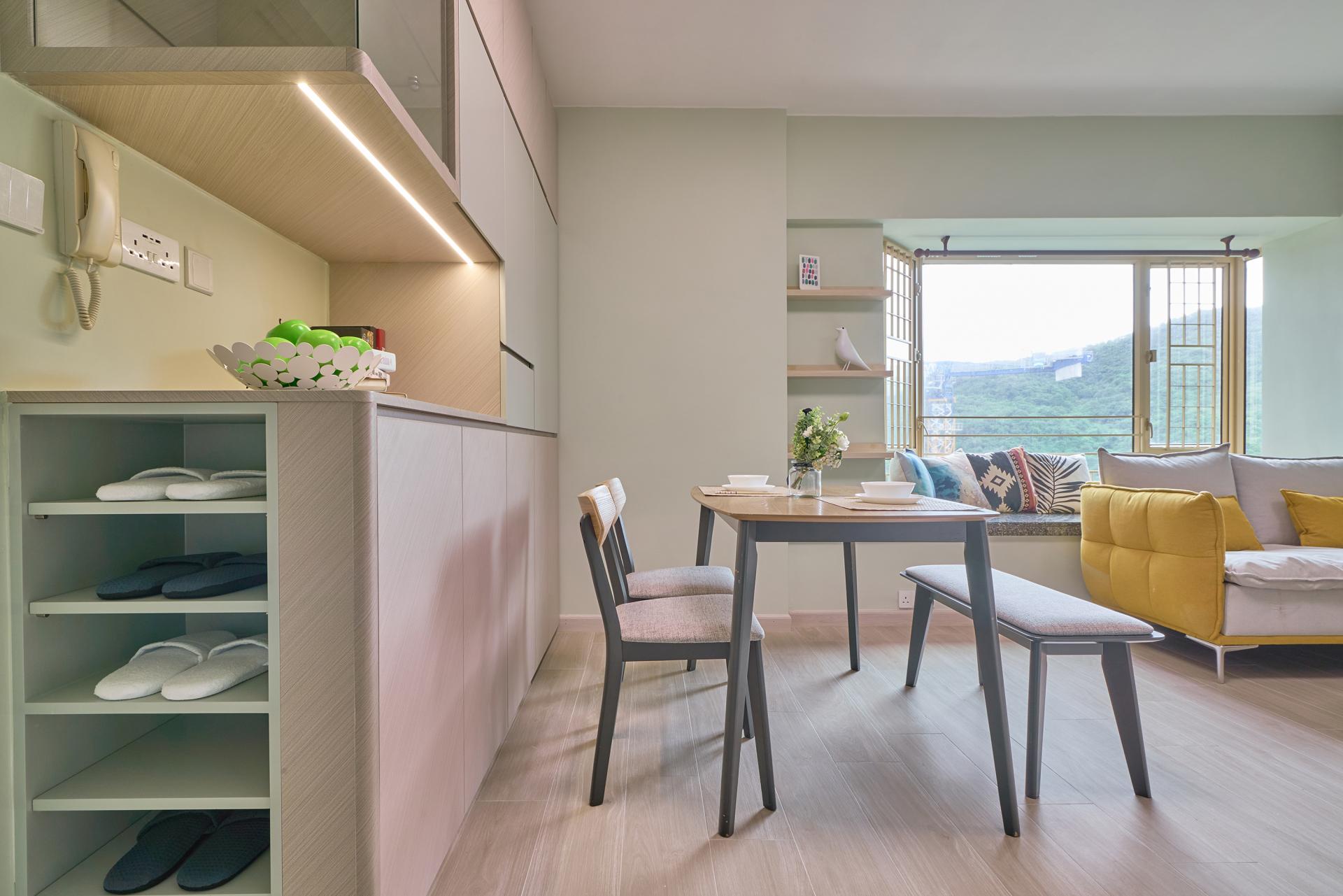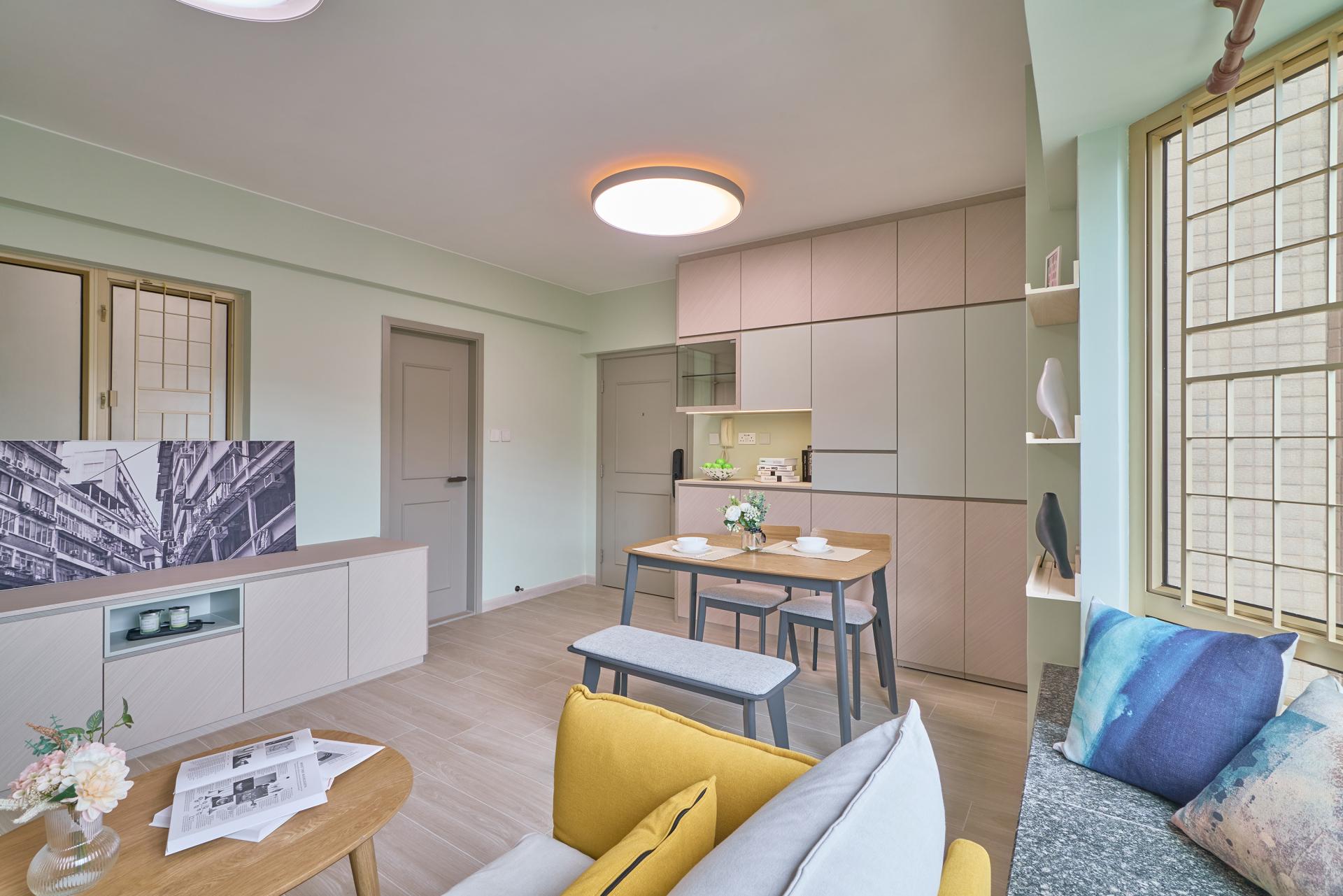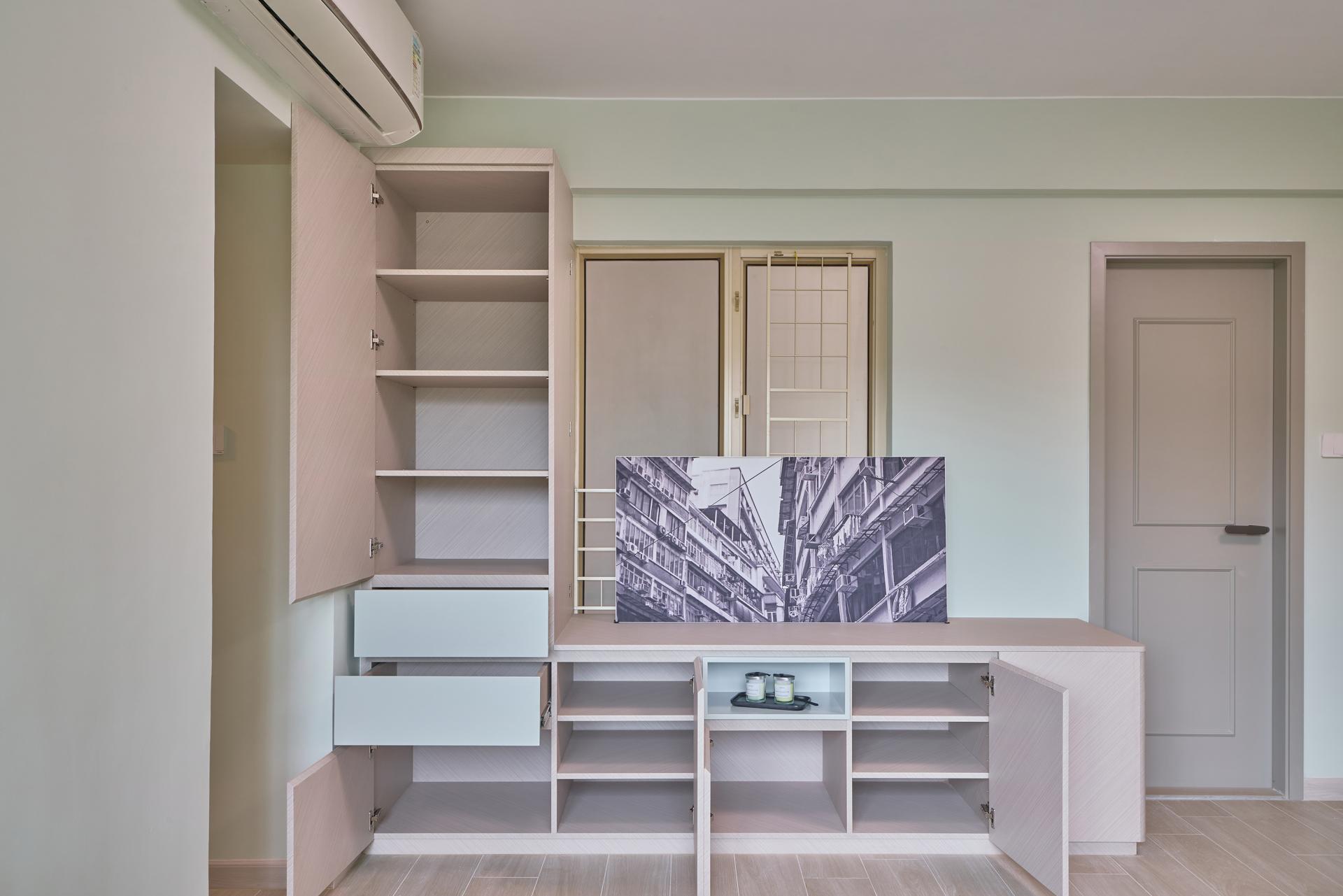 Smart Interior Limited's design team integrated storage cabinets into every nook and cranny to maximise storage capacity. Placed near the entrance is an L-shaped shoe cabinet and storage cabinet. Similarly, a full-height storage cabinet adorned with light green decorative panels runs along the wall in the dining area. This harmonises with the wall colour and splendid mountain views outside the window.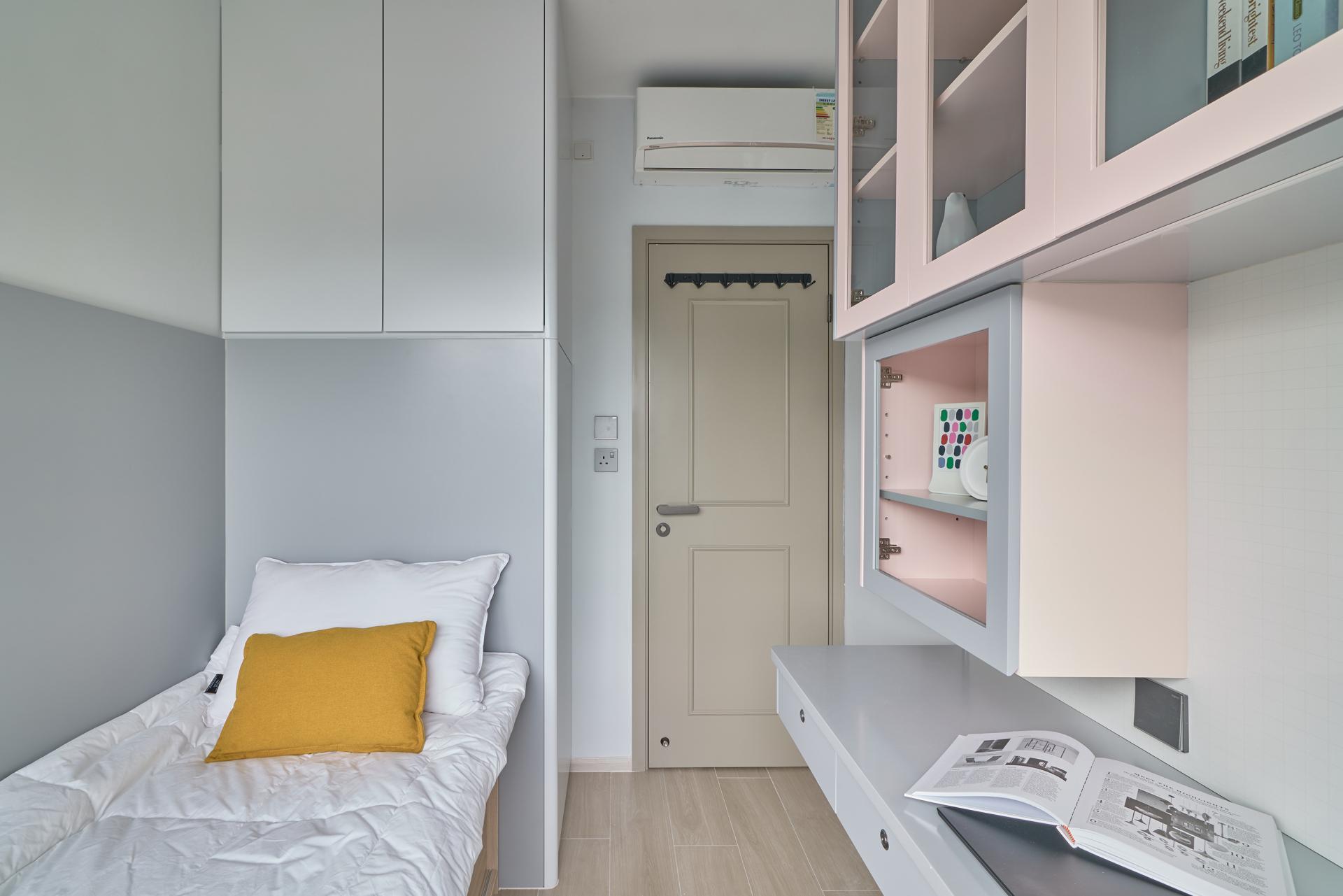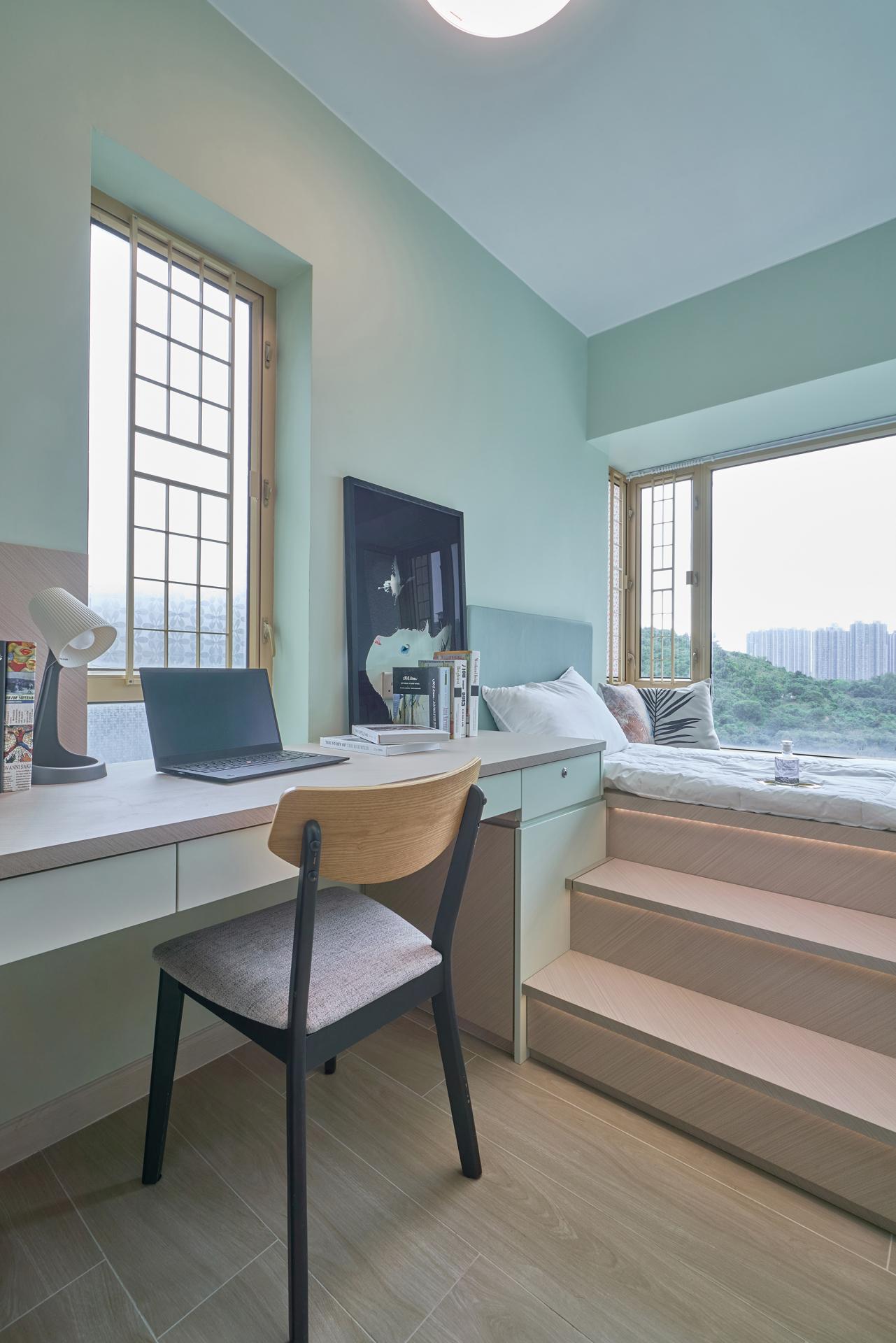 Each family member's room is filled with their favourite colours while intenionally incorporating storage space. The two daughters' rooms were covered in pink and light green, accompanied by wood patterns. In one daughter's room, the bed was placed on a raised platform that houses extra storage areas, giving her ample space to engage in meditation. Her meditation spot also receives plenty of sunlight, allowing her to recharge in tranquillity.
Consistent with the prevailing style, the master bedroom used graceful decor and natural wood texture for a harmonious pairing. Smart Interior Limited's designers also thoughtfully placed a little desk next to the storage cabinet, creating a snug nook for reading.
Follow Home Journal on Facebook, Instagram, YouTube, and subscribe to our Newsletter.