British interior design maven brings her sophisticated and modern, signature style to this new apartment in Hong Kong's Kai Tak District.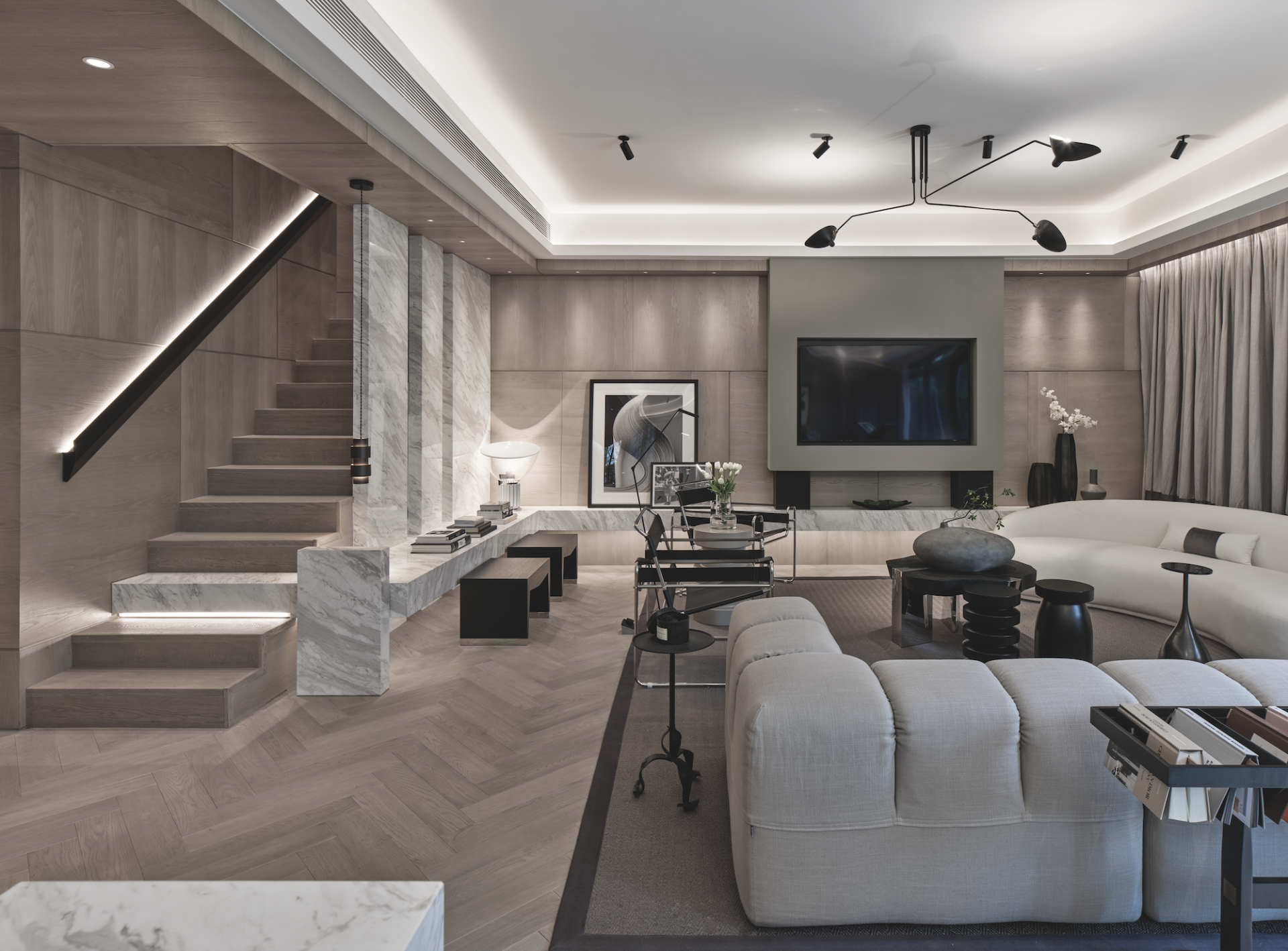 Multi-award winning South African-born, British interior designer Kelly Hoppen has collaborated with Chinese property developers Longfor Group to design the interiors of this two-level apartment in Upper RiverBank – a new residential and commercial development in Hong Kong's Kai Tak District.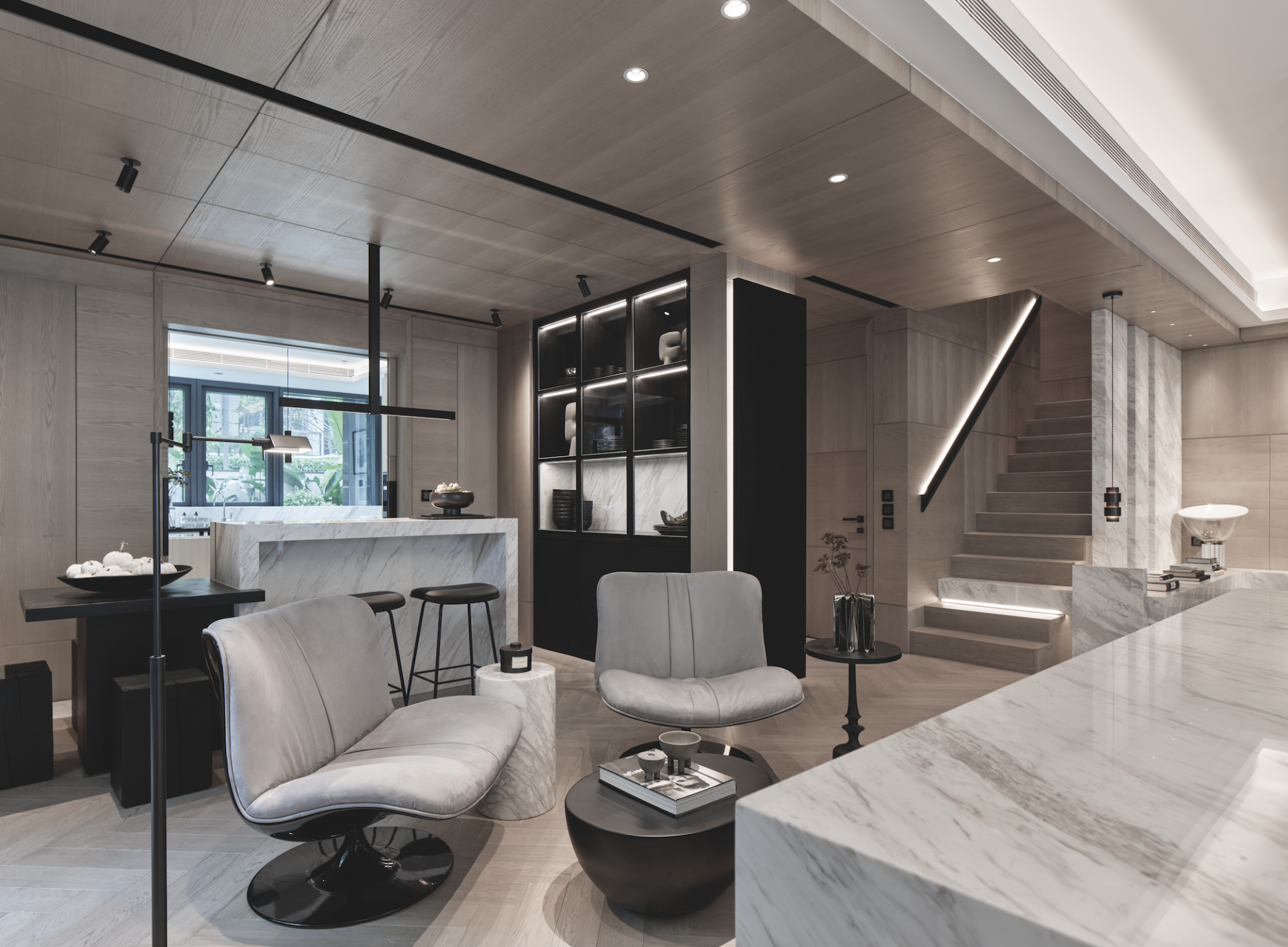 Staying true to her elegant and timeless contemporary style, the interiors of this apartment is serene and sophisticated with bedrooms that have multifunctional dressing and work nooks. The aesthetics of the apartment subtly echoes the interiors of luxury yachts.
"Listening to the needs of users, understanding the city where they live in, and creating surprises to reflect these are key to my interior design approach. It was really important to understand the developer's desires and brand identity, as well as the family who will buy the property, and to make sure it is couture," says Hoppen.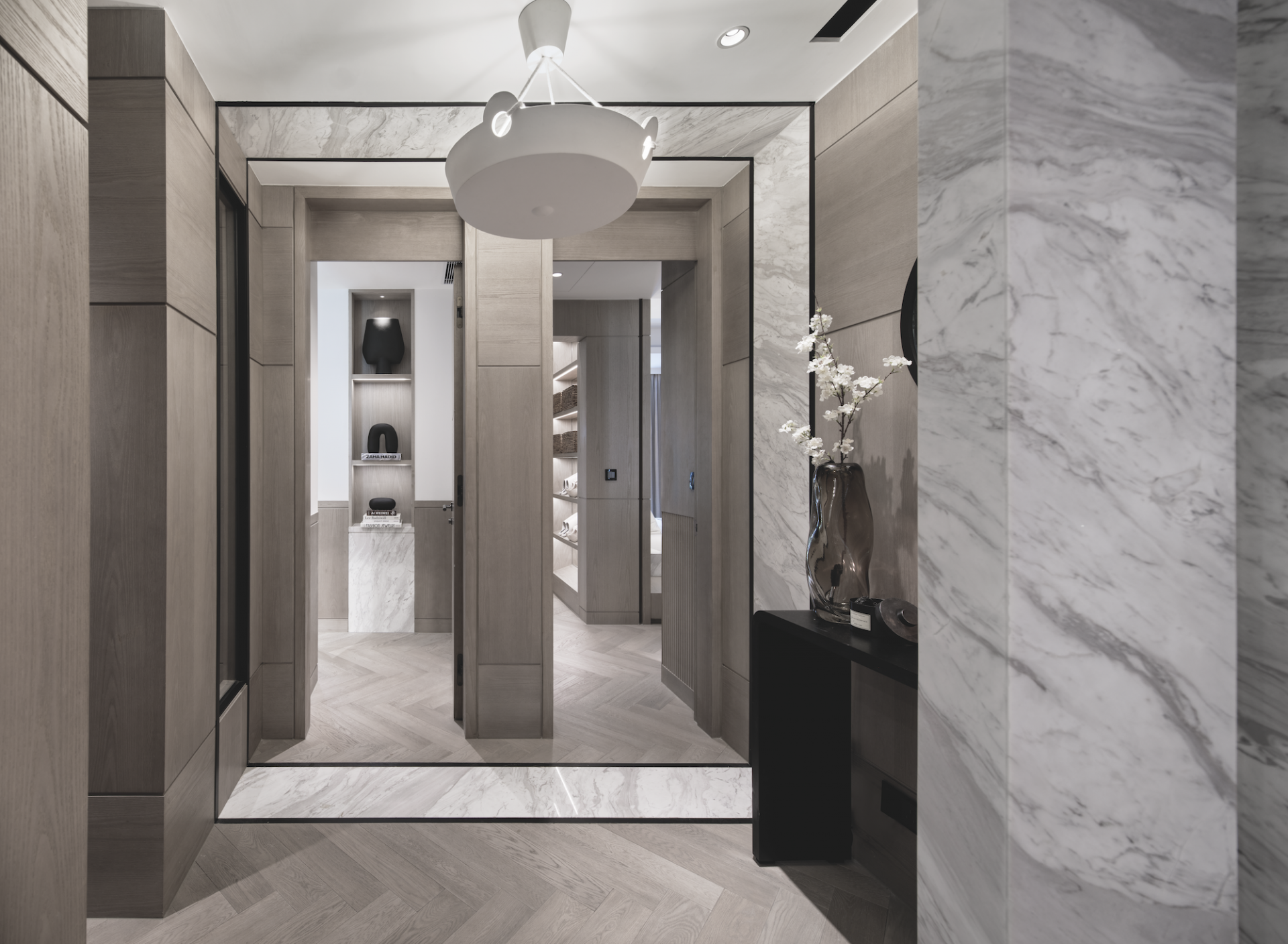 Hoppen's studio is always involved not just in the interior décor of their projects, but also the interior architecture. So before deciding on furniture and finishings, Hoppen ensured that the spaces were carefully zoned. When deciding on where to locate the different rooms, it was important to Hoppen that there was a clear and concise flow between all the zones within the floor plan. She considered everything from bedroom locations to the way the staircase intertwines between the different programmes.
The apartment is split into two levels. On the ground level is an entrance lobby with a marble wall, and a powder room with cleverly integrated storage spaces next to it. Here, a contemporary lighting scheme illuminates the soft grey, Italian marble floor of the landing. The light hue of the marble is balanced beautifully with black matte ceramic décor.
This entrance lobby leads into an open plan living and dining space where a marble, double-sided fireplace separates the living and dining areas. In the living lounge, angular benches and plinths are contrasted and softened with curvilinear sofas.
"Sumptuous lines and chic furnishings make for an inviting living space immersed in light. Sculptural tables and chairs help demarcate the two functional zones, while still maintaining a natural, seamless flow within the entire space," says Hoppen.
The kitchen, which is clad in marble and fitted with light oak cabinetry, is also located on this ground level. "Here, an elegant monochromatic palette and eye-catching pendant lamps cast shadows against the wall, adding more depth and dimension to the space," she says.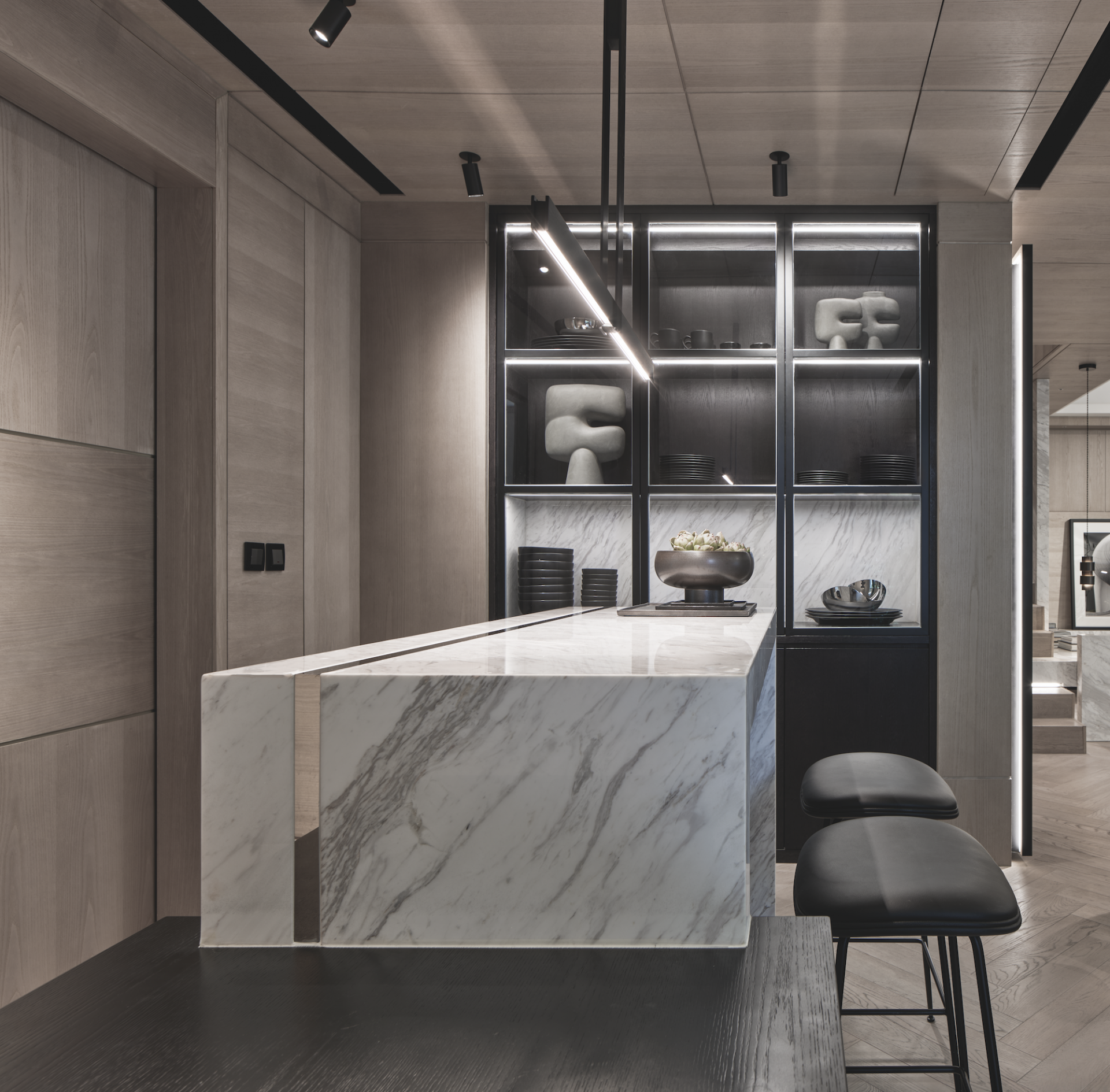 From this ground level, a staircase leads to the upper level. The highlight of this staircase is its banister, which looks like a sharp black line. This brings a graphic quality to Hoppen's signature taupe colour scheme. "We created the modern staircase by mixing materials such as timber and marble with striking marble horizontal elements to create a strong visual impact," she says.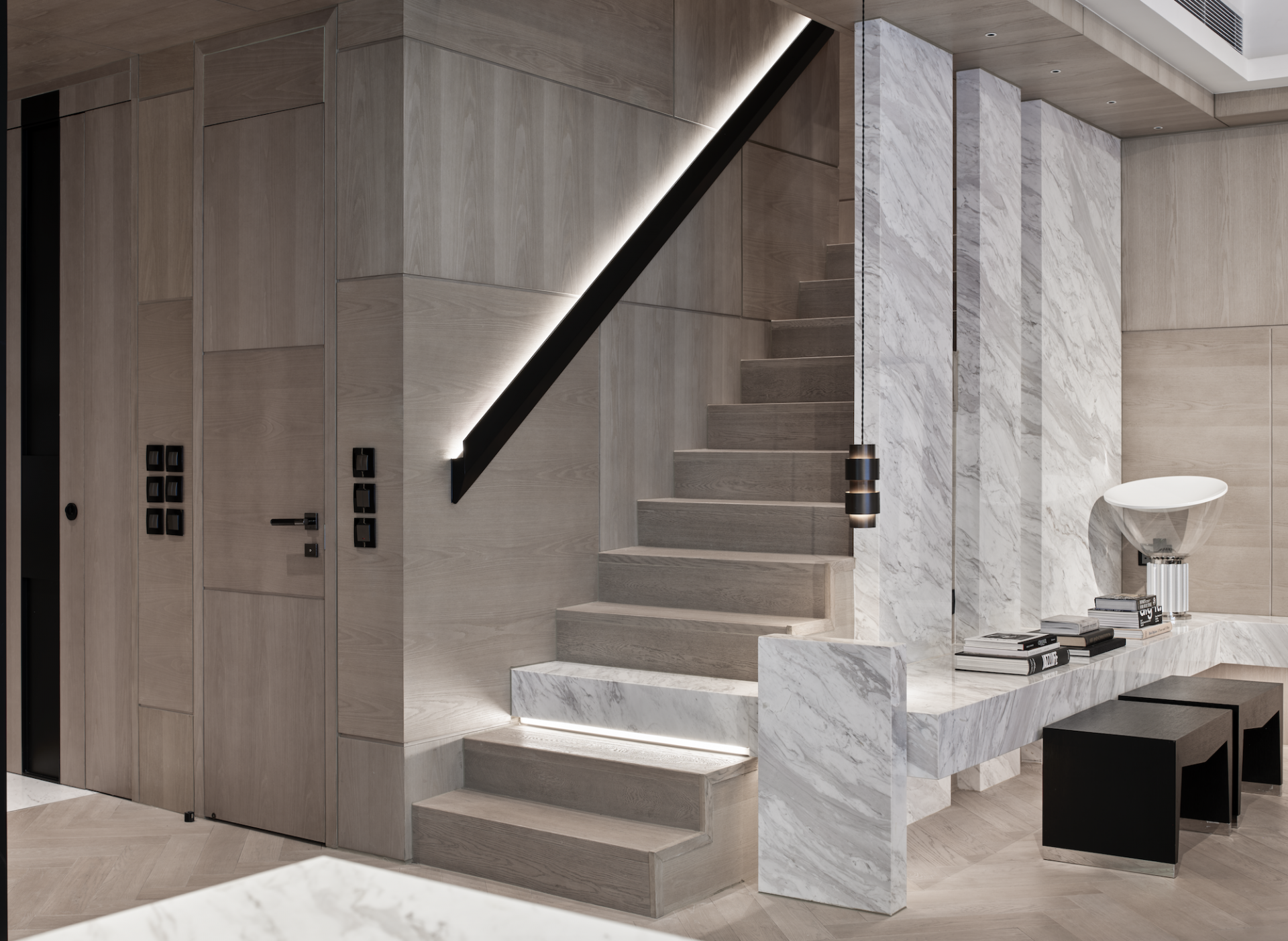 On the upper level is the spacious master bedroom which includes an elegant ensuite bathroom and a large dressing room. Here, Hoppen included a built-in beige oak vanity with underlit shelving and dark leather desk furniture. This vanity area can be used as either a dressing table or a work and study area. The combination of curves and angular shapes set against Hoppen's signature neutral palette, adds rich layers to an otherwise streamlined look.
"The master bathroom is embraced by neutral oak, lavish Italian marble, and contemporary light fixtures, maximising the natural light and capturing each texture throughout," she says.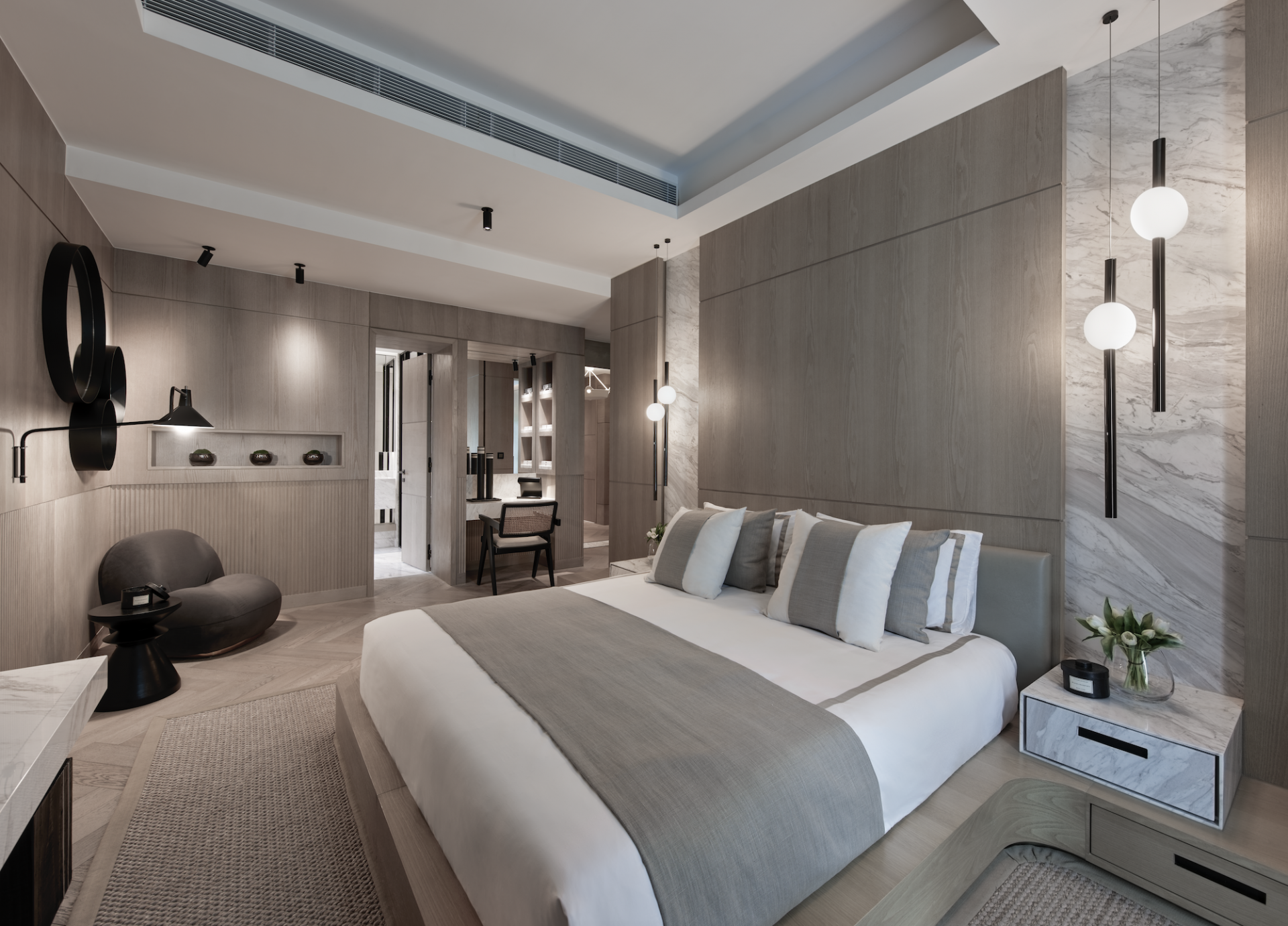 Also on this upper are two additional bedrooms – a guest bedroom and a children's bedroom – both of which include ensuite bathrooms. While the children's bedroom features the same luxurious Italian marble that is used throughout the apartment, here, Hoppen added darker tones, more layers, and a graffiti-style typographic artwork to bring a little youthful energy to the room. Multifunctionality is incorporated through the glossy, sage-lined wardrobe that conceals a desk with a stowable, wooden stool.
Lighting is always an important aspect of Hoppen's interiors, and this apartment was no exception. A selection of lights from Ochre, CTO Lighting, Flos, Lights & Lamps, Restoration Hardware, Edited Limited, Brokis, Lee Broom and Anna Karlin were selected to create just the right mood Hoppen wanted for each space.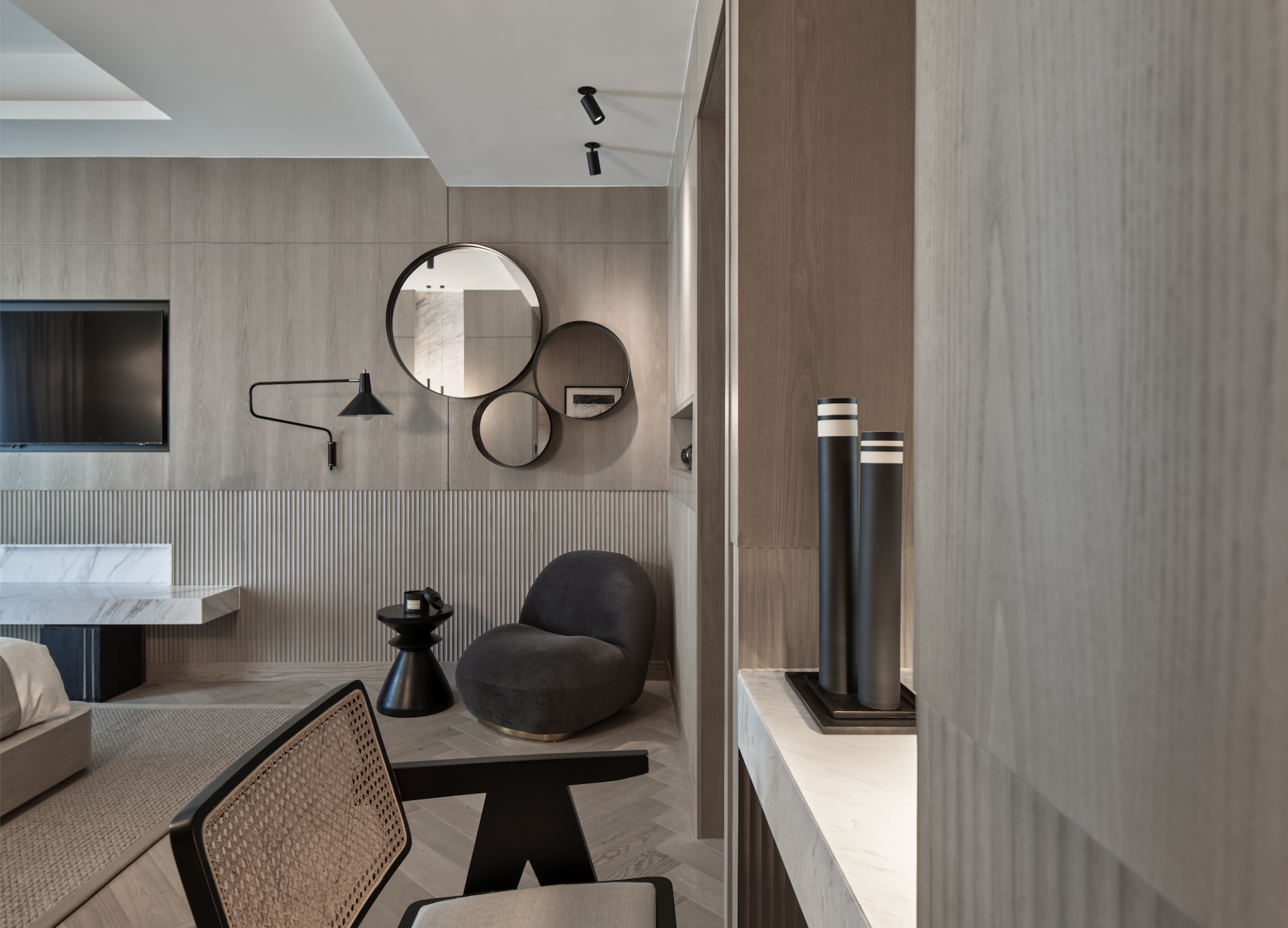 The main materials used for the interior fit outs are marble and wood, and the natural textures of these materials were highlighted and soften with ambient lighting. "The multi-layered use of hard finishes creates a warm yet very modern home that still has a sense of comfort and softness," says Hoppen. "My calming colour scheme allows the details to shine through in a very balanced way," she adds.
Hoppen describes the aesthetics of this apartment as "sharp yet luxurious", with the feel of nature brought into being through the elements of woods and marble. Carefully considered lighting has modernised and added warmth to different spaces, while the furniture choices and artwork brought a softness to the overall scheme.
"I adore Hong Kong and have always enjoyed being here, so this project was really special to me," says Hoppen.