Sleek and contemporary custom-designed furniture creates a wonderful contrast to the historical architectural details in this Sandra Benhamou-designed Parisian apartment.
Parisian interior designer Sandra Benhamou designed the interiors of this renovated heritage apartment in Paris as a gorgeous marriage between historic and modern.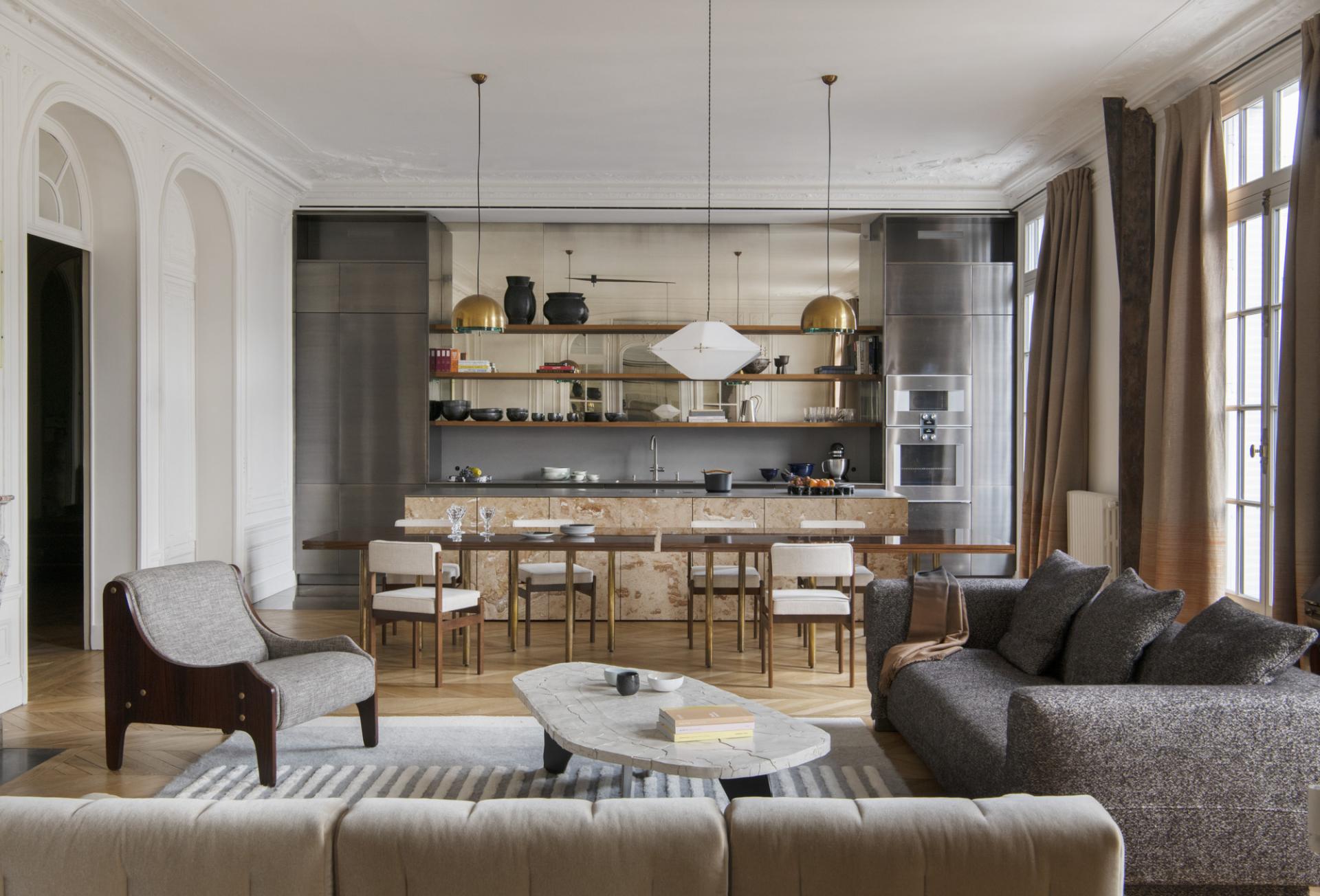 Located on the fifth floor of a Haussmannian building near Place Charles de Gaulle in Paris, the 3,014 square foot, single-level, three-bedroom apartment, is the home of a couple who work in the jewellery business, and their two daughters.
The family recently returned to Paris after living in New York for two decades and were looking to set up a sophisticated family home that exuded subtle luxury, and had a calming and welcoming atmosphere. They hired Benhamou, whose signature style is unmistakable, to help them achieve their goal.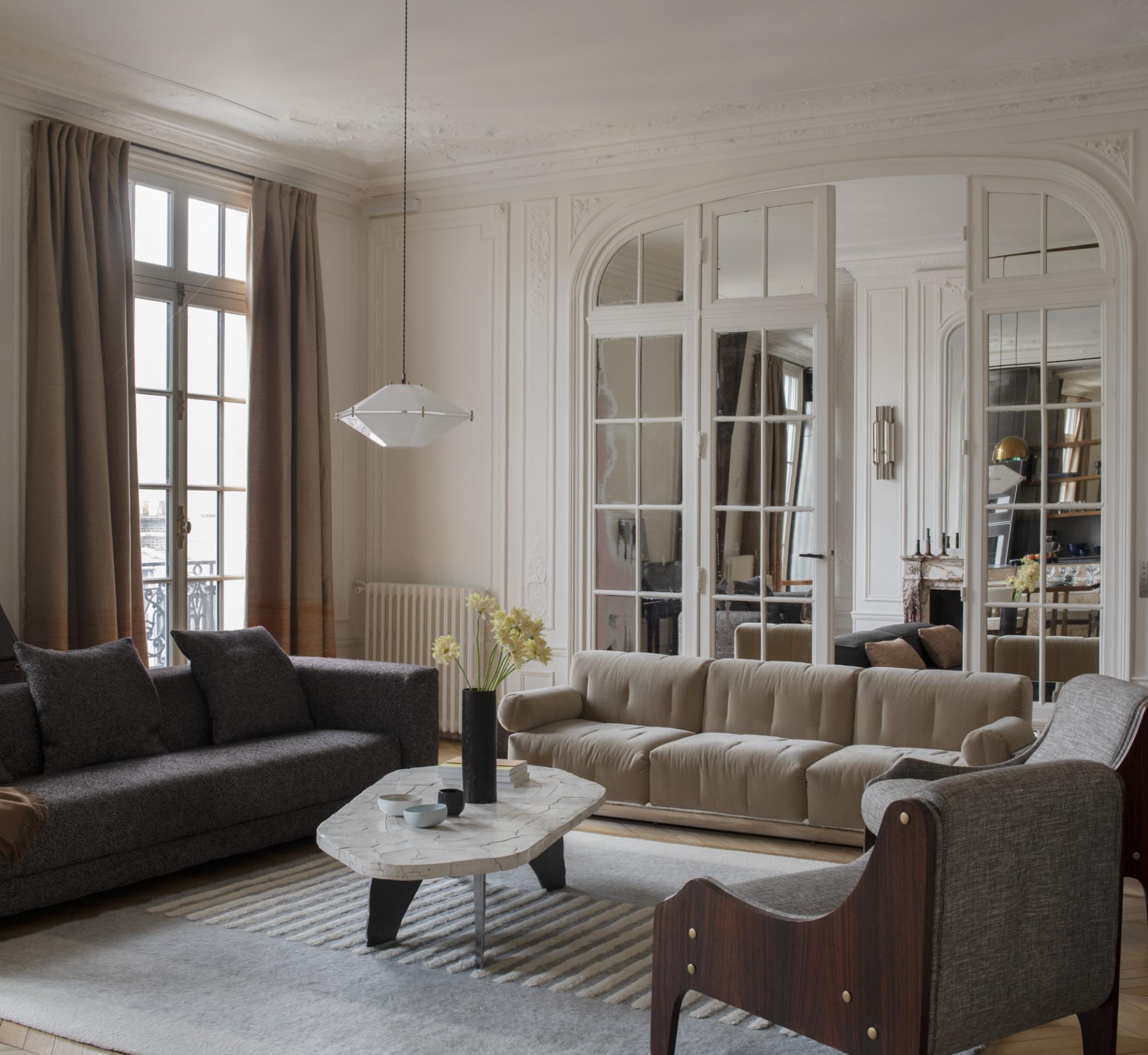 A Parisian interior designer with Italian-Tunisian origins, Benhamou's preference is for natural materials such as elm, linen, and travertine, though she always works to set elements off against each other. As an art connoisseur, she likes to take the time to seek out unique vintage pieces from flea markets, authenticated pieces acquired from auction houses, and contemporary ceramics from specialist galleries.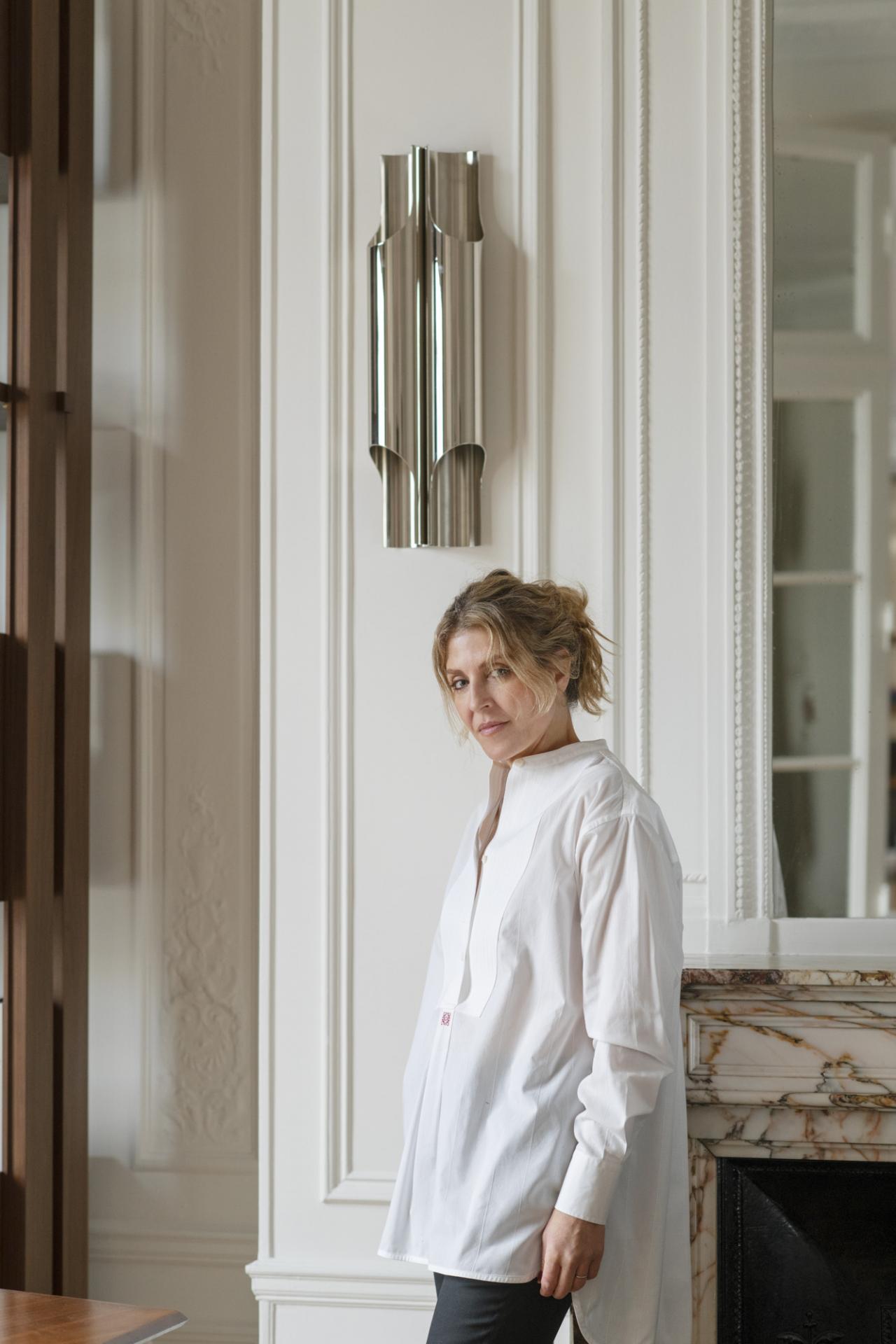 For Benhamou, it's the history of a property, the natural lighting, and the lifestyle of her clients that guide her design process, and the interior concept of each project. The spaces she creates often have a muted palette of ochre, sand, and cream, which she then accents with splashes of orange, yellow and khaki.
Rethinking circulation to make spaces more fluid and convivial is also an important aspect of approach. This project was no exception.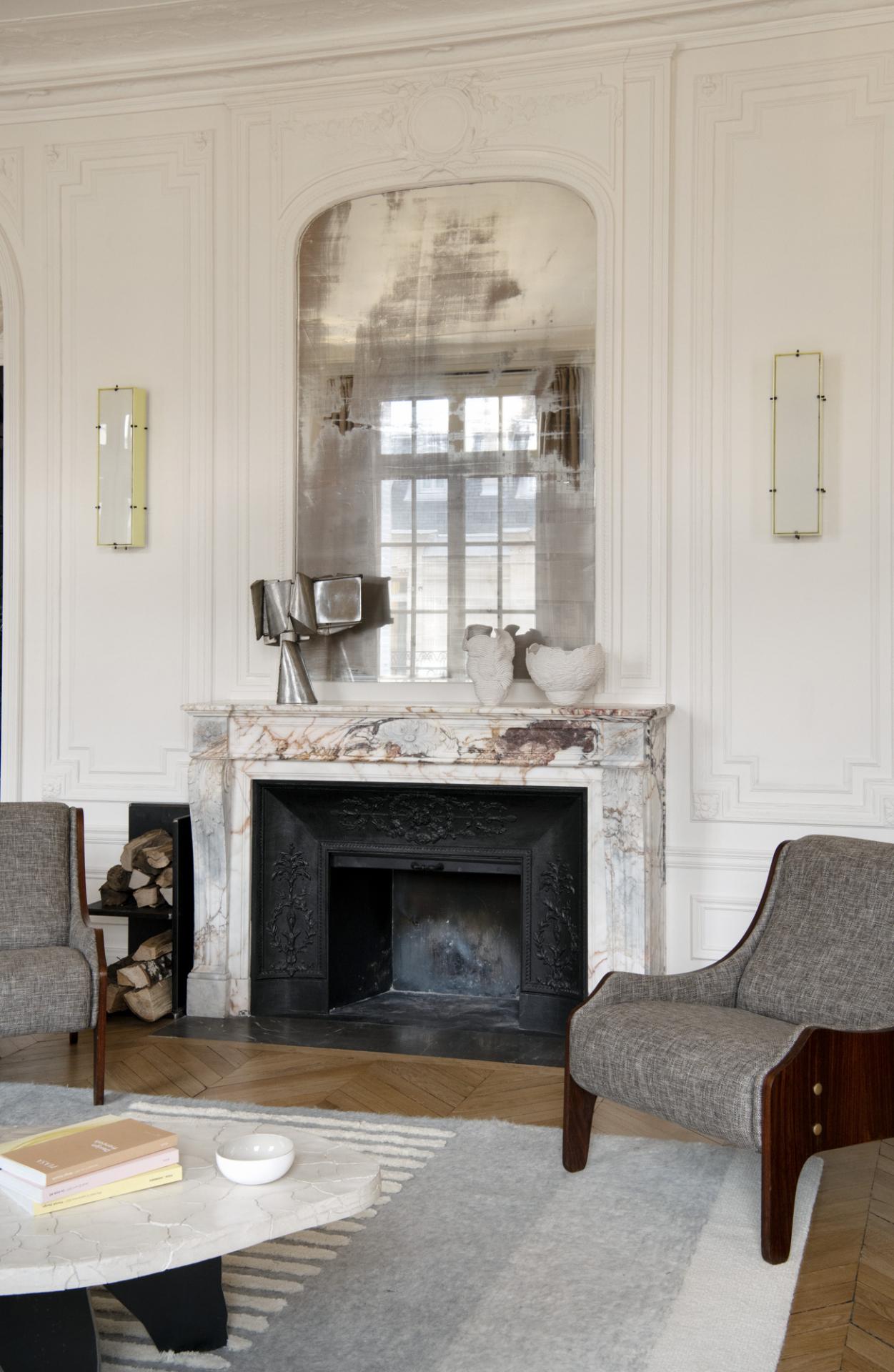 Before she began working on the interior décor, an architect had already restored the apartment's original mouldings and cornices, aged mirrors, stained-glass windows, and period fireplaces. The clients really wanted these historical details to be highlighted, but in a way that was radical and contemporary.
To meet their request for a striking contrast between old and new, she renovated the apartment's original classic, Haussmannian triple reception area, transforming it into a regal open plan space with a kitchen, dining and living room, and a large office. She also restored the original majestic entryway.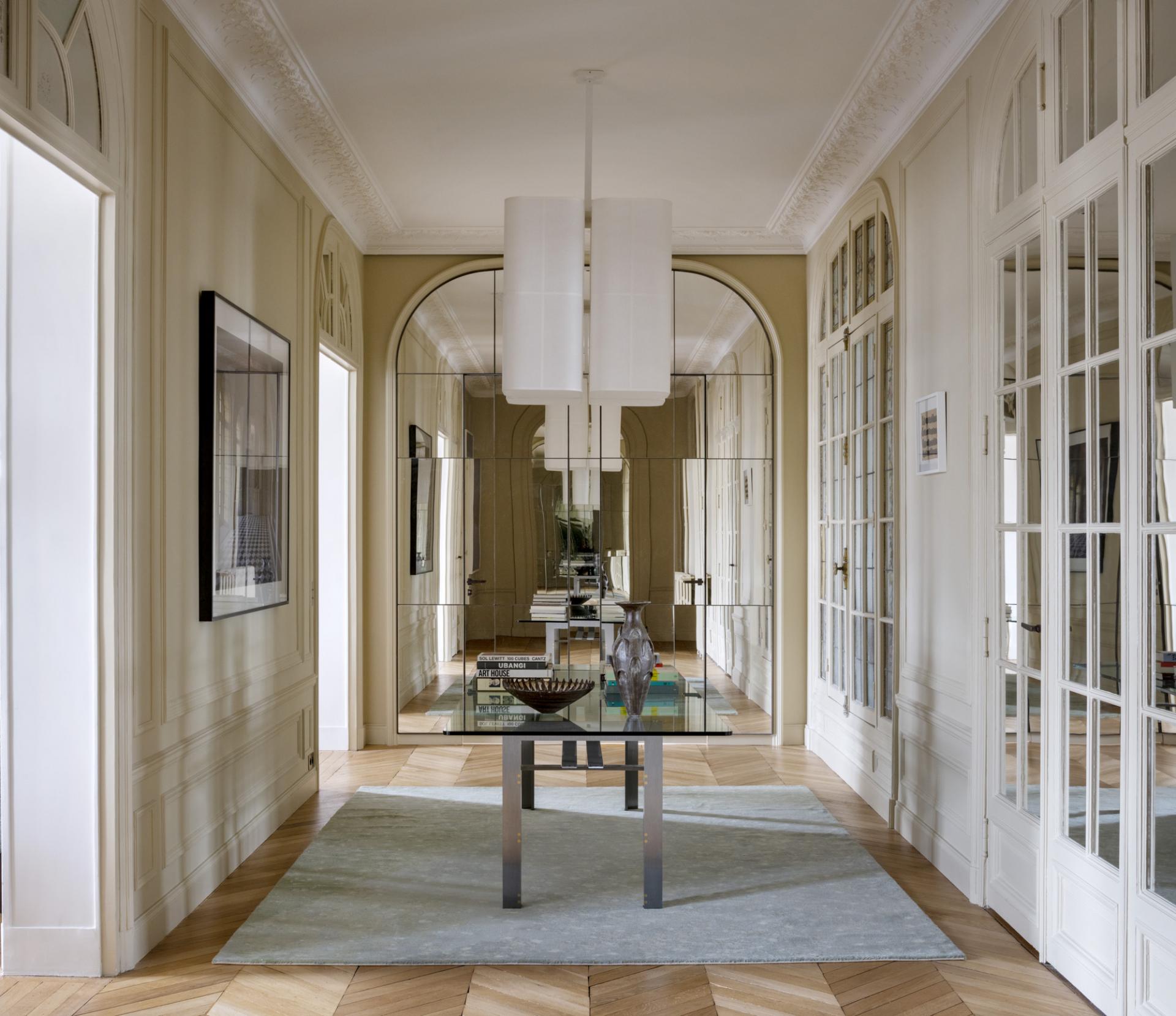 "We rethought the whole layout of the apartment, according to the lifestyle of the clients," she says.
"The kitchen was moved from the back of the apartment to the reception space; and the walk-in closet was created in the former courtyard. The challenge was to keep or restore all the old elements while integrating a lot of technical equipment."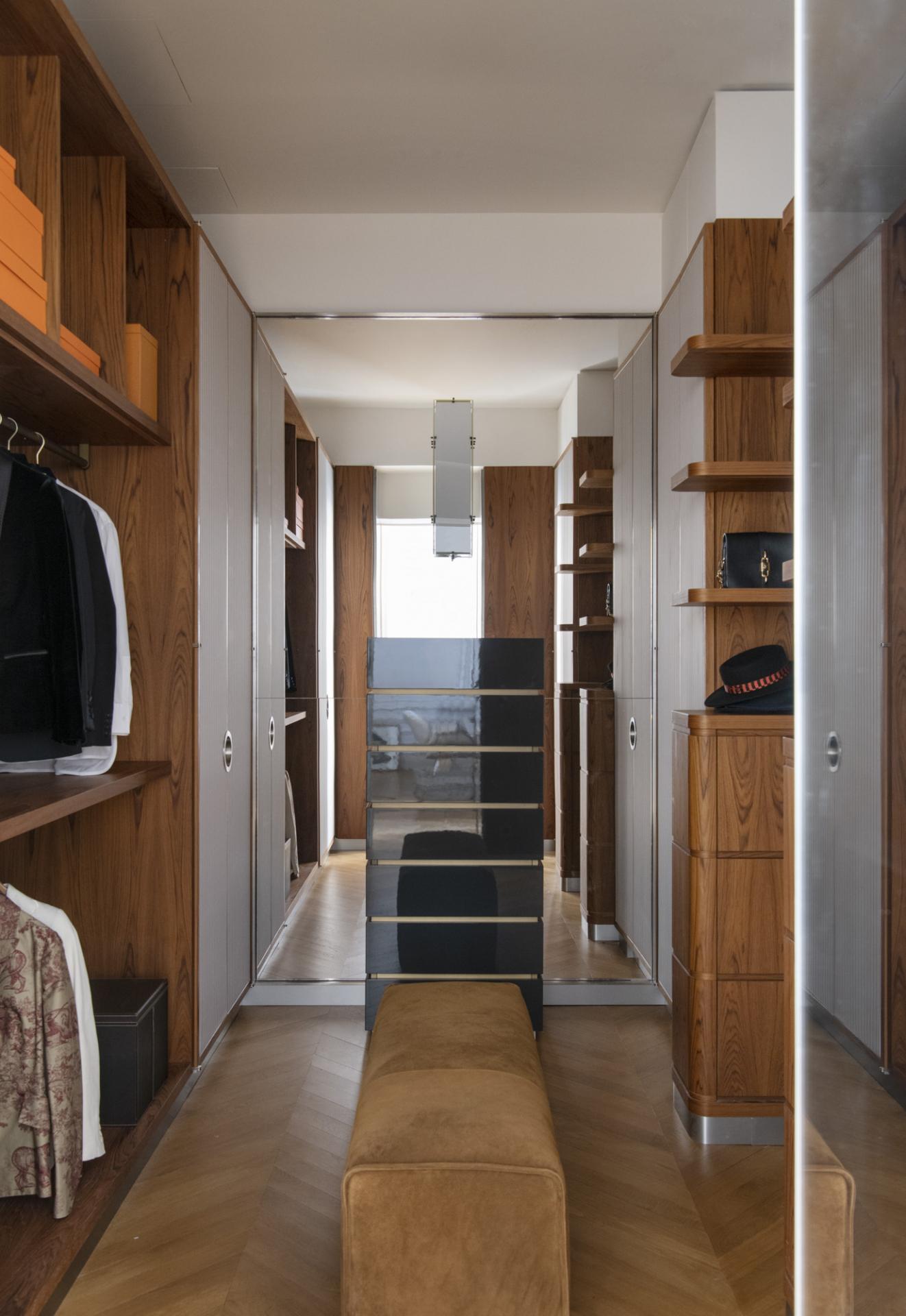 Benhamou designs most of the main furniture pieces for her projects. Her collections include "Ginger", which was inspired by the glamour of Studio 54, the back rooms of Las Vegas of 1970s America, and Martin Scorsese movies.
To create a strong contrast to the classical interior details of this apartment, she included custom-made pieces from the Ginger collection such as the Mia sofa in the living room. She also included walnut and brass bookcases that she combined with pieces of Brazilian and Italian vintage designer décor, and a collection of contemporary art, to create a versatile space for reading, relaxing or family time.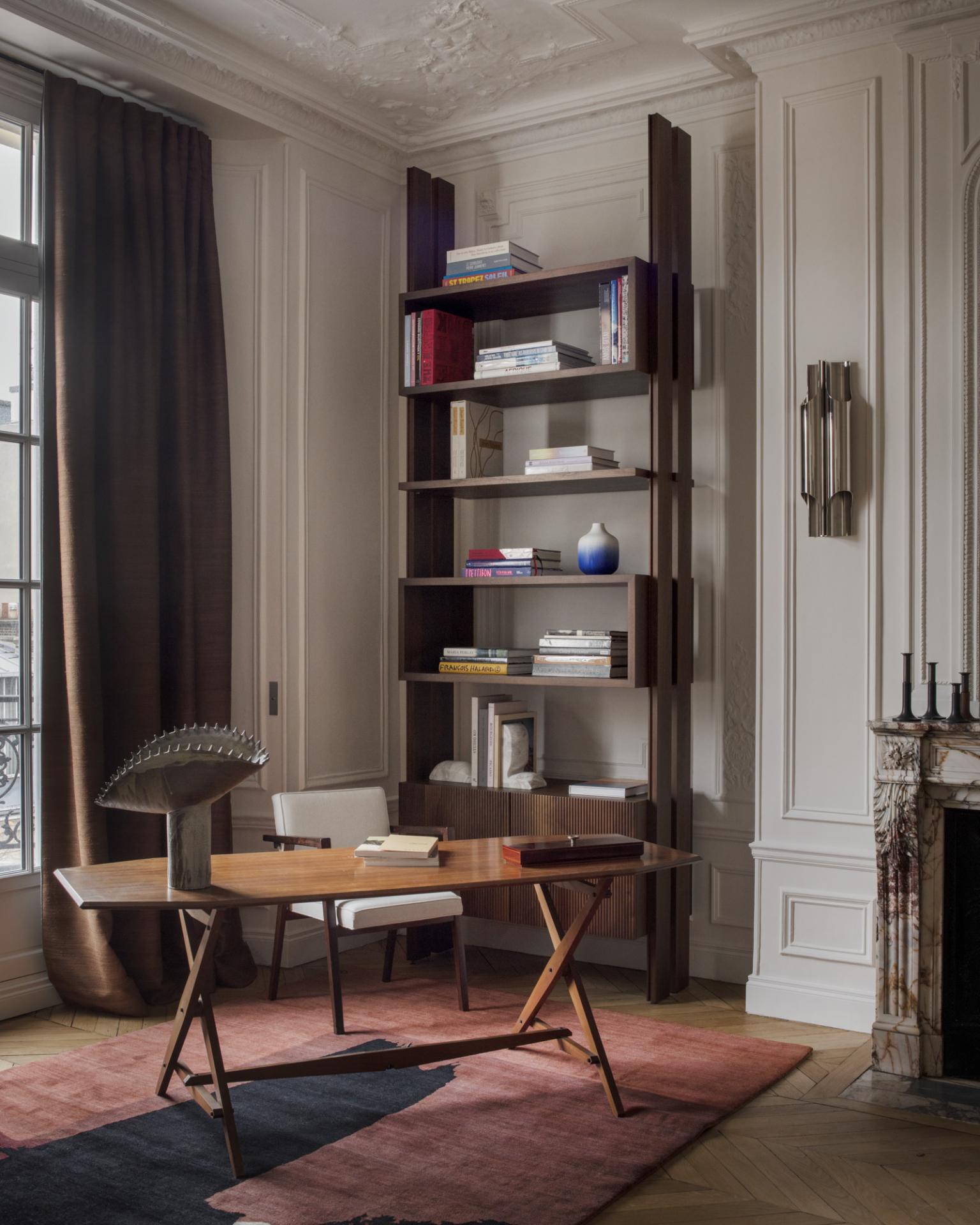 Carefully curated items such as lamps by Angelo Lelli and FontanaArte; armchairs by Marco Zanuso; coffee tables by designers Erwan Boulloud from Galerie Glustin, and Dan Pollock from Galerie Desprez Breheret; a sideboard by Joaquim Tenreiro – a vintage piece purchased at a Piasa auction sale; a desk by Franco Albini; and paintings by Gideon Rubin from Galerie Karsten Greve; all came together to create an elegant and glamorous, but cosy gathering space for family and friends.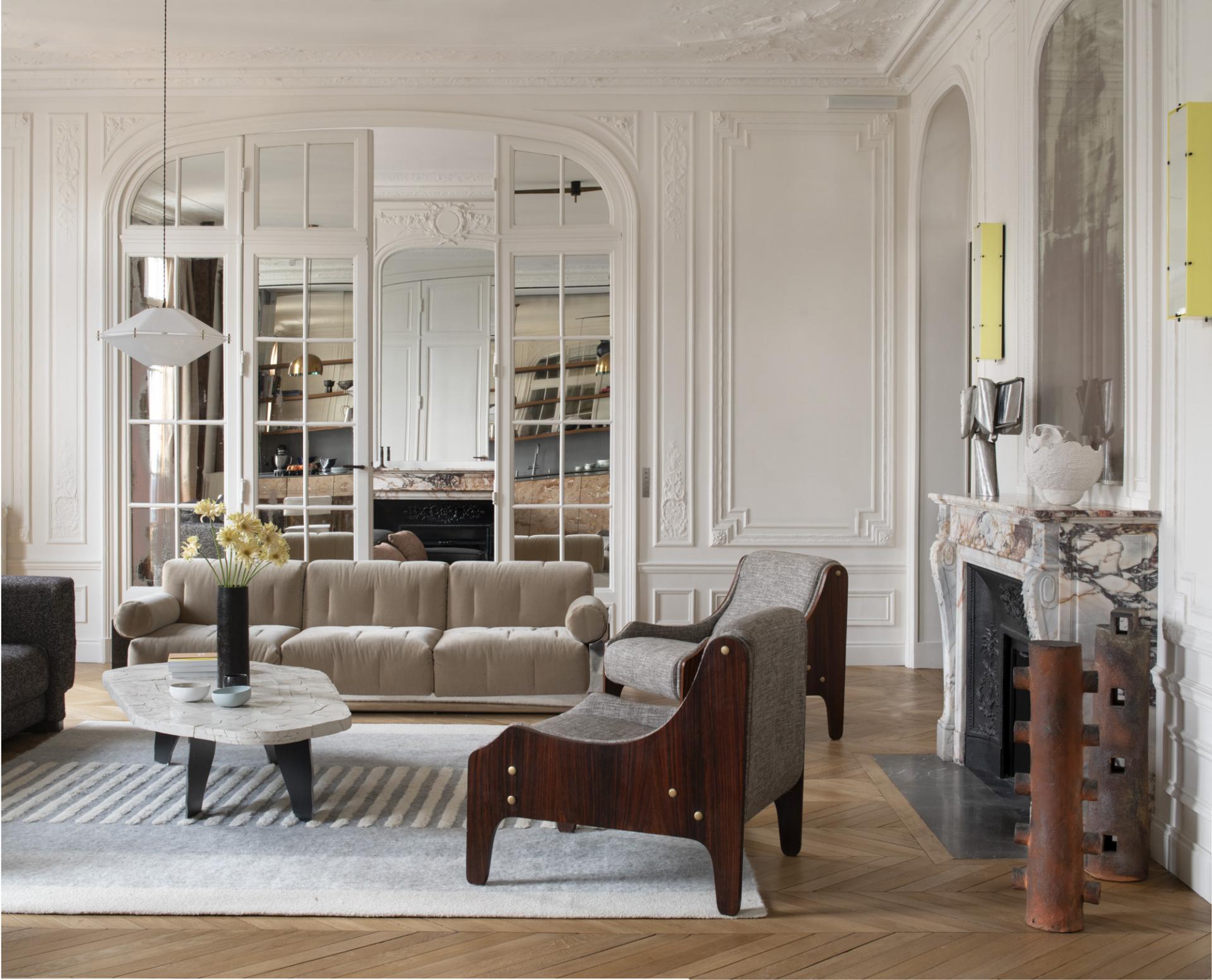 An example of the contrast between classical and contemporary comes through beautifully in the kitchen, which is ideal for entertaining. Here, stainless steel built-in kitchen systems and a storage space, and an aged nickel backsplash, have been paired with a central island clad in a very unique travertine scabas.
The dining area is composed of two custom-designed glossy rosewood and brass dining tables that can be conjoined for a banquet dinner, or separated and moved when more floor space is needed around the kitchen.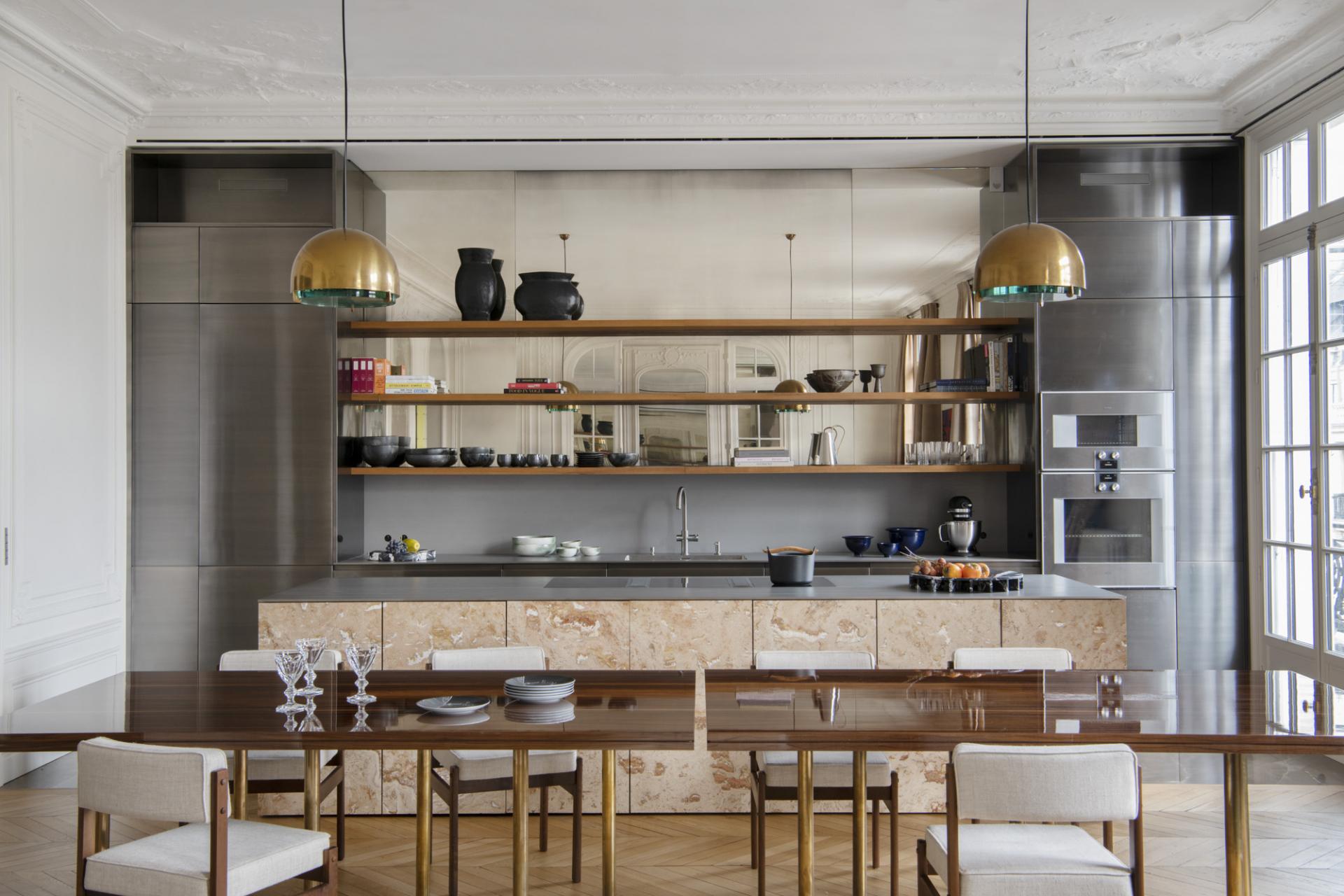 "I chose materials that are emblematic of the 1980s such as patinated brass and polished stainless steel, which echo the Santos de Cartier universe, and which mingle with exotic woods such as teak and rosewood, travertines, and tinted mirrors," Benhamou says.
"The multiplicity of materials allows a game of opposition between reflection, opacity, and transparency."
Photos by Ambroise Tézenas