Prestigious London based studio Laura Hamnett unveils its latest project, an exceptional boutique development of four luxurious residences, Vicarage Gate.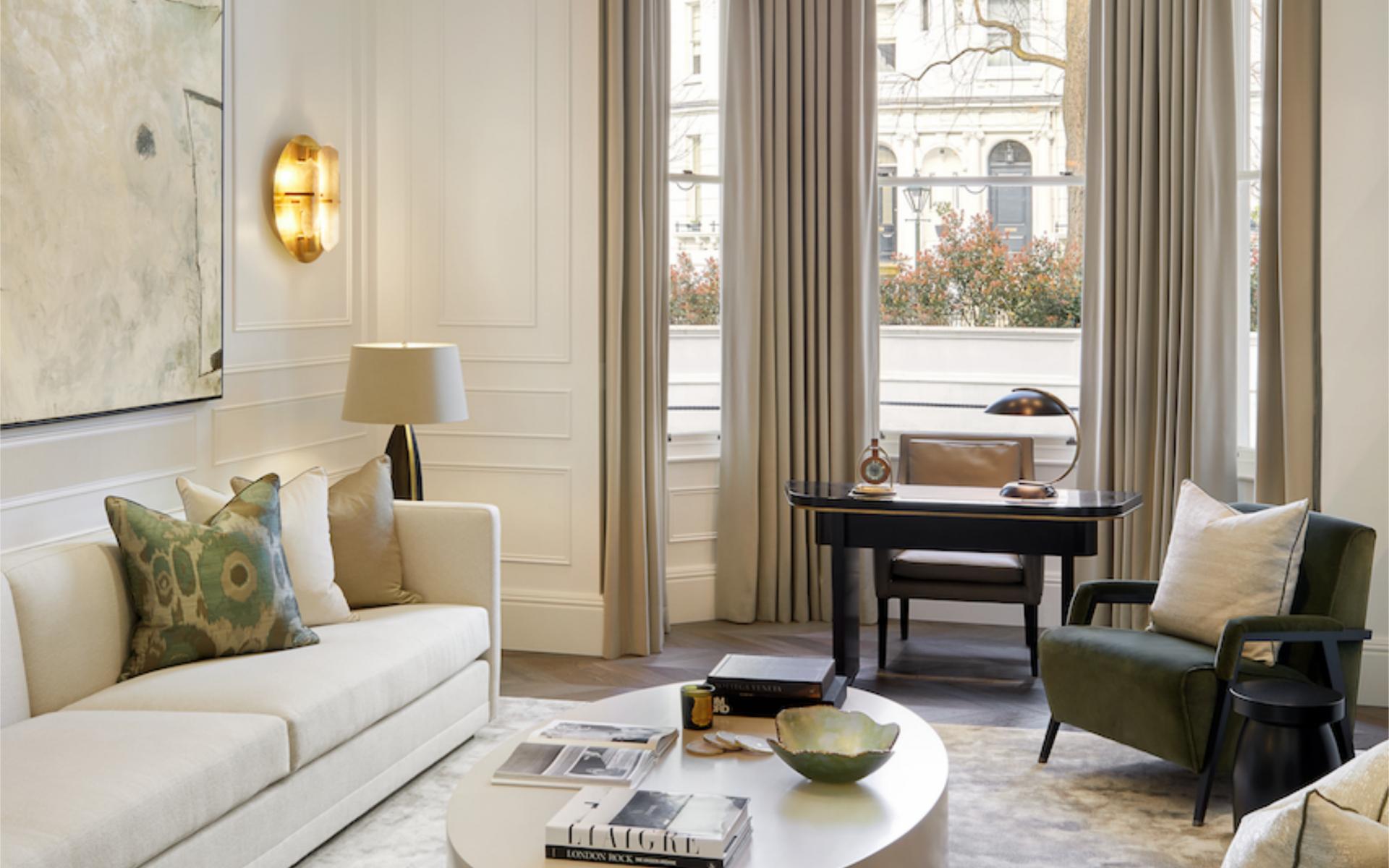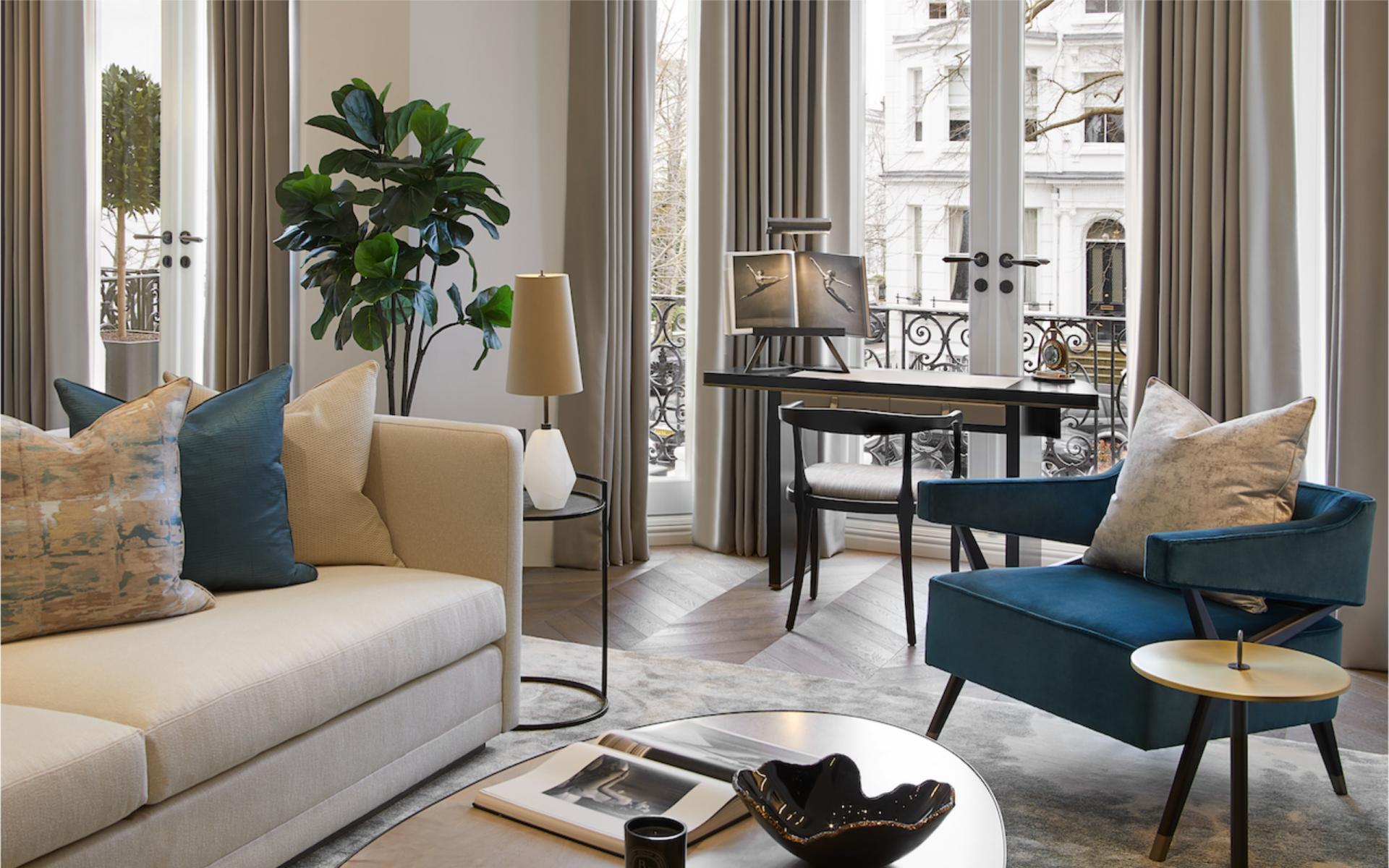 The brief was simple, to convert a historic townhouse dating back to circa 1877-1880 into four luxury residences for resale. Reveals designer Laura Hamnett, who was tasked with transforming these spaces, "we worked with the architect to completely strip it out, so it was just the shell, virtually removing all walls and floors but retaining the original grand staircase and stained-glass windows in the stairwell. We then painstakingly designed every interior architectural element to bring it back to life." She continues, "we always design developments with an imagined buyer in mind, as it is more natural for us to design with a personal approach. From past experience in this particular Kensington location, we made an assumption that the buyers were likely to be young European professionals, however it's important to ensure that the design is never alienating another demographic of buyer."
Having worked with this client on two previous projects, the parties had developed great rapport and trust, which Laura says, is key. "He is very passionate about his projects so he was quite involved with the creative process which is not often the case with developers and made the process even more enjoyable."
With sustainability being a key factor across all industries, the design studio ensured this was adopted through the project by creating timeless design using high quality materials that would stand the test of time. Says Laura, "we don't follow trends and opt for designs that have longevity so our interiors would still feel relevant in ten years' time and beyond. Good quality furniture hand-made from solid natural materials can be kept for generations. That is what sustainability is about for me within luxury design."
In terms of the aesthetic style, Laura shares that they looked to Paris to influence the interior architecture introducing beautiful, curved doors and arches, bold veined marble and elaborate plaster moulding throughout. They then combined this classic backdrop with contemporary joinery, bathrooms, kitchens and bespoke furniture and styling.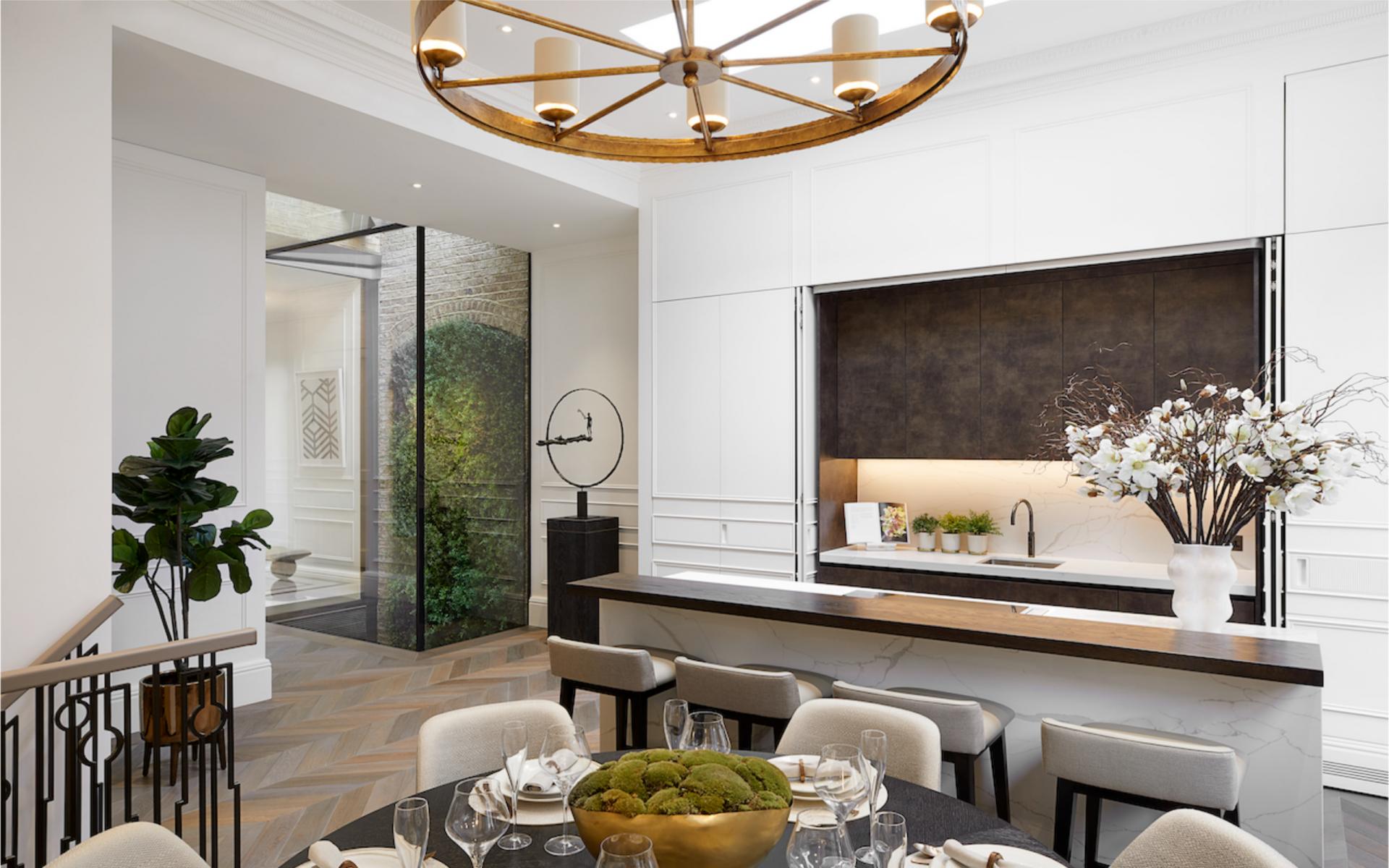 Oak chevron has been used for the floors throughout the residence, while the walls are adorned with elaborate plaster moulding. The design studio opted for a monochromatic palette with light panelled walls and dark chevron floors, while dramatic contrast has been created with dark framed glazed double doors, Noir St Laurent marble fireplaces and bronze effect on the kitchen units. Classic contemporary furnishings adorn the interiors, together with sculptural lighting and artwork and a jewel tone pop of colour unique to each apartment to keep them harmonious while each establishing their own identity.
Says Laura, "the eclectic style of the lighting by Visual Comfort throughout had a real influence on the overall aesthetic. Their tripod picture light that we used on one of the desks is an all-time favourite of mine and the first piece I selected when designing the furniture for that apartment." Other sources and pieces to note include fabrics from Donghia, Robert Allen and Holly & Sherry for sofa cushions and bespoke upholstered armchairs, bronze taps from Samuel Heath, wall lights by Kelly Wearstler, Gagganeau appliances in the kitchen, and the Chelsom chandelier.
When asked her favourite design feature, Laura is quick to point out the curved glass double doors. "They are breathtaking in person and add such a refined contemporary twist on the classical architecture. I also love the ornate plasterwork combined with the contemporary elements like the glass internal atrium and the kitchens. The kitchens were also designed by our team as integrated elements within the architecture, so the contemporary bronze effect units are concealed behind classical panelled pocket doors."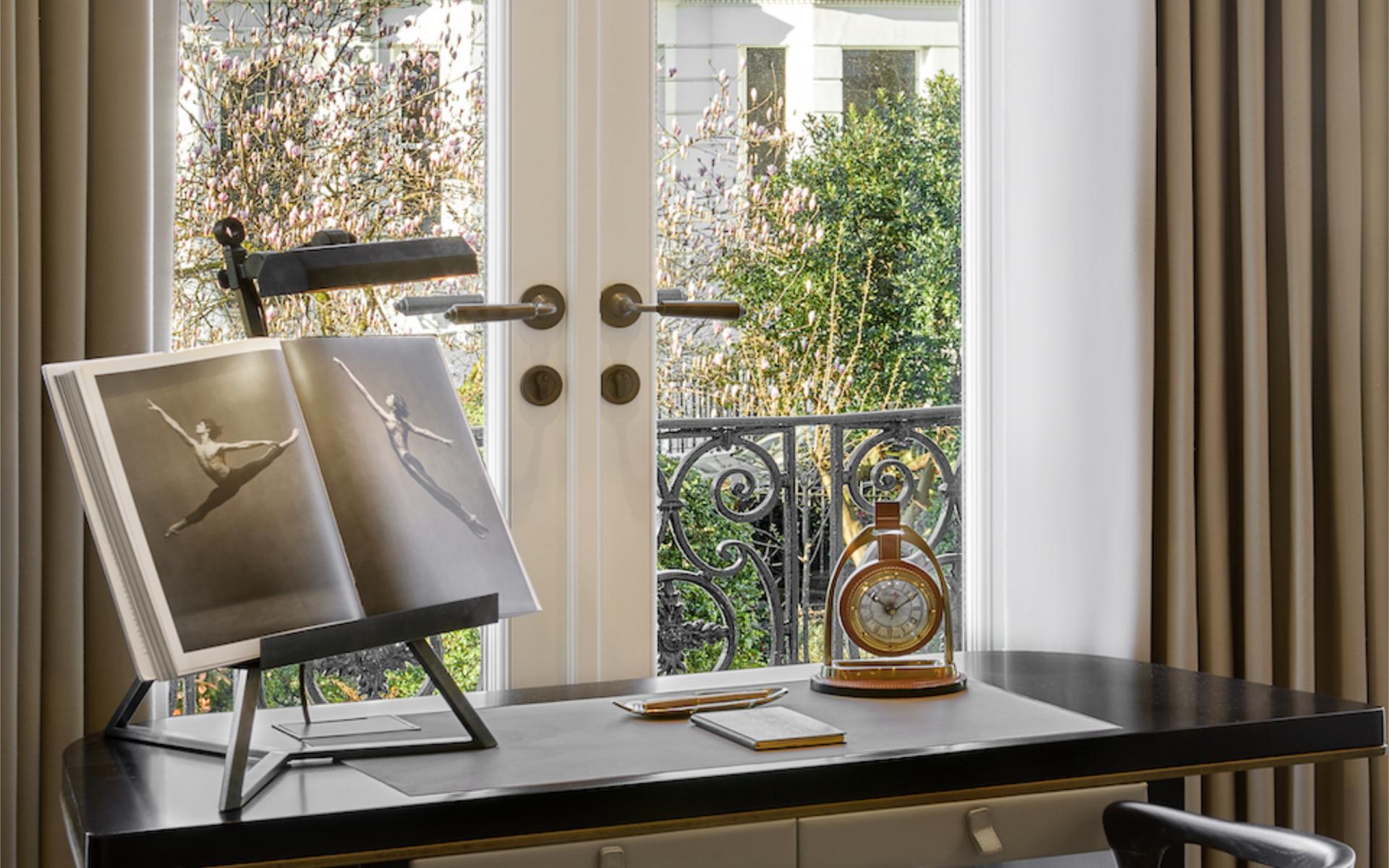 From start to completion, this project was a real labour of love for over a three year period. Due to the nature of the historic building, challenges were expected, including obtaining the relevant permissions needed to make such dramatic structural alterations, and the installation of a lift. Explains Laura, "the space planning of each apartment was crucial to make this a successful project for our client as the quality needed to be completely uncompromised. We had to make clever design features within the compact studio apartment for example, with a floating partition wall that housed a rotating television which could be viewed from both the bed and the seating area, as well as a slim breakfast bar to create a separate zone for the kitchen within the open plan space. It worked beautifully."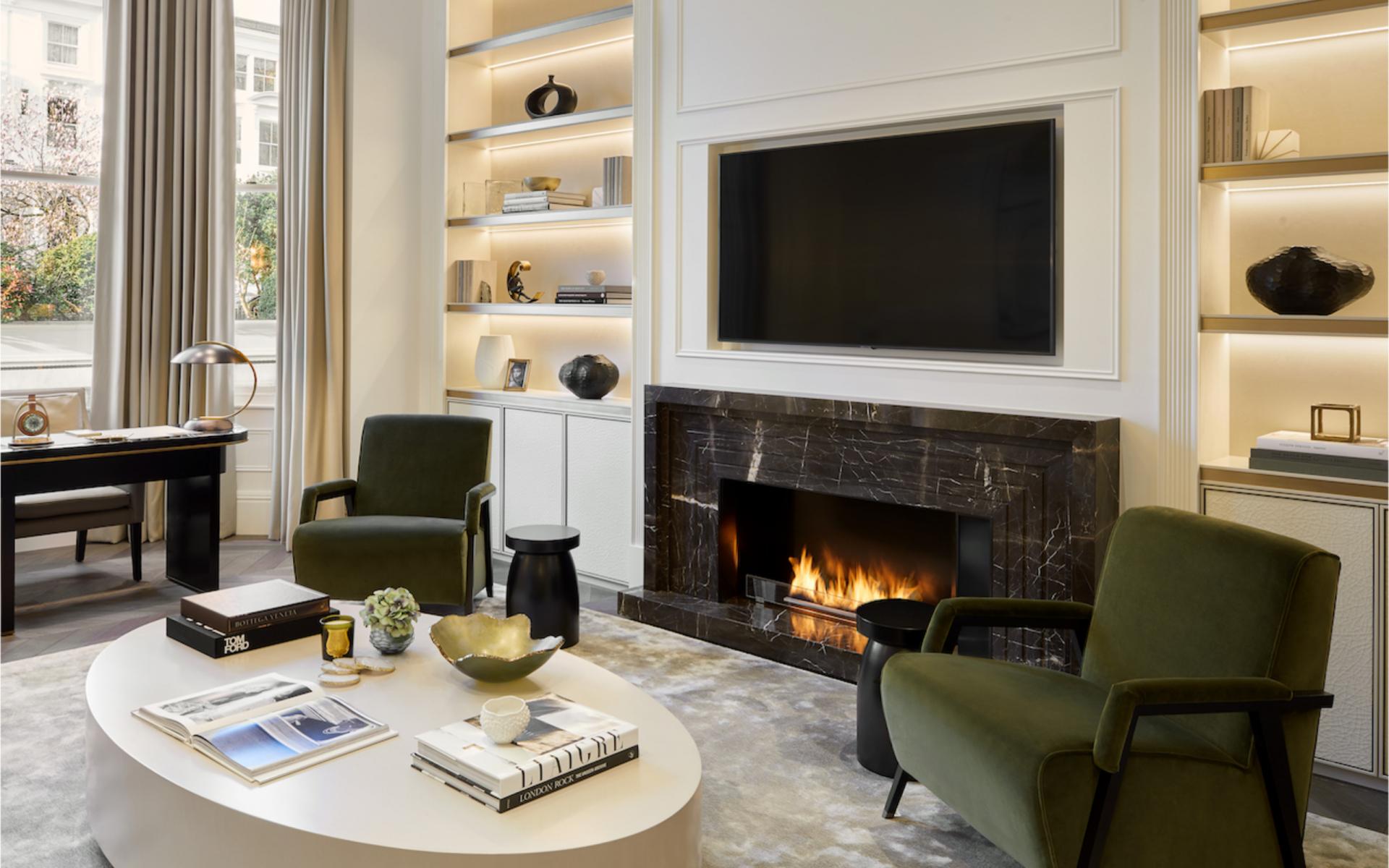 Naturally, the client is thrilled with the end result of the project, and most happy with how successfully the layouts worked, making each apartment flow so well. Says Laura, "his priority was to be able to provide completely uncompromised luxury living for his buyers." He certainly has, and even though this property was launched during Covid, Laura shares that this level of the property market has not really been affected. "People are viewing properties virtually which can mean that the details and feeling of an interior can't be translated, but this residence has such a strong visual impact that it has still been a success," she says.
Laura reveals that during the last few weeks of project, when the final elements were installed and revealed, it was extremely rewarding. "In addition to the full interior architecture, we fully furnished and styled each apartment to perfection using a number of bespoke items. The spaces feel so elegant and timeless but with a depth and warmth that is so essential to us as designers."