Studiossoo finds the right balance when creating an apartment that's both a place for rest, and a convivial space for parties and gatherings.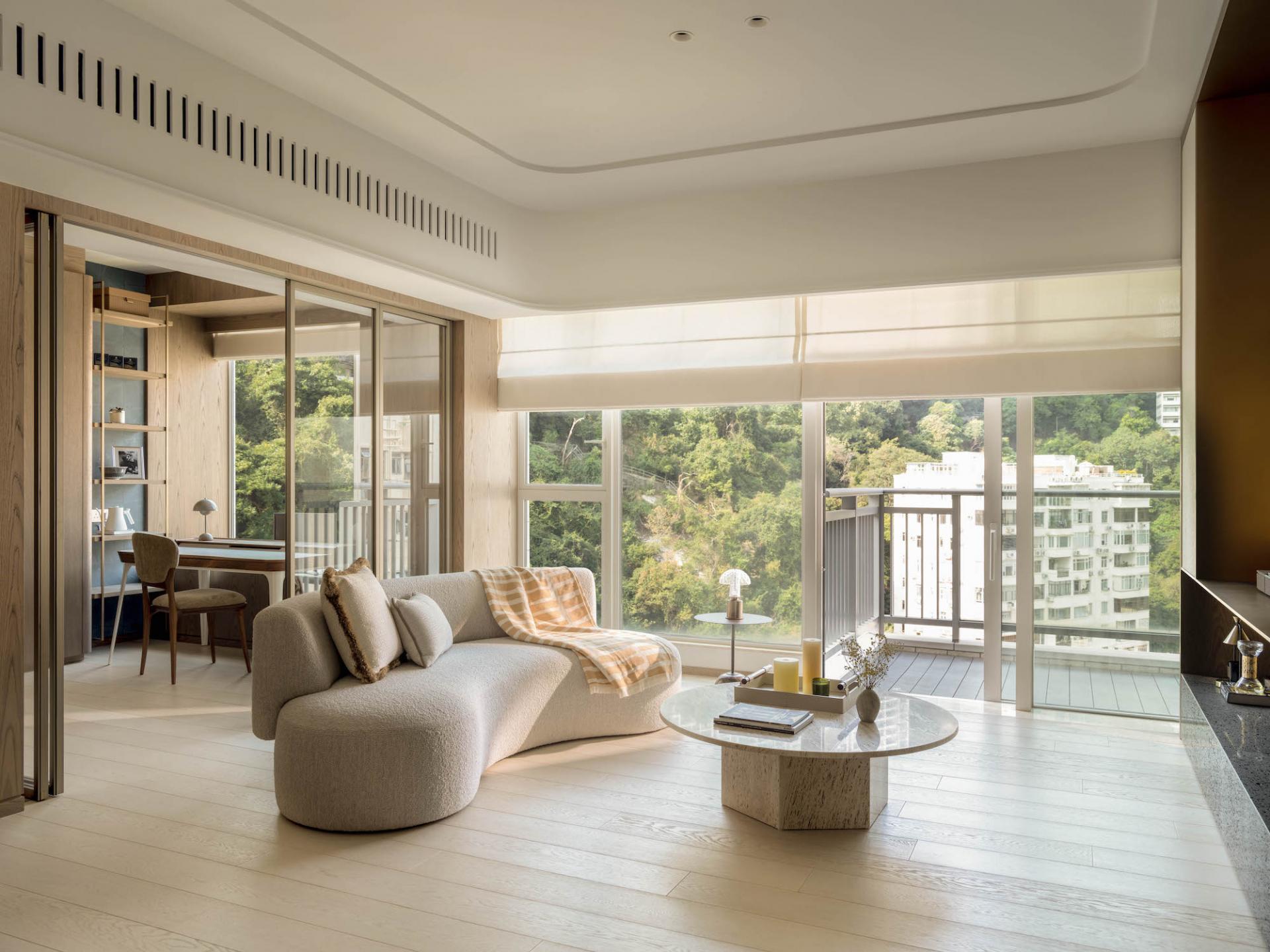 Home to a young couple with impeccable taste, this 1,500 square foot, single-level apartment in Hong Kong's Happy Valley, has a timeless neutral palette that highlights the spectacular mountain views outdoors, and the elegant materials indoors.
Designed by Hong Kong interior design practice Studiossoo, the home includes floating bauble lamps by Giopato & Coombes in the dining room and a quilted sofa by Christophe Delcourt – just some of the carefully curated eye-catching pieces that elevate the apartment, transforming into an abode its owners can retreat and enjoy alone-time in, but also be proud to show their guests.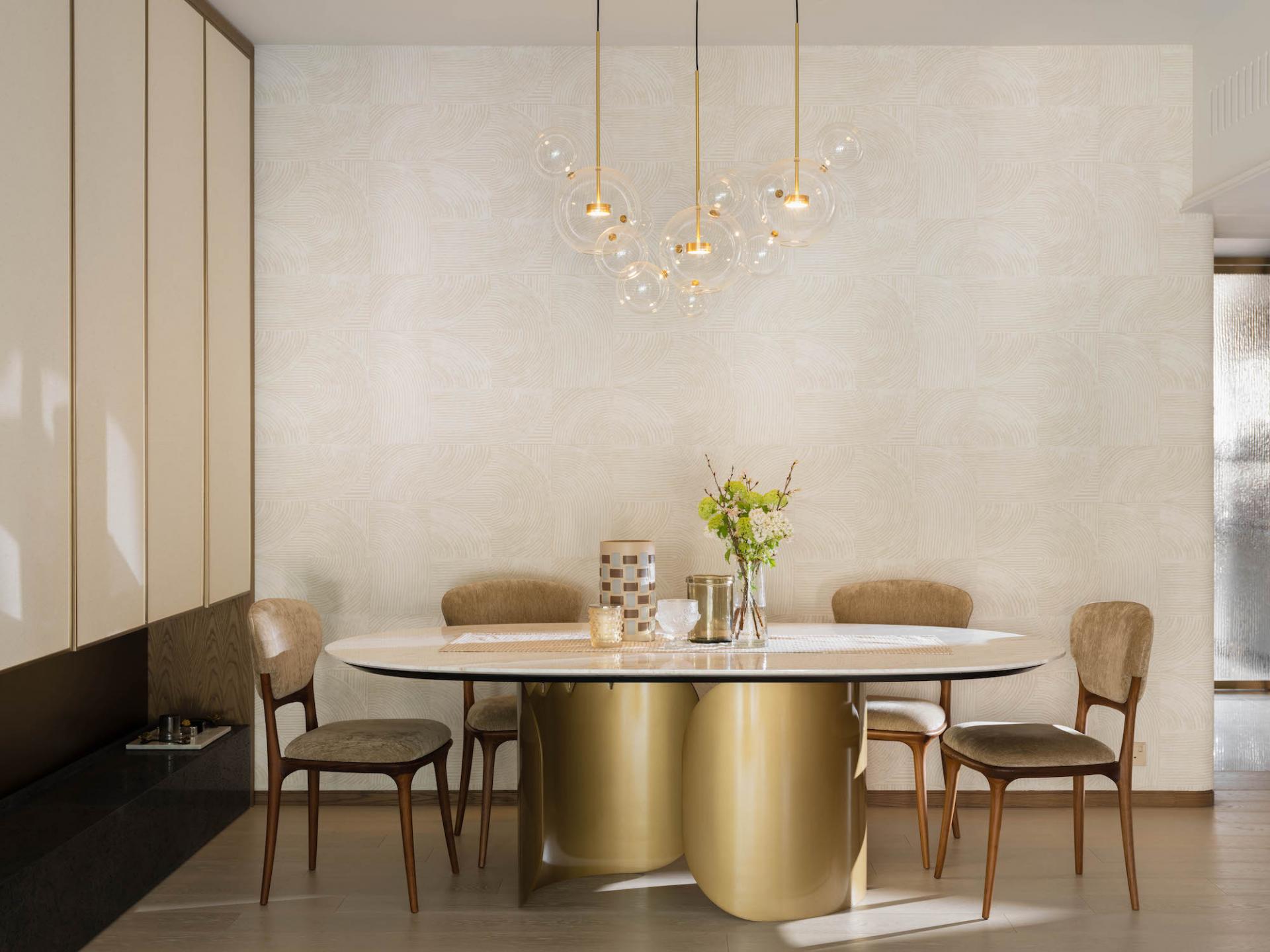 "By pairing minimalistic furniture with heavy brass fixtures, we created an intriguing blend of classic and modern. The result is a welcoming and secluded family home that is also an ideal space for entertaining," says Studiossoo's founder Samantha Soo.
Her clients' brief was for a home that was trendy, but also comfortable. They liked raw, natural materials, so she used untreated porous lava stone for the TV cabinet with an inset fireplace to create a cosy gathering area.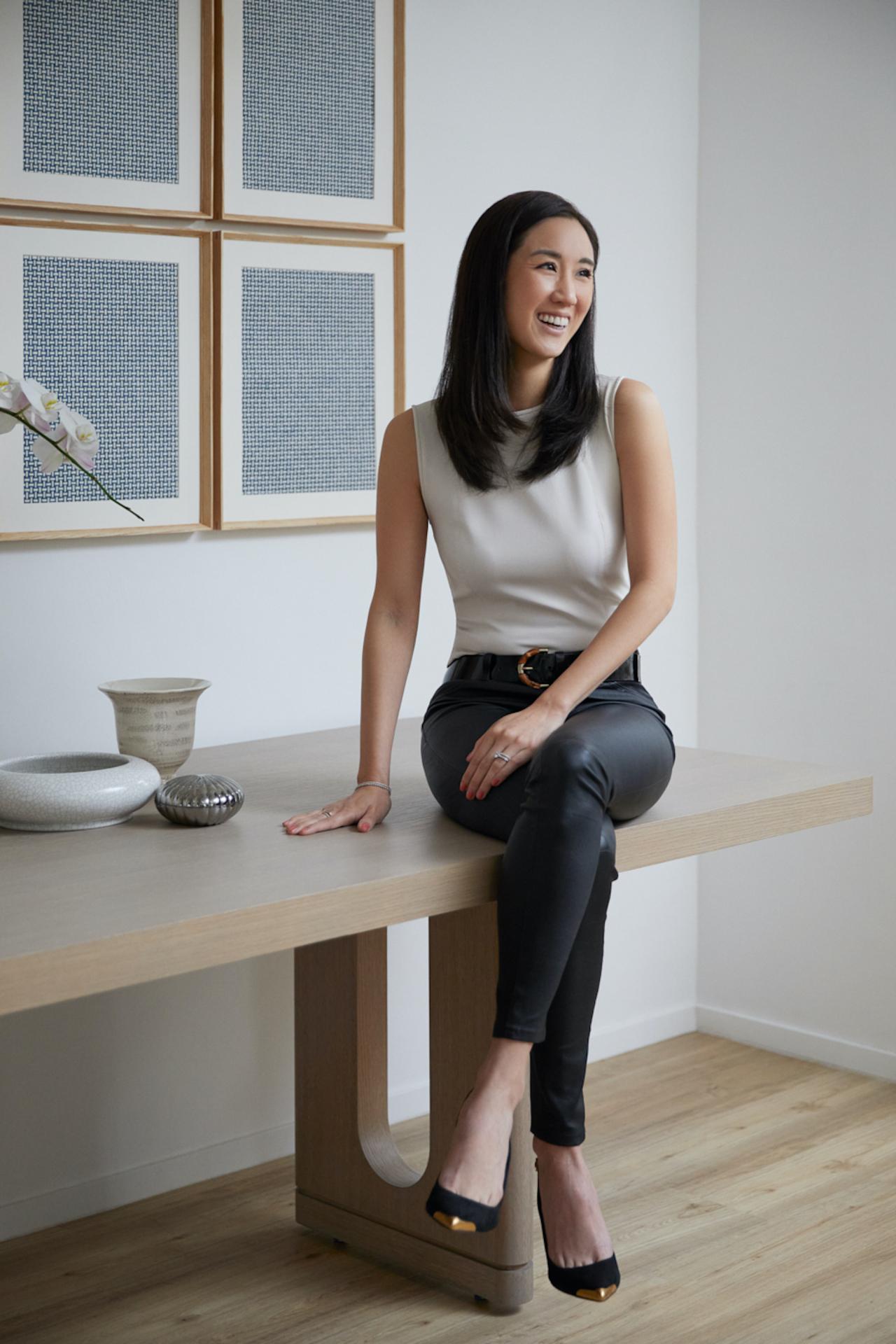 She chose a soft, natural, colour scheme that would encourage a sense of relaxation for her clients when they are at home. The pale blush and soft beige tones she used provide dramatic contrast to the dark lava stone and metallic details. "We went with a timeless and neutral palette with myrtle green accents. These soft, light colours make the apartment feel more expansive and warmer," says Soo who was careful not to overdecorate, and who took a "less is more" approach to maximise the property's usable floor space.
Soo and her team removed multiple original walls to enlarge the social areas by creating an open plan living and dining space. A former guest bedroom was converted into a study room with bi-folding glass doors that can be opened to connect the space with the living lounge, or closed for more privacy.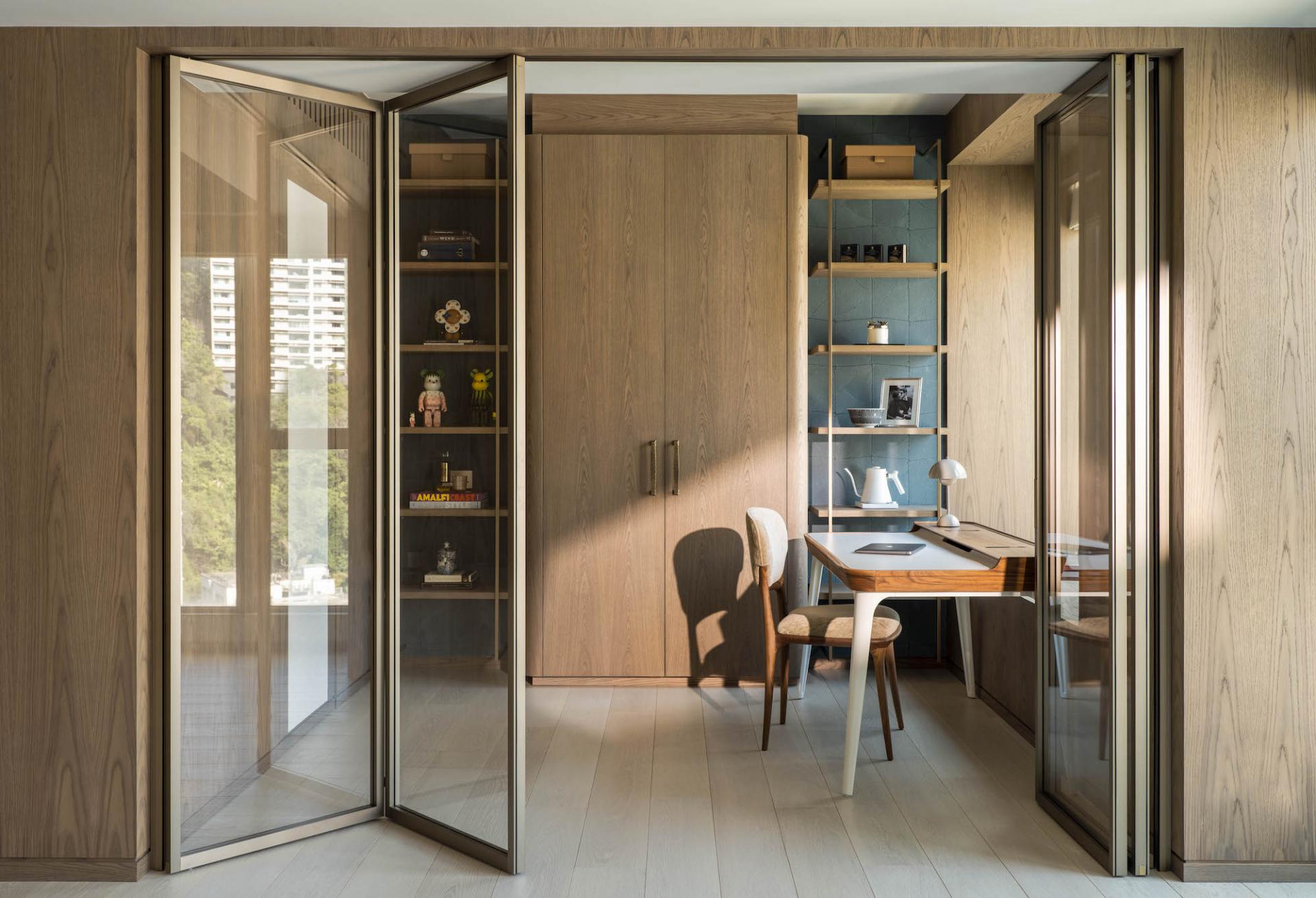 The guest bathroom was converted into a luxurious powder room. A mini bar was added in the entrance foyer so visitors can help themselves to drinks when the owners throw parties. The project includes the open plan dining and living room, the study, which can be opened up to enlarge the social space when the couple entertain, a kitchen, a master bedroom and bathroom, and a former guest bedroom that was converted into a walk-in closet.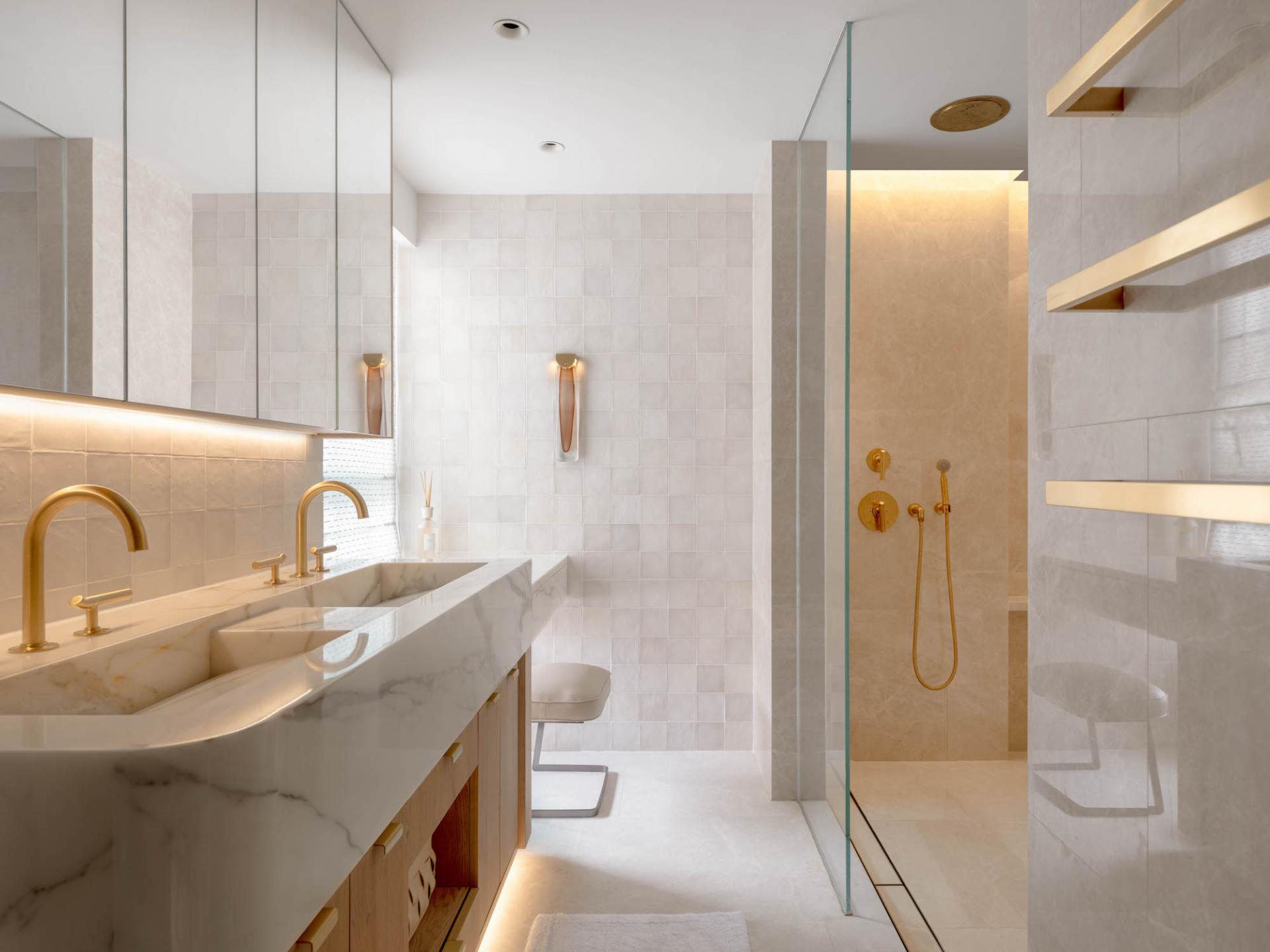 "The most unique characteristics of this project are the materiality and furniture," says Soo, who decided on a material palette of oak wood veneer panelling, wall coverings, and metal bronze accents to create a sense of calm and retreat.
"The wallcoverings we chose all have subtle arched, graphic lines that create bold curves of deep texture echoing hand-applied modern art. The tone-on-tone palette creates a distinctive quiet statement that adds an air of prestige to the interiors.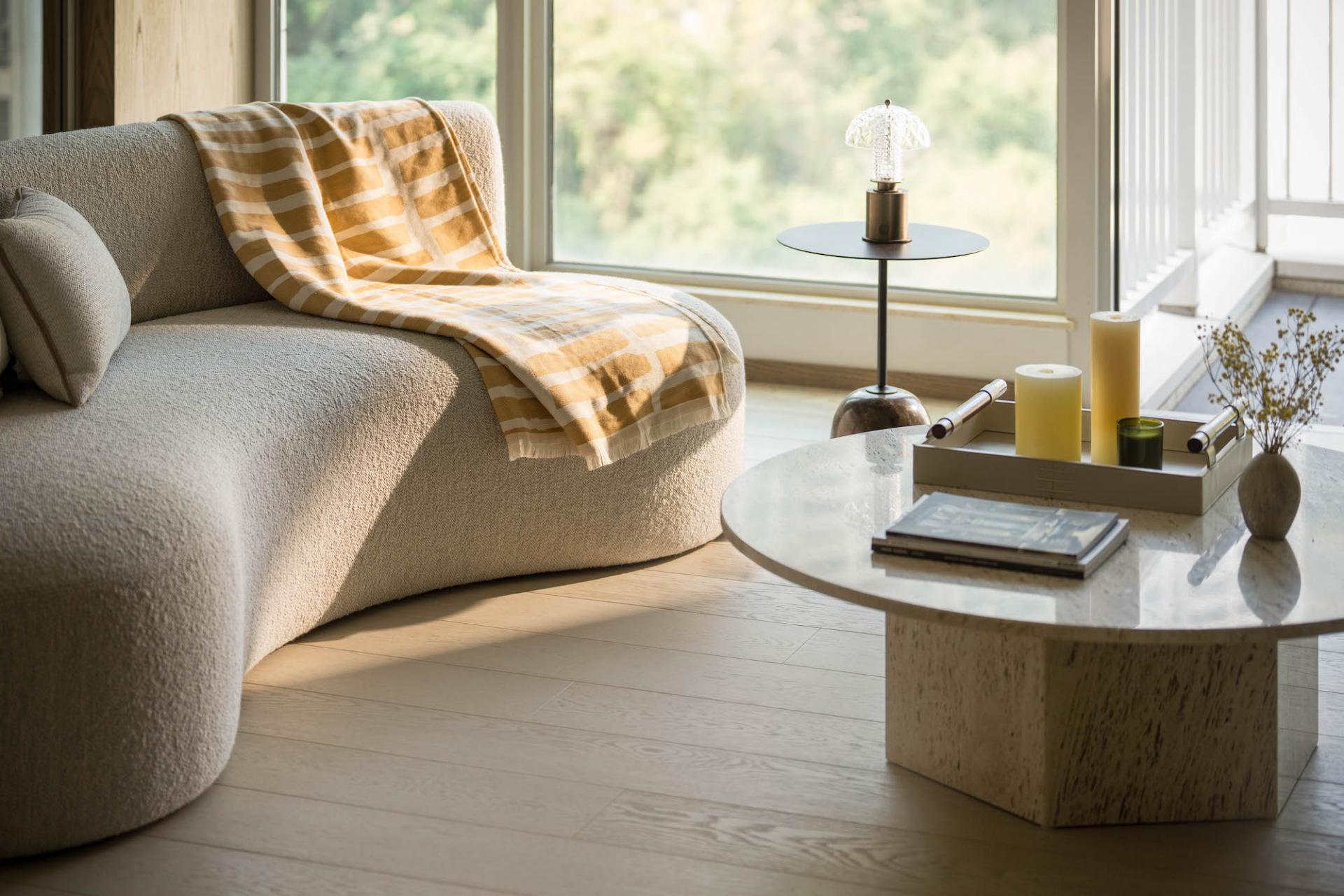 "The client has a strong appreciation for raw materials, so we used lava stone for the TV cabinet and the porous travertine coffee table. The combination of modern, minimalist furniture pieces with curvilinear silhouettes, and contemporary metal lighting fixtures, create a strong character for the space."
In the entrance foyer, she included a Damier Ottoman from Minotti upholstered in a feminine houndstooth pattern fabric, paired with a round Gioiello mirror from Ghidini, and a crafted lantern with traditional stain bevelled glass from CTO lighting.
The living and dining areas are illuminated with floating bauble lighting by Giopato & Coombes. A quilted sofa by Christophe Delcourt doubles up as a sculptural centrepiece in the sitting area. Italian oak wood parquet with a brushed and varnished effect was used for flooring throughout the apartment.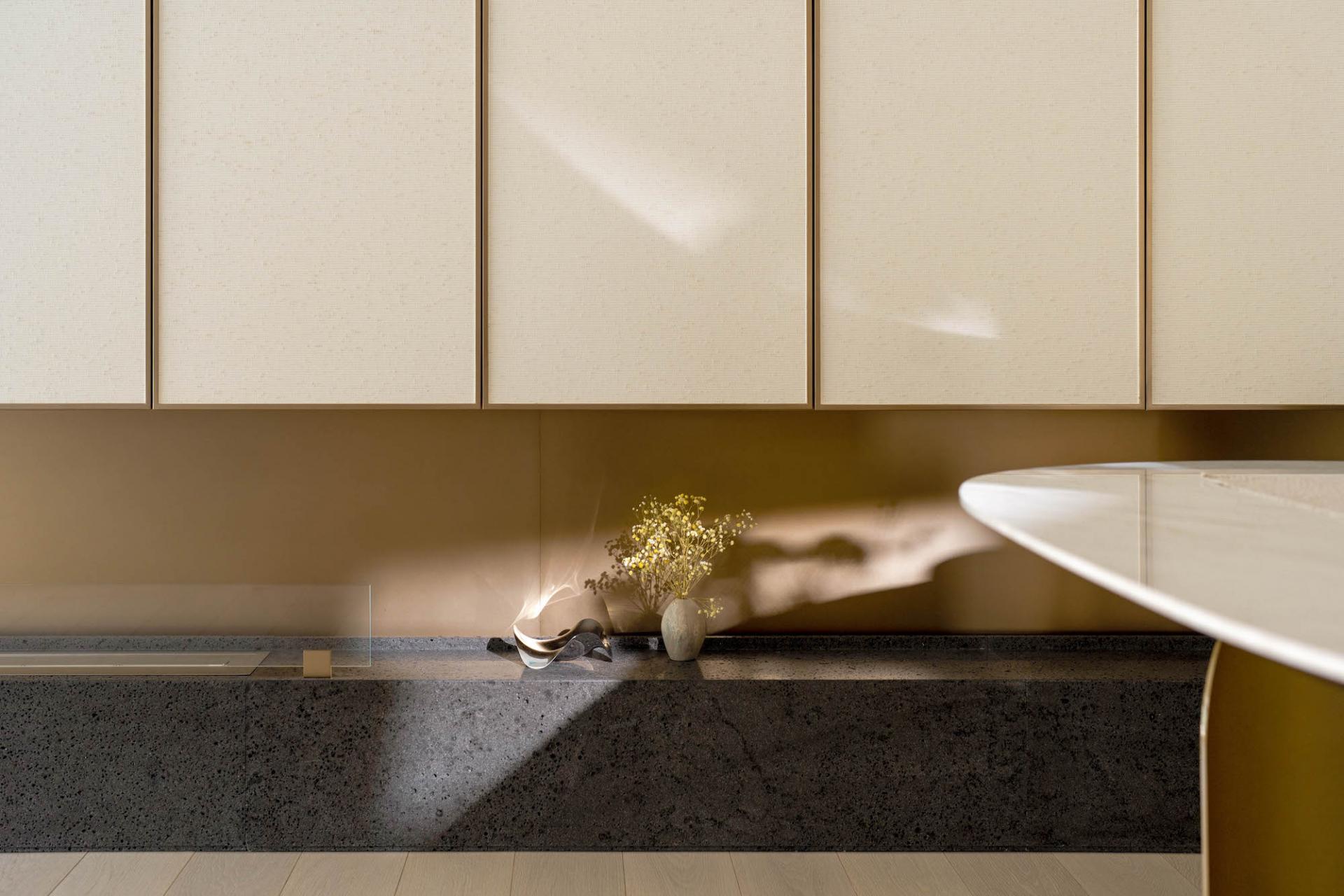 The kitchen was fitted with cabinetry from Italian brand Arclinea, and complemented by Gaggenau and Miele appliances. Sanitary ware from Waterworks' Bond series with a burnished brass finish was used in the master bathroom to contrast the neutral shades of the Claybrook Moulay wall tiles. Curves have been introduced to the master bathroom through the organic shape of a Claybrook Ellipse freestanding bathtub.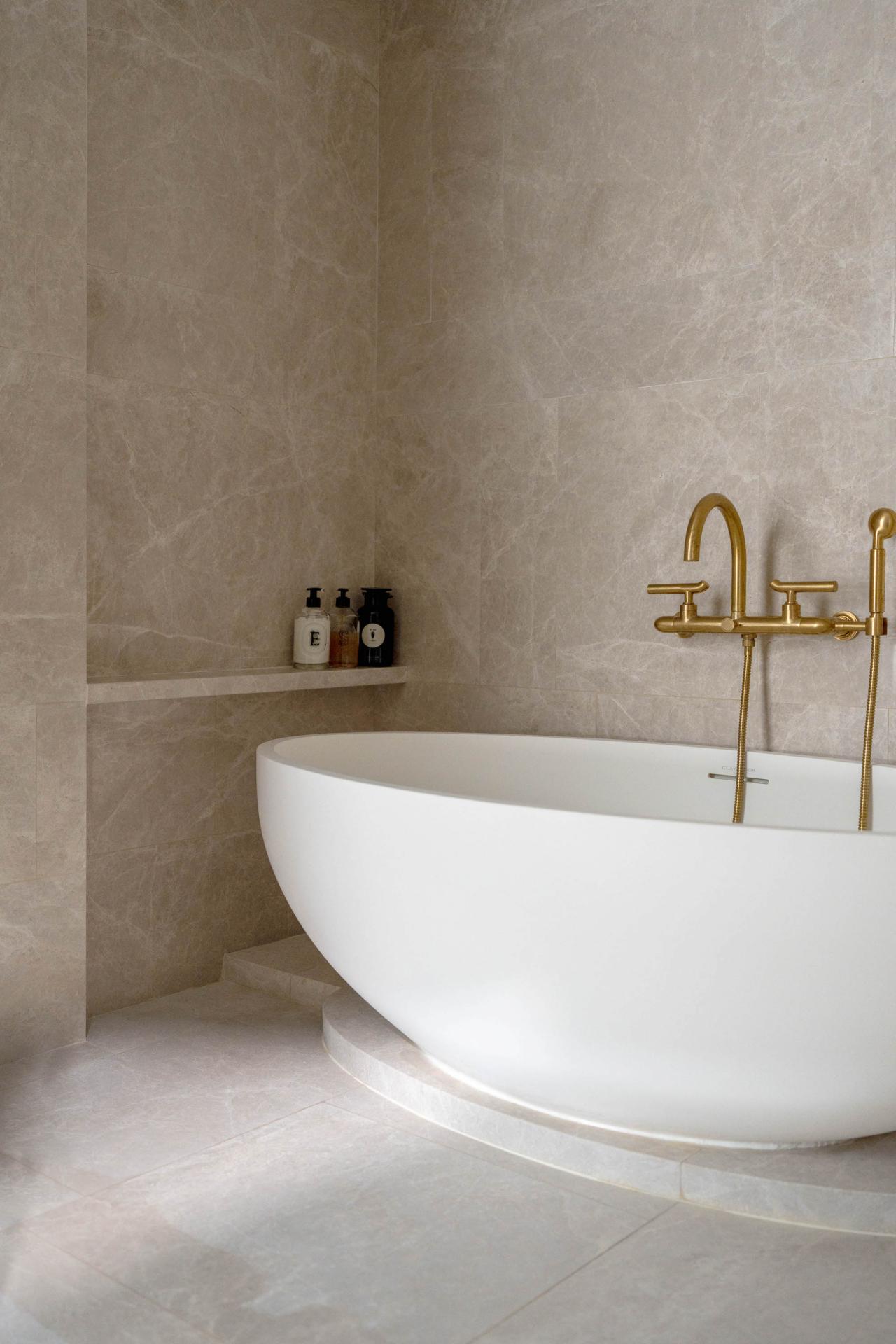 "We wanted to create a home that reflects our clients' personal style while also responding to their desire for a home that's ideal for entertaining, but that's also a relaxing private oasis," Soo says. "With this project, I think we succeeded in creating a residence that evokes a sense of intimacy and retreat, but that also impresses those who step into it."
Want more stories like this? Follow Home Journal on Facebook, Instagram and YouTube.