Don't call Bruges la morte anymore, as writer Georges Rodenbach did more than a century ago.
Among the entrepreneurs working hard to bring creativity and sophistication back to the city is interior architect Jo Hoeven, who recently renovated his classic 19th-century townhouse into a contemporary project space where he mixes art, design and everyday living. Our house is a gallery, but also a bed-and-breakfast and a showroom of my own ideas, says Hoeven. This is a place to live and to experiment.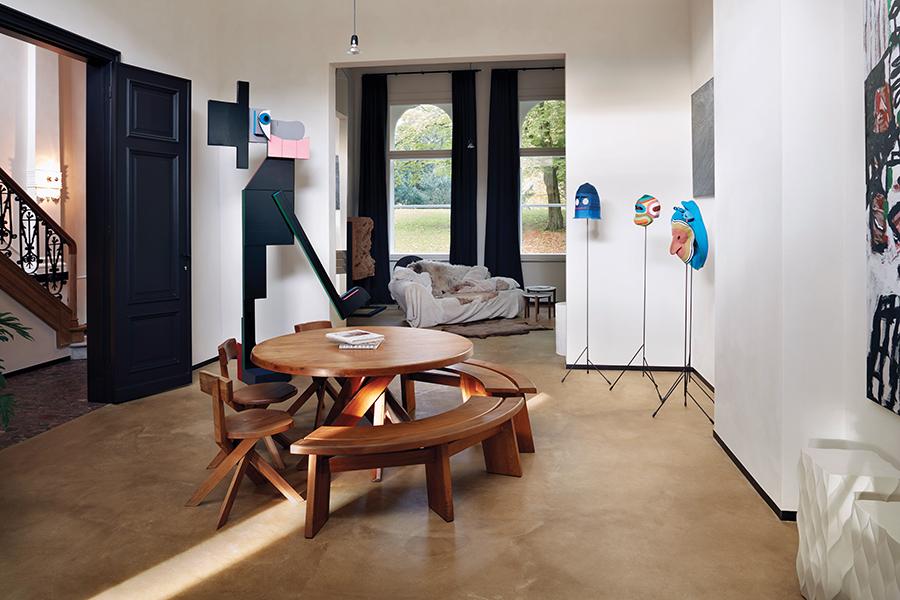 Hoeven's unconventional approach is obvious from the moment you enter the classic hall, where you're met with a one-off light sculpture with Bertjan Pot fairground lighting and flesh-coloured Breche marble. The hall's welcome committee consists of six creepy sculptures depicting half-naked youngsters wearing sneakers, by Rotterdam's Nightshop collective, famed for their collaborations with Eastpak and Armani. Not your average B&B stuff – to say the least.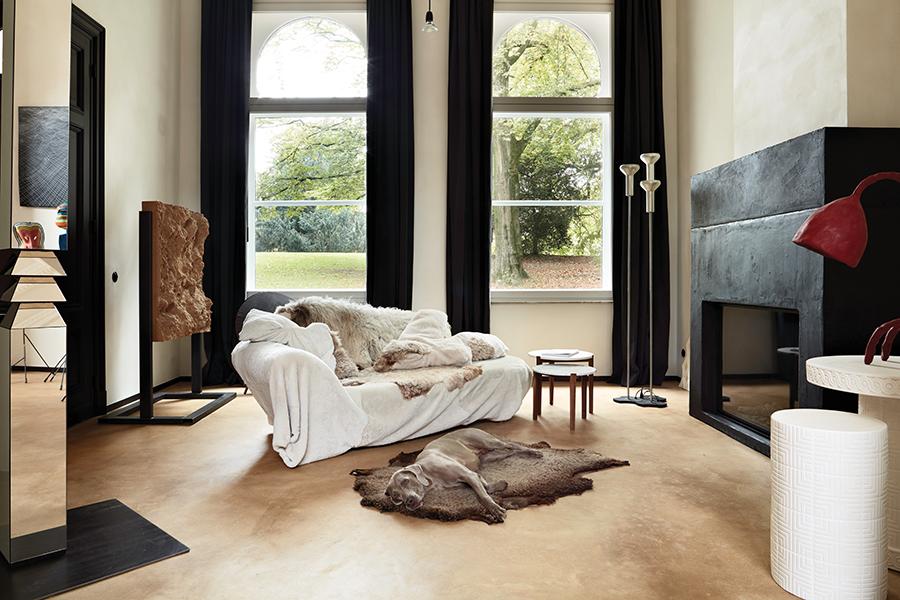 The last thing I want is to please everybody, says Hoeven. You should be able to taste the risk in this place. This is very much palpable in his interior ideas, which he creates with Karel Loontiens under the umbrella of Studio LoHo. Their most impressive feat might just be the firm's range of clay baths. These are baked in one session in an enormous oven, bigger than the average living room, he explains. Our ceramic washbasins also have the same tactility – a combination of rough and polished textures in earthy colours. I test these products in my own house; interior architects can always stop by to check them out. Soon our switches in ceramic and cork will also be ready, and the same goes for our water taps in cast brass with fingerprints. And there's more to come. The recurring theme: artisanal details that make your house more unique.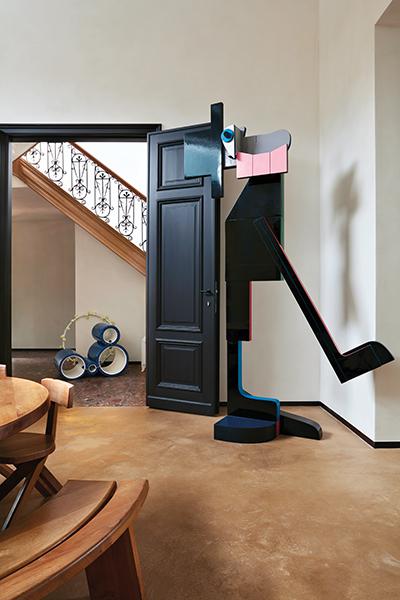 The living space of the house has been opened and is one massive volume, ideal for larger works of art. Hoeven acquired his reflecting obelisk (an anti-sculpture by glass artist Michel Martens), the Pierre Chapo dining table and bench, and Pierre Caille's giant from Bruges-based antique dealers Thomas Serruys and Dries Vanlandschoote.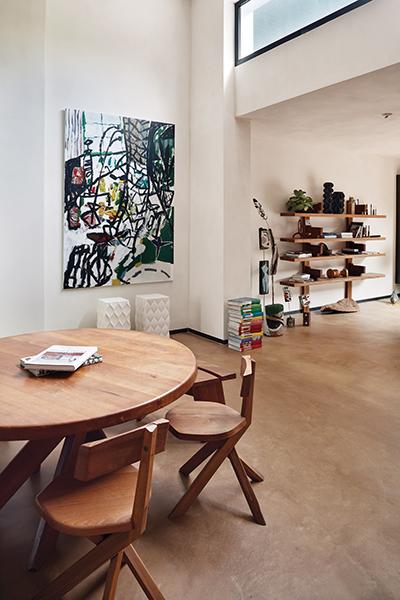 The Bruges connection is obvious, but there is also a direct link with the Netherlands. Found inside are design objects by Maarten Baas (the Clay series), Bertjan Pot (the masks) and Dom Hans Van der Laan, the Benedictine monk and architect who created customised furniture for his abbey and monasteries. A lead role has been reserved for Mathias Caesar: a Belgian artist who uses his experience as a computer programmer in his conceptual landscapes. Also prominent is the work of Antwerp's Fleur De Roeck. Her paintings and sculptures exude an immense sense of optimism, says Hoeven. They are free of form, material, colour and expression. Her work makes me happy.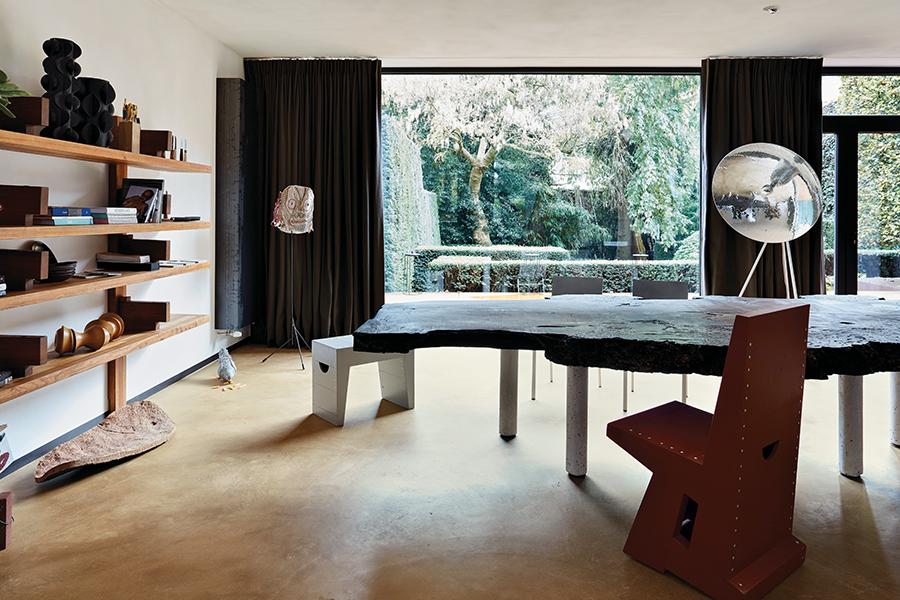 The large dining table is another curious item: a tree-trunk board made of lime and sycamore that are grafted onto each other. During the Second World War, those same trees were bombarded with mortars by the Germans, right here in Moerkerke, says Hoeven. I scorched the wood with a Bunsen burner until it was black. He also created his kitchen in such a manner that it can have a different look every month. For instance, the cupboard fronts are magnetic, making them easy to convert, and the shelves and the worktop are fixed with rubber screws. I can tailor the kitchen to the needs of my current family situation, but also because I want to. Or according to the seasons. Why not? This way, I can never grow tired of it. Ten minutes is all I need to completely change the kitchen's look.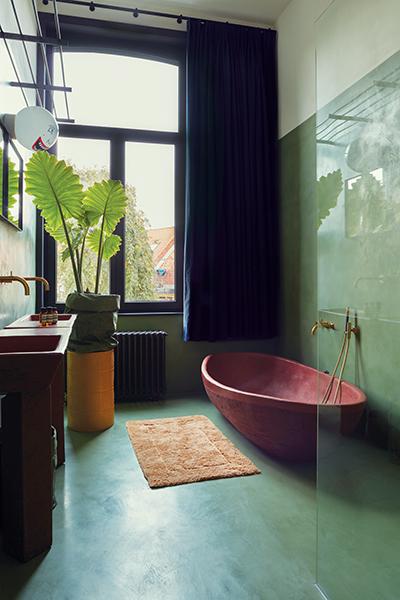 The interiors of the upstairs chambers are a bit more sober in comparison, but crafty details are everywhere. A parquet floor of hot-rolled steel, a walk-in wardrobe of waxed leather, towel racks consisting of steel tubes, deliberately calcified brass bathroom taps – these interiors are far removed from the typical design clichés. For example, the bespoke wardrobes are a Studio LoHo prototype, with a simultaneous nod to designers Willy Van der Meeren, Maarten Van Severen and Maarten Baas. The front panel consists of a loose leather patch, explains Hoeven. I glued a sheet of veneer to the backside, because it is just as elastic as leather. By doing so, I want to show veneer's true nature: a flexible wood illusion. It becomes just as organic as leather, even though it is an industrial product, derived from nature. A place to live and to experiment, indeed.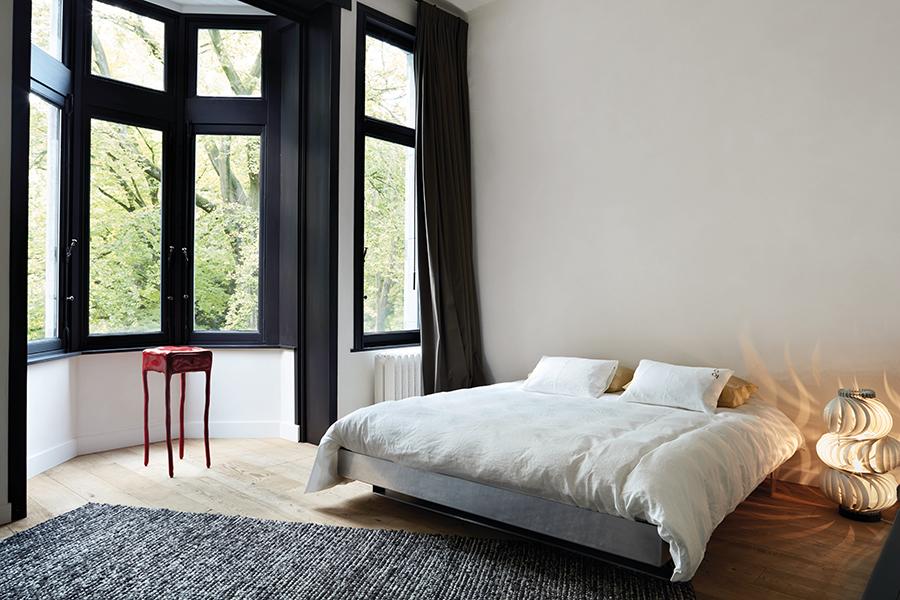 For more home tours and interior inspiration, visit our Homes tag.
A version of this article originally appeared in our July 2018 issue.
The post A Classic Townhouse in Belgium Gets a Modern Makeover appeared first on Home Journal.