With the public's continuous pursuit of distinctive lifestyle and smart experiences, smart home appliances that blend technology, and fit naturally into a home's design, have become a necessity for interior designers to create stylish homes. It's no wonder why stylish home appliances are currently the driving force behind the latest interior design trends.
International award-winning designers demonstrate how to create a stylish loft
The loft was created by internationally acclaimed interior design firm Starz Pasha, which has won numerous real estate and design awards.
Maggie Mo and Jay Leung, founders and designers of Starz Pasha, said: "A loft style values an open space layout, and it highlights the owner's style.
Taking inspiration from a painting by the homeowner, the unit is decked out in plenty of industrial black, white and gray colours. Samsung's home appliances, which are customisable in a variety of different colours, capacity and material combinations, were chosen to enhance the overall style."
Living room pairing: The Frame adds an artistic element
To create a living room that is a place for leisure and entertaining guests, the designers strategically placed a picture frame-like Samsung The Frame TV with interchangeable magnetic bezels. A Studio Stand, instead of a traditional wall-mounted TV, was chosen to display it like artwork on an easel.
Moreover, The Frame is designed with the latest anti-reflective matte screen design, so even if it's placed near a window, the direct sunlight won't interfere with your viewing experience. Alternatively, you can choose famous paintings from museums and galleries around the world to display on the screen when you're not using the TV with the built-in Art Store mode.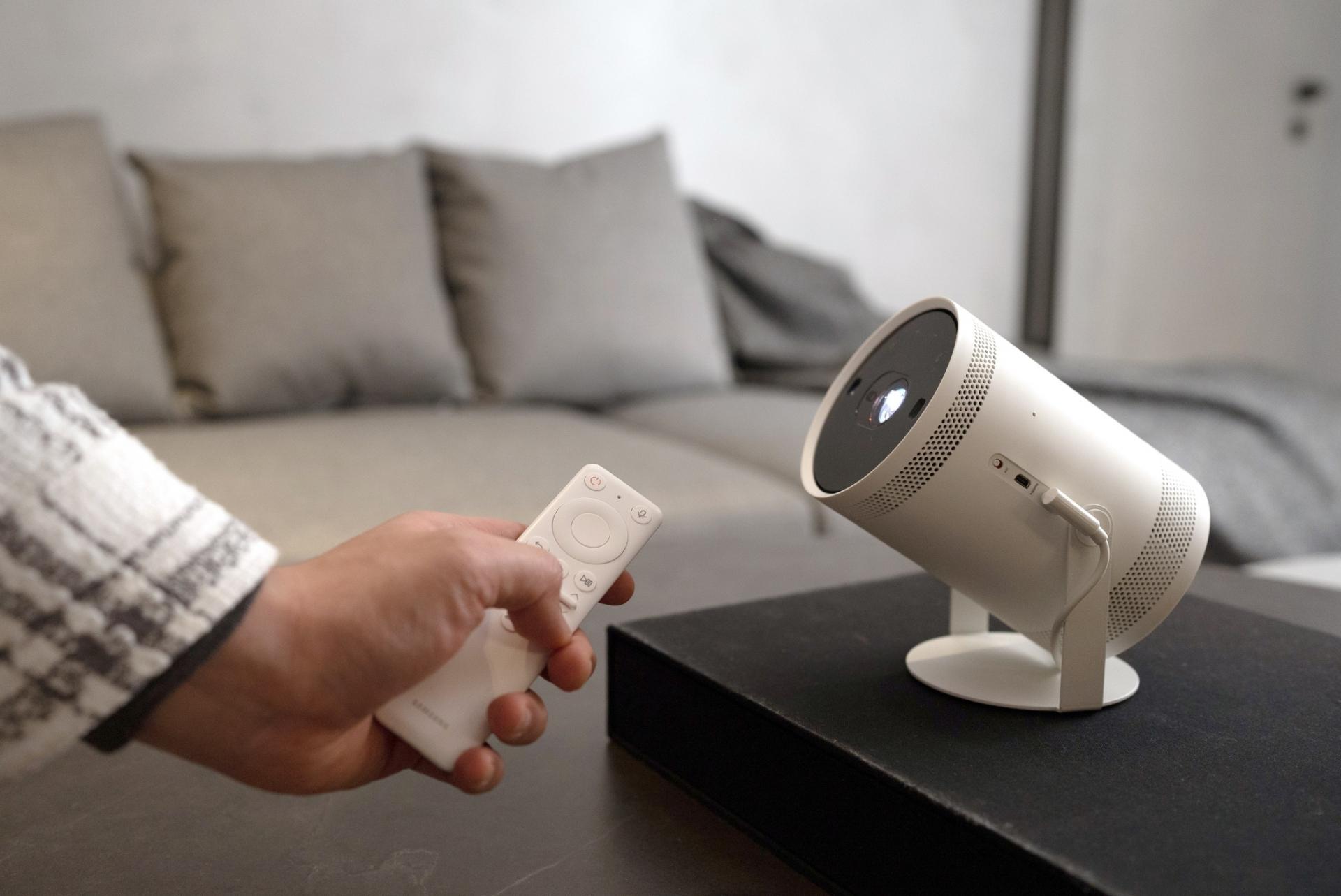 Living room/roof pairing: The Freestyle All-in-One entertainment for every occasion
This duplex apartment with a rooftop was designed for the purpose of hosting friends. So, the designers recommended a Samsung The Freestyle entertainment device, which can project images up to 100 inches.
The Freestyle comes with a white cylindrical design that fits perfectly into any space. Because of its compact size and multiple auto-adjustment features, this projector allows you to project the best image quality on any surface – including wall or ceiling.
Rather than using a projection screen for watching movies or games with friends in the living room, the homeowner can use the simple, elegant walls or ceiling as a projection screen. The device is a portable device that combines projector functionality, Smart TV features, ambient lighting and smart speaker. It's multipurpose and easy to operate.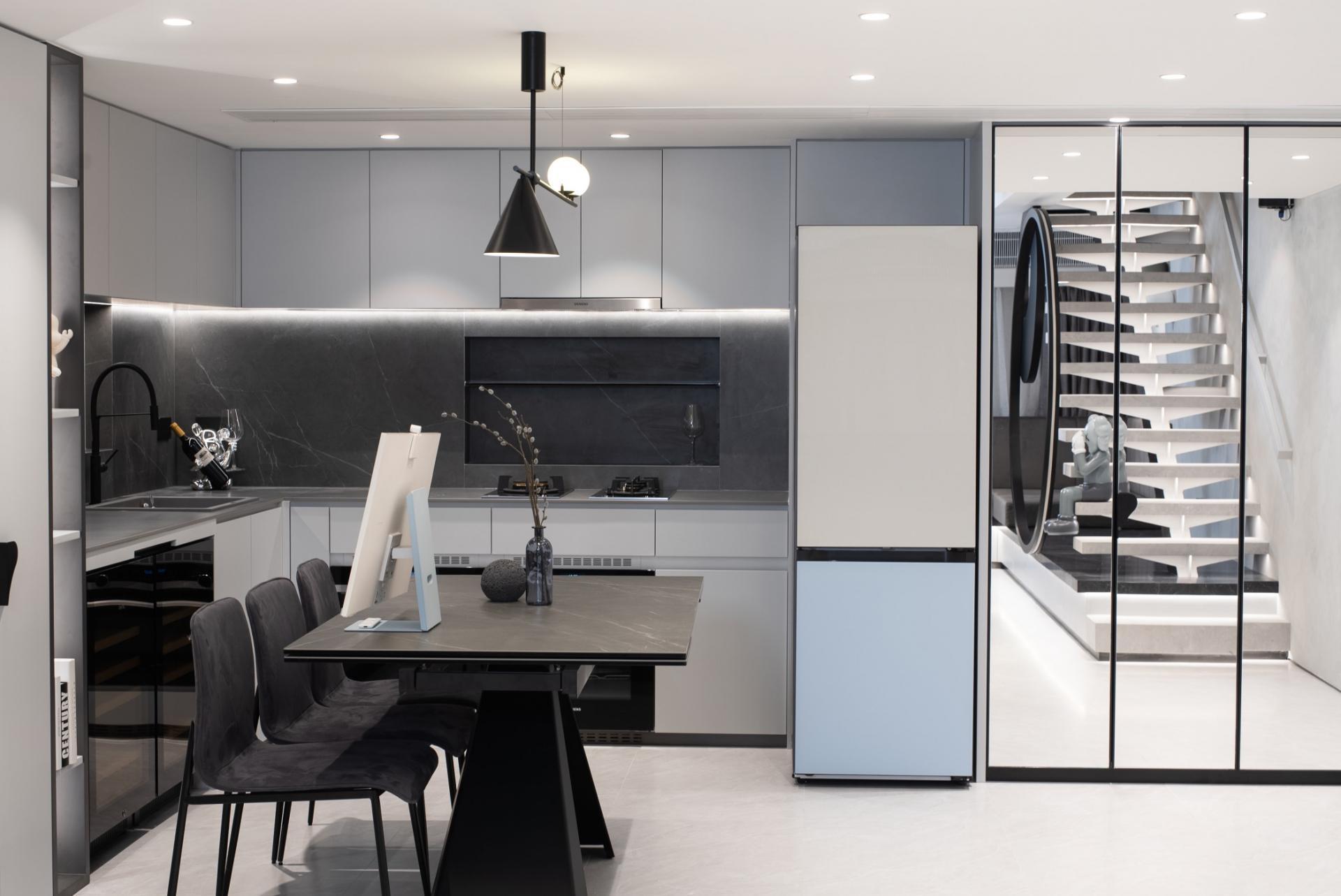 Kitchen pairing: A multicoloured BESPOKE Refrigerator brings life to the kitchen
With open kitchens rising in popularity, our expert designers recommend choosing a refrigerator with customizable panels. You can make sure the refrigerator complements the kitchen furniture by taking the time to select panels that match your aesthetics.
The glass panels on the Samsung BESPOKE Refrigerator series come in four stylish colours that are sure to match any decor: glam navy, clean white, clean peach, and satin sky blue.
It is worth mentioning that in addition to the colours, the series also offers a variety of options as to what glass material to use. These options include the soft and smooth satin glass, the luxuriously high gloss glam glass, and the clear and translucent clean glass. And the best part of this is that all of these materials are smooth and easy to care for.
Its stylish appearance isn't the only reason to choose the Samsung BESPOKE Refrigerator series. It also comes with the SpaceMaxTM extreme space technology, which allows it to look slimmer and have a much larger storage capacity. You can also choose between a two-door or single-door refrigerator depending on your grocery storage needs.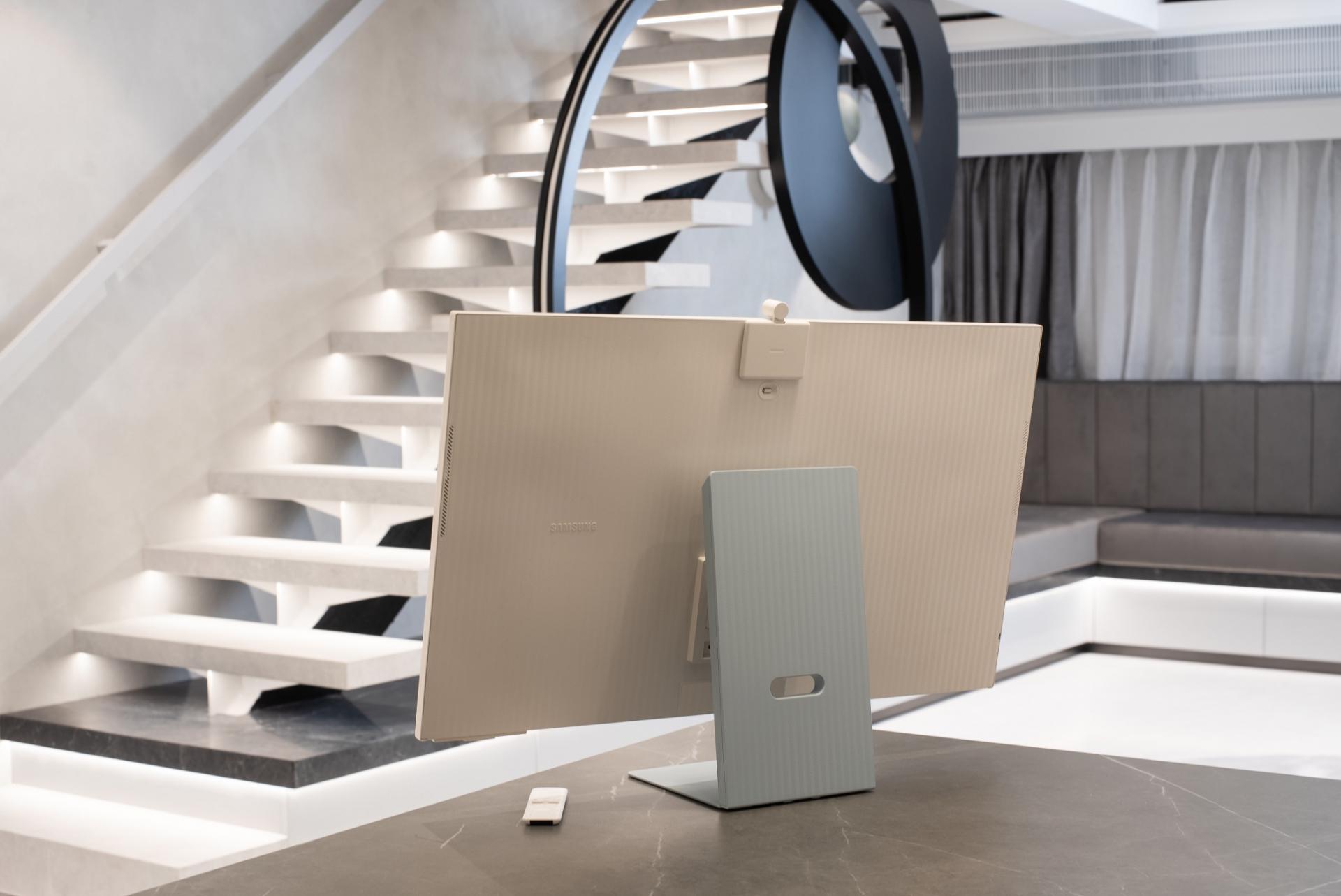 Workspace pairing: Switch between work and entertainment anytime with M8's next-generation smart display
Rather than creating a separate office space, the designers created an open working area in the living room and recommended the ultra-slim flat back Samsung M8 Smart Monitor.
Leung says: "This monitor has a slim bezel and is available in four colours. Here, we went with a powder blue body that matches the main colour of the home decoration.
The homeowner can also switch between work and entertainment by using the Smart TV mode to watch streaming content, TV shows and movies.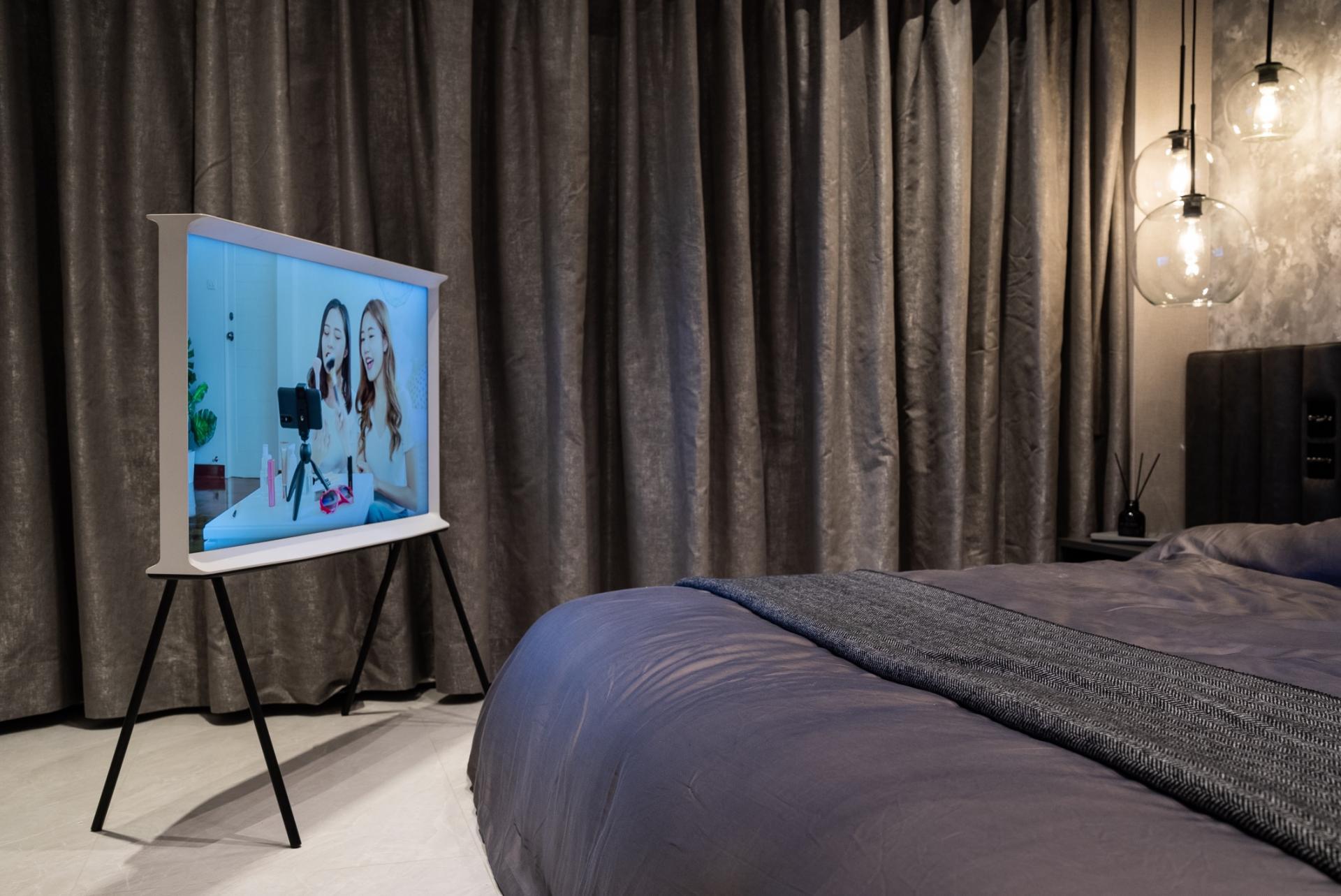 Bedroom/Side hall pairing: The Serif designed by renowned French furniture designers
Featuring mood lighting, a stylish decor, and the Samsung The Serif TV – designed by the design industry's big names, the Bouroullec brothers, in collaboration with Samsung – this bedroom is sure to make you feel like you're in a hotel.
The Serif has an iconic I-shaped design and a white back panel that stylishly conceals the wires while adding a touch of sophistication.
The personalised home appliances offering custom colors and mix-and-match materials, not only are you able to enjoy high-quality home entertainment in the comfort of your own home, but you can also showcase your unique tastes and attitudes towards life.

Samsung Hong Kong
Tel: 3698 4698
Website: https://www.samsung.com/hk_en/