Sino Group is a major real estate developer listed in Hong Kong, running a diverse array of investment properties including residential properties, commercial buildings, industrial properties, shopping centers, and hotels. Property portfolio is expanding across the Asia Pacific region including Hong Kong, Mainland China, Singapore, and Australia. One of their reputable brands, SINO SUITES, offers a collection of comfortable boutique residences with modern interior design and top-notch facilities, ensuring residents enjoy a comfortable and convenient living experience.
1. The Staunton: A Modern Serviced Apartment for Professionals
With 57 chic residential units, The Staunton is a modern serviced residence designed for young professionals and senior executives. There is ample natural light in all units, and the one-bedroom apartments feature floor-to-ceiling windows that offer breathtaking views of SoHo. The Staunton units offer stunning, unobstructed views. All units have essential amenities, including a convenient two-in-one washer and dryer. As well as housekeeping services twice a week, the club offers fitness facilities and a charming garden terrace, making it easy to live here. Furthermore, it is just a 10-minute commute from the Central MTR Station, making it an excellent location for commuters. Located in the bustling heart of SoHo, this residence offers easy access to an array of dining and entertainment venues.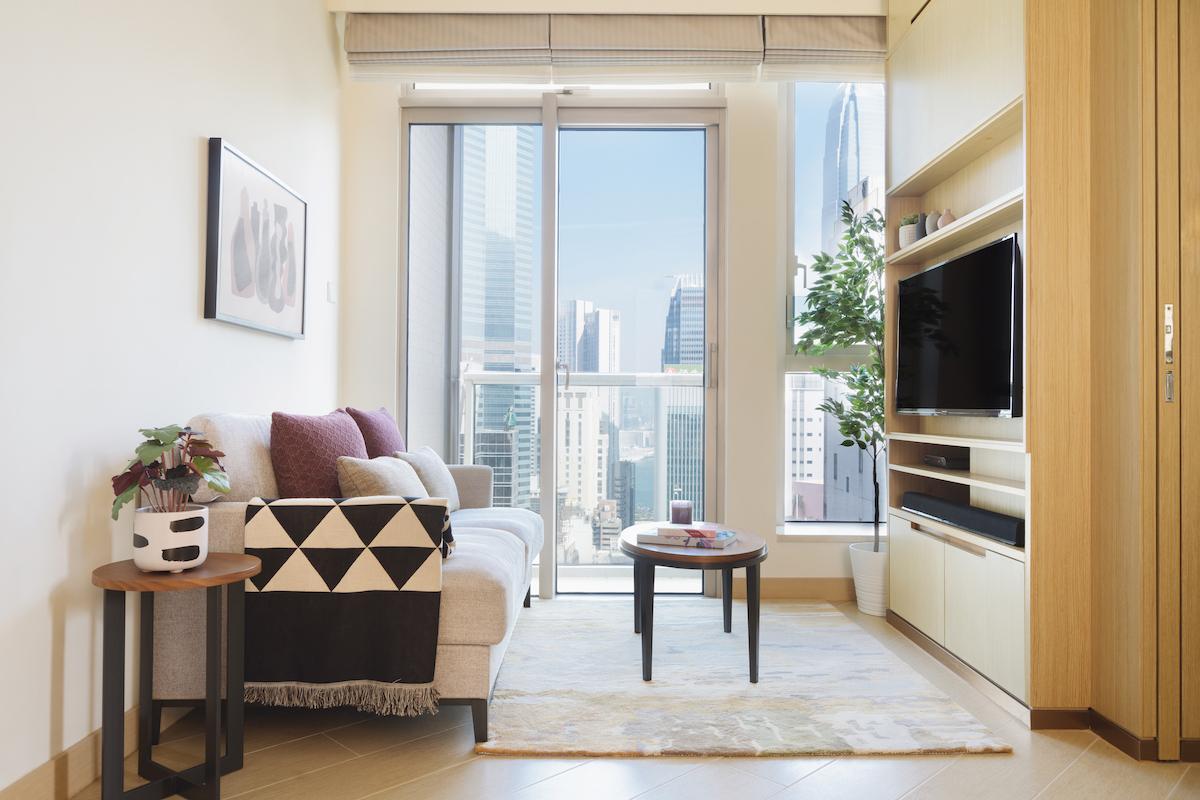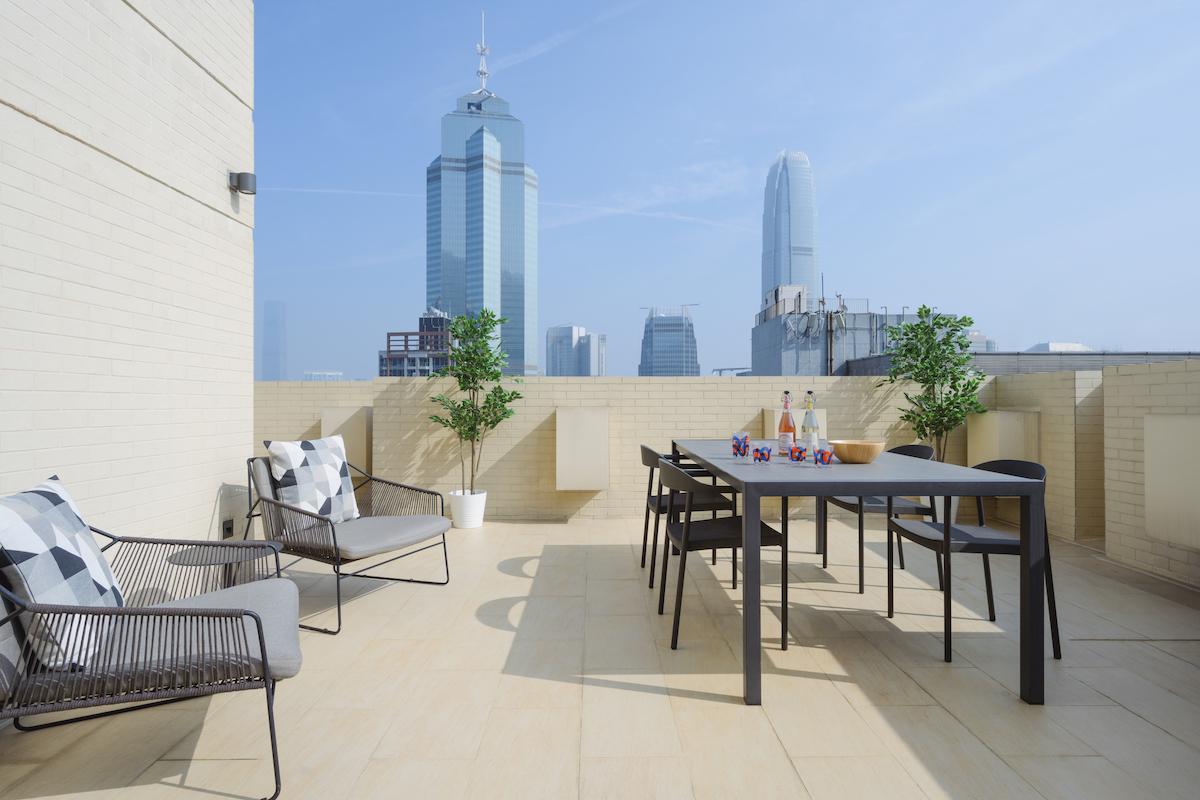 Address: 22 Staunton Street, Central, Hong Kong
2. The Johnston Suites: Experience the Hustle and Bustle of City Life in Wan Chai
Located in the heart of Wan Chai on Johnston Road, the Johnston Suites boast 87 contemporary living spaces near top-notch dining, shopping and leisure facilities. Plus, with a tram station right outside and the Wan Chai MTR station and bus stops only a few minutes walk away, transportation is extremely convenient. Every suite is completely furnished and have all the essential amenities you need, including a living room, dining room, kitchen and bedroom with plenty of storage. Furthermore, residents are welcome to enjoy the rooftop terrace and fitness centre. The Johnson Suites also provides housekeeping services twice a week and frequent bed linen changes.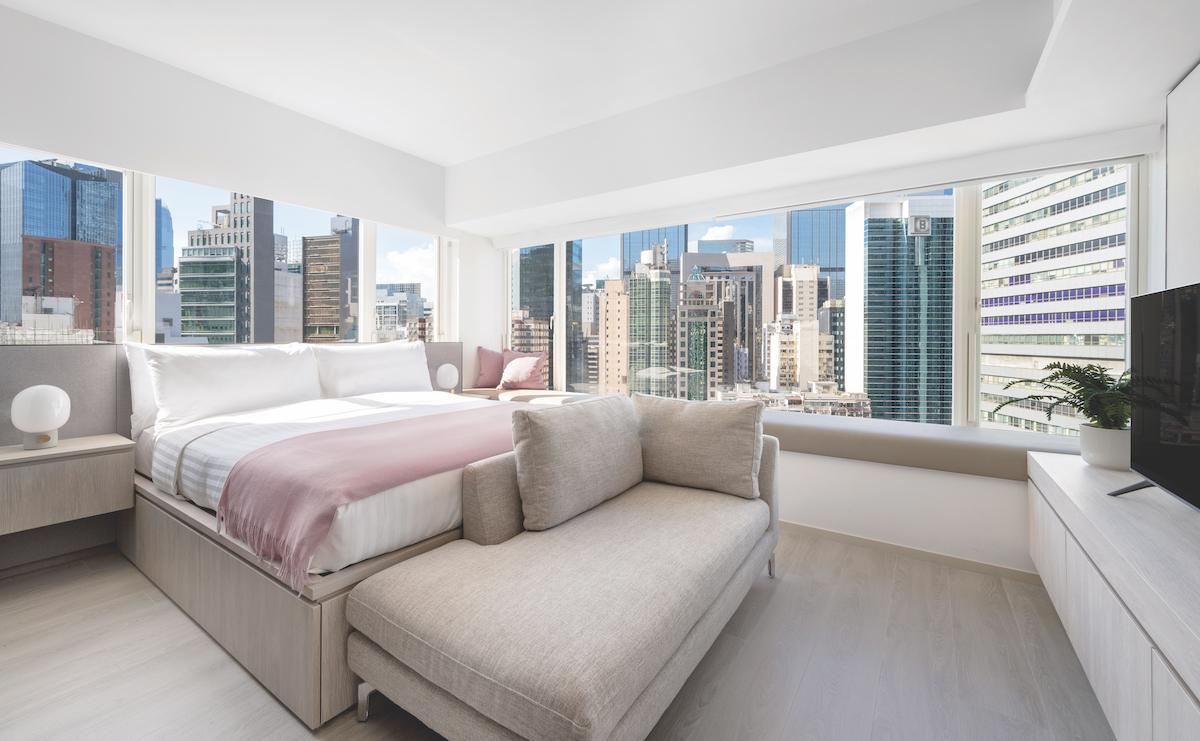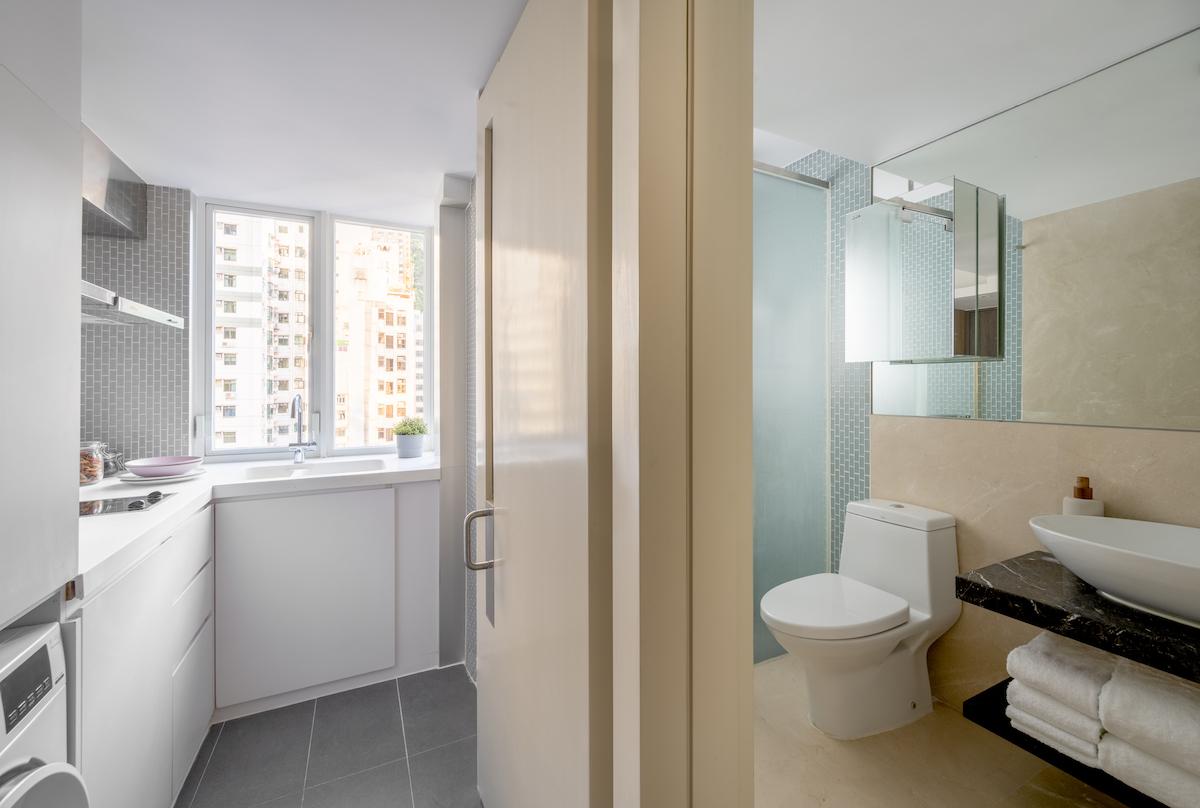 Address: 74-80 Johnston Road, Wan Chai, Hong Kong
3. The Camphora: The Intersection of Fashion and Culture
The Camphora sits at the intersection between fashion and culture in Tsim Sha Tsui, located next to cultural heritage sites and busy shopping spots such as the Canton Road shopping district, Kowloon Park and Tsim Sha Tsui MTR station. The building houses 24 open-plan residential units, all offerung private terraces with breathtaking views from the second floor upwards. The interiors boast a spacious and eco-friendly design that incorporates traditional elements for a timeless aesthetic. The bathrooms and closed kitchen are stocked with electrical appliances. Club amenities include a fitness centre and terrace, as well as a reading room with complimentary coffee and tea. Two times a week, housekeeping services, including changing bed linen, are provided.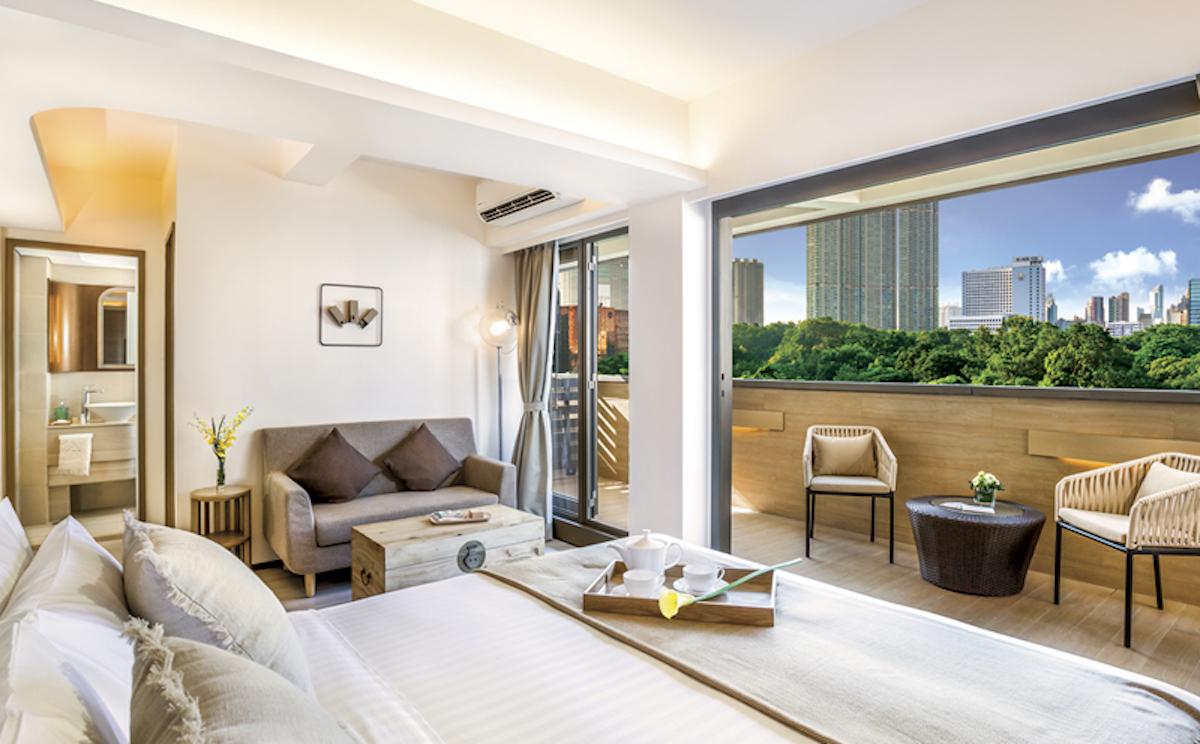 Address: 51-52 Haiphong Road, Tsim Sha Tsui, Kowloon
4. The Humphreys: Mastering the Pulse of Urban Fashion
The Humphreys is located near both the MTR station and the eastern tourist and commercial district of Tsim Sha Tsui. The building is close to trendy restaurants, bars, and shopping malls, making it easy for guests to experience the vibrant pulse of Asia's thriving metropolis. The property features 20 elegantly designed residential units consisting of three open-plan units, one-bedroom units and two-bedroom units. Majority of the open-plan units, as well as some one- and two-bedroom units, come with terraces that provide a relaxing outdoor space. The two-bedroom units have a convertible bedroom that can function as a study, and all units come equipped with a fully functional open-plan kitchen and a sofa bed in the living area. The property also provides housekeeping services like bed linen changes twice a week. The cherry on top? The Humphreys is only a one-minute walk from Tsim Sha Tsui MTR station!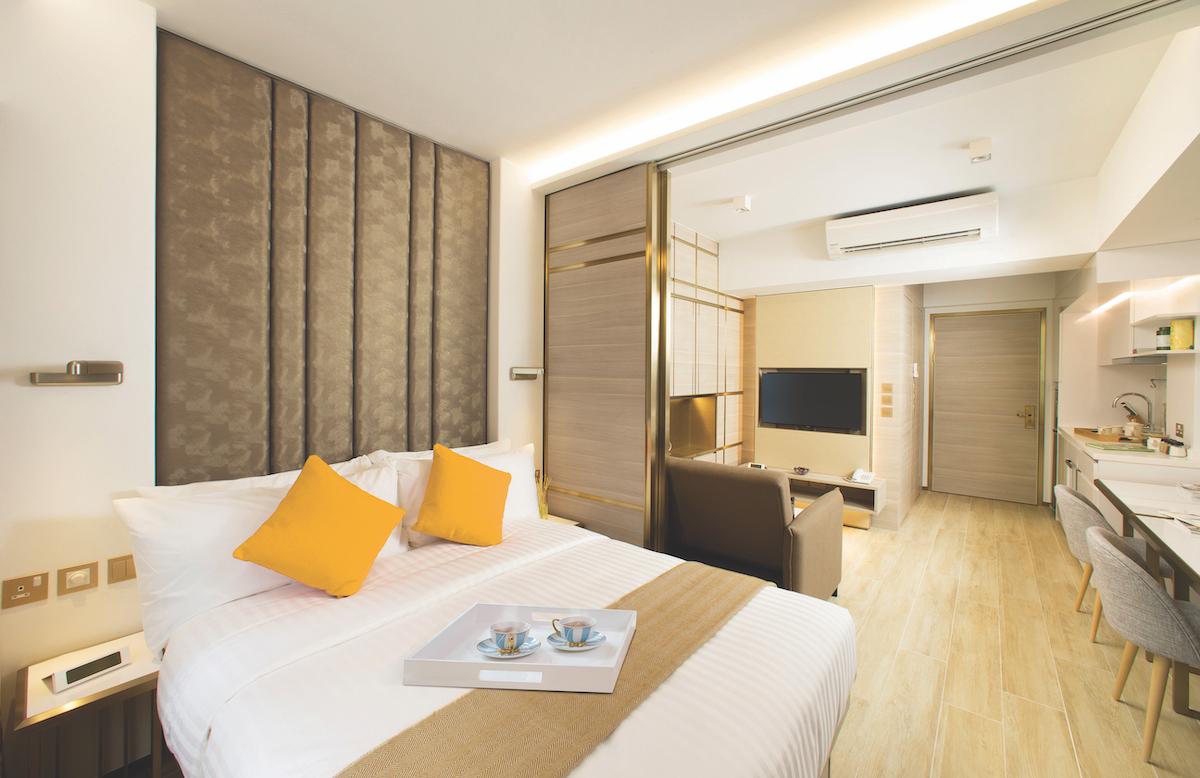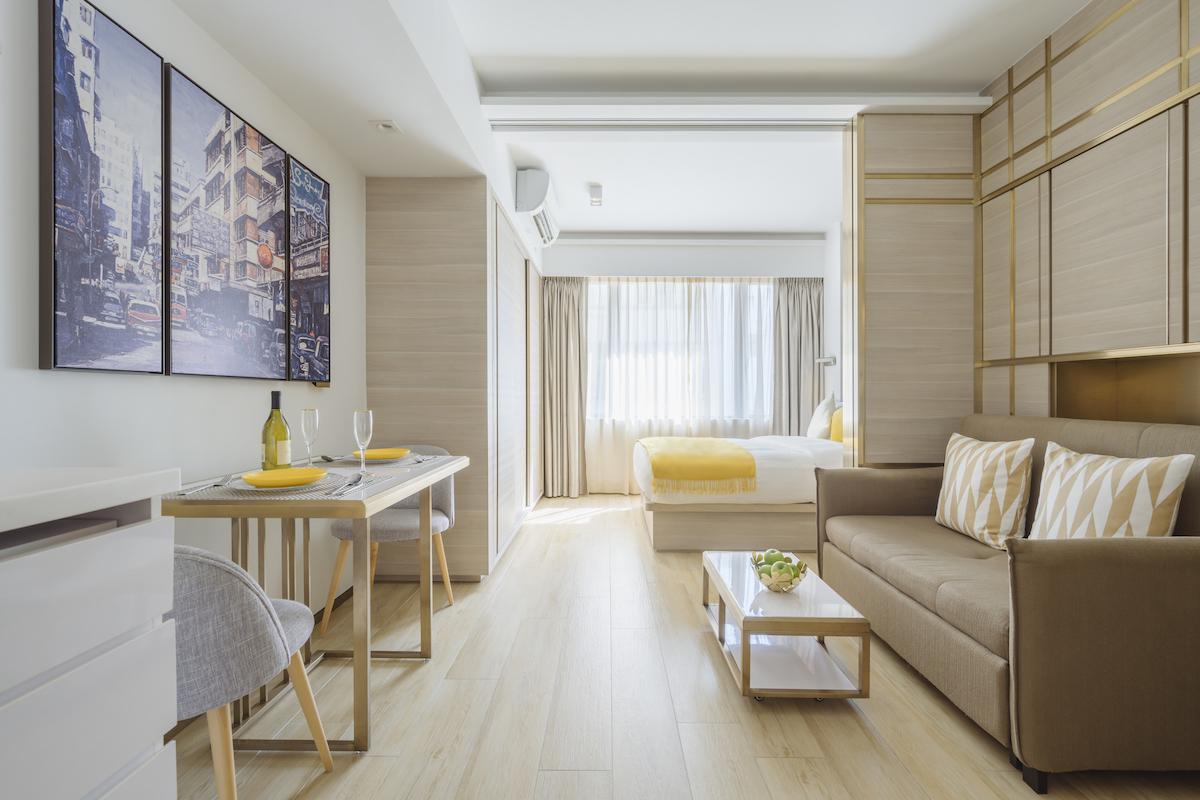 Address: 6-6A Humphreys Avenue, Tsim Sha Tsui, Kowloon
5. The Hillside: A Secluded Gem Near Admiralty and Wan Chai
The Hillside sits in a prime location adjacent to the bustling city centre of Wan Chai, complete with MTR stations and transportation options just a few steps away. Guests can easily navigate between the commercial and retail districts of Admiralty and Wan Chai, along with trendy shops, restaurants, and lifestyle hotspots. Choose from 22 elegantly designed residential units, each featuring private terraces, spacious living areas, bedrooms, and well-appointed bathrooms and kitchens. The kitchen maximises space with innovative features such as adjustable table surfaces, movable drawer combinations, and flexible L-shaped corner cabinets. Sleep comfortably on a hydraulic bed frame with a high-quality mattress and ample storage space for a relaxing stay.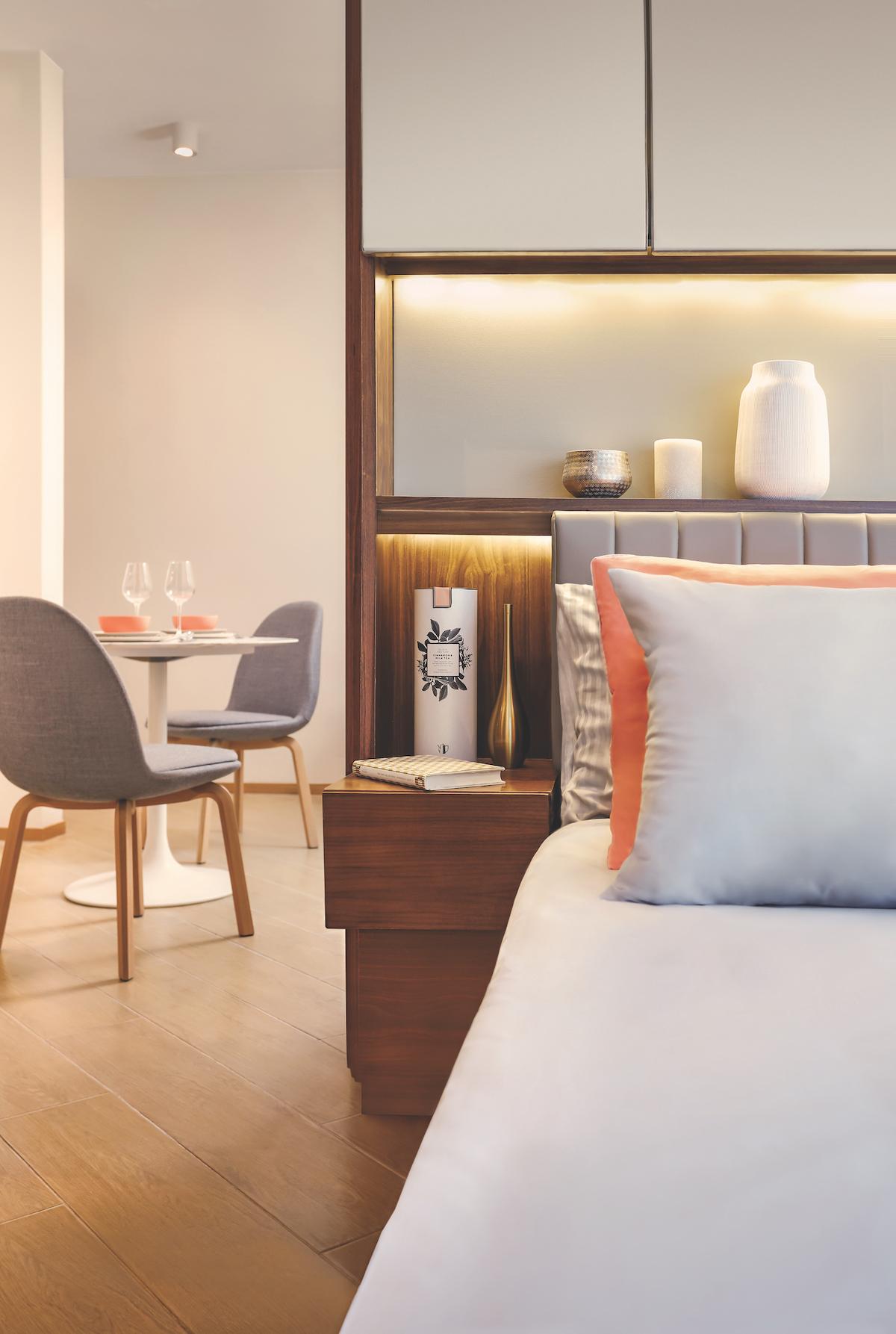 Address: 9 Sik On Street, Wan Chai, Hong Kong
6. The Ventris: Luxury Lifestyle with Maximum Privacy
As one of Happy Valley's most prestigious addresses, The Ventris is close to the upscale Causeway Bay shopping and dining hotspots, and is well-connected to the public transportation system. Guests can choose between eight one-bedroom units and a two-bedroom duplex unit at The Ventris. One-bedroom units are furnished with high-end furniture and appliances, and the duplex unit on the top floor has a rooftop terrace. The one-lift-one-unit design ensures privacy for guests. In each residential unit, there is a spacious bedroom with a walk-in wardrobe, a fully equipped kitchen with a connecting terrace, a refrigerator, an oven, a gas stove, an electric kettle, a toaster and a washing machine.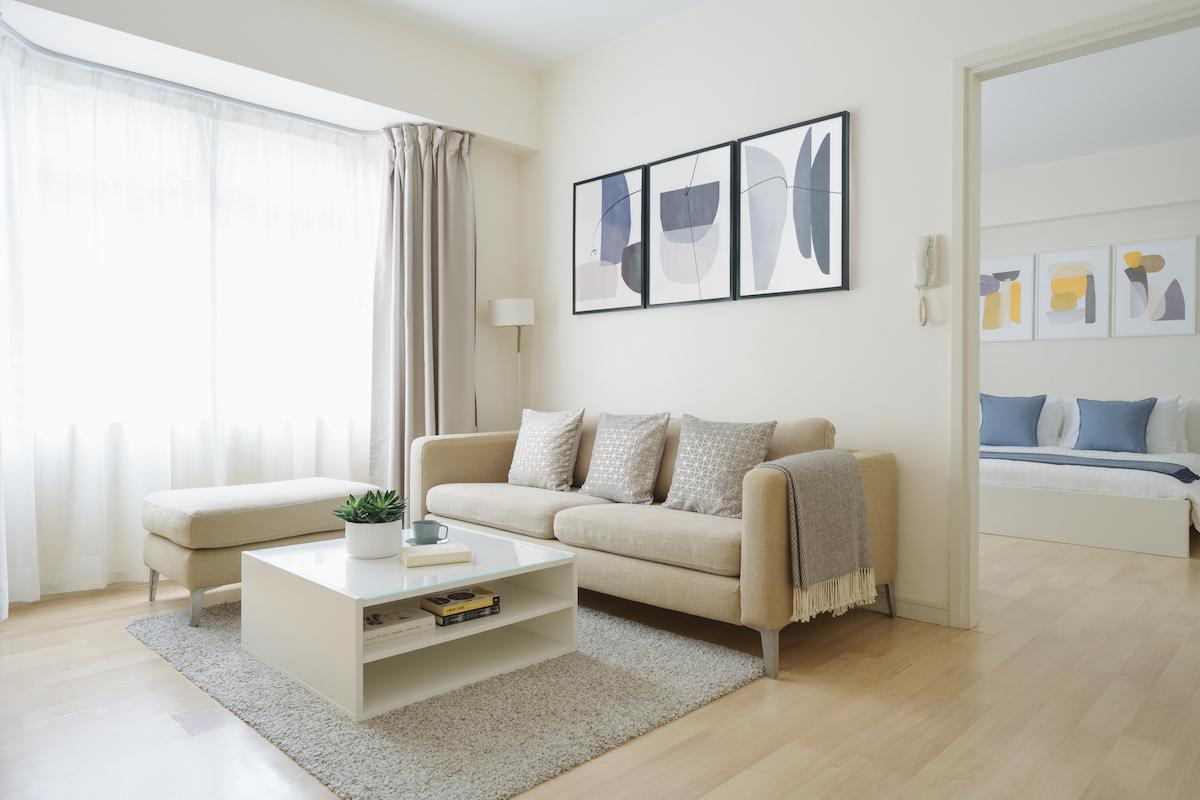 Address: 20 Ventris Road, Happy Valley, Hong Kong
7. The Gage: Stylish SoHo Apartments
Located in a quiet pocket of the vibrant SoHo area in Central, The Gage is an old Hong Kong tenement building (tong lau) renovated into chic residences, with select units offering panoramic views of the city skyline, complete with private balconies. These modern homes are designed with open floor plans, spacious living areas, and walk-in closets in the bedroom. Kitchens and bathrooms are equipped with stoves, range hoods, refrigerators, microwaves, and washer/dryers.With the Central to Midlevels escalator system, guests can easily reach the Central MTR station, tram and bus stops, and even the Central ferry piers, allowing easy access to dining, leisure, and commercial hubs throughout Hong Kong.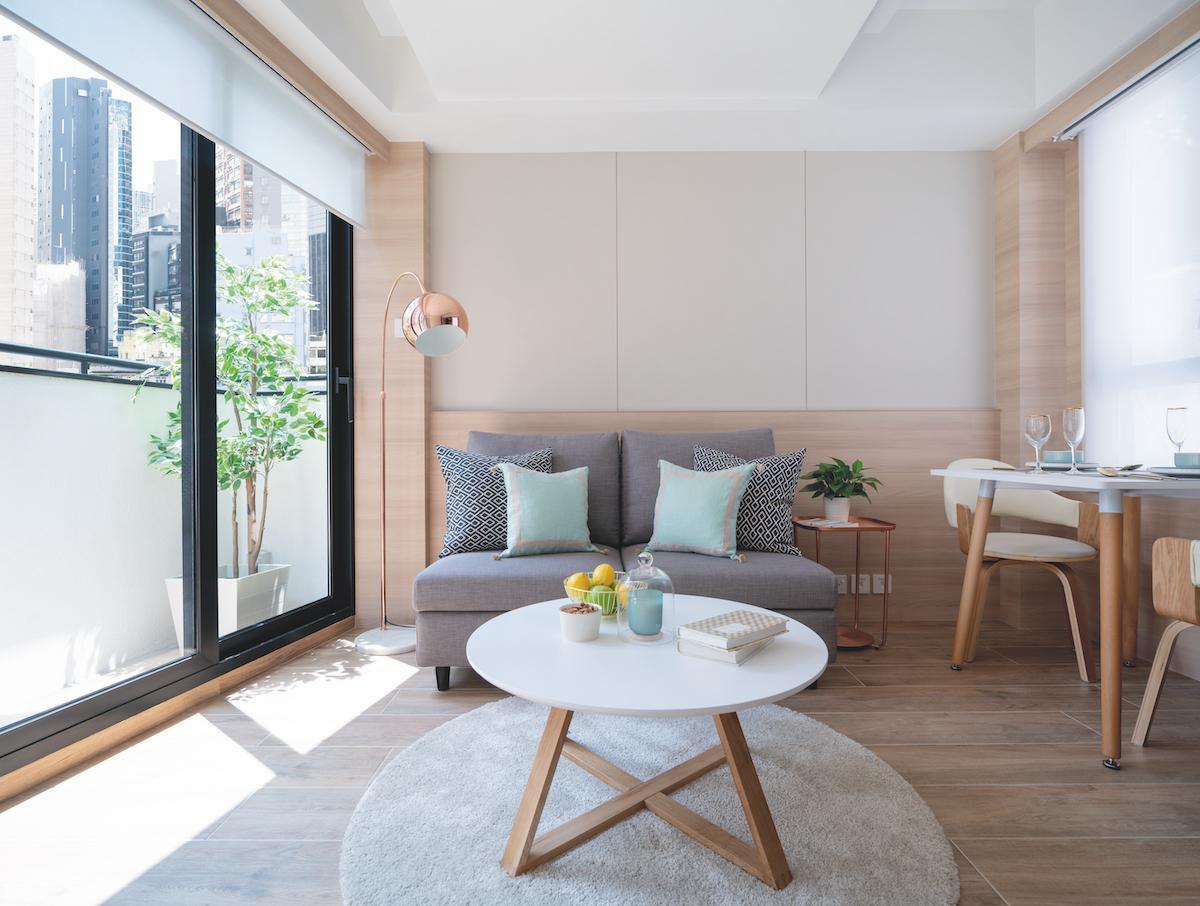 Address: 36 Gage Street, Hong Kong
Follow Home Journal Facebook, Instagram, YouTube and subscribe to our Newsletter.