As our 'coronacation' continues, you probably need an escape from the city by now, a proper holiday to bask on a beach, to wander through nature, to escape to new surroundings… Perhaps the next best thing for the coffee addicts among is to discover and retreat to a new breed of coffee bars.
Our city has a flourishing and increasingly diverse coffee scene, with an extensive, (and sometimes somewhat mind-boggling) range of choice for our caffeine fix. Not only has the coffee itself improved immensely in recent years, the locations where we sip this magic brew has also dramatically evolved. As connoisseurs all know, it's not only the coffee that's important, it's the whole experience that counts and that starts well before the first sip, however you take your java.
Hong Kong's vibrant coffee culture seems to have no bounds. There appear to be new openings daily with cafes taking all forms - from the chic and sleek hipster hangouts to quirky cafes bursting with character. They allow you to escape life for a moment, to recharge and re-energize.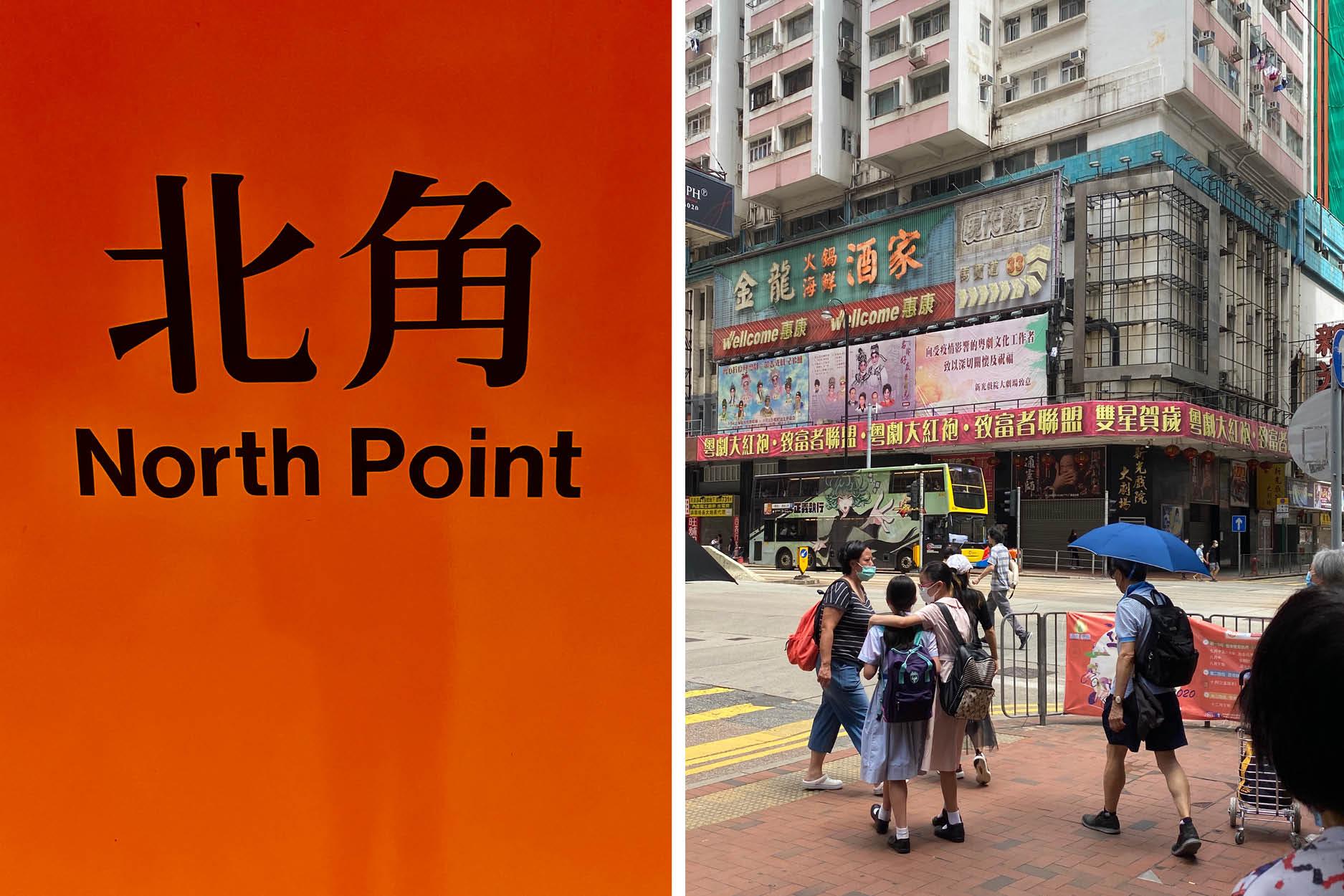 A current favourite of mine is the Artistry Brewing Company (A.B.C.) - a hidden oasis at the back of Kam Ping Street, it's the perfect place to escape and chill out from the hustle and bustle of the city. A.B.C. is a lifestyle cafe specializing in craft coffee and a casual dining destination serving craft beers and cocktails. Set in a secluded and tranquil corner of our bustling city, A.B.C. is for most of us a destination in itself, hidden away in an unassuming alleyway that is actually a bit of a foodie spot in North Point.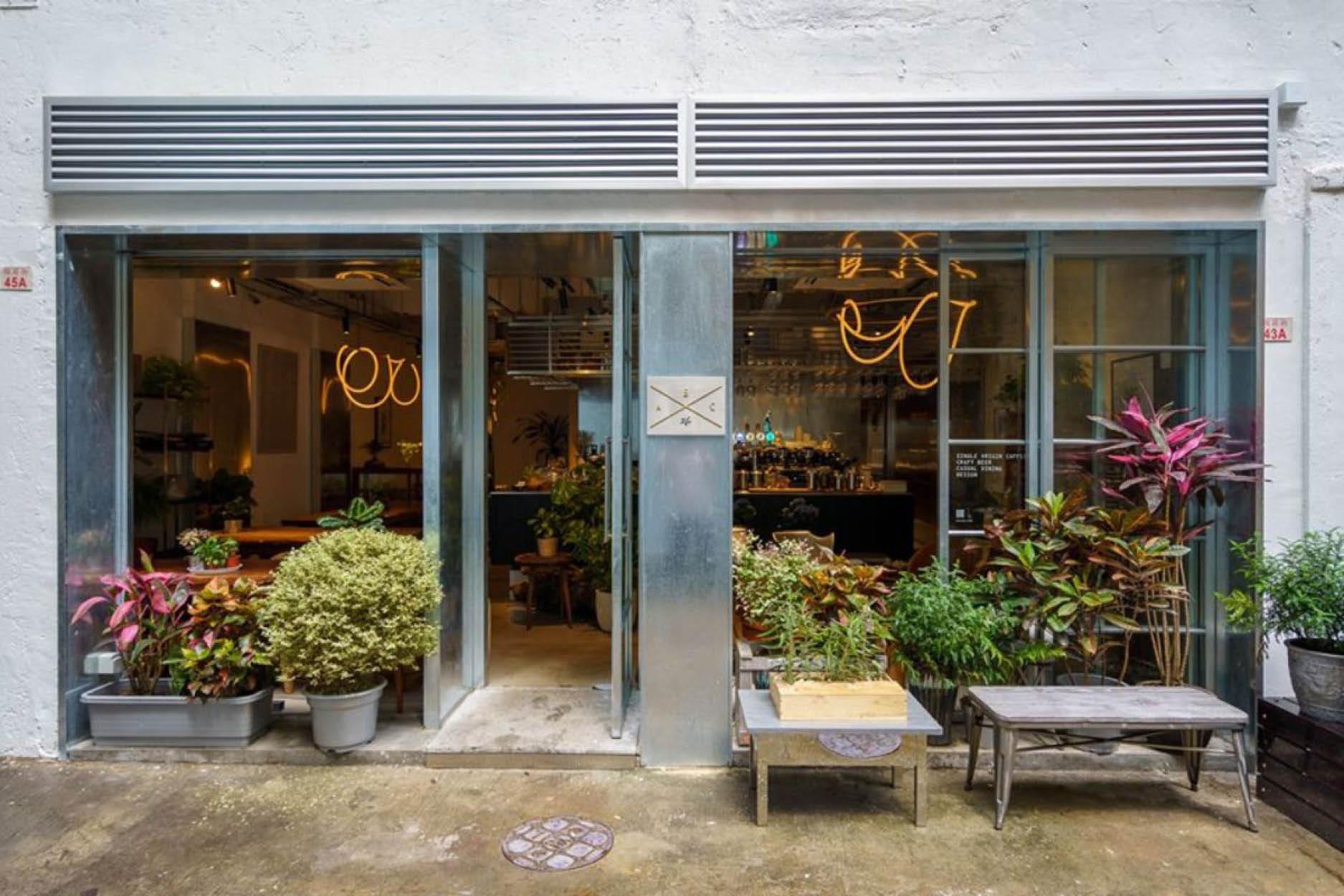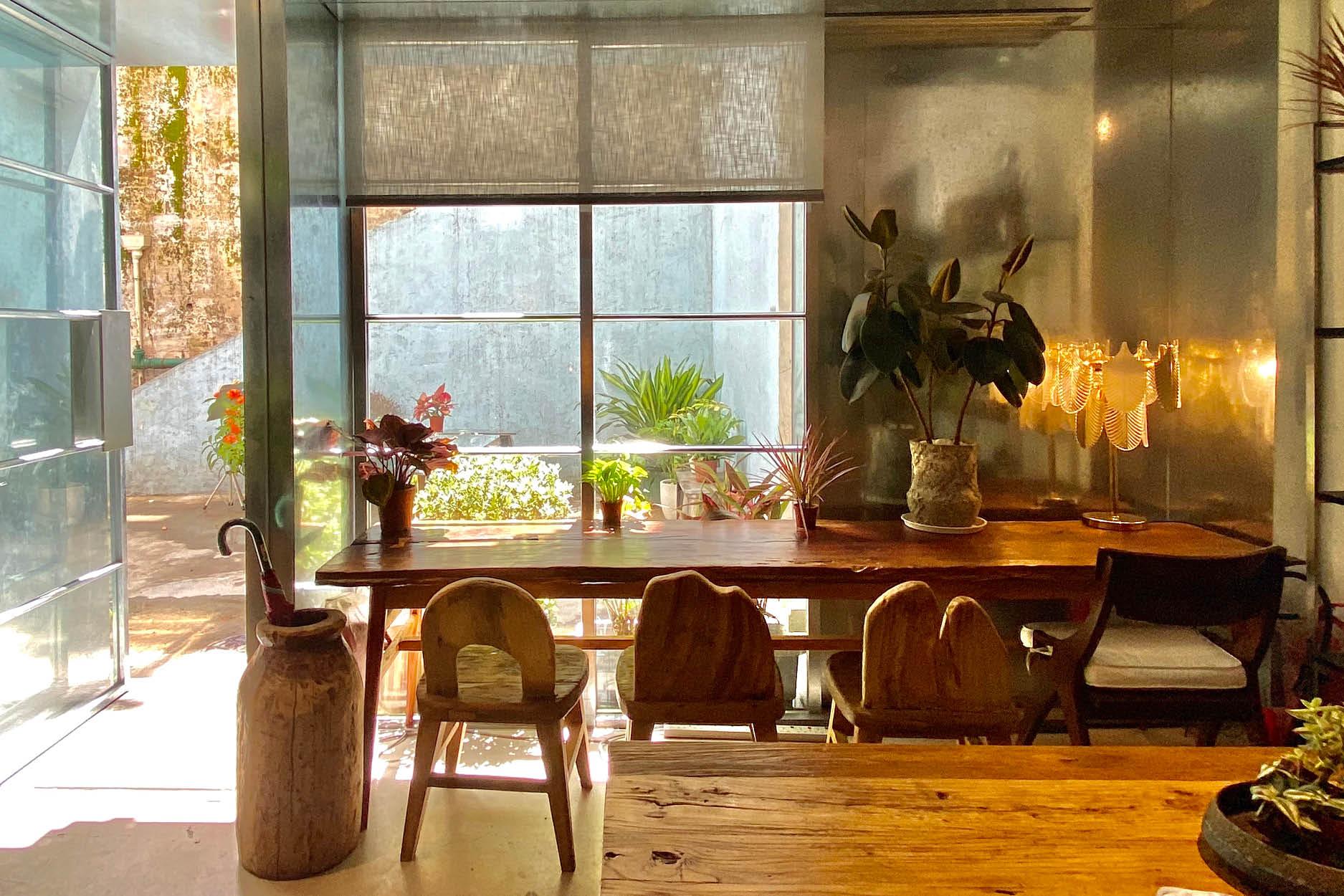 In recent years, gentrification has swooped down on North Point in the form of boutique hotels and luxury micro-apartments sitting adjacent ageing apartment blocks. Still, A.B.C. is an unexpected treasure that is as inviting inside as it is outside. When you initially venture there, you might at first feel a tad hot and frustrated that you didn't better prepare yourself to find the location. Finally, you see a lovely open space to the left of steps up on the right - it looks like someone's private terrace, which is quite charming and unexpected.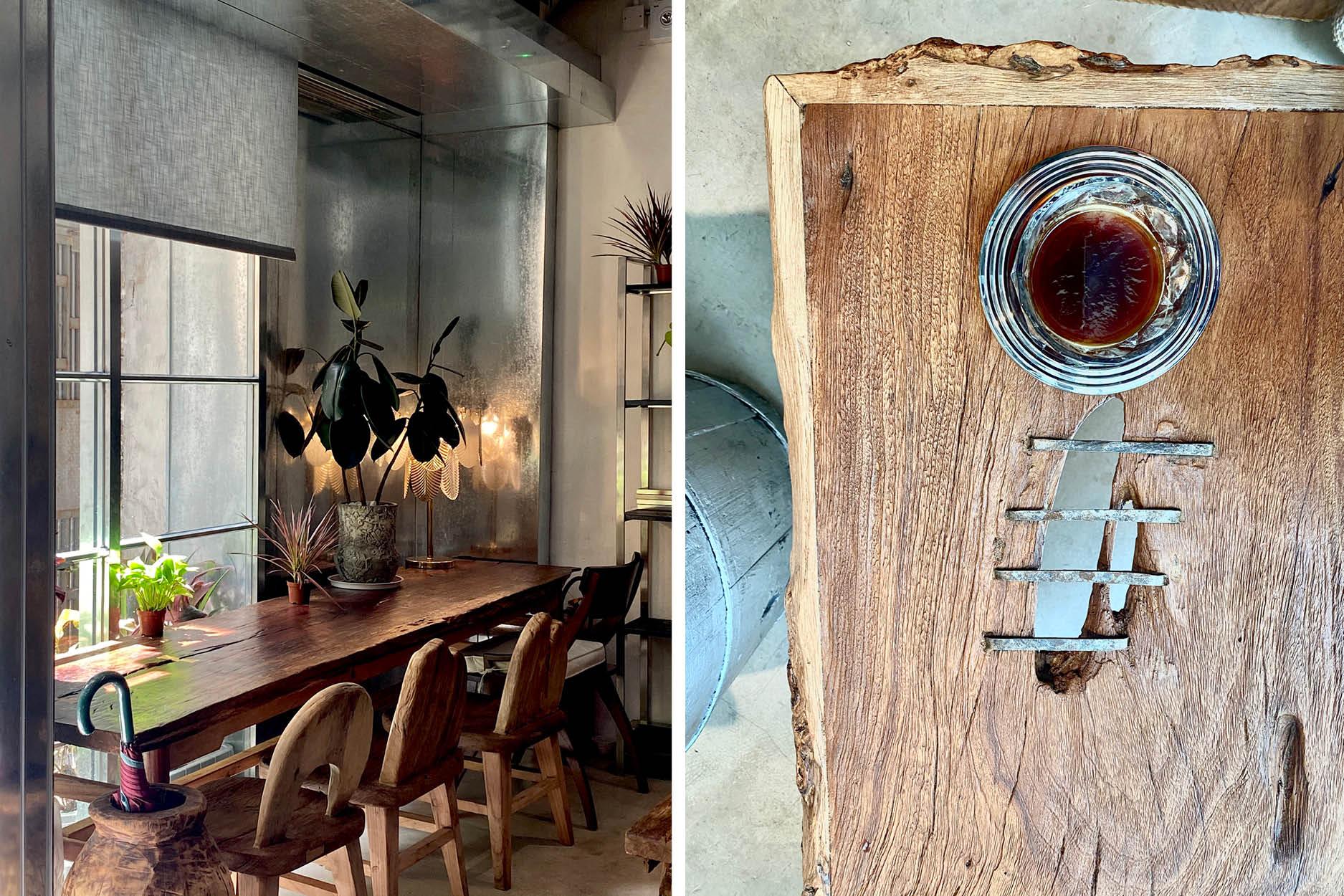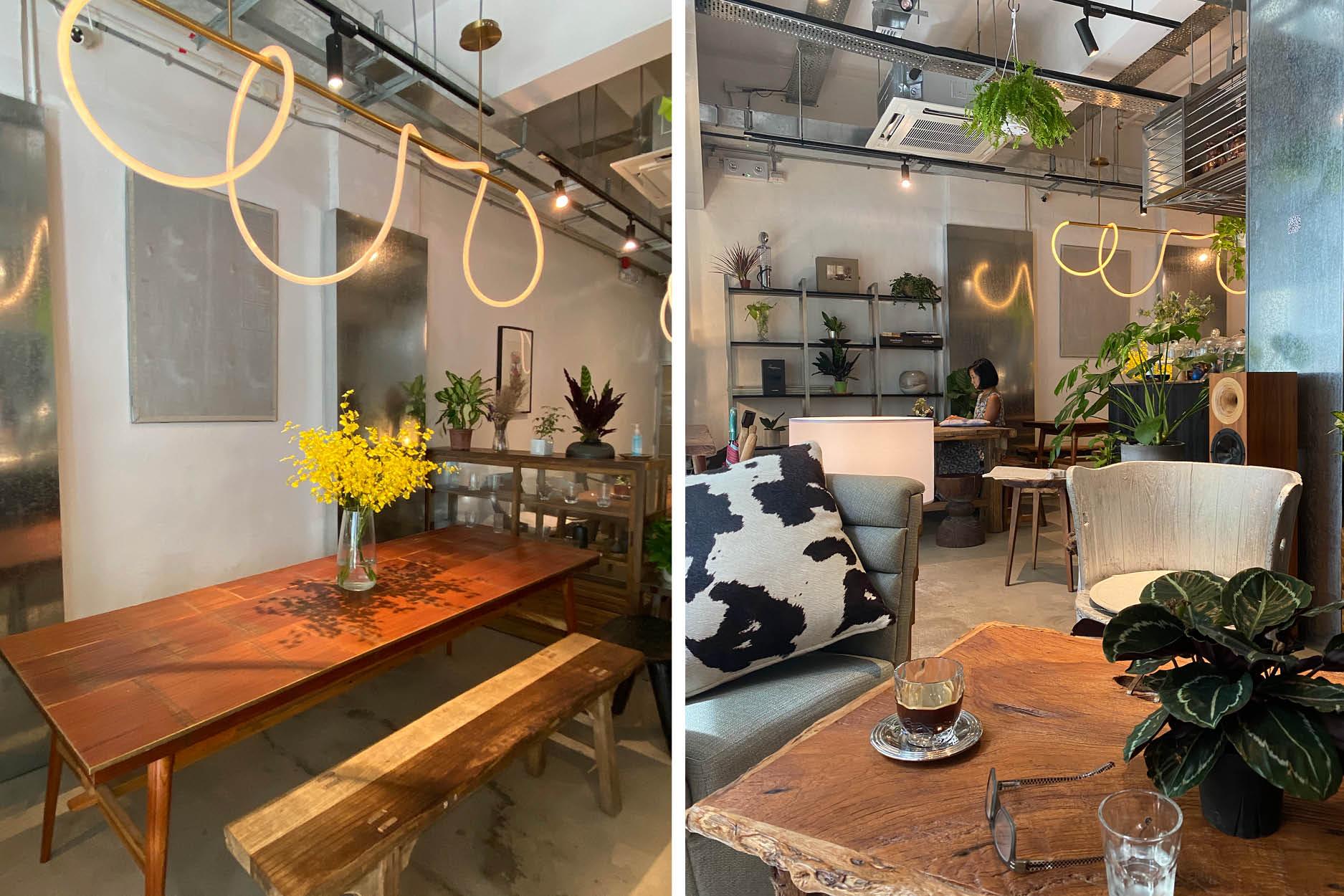 What a welcome sight, and how exciting. I instantly thought to sit outside and take in the quiet tranquility; however, upon entering the cafe, my mind was immediately changed. The interior lures you in. There is so much to see, it's a wonderful open space filled with different seating arrangements, dining tables and chairs, to low seating with coffee tables, and high seating along the window looking out to the terrace, all exuding a very welcoming, homely feeling. There's an uncontrived, homegrown natural aesthetic that is all at once welcoming, inviting you to take a moment to slow down and savour a moment or two.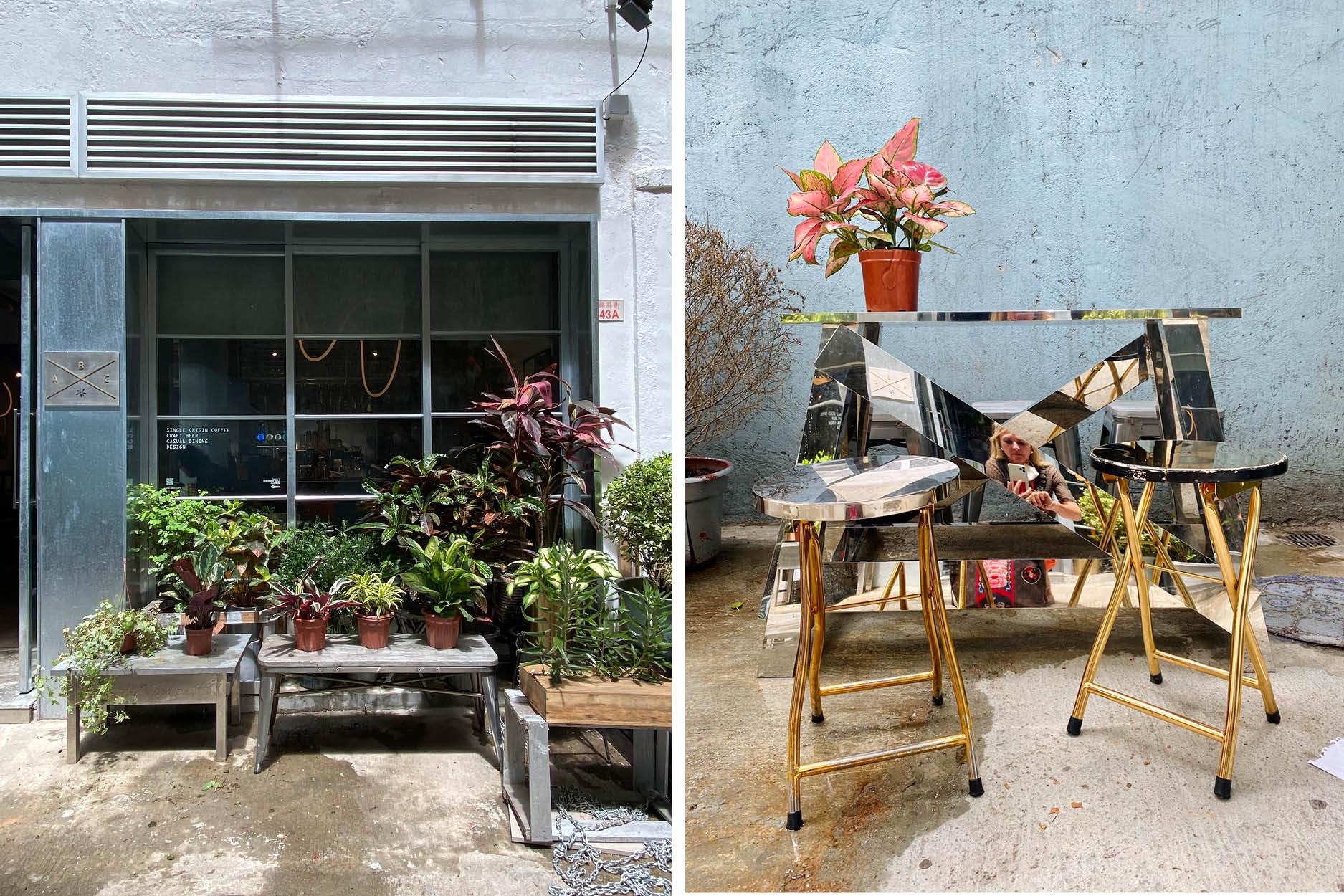 Once you've selected your seating of choice, Barrista Mars will conjure up a magic brew for you in a calm, laid back fashion. Sounds of happy, easy notes play-out from old school Odean floor standing speakers. The mix of furniture includes some unique pieces made with a chain saw giving it ridged gouges that look raw and imperfect.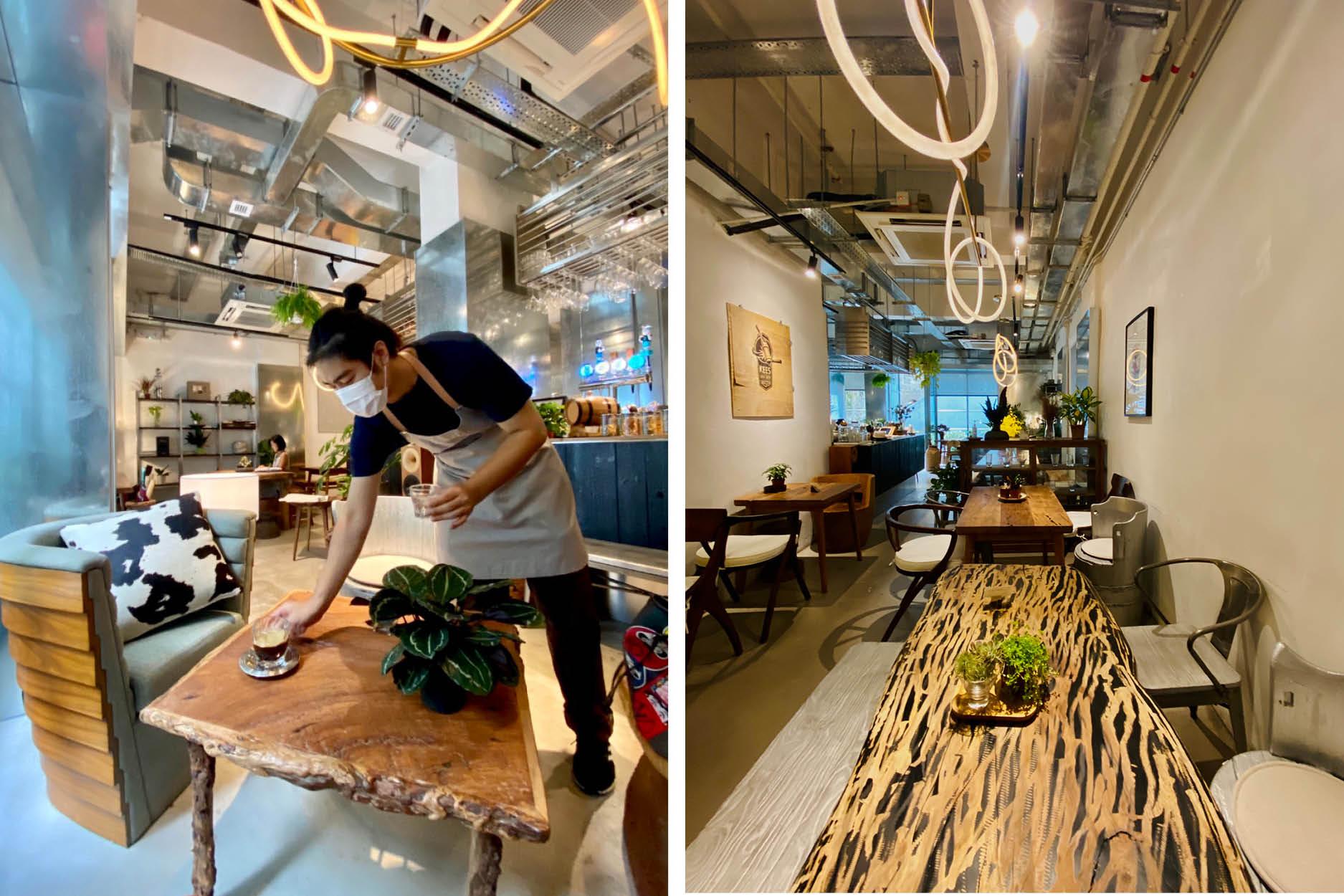 Work began on the design of A.B.C. began in early 2019, with the goal to create a space with sustainability at its heart, that has an old meets new, and a certain rawness that embraces imperfection, yet, sits happily with the more refined. There's an eclectic collection of furniture where each piece has a known provenance and a story. Many of the furnishings are made with recycled wood, collected from old houses in Laos, Vietnam, Malaysia, and China, aligning with their manifesto and passion - 'to continually create experiences and beautiful things for all our patrons'.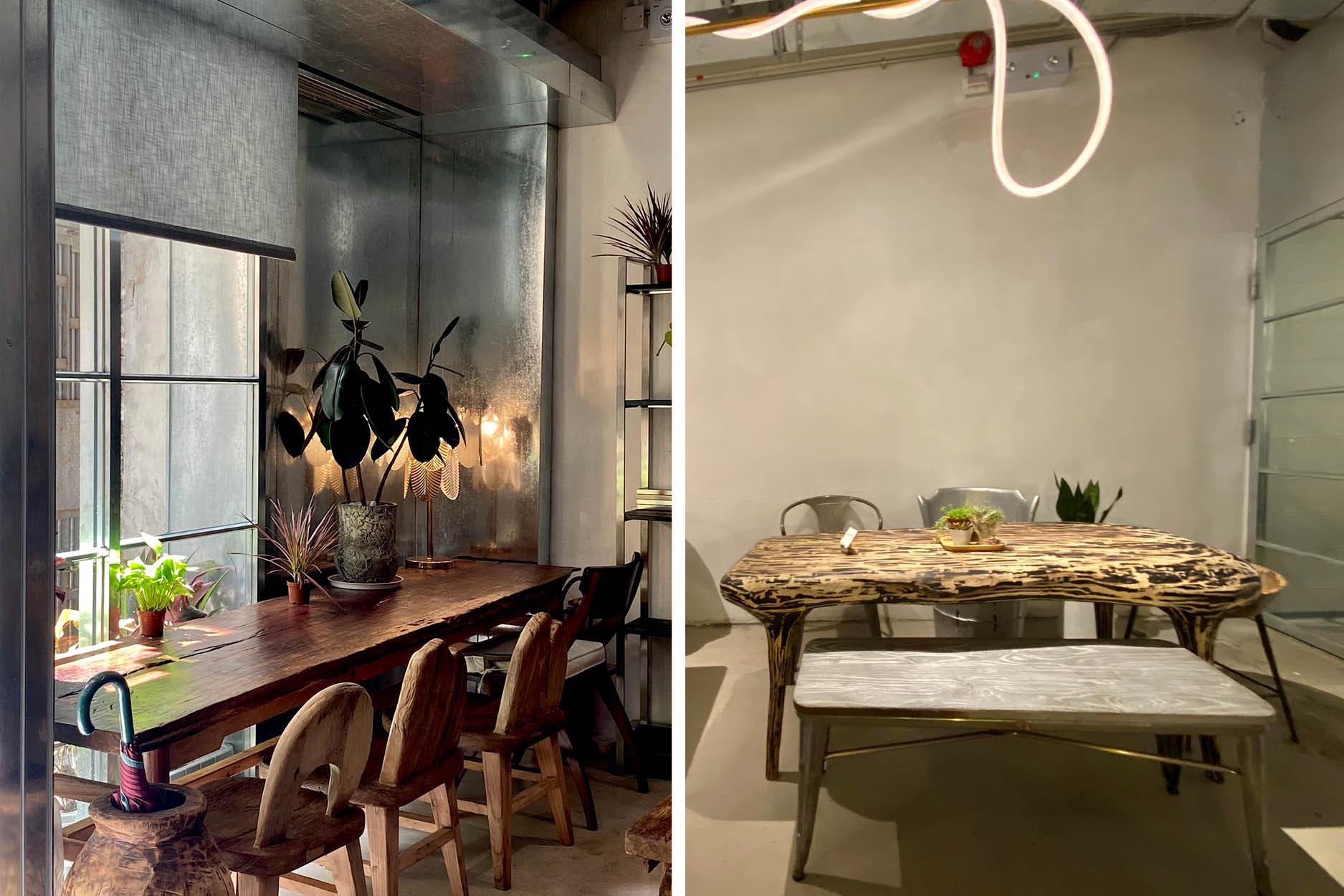 The Goods
The coffees are made with a Spirit, a state-of-the-art espresso maker from the Dutch Company Kees Van Der Western. The house coffee is a long black lightly roasted Ethiopian blend with a big crema, roasted to provide for fruity, berry notes. Plus, there's an extensive selection of Ethiopian and Central America beans, to which more will be added soon. Matcha latte is one of their signature drinks. There's also a selection of tea that includes Pu'er from Yunnan, which has been aged over seven years. A.B.C. fruit tea crush is a tea-based drink with crushed fruit and rose, that can be drunk hot or cold. In terms of craft beers, there's Young Master Ales, and HK Yau Brewery. And as day turns to night, they serve a pretty mean Old Fashioned, and their signature drink - an espresso martini, made with their Ethiopian blended coffee.

Foodie options include Moules-frites, and steak frites with grilled lemon that goes wonderfully with a craft beer or an iced fruit drink. For healthier options, try the anchovy quinoa salad. Follow this with the Basque blueberry cheesecake. The menus change monthly and there's also a Sunday roast. So get on down, you won't be disappointed.
(The left image on website leading collage and Facebook cover photo courtesy of @iamnancylo; All other images courtesy of ACID+ANJI CONNELL IMAGES unless stated otherwise)
***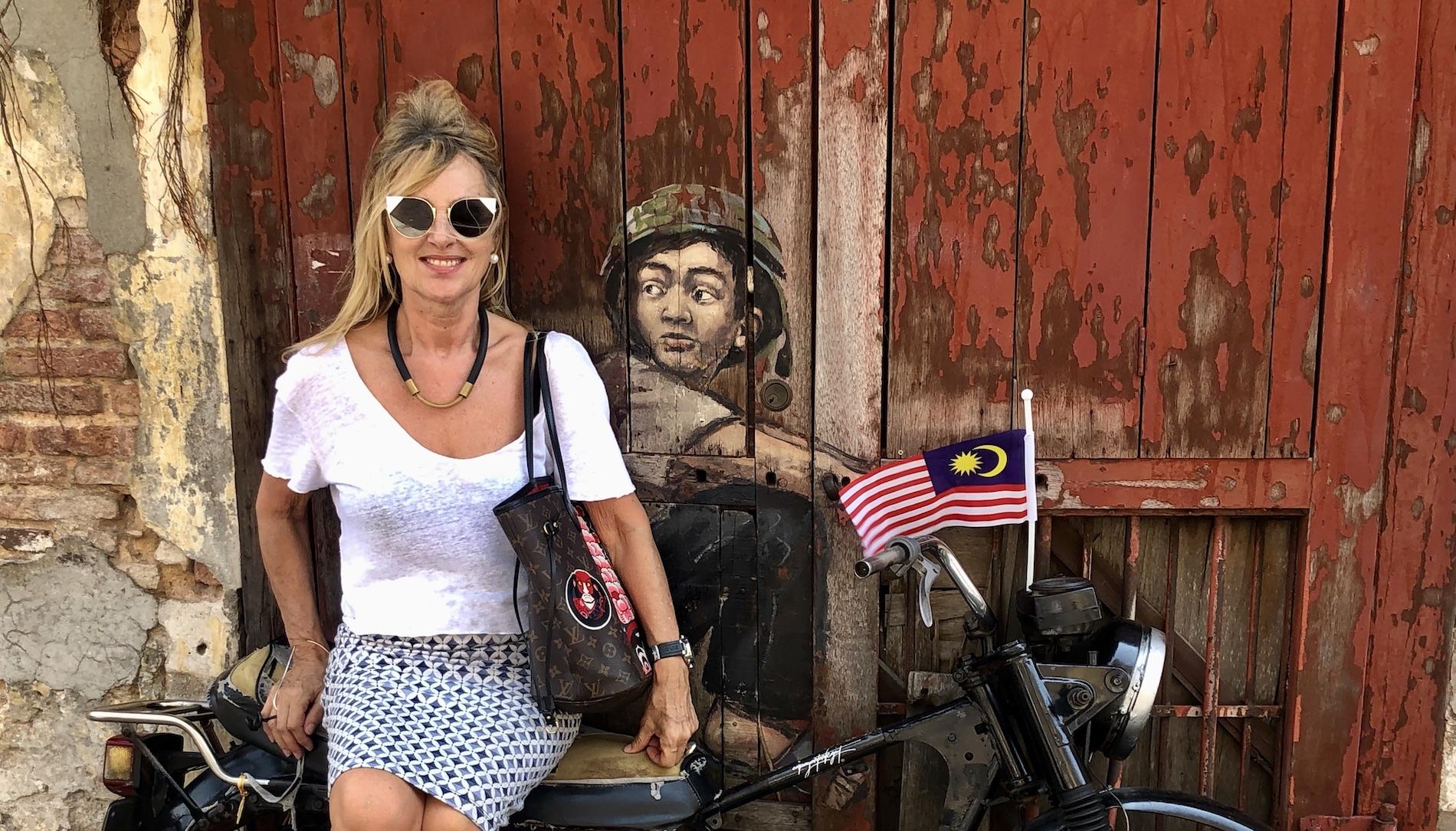 Anji Connell is an interior architect, garden designer and self-proclaimed nomad who regularly writes about art, design, lifestyle and travel from her globe-trotting adventures. Known for her bubbly persona and even more exuberant sense of style, Anji's portfolio spans everything from interior styling to furniture and landscape design for some of the world's most beautiful spaces. For now, you will find her @anjiconnell_acidplus and anjiconnellinteriordesign.com bingeing on future travel plans from her designer chair.