These days, it seems like gentrification and graffiti go hand in hand, so it's no surprise that Hong Kong's trendiest neighbourhood is also one of its biggest treasure troves of street art. Sheung Wan not only draws out the best and brightest of Hong Kong's home-grown scene, it's also a popular stop for artists visiting from overseas. Many of the neighbourhood's murals were produced by HK Walls, an annual festival that finds friendly business owners who are willing to let street artists take over their exterior walls. As HK Walls prepares for its latest edition, which will be held from March 21-27 in Sham Shui Po, we ask founder Jason Dembski to shine the Krylon-spattered spotlight and take us around the best street art in this neighbourhood.
La Cabane Wine Cellar, Shin Hing Street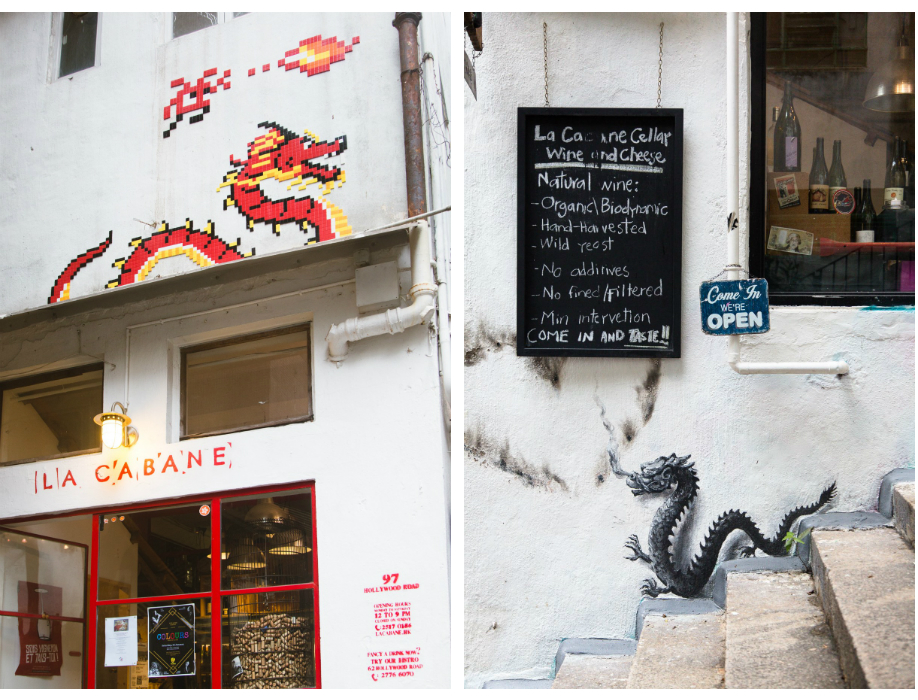 Works by three European street artists adorn the side of this popular natural wine shop. La Cabane is an important stop on anyone's tour because its walls are always occupied by high-quality art – and currently by three big international names," says Jason. Philippe Baudelocque's giant owl occupying most of the wall is the first you'll see, but if you look a bit closer, you'll also notice two dragons on the building. The dragon at the bottom of the stairs blowing a heart of smoke is by a Spanish artist named Pejac." Another dragon above the entranceway is the work of one of street art's most globally recognised names – Invader, who uses mosaic tiles to create pixellated images reminiscent of eight-bit video games.
Aberdeen Street above Staunton Street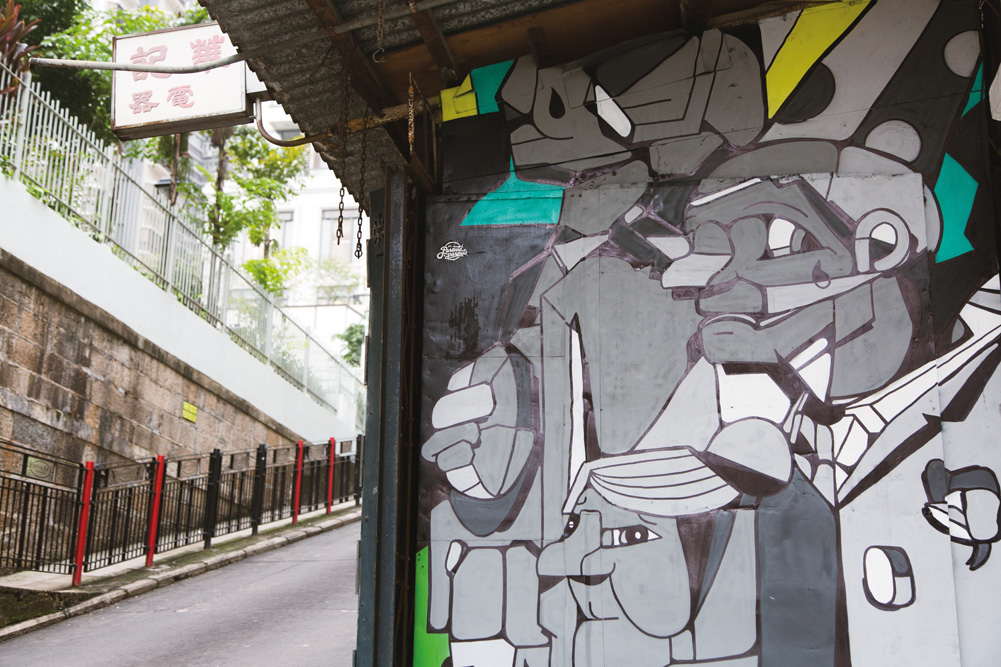 Most of Hong Kong's hawker stalls are painted green for reasons that aren't entirely clear; some vendors say it hides grime better than other colours. But sometimes it's good to shake things up, which is exactly what home-grown street art crew Parent's Parents did with this stall just above Staunton Street, decorating it with a stylised portrait of two world-weary people. It's depicting the common Hong Kong worker doing the same thing over and over to no end," says Jason.
Hollywood Building, Upper Station Street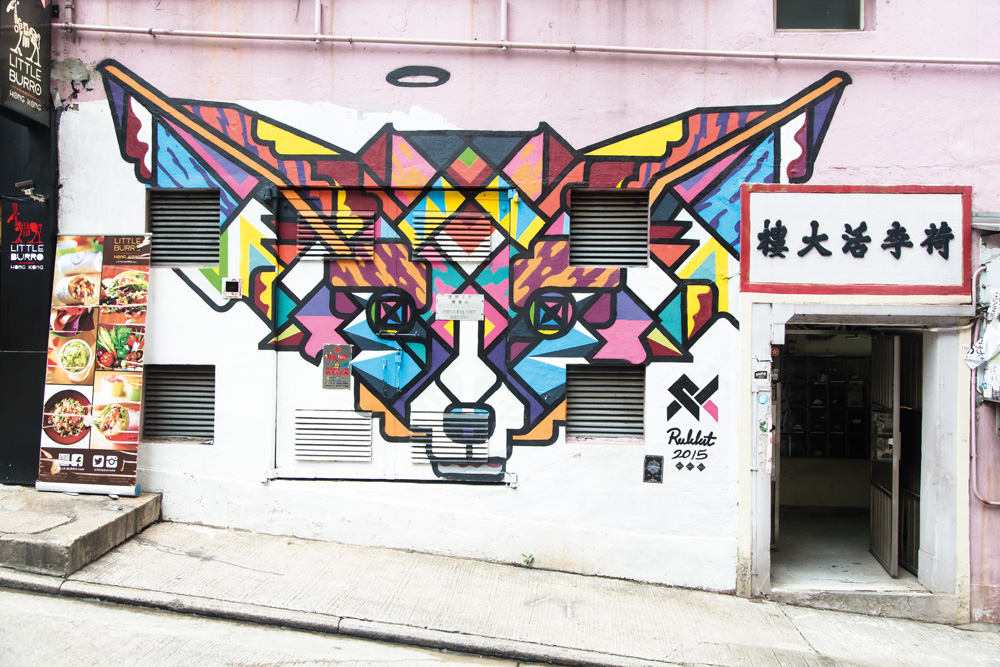 Thai artist Rukkit was responsible for the colourful geometric fox that adorns the utilitarian facade of this typical 1960s apartment building. It combines both freehand and stencilling techniques to precisely collage a range of colourful patterns together to create artwork," says Jason. Aside from graffiti, Rukkit has applied the same strategy to create a massive light installation in Bangkok and a neon deer, which was exhibited in the garden of an upscale Bangkok mall.
51 Gough Street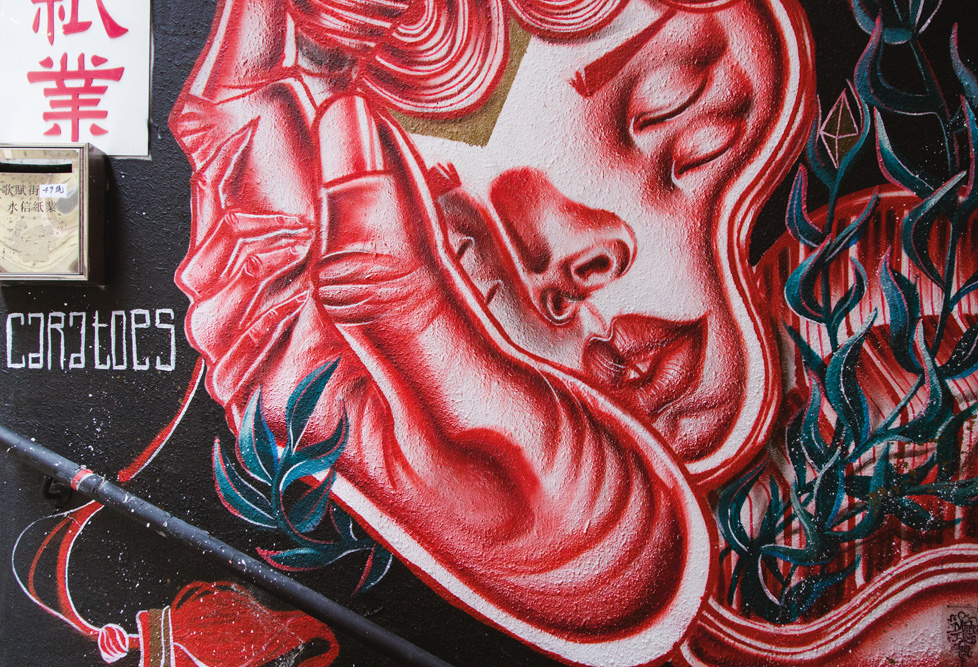 Artist Caratoes may have been born in Belgium, but it was in Hong Kong where she really developed her artistic career. Her peculiar female figures can be seen around the city's alleyways, but Jason thinks the mural she did for Agnès B's Far East, Far West street art exhibition is one of her best yet. It really shows her growth as an artist," he says. Of all her work you can find on the streets of Hong Kong, this piece is the most refined, and one of the only in Hong Kong where she begins to open and dismantle the female figures she paints."
Tank Lane, near Square Street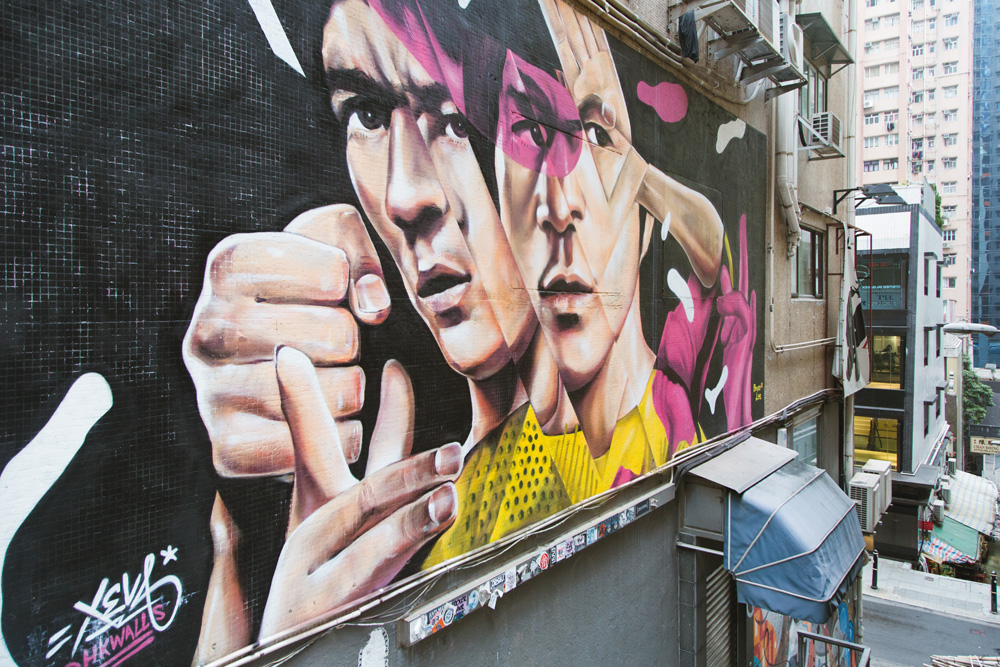 This spot on Tank Lane is a great opportunity to see a diverse selection of top-notch artists," says Jason. There's work from French artist Hopare, US artist Tristan Eaton, Chinese artist Gas and South Korea's Xeva, who painted a mural of Bruce Lee for last year's HK Walls. Jason says he loves Xeva's approach to this mural because of the way he brings a static image to life. By slicing, fragmenting and layering, Xeva almost animates this photo-realistic mural, like frames from a film."

The post Walk this way: street art in Sheung Wan appeared first on Home Journal.