Check out these luxurious wood-panelled spaces.
Warm and inviting, there's something about luxuriously wood-paneled rooms that instantly make one feel cosy and comfortable. Sleek and sumptuous in its finish, wood panelling is also a stunning design statement. With all of the cachet of a cosy cabin, these exceptional buildings also include expansive space for indoor weather activities, whether it be a glass of wine by the fire or a card game.
1. Vandewater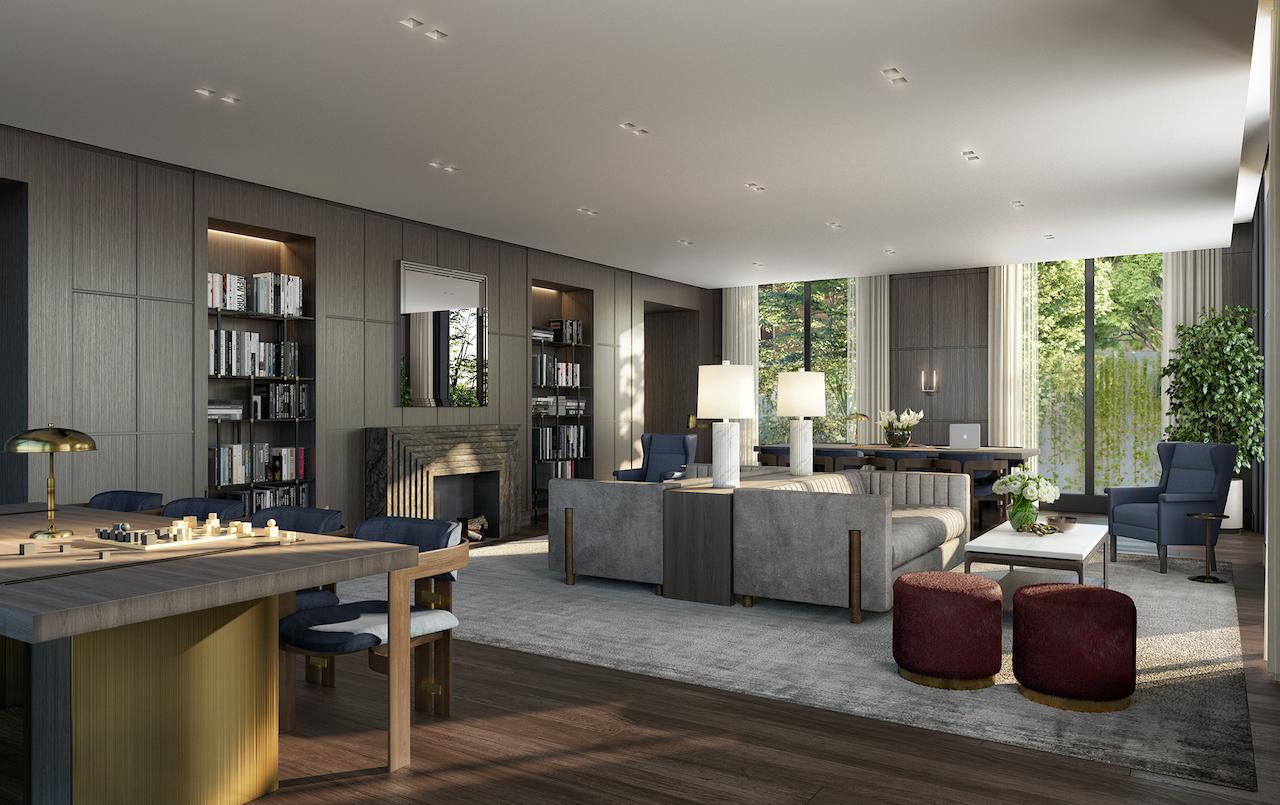 Designed by the celebrated INC Architecture & Design, Vandewater is a fresh representation of the local classical neo-gothic architecture of Morningside Heights. Located in one of New York City's most vibrant and intellectually lively neighbourhoods, the 33-story tower offers residences ranging from studios to four bedrooms.
The building boasts 24,000 square feet of programmed indoor and outdoor space, including a stained white oak-panelled Salon inspired by the connection to the academic and literary legacies of the surrounding neighbourhood of Morningside Heights. The intimate and sophisticated room offers a cosy and quiet space for reading, crossword puzzles, or board games during the colder, winter months.
2. Waterline Square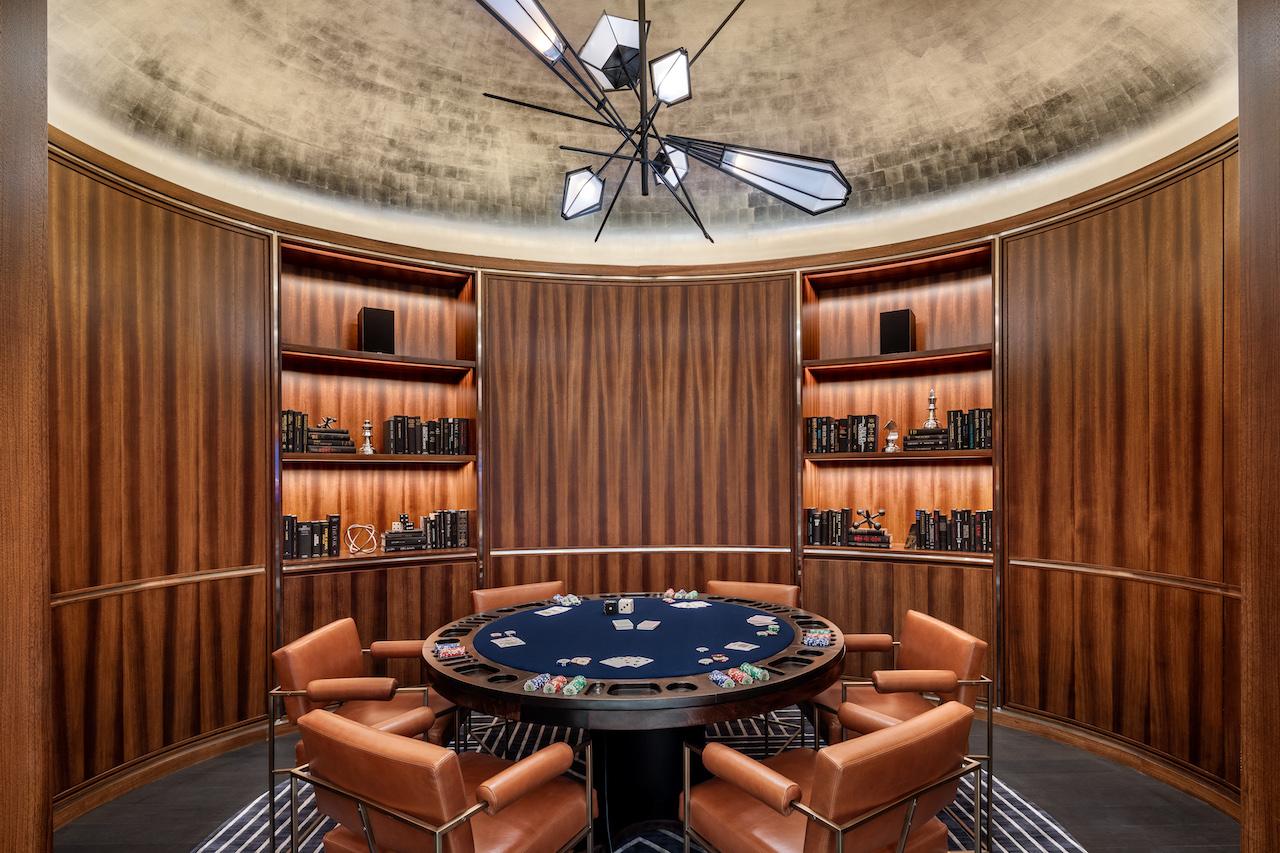 Spanning 100,000 square feet, Waterline Square's extraordinary shared amenity center, the Waterline Club, is one of the largest and most comprehensive in New York City. Combining unprecedented amenities with spectacular design, the Waterline Club boasts every sports, fitness, creative and leisure amenity one could want. The dedicated card parlor sports sleek wood paneling, making it the perfect sumptuous place to hang out with friends or host poker night this winter.
3. 200 East 83rd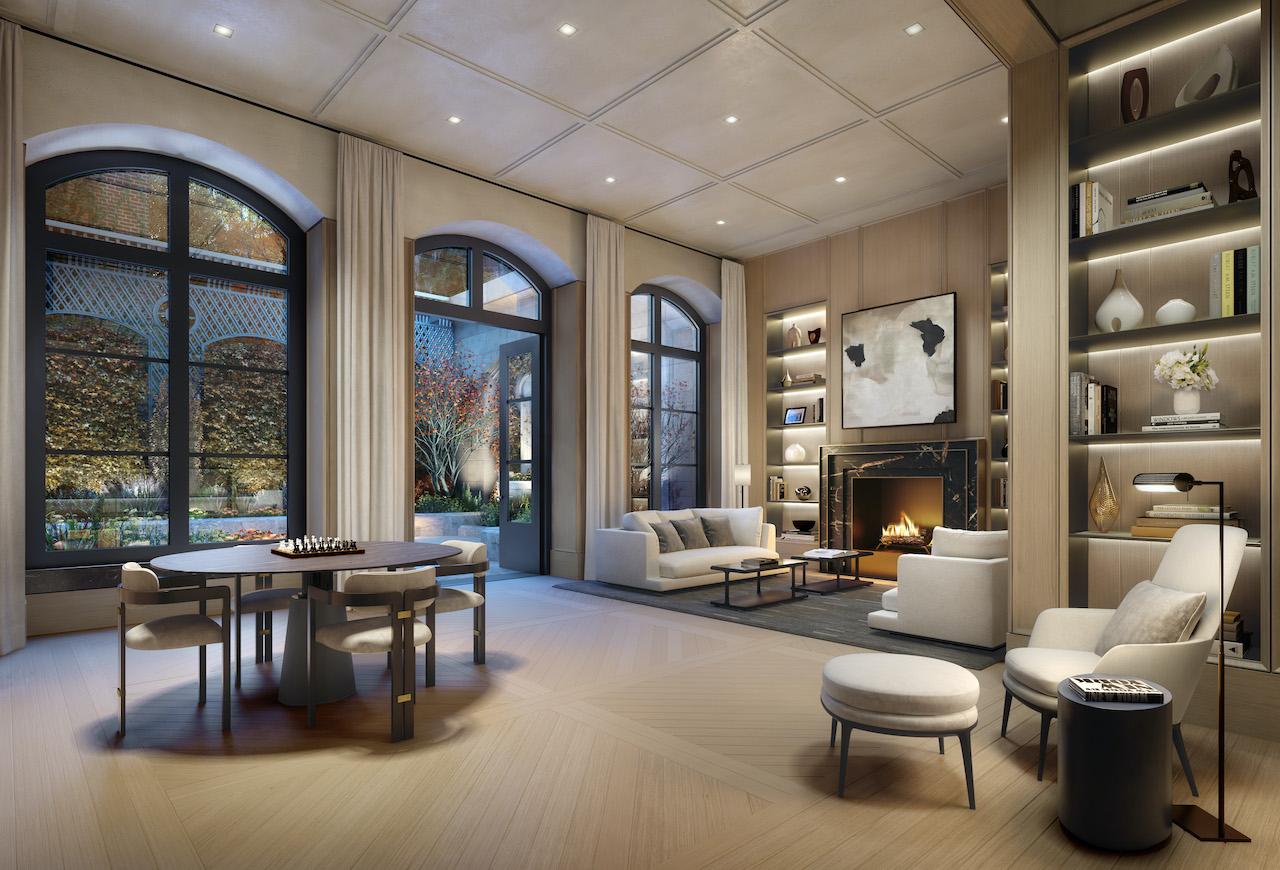 200 East 83rd, the new Upper East Side residential tower by Robert A.M. Stern Architects with interiors by Rottet Studio, features multiple amenities spaces with wood paneling. Overlooking the 17th-floor pool room and Winter Garden, the light-filled fitness center and yoga studio feel fresh and timeless with custom white oak millwork panels lining the walls.
Its custom millwork library on the ground floor offers direct access to a serene landscaped garden and features beautiful custom white oak shelving wrapped in leather panels, creating a warm and inviting environment for residents to sit by the bespoke fireplace and unwind with a good book. In the private cinema, a striking wood-paneled ceiling draws the eye upward while providing a moody and sophisticated ambiance.
4. 505 W 43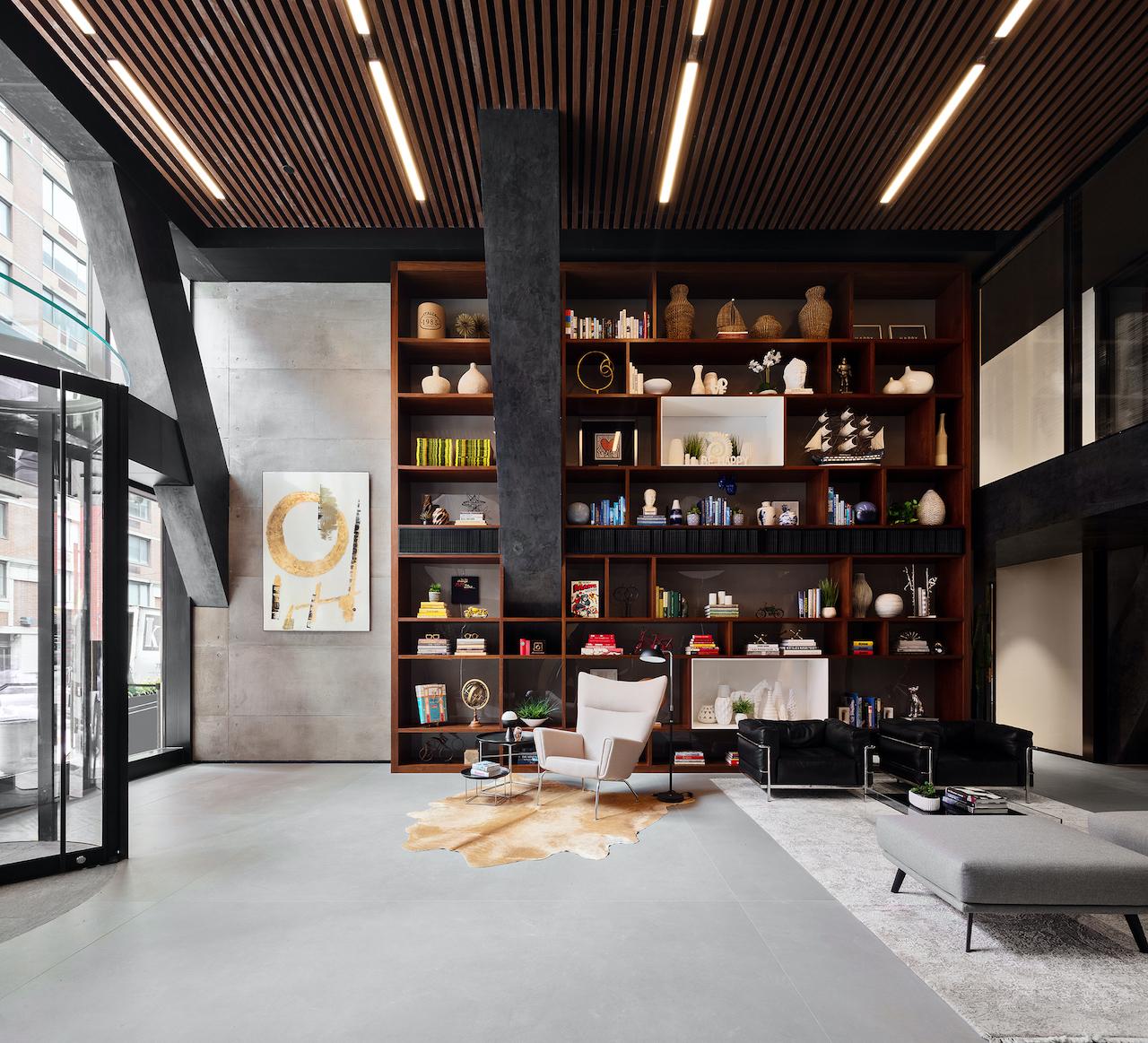 At 505 W 43, the new Midtown luxury condo featuring architecture by ODA and interiors by Andres Escobar & Associates, raw, natural materials are fused with sumptuous textures. Wood accents can be found throughout the amenity interiors, including the pool room, which showcases a gorgeous wood-paneled feature wall that compliments the flooring around the lap pool and extends seamlessly outdoors into the 6,000-square-foot open-air courtyard garden. Wood paneling also decks the ceiling of the fitness center and exposed beams grace common areas like the lobby lounge and bike storage corridor, juxtaposing the polished concrete and floor-to-ceiling windows.
5. 150 East 78th Street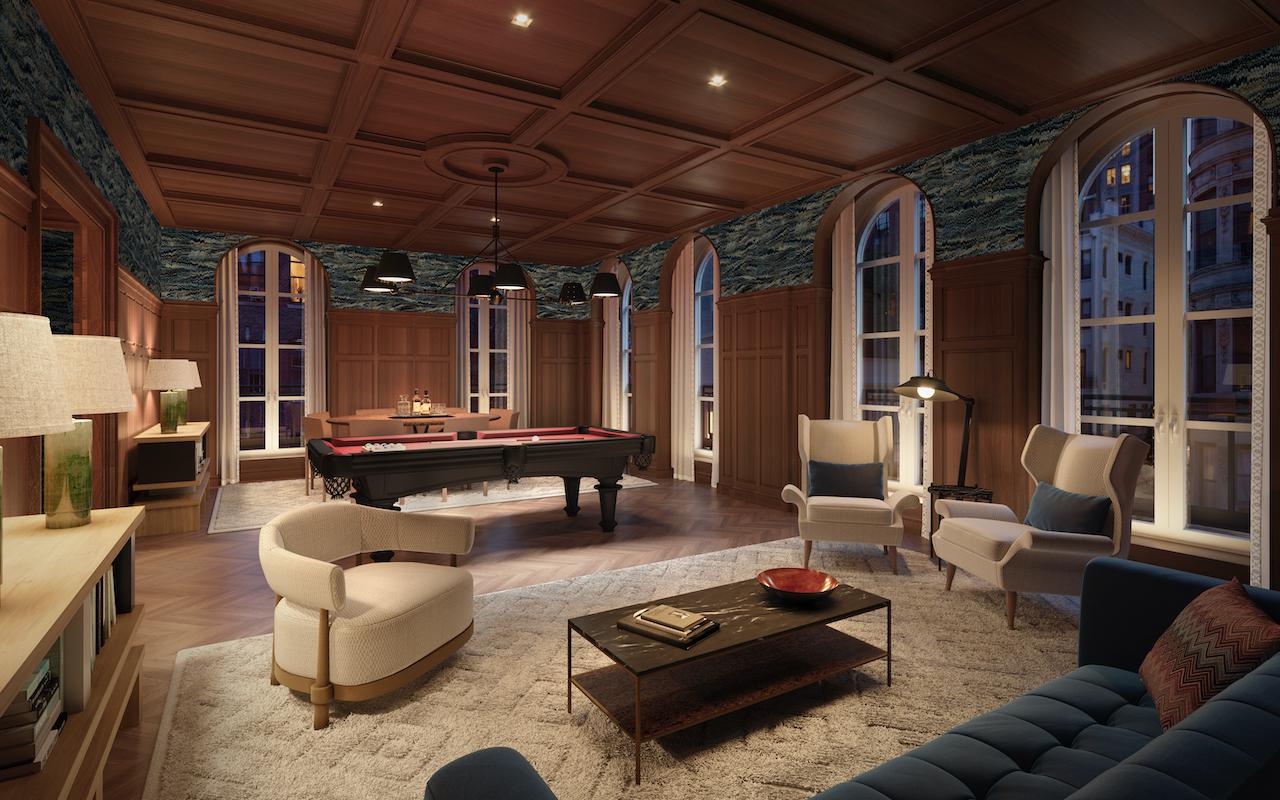 Designed by the award-winning Robert A.M. Stern Architects, 150 East 78th Street is a boutique building that redefines classical architecture on Manhattan's Upper East Side. Ranging from three to five-bedroom homes, the building features interiors and curated amenity spaces, including the beautiful walnut-paneled residents' Parlor, complete with a custom billiards table and en-suite catering kitchen for private gatherings.
Accommodating for a range of activities, the space is illuminated by floor-to-ceiling arched windows and also features furnishings selected by Couturier, including upholstered seating and a dining table perfect for cosy, cold-weather activities like a card game, or a glass of wine.