To envision a sanctuary for her and her family, Janine Allis, the founder of popular Australian juice and smoothie brand Boost Juice, hired interior design studio In Design International (IDI) to decorate a quiet, luxurious three-storey, 1,560-square-foot home in suburban Melbourne.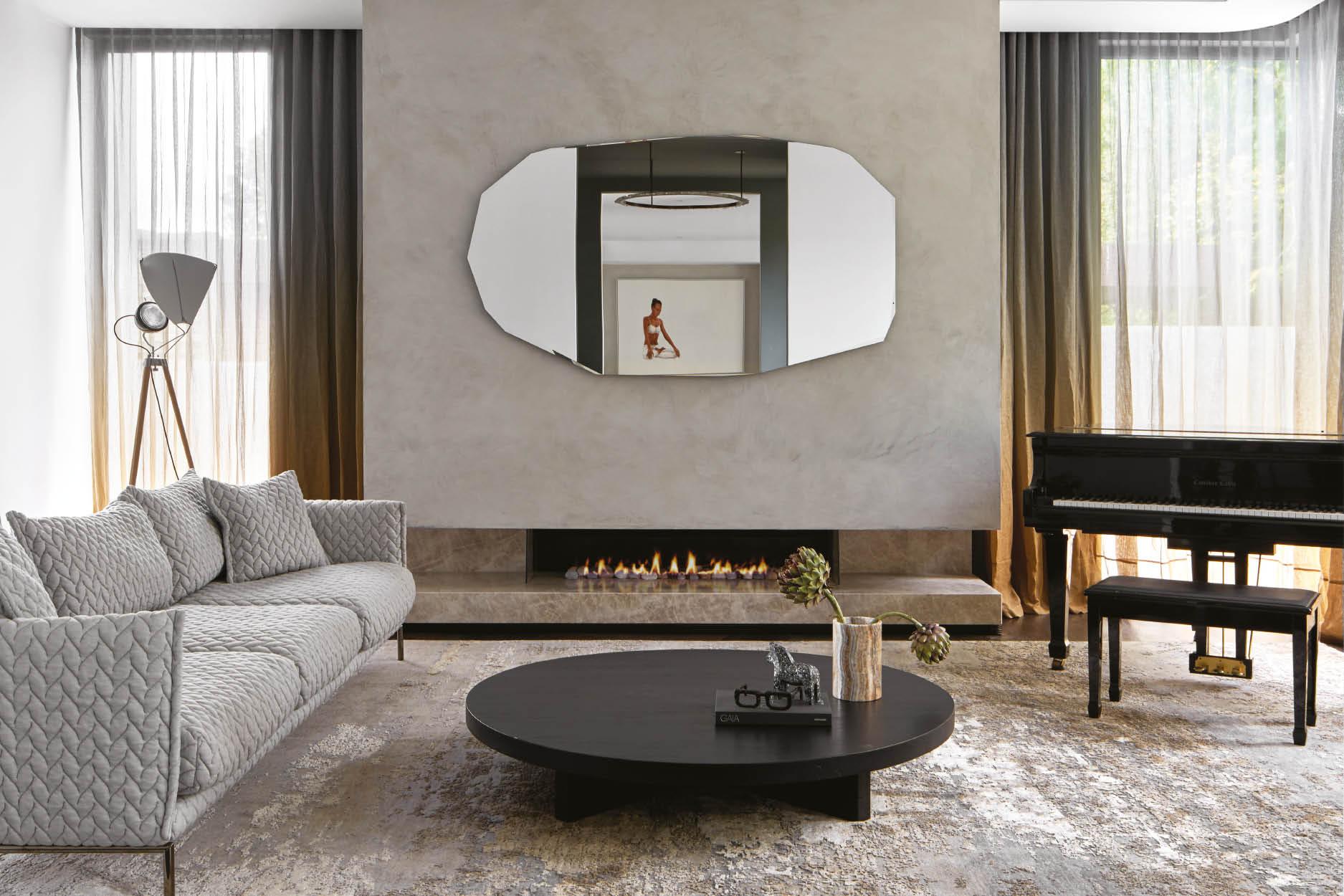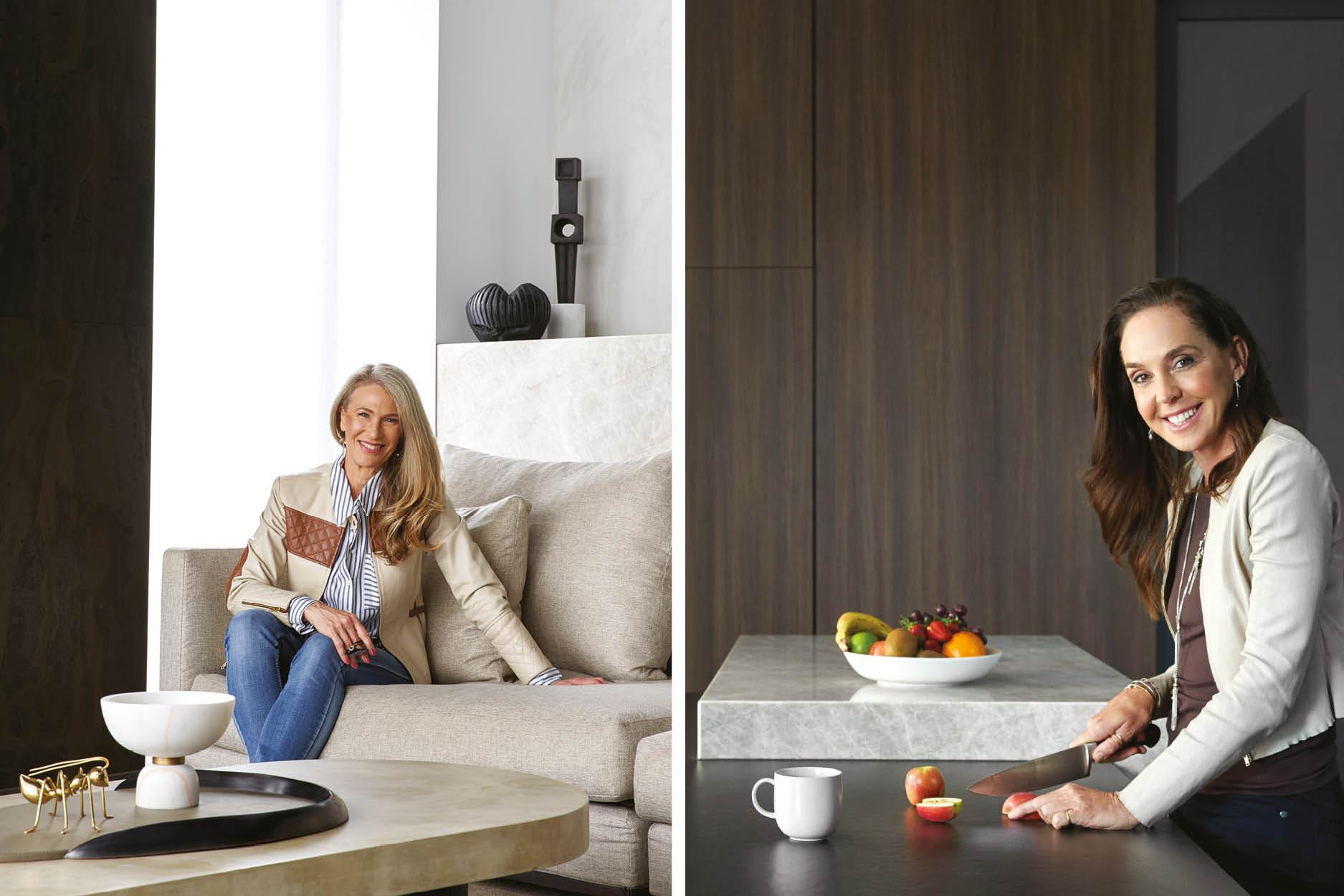 Janine is a healthy lifestyle advocate who enjoys surfing, horseback riding, tennis and yoga, while Penny Del Castillo, IDI's founder and director, has a great deal of experience with bespoke spa and wellness projects. This client-designer relationship was a match made in heaven, so it was no surprise that the two came up with the concept of a salubrious and relaxing oasis for Janine's home. Scroll through the gallery below to find out more her amazing home (Photography: Damien Kook; Production: Nikey Cheng):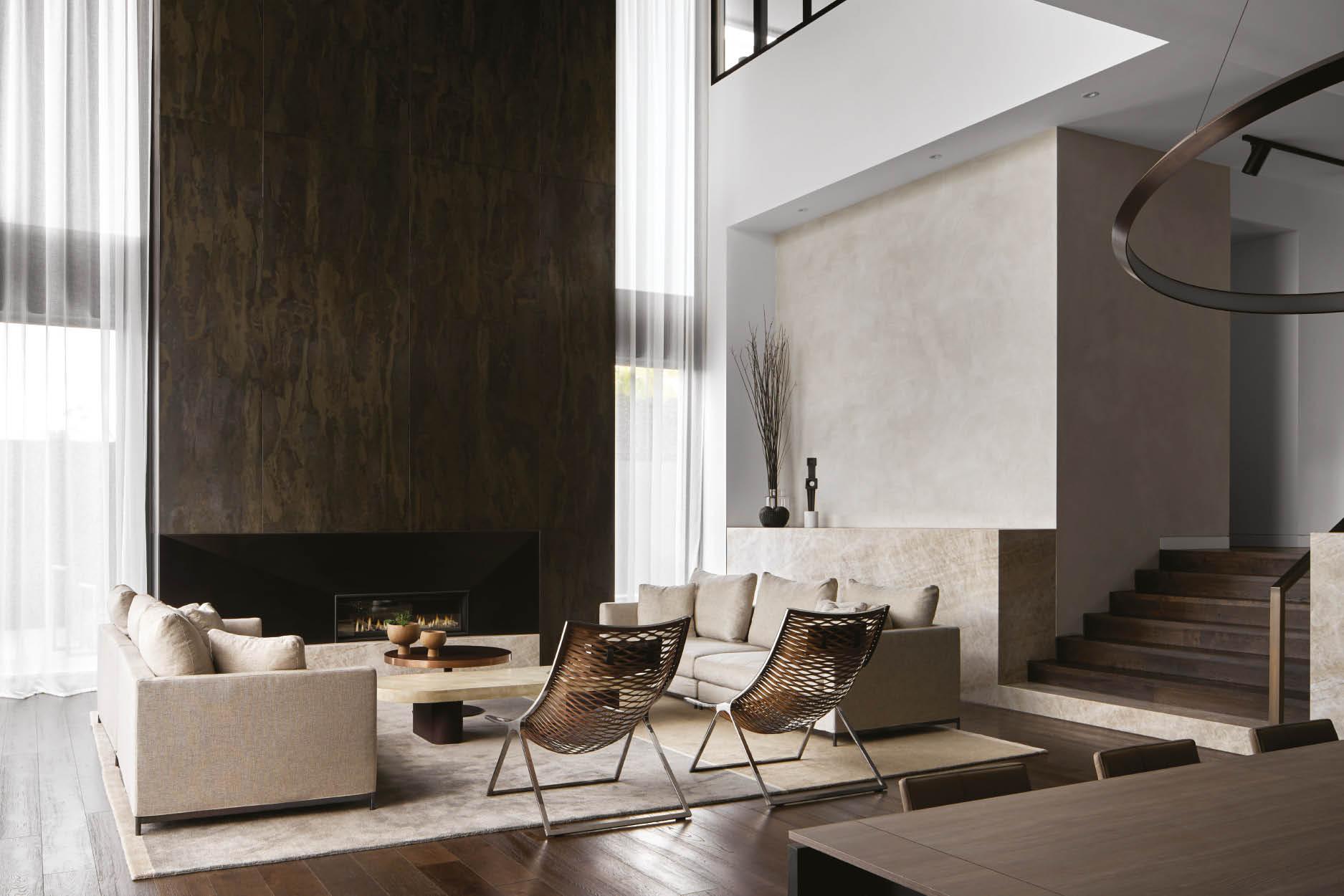 The house – which has a living room, a yoga room, a study, a kitchen, five bedrooms, four bathrooms, two powder rooms, a media room, and a backyard with a pickleball tennis court and a swimming pool – was designed by Melbourne-based firm Wolf Architects, and provided ample volumes for Penny and her team to explore.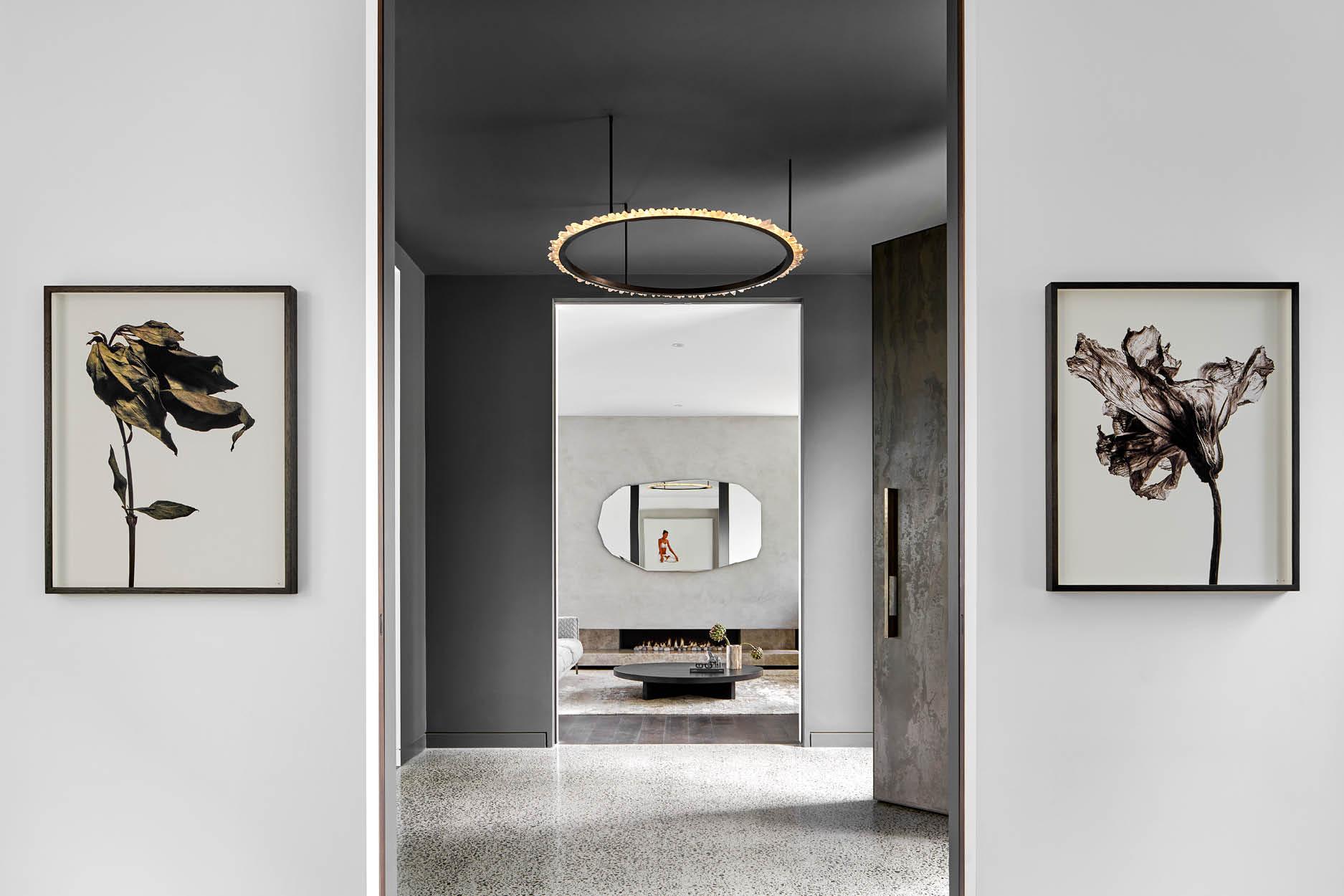 "Janine and I both love to support Australian-made," explains Penny. "So we chose furniture and decor by Australian designers and brands, such as lighting by Christopher Boots, a bespoke dining table and chairs by Franco Crea, a coffee table by Mark Tuckey, bed linen by Abode and artwork by Isamu Sawa."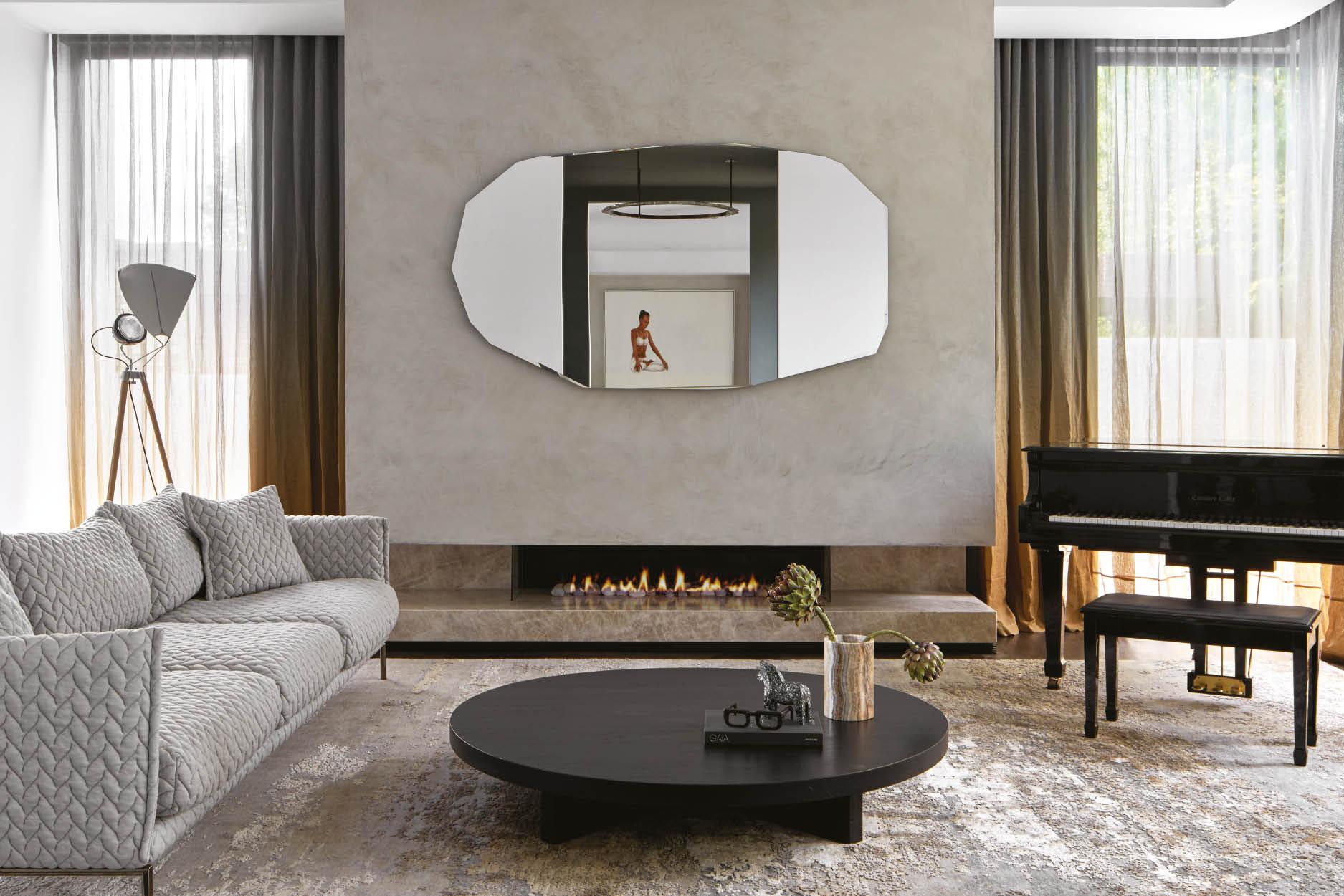 To imbue the communal spaces with a gallery-like industrial aesthetic, Penny used robust Dekton for key areas and work surfaces. This hard-wearing and durable material was also ideal because of its ability to handle the heavy traffic of a large, active family of five and their three pets.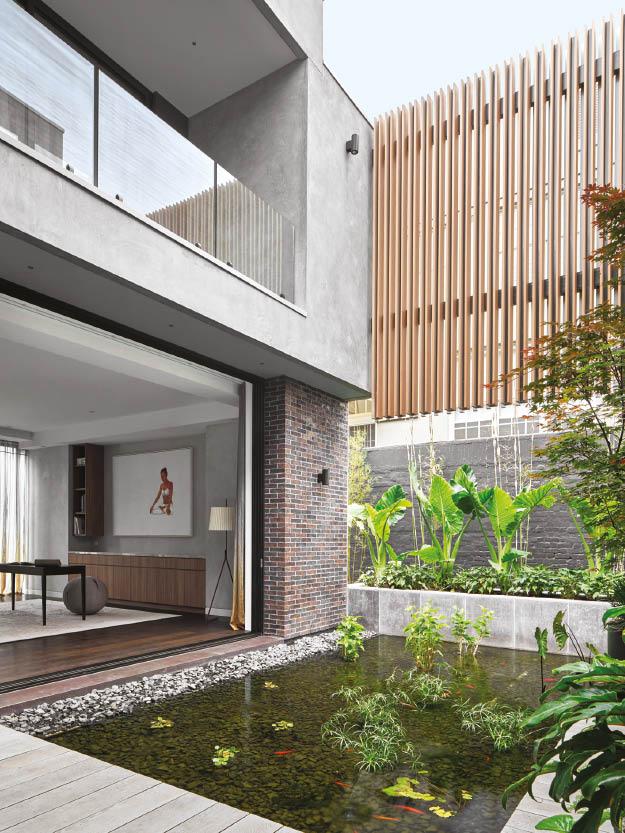 Janine's favourite room is the yoga room, which also doubles up as her home office. This space opens to an outdoor courtyard with a fish pond and water feature. The room is anchored with a Jenny Jones peony flower rug, while elegant linen curtains gracefully waft in the breeze, framing the calming scenery in the courtyard.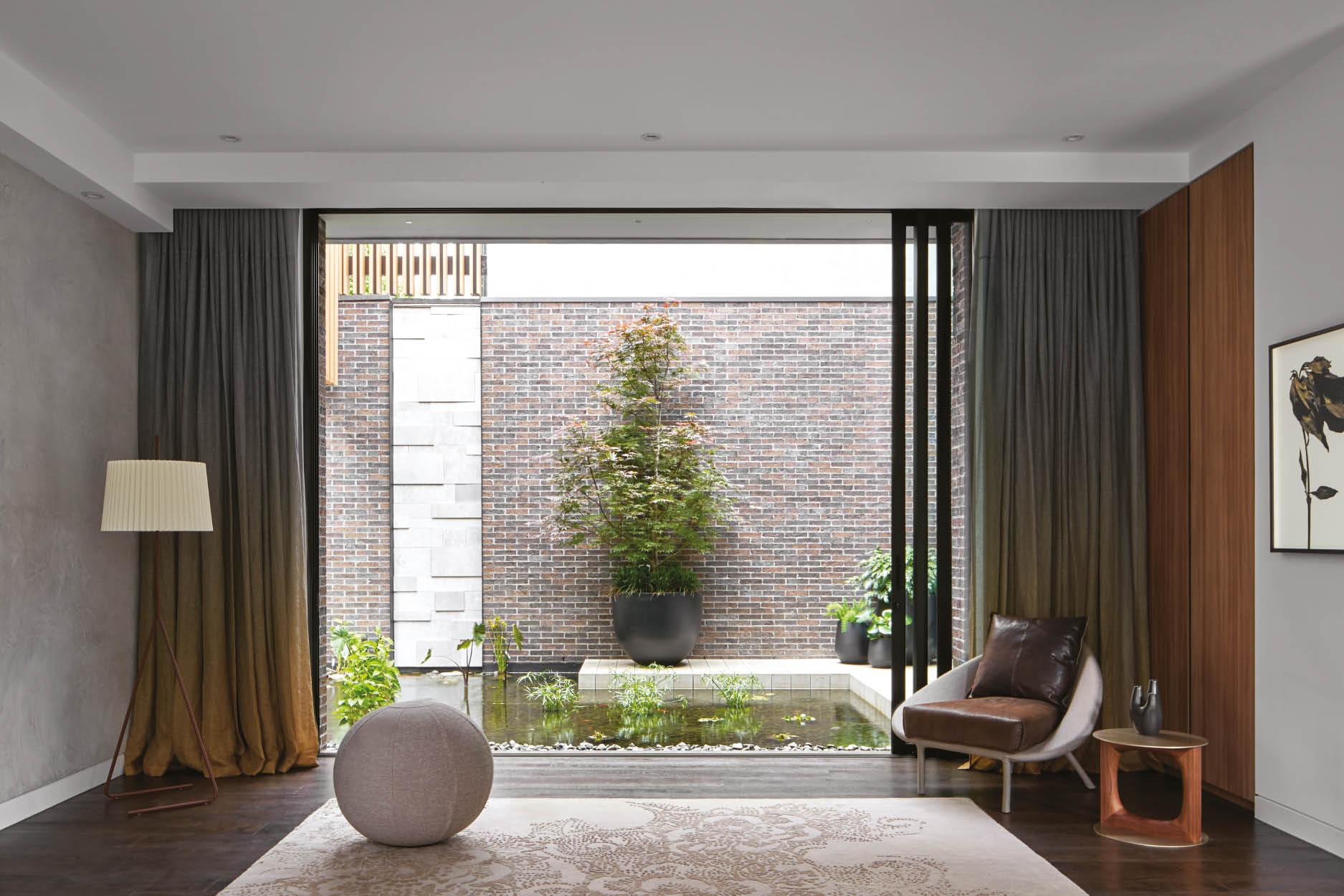 Adjacent to Janine's work and yoga room is husband Jeff's office and music room, which has a grand piano, a Patricia Urquiola-designed Gentry sofa by Moroso, a custom-made Tibetan wool rug and a statement-making Kooh-I-Noor Specchi mirror over the fireplace.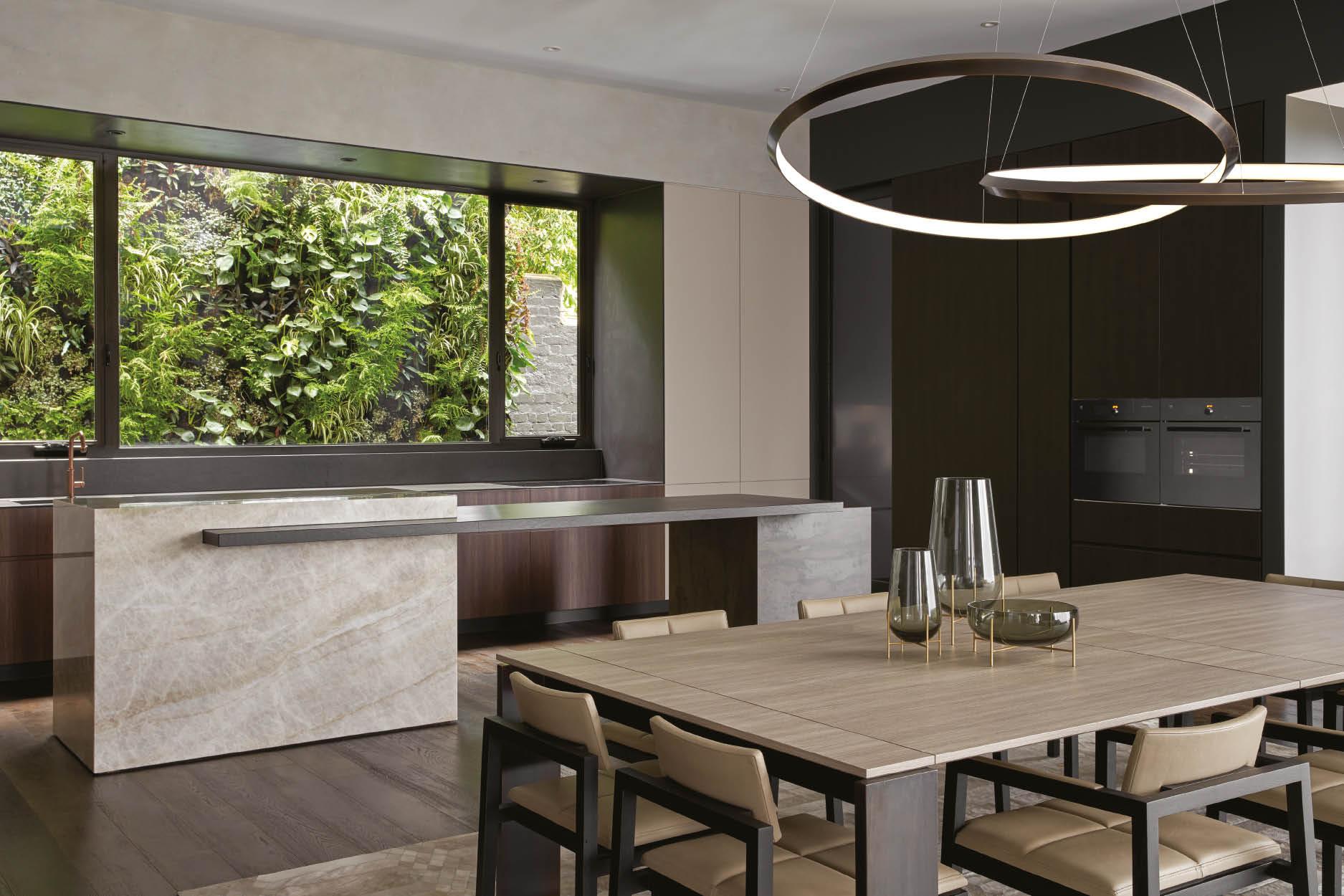 The couple had previously commissioned artworks that they wanted to bring into their new home, these pieces have pride of place by installing them in the couple's respective offices, just above their desks. She says, "In Janine's office and yoga room is a painting of Janine that her husband Jeff commissioned for her. To create a serene and peaceful atmosphere, the colour scheme for this room was lighter and softer than the rest of the house. We also selected two artworks by photographer Isamu Sawa and placed these on either side of the room's double doors. In contrast, Jeff's office has a darker colour scheme to complement his more dramatic and masculine art pieces."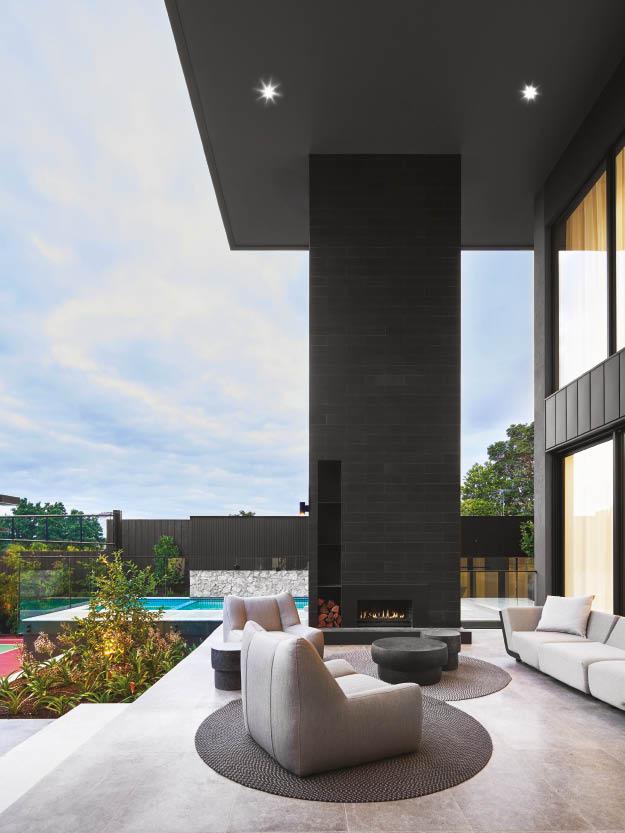 Guided by the theme of pared-back luxury, Penny selected architectural finishes in muted brown-beige tones and used white, charcoal and brass accents for the walls. She explains, "This neutral colour scheme serves as a blank canvas so the family can introduce new artwork to their home over time."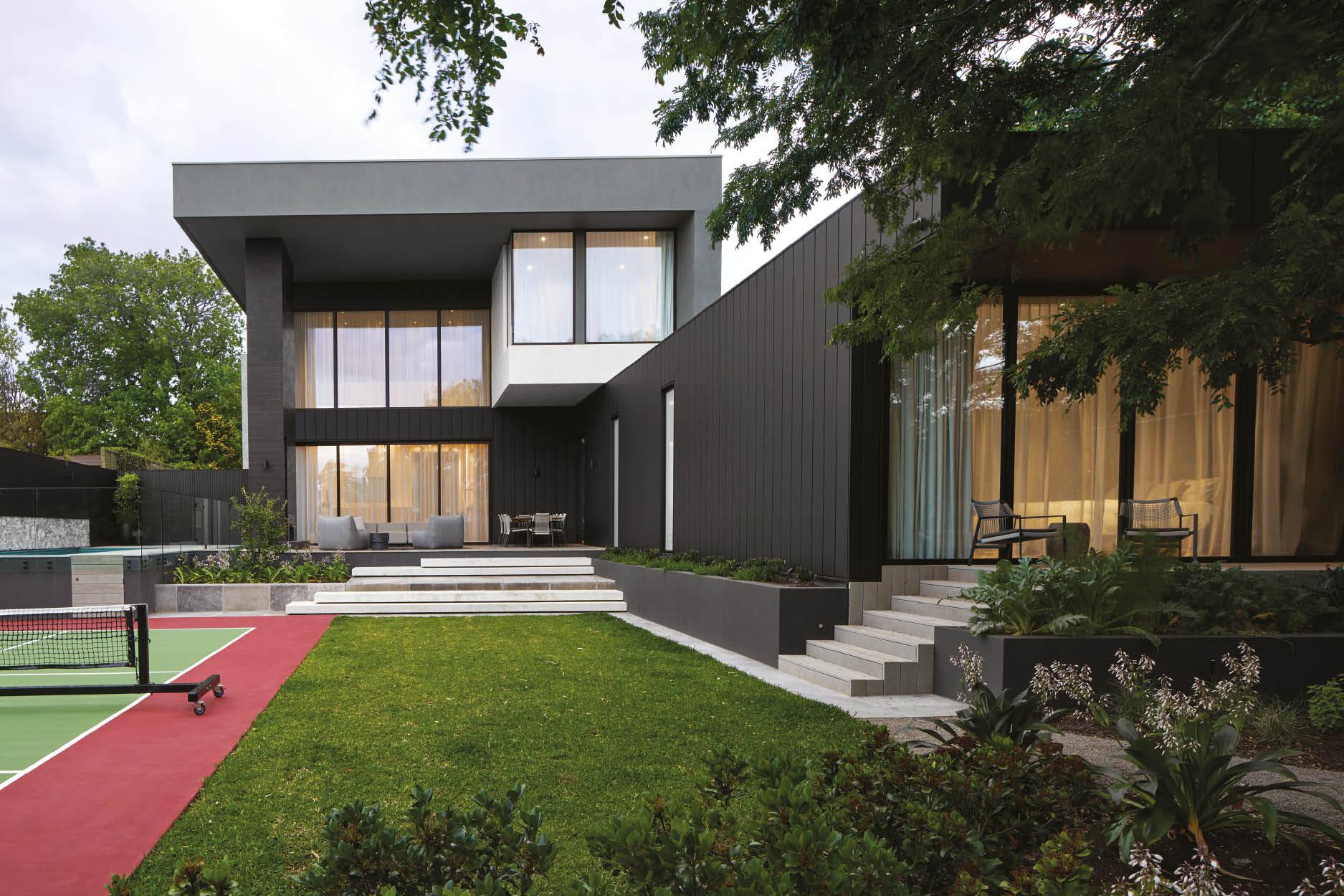 The exterior walls of the home boasts a dramatic dark colour scheme, injecting a touch of the masculine and contemporary.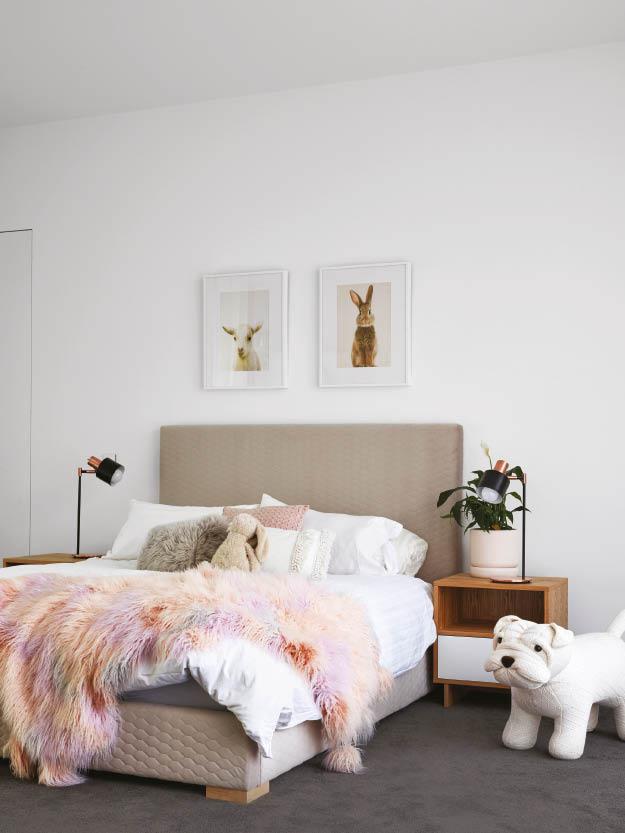 A bedroom oozes feminine cosiness.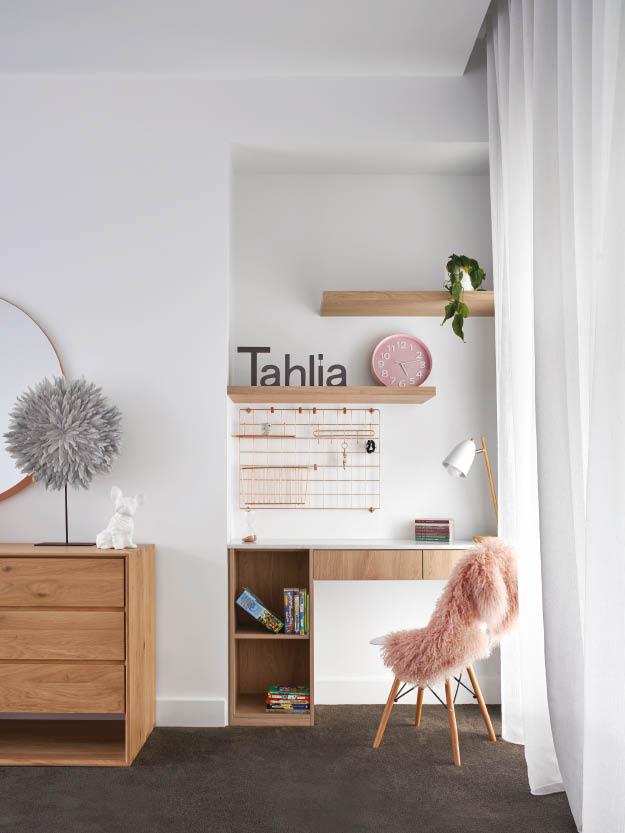 This delicate study is accentuated by furniture and decorative accents in blush pink.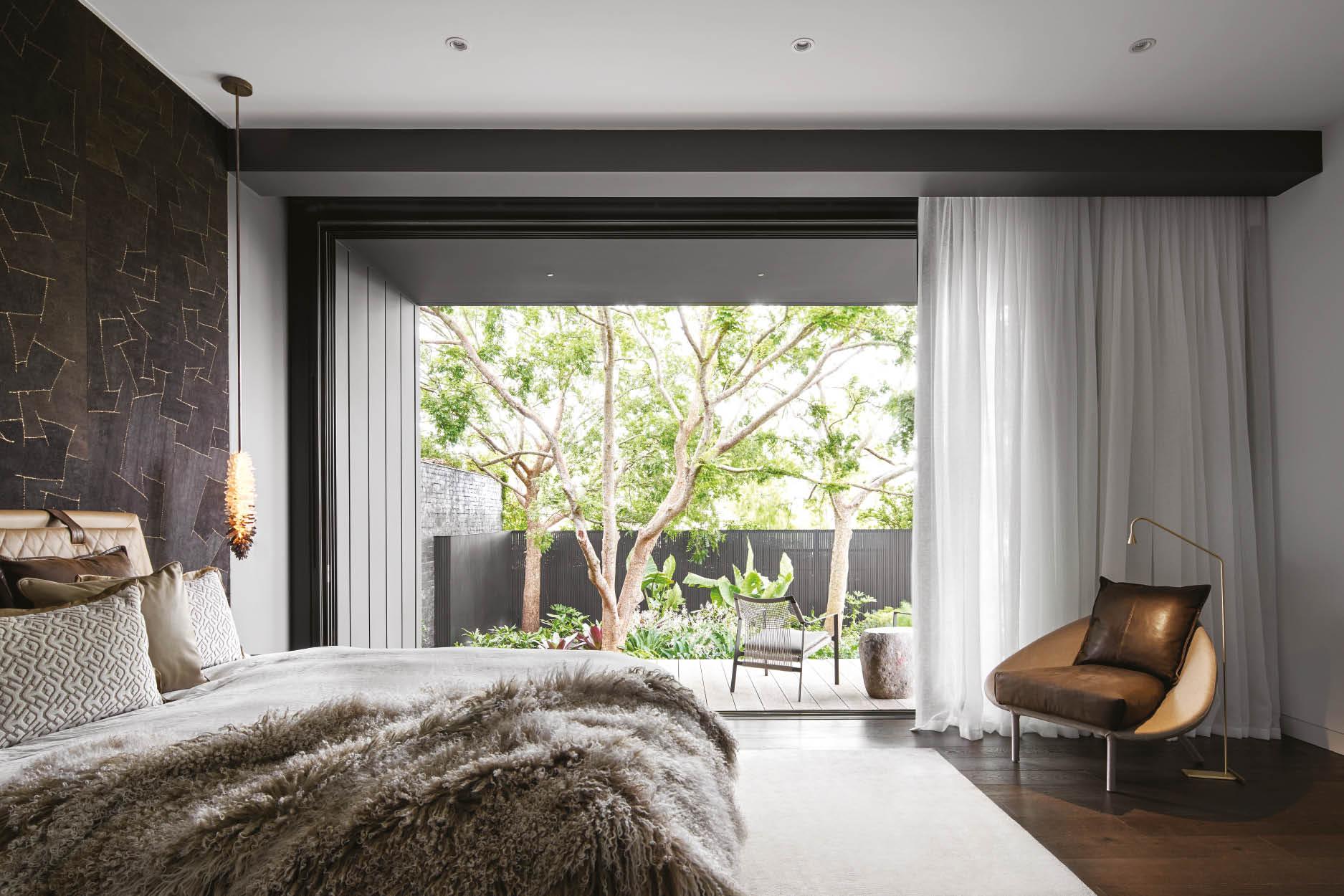 The master bedroom is adorned with dark timber, brass details.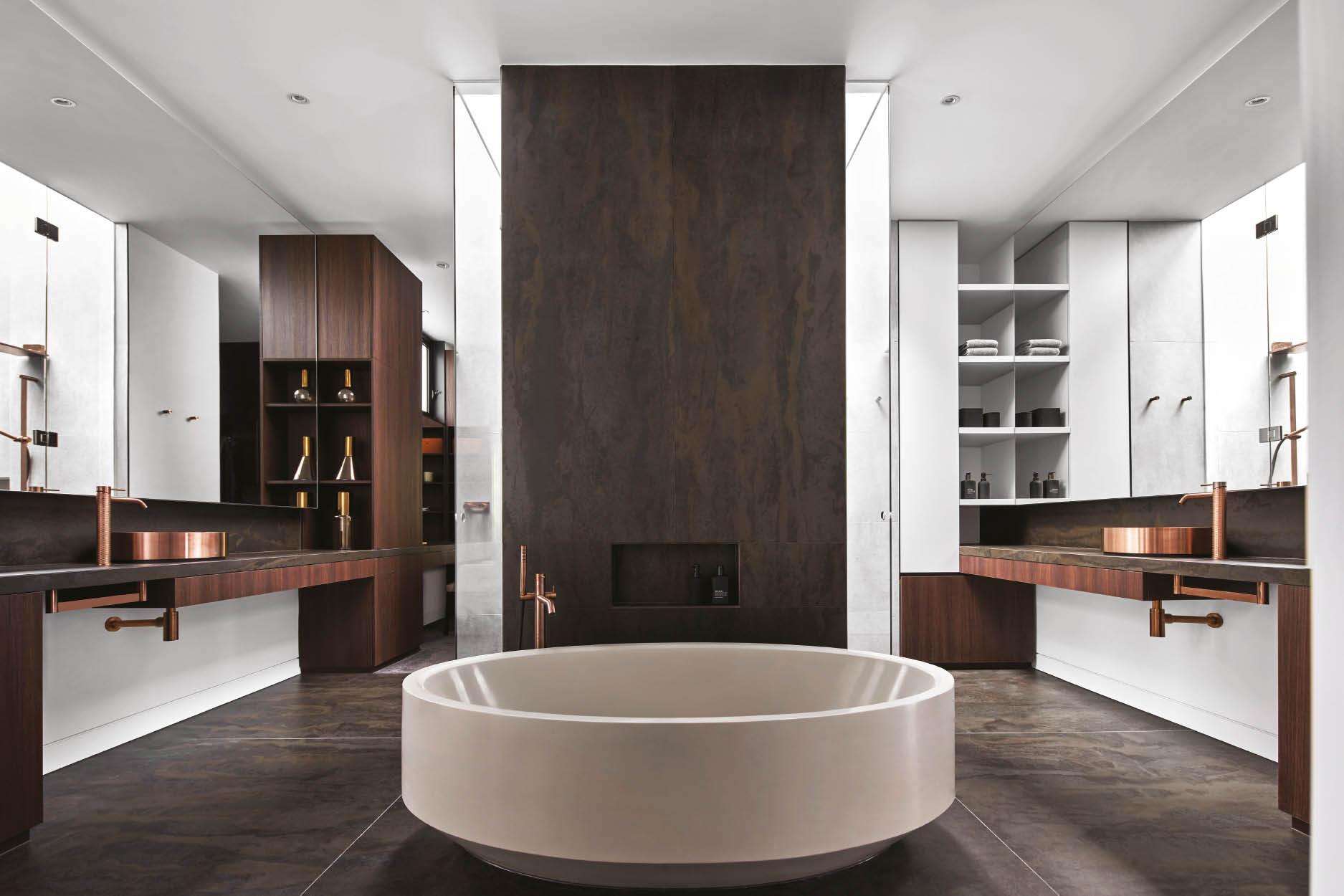 The sophisticated bathroom is highlighted by a state-of-the-art oval Apaiser bathtub.