There is a distinct charm to many of Alexander & Co's projects.
Spanning residences, restaurants, workplaces and more, the portfolio of the Sydney-based award-winning design firm founded by Jeremy Bull brims with timelessly beautiful spaces that ooze a sense of tactile elegance – yet each evokes an unmissable youthfulness.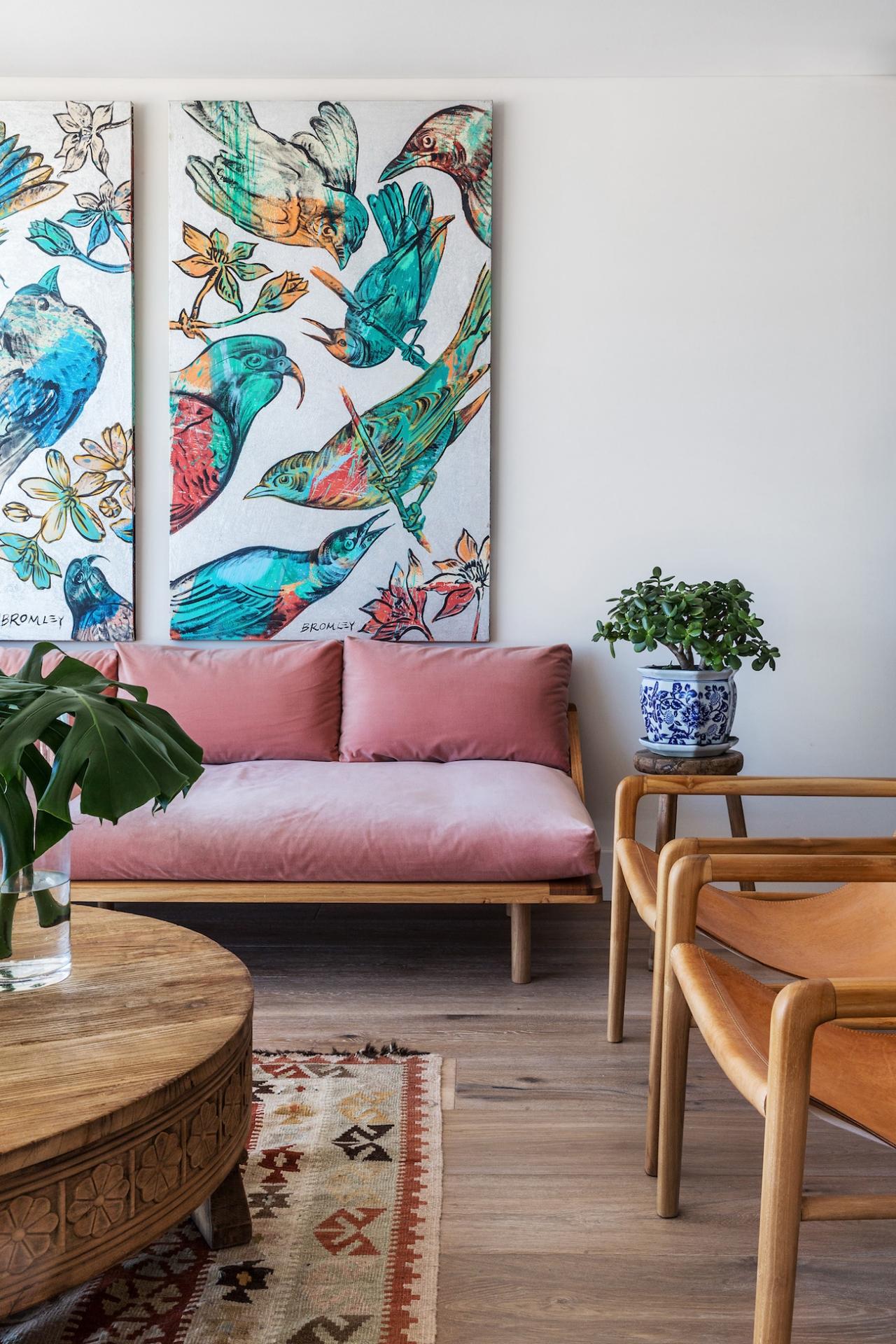 This is no more apparent than in the firm's revitalisation project of a 1,940sqft Bondi Beach penthouse for a young family of three, who had in mind "a garden sanctuary" for their four-bedroom apartment perched atop a concrete apartment complex built and designed in the 1970s.
The vision required significant internal alterations from its dated iteration to encompass re-planning of new finishes, joinery, lighting, electrical and furniture.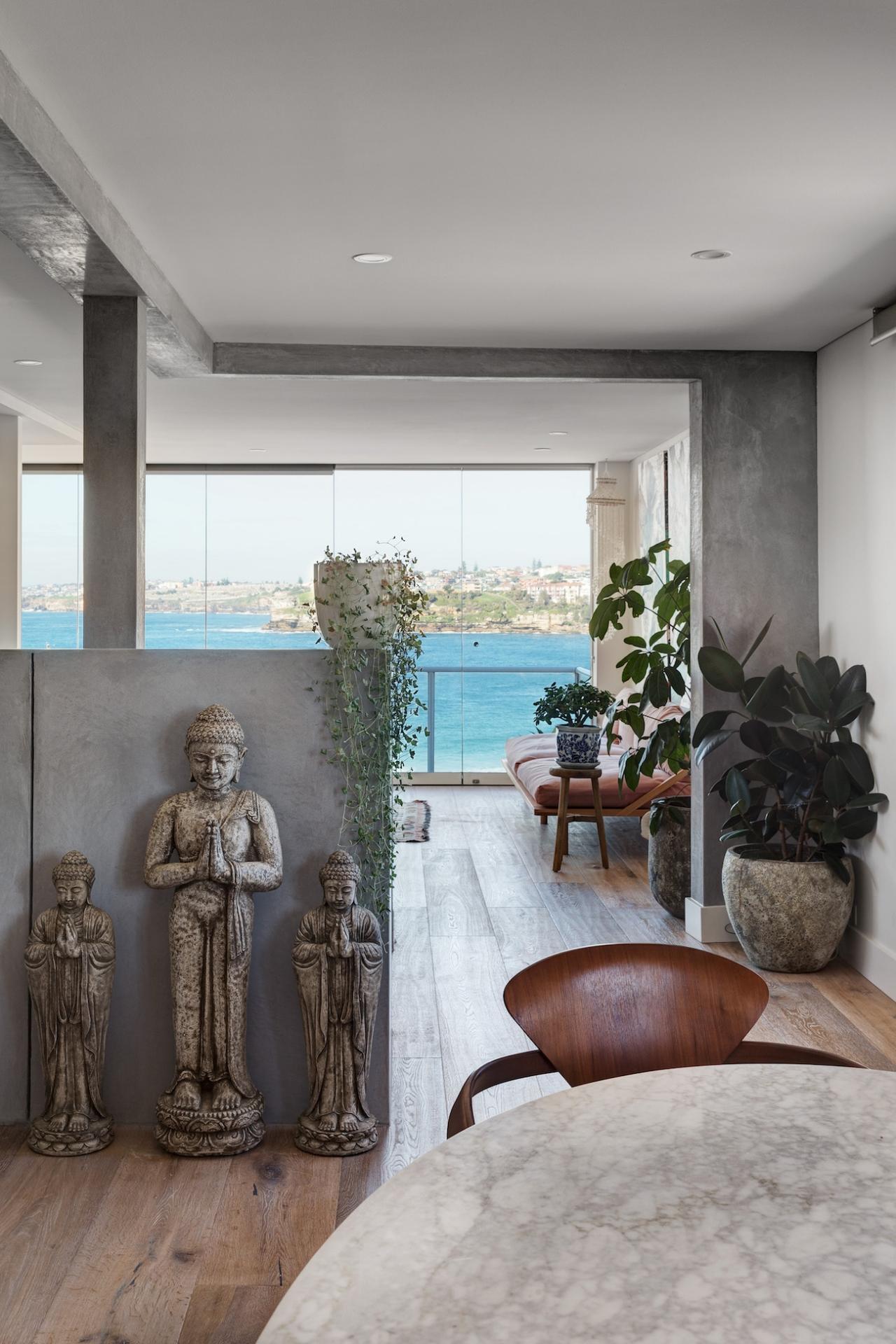 Adding to the challenge were the structure's ceiling heights and a relatively low budget, to which Jeremy and his team tackled by repositioning and reimagining new volumes, extensive researching and exploring of natural, but also surprising colours and textures.
The focus, thus, was on minimising trades and finishes that allow for the project to be completed quickly with as little between-trade coordination as needed. Interesting, this resulted in the exact simplicity that imbued the space with a zen-like serenity, powered by an overall muted palette dominated by timber, polished stucco and painted finishes.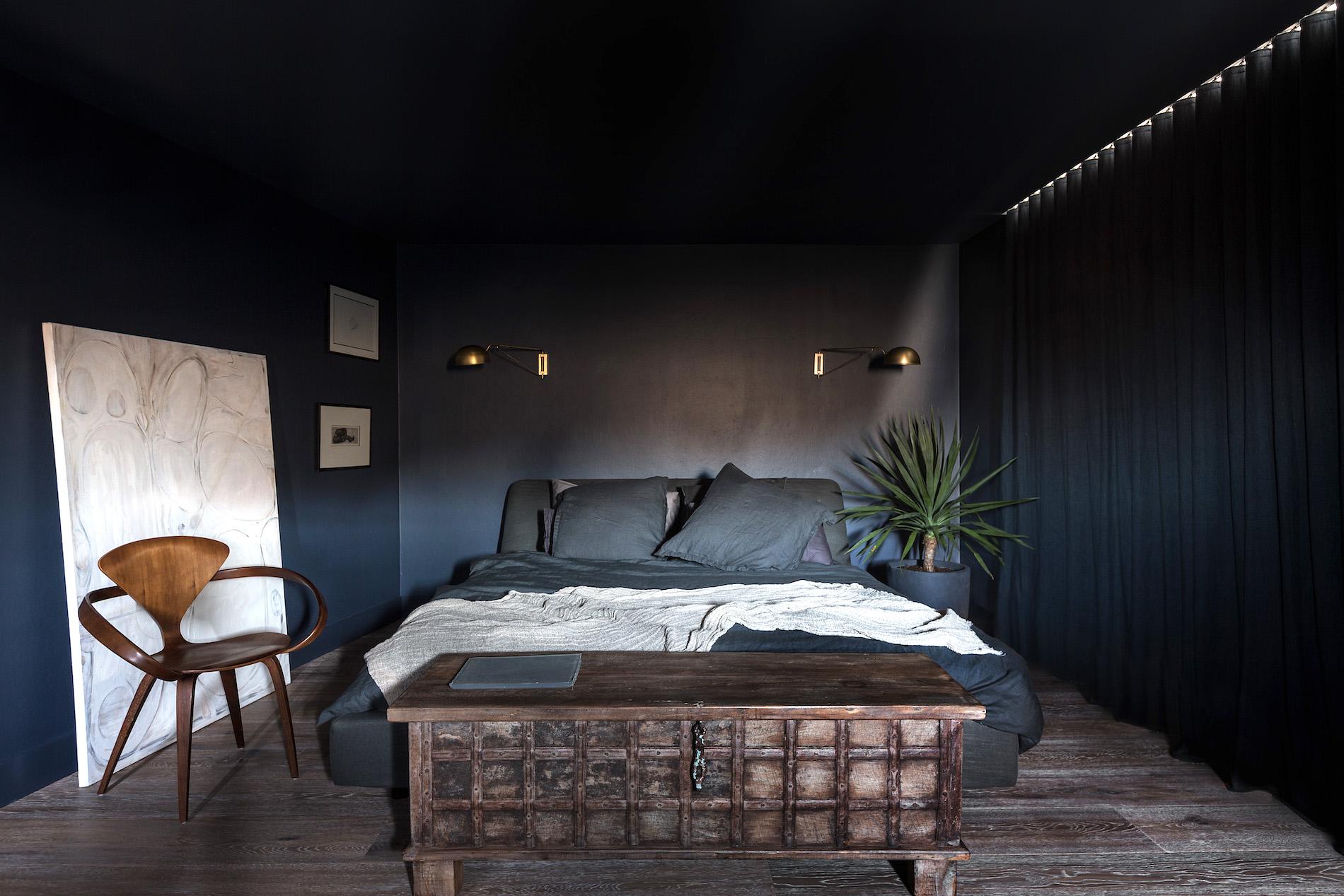 Expansive floor-to-ceiling windows that look out to the iconic Sydney beach invite ample sunlight to flood the main living area, which is dotted with beautiful trailing plants and potted greenery. The room gives a lighter sensibility with bright peach-hued furnishings, wooden panelled flooring, vibrant paintings and a series of Eastern religious statues.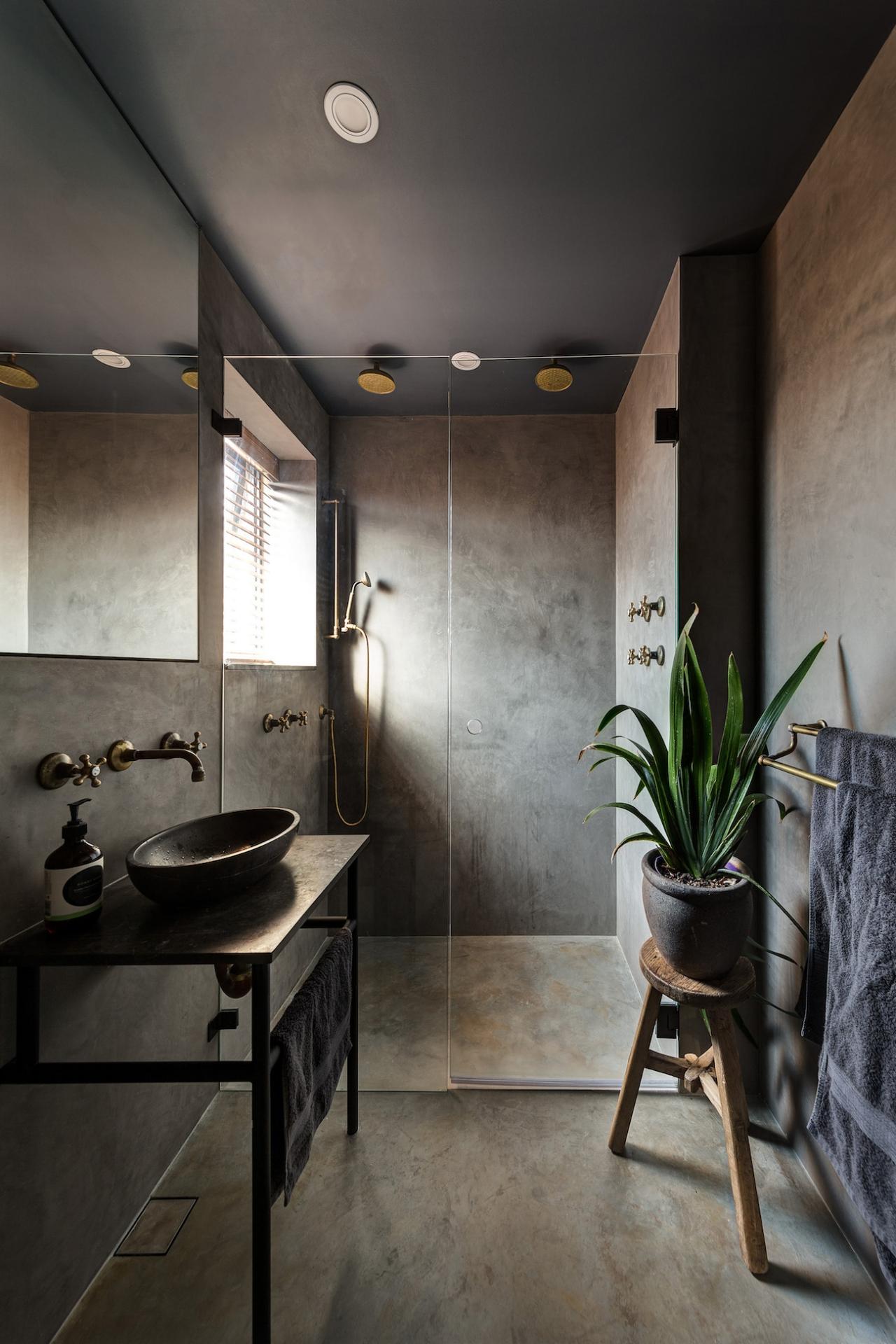 With this, the couple had wished for the home to provide a concept of a natural landscape for their young son despite being elevated on the top floor of the building.
Compared to the living spaces, the master en suite and two new bathrooms evoke greater masculinity with their monochromatic palettes. The former is framed by sultry dark blue-grey walls adorned with brass bedside lighting, deep wooden cabinets and rough floor panels. The pared-back, minimalist decorating style creates an interesting juxtaposition against the furniture and flooring's roughness.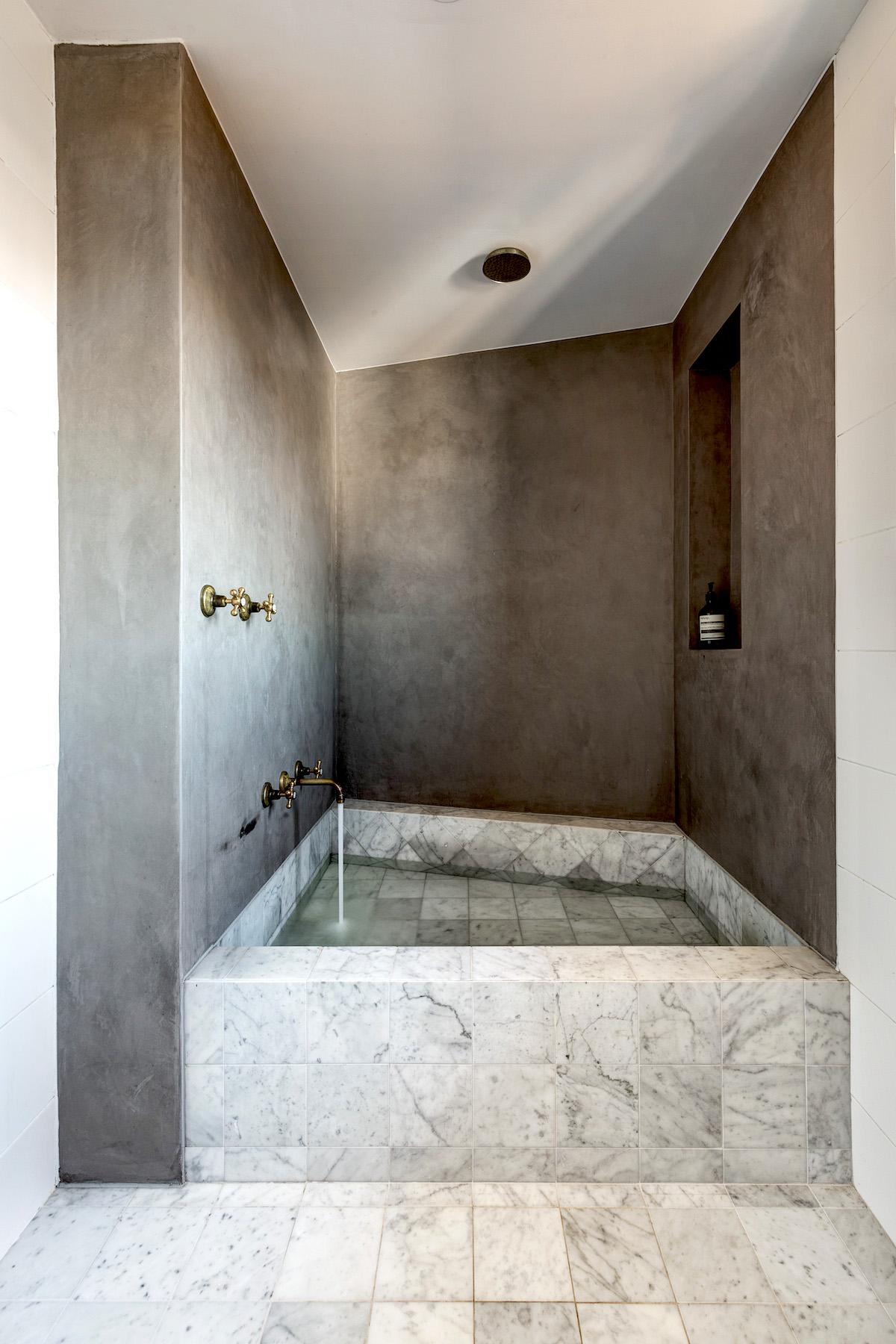 The two new bathrooms, adorned in stunning marble and industrial-style finishes, are conceived as garden ponds. They evoke images of hidden caves, serving as escapes of sort from the overall lightness of the main living areas. Here, "bathing is conceived as an intimate and mysterious ritual".
The firm's versatility and adaptability – coupled with the richness of natural materials, striking colours and curated artworks that have been employed throughout the space – effectively transformed this 1970-era space into a spirited, youthful tropical patina for the young family.
See more: A Dreamlike 24-Hour Staycation at Grand Hyatt Hong Kong