In the chic district of Jardins in São Paulo, Brazilian studio Pascali Semerdijian Architects has designed a sophisticated 4,155-square-feet, three-bedroom apartment with a wooden front door made from a repurposed chopping board that was once used to cut marble.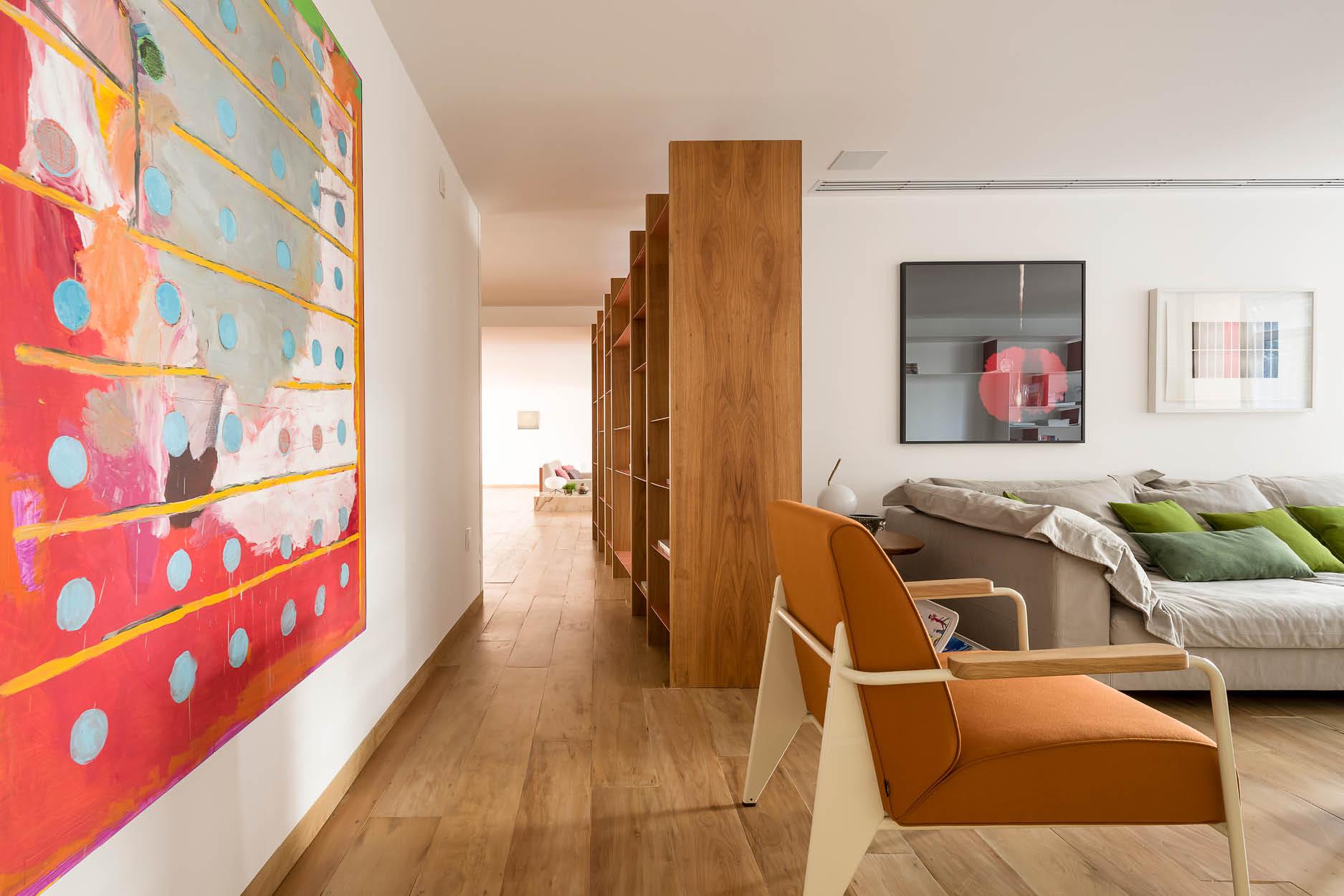 The owners, a Brazilian couple with a young child, had worked with Pascali Semerdijian Architects on their previous home, and had been so pleased with the results, that they hired the studio again to help them design a newer, larger home.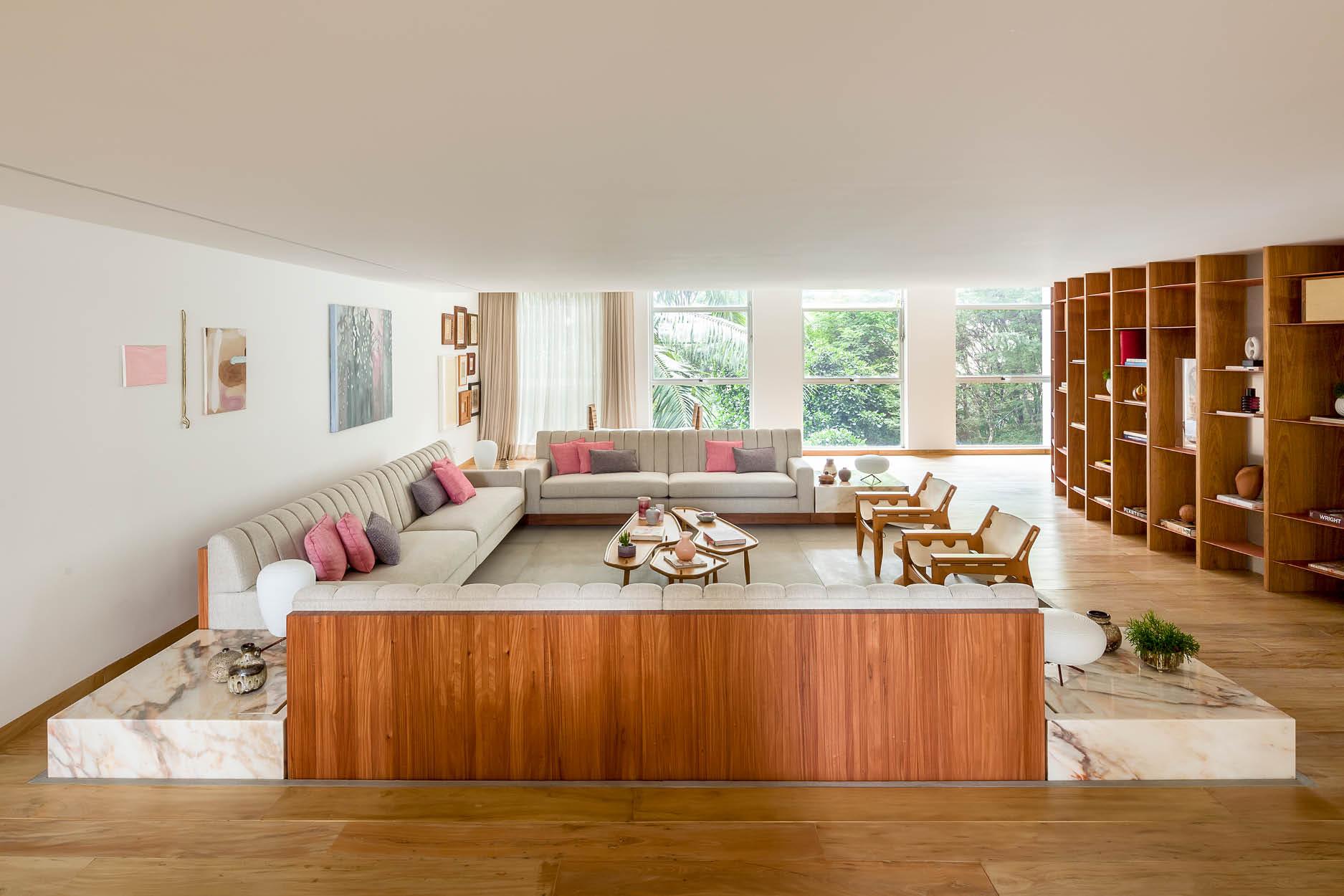 "They reached out to us to say that they would need a bigger apartment since their family was growing, and we were very excited to work with them again. They are a couple with very good taste in design and art, so they always challenge us to deliver our best," says Sarkis Semerdjian one of the studio's two founders.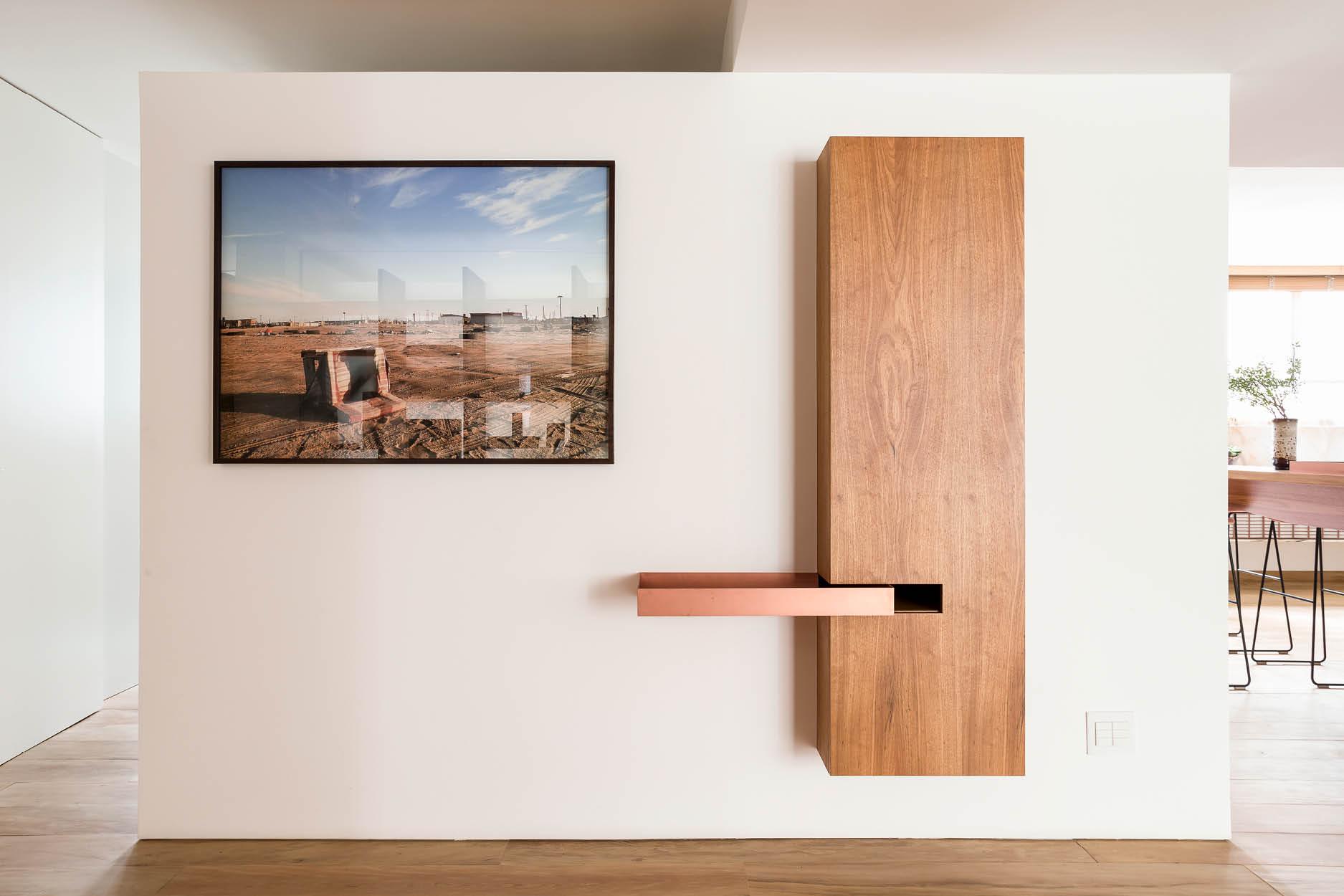 Inspired by the aesthetics of haute couture, the designers used warm woods, beautifully veined marble, and pastel shades to create an elegant and fashionable abode. They custom designed the sofa and bookshelf in the living area and marble counter tops in the dinning area, and added splashes of copper on the library shelves and in the bathroom for a touch of glamour.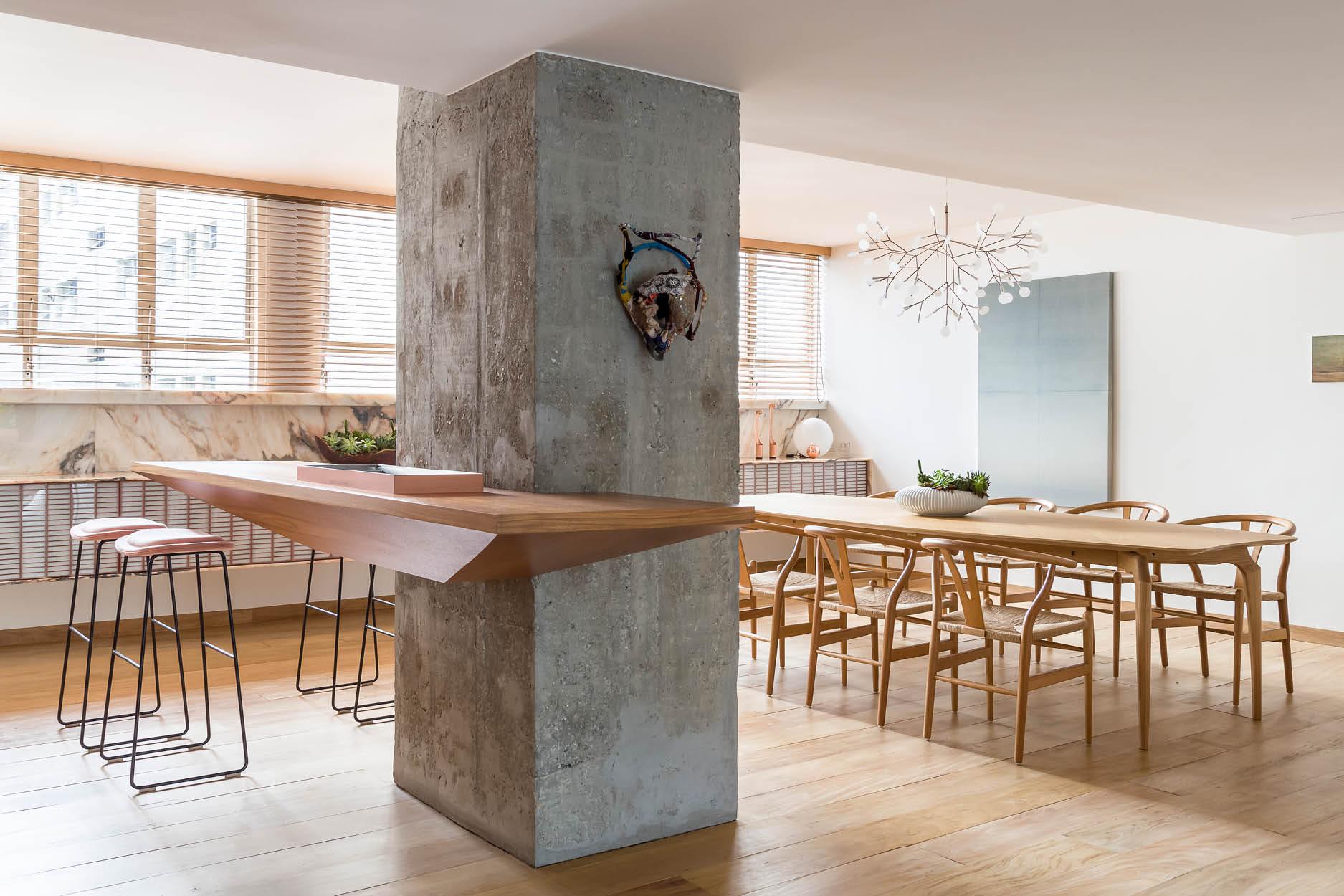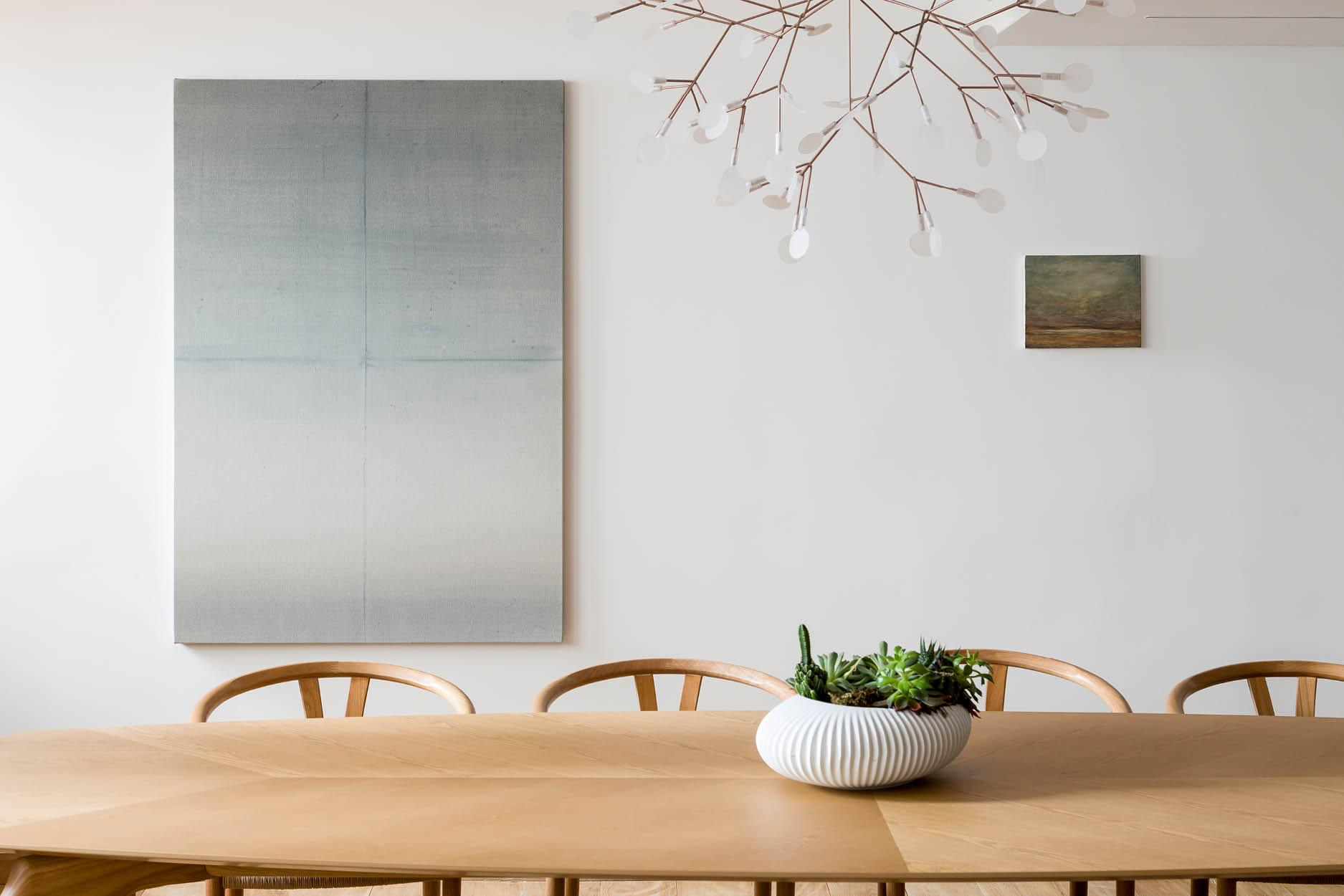 "We like to design everything exclusively for our projects to optimise space. Many of the furniture pieces such as the living room sofa and side table, dinner countertop, bar, and lunch room sofa were designed by us to ensure that they are the best fit for the project," says Semerdijian who also incorporated armchairs by Brazilian designer Sergio Rodrigues and artwork by Brazilian painter Bruno Dunley in the living area, a Bertjan Pot pendant lamp, Cappellini stools and Hans Wegner chairs in the main dining area, a table designed by Spanish architect Oscar Tusquets in the informal kitchen dining nook, and a coat rack by Venezualian designer Pedro Useche and an Eames chair in the master bedroom.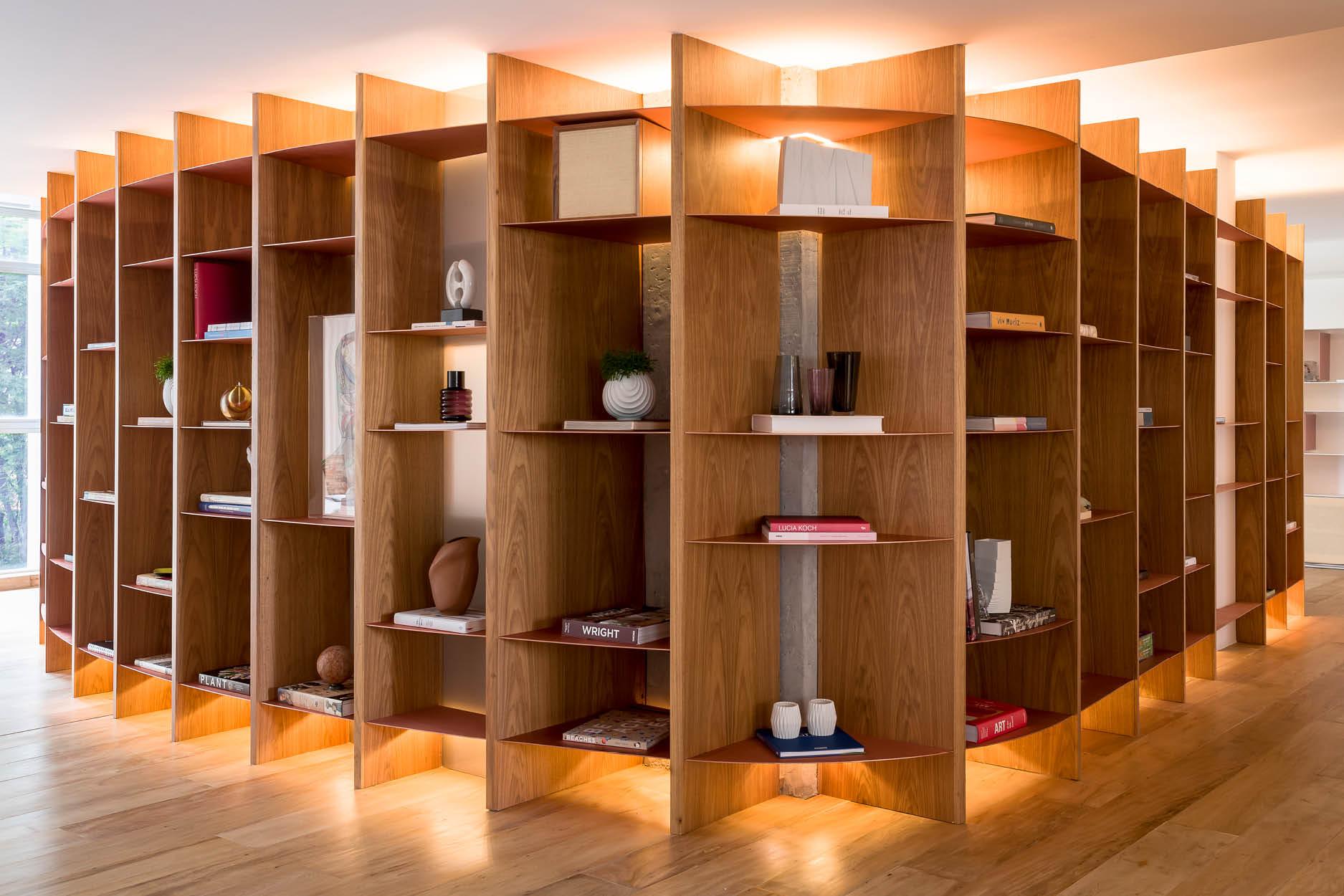 The guest bathroom has moss green floors, wall panels by Plancus, and a matching green vanity designed by Pascali Semerjdian. For the child's bedroom they used a retro orange Di Marmore stone countertop.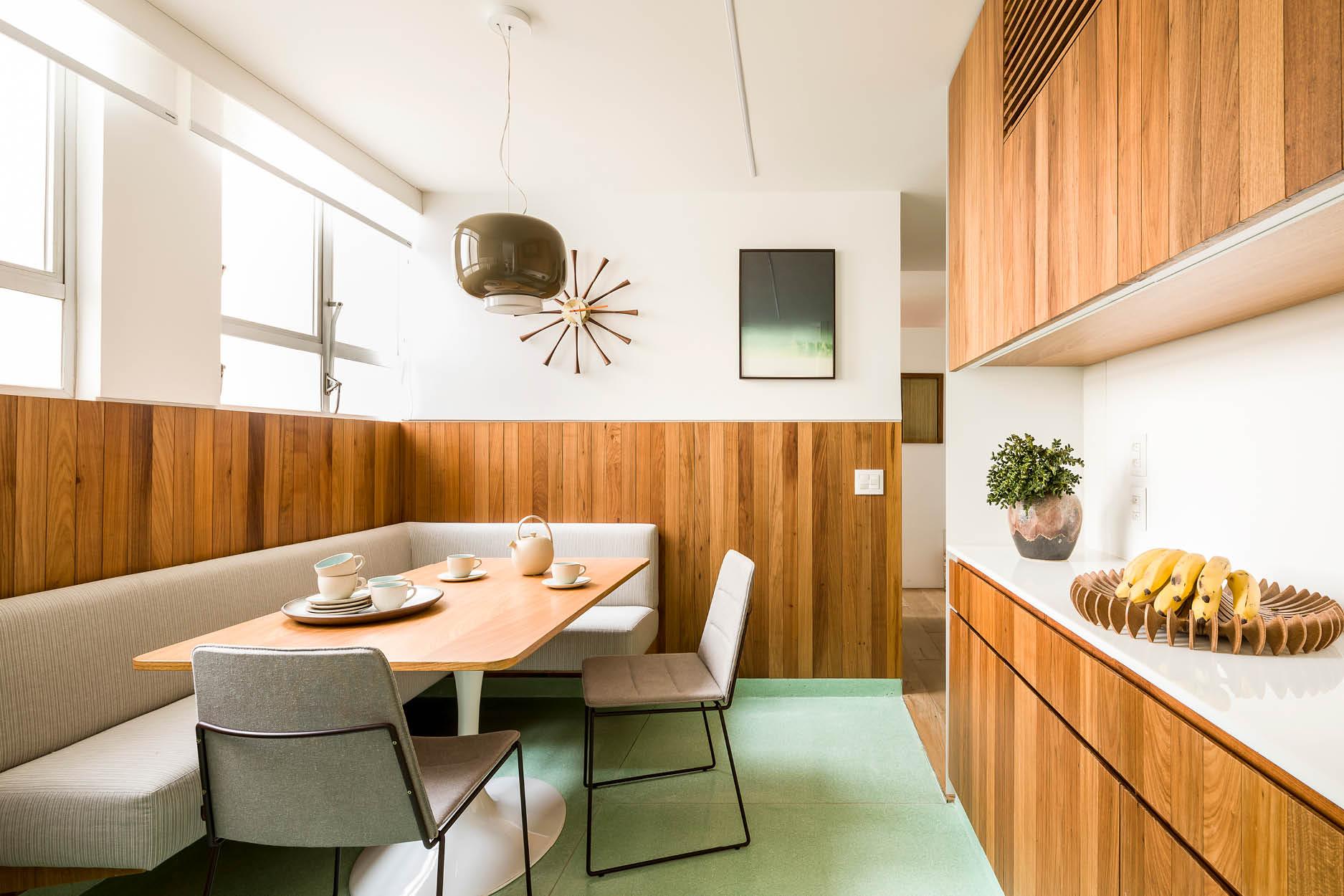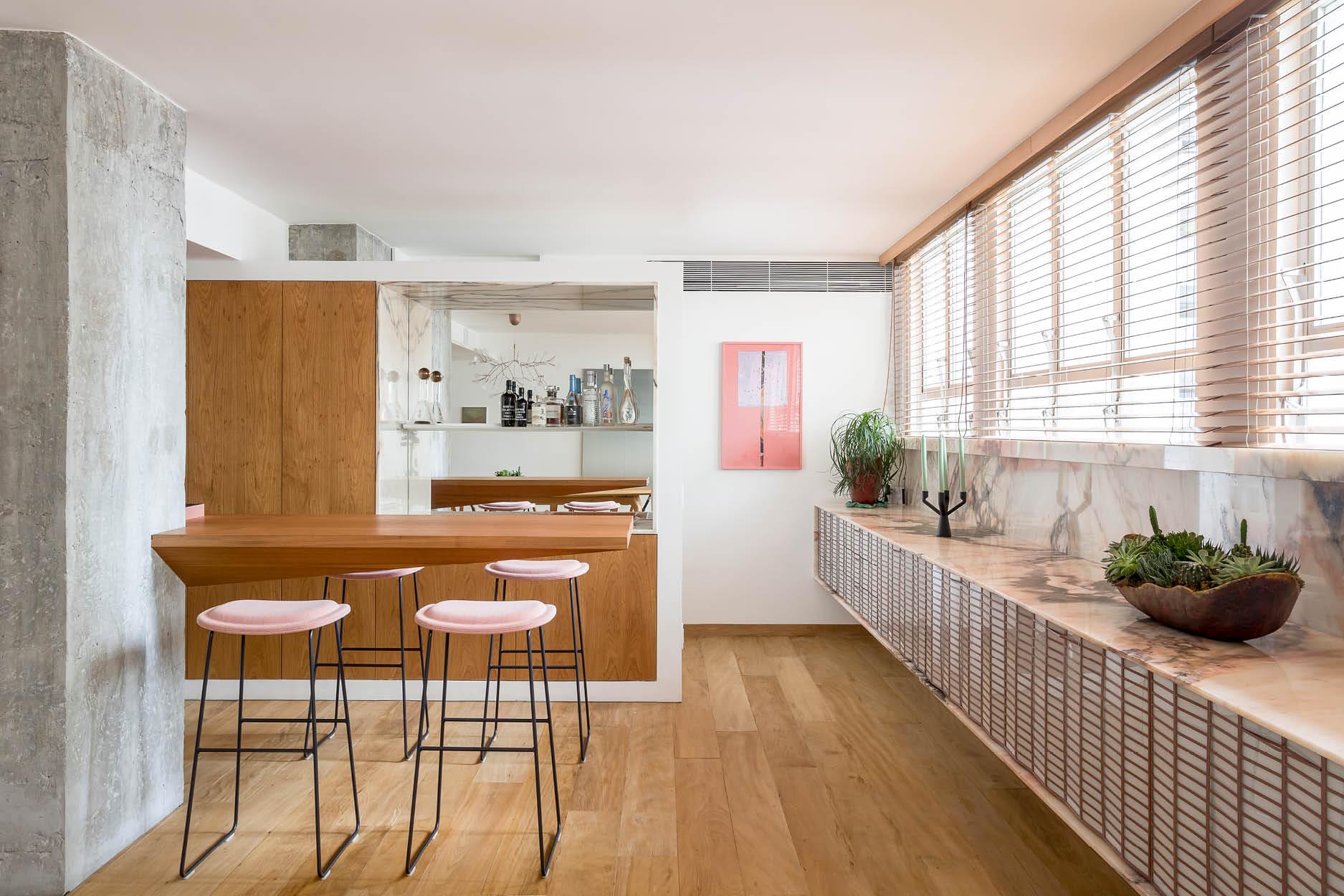 Locally-sourced Brazilian "peroba do campo" wood was used for the flooring for most parts of the apartment except for the living room floor, which is slightly slower than the rest of the functional zones and differientated with concrete.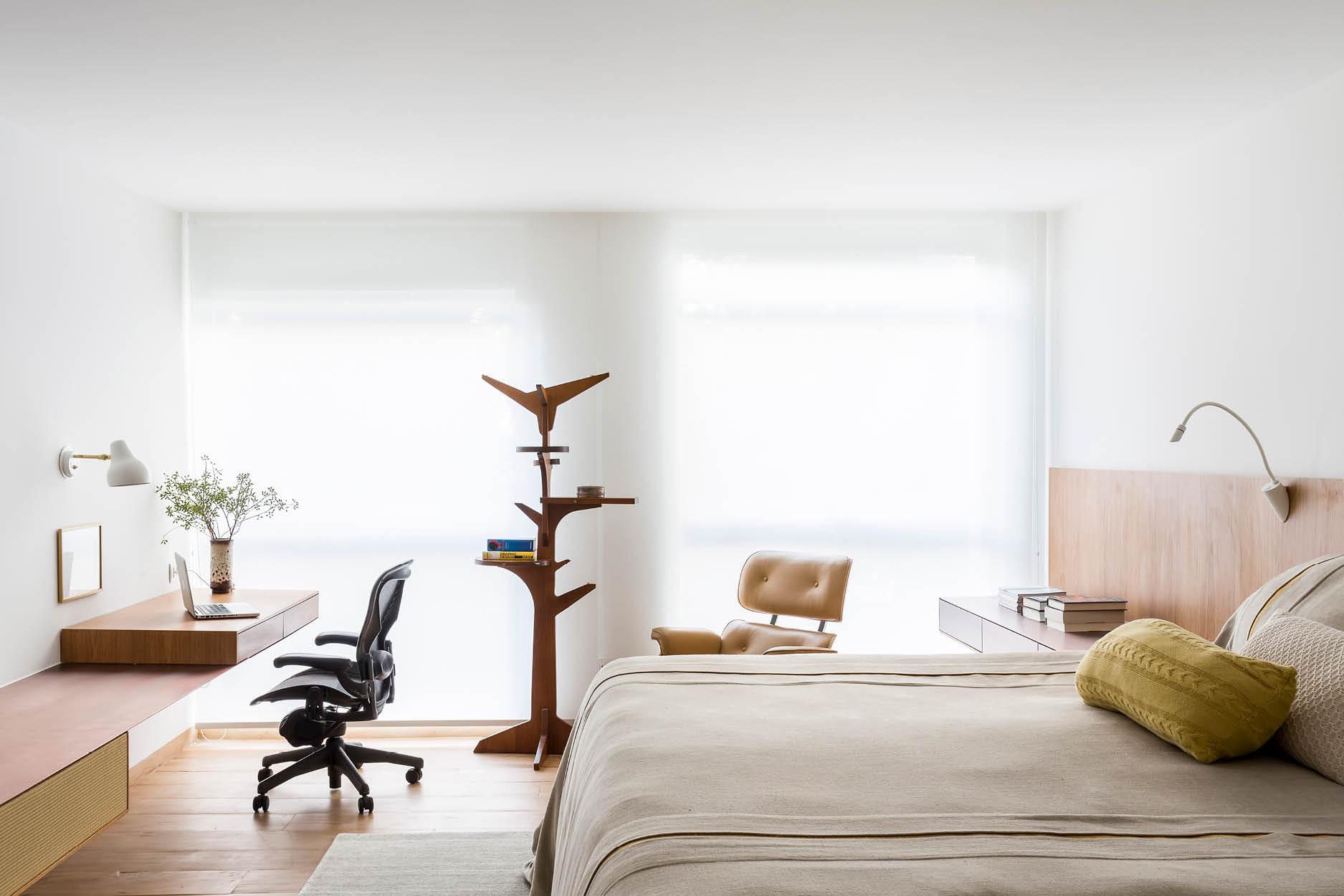 The project's most intriguing feature however, is the entrance door, which is composed of a thick wooden board that was once a chopping block for marble slabs. Because this dense board was placed underneath marble sheets when they were being cut, the pressure lines of the knife's blade left imprints that create unique patterns on the board.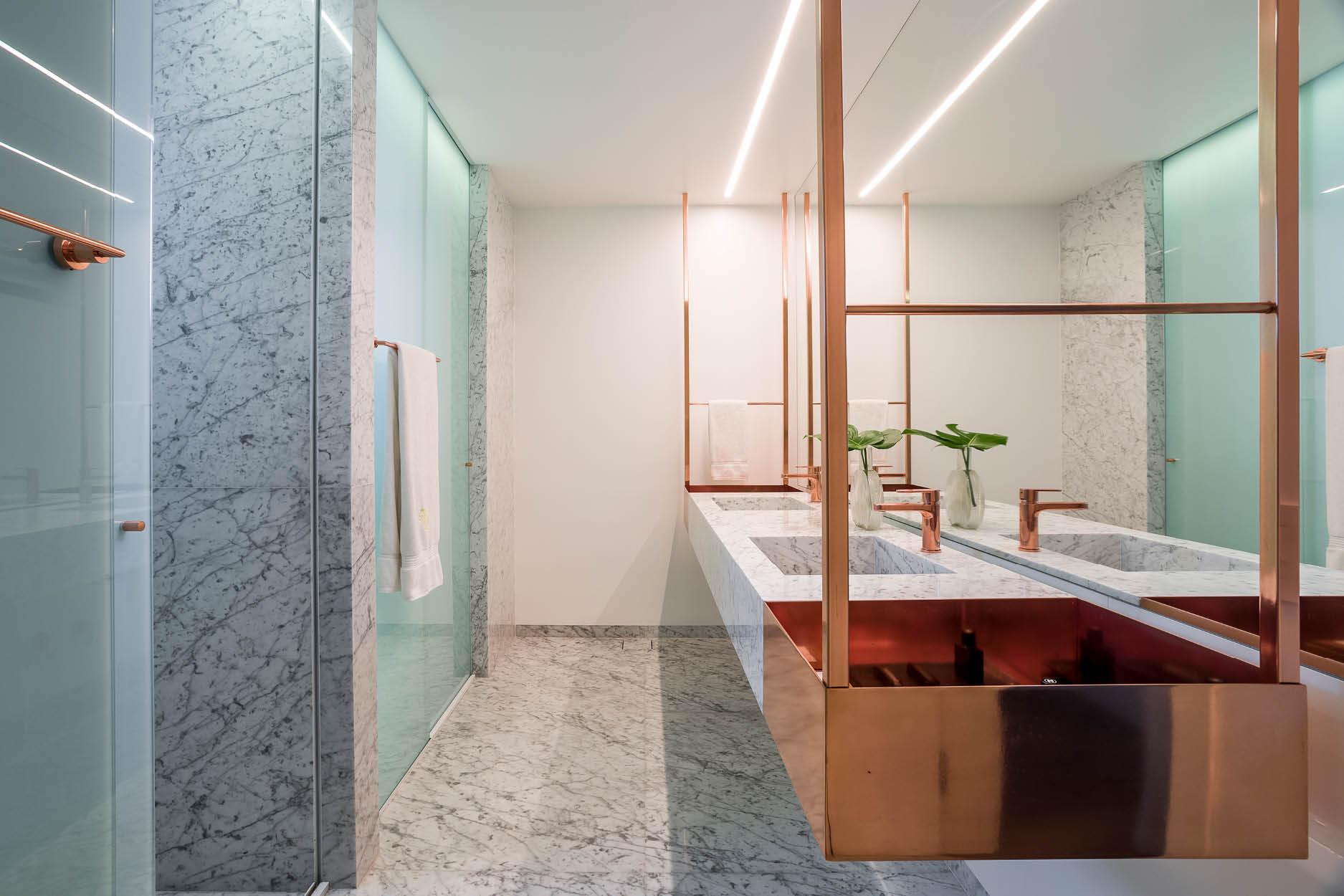 "We saw this beautiful irregular pattern in this wood board during a visit to choose marble sheets and we imagined it could become a beautiful and unique door. So we bought it from the marble supplier, cleaned it and polish it, and repurposed it as the apartment's door. Hundreds of wood boards like that go to the trash after they are all cut. We were probably the first people to see beauty in something that's under every architect's nose," says Semerdijian.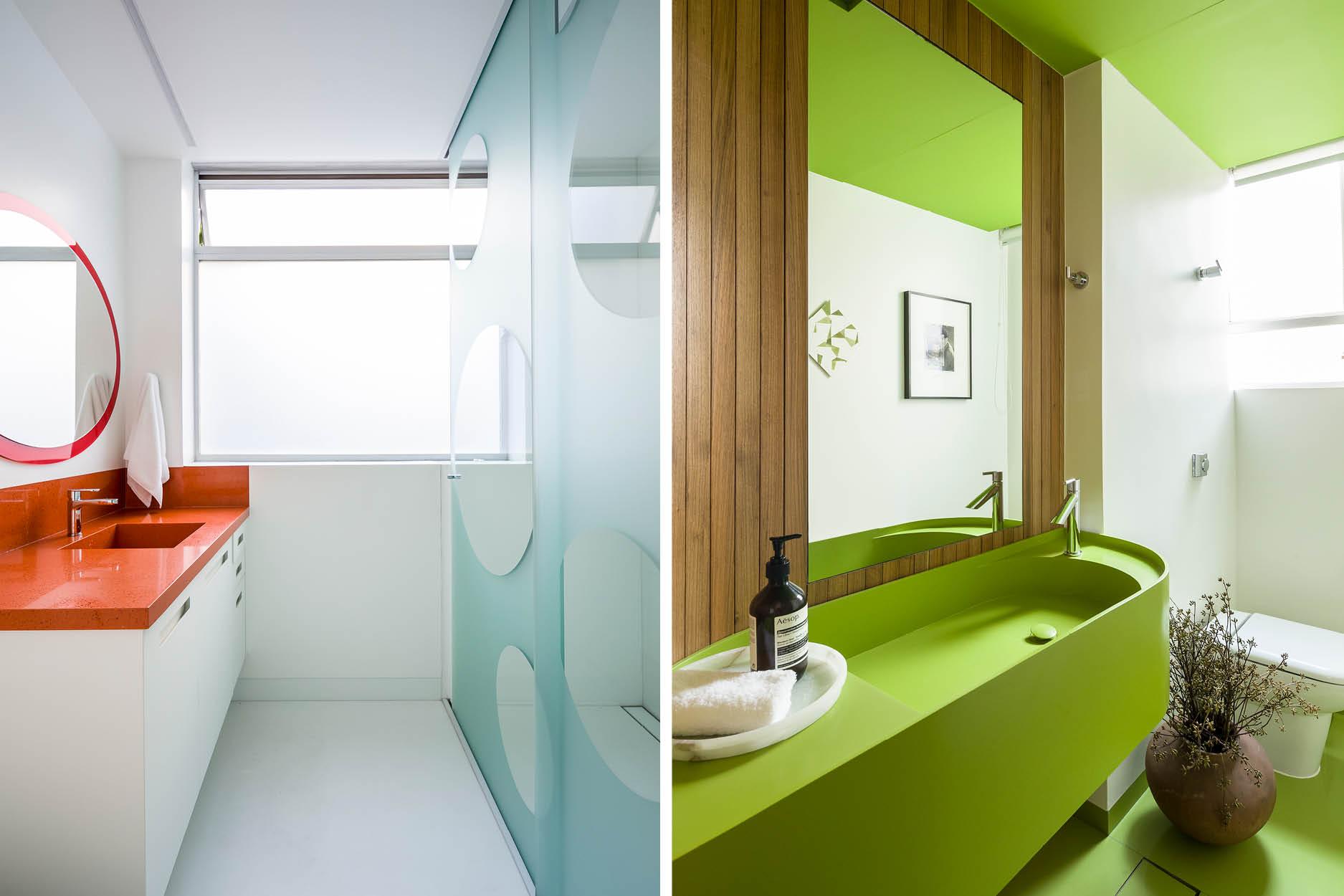 Photography: Ricardo Basetti
See more: A Stylish and Storage-Savvy Bachelorette Pad in Singapore