180 House is an urban bolthole in the City with a 70's vibe and fortunately, no lava lamps or moulded plastic furniture insight and its fabulous.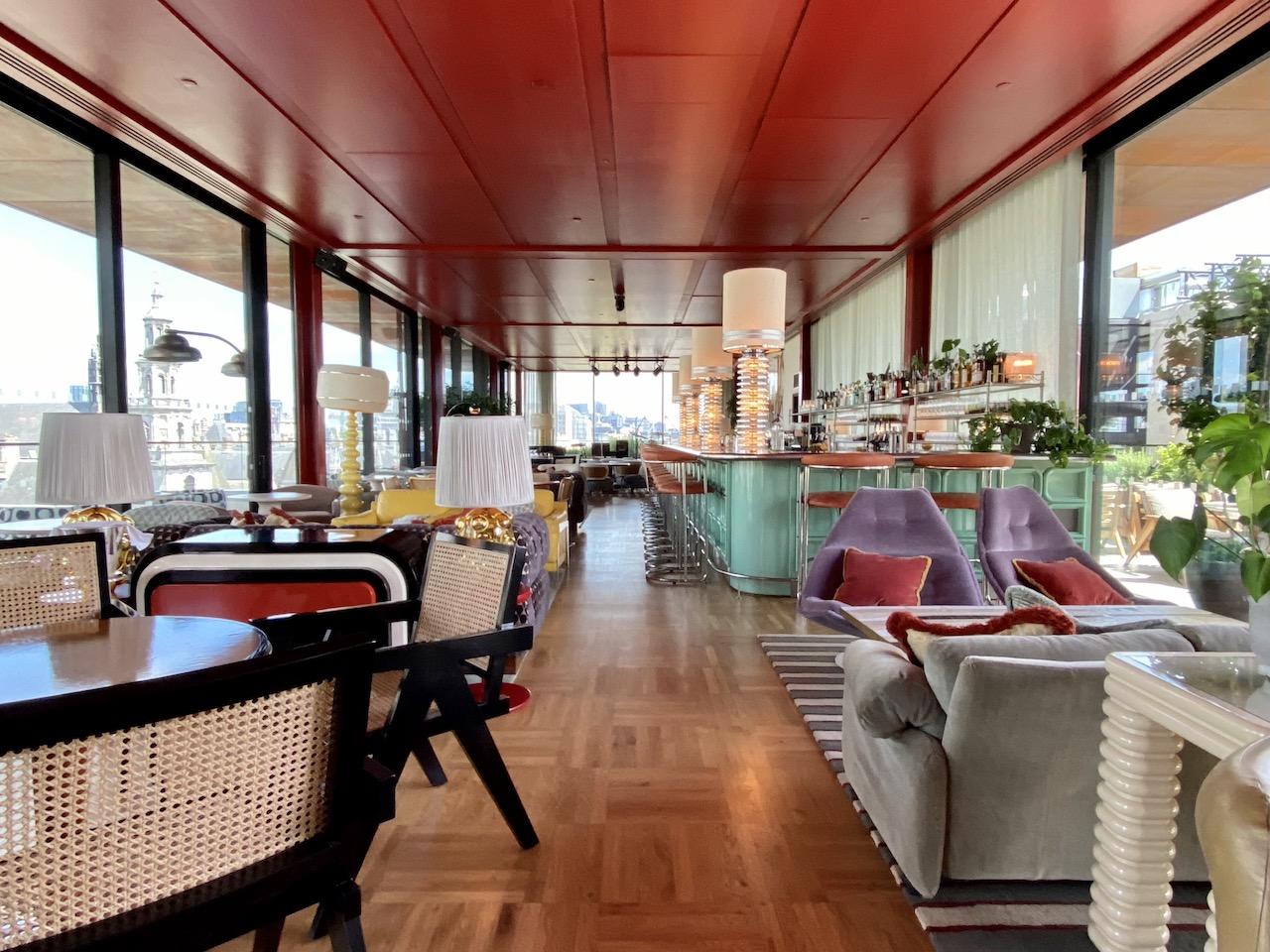 Soho House, private members club, has grown from a single London clubhouse in 1995 into an empire that spans the globe. Their in-house design team are masters in creating a sense of atmosphere, even when the room is empty—like a set awaiting its cast. Each Soho House has a different feel, but the design language speaks of the same laid-back luxury wherever the setting—their houses are layered, with a range of design references, textiles, and art brought together in complete harmony. They have perfected the art of creating intimate spaces with a retro-chic vibe, and period-appropriate furniture and fabrics that are timeless, stylish, and effortless all at once. Original fittings are preserved—the City and its culture are revered. Although the Soho House design ethos strives for a familiar clubby feel wherever you are, there's no one-size-fits-all. 'It's all about creating relevant, comfortable places that people feel good in and that makes you want to order a second bottle of wine,' says Nick Jones, the Soho House founder.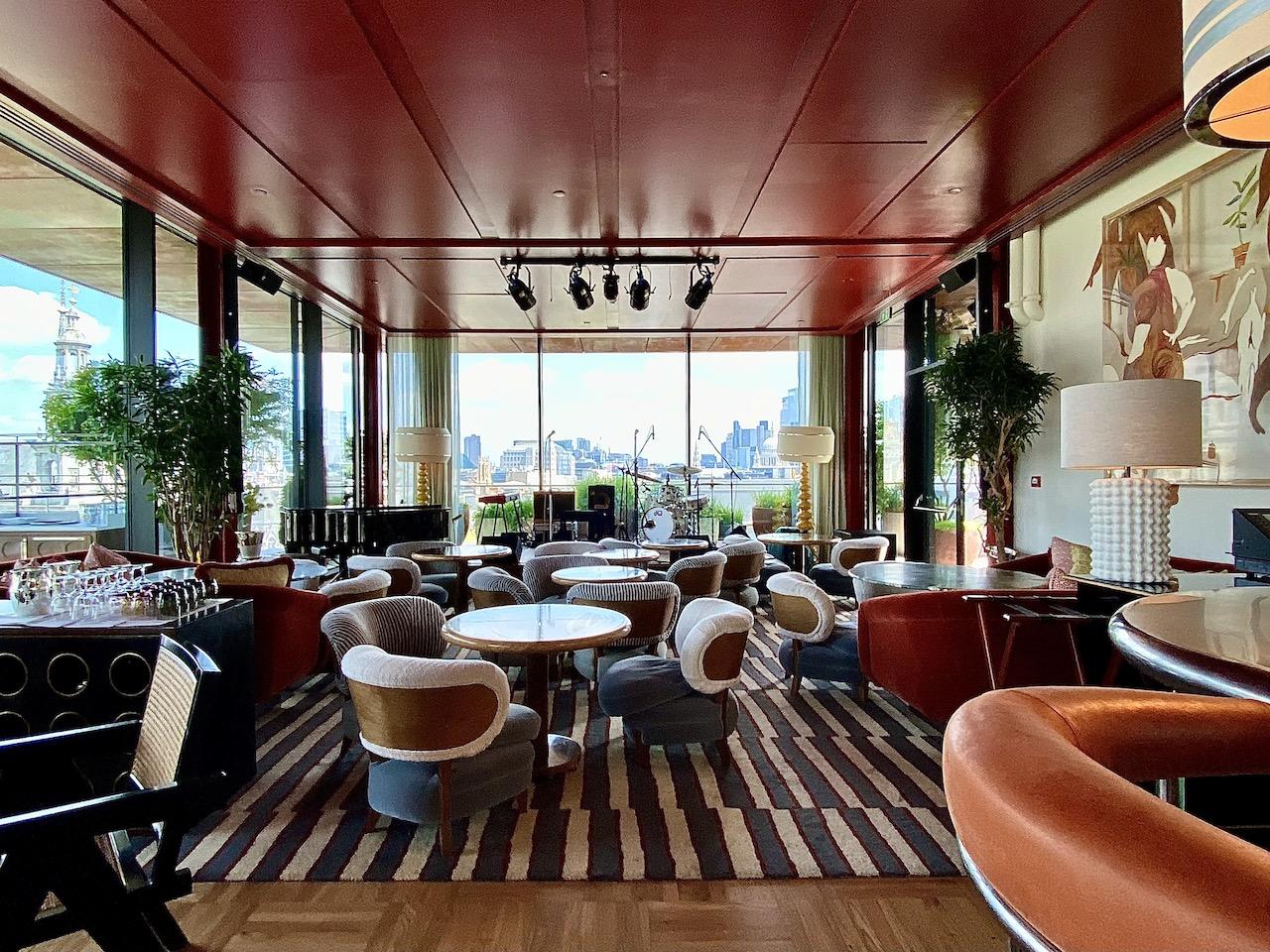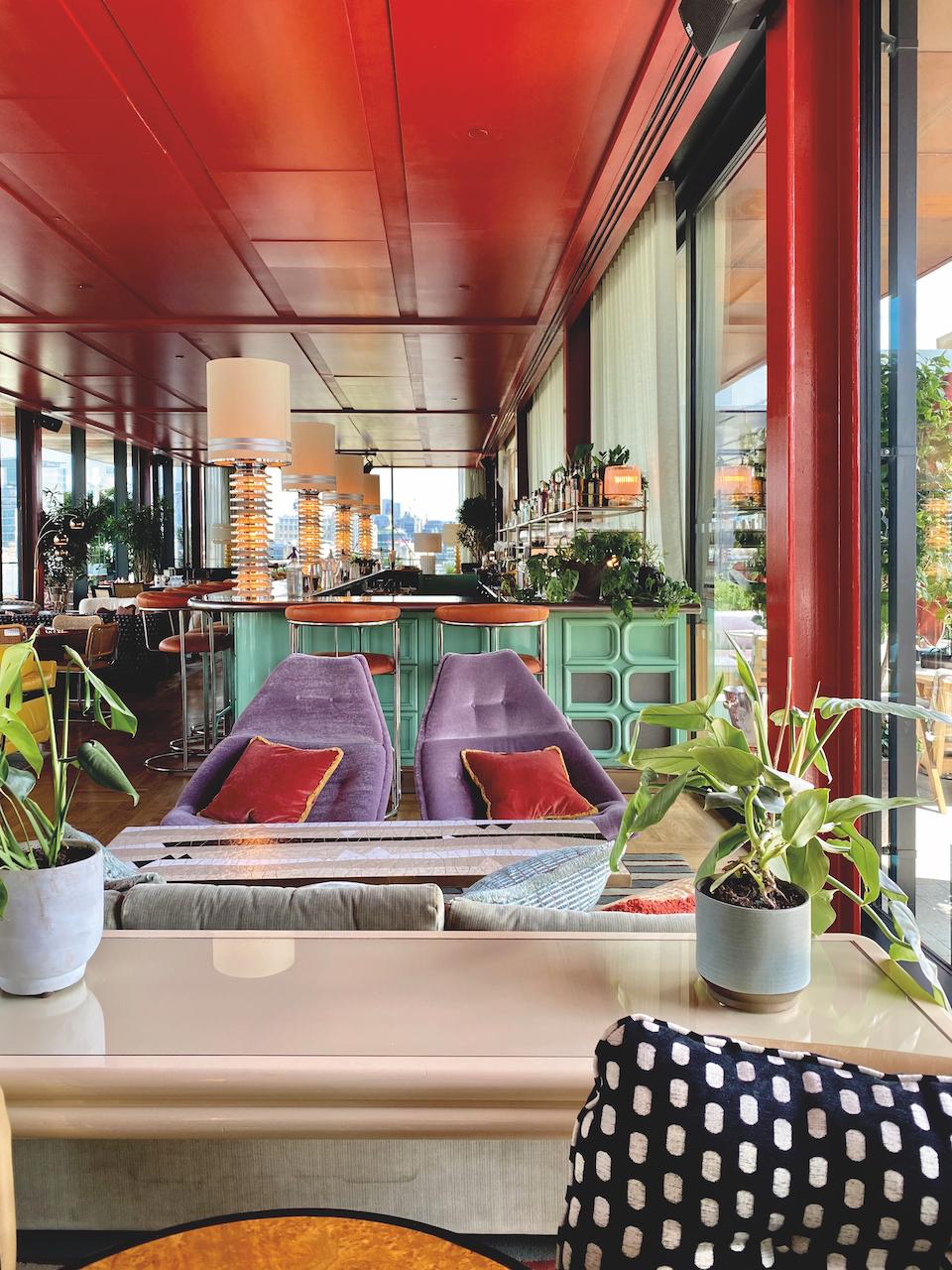 180 House is the latest Soho House iteration and their ninth London outpost. This urban bolthole is an oasis in the city with stunning 360-degree views over the Thames and Central London spread over the top two floors of the renowned Brutalist landmark, 180 Strand designed in the 70's by one of Britain's most influential Modern Movement architects Sir Frederick Gibberd. The building occupies three and a half acres stretching down from the Strand to the river Thames. Brutalist architecture is responsible for some of the most striking building designs of the twentieth century, and some of its most controversial. Brutalist buildings are the marmite of architecture—you either love them or hate them—pretty they are not. I love them!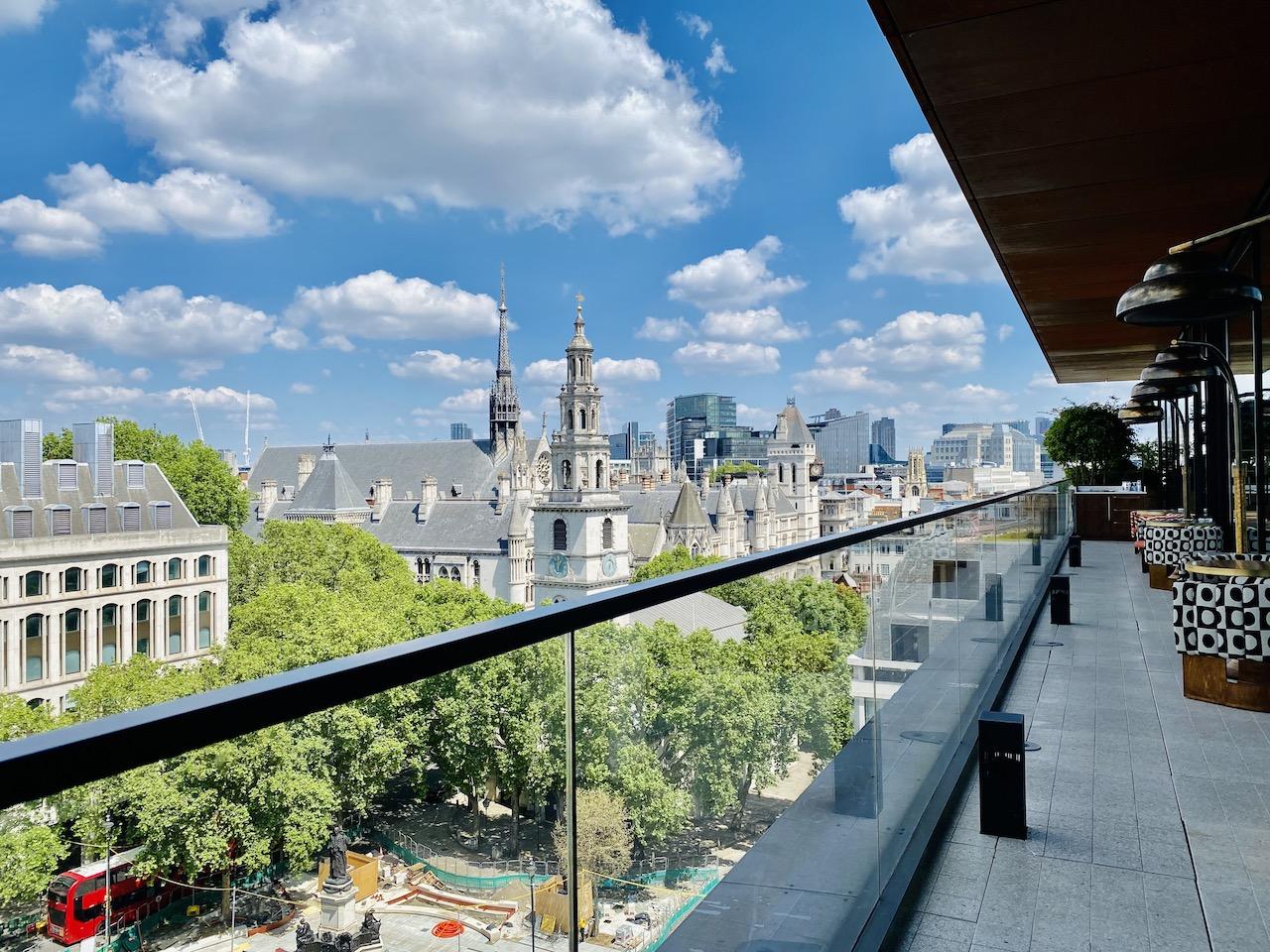 In keeping with the building, the interiors are firmly rooted in the 1970s, with a softened mid-century-inspired feel.
This 70s vibe is honoured in a joyous unleashing of brown, purple, orange, avocado green, and harvest gold in luxurious mohair and velvet banquettes, corduroy sofas and barrel chairs, and a scattering of iconic mid-century pieces in striking geometric prints that convene atop parquet flooring, shag pile rugs, juxtaposed with lacquer furniture, chrome accents, and fabulous retro lighting.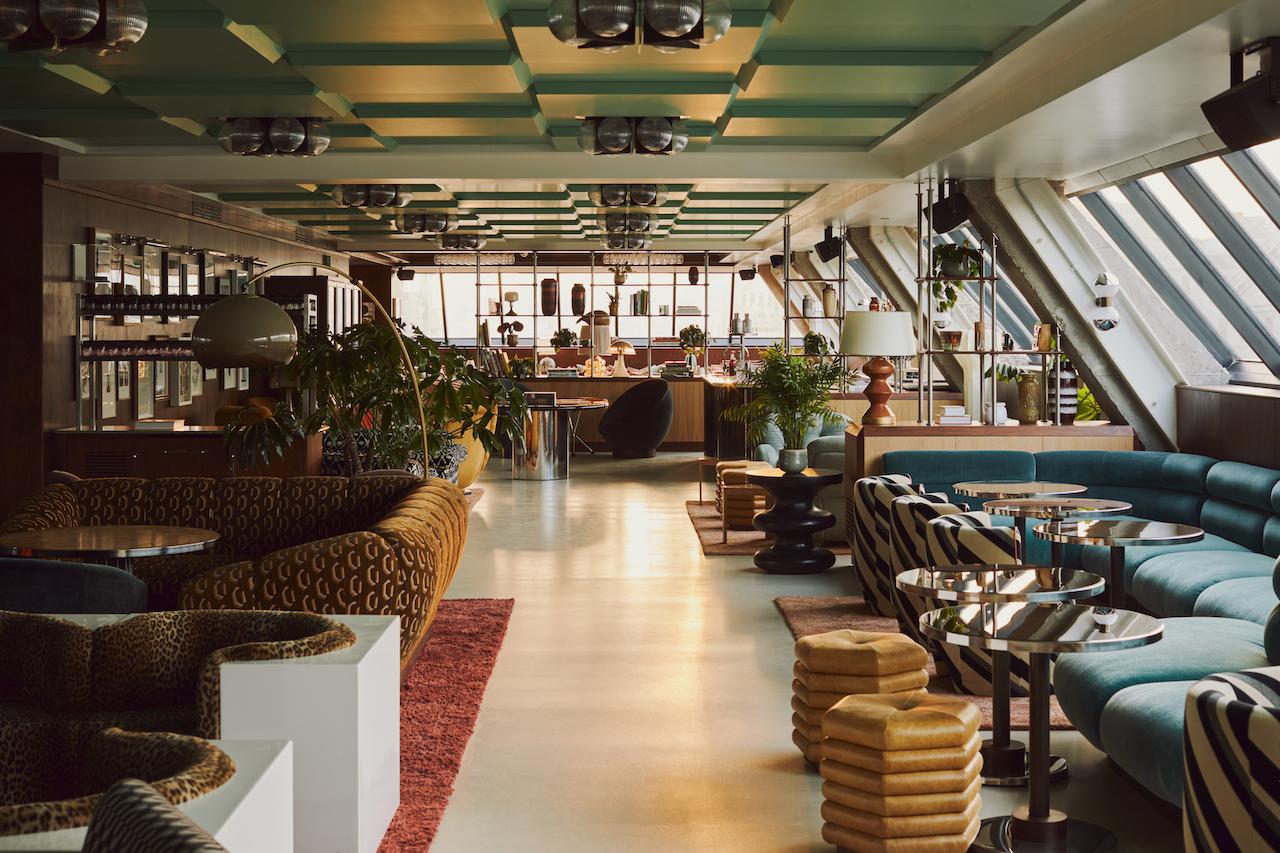 The eighth floor is the main members' lounge with lots of comfy clubby seating and a long leather bar that runs across the back of the room, a DJ booth, and a vinyl listening area. The walls are clad in timber, and the original 1970s Brutalist window structures are left exposed. The dining space at the far end sizzles with a snazzy fitted geometric carpet, mohair banquettes, 70's style dining chairs, and a mirrored ceiling reflecting the glamorous chandeliers, while windows on either side give views across the City. Stairs lead up to the ninth floor, opening onto an art-lined hallway and tantalising glimpses of the opulent, colourful bar and dining room to the left side and the bar and pool to the right side—and the magnificent views!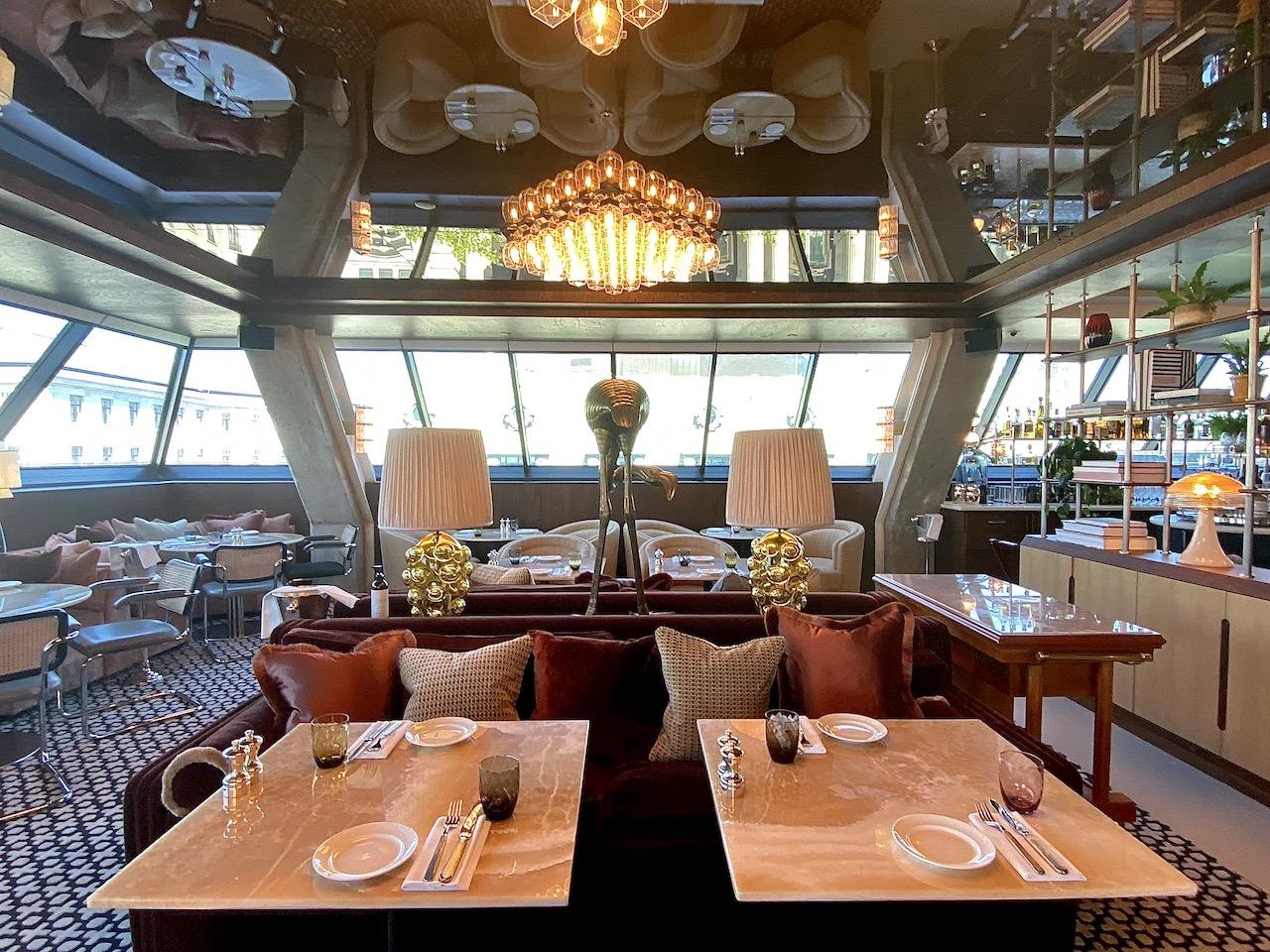 The decadently glamorous avocado green top-floor bar and dining room conjure images of a more refined bygone era - of dressing up in fine garb, cigarette holders, and cocktails in hand, and deliciously decadent all-night revelry.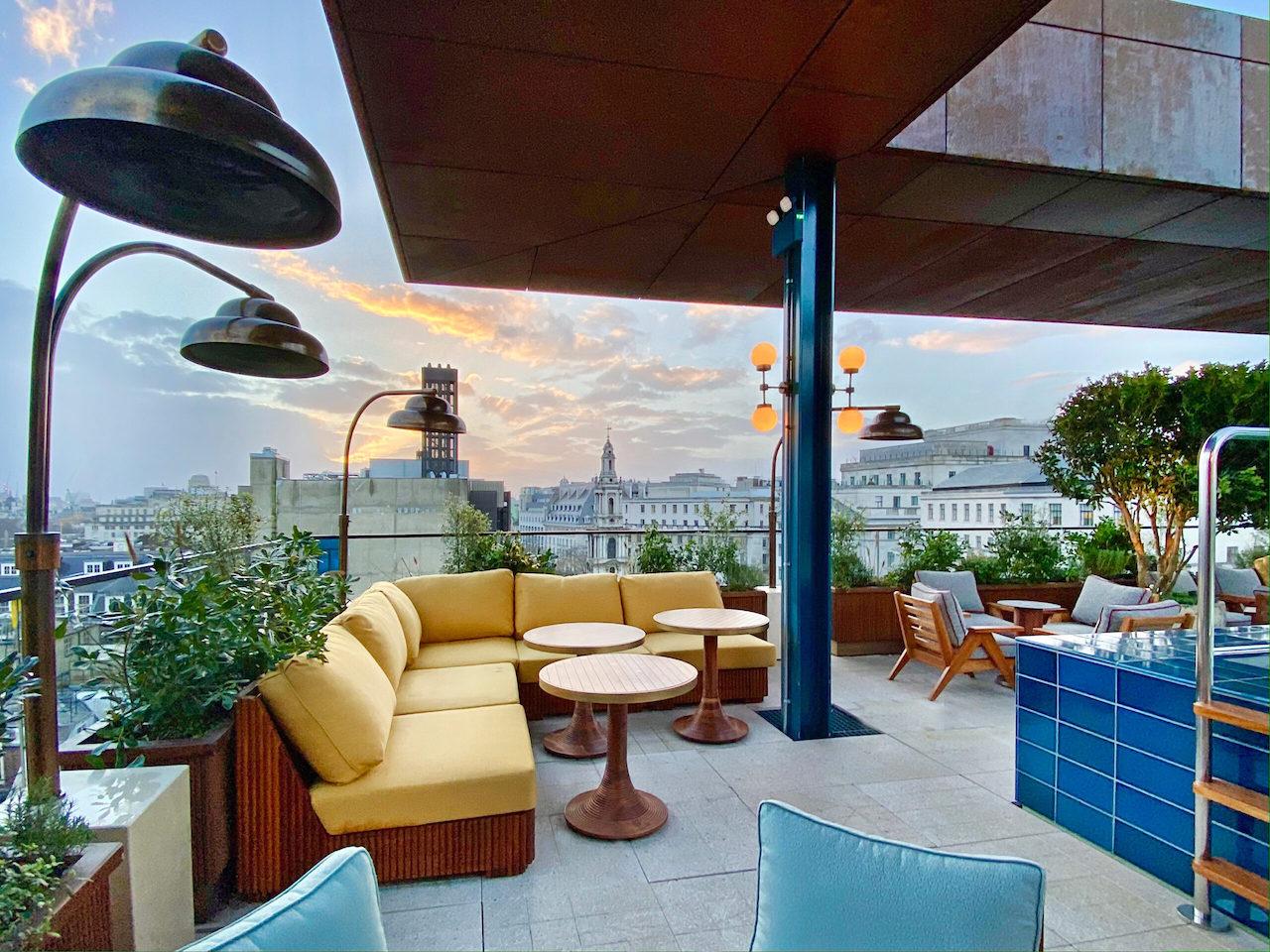 In the evenings, the candles are lit, and live jazz pervades that along with the flamboyantly groovy lighting, and fabulous furniture is reflected in the panelled red lacquer ceiling—It's glorious.
Floor-to-ceiling glazed doors open to a covered wrap-around terrace with chairs and tables for eating and drinking, and a kitchen garden at one end grows herbs for the House kitchen and bars.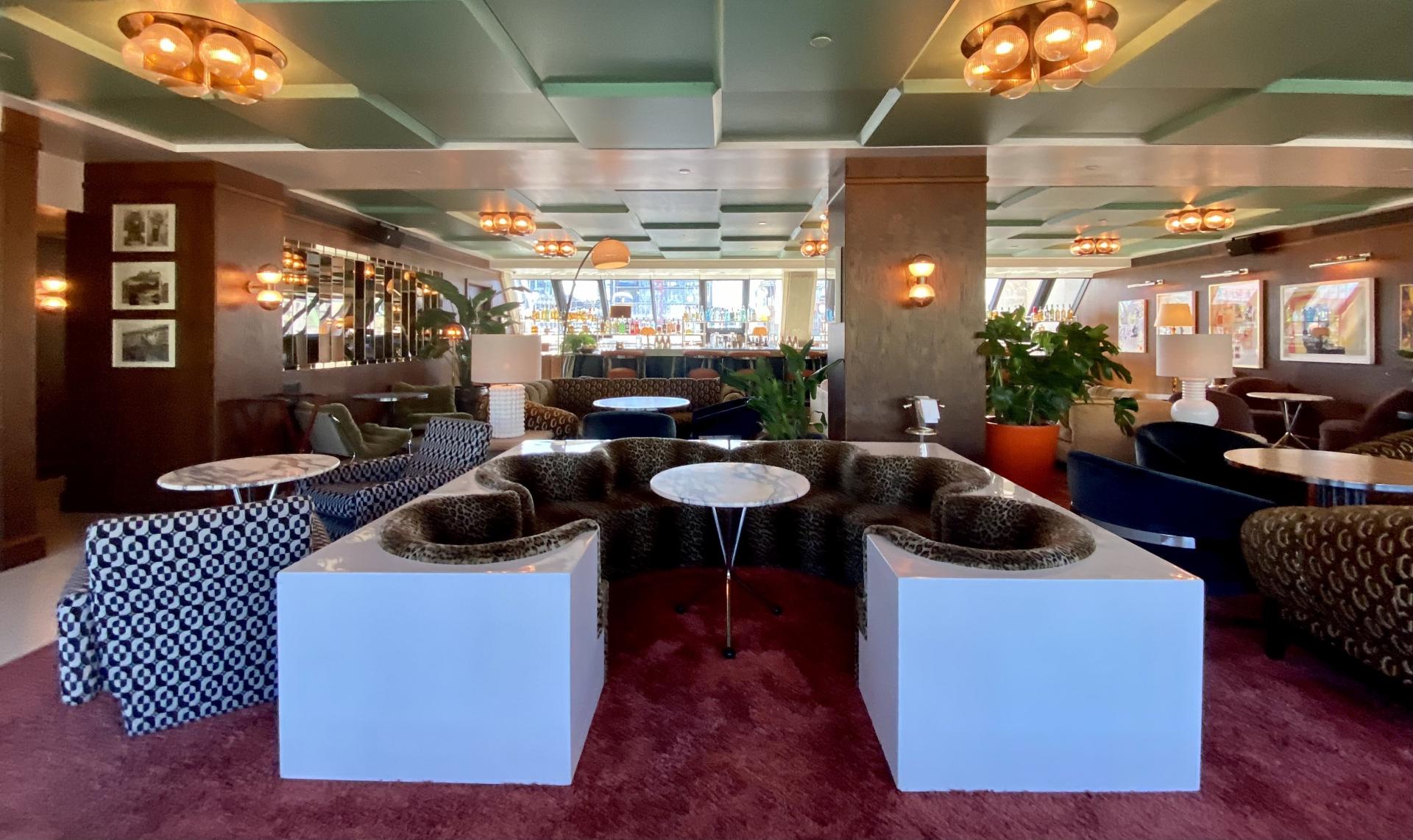 At the other end of the art-lined hallway, to the right, there is yet another stunning and uber-glam bar encased in a glass box with indoor and outdoor dining on an adjacent leafy terrace. The bar leads out to a beautifully weathered steel pavilion that partially shelters a bar, a pizza oven, a DJ booth, and the inviting dark blue glazed lava stone tiled swimming pool surrounded by lounge seating and bursts of greenery lining the edge of the roof. Incredible open views over the Thames, Westminster, and Central London it's the perfect spot for convivial alfresco gatherings and late-night merriment.
Art is ubiquitous in all the houses, and here the collection consists of nigh on 160 artworks that reflect the London art world and works made during the global pandemic and subsequent lockdown line the ninth floor hallway, plus several museum-level standalone pieces by emerging artists such as Jemima Kirke's Allison in Her Wedding Dress (2017) presides over the glamorous top-floor bar and dining room.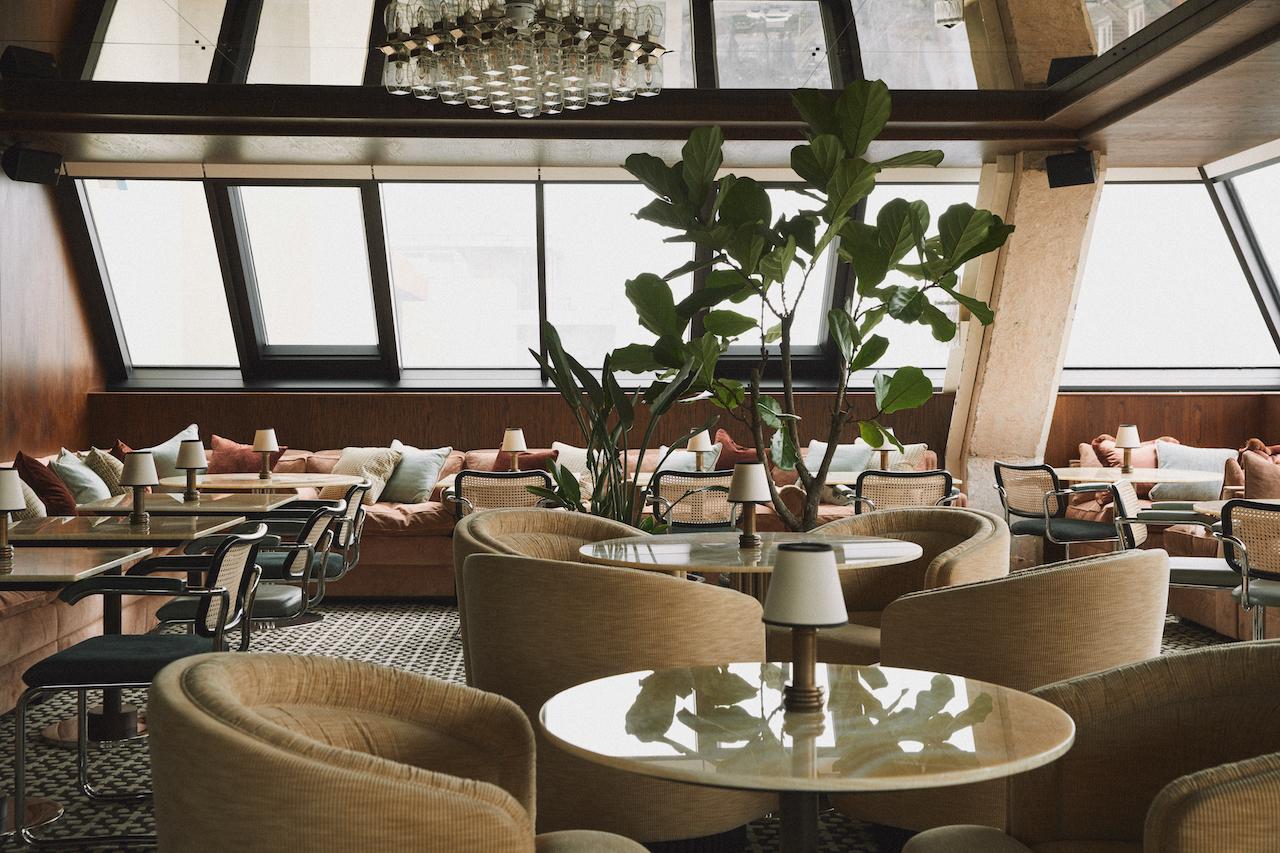 Soho House all-day dining and late-night snacks include their beloved staples mac and cheese, pizza, dirty burgers, aged ribeye, string fries and béarnaise sauce, and their delicious American cheesecake. Drinks and food are consistently good and super moorish throughout the houses with house staples as well as unique house dishes—the same with drinks—you'll always find a Picante de la Casa, (Margarita ingredients with a 1/4 chilli pepper for a little heat and muddled coriander) a Negroni and an Old Fashioned.
The lower floors 1-7 are home to a new flagship Soho Works, the club's co-working network space, an event space in a first floor loft, and House Studio a unique space for members to instantly create and share video, photo, and audio content. Soho Health Club and wellbeing space will open later this year.
There's a bike workshop, a pop-up restaurant with revolving food concepts on the ground floor, and the 180 Cafe on the ground floor. Outside, 180 Garden hosts residencies from Persian restaurant Chelo, 180 Pasta, and ramen from Akira Shimizu.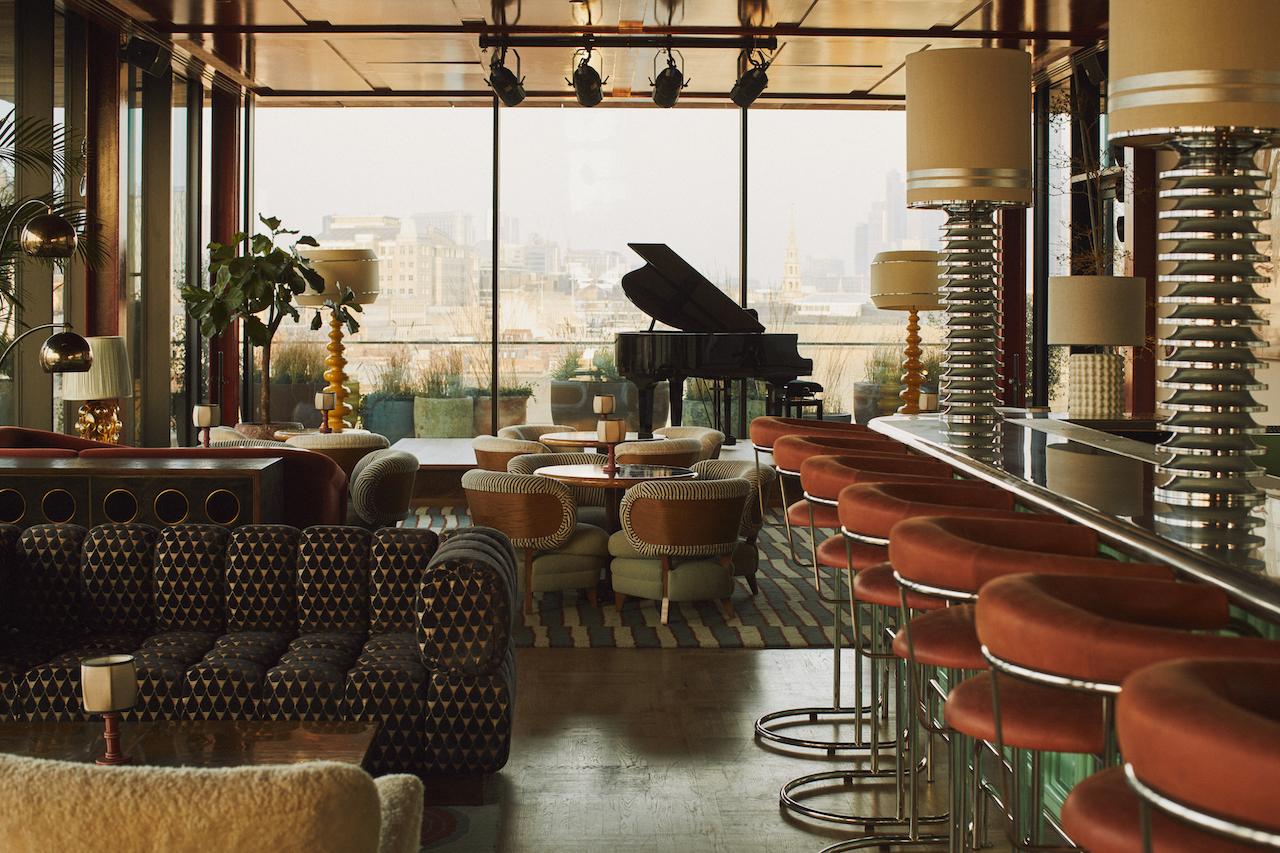 180 House is an oasis in the City that reframes how we socialise, connect, work and work out in a post-pandemic world.