"Welcome to the Hotel California
Such a lovely place (such a lovely place)
Such a lovely face
Plenty of room at the Hotel California
Any time of year (any time of year)
You can find it here."
The Eagles.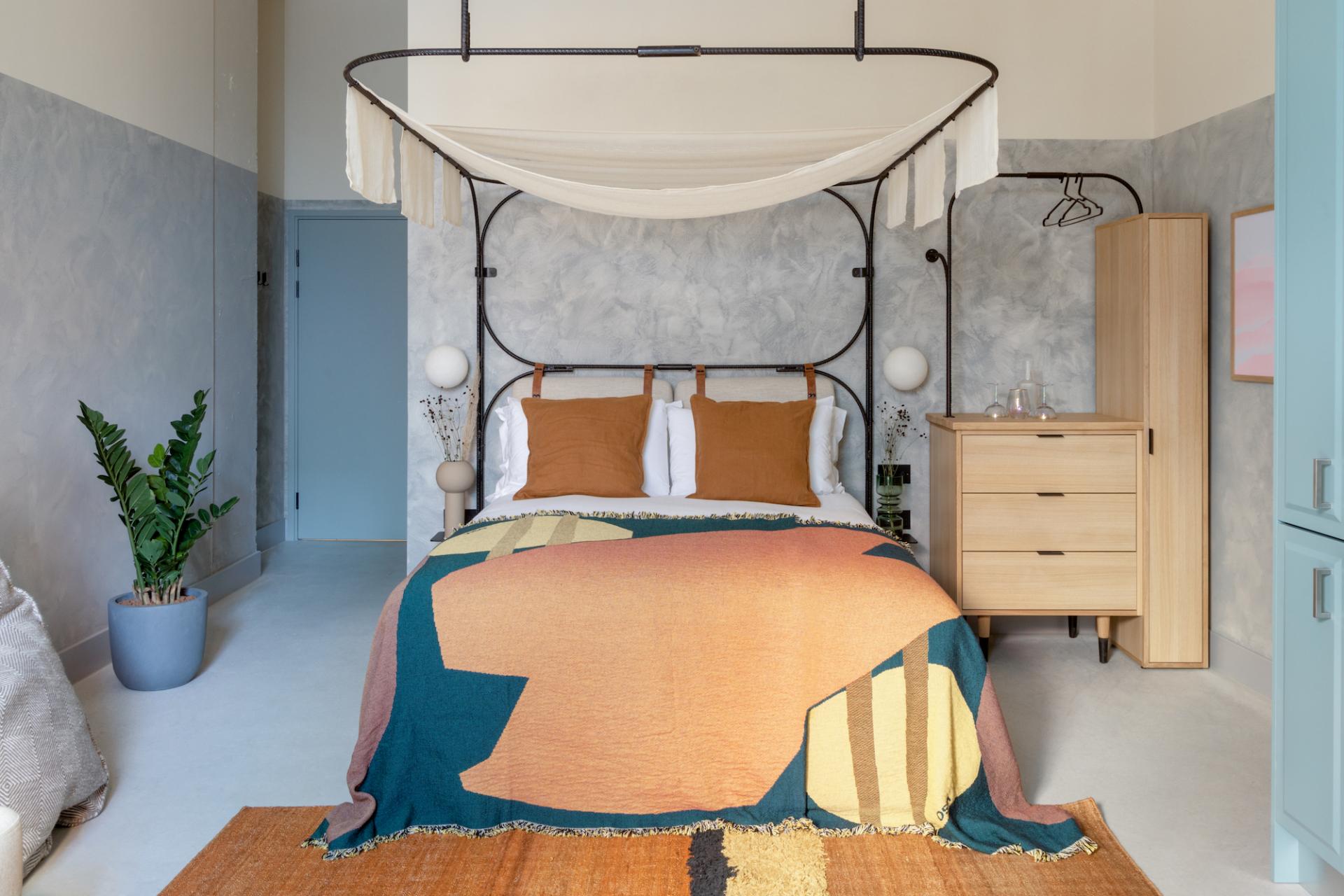 You can now find California under the gaze of the Shard - who needs to fly!
Step into Bermonds Locke So-Cal aesthetic inspired by sun-scorched California—the interiors are swathed in psychedelic rainbow-colored iridescence in purples and yellows pinks, swing chairs, and cacti—its more a place to escape than a place to sleep.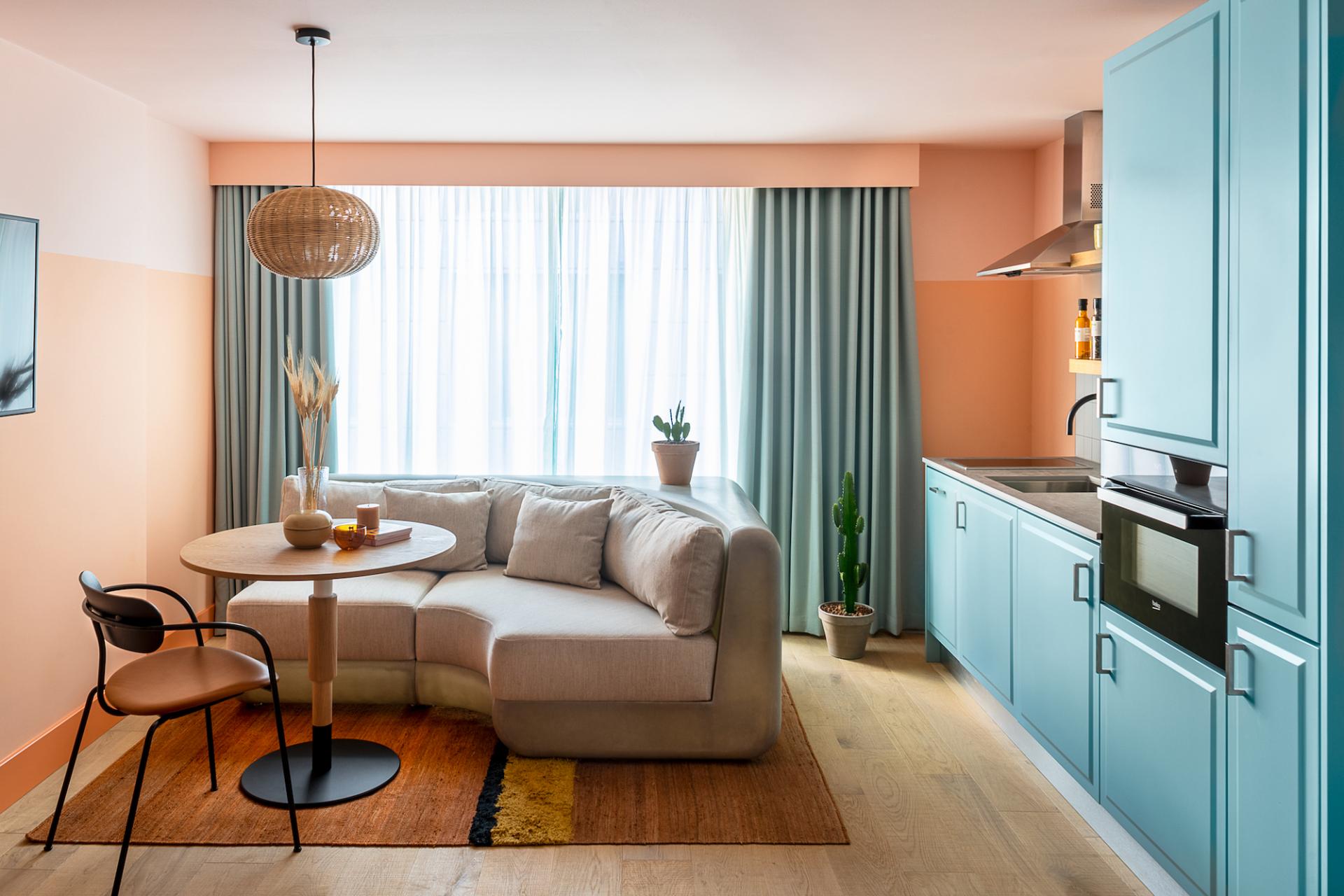 "You could travel the world
But nothing comes close
To the golden coast."
Golden Gurls. Katy Perry.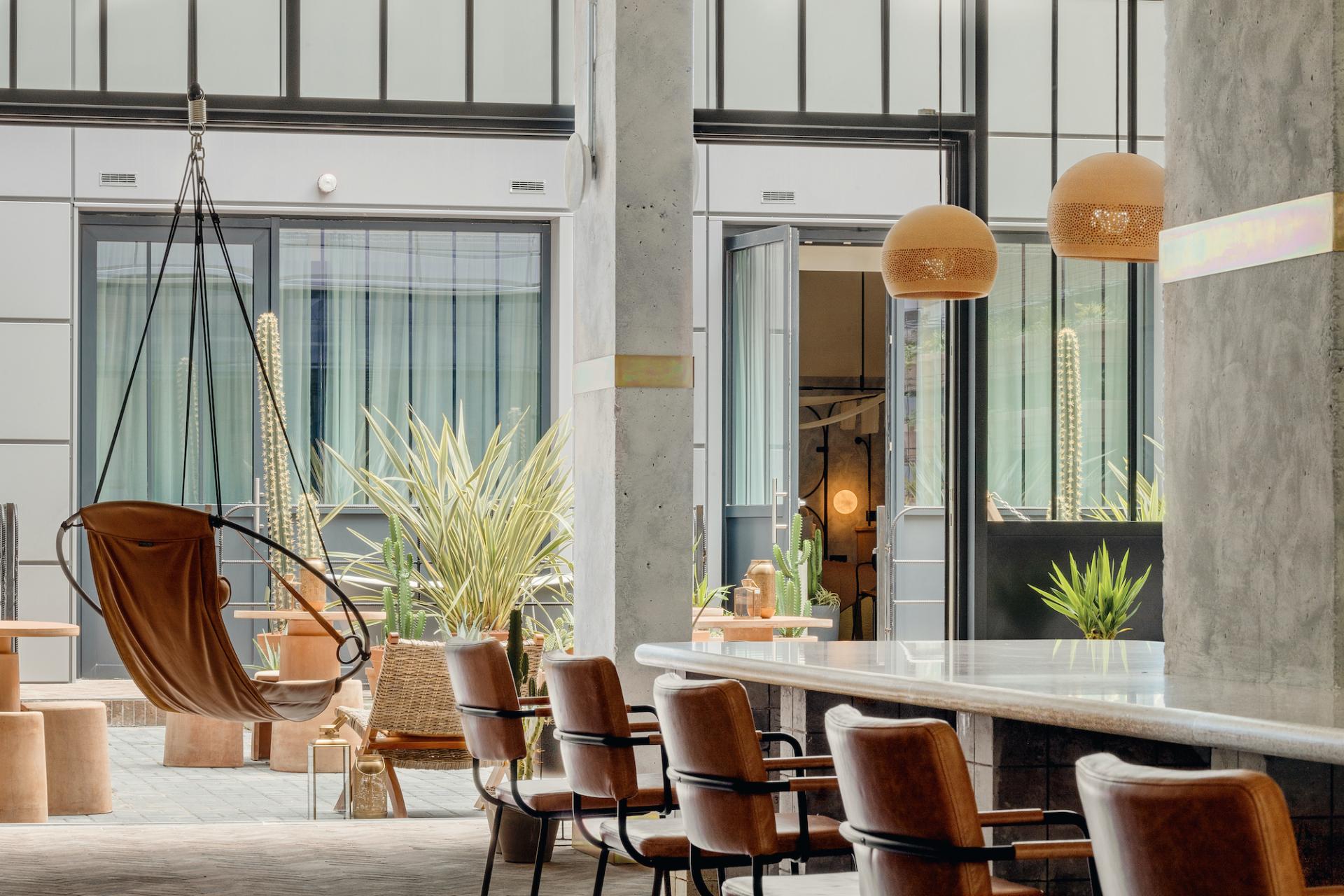 Yes! Despite the urban setting design studio Holloway Li took inspiration from sun-scorched California, the Mojave Desert, and Joshua Tree National Park. Appropriating the eccentric language of bricolage used to make up the desert cabins dotted around Joshua Tree, they have recycled the construction site materials to create a space with an escapist identity. Concrete testing cubes destined for landfill serve as plinths for a six-meter long terrazzo table in the ground floor workspace, and the bar frontage. Repurposed steel rebar and clay bricks form decorative ironwork and joinery. Through their innovative reuse of waste materials, they have created a unique aesthetic.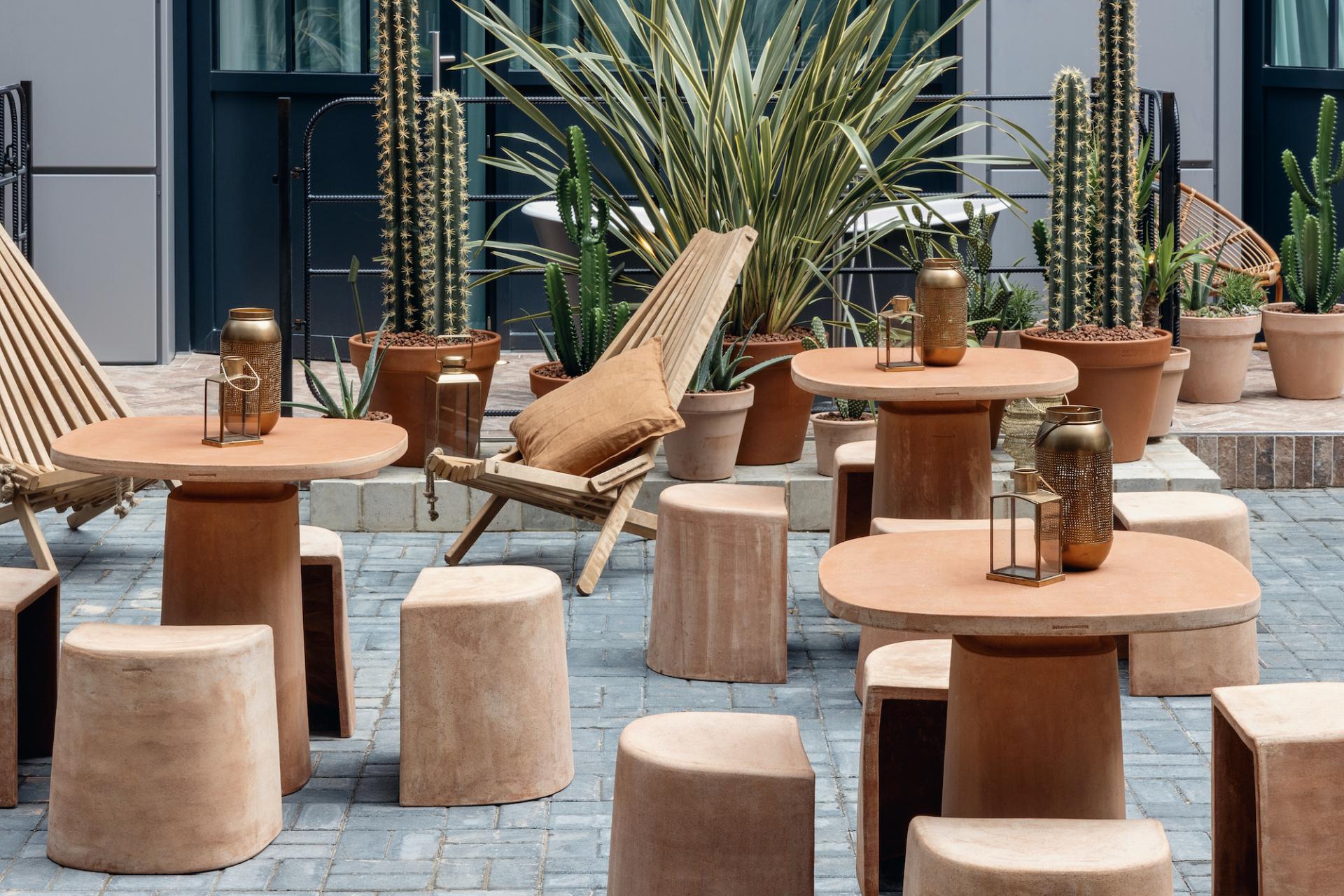 Bermonds Locke is a sustainable urban retreat in the heart of Bermondsey in South East London created in a partnership between Locke Living and design studio Holloway Li.
"For Bermonds Locke, we developed a low-impact approach in our choice of materials. We investigated how we could repurpose or recycle basic construction materials and processes in new ways, creating a distinctive aesthetic and original personality," explains Alex Holloway, Creative Director, Holloway Li.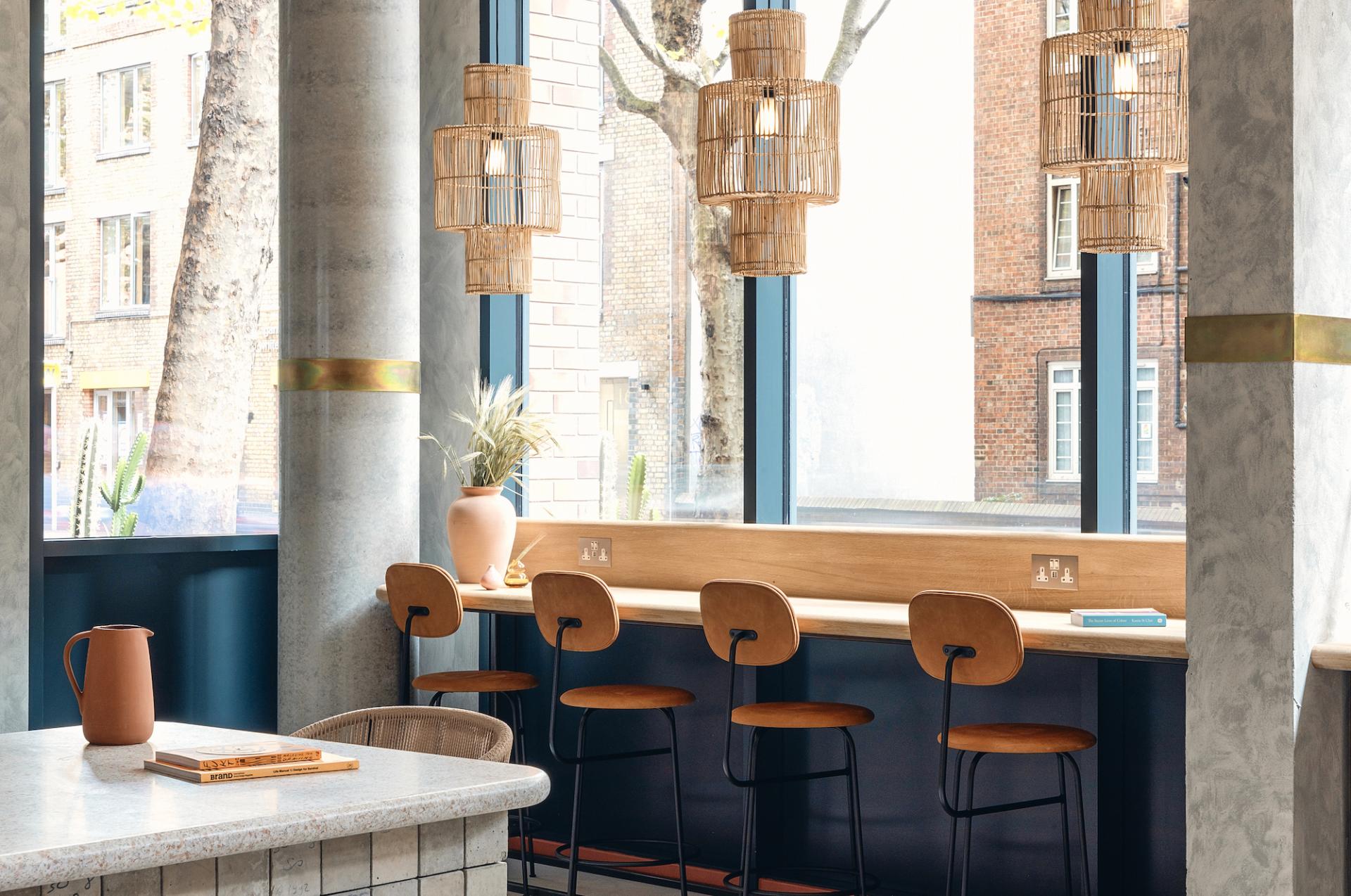 Passivated zinc panels with a rainbow-coloured iridescent surface line sections of the ceiling, feature walls, structural columns, and the bar tops mimicking the quality of a desert mirage. It's also a nod to Joshua Tree's notoriety as a pilgrimage destination for hallucinogenic travellers; the iridescent effect on the metal is suggestive of the dizzying colour saturation of a psychedelic experience.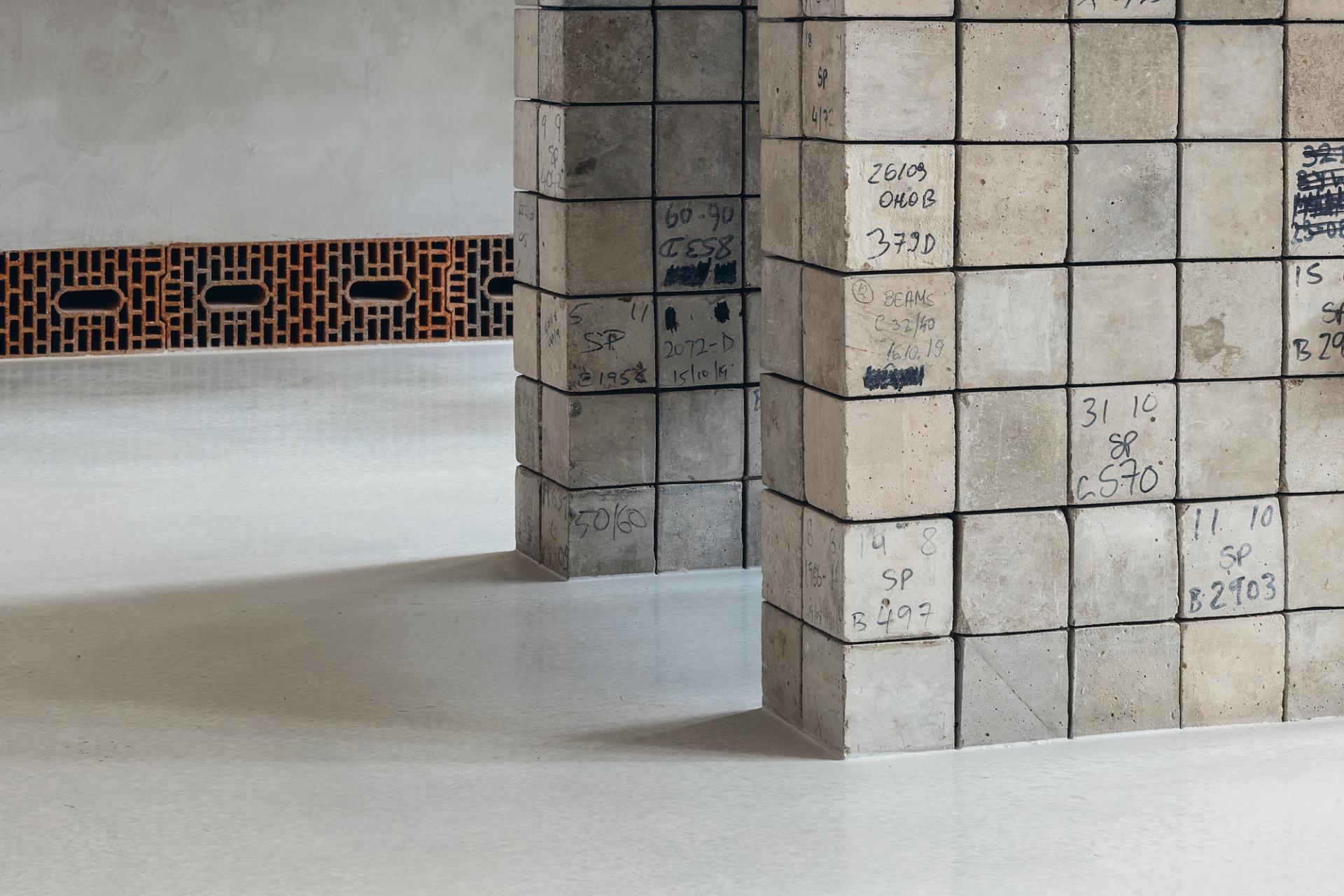 Visitors can meander through open spaces basking in soft light in the tranquil pursuit of both business and pleasure. A white, mottled semi-circular panel above the concierge counter reflects a huge moon-like image on the ceiling is inspired by Olaf Eliasson's celebrated Weather Project installation. Swing chairs, fixed concrete banquette seating, and suspended planters punctuate the bar and restaurant space.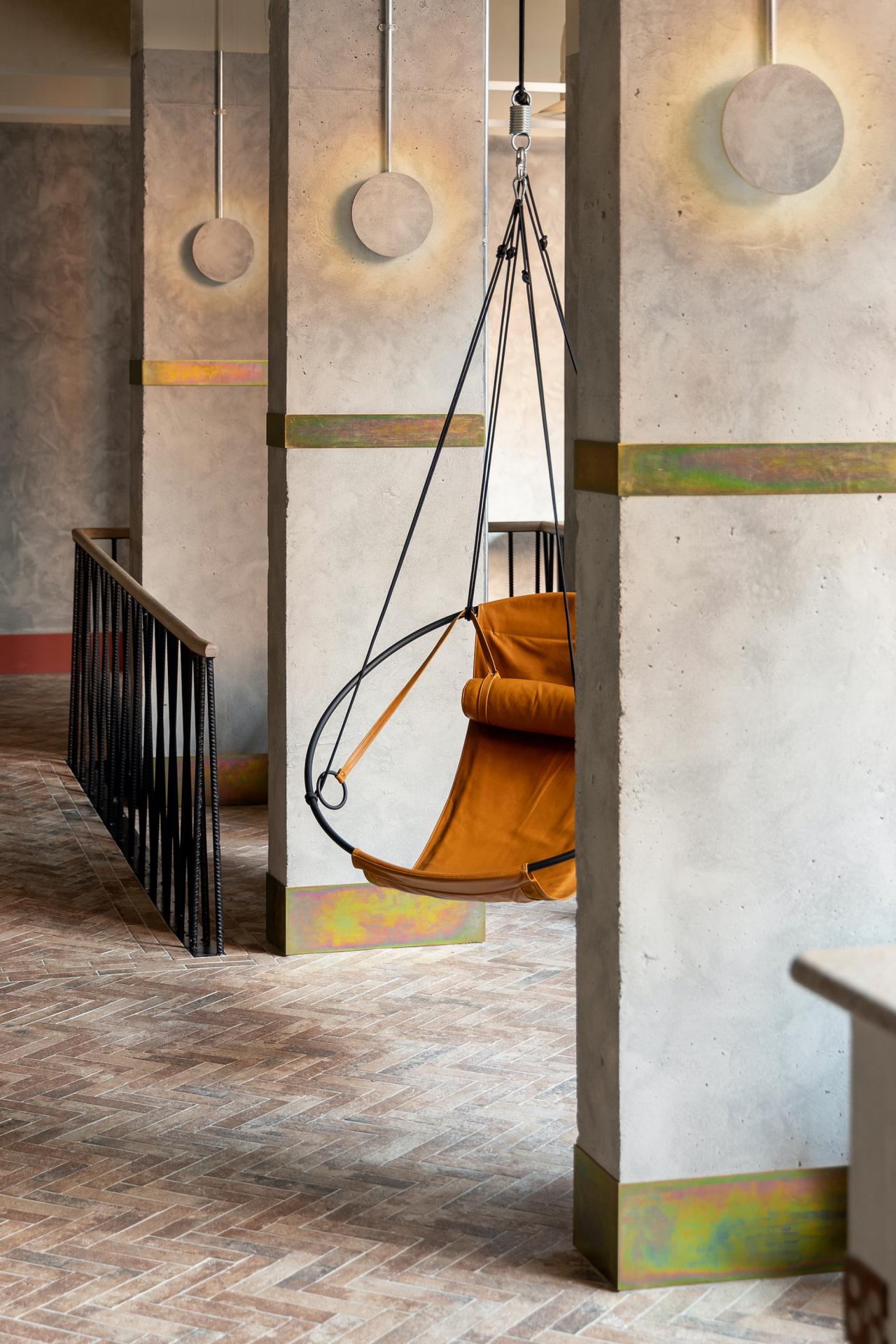 The hotel's reception area doubles-up as a co-working space; the surfaces are rendered with clay bricks to echo the desert landscape — and the furniture is made from reused construction materials.
The industrialised zinc-passivation wall panelling is taken into the guest rooms and echoed by fluted polarising sliding glass partitions. Giant cacti-filled planters fill the hotel reception acting as a separation between the cocktail bar and the restaurant, and a nod to hot, arid Californian landscapes.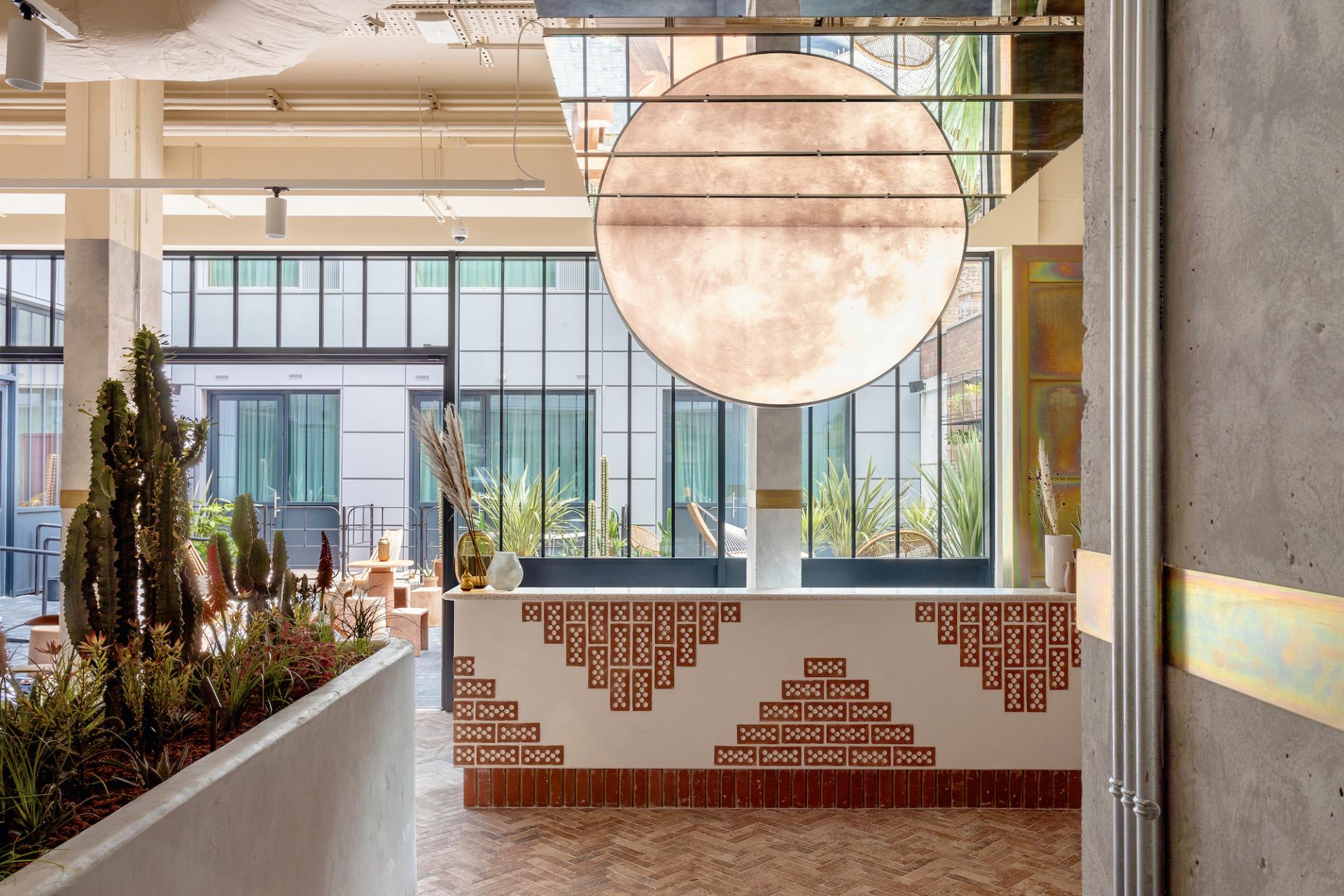 The lower floors are saturated in vibrant reds, while the living rooms on the upper floors are dipped in blue, beige, and grey hues. Sofas are handmade in sand mixed with resin lay-up to recreate desert tones and sit on rough-hewn sawn timber floors.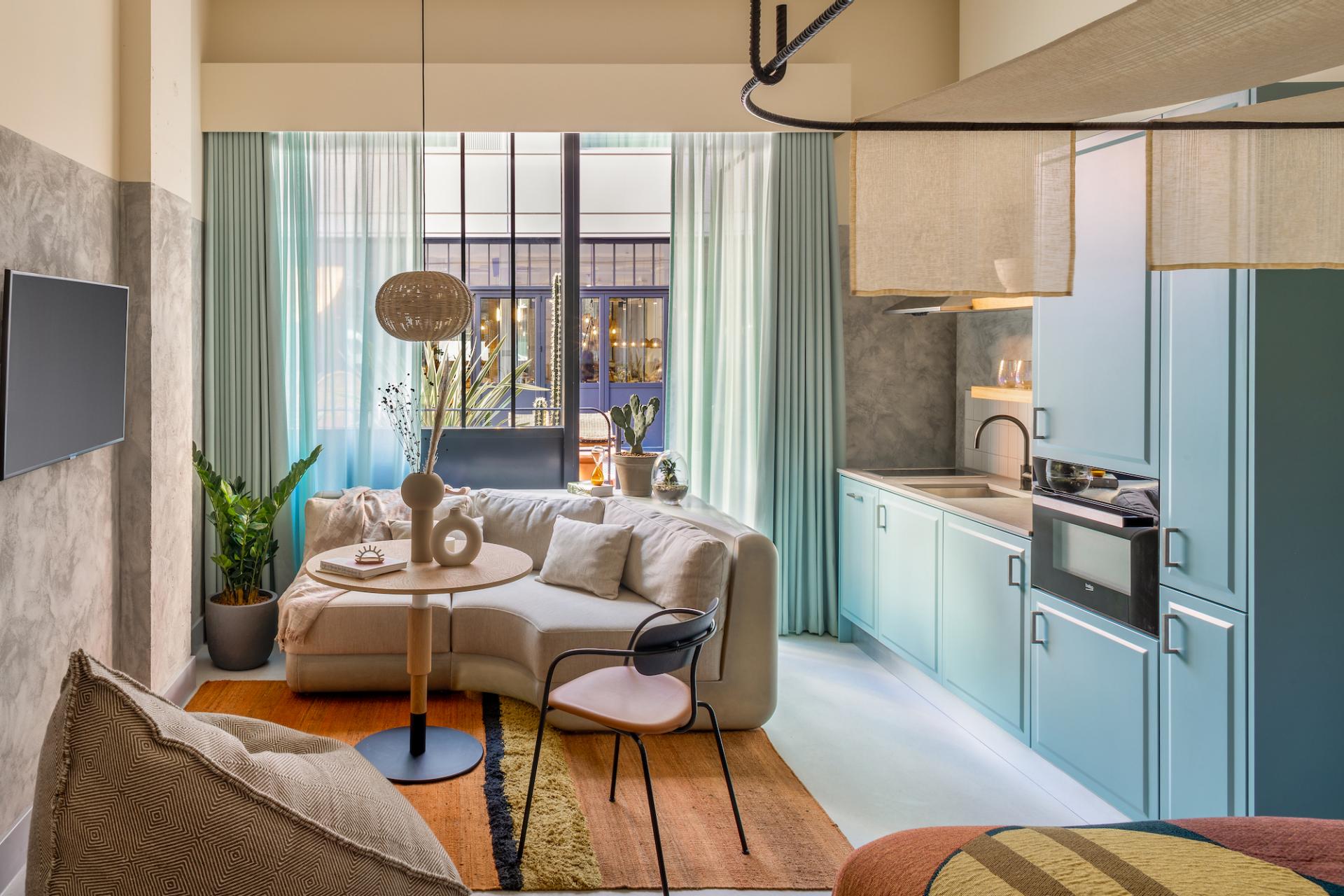 Each studio is equipped with a fully functional kitchen and laundry facilities that allow guests to live in each room for a single night up to three months in a home-meets-hotel concept. Bespoke bed frames made from blackened rebar are accented and softened with linen canopies, also work as a divide from the other areas in the room.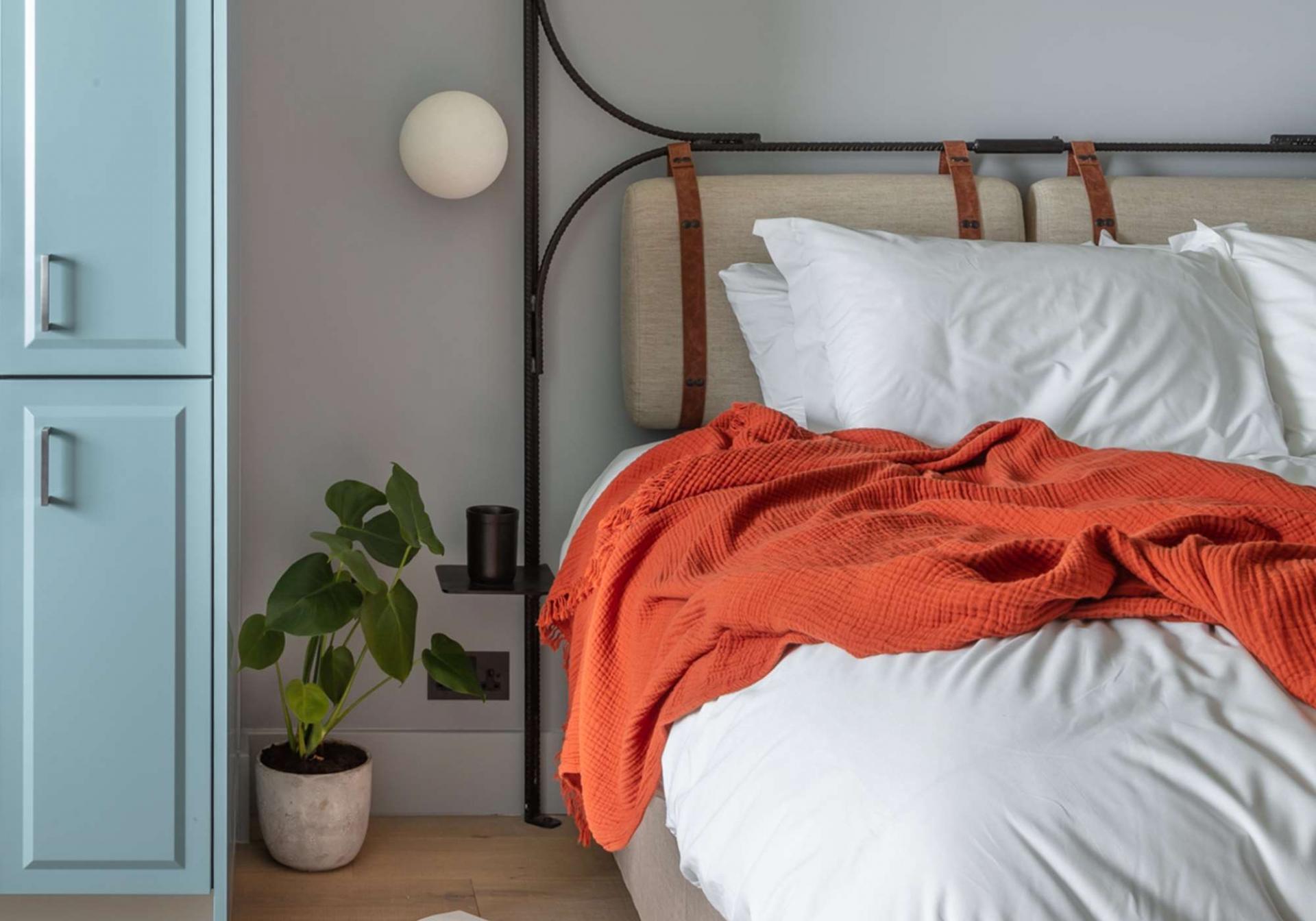 The communal spaces include a co-working area, meeting room, central courtyard, and a workout studio. There's a calendar of arts, music, and food events, plus wellness classes and all-day dining in the restaurant and deli.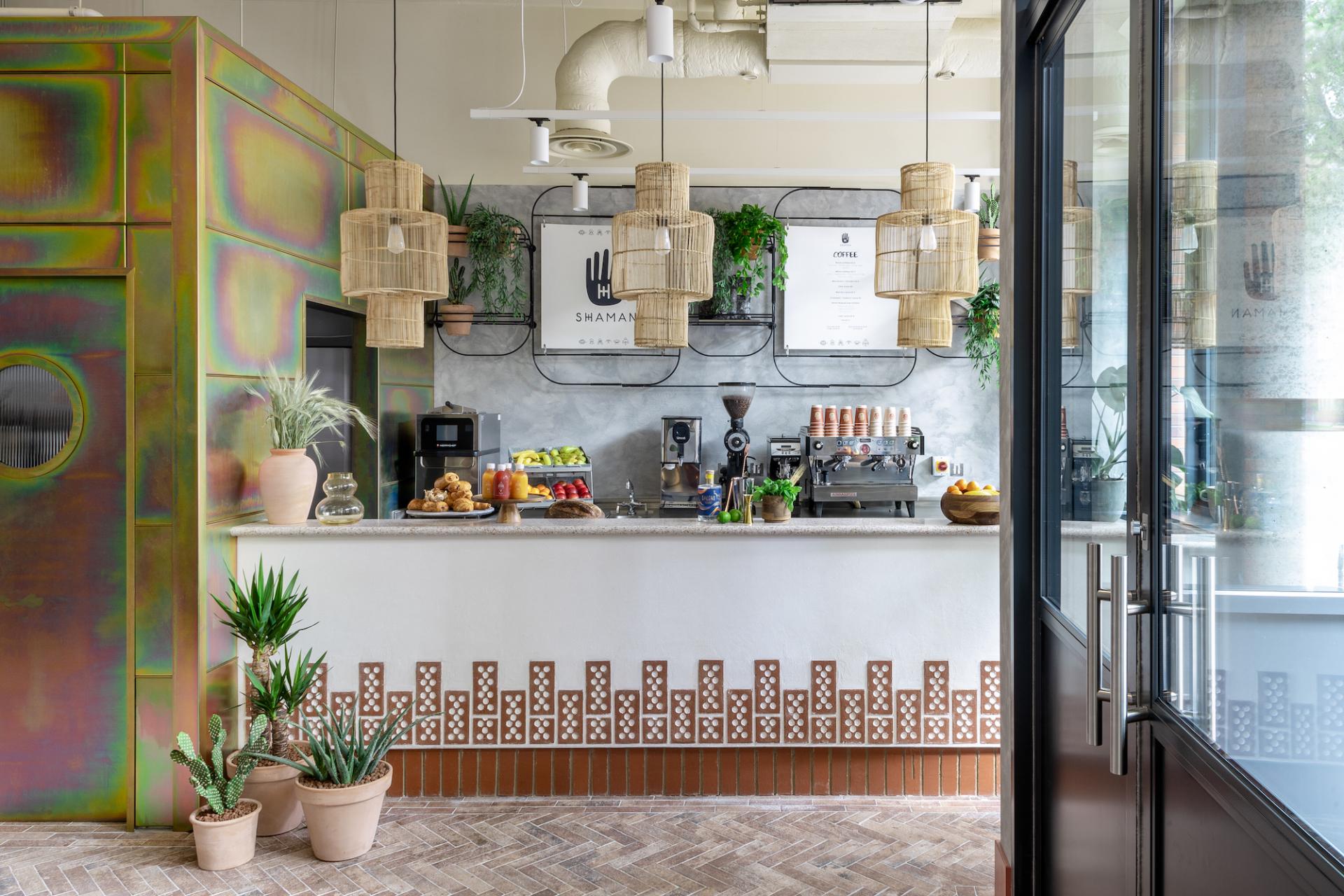 Ex Noma Chef Robin Gill's renowned Clapham restaurant The Dairy has relocated to Bermonds Locke, under the guise of the new Bermondsey Larder, serving modern British Cuisine. Small and medium-sized sharing dishes include mackerel with fresh gherkins, sea purslane, and dashi; grilled radicchio, broad bean puree, and pickled Tropea onions; and wood-roasted lamb, with "hayonnaise," [mayonnaise made from hay] charred lettuce, mint oil, as well as faves from the Dairy.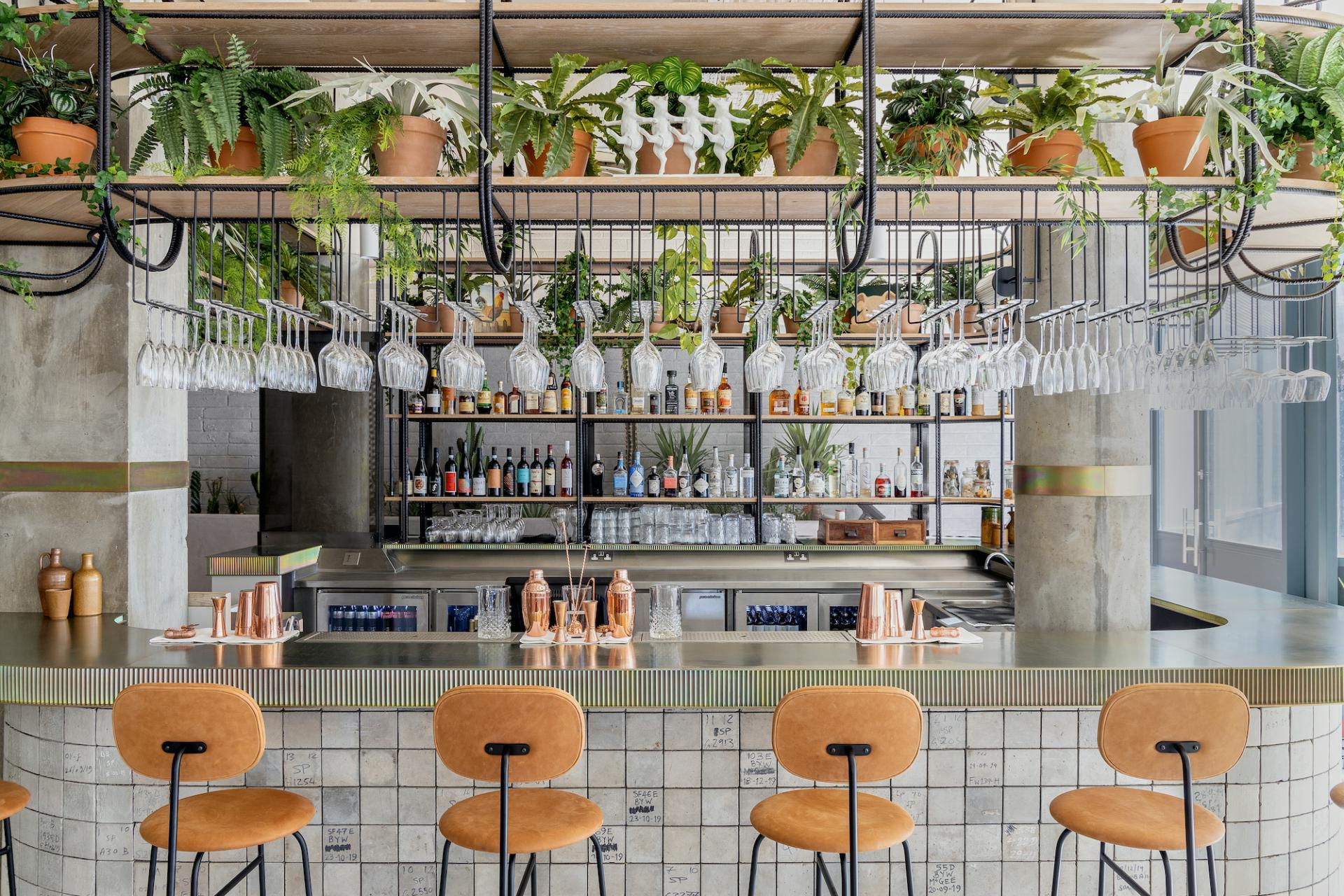 Shaman is a third-wave coffee shop serving wine and cocktails in the evenings and the first low A.B.V. cocktail bar in London. Olga Hamilton, one of the U.K.'s U.K.'s leading Nutritional Therapists, oversees the monthly changing menus, including lots of vegan and gluten-free options.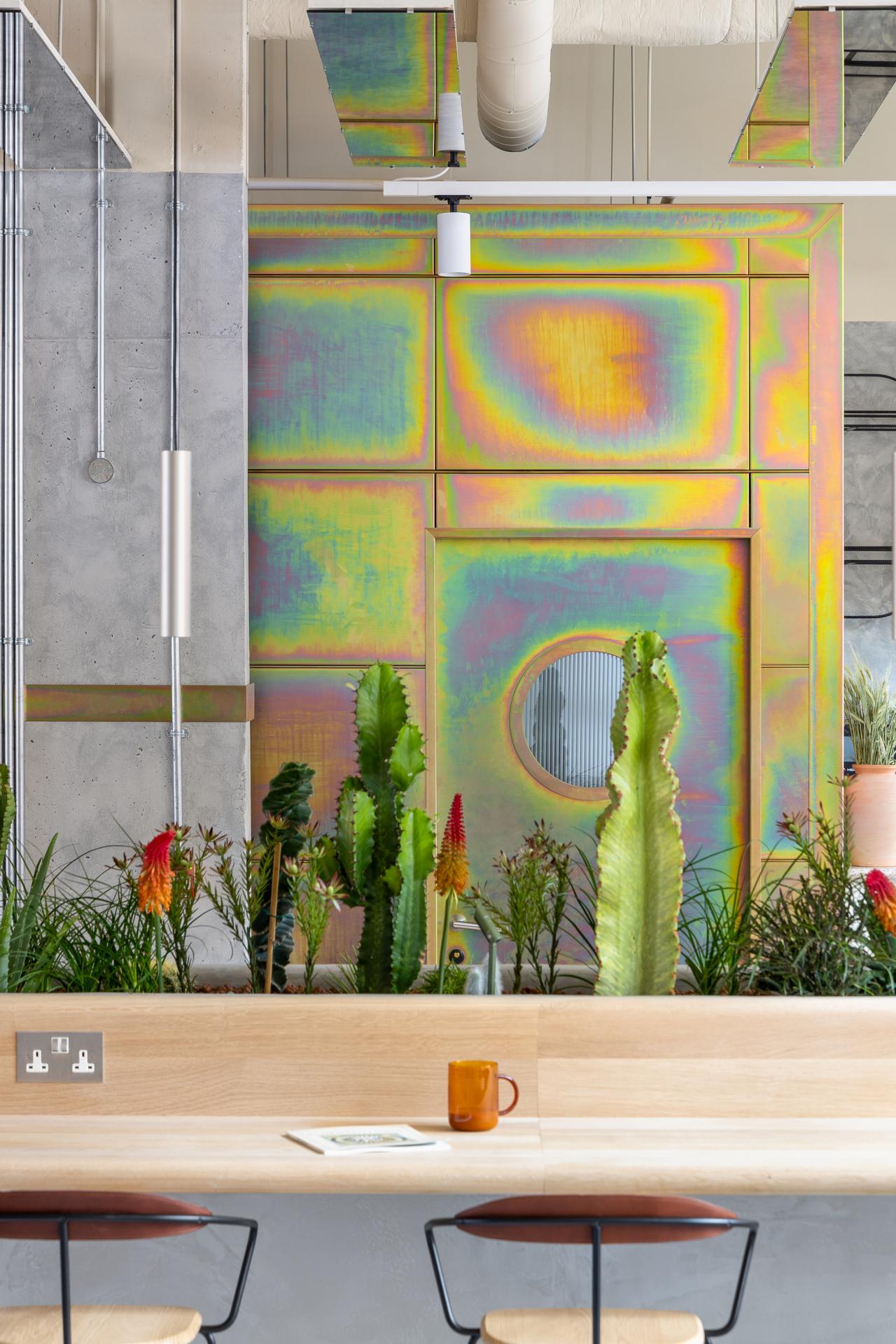 Tower Bridge and Shad Thames overlooked by the Shard is one of London's fastest-changing and most inspiring areas. Bermondsey Street is bursting with delis, tapas bars, bistros, and quirky coffee shops. Here too, you'll find the distinctive building housing the Fashion and Textile Museum designed by renowned Mexican architect Ricardo Legorreta. The museum was founded in 2003 by the British design icon, Dame Zandra Rhodes, and presents innovative and engaging exhibitions, showcasing contemporary fashion and textile design and their designers. The current show "Out of the Blue: Fifty Years of Designers Guild" is on until 21 February 2021. Jay Jopling's White Cube is one of the world's leading contemporary art galleries. At the top of the street is Bermondsey Square, where you'll find Vitrine Gallery with its unique 16-meter long window gallery viewable 24-hours a day. At weekends, the Bermondsey Square antique market is a long-standing London favourite. Foodie hotspot Borough Market is one of London's oldest food markets, complete with a sprawling cornucopia of gourmet goodies, street food, fresh produce, and restaurants, is a 20-minute walk away. Maltby Street Market is just around the corner, set in the old railway arches; it's brimful with delicious street food.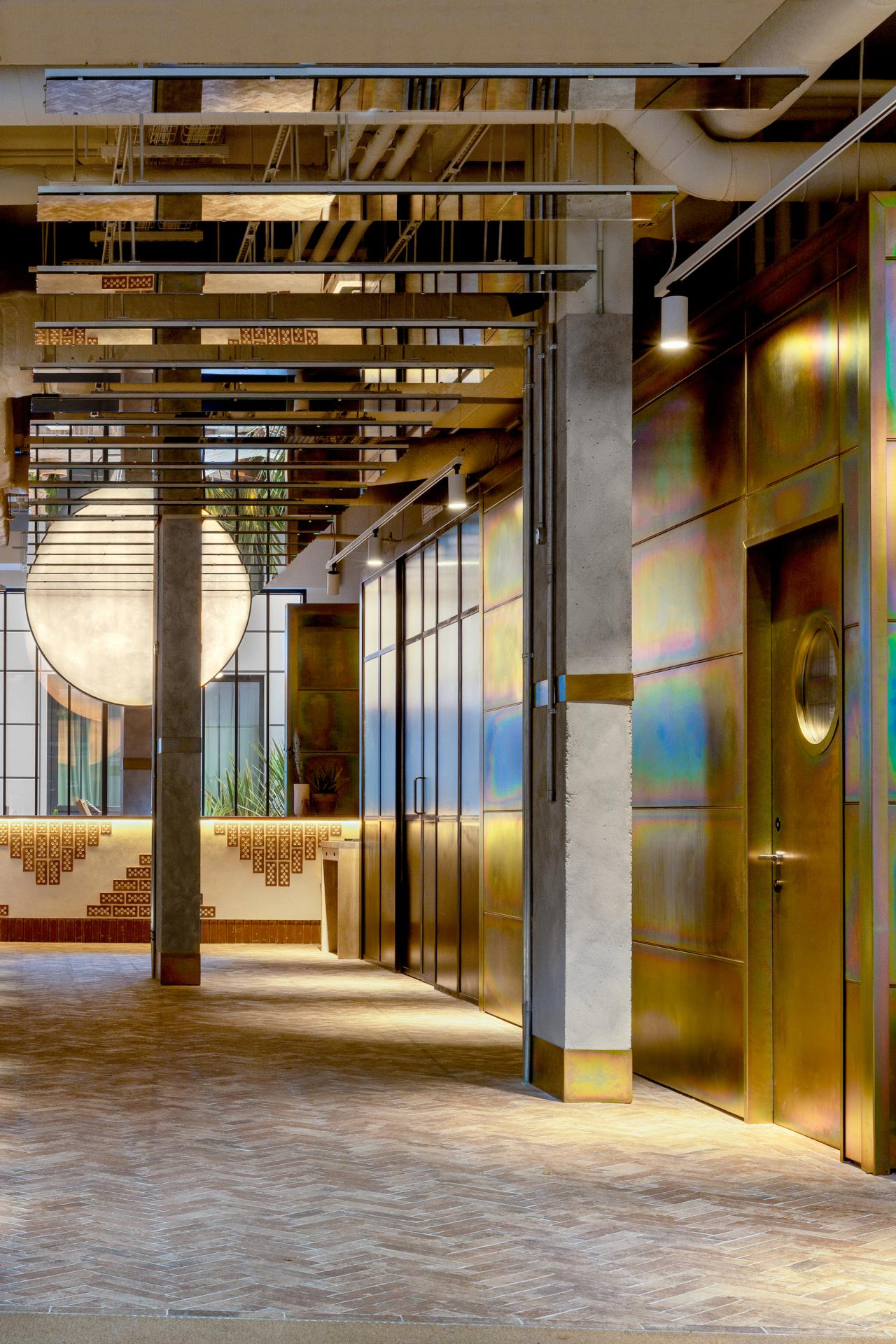 Vinegar Yard market near London Bridge station has pop-up shops in dressed up shopping containers, and Flea London vintage market opens there at weekends. There is an open-air bar, a Prosecco Van, and yummy food offerings. Look out for scrap metal artist Joe Rush's large-scale work, an abandoned train carriage infested by giant ants.
You can walk over Tower Bridge, walk, bike or boat along the river, and check out H.M.S. Belfast moored along the section on the river near Tower Bridge. For shoppers, there is nearby Hay's Galleria.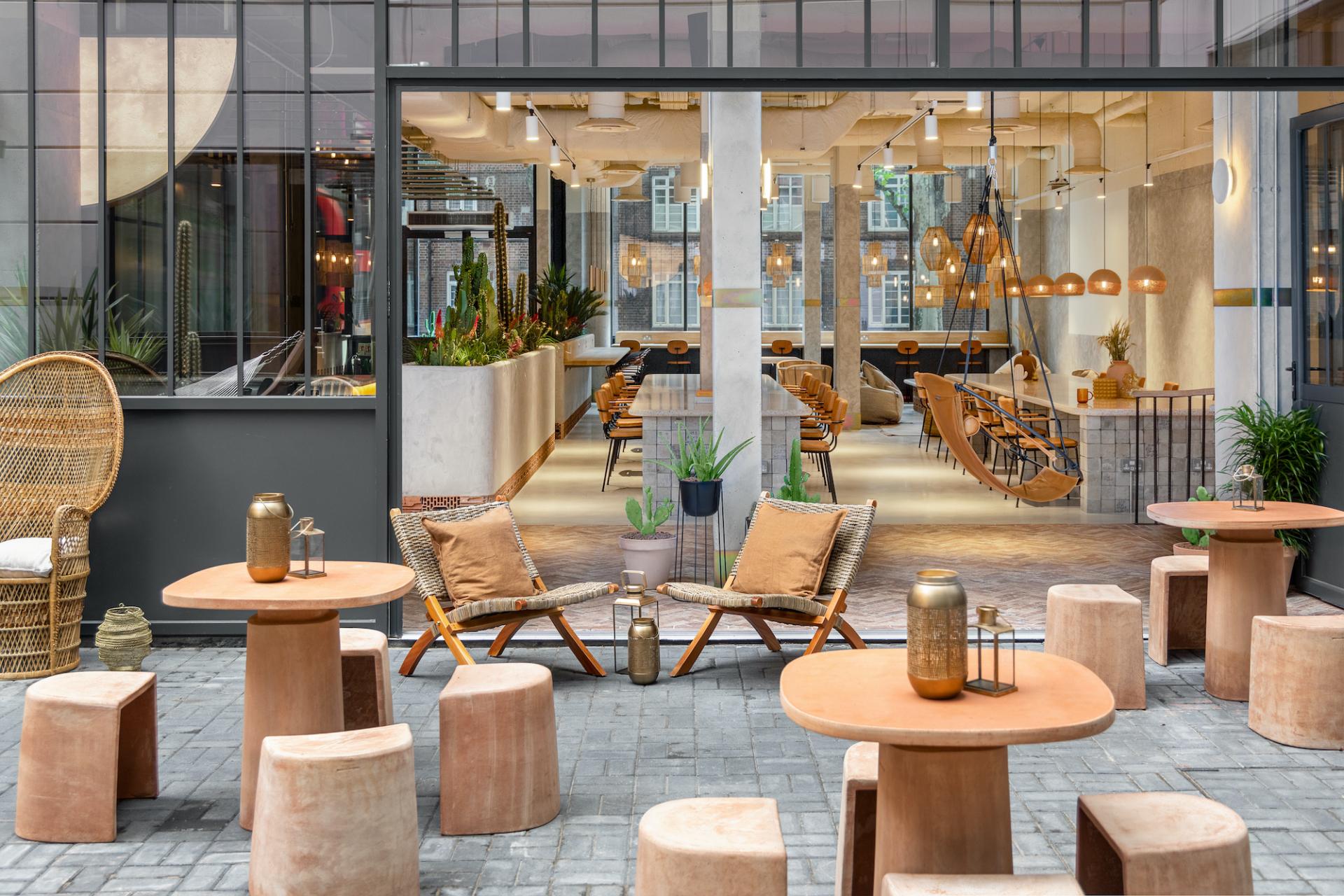 "Welcome to the Hotel California
Such a lovely place (such a lovely place)
Such a lovely face
Plenty of room at the Hotel California
Any time of year (any time of year)
You can find it here."
The Eagles.
Image Credit: © Nick Worley © Edmund Dabney
***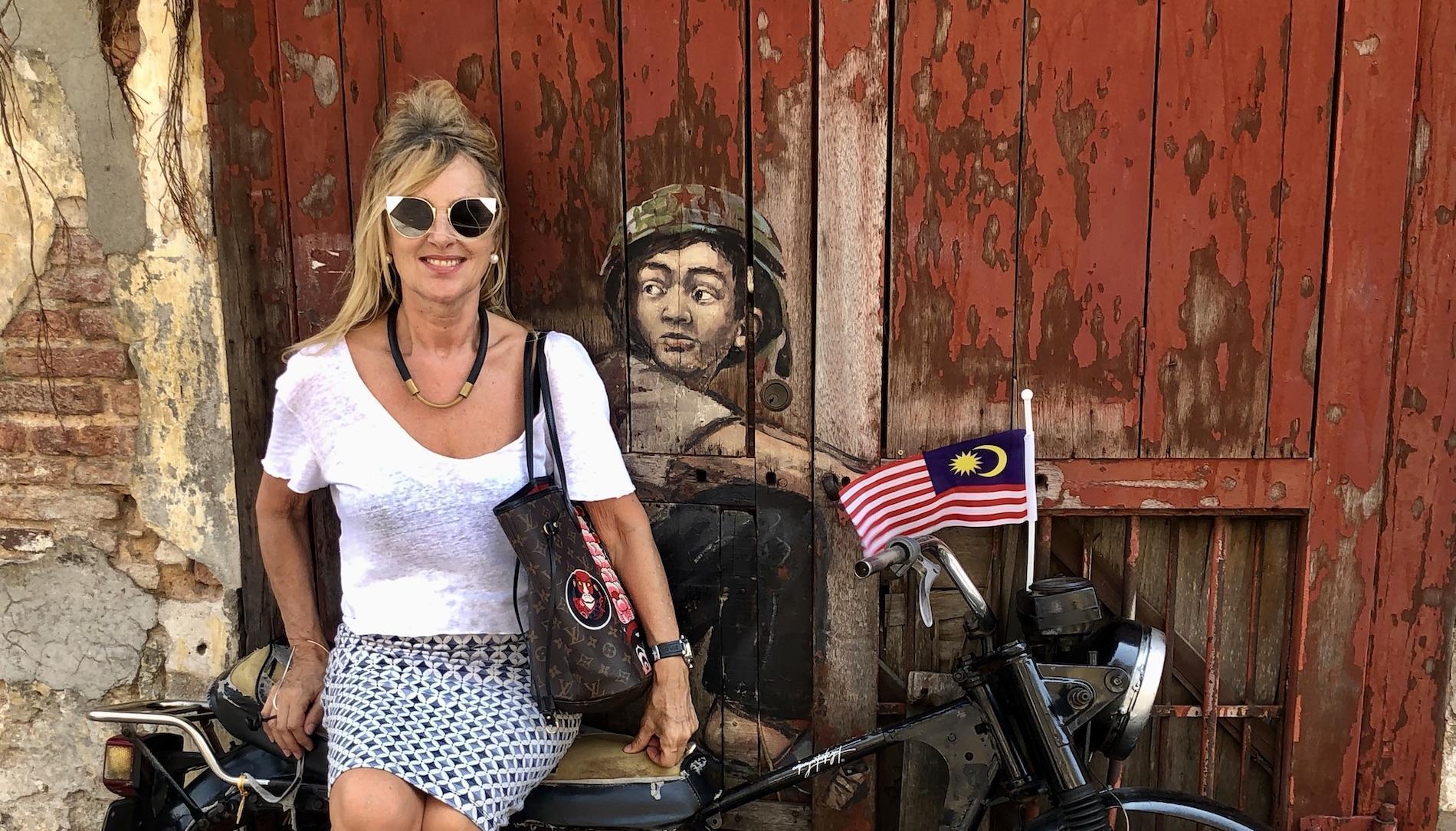 Anji Connell is an interior architect, garden designer and self-proclaimed nomad who regularly writes about art, design, lifestyle and travel from her globe-trotting adventures. Known for her bubbly persona and even more exuberant sense of style, Anji's portfolio spans everything from interior styling to furniture and landscape design for some of the world's most beautiful spaces. For now, you will find her @anjiconnell_acidplus and anjiconnellinteriordesign.com bingeing on future travel plans from her designer chair.