In keeping with the idea that we work in order to live, an interior design showroom includes a living room, dining room and kitchen.
The Creative Director of Epic Interior Design, Kevin Kung, and his team strayed away from the conventional and uninteresting office layouts. Instead, they envisioned a workspace that merges the concepts of a showroom and studio. The 2,218 square feet workspace includes a living room, a dining room, a kitchen, and an office. "We showcased the functional zones of a home in a genuine way here, enabling our visitors to have an immersive experience of our designs," Kevin elaborated.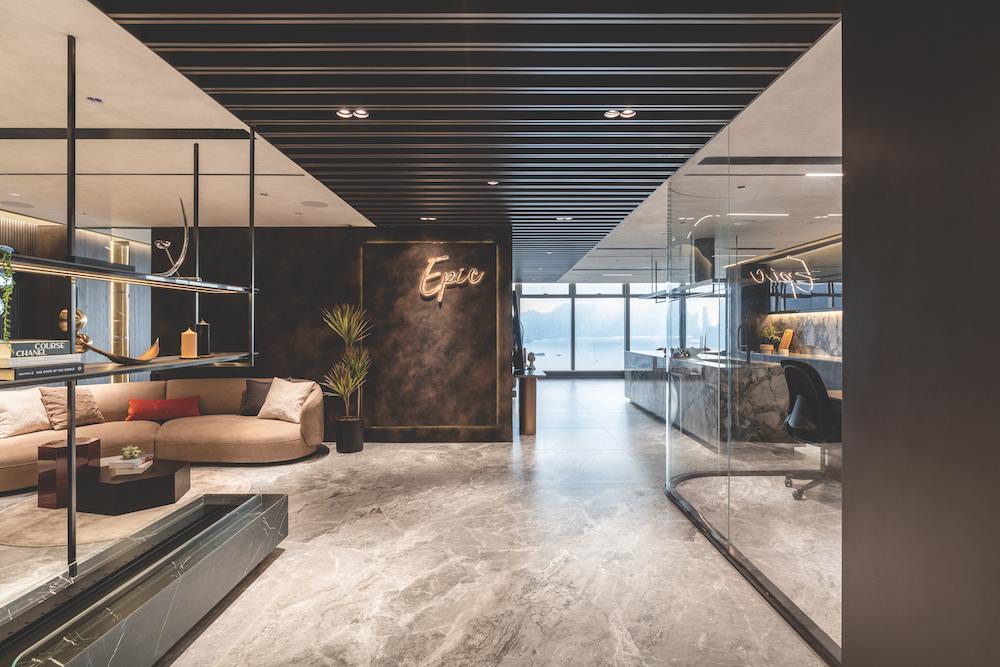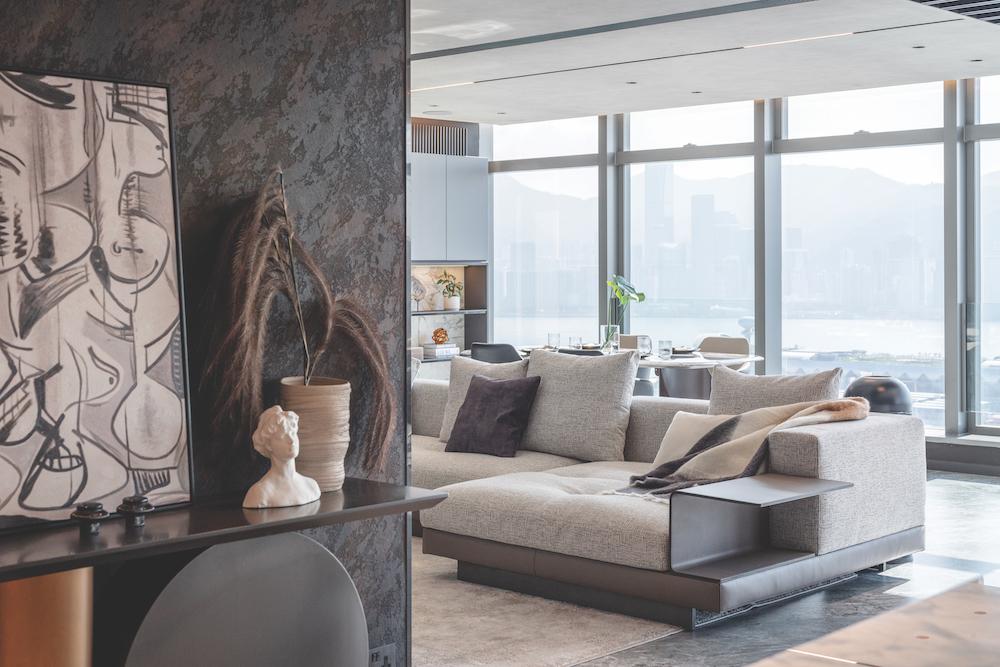 As you enter through the doorway, a cosy living room welcomes you and puts you at ease. Epic Interior Design decorated the space in a penthouse style, incorporating Italian furniture, mainly in deep hues. The room exudes a chic and refined atmosphere, thanks to its slate flooring, a unique artistic painting technique on the walls, and stylish home decor accents.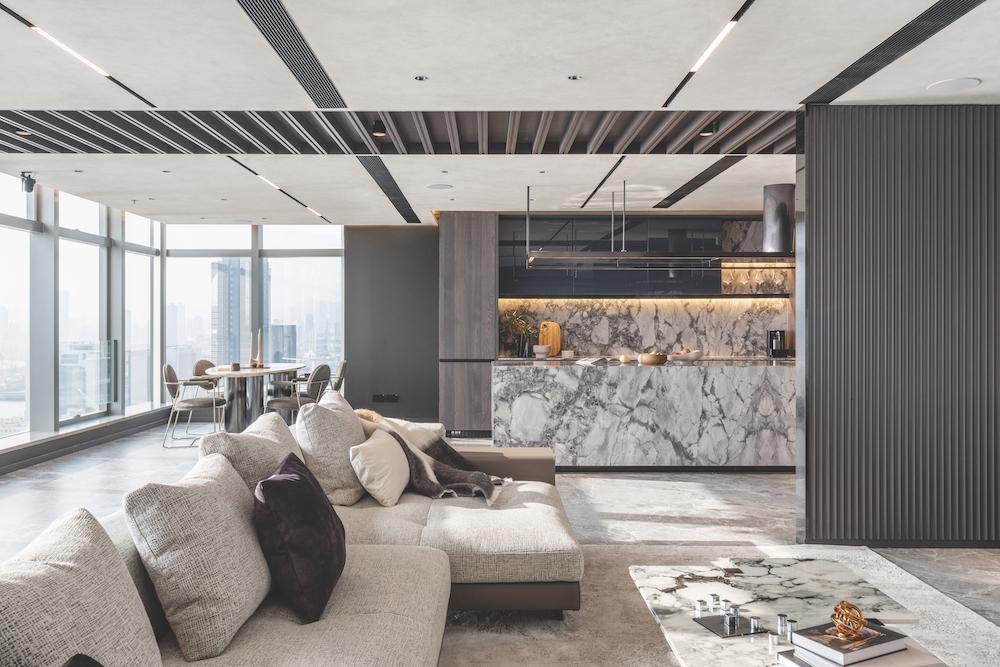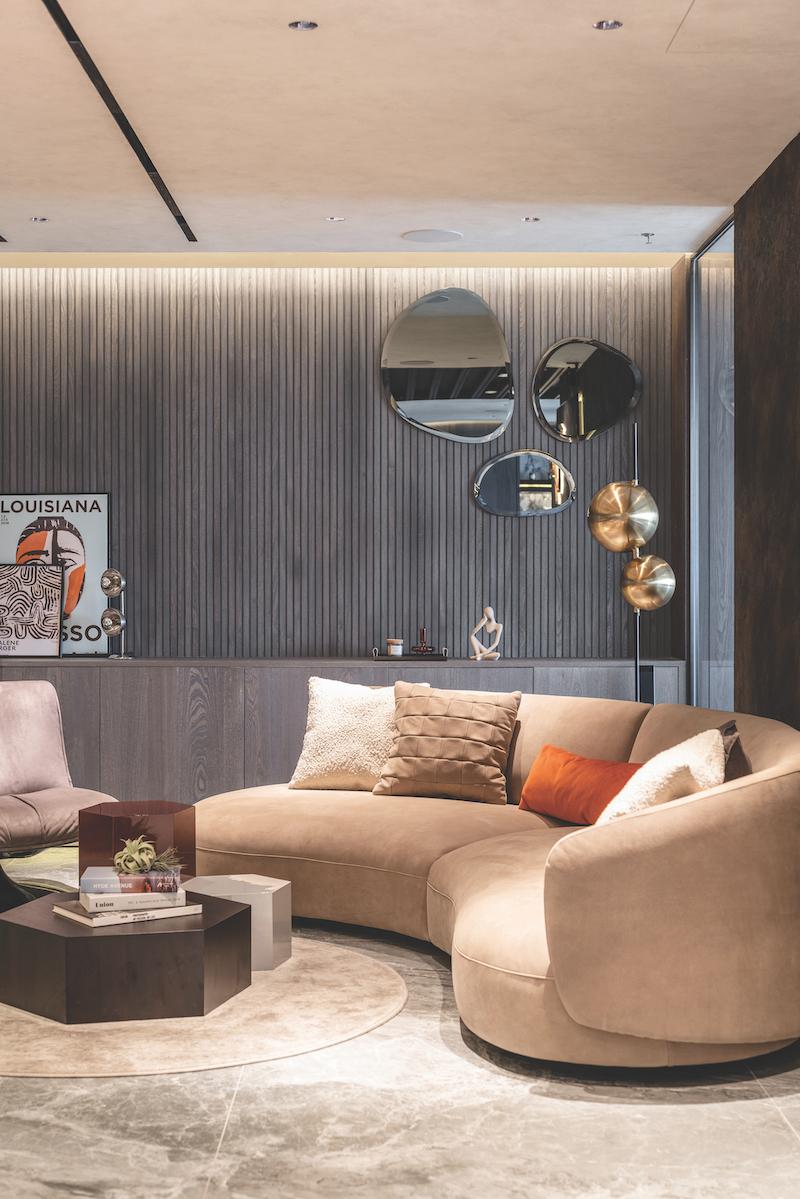 The team at Epic Interior Design stated, "We wanted to create a relaxed and informal space, with a dining area that can function as a meeting room, complete with a long table and chairs. We use the living room as the area where we chat to our clients and get to know their needs through casual conversation. We originally planned on placing a curved sofa in the living room, facing the sea view. However, as we needed to reserve space for the dining area in a relatively private location, we had to turn the sofa slightly away from the sea view." Design sometimes requires trade-offs due to space limitations.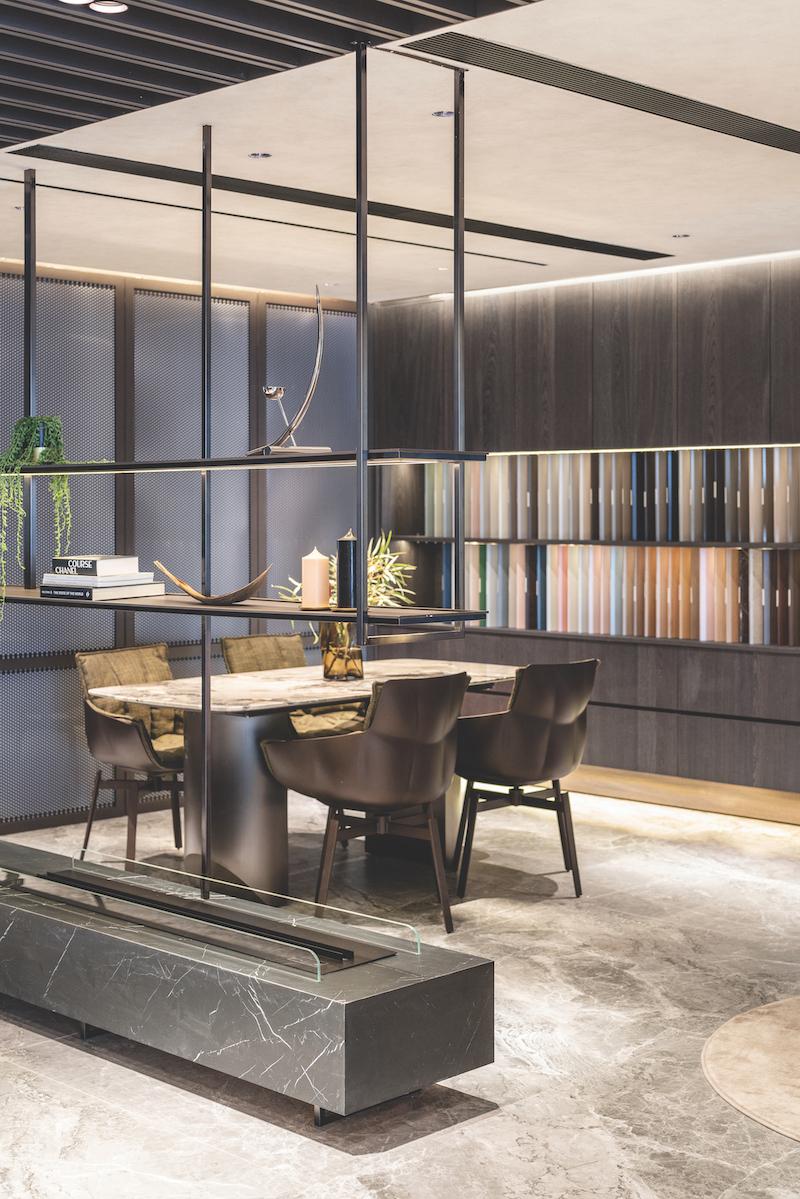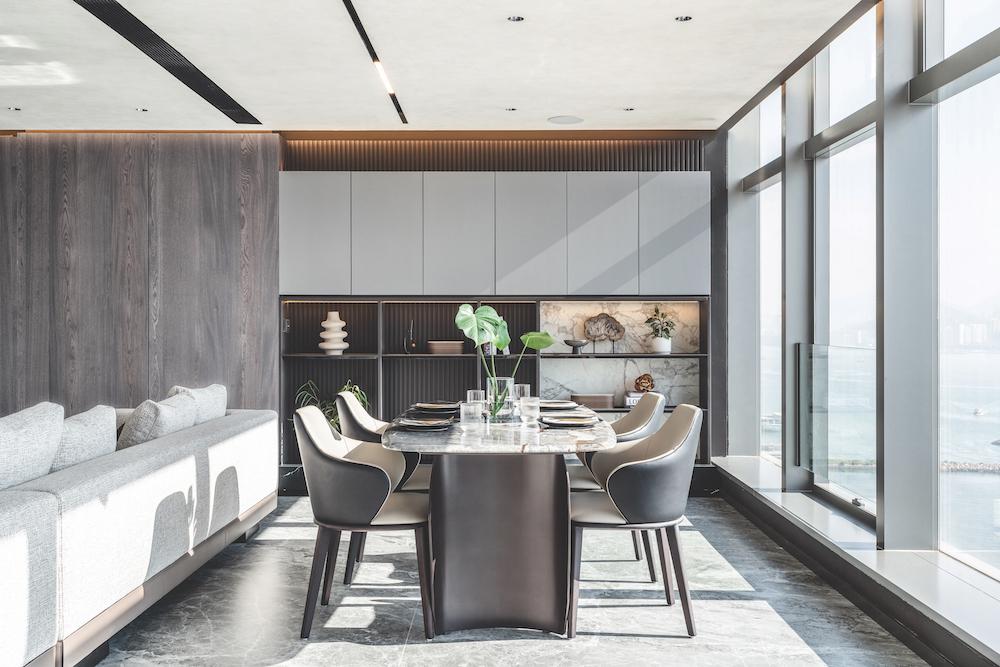 Cabinets are built into the walls on both sides of the dining room – one for displaying materials and samples and the other for plants, decorations or awards.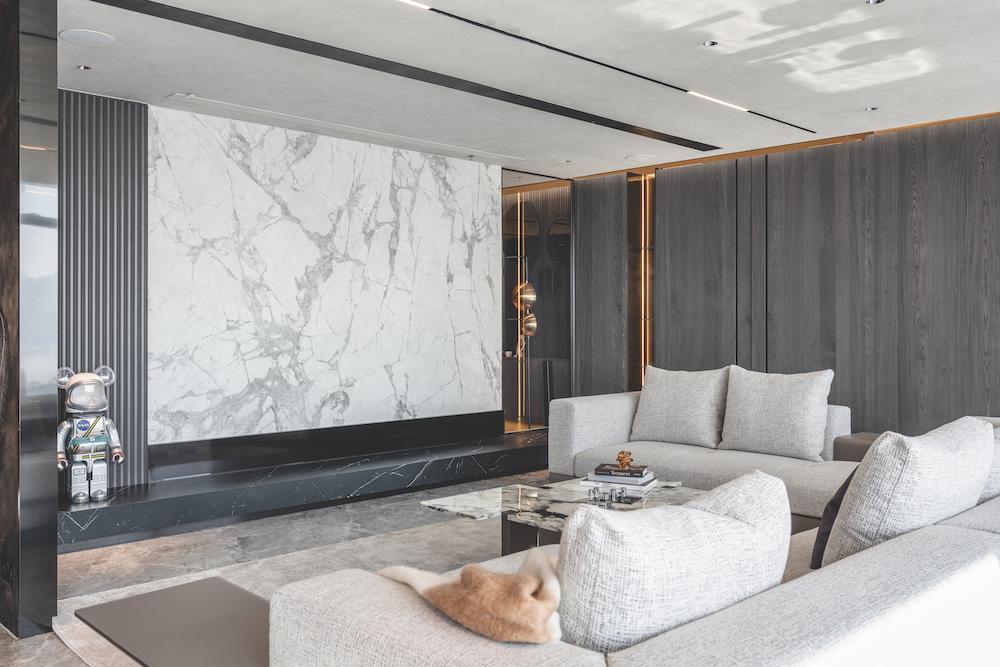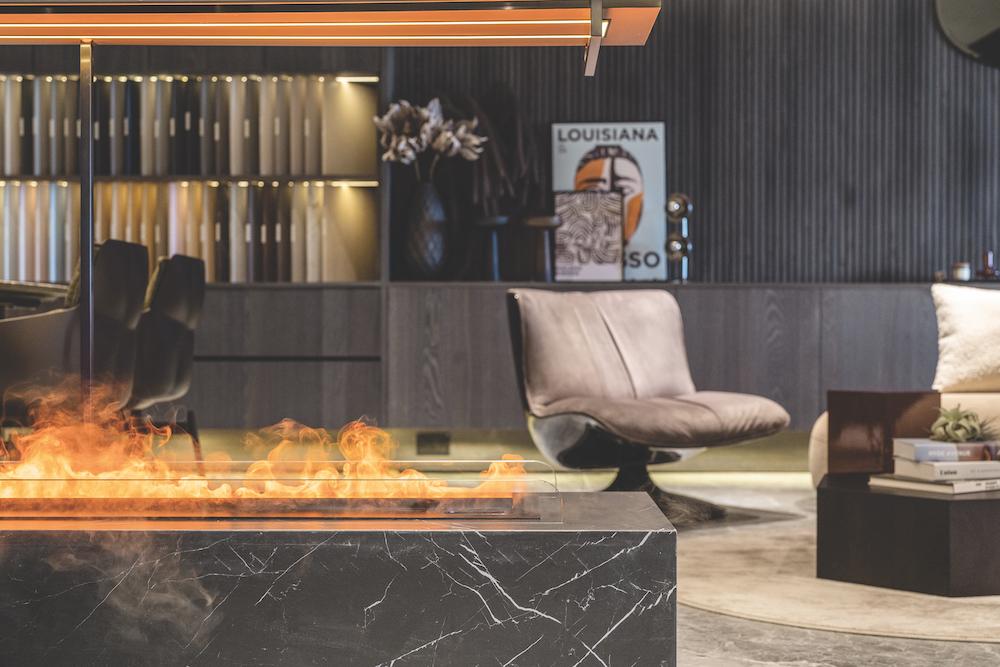 There is a structure present between the living room and dining room that looks like a traditional fireplace. However, the flames visible are artificial, and the smoke-like appearance is actually water vapour. The supposed "fireplace" is simply a device designed to emit moisture into the air. During the conception and design phase, Kevin took into account the constant use of air conditioning in the space which causes dry air. As such, he added the moisture-producing feature to create a more comfortable environment for colleagues to work in.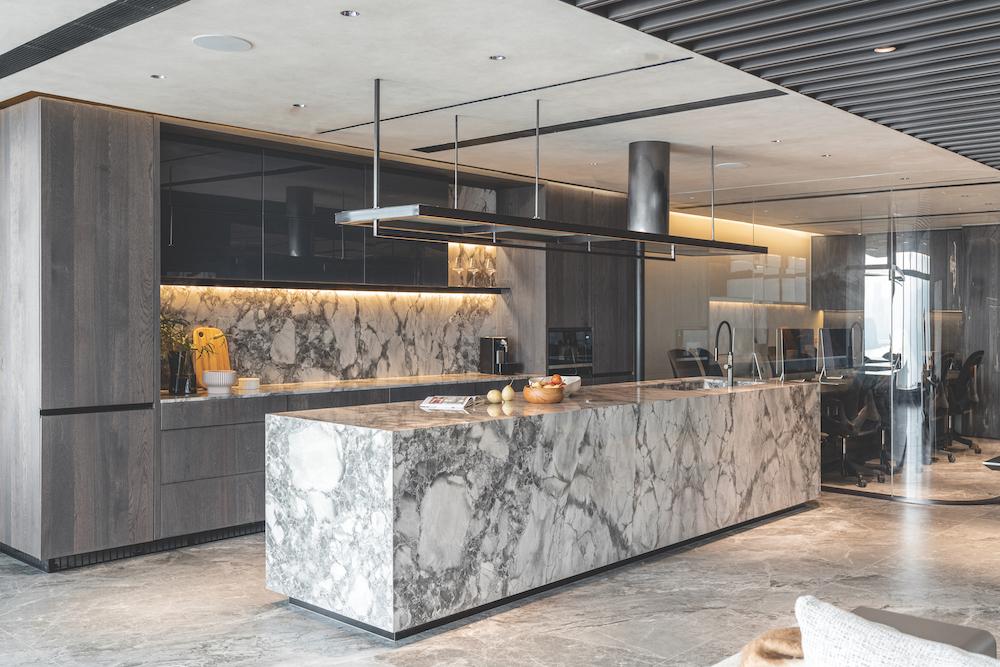 In order to create a uniformed appearance, the kitchen island is constructed from marble, and similarly, the sink is made of marble instead of a conventional metal basin. Despite its function as a pantry, the kitchen features a ceiling with a stainless steel frame and duct, designed to resemble a hood range vent and lend the space an authentic home kitchen feel.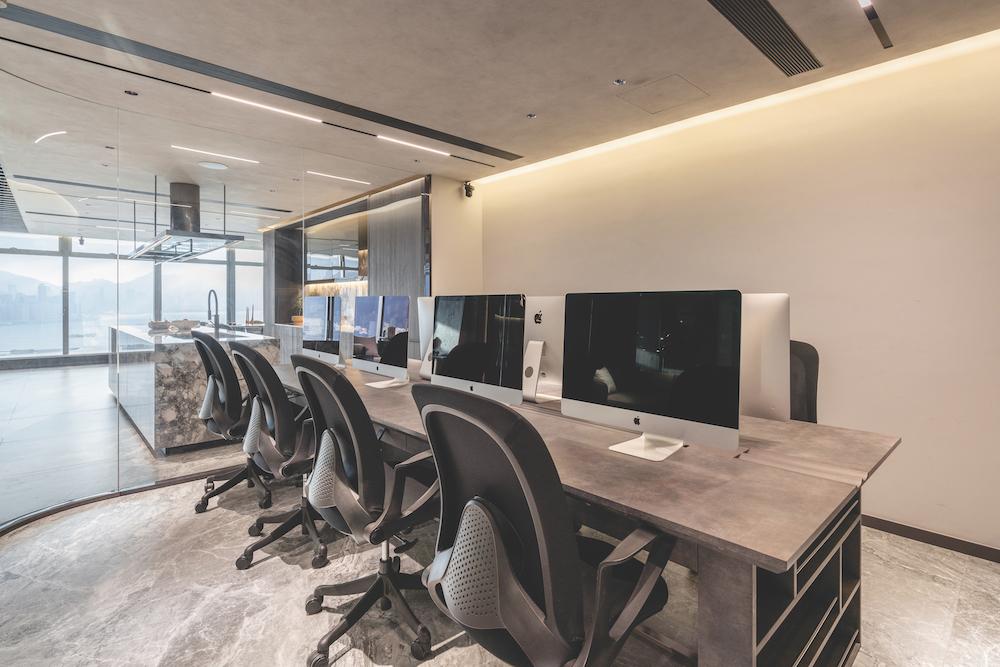 Transparent glass partitions were used to create a spacious feel inside the office. The company uses Apple computers, and their workstations are fashioned out of cement-finished boards. These textured boards aren't readily available in stores but are exclusively designed and customised by the Epic Interior Design team, making it unique and innovative.