Kew Gardens is the most enchanting place to visit at any time of the year, but Xmas at Kew is truly magical. It's a feast of art, light, and music, with Christmas Cheer at every turn.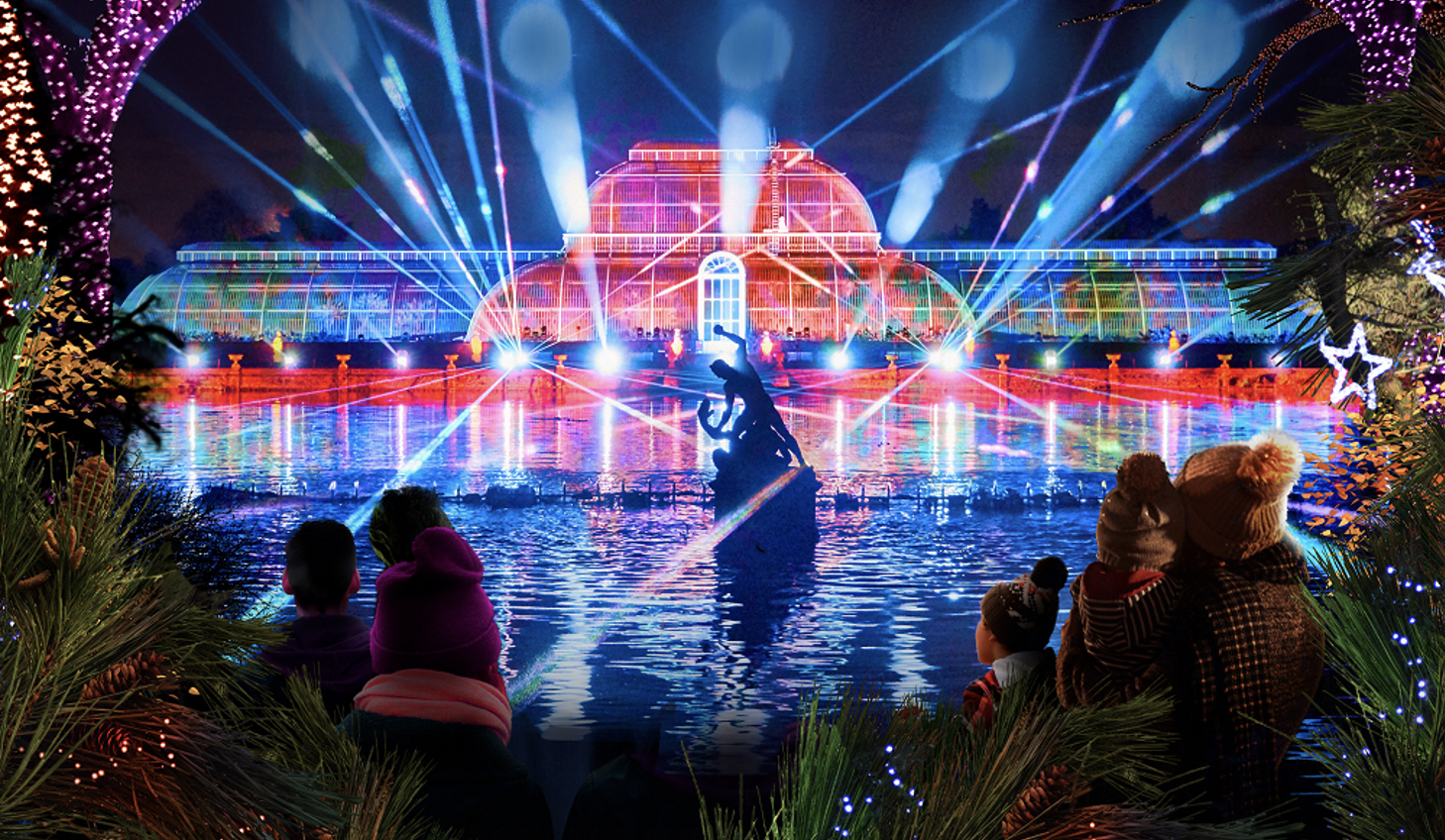 There's something rather enchanting about glasshouses. They transport us back to our childhood evoking fairy tale images images of princes, and princesses—and Kew has four magnificent glasshouses set within a unique living landscape of 14,000 trees and 2,000 species of rare and ancient trees. Some of the heritage Giant Redwoods and Mighty Oaks, some as old as the gardens themselves.
Back for its eighth year, Kew is aglow. The sell-out show returns with some old favourites and some new, exciting, and innovative light installations. Expect bursts of colour and enchantment after dark at Kew's' UNESCO World Heritage landscape.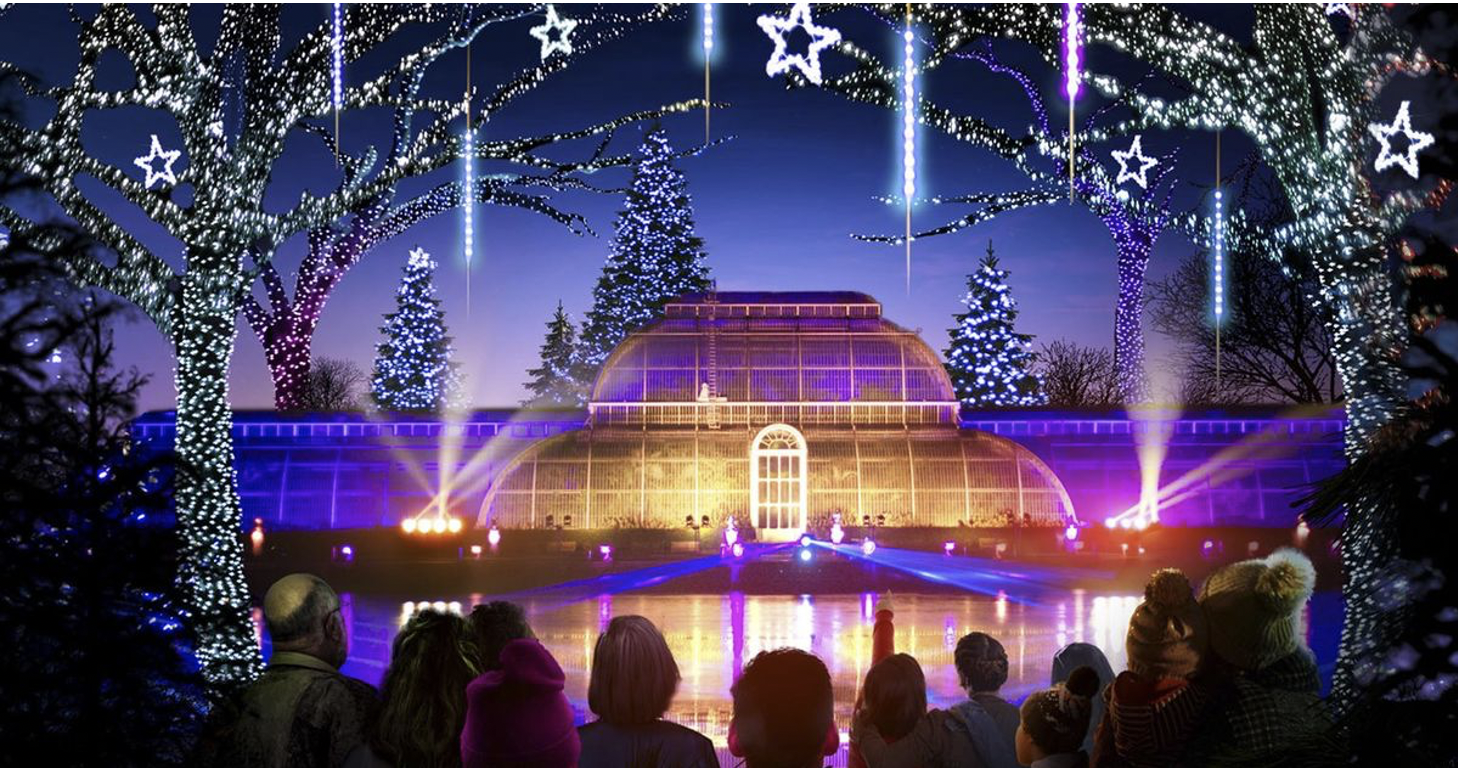 Enter through the welcoming wreath archway to a botanical world filled with seasonal cheer and follow the immersive light trail ablaze with over a million lights and starry lanterns, an enchanting trail that twinkles with thousands of fairy lights leads to the Cathedral of Light, passing by the Kew Heritage trees that light up the night sky; their branches wrapped in swirls of neon. Continue along a glittering tunnel of bells and giant illuminated seed heads, followed by a glowing pink cherry blossom walkway to the spectacular singing beautifully illuminated Rose Garden, that takes you to another fantastic light show at the Treetop Walkway in the Arboretum where a waterfall of spiralling columns of light cascade from the 18-meter-high drop in a breathtaking aerial dance. Continue to the iconic Temperate House that is lit from within and springs to life in a beautiful spectrum of Christmas colour. A dynamic laser show envelopes the glass its glass surrounds. Stroll through the sparkling Tunnel of Light twinkling with thousands of fairy lights, and be warmed by fiery sculptures aglow with flickering flames in the scented Fire Garden, with sculptures made from wicker and willow set among the singing flames in a multi-artist collaboration.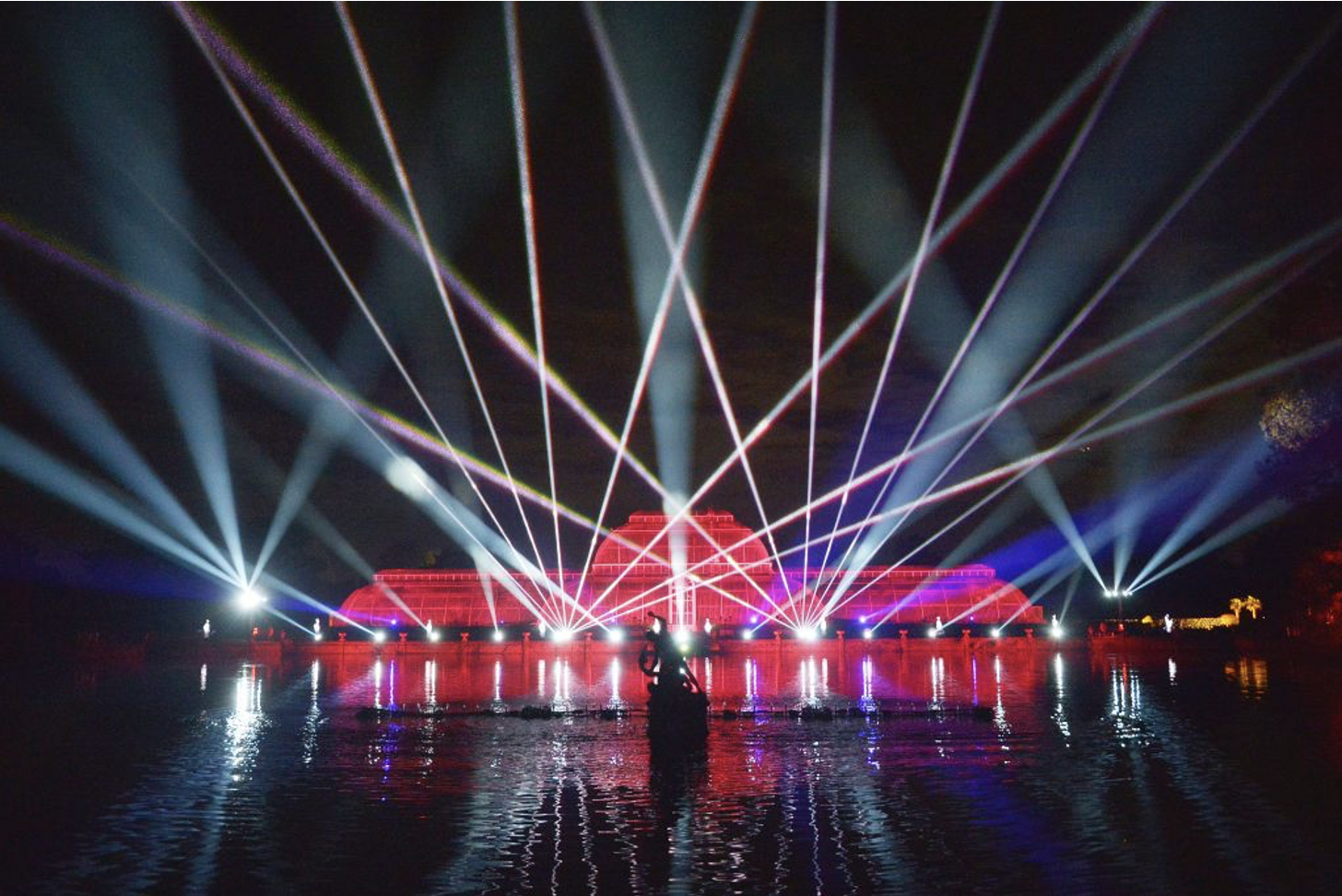 The grand finale is a spectacular kaleidoscope of jumping jets of light over the Palm House Pond accompanied by festive musical classics.
The origins of Kew Gardens can be traced to the merging of the royal estates of Richmond and Kew in 1772. The initial garden was founded by Princess Augusta, King George III's mother as a nine-acre botanic garden within Kew's grounds. Employing Sir William Chambers to embellish her gardens, who, inspired by the architecture and gardens experience on his extensive travels in China, built the Great Pagoda.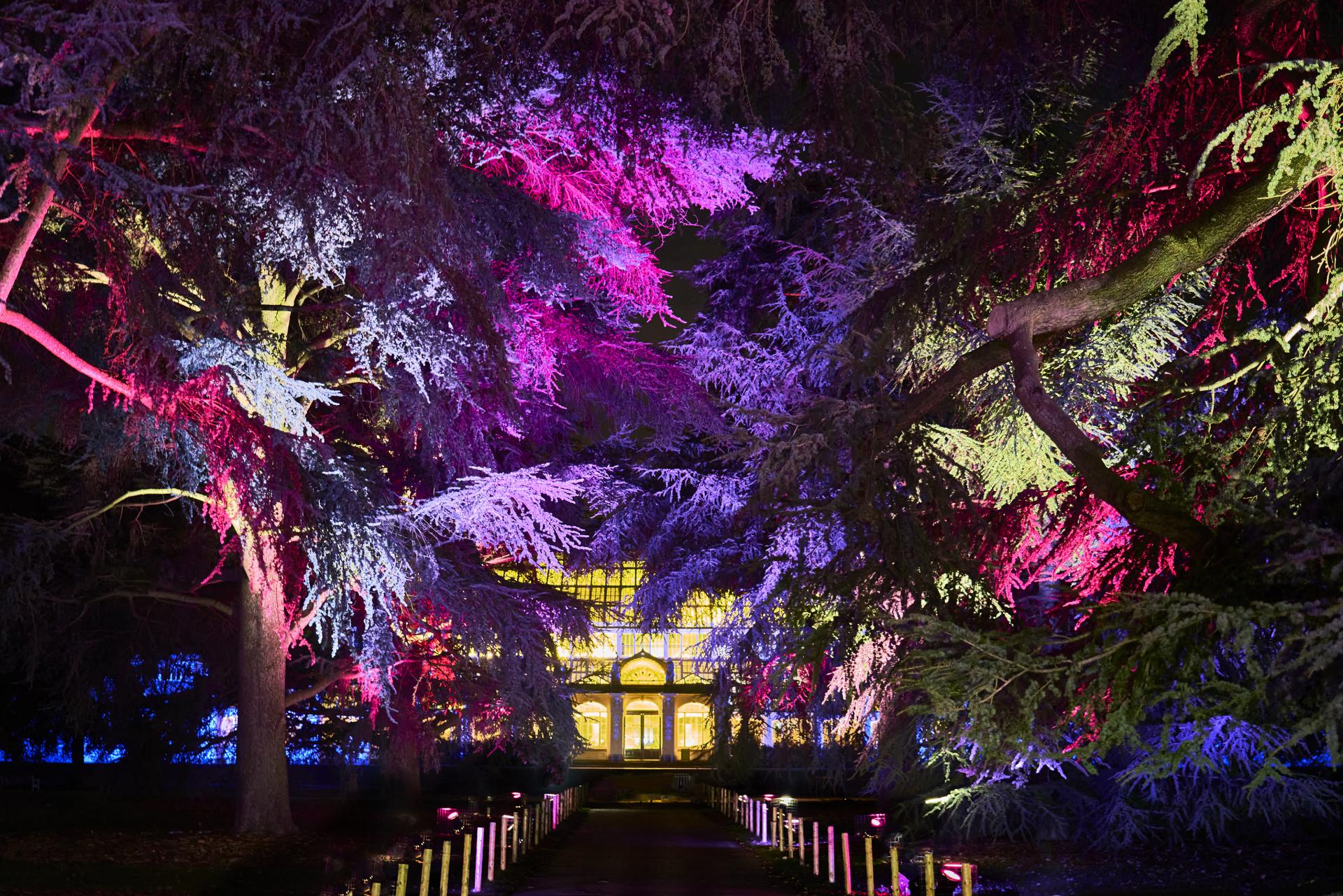 Along the route you can experience the Palm House, built-in 1844, the first glasshouse built on such an enormous scale. The Architects borrowed techniques from the shipbuilding industry to achieve the ambitious vision – hence its resemblance to an upturned ship's hull.The Grade I Temperate House a Grade I building and one of the world's largest surviving Victorian glasshouse's—an iconic landmark that is home to 10,000 temperate plants representing 1,500 species of the rarest and most threatened plants from five continents and 16 islands.
The Princess of Wales Conservatory is a glassy labyrinth leading you through a series of fascinating ecosystems, of ten computer-controlled climate zones, where you can travel through the dry tropics brimful with carnivorous plants, and spiky cacti, to the dense, steamy zones where tropical orchids and bright bromeliads come alive.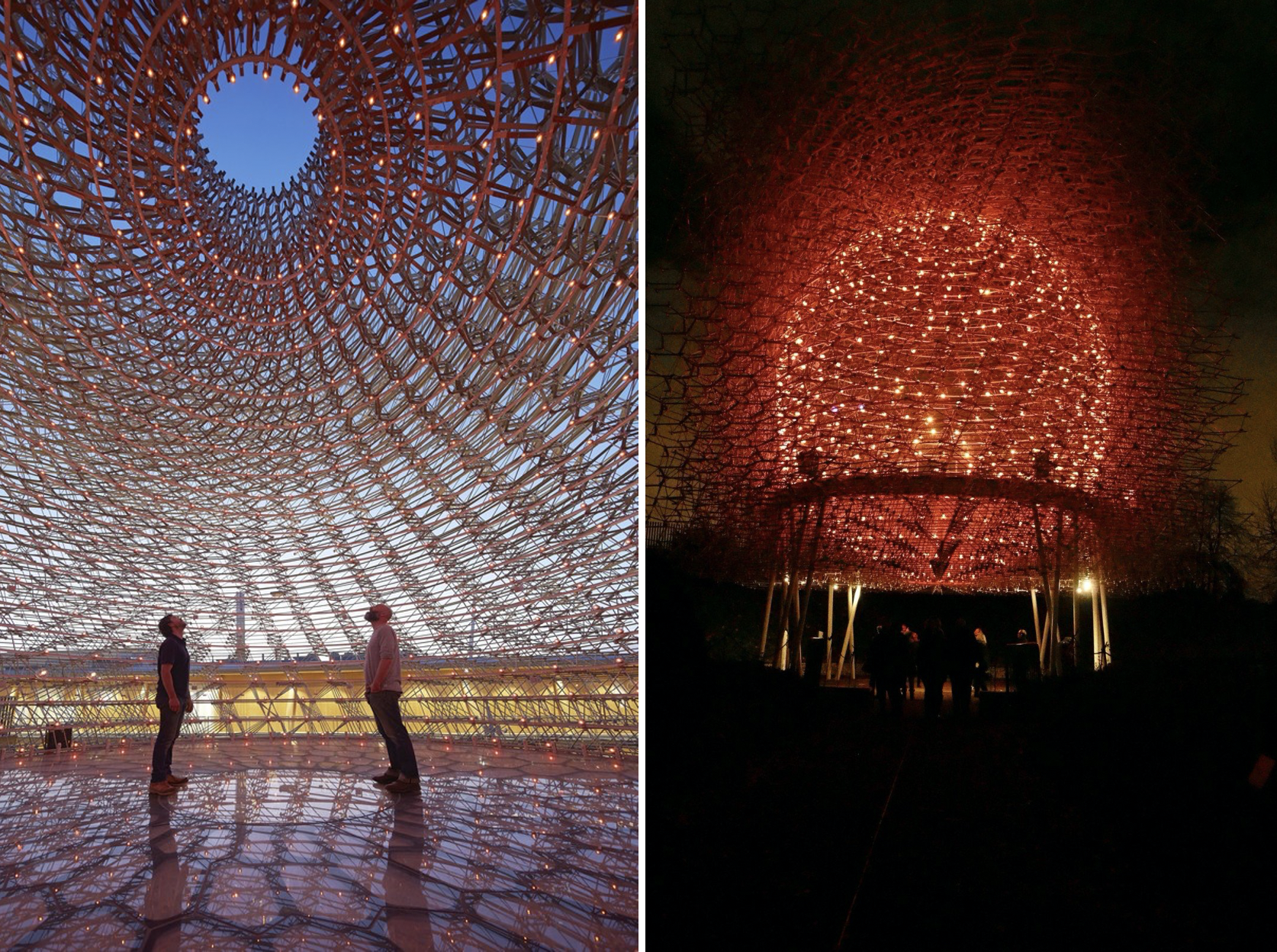 The Hive, designed by UK-based artist Wolfgang Buttress, is a striking 17-meter high installation that recreates life inside a beehive in the heart of a wildflower meadow. Step inside and enter the buzzing and whirring world of bees. The vibration of the bees buzzing powered one thousand LED lights. A musical symphony plays in the background in response to the bee's activity, and every sound is in the key of C – the same key that bees buzz in!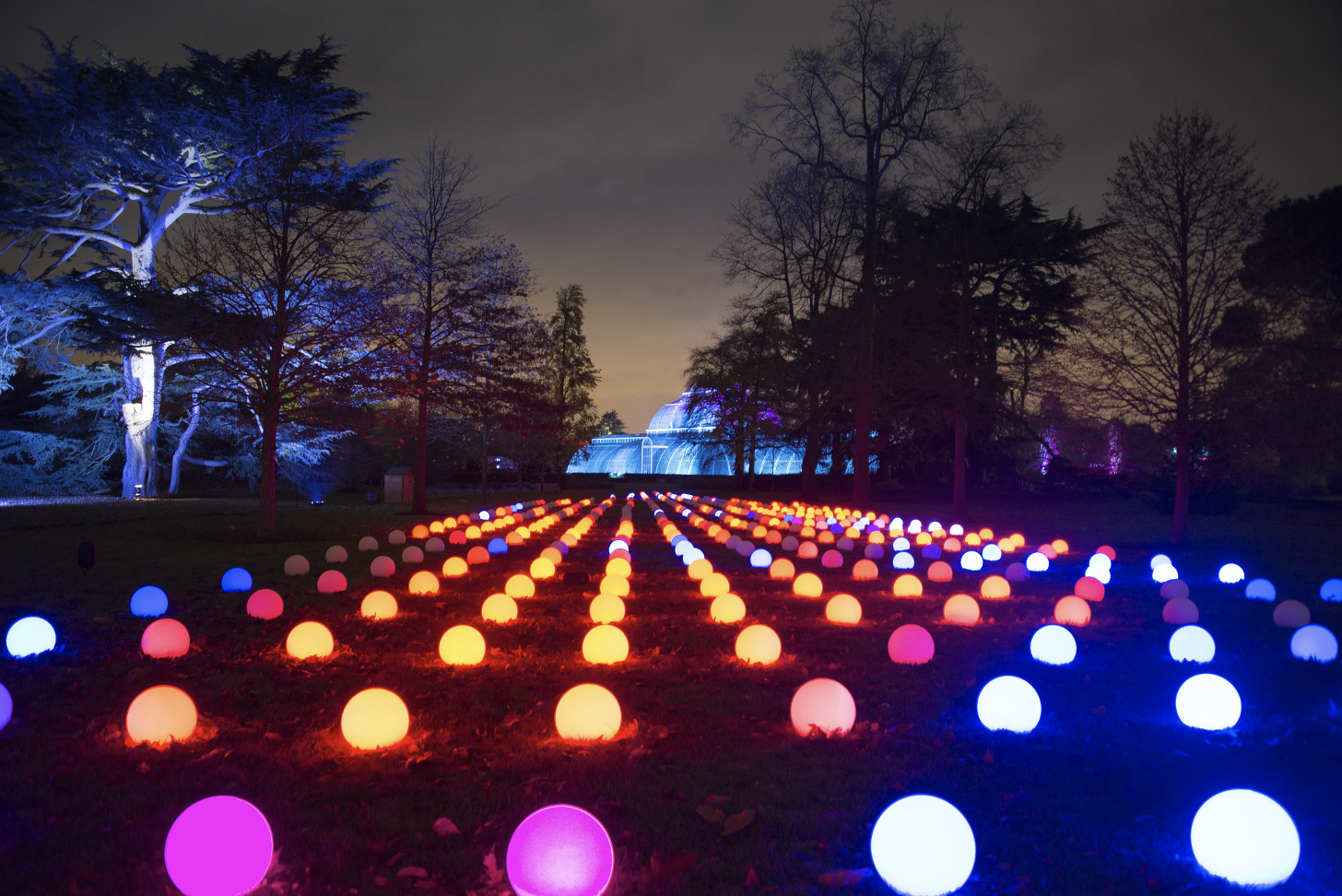 The trail is 2.6km (1.6m) and will take around 75 fun filled minutes to walk around. Montezuma Chocolate is supporting this year's trail so watch out for yummy cocoa treats.
Indulge yourself in merry little Xmas cheer with festive drinks under the stars, including warming spiced cider, mulled wine, and hot chocolate. Flavour your festive fun with tasty treats from street food vendors, the Victoria Plaza Café, the Pavilion Bar and Grill, or book a delicious traditional Christmas dinner at Kew's Botanical restaurant overlooking the stunning Palm House Pond.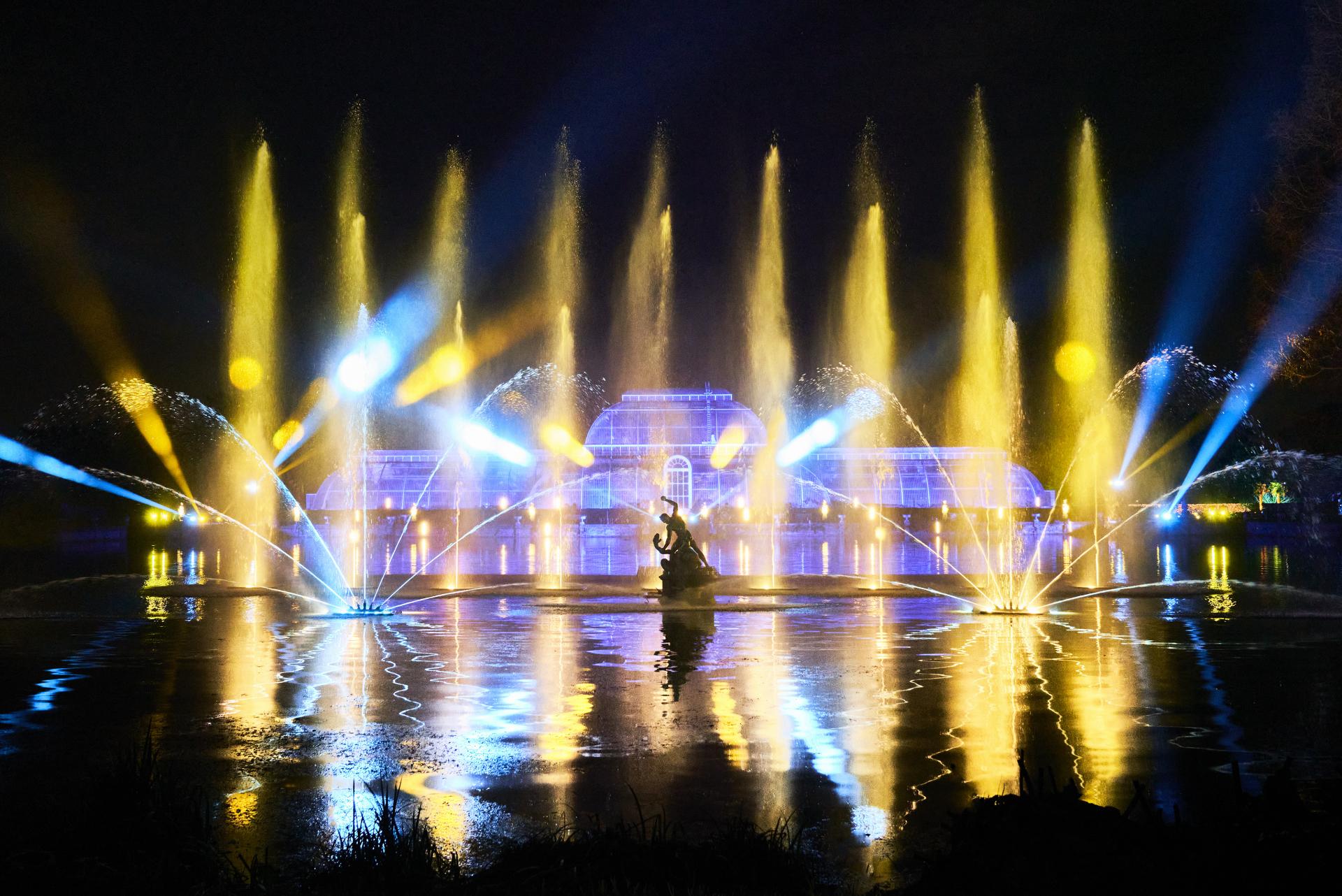 Images Christmas at Kew by Richard Haughton
https://www.kew.org/kew-gardens/whats-on/christmas
Friday 4 December 2020 – Sunday 17 January 2021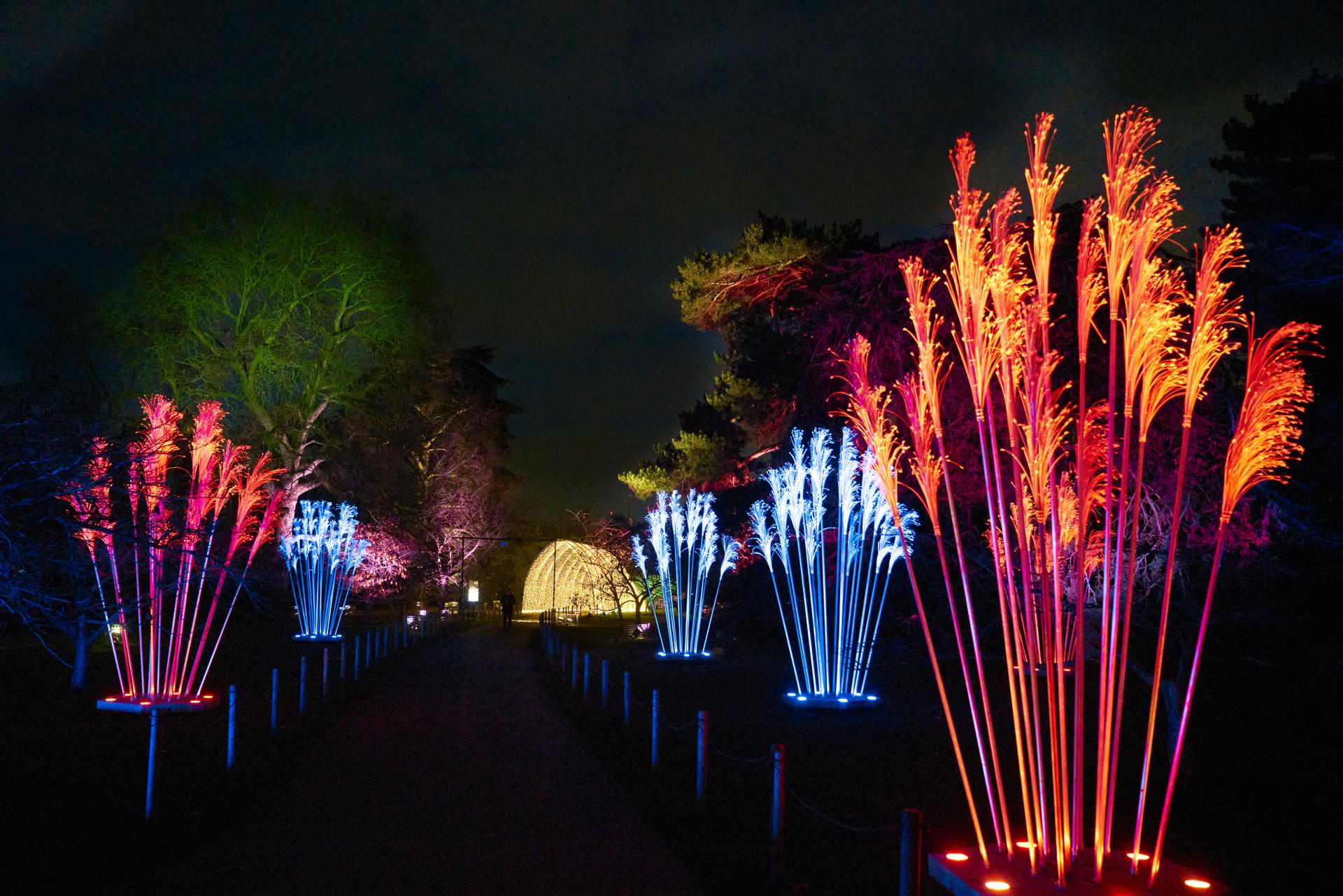 ***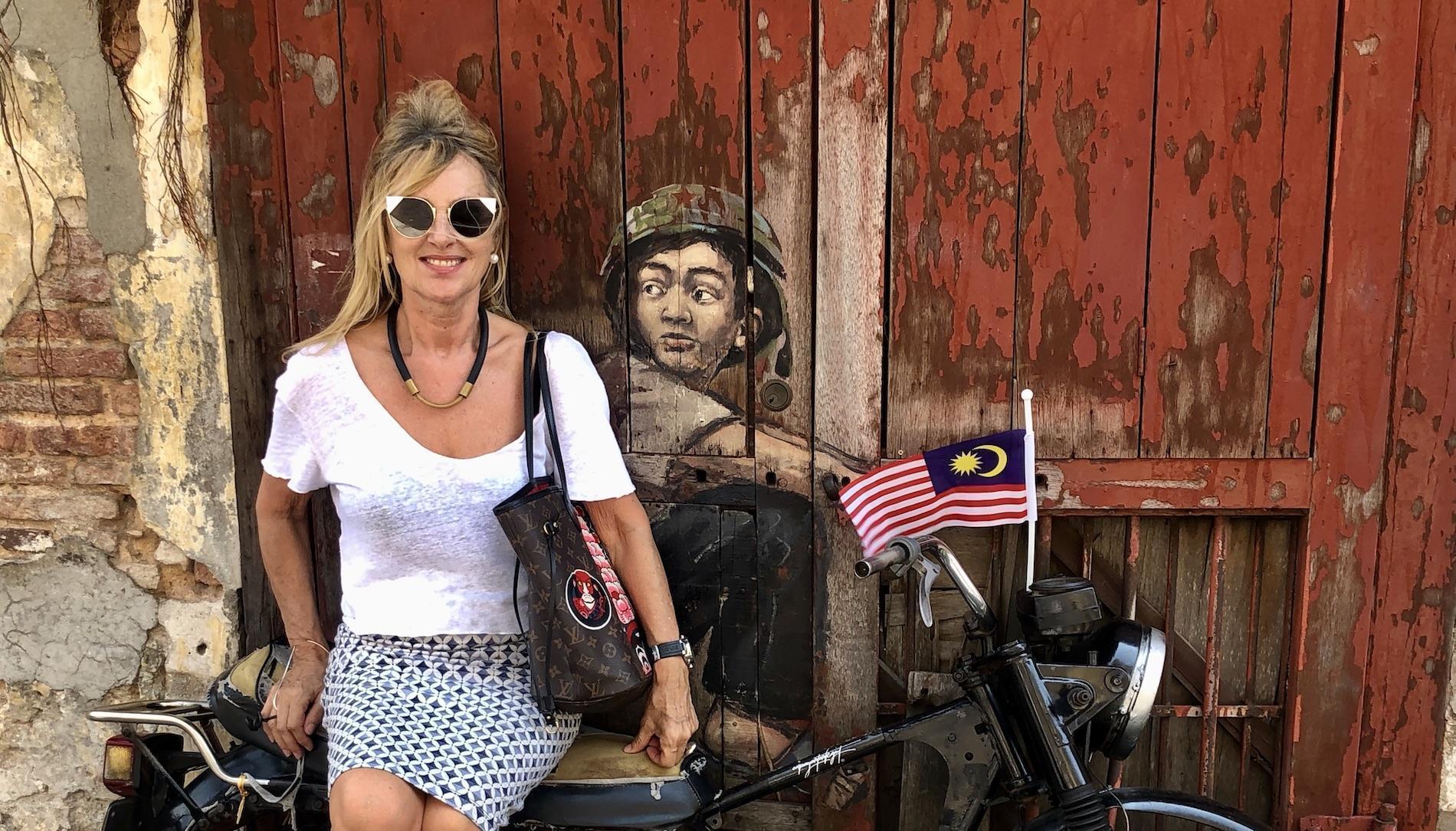 Anji Connell is an interior architect, garden designer and self-proclaimed nomad who regularly writes about art, design, lifestyle and travel from her globe-trotting adventures. Known for her bubbly persona and even more exuberant sense of style, Anji's portfolio spans everything from interior styling to furniture and landscape design for some of the world's most beautiful spaces. For now, you will find her
@anjiconnell_acidplus
and
anjiconnellinteriordesign.com
bingeing on future travel plans from her designer chair.